Goodyear Assurance WeatherReady is the first name that comes to people's minds when the topic of grand touring all-weather tires is discussed. Aimed with well-invested channels, grooves, and rubber sidewalls, WeatherReady promises smooth delivery in all types of weather and seasons.
However, it is our job to confirm whether Goodyear's claim truly reflects the tire's real-life performance. A thorough test of its performance on dry, wet, and snow terrains have been carried out, and these tire reviews will sum up all our findings.
In this article:
Goodyear Assurance WeatherReady Specifications & Features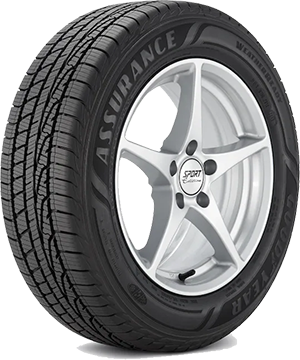 Tire Type
Grand Touring All-Season
Tire Size
15″ – 20″
Weight
20.0 LBS – 40.0 LBS
Load Index
87 – 111
Load Range
SL – XL
Speed Rating
– H: Up to 130 mph
– V: UP to 149 mph
Warranty
60,000 miles
Ratings
8.6/10
Assurance WeatherReady enjoys a special rubber tread compound molded into asymmetric tread blocks – a construction type adopted by Goodyear recently to provide more traction for diverse weather conditions.
Another feature Included in the package is the Reactive Technology system – aided by the outboard ribs and 3D TreadLock Blades at the center – for more inclement weather control and stable cornering grip on slippery surfaces.
At the same time, the Evolving Traction Grooves retain both tire wear and grip levels, while the extra tread compound silica assists more aggressive drivers in waterlogged conditions. Regarding hydroplaning resistance, Goodyear turns to its Sweeping Traction Groove design, which offers four circumferential channel depths to whisk water off the tire.
Meanwhile, regarding snow and ice performance, WeatherReady receives full support from the intermediate rib and ZigZag Biting Edge to offer more footings.
Their consistency is deemed to meet the industry's standards for severe snow, granted with the 3PMSF (3-peak mountain snowflake) symbol. The brand includes Soybean oil infusion to smooth out the tire's pliability while reducing rolling resistance.
From an internal construction perspective, this tire type utilizes a polyester single-ply casing – with two steel belts for extra tread support.
The strong frame is reinforced with polyamide aids to deliver higher-speed response – which partly explains why Goodyear confidently offers a warranty of 60,000 miles for all WeatherReady sizes.
Goodyear Assurance WeatherReady Review & Performance Test Results
We picked the 225/50R17 tire size of Goodyear WeatherReady and paired it with Toyota Corolla (2022 upgrade, the most recent version) as a part of our 2023 COR Wheels Tire Test.
1. Dry Performance: 9/10
Dry Traction: 9.2/10
WeahtherReady performs great on dry pavements – but considering it is a high-quality all-seasoned tire from a famous brand, it does not come as a surprise.
We could experience on hand the small channel slits under the tire, which deliver more biting edges than average and allow a firmer yet smooth grip on cracked pavements.
Aided by the extra contact patch and solid sidewalls, the Toyota balance felt quite natural – despite our attempts to surprise its system with more unpredictable and abrupt flicks of the wrists.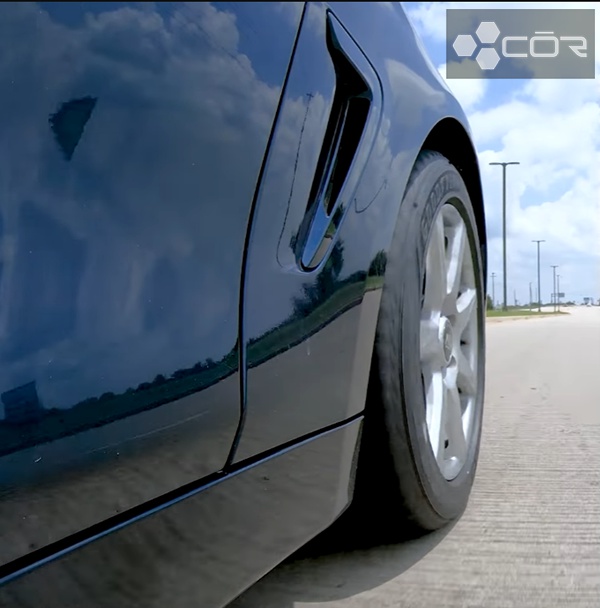 It feels as if 33rd Street is nothing but smooth and consistent road patches – while that is far from the truth. So, all in all, you can trust WeatherReady to deliver even on poorly-built street sections.
On another note, on the second/ third day of the test, some of our members reported a bit stiffer traction when they changed turns or directions; the tire took slower than expected to adapt to our new inputs. But rest assured – from what we gathered so far, the issue seems pretty minor.
Corner Stabilities: 8.9/10
We are particularly pleased with how WeatherReady handles its cornering. Again, the stiff sidewalls play a huge role here, offering us more lateral forces to maintain the car's composure during hard turns. We deliberately chose some of the trickier corners to test out how it went, and the delivery feels sure footed, stable, and non-squirmy.
However, sometimes we did feel like a bit of cornering flex was sacrificed to give more room for stability. The tire still managed to land well on abrupt and unexpected turns, but felt slightly choppy and tight at higher speeds (beyond 170 MPH).
Steering Response: 9/10
There is not much to complain about WeatherReady's responsive steering, either, given its good cornering and traction. The high-quality, soy-greased rubber compound gives WeatherReady ample molding power, allowing it to maintain integrity at most steering maneuvers.
Shape integrity goes hand in hand with precise input, which explains why the tire and suspension responded almost immediately to us whenever we input new steering demands. And since the tread patterns were consistent, we rarely had to worry about unexpected bumps, too.
Long-time drives made the steering sometimes a bit muted, though that is an easy fix. We let the Toyota rest for 15-30 minutes before resuming the test.
2. Wet Performance: 8.9/10
Wet Traction: 8.9/10
Despite a few points more lackluster than its own dry-road traction, WeatherReady still delivers a generally good wet performance. The 3D Treadlock blades showcase their strongest performance here, using soy as a contact point between the tire and the slippery surface.
Around the first hits, we were a bit taken aback by the loud, slurping water noises. But soon, they proved to bring no consequences to our ride, as the tire walls still felt generally connected.
We deepened our wrist angles a little to deliver more biting edges at a particularly deep puddle, and the result did not disappoint: WeatherReady almost breezed through it.
However, the tire's corner stabilities at downpours need more improvement, as their understeering tendencies increased more than we expected. Since most of our team members are experienced riders, no accidents happened, but it is still something you should look out for.
Hydroplaning Resistance: 8.8/10
Part of the reason why WeatherReady delivers great performance on wet surfaces is its thick, hydroplaning-resisting sipes, whose small cuts bite onto the road in all of their literal meaning.
As a result, water and mud had quite a hard time entering the grooves, allowing the tires to speed up more smoothly during acceleration or ignition from standstills. The wide-spaced grooves prove their power here, too, creating enough room for the water dispersion channel to launch into action.
After hours-long rides, the hydroplaning may increase (which is natural, since the tread has worn down a bit at this point). We consider this a matter of maintenance rather than drawbacks, though.
3. Winter/Snow Performance: 8.2/10
Light Snow Traction: 8.7/10
Its traction on snow is only a tad behind wet performances – which already exceeds our expectations when it comes to touring all-season tires.
WeatherReady owns it to the ZigZag Biting Edge, whose sharp yet all-rounded racks can dig deep into snow as thick as 6 to 9 inches. No wonder the longitudinal is excellent; our Corolla only took less than a millisecond (since the input) to plow through them.
And instead of the usual roughness and imbalance often found in lightly-covered roads, we found our suspension and braking to be almost effortless – which must have something to do with the supportive ribs that balance the zigs and zags throughout the rest of our trip.
Still, more improvements in the braking are still welcomed in snowy conditions. Though their performances were still confidently good, we expected better braking distances – at least on par with the likes of Bridgestone Weatherpeak.
Deep Snow Traction: 8.2/10
Facing deeper snow of about 11 inches onward or hardly packed snow, the tires show signals of struggle. The hydroplaning circumferential grooves could handle water and even deep mud but seemed to be at an utter loss at thick snowpacks, forcing even the best members of our team to apply more force than needed.
To clarify, WeatherReady is in the middle area of the spectrum, with better deep-snow efficiency than even Vredestein Quatrac Pro tires. Still, do not expect a smooth, seamless ride with it.
Ice Traction: 7.8/10
WeatherReady and ice traction are not meant to be, except for very seasoned drivers. It took 4-5 seconds for us to make the Corolla skid to a full stop – and our driving beforehand had been very cautious already.
On packed snow (the middle state between snow and ice), our car could still cope. But lean further than that, and we had to prepare ourselves for any potential mishap.
4. Comfort: 8.4/10
Ride Quality: 8.6/10
The solid compound silica lends WeatherDry a lot of handling power. Our car managed to grease through a large portion of 33rd Street with very few vibrations – and even if there were any, the center ribs already did a pretty good job swallowing them down.
Still, we had to say the stiff compounds act like a double knife; when entering rough tarmac and sharp creases, the ride felt firmer than how we would like it.
Noise: 8.2/10
Harder compounds and wide-spaced blocks inevitably lead to more road noise, which is why we could still hear rumbling sounds when opening the car window.
The good news is that you can eventually get used to them; after about 20 miles or so into the test ride, none of our team members paid much attention to them again.
5. Treadwear and Durability: 8.5/10
Our test only lasted for 10 days on unfavorable terrains, and we didn't notice much of a difference in tire tread (after cleaning the tires). That's not the whole story but can give you a rough idea about its tread life.
And even if unexpected road conditions do occur, WeatherReady is backed by a 60,000-mile guarantee – not world-class, but more than enough. It is hard to find anything to worry about this durable tire.
Assurance WeatherReady Pros and Cons
Good dry traction
Decent wet-condition/light snow traction
Smooth ride overall
Struggling on ice surfaces
Occasional road noises
Choppy cornering at times
Assurance WeatherReady Competitors & Alternative
Firestone WeatherGrip, Cooper CS5 Ultra Touring, and Yokohama AVID Ascend GT are tested around the same time as Goodyear WeatherReady, so we have managed to gain more critical insight into their performance against each other:
CS5 definitely ranks last in the group. There is a notable delay between response and input – no matter small or large, full-lock or off-center. We have given up hope of a precise steering response with this tire.
WeatherReady is the most comfortable tire, whose soft feels are quite similar to winter tires and easily envelop large impacts. Slightly slower reactions upon directional changes are its biggest drawbacks, however, putting FireStone in 3rd place.
AVID ranks second (behind Goodyear WeatherReady, obviously) with composed rides and accurate, quick steering. What makes it inferior to WeatherReady is the dead on-center spot, though we still consider this drawback acceptable due to the nature of all-weather tires.
Conclusion
Goodyear Assurance WeatherReady is a decent bargain at its $141.00 to $275.00 pricing range, delivering overall good dry traction and comfortable rides.
There is room for improvement with its wet traction, however – and heavy snow/ice terrains in wintry conditions are not the best place to bring these tires to the roads. People sensitive to road noises (albeit low) should consider twice before buying, too.
Goodyear Assurance WeatherReady
PRICE
SOLD BY

Offers

In Stock

Offers

In Stock

Offers

In Stock

Offers

In Stock

Offers

In Stock
---
President & Automotive Expert at COR Wheels
Robert Herrera has been with COR Wheels for 17 years and has a great passion for the automotive industry. During his time at COR Wheels, he has driven and test-driven a variety of vehicles.
---