The rumble of tires can be a constant source of stress for many car owners, not to mention the discomfort caused by poor ride quality. But shopping for the smoothest riding tires can be an uphill task.
Fortunately, we at COR Wheels have taken up the challenge to simplify this process for you. Drawing from the most reliable and robust data from our test and survey, we have identified the top-performing tires for your needs.
Continue reading to learn more about how you can transform your driving experience with these top choices.
In this article:
How We Test & Pick The Best Tires for Smooth Rides
Our selection is a result of the meticulous process conducted during the 2023 COR Wheels Tire Test. We embarked on this project by examining 80 top all-season, performance, and winter tires on the market. Through rigorous testing, we identified the top 10 that outperformed the rest.
To make the data more comprehensive and representative, the COR Wheels team conducted a nationwide survey among drivers across the US. We gathered their first-hand experiences and insights regarding ride quality, comfort, and noise levels – our main focus.
Our evaluation criteria were multi-faceted. We also considered dry, wet, and winter performance along with treadwear and price.
We believed these were critical elements for ensuring a comfortable ride and thus had a substantial influence on our overall rankings.
Best 10 Tires for Comfort and Noise 2023
---
1. Michelin Defender LTX M/S
Best For Overall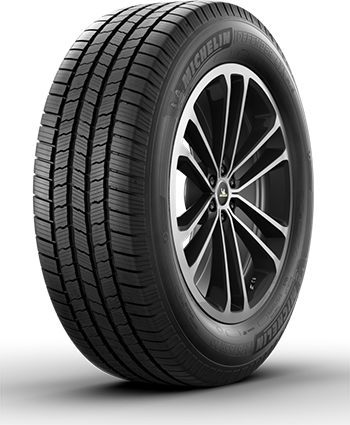 Tire Type
Highway All-Season
Tire Size
15″ – 22″
Weight
23.0 LBS – 60.19 LBS
Load Index
95 – 129
Load Range
C1 – XL
Speed Rating
– H: up to 130 mph
– T: up to 118 mph
Warranty
50,000 – 70,000 miles
Ratings
8.9/10
The Michelin Defender LTX M/S stands out as the smoothest tires on highways. In particular, Michelin utilizes unique technologies to boost overall performance.
The Evertread advanced compound, for example, endures even the toughest conditions. It significantly improves wear life and longevity. The symmetric tread design also incorporates high-density 3D Active Sipes that provide reliable traction across various road conditions.
Twin steel belts offer durability and strength to easily handle heavy loads. Meanwhile, the MaxTouch Construction distributes forces evenly throughout the tire for consistent traction and extended wear life.
The Defender LTX M/S impresses us even at higher speeds of around 60 mph by delivering exceptionally smooth rides, leading among premium tires.
The MaxTouuch Technology not only increased on-road grip but also reduced noise for a peaceful cabin environment when we revved up to 75 mph on a highway. Additionally, the reinforced internal structure and intelligent tread blocks minimize vibrations and noise, enhancing comfort on long journeys.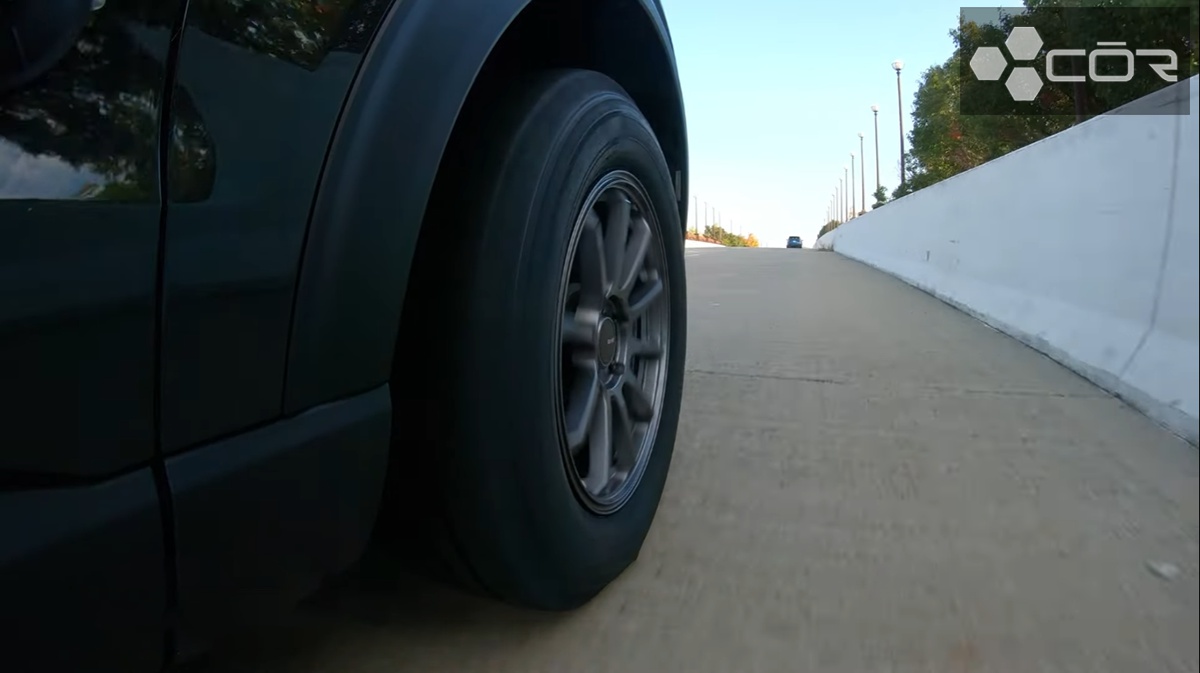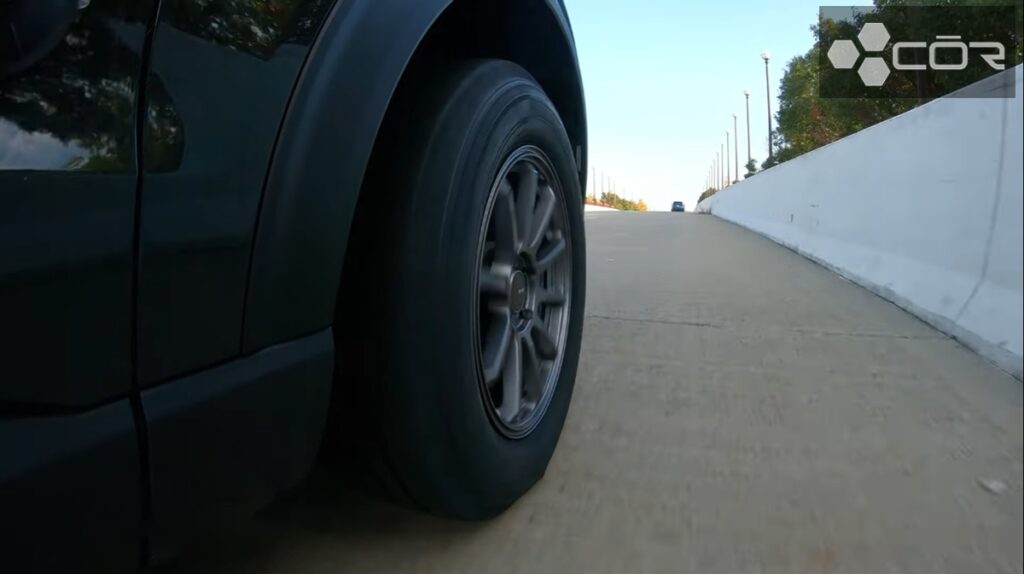 While handling small road imperfections, you may find the ride slightly less cushioned on very harsh surfaces. Still, it remains a superior option for smooth highway cruising. If you're a daily commuter, you'll appreciate these plush characteristics.
The Defender LTX M/S also led its competitors in dry and wet performance. This tire provides us with a sturdy grip and reliable stopping power on dry roads, even right after exiting a sharp 90-degree bend.
The tread design stabilized well. It enables excellent lateral grip, surefooted handling, and short braking distances, even under hard braking. You can also feel safe with its wet weather abilities, including strong acceleration traction and stable handling in corners.
Keep in mind that this tire isn't engineered for extreme winter weather. Though it delivered adequate performance in light snow up to 12 inches in our test, you may struggle for traction in deep accumulating snow.
We have no major complaints about longevity and durability. The manufacturer warranty of 50,000 or 70,000 miles is fairly standard in the category. Additionally, many consumers in our surveys confirm the excellent, even treadwear over time.
Overall, this is among the top choices when you need comfort with confident highway handling. The premium quality and performance somewhat justify the higher price tag.
Excellent highway ride stability and overall quality
Surefooted handling on dry and wet pavement.
Solid traction on light snow
Good tread life and durability
Quiet and comfortable ride
Quite expensive
Not the best option for off-roading or severe winter conditions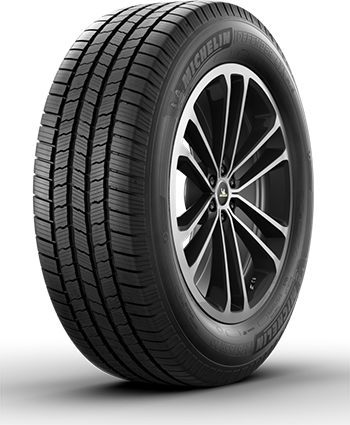 ---
2. Michelin X-Ice Snow SUV
Best For Winter Comfort And Noise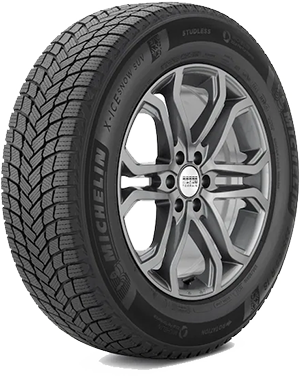 Tire Type
Winter/Snow
Tire Size
16″ – 22″
Weight
27.93 LBS – 41.27 LBS
Load Index
100 - 116
Load Range
SL – XL
Speed Rating
– T: up to 118 mph
– H: up to 130 mph
Warranty
40,000 miles
Ratings
8.9/10
This remarkable winter tire is meant for optimal comfort and minimal noise while confronting harsh winter conditions..
The design utilizes widened grooves to deliver unparalleled snow-to-snow traction. This intricately engineered, aggressive tread is made for maximized grip in wet and snowy conditions, so you can benefit from enhanced control even in unpredictable weather.
The X-Ice Snow provides an exceptionally cozy and smooth ride throughout the frigid winter months. The high-silica compound and directional, V-shaped tread pattern contribute to flexibility and riding comfort when the mercury plummets.
This tire performed admirably over bumps and potholes, ensuring us a relaxed driving experience even when the temperature dropped to 40 degrees F. If you prioritize seamless rides, these features greatly improve overall comfort during winter travels.
However, the FleX-Ice 2.0 compound sometimes created slight road noise when we traversed highways in winter. While not a major issue with this tire, some noise became noticeable at 70 MPH or more.
The winter performance of this tire is simply the cream of the crop. It gripped well on a 4-inch snow blanket, so you can easily control it on city streets and highways alike without sacrificing your safety.
Even on slippery surfaces like icy roads, slush, and cold, damp conditions, the tire's design supplied more reassuring traction than any we've tested. You can benefit from the unparalleled confidence in handling and braking across the many complex winter road conditions.
With outstanding cornering grip and fairly short braking distances, it guarantees you safe and confident handling on dry roads. However, the softer rubber compounds in the X-Ice Snow caused instability in hot conditions during our summer test.
But the biggest downside is that it might wear down relatively quickly. Although featuring a wear-resistant tread compound and optimized new tread design, it may be unrealistic for you to expect it to last beyond 50,000 miles.
While it may not match specialized high-performance winter tires, it remains an excellent choice for average drivers.
Exceptional traction on packed and unpacked snow
Outstanding handling and braking on snowy and icy surfaces
Excellent hydroplaning resistance and wet/slush traction
Very good handling and braking on dry surfaces
Not very impressive tread life
Susceptible to instability in hot weather
---
3. Pirelli Scorpion WeatherActive
Best For Comfort On-Road Drive
Tire Type
Crossover/SUV Touring All-Season
Tire Size
18″ – 22″
Weight
28.087 LBS – 39.677 LBS
Load Index
100 – 114
Load Range
SL – XL
Speed Rating
– H: up to 130 mph
– Y: up to 186 mph
Warranty
60,000 miles
Ratings
8.9/10
The Pirelli Scorpion WeatherActive stands out as a premier tire option for SUV and pickup drivers seeking comfort on everyday roads, not just in summer but through winter too.
An innovative polymer and resin formulation ensures the rubber stays malleable even in freezing conditions. The internal construction warrants mention, with a two-ply polyester casing reinforced by two steel belts and two polyamide plies.
As a result, the Scorpion WeatherActive can suppress most noise for peaceful drives. Despite emitting a mild growl at low speeds (about 40 MPH) on smooth roads, it settled into steady tones when we reached moderate to high speeds (from 55 MPH onward).
You may notice some tautness, but the ride stays composed and absorbs minor impacts and ripples subtly. It navigated large road blemishes smoothly, satisfying expectations for such a premium product.
Going through dry and hot asphalt, the WeatherActive provided sharp steering responses and assured mid-corner feedback. Quick reactions at city and highway speeds, coupled with a natural weighted feel after turn-in, breed a positive sense of control for you.
You'll cherish the refined handling at the limit. The amplified traction magnifies the polished steering feedback, which continues to impress.
The Scorpion WeatherActive also displayed formidable capabilities in wet conditions. The tire's design spotlights stellar wet weather aptitude, distinguishing it from winter-focused all-seasons and cementing it as a solid year-round selection, so you can rest assured using it on rain-soaked roads.
Though it performed competitively in light snow of 5 inches or less, traction loss became considerable in slush. Fortunately, on ice, it kept pace with other all-seasons and just fell short of dedicated winter tires.
All things considered, the Pirelli Scorpion WeatherActive will impress you on clear roads, where it will likely see prime use. Any deficiencies seemed like strategic trade-offs rather than oversights. However, for frequent heavy snow, slush, or rain, specialized winter or wet tires may be superior choices for you.
Superb wet and dry grip
Capable light snow performance
Long-lasting tread life
Balanced performance across a wide temperature range
Provides reassuring control and feedback
Struggles in slushy conditions
The ride can be occasionally firm
---
4. Continental CrossContact LX25
Best For Crossover/SUV Comfort And Noise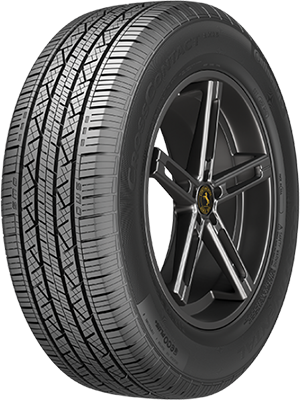 Tire Type
Crossover/SUV Touring All-Season
Tire Size
16″ – 22″
Weight
24.0 LBS – 43.0 LBS
Load Index
95 – 114
Load Range
SL – XL
Speed Rating
– H: up to 130 mph
– V: up to 149 mph
Warranty
65,000 – 70,000
Ratings
8.8/10
Engineered for crossover and compact SUV owners, the Continental CrossContact LX25 tire shines among all-season touring options.
Continental imbued their proprietary EcoPlus+ Technology compound into a symmetric tread pattern to aid comfort and fuel efficiency. Below the tread, the Comfort Ride technology acts as a shock-absorbing layer to enhance ride quality without sacrificing steering responsiveness.
Wide circumferential grooves channel water efficiently through the footprint to resist hydroplaning. For snow-slicked surfaces, traction grooves and their biting edges generate snow-to-snow traction.
The Continental CrossContact LX25 delivered us a soft, cushy ride and didn't send us much shaking and jostling when going through gravel a road. However, our ride lost some composure over repeated impacts, making potholes more pronounced, so it will not offer you a seamless ride if you frequently travel through roads littered with many potholes.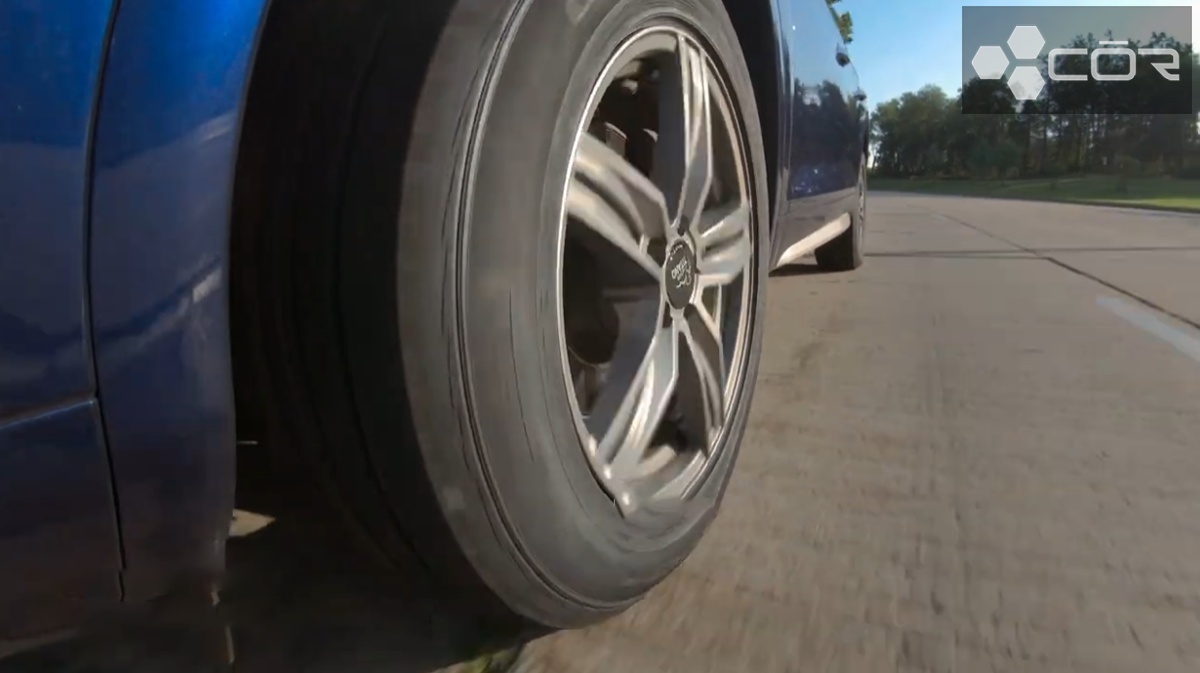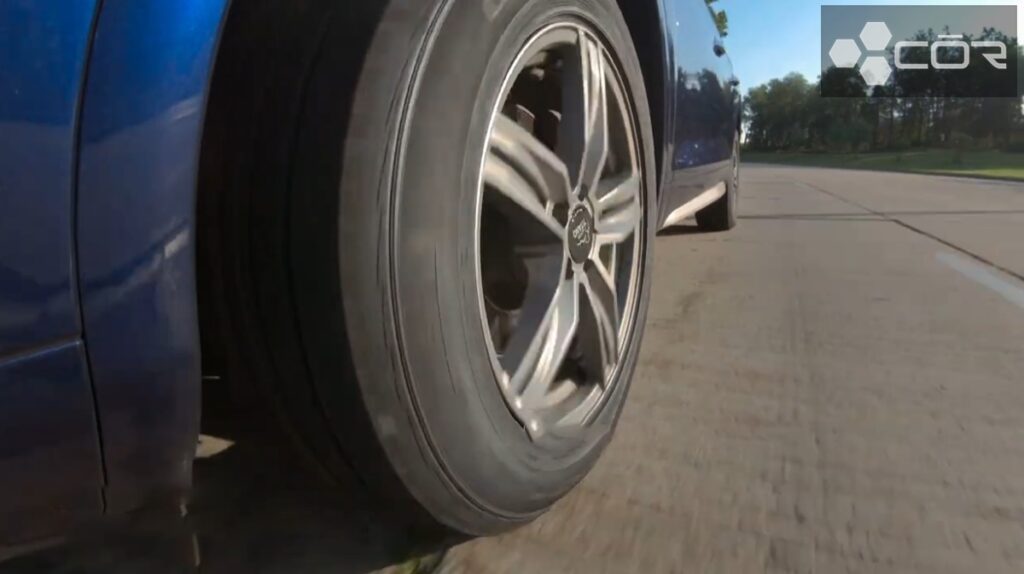 Noise levels remained pleasing with minor tread and cavity tones blending into a subtle background hum at 60 MPH. Most discerning drivers will find this acoustic profile satisfactory. As the treads wear over time, you might notice some additional noise, but it should stay within your acceptable level.
The CrossContact LX25 supplied robust dry performance. The precise, responsive steering facilitated satisfying, smooth handling. Meanwhile, the Comfort Ride Technology aptly damped shocks and vibrations.
You may feel only some slight slippage when steering aggressively at high speeds. If you're an extreme driving enthusiast, you also may find it falls short of supplying the prodigious grip-tuned performance tires offer.
When wet weather striked, the LX25 excelled with its tenacious cornering grip. Our testing verified its ability to confidently maintain control on damp roads when cornering assertively or accelerating out of turns.
But we also found the steering slightly too reactive at times, potentially diminishing comfort. Additionally, wet braking may not fully satisfy you.
When the snow and ice come, the CrossContact LX25 will provide you with proficient but not standout handling. In our test, its traction grooves and biting edges sufficiently navigated lighter snow but showed signs of stuttering and jerking in accumulations of more than 12 inches.
If you are a crossover and SUV owner needing a tire to conquer wet weather and log high mileage, this is a top-tier choice. But heavy snowfall areas or off-road adventurers may require more specialized options.
Good wet weather cornering grip and control
Proficient light snow handling for an all-season tire
Outstanding durability and treadwear
Premium quality construction
Strong dry pavement handling
Generous treadwear warranty
Not optimal for heavy snow or slush
Wet braking may fall short of expectations
Higher cost than some competitors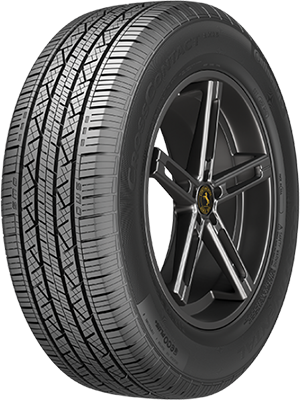 ---
5. Michelin CrossClimate2
Best For All-Season Comfort And Noise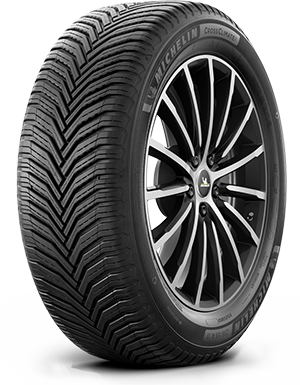 Tire Type
Grand Touring All-Season
Tire Size
16″ – 22″
Weight
20.99 LBS – 36.55 LBS
Load Index
91 – 114
Load Range
SL – XL
Speed Rating
– H: up to 130 mph
– V: up to 149 mph
Warranty
60,000 miles
Ratings
8.9/10
This is our top choice for unparalleled comfort and minimal noise, regardless of weather conditions.
Michelin's Thermal Adaptive all-season tread compound molded into an innovative V-Formation directional tread design. This unique construction enables admirable execution across dry, wet, and winter settings.
The tire also integrates Michelin's PIANO Noise Reduction Tuning. This is a technology that harnesses advanced tread pattern modeling to decrease airborne noise. It's accomplished by enhancing tread element geometry and timing variation, resulting in a quieter, more comfortable drive.
Regarding ride quality throughout the year, the CrossClimate2 is unrivaled. Compared to its predecessor, the CrossClimate+, it successfully minimized airborne noise, delivering a noticeably hushed ride, especially at higher speeds (70+ mph).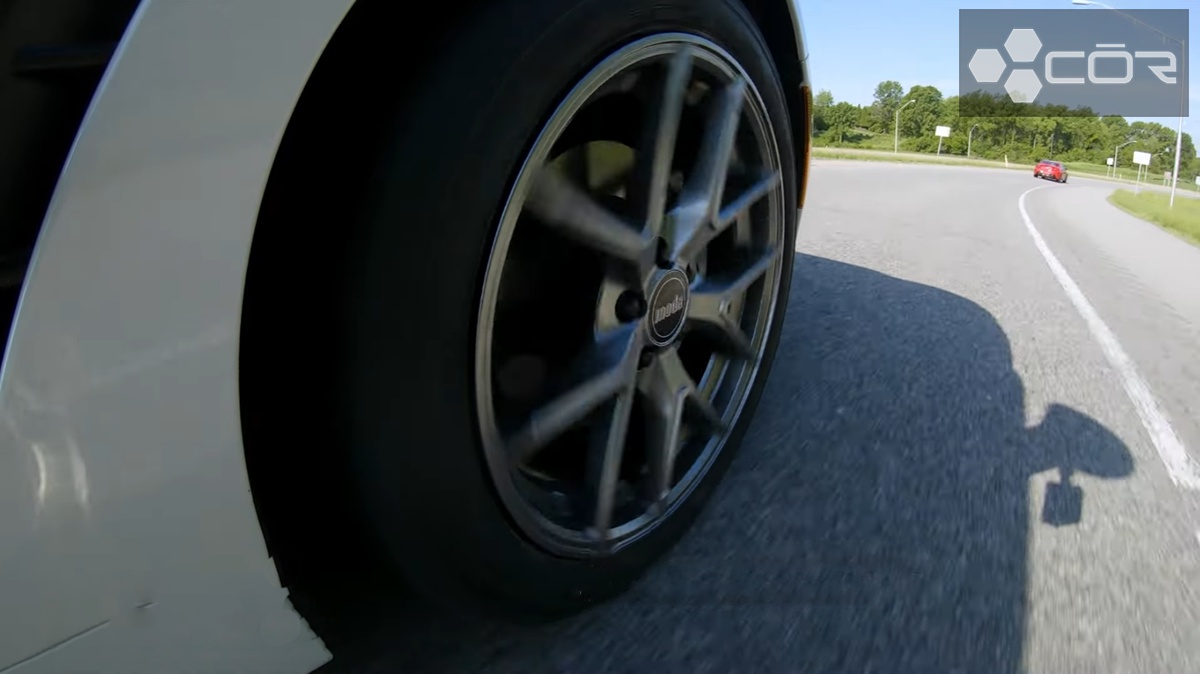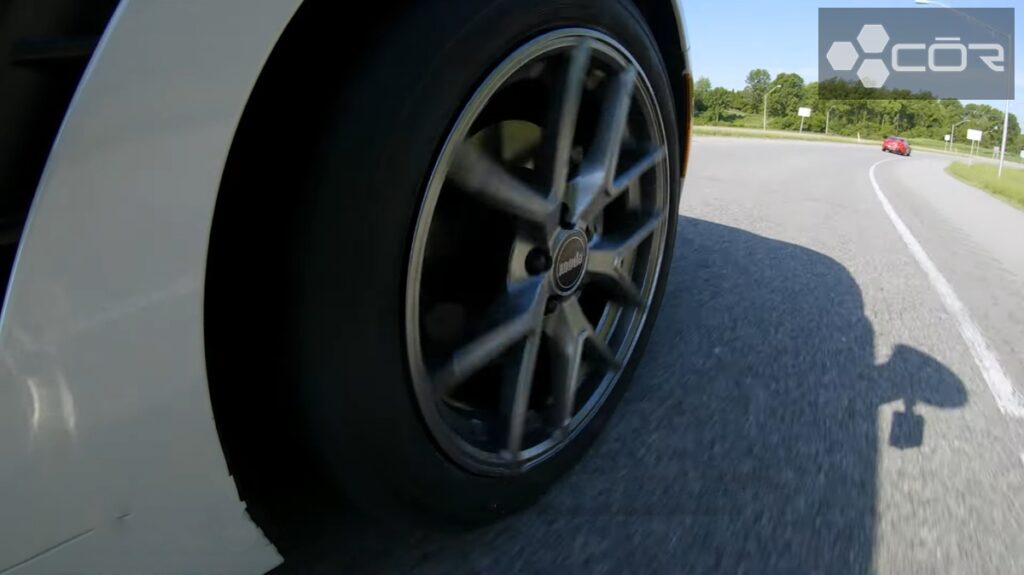 There was a slight tread growl on uneven roads, but vehicular engine or wind noise easily overpowered it. If you encounter larger potholes, they may underscore the tire's sturdy essence. However, we did feel a little vibrations in the steering wheel, but there was no noise entering the cabin, contributing to a more composed, peaceful ride.
It also dominated our dry tarmac and exhibited phenomenal lateral grip, rivaling summer touring tires. You can benefit from its shortest stopping distances among all-seasoners, nearly matching summer touring tire performance. Its outstanding acceleration traction further spotlights its capabilities.
The Michelin CrossClimate2 will also serve you well in wet conditions. Its steep tread angles differentiate it from other all-seasons, which traditionally have non-directional, circumferential grooves.
During our winter test, it maintained a solid icy and snowy grip. Intricate siping, including zig-zag sipes near the center, trapped snow to augment snow-to-snow traction. While they're not the best, you will be pleased with its light snow acceleration and braking capabilities.
If you're willing to invest in a premium all-season with varied condition aptitude, we strongly recommend the CrossClimate2. This is a great choice for drivers needing versatility across climates and seasons. The higher price and relatively lower treadwear warranty may deter some buyers, though.
Superb dry lateral grip for an all-season
Smooth ride with minimal noise
Responsive, precise steering
Short dry stopping distances
Excellent wet traction and braking
Composed, controlled wet driving
Capable snow and slush handling
Steeper price tag
Lower treadwear warranty than similar high-end products
The ride can seem firm over rough terrain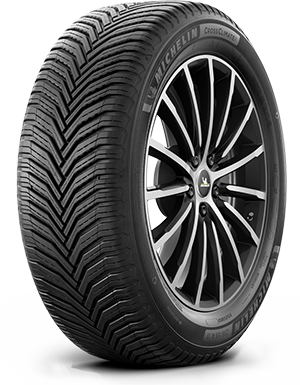 ---
6. Goodyear Wrangler Workhorse HT
Budget Choice for Comfort and Noise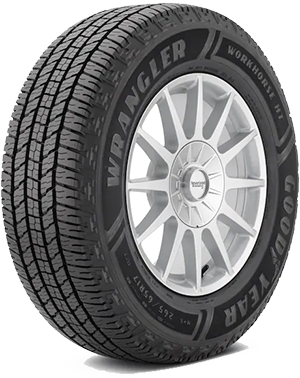 Tire Type
Highway All-Season
Tire Size
16″ – 22″
Weight
37.0 LBS – 42.98 LBS
Load Index
113 – 121
Load Range
C8 – XL
Speed Rating
– H: Up to 130 mph
– T: UP to 118 mph
Warranty
60,000
Ratings
8.7/10
The Goodyear Wrangler Workhorse HT delivers a startling performance that belies its budget-friendly price tag.
Sophisticated construction provides its technical backbone. A durable compound molded into a symmetric tread pattern equips it with robust longevity across conditions. Interlocking tread blocks generate remarkable grip, while an aggressive closed shoulder design lends bold style, boosts tread life, and enhances stability.
When we first hit the gas pedal, the tire gave off a humming noise, but as the speed increased to 55 MPH or more, the noise was swallowed and found no way to enter our cabin. You will feel a decrease in noise as soon as you start your car, making extended trips more enjoyable. However, the tough materials used to ensure durability sometimes resulted in a slightly stiffer ride compared to more indulgent options.
Dry performance is a shining strength of the Wrangler Workhorse HT. It squeezed out assertive grip for confident handling, making it highly competitive even against pricier rivals.
The closed shoulder design provided resolute stability, while the lighter tread prevented an overly hard feel. This ingenious blend of comfort and control will send you unique dry handling.
While delivering acceptable wet performance for the broad market, it fell slightly behind the products on this list. The wide grooves and optimized sipes did supply reasonable hydroplaning resistance cutting through 4 inches of water, but you might not find it sufficient if routinely facing heavy rainfall.
Winter performance aligns with expectations for the price. This honest all-season tire held its own against the cold, supplying steady traction and poised in 4-inch snow. However, you should not expect more from its ice traction – it's unsuitable for regions with icy patches.
Treadwear is average, which isn't a criticism if you remember its price tag. In summary, the Wrangler Workhorse HT is a top-value choice for budget-focused drivers wanting comfort and quiet cruising.
Excellent value for the price
Noticeably reduced noise levels
Strong grip and handling on dry roads
Capable light snow performance (given the cost)
Respectable treadwear life
Not optimal for heavy rainfall
May struggle in harsh winter conditions
Lean slightly stiffer than premium tires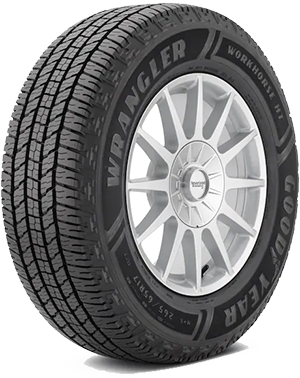 ---
7. Goodyear Assurance ComfortDrive
Best For Grand Touring With Comfort & Less Noise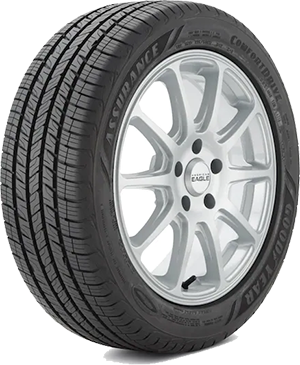 Tire Type
Grand Touring All-Season
Tire Size
16″ – 20″
Weight
22.0 LBS – 35.0 LBS
Load Index
87 – 109
Load Range
SL – XL
Speed Rating
– H: up to 130 mph
– V: up to 149 mph
Warranty
60,000 miles
Ratings
8.6/10
Tailored towards both sedan and SUV drivers, the Assurance ComfortDrive effortlessly fuses luxury and performance for an unparalleled smooth, quiet ride in any weather.
Central among its groundbreaking features is ComfortFlex Technology, which enables refined handling and superior impact absorption for seamless turns.
Another noteworthy feature is the symmetrically balanced AquaChannel grooves. It can maximize water evacuation to dramatically reduce hydroplaning risk and boost wet performance.
Comfort-wise, the Assurance ComfortDrive provides a truly indulgent ride quality. As we traversed through a bumpy asphalt road, this tire displayed stellar impact absorption abilities, making our ride utterly enjoyable even at 70 mph.
However, its performance in handling larger obstacles like potholes was not as polished. It may give you noticeable noise and cabin reverberations on broken tarmac.
Despite occasional discomfort from large impediments, the Assurance ComfortDrive's tread growl was negligible at 35-50 mph and remained unobtrusive even at highway velocities of 70 mph or more. If you are a serene driver, its smooth pavement comfort and quietness are worth your consideration.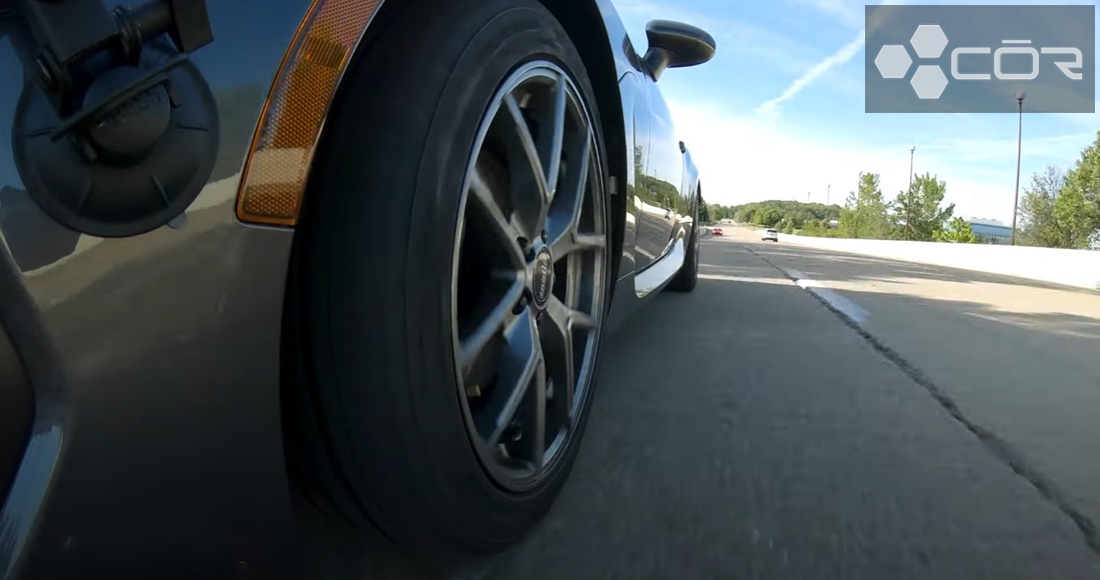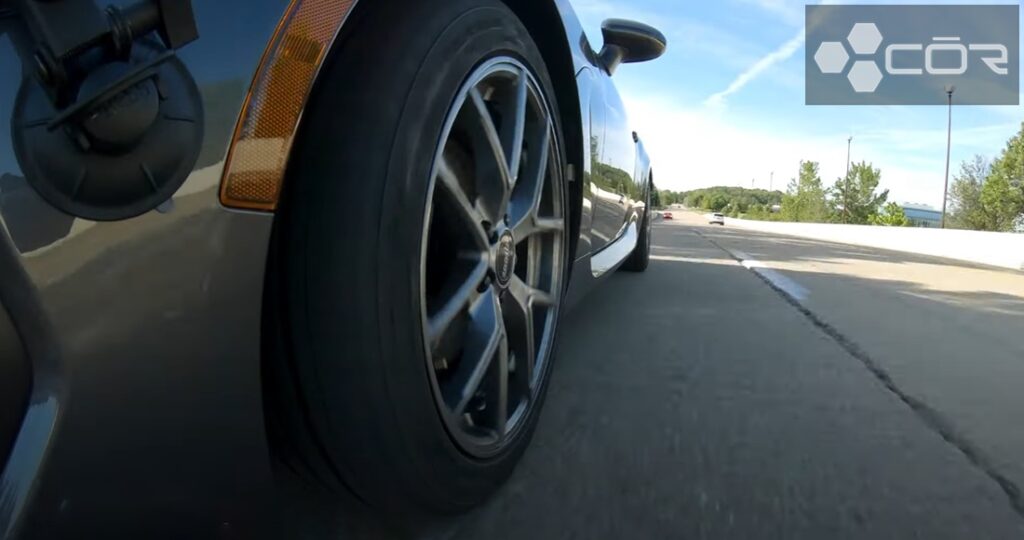 Its steering response may have a slight non-linearity (especially an on-center dead spot), but you will see the highly reactive handling offsetting this. The Assurance ComfortDrive can't rival higher-end products when it comes to wet traction, though.
The handling and cornering abilities were by no means unreliable. There was also an abundant grip that bolstered our assurance. However, you will find its braking distances longer than some rivals like the Bridgestone Turanza QuietTrack.
Winter performance is another area where the Assurance ComfortDrive has room for improvement. It managed light snow of 6 inches or less with adequate traction and handling, you will notice it falls short in deep, hard-packed snow. Its snowy acceleration and braking noticeably lag premium competitors, which may be a put-off if you live in regions with harsh winters.
To compensate, its durability surely satisfies you. Goodyear provides a 60,000-mile warranty. As evidenced by our thorough test drives, we saw no evidence to doubt your tire wouldn't be able to outlast that mark.
Indulgent ride for long highway drives
Low tread noise
Robust dry grip and handling
Reliable dry braking
Consistent steering and tracking
Durable with a substantial warranty
Reduced wet and snow traction
Jarring noise on rough terrain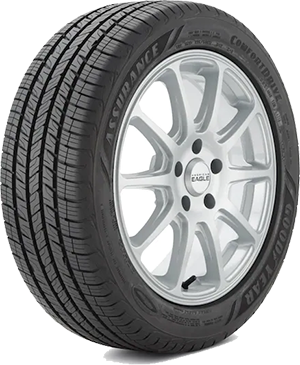 ---
8. Firestone Destination LE3
Best For Comfort And Noise On Highways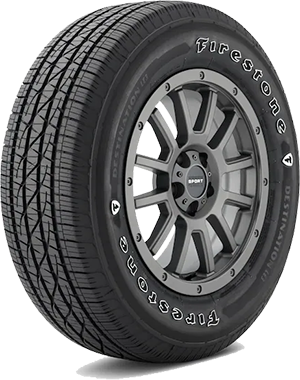 Tire Type
Highway All-Season
Tire Size
15″ – 22″
Weight
22.0 LBS – 41.0 LBS
Load Index
95 – 116
Load Range
SL – XL
Speed Rating
– H: up to 130 mph
– V: up to 149 mph
Warranty
70000
Ratings
8.7/10
Built for serene highway cruising, the Firestone Destination LE3 tire shines as a comfort-focused, noise-reducing option.
At its core lies an advanced rubber compound molded into a symmetric tread pattern, the keystone of Firestone's TractionTech package. The full-depth tread features deliver steady, uniform performance throughout its life.
The Hydro-Grip technology also plays a key role. Its open shoulder slots and optimized tread layout help slice through the water to minimize hydroplaning while boosting wet grip.
The Destination LE3 ensures you have remarkable comfort and hushed travels, making it a top pick for relaxed highway journeys.
The meticulously engineered tread produced minimal noise, even on coarse, gravel roads, impressing everyone on our team. Despite some initial impact noise over large bumps, the tire's acoustic profile remained largely unobtrusive overall. Our attempt to rev up to 75 mph on highways didn't challenge the tire, as we could sense the planted grip and uneventful ride with little airborne noise.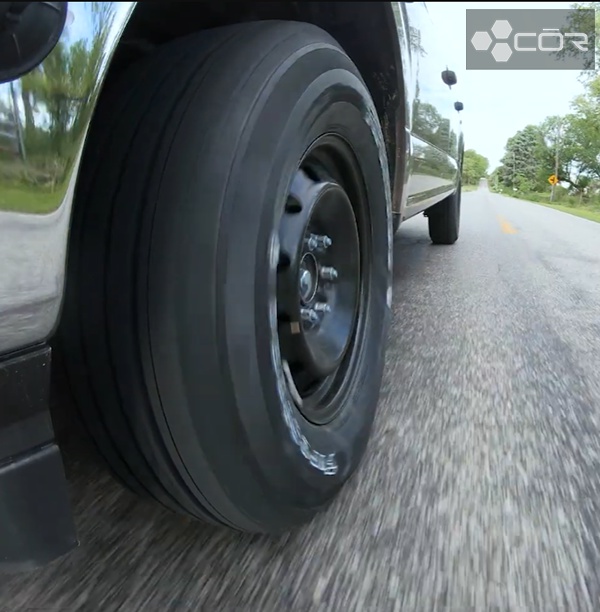 It will also impress you with its plush ride quality that smooths out imperfections. This results in less vibration during your ride, even at speeds around 60 mph. However, on particularly battered roads, the ride felt overly firm, hinting at slightly unrefined comfort. Though not a major shortcoming, it's a point you should factor in when judging overall refinement.
Cornering and highway stability are both worth mentioning. The Destination LE3 proved itself a reluctant partner, demanding careful throttle modulation to prevent understeer. But don't worry – it's perfectly adequate for real-world emergency maneuvers.
In wet weather, the Destination LE3 left much to be desired, though. It capably navigated damp conditions and resisted hydroplaning through deep puddles at moderate speeds of 50 mph or below.
However, you will find hard acceleration and braking less reliable than premium rivals. You can expect some slip when flooring the throttle while braking distances prove merely average. Luckily, predictable breakaway characteristics allow easy corrections if your grip is lost.
For winter duty, the Destination LE3 offered fair but not standout performance. Full-depth 3D sipes guaranteed respectable traction on snowpack. But if you go through heavy snow and ice, the tire can struggle to find grip and control.
The treadwear of Destination LE3 is not something to be proud of, considering the money you have to splash on it.
Comfortable highway cruising
Low noise levels
Capable dry handling with sufficient grip
Responsive steering feel
Average tread life
Struggles in heavy snow and ice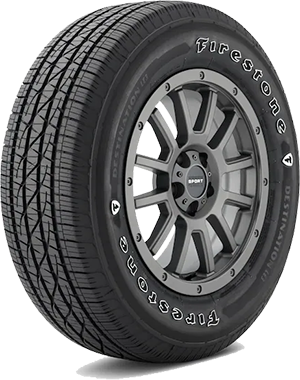 ---
9. Continental ExtremeContact DWS 06 Plus
Best for Comfortable And Quiet Ultra-High Performance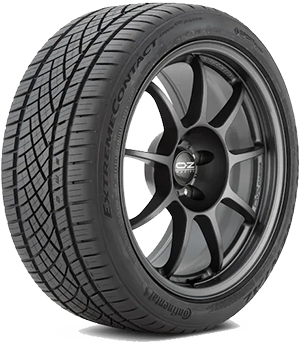 Tire Type
Ultra High Performance All-Season
Tire Size
16″ – 22″
Weight
19.0 LBS – 36.0 LBS
Load Index
83 – 114
Load Range
SL – XL
Speed Rating
– W: up to 168 mph
– Y: up to 186 mph
Warranty
50,000
Ratings
8.6/10
Even if you push it to the limit, the ExtremeContact DWS 06 Plus tire can deliver a harmonious fusion of comfort and quietness with ultra-high performance. This makes it a premier choice if you seek a thrilling yet refined road experience.
The SPORTPLUS Technology enhances handling and braking capabilities, while the Macro-Blocks and Chamfered block edges boost dry traction and responsive cornering. A robust two-ply sidewall construction with a Sport Sidewall Insert further amplifies responsiveness.
Despite its extreme performance pedigree, the ride was still composed and rarely harsh, even on battered roads. We continuously navigated through tight curves and off-camber bends on a hilly road at 70 mph (sometimes reaching 75 mph) with surefooted grip and smoothness. Vibrations were hard to detect, and the tire only roared at the moment we pressed the gas pedal to 80 mph.
This plush comfort stems largely from the hybrid cap ply with a flexible cord, which smoothes out imperfections and potholes on your road. The tire also minimizes secondary motions to create a more seamless ride for you.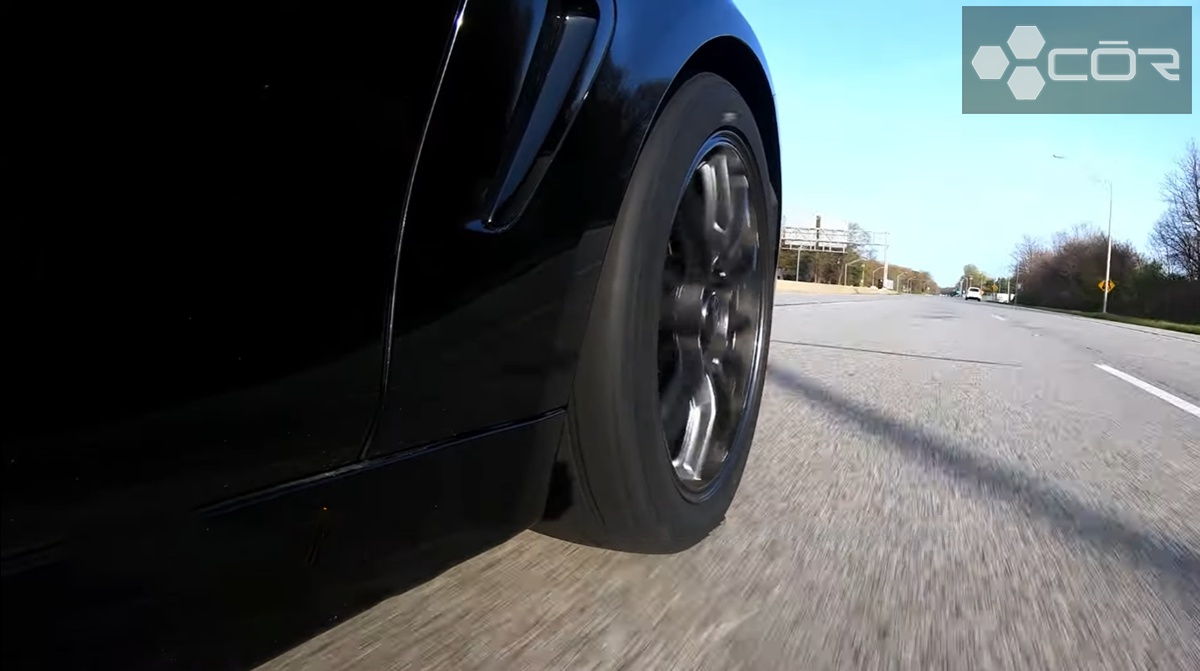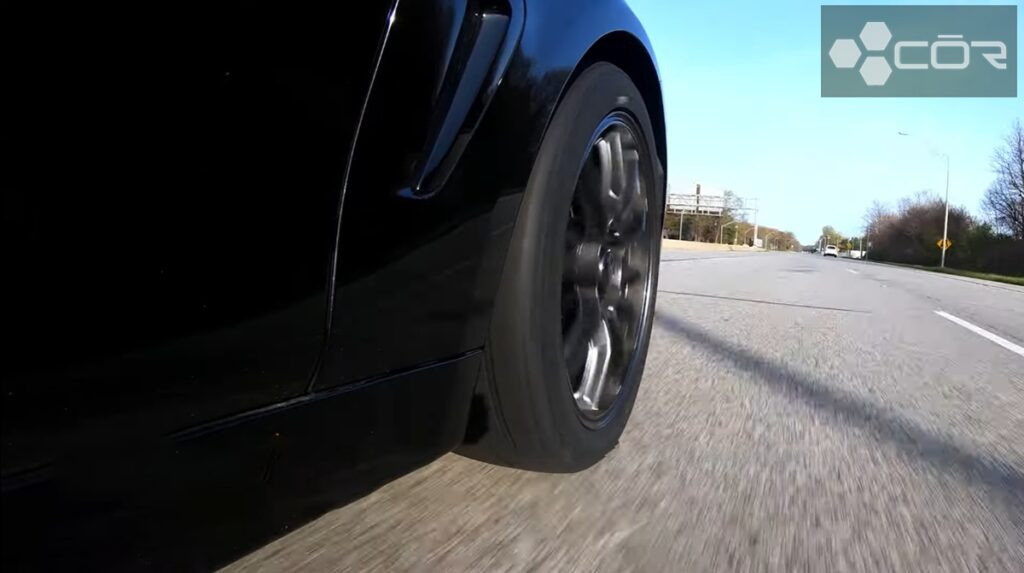 It's among the most muted all-season tires. You will notice some underlying tread growl exists, but it never overpowers. At highway pace, wind noise might be the only sound you can hear. This hushed acoustic profile cements the tire as a quiet, comfortable choice even when you push it hard.
The ExtremeContact DWS 06 Plus is also a standout on dry roads. Our testing showed it leading in lap times and braking distances, flaunting its phenomenal dry capabilities.
That said, if you are a hardcore enthusiast, you may desire more tactile feedback, especially when exceeding grip limits. And while it does sharpen responsiveness and precision, you may find the steering feel overly synthetic.
But for public roads, its immense cornering grip, explosive acceleration traction, and short stopping distances make it an elite choice for safe performance driving.
However, winter performance proves a potential letdown, especially on thick snowpack and ice. While reasonably effective on light snow with composed cornering and strong acceleration, the traction plummeted over icy terrain, so be careful if you have to commute during extreme winter.
Superb cornering grip and traction
Precise, responsive steering feel
Elite wet weather performance
Formidable resistance to hydroplaning
Plush, peaceful ride quality
Lacks grip on thick snow and ice
Disappointing durability
c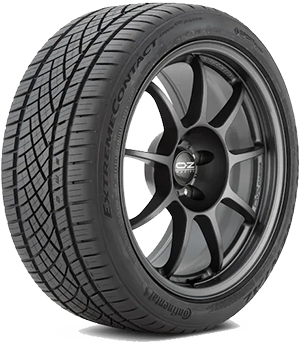 ---
10. Bridgestone Turanza QuietTrack
Best For A Smooth Ride And Quiet Operation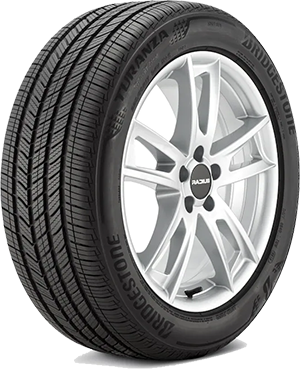 Tire Type
Grand Touring All-Season
Tire Size
15″ – 20″
Weight
20.0 LBS – 33.0 LBS
Load Index
87 – 104
Load Range
SL – XL
Speed Rating
– H: Up to 130 mph
– V: UP to 149 mph
Warranty
80,000 miles
Ratings
8.5/10
With a package of innovative technologies and a focus on muted noise and ride comfort, the Bridgestone Turanza QuietTrack truly shines among its class.
Bridgestone incorporates cutting-edge QuietTrack Technology into its design. This includes in-groove quiet tracks, non-chamfered shoulder slots, and optimized pitch sequencing to help reduce airborne noise.
Another noteworthy feature is ComfortCruise. They use software to design the optimal cavity shape and a rounded contact patch. These not only dampen vibrations for a peaceful ride but also improve hydroplaning resistance by aiding water dispersion.
The end result is impressively smooth ride quality. It absorbed even the harshest road flaws without harshness or excessive vibration in our test.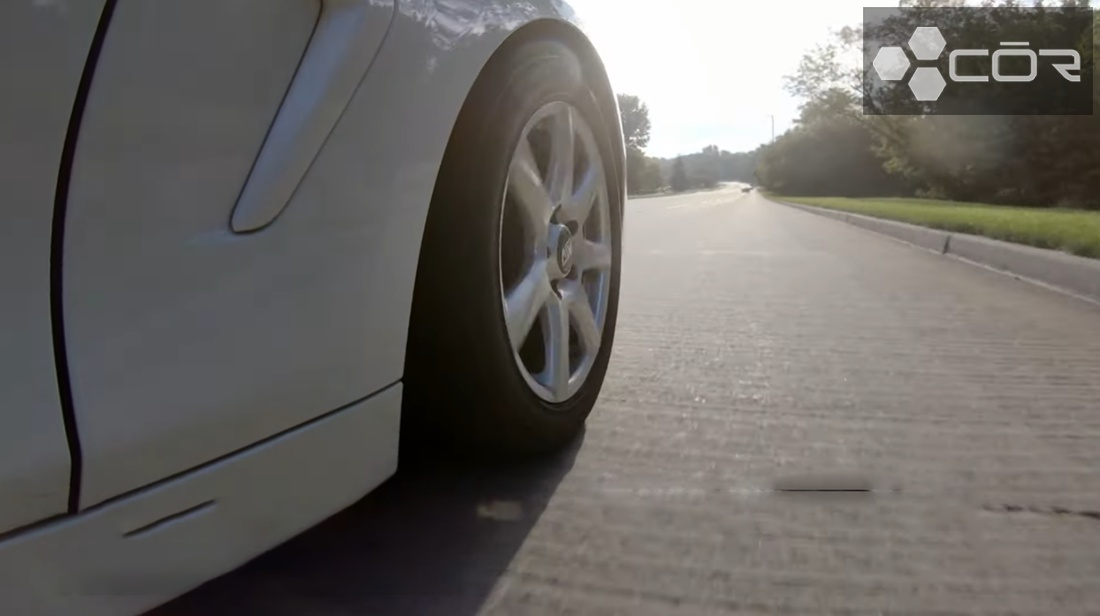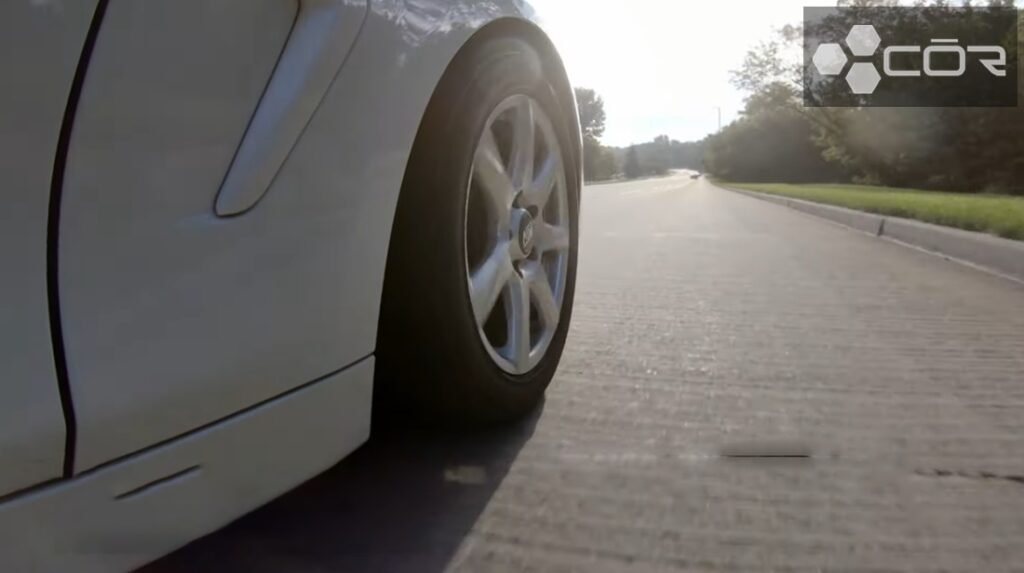 While some distinctive noise manifested at high speeds of 65 mph onward and on varying surfaces, it was never intrusive and even compared to other premium tires. If you have doubts about the QuietTrack technology, we have good news: it showcased arguably the most silent tire available, with even the faintest noise masked by cabin sounds.
On dry tarmac, the Turanza QuietTrack demonstrated excellent experience. The steering felt taut and responsive, maintaining precision through corners. You will see the grip is good and hold firm but may desire stronger steering wheel feedback.
The tire was adequate but unremarkable in wet settings. It can provide you with only acceptable traction and braking distances, with understeer potentially manifesting suddenly.
In snow, it also failed to excel – just a decent enough package to maintain safety. There should be enough cornering grip and traction for you to get moving, but nothing should leave you in awe. It's safe in light snow, yet certainly no winter tire substitute.
While the manufacturer offers an 80,000-mile treadwear warranty, its durability might disappoint you. In fact, it wore the fastest among tested tires.
All in all, the Bridgestone Turanza QuietTrack is an excellent choice if you prioritize a supremely silent ride, especially on dry pavement. But you should remember that it's not ideal for wet or snowy conditions. It's also worth noting that it's among the pricier options.
Industry-leading noise reduction
Long treadwear warranty
Superb dry execution
Suitable for light rain and snow
Steep pricing
Average wet traction
Not ideal for winter conditions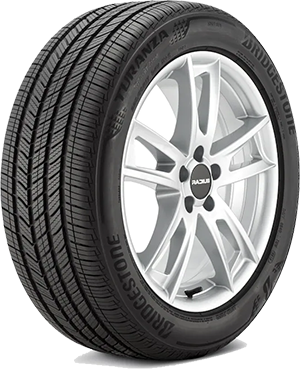 ---
How to Choose Tires for Comfort and Noise
Construction
A tire's internal construction, including the quantity and arrangement of reinforced layers and the rubber compound recipe, can impact ride plushness and noise output.
Tires fabricated using softer rubber blends better soak up road imperfections, resulting in plusher cruising. Some manufacturers also integrate specialized materials and technologies to mute tire-road noise.
Tread Pattern
The tread design dramatically affects acoustic properties. Tires with large, aggressive blocks and wide grooves may deliver stellar grip and water evacuation but also generate more roar.
Meanwhile, tires with smaller, dense tread blocks and noise-reduction tech run quieter but may concede some grip or hydroplaning resistance.
Climate
Not all tires maintain consistent performances across environments. Some are explicitly engineered for peak performance in certain conditions, like winter or all-season tires.
For example, cold climate drivers may prefer tires offering top-tier snow and ice traction. However, the best riding tires in winter might not replicate that plushness or quietness on bare, warm roads.
Budget and Value
While comfort and noise factors are critical, budget realities matter too. Tire pricing varies considerably, and although many premium tires boast refined rides and hushed cabins, exceptions exist. Sometimes, budget-friendly options can match premium grades.
Investing in durable, high-mileage tires with strong warranties also provides long-term value. Tires that endure longer, though initially pricier, can offer superior cost-effectiveness overall.
Conclusion
Thanks to the extensive 2023 COR Wheels tire test, we've managed to distill the essence of what makes the best tires for SUV smooth rides.
If you're seeking the ultimate go-to recommendation, your search ends at the Michelin Defender LTX M/S. Exceptional in terms of ride quality and noise dampening, this tire truly shines, particularly on highway drives, and gives you a serene cabin and a smooth, comfortable journey.
Should you find yourself battling harsh winters regularly, the Michelin X-Ice Snow SUV could be your companion. Its commendable winter performance, without compromising on comfort and noise reduction, makes it a worthy contender in its category.
Here is the summary of the 10 best tires for noise & comfort in the 2023 COR Wheels Tire Test:
| Tire Brand & Model | | | | | | | | | |
| --- | --- | --- | --- | --- | --- | --- | --- | --- | --- |
| Michelin Defender LTX M/S | 1st | 8.9 | 9.2 | 9 | 8.2 | 9 | 9.1 | 8.9 | 8.9 |
| Michelin X-Ice Snow SUV | 2nd | 8.9 | 8.9 | 9 | 9 | 9 | 9.2 | 9 | 8.3 |
| Pirelli Scorpion WeatherActive | 3rd | 8.9 | 8.9 | 9 | 8.8 | 8.9 | 8.9 | 9 | 9.1 |
| Continental CrossContact LX25 | 4th | 8.8 | 9.1 | 9 | 8.2 | 8.8 | 9 | 8.7 | 9 |
| Michelin CrossClimate2 | 5th | 8.8 | 9.2 | 9.2 | 8.6 | 8.7 | 9 | 8.5 | 8.9 |
| Goodyear Wrangler Workhorse HT | 6th | 8.7 | 9.1 | 8.6 | 7.6 | 9 | 8.9 | 9 | 8.6 |
| Goodyear Assurance ComfortDrive | 7th | 8.7 | 9 | 8.8 | 7.8 | 8.7 | 8.9 | 8.5 | 8.8 |
| Firestone Destination LE3 | 8th | 8.7 | 9 | 8.7 | 7.9 | 8.8 | 8.9 | 8.8 | 8.6 |
| Continental ExtremeContact DWS 06 Plus | 9th | 8.6 | 9.1 | 8.9 | 7.4 | 8.7 | 8.8 | 8.5 | 8.4 |
| Bridgestone Turanza QuietTrack | 10th | 8.5 | 9 | 8.7 | 7.4 | 8.8 | 8.8 | 8.7 | 7.9 |
---
President & Automotive Expert at COR Wheels
Robert Herrera has been with COR Wheels for 17 years and has a great passion for the automotive industry. During his time at COR Wheels, he has driven and test-driven a variety of vehicles.
---