Considered one of the most widely recognized Toyota lineups, the Tacoma receives praise for its exceptional durability, stable traction, and low maintenance costs.
But some might not know that their tire choices also have a say in the car's handling. The best Toyota Tacoma tires must fulfill your specific needs and preferences while ensuring decent overall comfort.
Scroll through our guidelines for more discussions on the matter.
In this article:
A. How to Choose The Right Tires for Toyota Tacoma
1. Understanding The Toyota Tacoma
Toyota Tacoma is a pickup truck with spacious cargo beds for heavy towing and loading. Specifically, it has a payload capacity of up to 1,685 lbs (2023 version) and can tow about 3,500 – 6,800 lbs; it would be better if you picked tires with load indexes of at least 109.
Most Toyota Tacoma lineups go with the RWD (rear-wheel-drive system) that prioritizes smooth, comfortable rides on paved roads and highways. You should look for tires with soft and preferably silica-blended compounds, stable sidewalls, and non-directional/symmetric patterns to smooth out road bumps and keep tread noises at bay.
On another note, spirited driving and sporty handling are quite tough for the Toyota Tacoma due to its large size, especially in tight or narrow spaces. As such, you should not overspend on performance tires.
Aside from the main RWD setting, Toyota introduces some 4WD (four-wheel-drive system) models to help you handle extreme off-road terrains and snow. Tires with aggressive shoulders, deep sipes, rugged sidewalls, and other features promoting extra clawing actions will work best for your driving preferences in this case.
2. Choose The Right Tire Type for Your Toyota Tacoma
a. Highway All-Season Tires
Do you mostly drive your pickup truck on highways and paved roads? Then highway all-season tires will be a natural choice for you in this case, as they balance dry-wet traction with riding comfort quite well.
Premium models also give you sharp steering feedback and stable cornerings without sacrificing treadwear rates. They also reduce rolling resistance (meaning you do not need much effort to move the car forward) to promote fuel economy.
b. All-Terrain Tires
All-terrain tires can help you tackle both on-road and light off-road terrains. To what extent (and which terrain is the tire's priority) depends on your driving preferences, so choose wisely:
Aim for on-road AT tires if you mostly travel on paved roads/highways and only venture off-road on occasion. 
Off-road AT tires will suit your needs most if off-the-beaten paths are the main terrains your Tacoma works on. They give you enough traction and tire integrity on light off-road dirt/rock/loose terrains while maintaining decent to good on-road composure.
If you travel frequently through both terrain types but do not have much demand for either, a set of affordable rugged AT tires is an excellent choice.
c. Off-road Max Traction Tires
If you have to travel on extreme off-road paths on a frequent basis, strong, aggressive off-road max traction tires will handle the hard work much better than any other tire mentioned here. Premium models from reputed brands can easily breeze through thick dirt, gritty rocks, and deep mud pits from all angles and at almost every driving rate.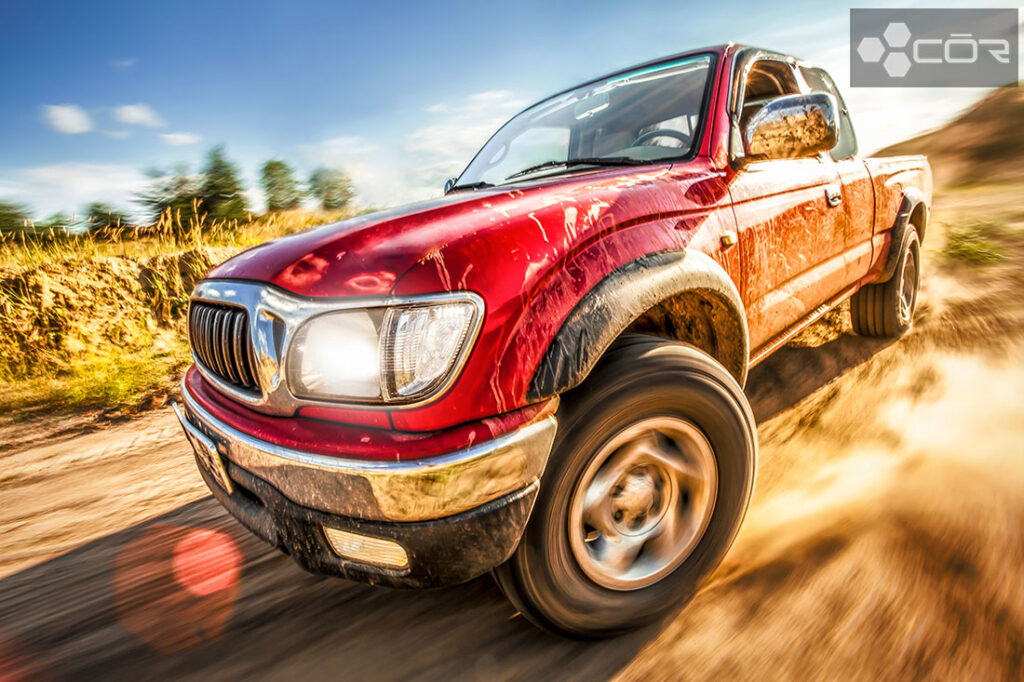 Note that while there are some exceptions, these tires usually do not pay much attention to on-road riding comfort.
d. Winter Tires
Snow tires are clearly the most logical option if you must travel a lot through harsh winter storms and thick ice. Their traction in other seasons is usually not as good, but our selected tires below guarantee reliable footings for occasional summer rides.
B. How Did We Pick and Test The Best Tires for Toyota Tacoma
We installed the 245/75R16 size of 196 best-selling tires through on- or off-road conditions to single out the higher-quality options on our Cor Wheels Tire Test 2023.
Based on the scores, combined with customer reports, we established full rankings. The ten recommended performers below occupy all the ten highest positions in the chart.
C. Best All-Season Tires for Toyota Tacoma
1. Michelin Defender LTX M/S
Best uses: high-spirited rides, long highways, heavy towing/loading, moderate travel in winter, deep water, light off-road gravel trails, soft rocks, long-time usage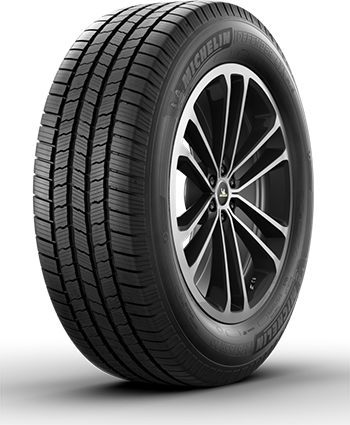 Tire Type
Highway All-Season
Tire Size
15″ – 22″
Weight
23.0 LBS – 60.19 LBS
Load Index
95 – 129
Load Range
C1 – XL
Speed Rating
– H: up to 130 mph
– T: up to 118 mph
Warranty
50,000 – 70,000 miles
Ratings
8.8/10