Ultra high-performance tires are among the most popular tire options in terms of steering control and traction – though treadwear usually has to be sacrificed in the process.
One problem remains: their complex/upgraded designs did not always translate well to actual practice. Hence, our annual COR Wheels test inspected the traction, durability, and steering feedback of some popular tires.
The ten tires with better overall scores are concurred by all our members as the best performance tires; scroll for more reviews and analysis!
In this article:
How Did We Test & Pick The Best High Performance Tires?
As a part of our annual 2023 COR Wheels Tire Test, the team has picked out 27 best-selling tires on the market up to 2022 December (high performance and ultra-high performance included).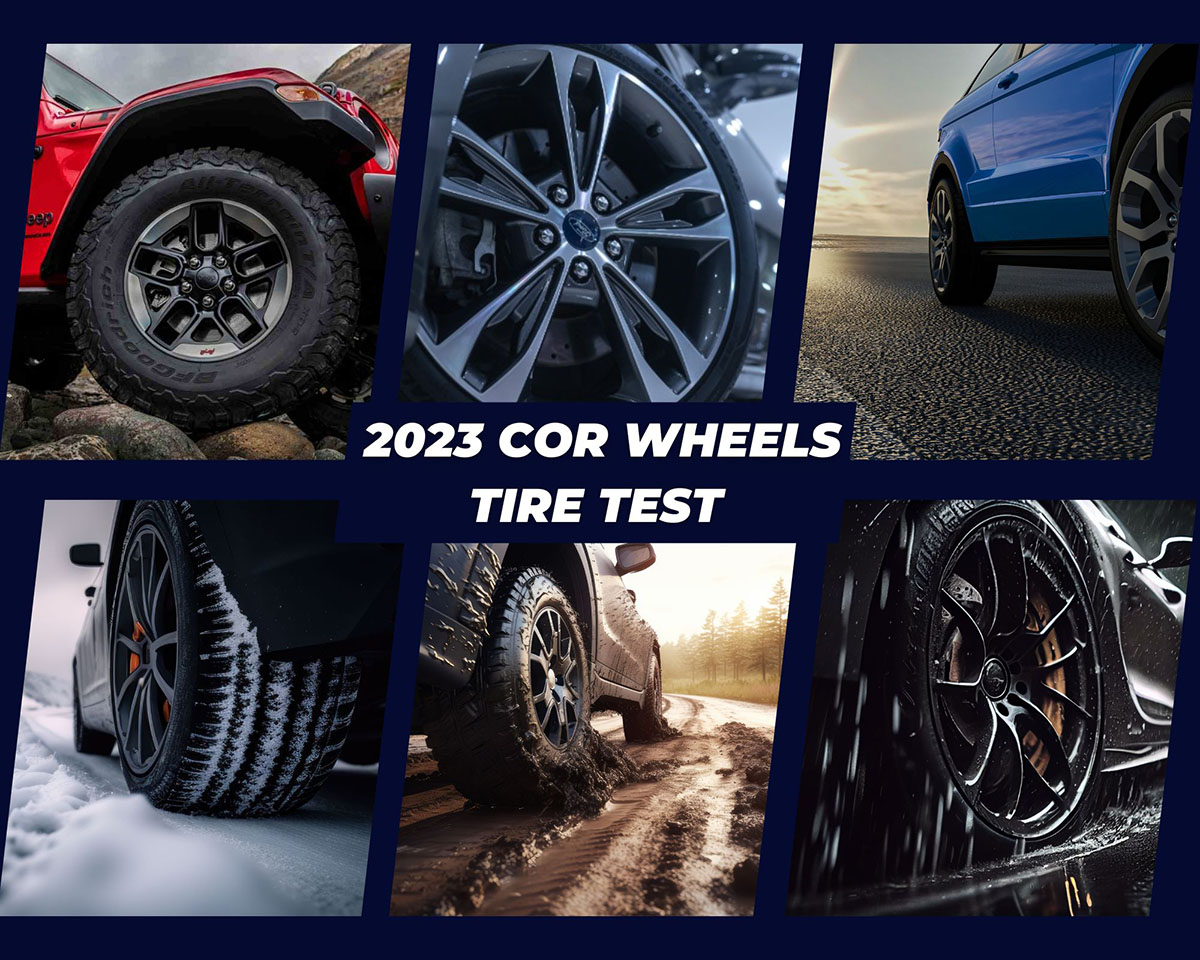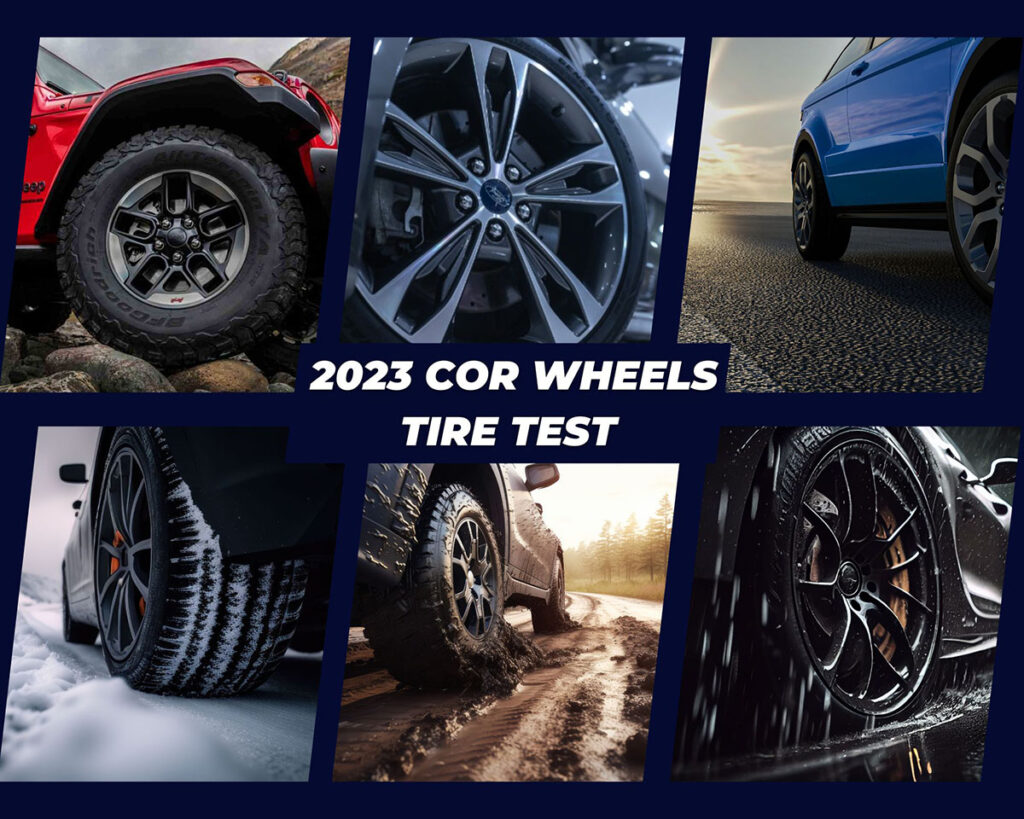 Performance tests for each tire were carried out in two separate sections, June-July (for summer evaluation) and January (winter). Six major criteria are involved, in which the first three become our major focus:
Dry performance
Wet performance
Comfort/noise
Treadwear
Winter/snow traction
Price
The follow-up findings, coupled with customer feedback and review collected from our survey, reflected the tire's true qualities compared to brands' advertisements.
Top 10 Best Ultra High Performance All-Season Tires
---
1.Bridgestone Potenza RE980AS+
Best for Overall Performance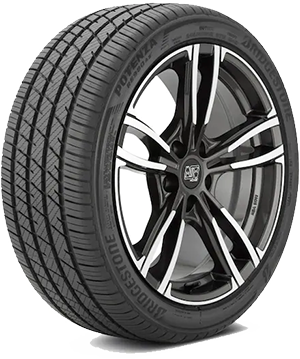 | | |
| --- | --- |
| Tire Type | Ultra High Performance All-Season |
| Tire Size | 16″ – 20″ |
| Weight | 23.0 LBS – 36.0 LBS |
| Load Index | 84 – 106 |
| Load Range | SL – XL |
| Speed Rating | – W: up to 168 mph |
| Warranty | 50,000 |
| Ratings | 8.9/10 |
Potenza RE980AS+ seals the deal as the best overall ultra-high-performance tire.
Its design takes most parts from the original RE980AS version, but this time with a few more upgrades. For instance, the noise-optimized, asymmetric tread pattern distributes tread blocks evenly to balance wet and dry performance with maximized comfort.
At the same time, the chamfered edges biting on its lateral slots provide more road contact on dry braking, aided by the 3D interlocking sipes for extra tread stability.
We also appreciate the open shoulder slot and grooves, intertwined in closely-aligned weaves to evacuate debris/water better off the contact patches.
Hence, the way the tire effortlessly carried itself on pavements was pleasant but by no means surprising. Its snappy feel clicked into place instantly after our car rolled on, and the rubbers maintained a constant, almost intimate connection with the road surfaces via the widened contact patch.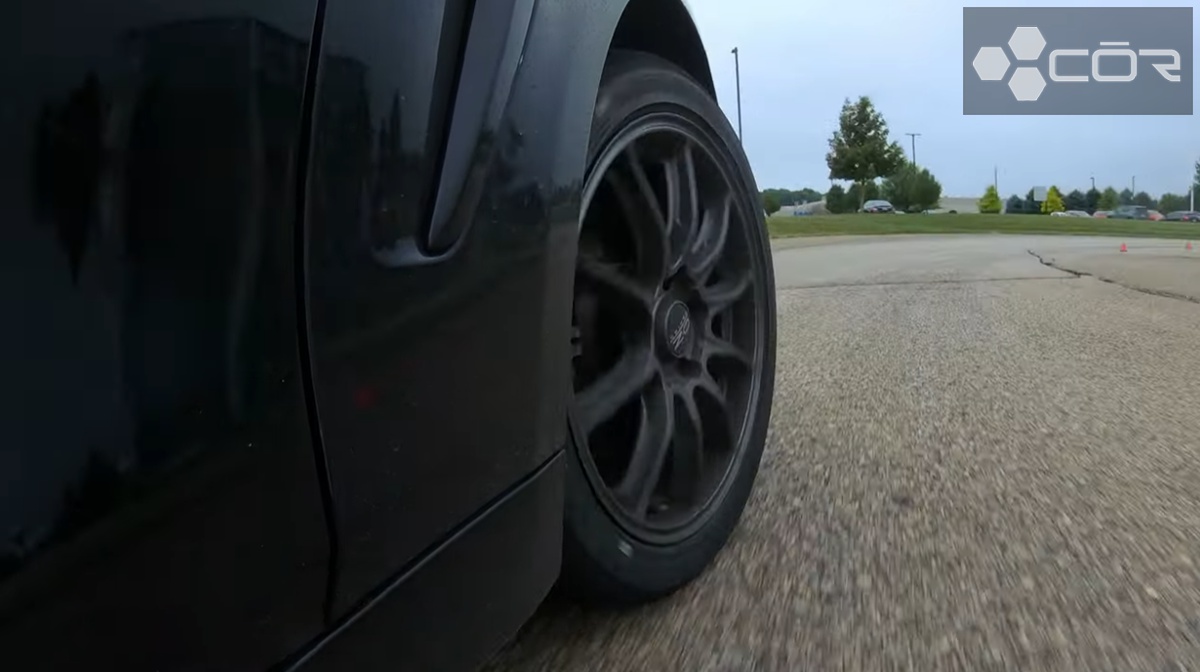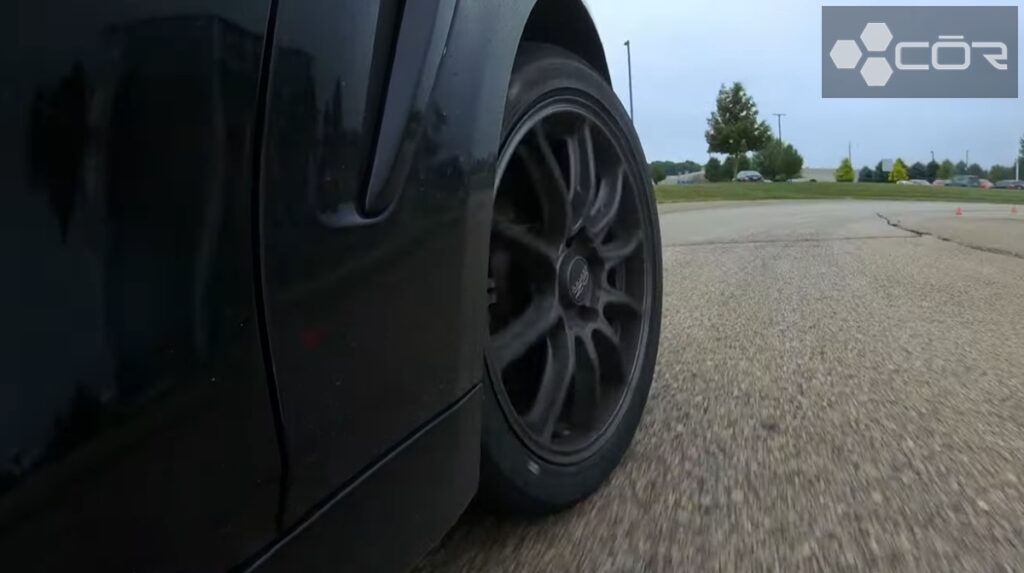 Even during particularly curvier stretches at 70-75 MPH, delays and stutters remained so brief that very few members of our team truly took them into mind. They were palmed out quickly under the tread and pushed the car forward with sharp, accurate steering difficulty.
And speaking of steering, none of our team members truly had to worry about ill-time jerks. Fatigue could still lurk around after very long rides (2.5+ hours), but not enough to throw its accuracy under the bus.
These power grooves and steering continued their secure, responsive footholds in wet traction, working extra hard to channel sticky rainwater off the sidewalls. At 1 or 2 first miles, the water did seep under our tire slits a bit often; fortunately, Potenza RE980AS+ recovered from its temporary numbness faster than expected and stepped up its hydroplaning-driving game for the rest of the ride.
30-35 MPH was already enough to keep consistent rolls on 4-5 inches of water – but if desired, acceleration to 60-70 MPH could also work. And while not as linear as straight-line driving, the tire's stability at wet corners and turns still delivered enough bite to be considered exceptional, showing little hesitation at off-camber hairpins.
Riding comfort was another strong asset of Potenza RE980AS+ – though given the tire design, it was not really a surprise. Potenza's 3D sipes offered a great balance of stability and flexibility, cushioning our tires nicely without giving us a sense of uncontrolling in rugged areas.
The more we neared 75 MPH, the smoother these rubbers seemed to fare out – and road noises at this point were almost completely whitened out by the shoulder slot. Tread noises could still have been improved at narrow, sudden bends, but they rarely got to the point of being a true pain during our ride.
While tread wear is not always considered a strong point of ultra-high-performance tires, Potenza RE980AS+ surprisingly delivered in this regard. Overheating was just few and far between in summers and even less in winters, seemingly aligning with general customer feedback that these tires only showed true signals of shreds after 7000 to 8000 miles.
All in all, this is the best choice for drivers prioritizing both firm handling and durability, with some money to spend.
Excellent traction on dry terrains; good for wet
Snappy feel that clicked instantly
Great stability at corners
Generally comfortable rides with little noise
Great treadwear (for an ultra-high-performance tire)
A bit of tread noise at narrow bends
Hydroplaning during the first 1-2 miles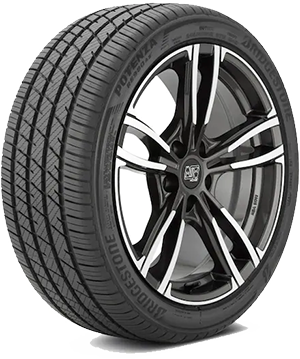 ---
2. Continental ExtremeContact DWS 06 Plus
Best for Overall High Performance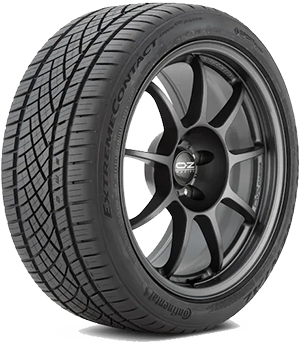 Tire Type
Ultra High Performance All-Season
Tire Size
16″ – 22″
Weight
19.0 LBS – 36.0 LBS
Load Index
83 – 114
Load Range
SL – XL
Speed Rating
– W: up to 168 mph
– Y: up to 186 mph
Warranty
50,000
Ratings
8.8/10
Running second as the best overall tire is the Continental ExtremeContact DWS 06 Plus. Minus the very slight comfort tradeoff, it was on par with our Bridgestone Potenza champion in almost everything else.
The tire is molded into asymmetric tread patterns with added help from the extra Sport Plus technology, instilling chamfered edges and macro-blocks for more cornering/traction responsiveness. Meanwhile, its circumferential grooves/ generous high angles invite water out more quickly, and the 3D sipes retain handling accuracy and offer extra biting edges in slippery conditions.
X-sipes take care of the tire's longitudinal and lateral grip by evening out concentrated pressure at corners, so we could expect how delightfully uneventful it felt on dry pavements. Each strike felt sure-footed and sharp, with a sense of anchored support we have never truly experienced in other Continental tires released around the same year.
Traction transition from one abrupt turn to the next rarely faltered despite the car's unannounced jumps (an experimental move from our members), even strengthening at the center during our accelerations from 45 to 60 MPH. Braking and 60-0 MPH deceleration were just as boldly confident, skidding to an eventual, planted stop that felt settling – very few shakes or jumbles during the process.
And the macro-blocks proved their strength when we transitioned to slick roads. What used to be considered at first by our team as "bad designs" turned out to be a lifesaver at 5-6 inches of deep water. These wide, almost barren spaces between the sipes gave the rainwater virtually no support to clamp on, sliding off the sidewalls just as quickly as how it entered.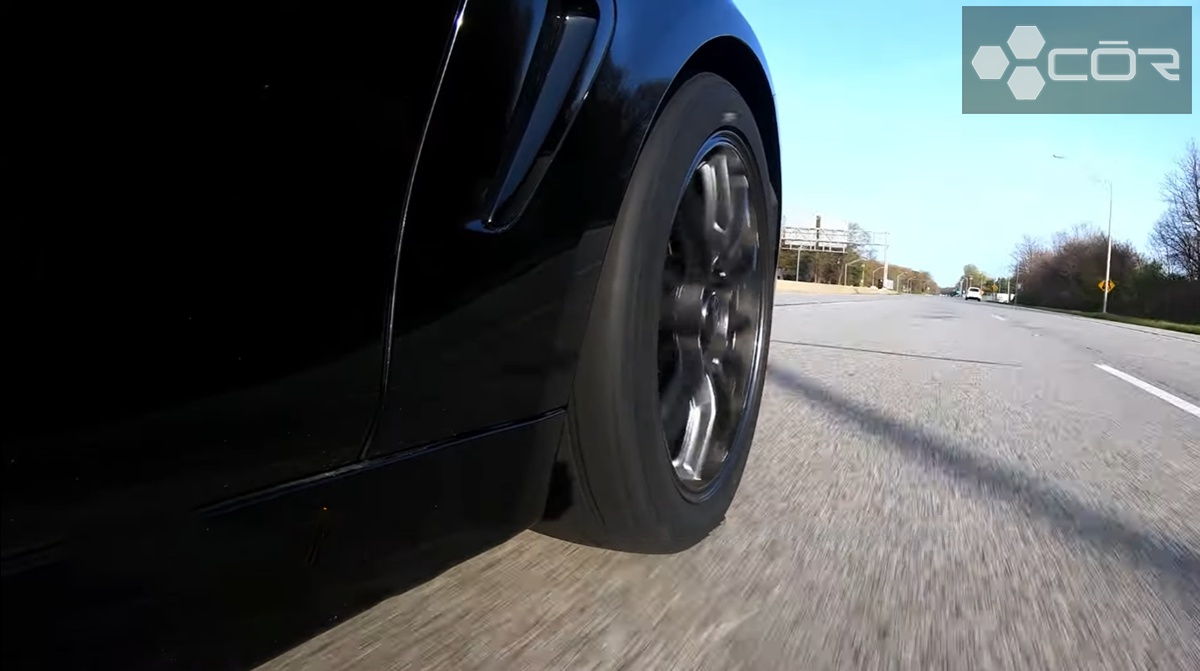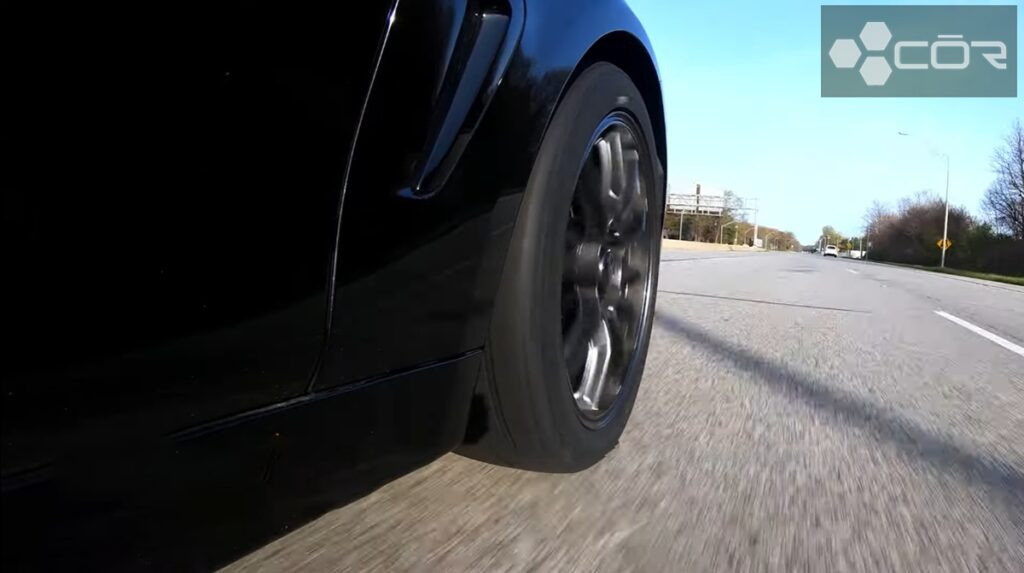 Its high wall angles also did a great job stripping water off the contact patch (minus a few more stubborn drops lingering at the edges) and paved the car through waterlogged roads in almost the same grace it had shown us on dry, gravel roads.
Sure, there were 5-6 seconds of goodhearted jerks (to shake the waters out) that might be annoying at the first 10 minutes or so. But they were quickly welcomed by our team members; after all, given the circumstances, these issues were far from the most worrying.
Smooth rides were a bit harder to achieve at high-speed cornering (dry and wet alike) and on severely cracked pavements – but nothing that truly bothered or got out of control. We were also generally pleased with how the rubber swallowed tread noises, despite that a few squeaking was still let out during brief (yet abrupt) 45-50 MPH turns at very narrow steering arcs.
Great dry traction; good wet traction
Generally comfortable rides
Feel more stable at accelerations
Pretty good hydroplaning resistance
Squeaking during sudden turns
A few jerks on wet roads in the first few minutes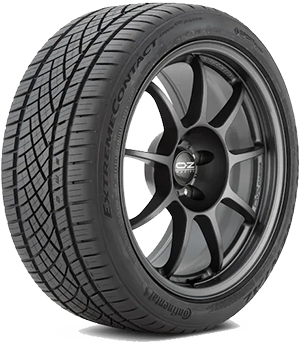 ---
3. Vredestein Hypertrac All Season
Best Performance Tire for Comfort and Noise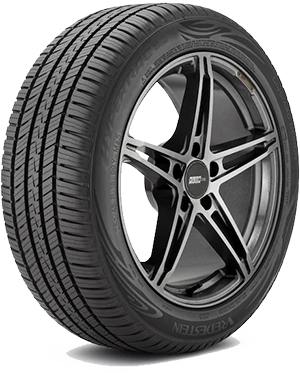 Tire Type
Ultra High Performance All-Season
Tire Size
16″ – 20″
Load Range
SL – XL
Speed Rating
– W: up to 168 mph
– Y: up to 186 mph
Warranty
50,000
Ratings
8.8/10
Vredestein Hypertrac All Season is the best tolerable tire on the road when it comes to road noises and overall riding comforts.
The tire utilizes wider outboard treads to deliver more agile handling and quick steering response. Its optimized grooves foster high void patterns for better water evacuation, aided by tuned polymer blends that maintain more planted feels on wet roads.
And thanks to the Zigzag sipes, tread blocks enjoy even-spaced micro incisions underneath that buffed road noises for us nicely.
Sure, we could still hear the low rumblings near the contact patches just like the other two toppers of the list, but what made Vredestein Hypertrac different was the way it handled the issue: the noise travel became more and more disruptive under the Zigzag sipes due to constant frequency changes, leading to them being much less audible for us and eventually swallowed up completely.
Long story short, it was not like the noises did not exist. They were still there; it was just that we could not hear much of them. And the outboard treads handled bumps and vibrations almost the same way the sipes tackled noises, breaking off road bump impact until their forces scattered weakly under the rubber.
Hence, despite the vibrations not completely disappearing throughout the ride, they rarely left behind a bad vibe and allowed us to roll through them with little to no issue. Strong accelerations /decelerations from 0 to 60 MPH and vice versa were smooth and far from being dramatic, unless we really counted the small shakes barely less than 1 second at speed entry as "delays."
And although riding comfort on cracked or rough terrains would be a few points or two lesser than on well-paved patches, drags were well-controlled under firm, linear steering grips and did not throw us in instant danger.
We experienced the same effortless, feathery feel on wet patches, brought to better heights thanks to the water-channeling void patterns. Brief stutters were mostly caused by a bit of cold water sliding into grooves – which our team members considered acceptable in water 5 to 6 inches deep.
Other than that, the bold, secure traction on the road at 30-45 MPH did not leave much room for complaints, and could still tread confidently even when hydroplaning occurred a bit more often at tight corners.
Handling noises and bumps better than most tires
Great dry and wet traction
Few delays between speed shifts
Fewer corner stabilities in wet
---
4. Michelin Pilot Sport All Season 4
Best Performance Tire for Daily Driving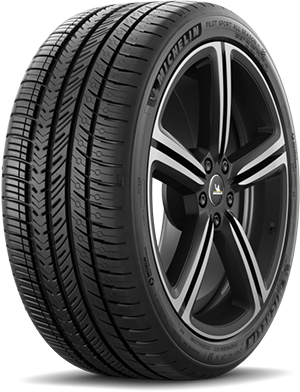 Tire Type
Ultra High Performance All-Season
Tire Size
16″ – 22″
Weight
19.29 LBS – 38.69 LBS
Load Index
84 – 114
Load Range
SL – XL
Speed Rating
– V: up to 149 mph
– Y: up to 186 mph
Warranty
30,000 – 45,000
Ratings
8.7/10
Michelin Pilot Sport All Season 4 is just the right tire for daily driving.
It features asymmetrically-molding tread reinforced by large shoulder blocks to deliver more lateral grip. The Dynamic Response Technology even exerts forces at hard corners, while the circumferential channels work with huge rain grooves in efficient water evacuation.
There are also extra Extreme Silica layers and 360-degree sipes, interlocking to offer biting edges deep into the grooves. And we liked how the tire incorporated the classic Helio Technology (sunflower-oil-derived) well under the tread to coat it with sufficient temperature layers.
Our tires were neither too soft to tackle hard debris nor too aggressive that every ride felt like a spirited racing track; they fit regular driving well and delivered each strike with modest but firm self-awareness. We kept our steering endeavors at gentle water (45 to 55 MPH, the usual range for daily driving) and experienced nothing beyond peaceful, generally-smooth riding.
Given that no consecutive turns or curves were around (not that they are very common in daily driving), violent bumps and jostles were very rare for us. They mostly occurred at sharp turns or unexpected slippery surfaces – and again, these are far from issues drivers often encounter on their long-familiar path from home to workplace.
The large shoulder blocks carried most of their power into wet traction. Our speed admittedly had to be brought lower (30-35 MPH) for better slippage control in water deeper than 6 inches, but the ride remained mostly uneventful otherwise.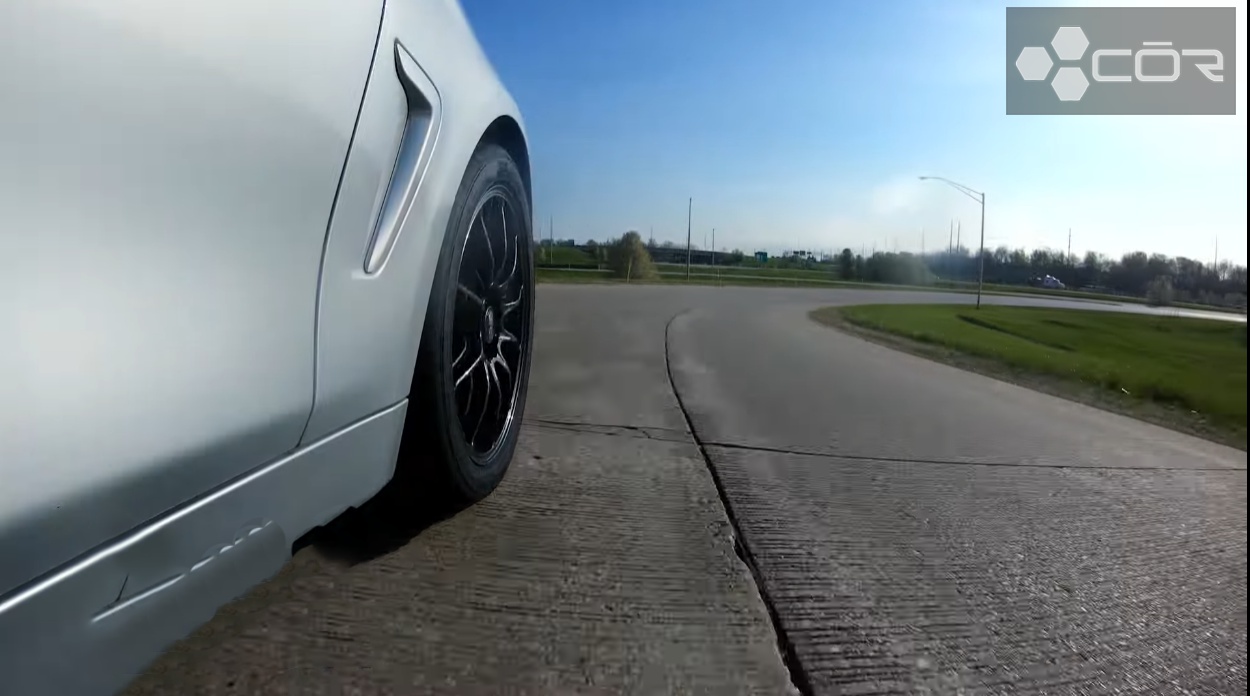 Even tight bends were not that much of a challenge when we alternated well between acceleration and consistent treading speeds, facing fewer hydroplaning risks than the Vredestein at #3.
Aggressive, spirited driving around 70-75 MPH did compromise its stability on both dry and wet traction. But again, the chances of drivers having to rev up to those heights during daily trips were low. If you engage in high acceleration often and still want to purchase these tires, remember to arm your car with appropriate aftermarket upgrades first.
Great for daily driving
Good on dry and wet road surfaces
Comfortable rides and acceptable noises
Few hydroplaning risks at corners
Needs more caution with aggressive driving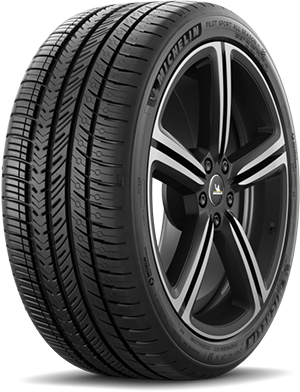 ---
5. Yokohama ADVAN Sport A/S+
Best for Handling and Maximum Grip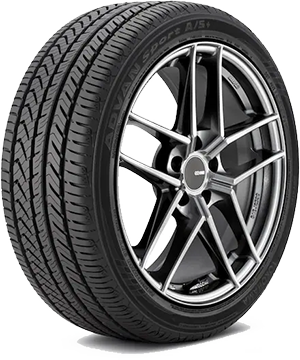 Tire Type
Ultra High Performance All-Season
Tire Size
16″ – 21″
Weight
21.0 LBS – 34.0 LBS
Load Index
87 – 106
Load Range
SL – XL
Speed Rating
– W: up to 168 mph
– Y: up to 186 mph
Warranty
45,000
Ratings
8.6/10
Yokohama ADVAN Sport A/S+ excelled in general grip and handling during most terrains we have tested.
Asymmetric tread patterns aside, Yokohama ADVAN offers huge outboard shoulders to foster dry cornering, while the intermediate blocks (located right between the rib and shoulder blocks, hence the name) strengthen lateral stability and handling response.
There is also extra silica content added to the compound to utilize the substance ratio and increase wet traction, and drivers could trust the circumferential grooves to fulfill their jobs as water-evacuation channels.
Impressive than most for us are the Wavy sipes and Z-grooves (inboard serpentine included), which introduced more biting edges to our ride than any other Yokohama predecessors we have tried out.
Thus, we could not find much in us to complain about the handling: its response was just the right amount of urgency and accuracy, veering us right on track when we misstepped while still leaving some room for a bit of wilder edges at more spirited driving of 60 to 65 MPH.
Its intermediate blocks lent us enough traction stability for trickier cornering endeavors and could tolerate slightly bolder outward leanings – which proved more practical than we thought when diving at hairpins or off-camber bends.
Handlings and grip exhibited more struggle when it came to deeply waterlogged patches (beyond 6 inches) but were still within safe territories for a quality tire. Minor jostles as the cold water seeped near the grooves did not severely affect their response accuracy – to the point that we could navigate urgent roundabout turns or unannounced roadblocks just fine without much traction loss or slippage risks.
Acceleration to 60 MPH in water did feel a bit skittish. But given how much work the grooves had to deal with (sustaining grip, handling significantly higher speed demand, channeling water of 6 inches and beyond), we could let it slide.
That aside, our team members were also generally pleased with the riding quality. Stutters and hiccups happened more often around fractured pavement grooves and heavy, freezing water – but the great noise control totally compensated for these drawbacks. Most of the time (below 75 MPH), they were either less than a whisper or low enough to be blended in with engine sounds.
Great handling and grip on dry pavements; good on wet roads
Accurate steering response
Great noise controls
Good treadwear
Stutters and bumps were still common in water or on fractured pavement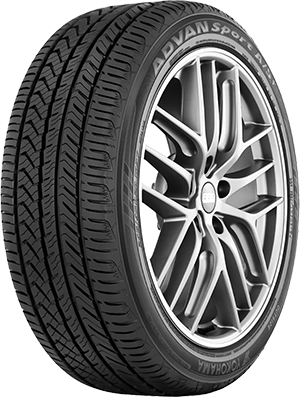 ---
6. BFGoodrich g-Force COMP-2 A/S PLUS
Best for Dry Performance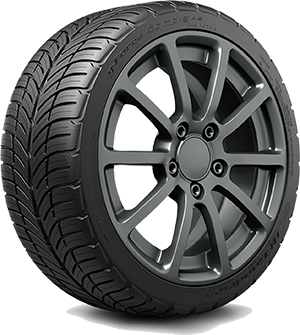 Tire Type
Ultra High Performance All-Season
Tire Size
16″ – 20″
Weight
19.4 LBS – 38.23 LBS
Load Index
87 – 106
Load Range
SL – XL
Speed Rating
– W: up to 168 mph
– Y: up to 186 mph
Warranty
45,000
Ratings
8.4/10
BFGoodrich g-Force COMP-2 A/S PLUS is clearly meant for dry performance, judging its design.
The tire continued its predecessor's success by retaining the same compound designs, featuring wraparound elements and square shoulders to keep rigidity and lack of confidence at bay. The aggressive directional V-shaped patterns seal the deal, using angled longitudinal/lateral grooves for extra grip and stability.
Our car had no trouble connecting itself instantly with the road through the enlarged, optimized contact patch, which gave us the boosted confidence to start the first mile right at 40 MPH (instead of the usual 30-35).
Traction remained most of the time during straight-line driving, and only gave off some good-hearted shakes at corners when we decelerated a bit abruptly from 40 to 35 MPH to prepare for roundabout turns.
At the same time, the cushion feel under the tread blocks palm out road irregularities with enough subtleties – informing us of possible vibrations without being annoying. Likewise, tread noises also knew their limits: their dull thuds below the rubber alerted us of stronger road contacts than intended, but were kept under control to avoid being a nuisance.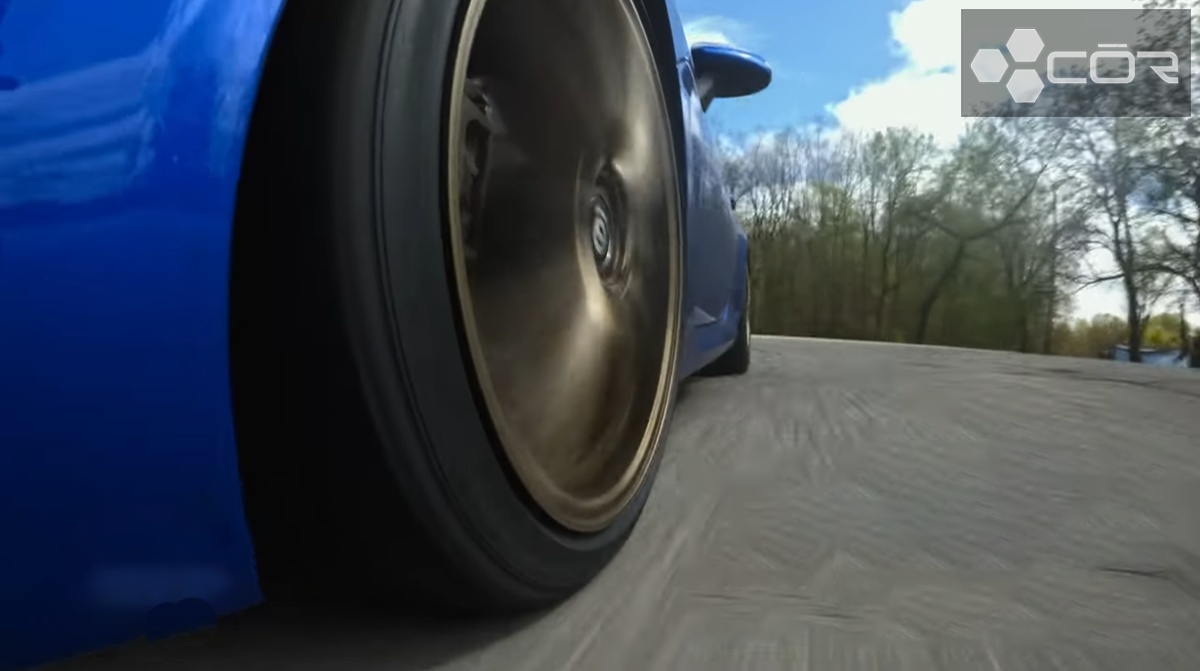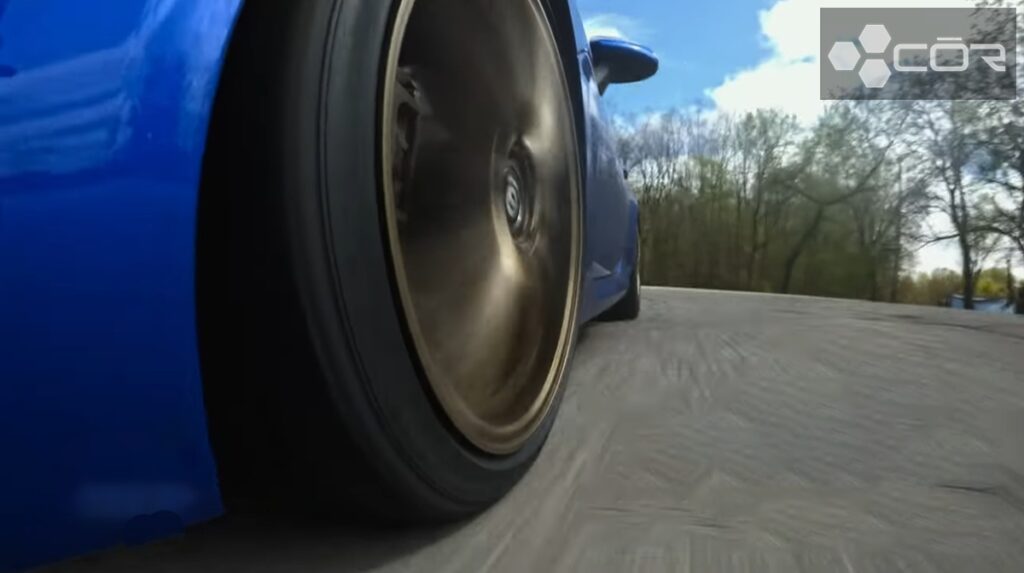 Steering response could have been improved at tight S-curves to give off a more confident foothold – but overall, our dry performance was a peak of grip, handling, and riding comfort combined.
g-Force COMP-2's wet grip was not as good as on dry pavement but more than enough to be considered one of the top-ranking tires.
Hydroplaning did occur when the high wall angles shifted constantly in alignment with our constant speed changes (40 to 30 MPH or vice versa); still, the way the V-shaped patterns compensated for this oversight was admirable.
Rainwater naturally flowed in V-pattern to the center before dispersing completely at the edges, allowing us to retain basic steering decency and enough security to navigate urgent lane changes and high-speed exits.
If there is any drawback that truly threw us off, it was riding comfort and noise on slippery roads. These qualities were exceptional on dry pavements (as discussed above) but lost some of their edges on wet surfaces. And we were not even talking about deep water or waterlogged patches – just wetter terrains due to fog, cold weather, or post-rain.
Lowkey slurping noises and skittish feel under the tread did not ring loud or disrupt the ride (after all, its wet traction was still good). However, they occurred often enough to tickle our nerves.
Great dry performance; good on wet
Good handling with fewer hydroplaning risks
Great riding comfort on dry tracks
Lackluster comfort and lots of noises on wetter surfaces
Steering response might feel dull at curves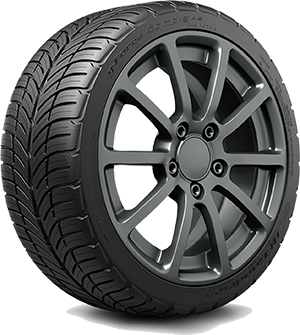 ---
7. Goodyear Eagle Sport All-Season
Best for Long Tread Life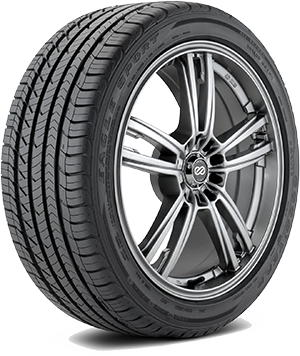 Tire Type
Ultra High Performance All-Season
Tire Size
16″ – 22″
Weight
19.0 LBS – 44.0 LBS
Load Index
88 – 117
Load Range
SL – XL
Speed Rating
– H: up to 130 mph
– W: up to 168 mph
Warranty
50,000
Ratings
8.4/10
For an ultra-high-performance tire (which is not often associated with durable treadwear), Goodyear Eagle Sport All-Season does a great job in that regard.
A quick look into the design revealed how well-prepared the tread structure was: it was asymmetrically molded into large tread contact areas, aided by the linked outboard shoulders and notched centers for optimal handling.
And, of course, the full-depth sipes and grooves must be mentioned, doing the most work in protecting our tread. Their relaxed yet interwoven threads left very little room for water, debris, or even light snow particles to infiltrate the slits and scratch over the tread's surface.
Thus, despite occasional heatings due to the lack of extra additives or coats, our tires retained their tread threads well. The heavy abuse throughout our COR Wheels test only left its mark on the very faint scuffs at the top after 10 days, keeping the rest of the tire out of the damage path.
Considering how most reviewers concurred they could get 50,000 to 55,000 miles (even 60,000 miles for some) out of these tires, this finding seemed to truly reflect its durability beyond the time frame of our test.
Treadwear rates aside, the grooves and outboard shoulders clearly influenced the tire's dry performance positively. Steering and cornering were a bit lagging at narrow curves at low speeds due to the lack of strong immediate blocks, but they powered on in most of the right places and hence, still landed in our favor.
Revving up to over 70 MPH was a breezy endeavor, all thanks to the firm footholds (though we had to be more cautious when passing the 75 MPH threshold); and except for sticky mud or small pebbles around dry construction sites, the tire channeled road obstacles well.
Unfortunately, wet performance did not carry on the same hydroplaning-driving qualities. Standing water was no problem, but clear struggles could be observed mid-downpour or storm: our tires failed to keep composure at the vicious water attacks and eventually caved at the edges, inviting some of them into the grooves.
Riding comfort with the Goodyear Eagle was also underwhelming, though thankfully with much fewer tread noises than the BFGoodrich model ranking right above it.
Good tread life (for an ultra-high-performance tire)
Good dry traction and handling
Could tackle mud or debris
Wet traction needs improvement
Bumps and vibrations are constant
Tread noises still occur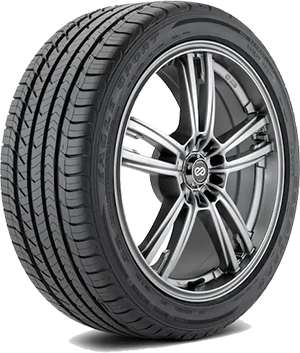 ---
8. General G-MAX AS-05
Best Performance Budget Tire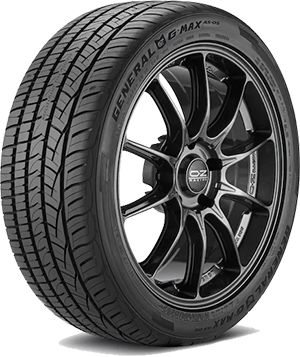 | | |
| --- | --- |
| Tire Type | Ultra High Performance All-Season |
| Tire Size | 16″ – 22″ |
| Weight | 17.0 LBS – 33.0 LBS |
| Load Index | 83 – 107 |
| Load Range | SL – XL |
| Speed Rating | – W: up to 168 mph |
| Warranty | 50,000 |
| Ratings | 8.3/10 |
General G-MAX AS-05 is the best option (financially wise) for tight-budget drivers. And despite the low price, General G-MAX still delivered basic features and even some higher-end zeals seen in more expensive tires.
A case in point is the SmartGrip Technology instilled onto the asymmetric treads to offer sporty handling. The stable, large tread blocks outboard pair with the inboard shoulders to inspire more confidence at high speeds, while G-MAX's strong center ribs offer a solid feel on-center and more responsive steering.
Aided by the extra silica compounds, the tread sipes and block edges did a great job sustaining our car's firm traction through their biting edges. Their planted anchor on the dry ground was comparable to the Goodyear Eagle (ranking at #7) and only a tad behind Vredestein Hypertrac or Yokohama ADVAN – all the more evidence of how capable they were compared to their own pricing range.
Speed changes were a bit lagging at entries but smoothed themselves out mid-way to deliver settling, sweet exits that felt final – no residue shakes or rumbles were left behind. Tackling abrupt U-turns through equally abrupt accelerations from 30 to 50 MPH did not pose as much difficulty as we expected, recovering well from the very brief traction loss thanks to the SmartGrip technology.
Needless to say, straight-line driving with few corners or turns was even more stable and rarely veered out of track. We did wish the brand could have done something with the riding comfort, though: jostles were far from dangerous but became pretty pronounced at beyond 60 MPH, and the crunchy, squeaking tread noises did not sit well with all of our members.
In compensation, wet traction was surprisingly good given the upfront cost. To put things in perspective, it was more or less the same as Yokohama ADVAN (ranking at #5) and miles ahead of Goodyear Eagle at #7!
Like Yokohama, General G-MAX handled hydroplaning quite well and never let slippage accidents (water 3-4 inches deep) go too far out of control. Steering and cornering were not exceptional but delightfully decent, giving us enough margin to rev up to 40 MPH or go down from 40 to a full stop.
Budget tires
Good dry and wet traction (even comparable to expensive options)
Handling hydroplaning well
Bumps and noise a bit frequently (still acceptable)
Needs caution at speeds beyond 60 MPH
---
9. Pirelli P Zero All Season Plus
Best for Handling and Dry Traction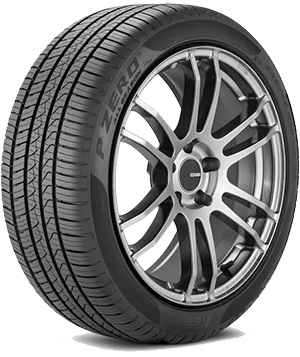 Tire Type
Ultra High Performance All-Season
Tire Size
17″ – 20″
Load Range
SL – XL
Speed Rating
– W: up to 168 mph
– Y: up to 149 mph
Warranty
50,000
Ratings
8.3/10
Pirelli P Zero All Season has decent to good deliveries in most of its riding quality but shines best with dry traction and handling.
The tire introduces polymer and special silica to its already advanced tread compound, with diverse tread element sizes to reduce vehicle noises.
At the same time, the five-rib patterns and stable shoulder outboards lace with lateral sipes to optimize cornering, aided by the strong center ribs that deliver more steering control and handling.
As a result, its dry traction was powerful; we did not feel the grip slipping away at turn/directional changes the same way as with other standard tires, and the refills at more lackluster patches occurred discreetly enough to retain the general smooth feel of our straight-line driving.
Some bumps could have been reduced with increased intermediate blocks at corners, but fortunately, they did know their limits and never got to the point of borderline annoying.
We felt confidently inspired enough to rev from 45 MPH to 60 MPH just 15 minutes into the ride, navigating through sweeping and narrow curves with relatively consistent handling responses. The shoulder boards worked in close alignment with the car's chassis system and hence, rarely threw us out of our composure with sudden power surges or shaking flames.
Handlings on wet traction were understandably more flimsy but still in good territories, landing on the same places as BFGoodrich g-Force ranking at #6.
Aquaplaning was not completely off the bay but could be controlled with consistent treading acceleration and grinding steering wheel; the handling response – while not as sharp as we had experienced on dry pavements – still delivered accurate, on-time rebounds within 35 to 50 MPH.
The riding comfort of Pirelli P Zero was not stellar, but still a significant improvement compared to the four direct competitors above it (from #5 to #8). Jostles and stutters often lurked around narrow bends but felt quite faint with our pronounced steering inputs, resulting in low, well-controlled tread sounds that most team members could easily tune out.
Good handling and dry traction
Decent riding comfort with acceptable noise levels
Good steering on wet terrains
Hydroplaning still happens
So-so treadwear (even for an ultra-high-performance tire)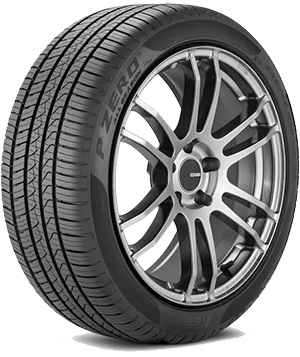 ---
10. Cooper Zeon RS3-G1
Best for Wet Traction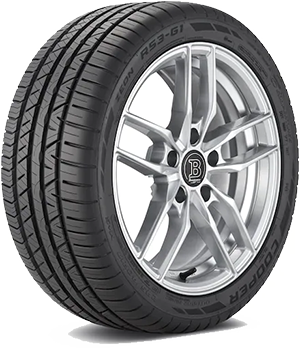 Tire Type
Ultra High Performance All-Season
Tire Size
16″ – 20″
Weight
22.0 LBS – 35.0 LBS
Load Index
84 – 107
Load Range
SL – XL
Speed Rating
– W: up to 168 mph
– Y: up to 186 mph
Warranty
45,000
Ratings
8.3/10
Cooper Zeon RS3-G1 is the best tire option for mildly wet terrains, such as under fog, cold temperatures, or lightly-watered surfaces post-rain.
It features coupled silica compounds molded asymmetrically, with circumferential grooves and lateral notches that help with hydroplaning issues. Interlocking micro sipes (instead of macro like some other tires) also stabilized our tread well without being overly aggressive, allowing the car to march uneventfully at 30-35 MPH.
Acceleration beyond 40 MPH was seamless for straight driving but proved a bit troublesome at blind curves; Cooper Zeon was not sensitive/flexible enough to adjust angles according to conditions and just rotely followed our exact input. Nevertheless, it still leans enough in our favor, and gained composure quickly once we were out of the trickier zone.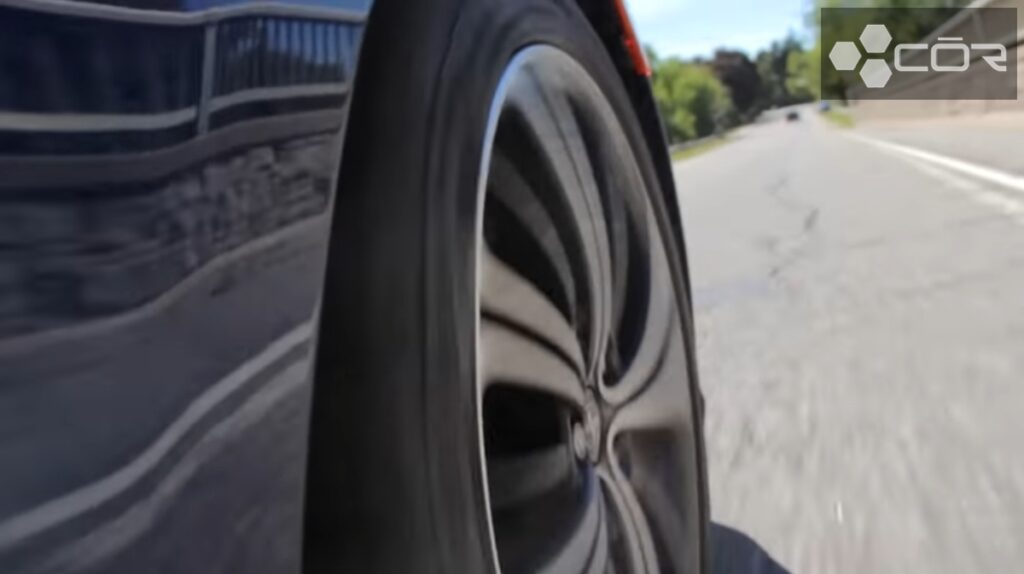 On another note, Zeon RS3-G1 was not meant for deeper water (beyond 4 inches) or waterlogged road sections. The grooves were deep but not enough to tackle ongoing rainwater flow, inviting hydroplaning issues to linger longer than they should at off-camber bends. It seemed 25-30 MPH was the safest range to travel across these passages without severe slippage risks.
In compensation, the tire's dry traction was stable and confident (though most tires on our list were), with decent comfort and riding noise. The tread thuds sounded more obvious when hit with debris or roadblocks at acceleration entries, but remained low during the rest of our steering endeavors.
Handles thin water layers well, not aggressively
Great dry-road traction
Decent ride comfort
Occasional low noises
Struggles with deep water
How To Choose The Best High Performance Tires
Consider the following criteria for high-quality performance tires:
Weather: Areas with mostly dry terrains and only mild weather could do with mid-range performance tires. However, regions that suffer from constant temp changes should be tackled with higher-end tire models.
Car models: If you own performance-oriented vehicles (say, sports cars), it would be better to find tires with capable and compatible handling for their systems.
Tread design and compound: Regardless of your preference, a good performance tire should perform at least decently on dry and wet terrains with consistent sipes and deep grooves. Extra biting edges on snow would be welcomed.
Budget: Assess your priorities to avoid overspending. For instance, there is no point in buying tires with extra chamfered edges and vices if your mid-range car rarely engages in aggressive driving.
Conclusion
Bridgestone Potenza RE980AS+ leaves other competitors by a long mile regarding overall performance and traction – leading the best high performance tires; even its treadwear (always considered the weakest point of most ultra-high-performance tires) was surprisingly good thanks to the well-molded compounds and extra buffed layers.
However, for non-aggressive drivers that only need stable handling in daily driving, Michelin Pilot Sport All Season 4 is a better fit – neither too soft nor too aggressive. Meanwhile, General G-MAX AS-05 is an excellent choice when it comes to budget-saving, requiring less maintenance while still delivering beyond-average wet and dry traction.
Here is the summary of the 10 best ultra high performance all-season tire in the 2023 COR Wheels Tire Test:
| Tire Brand & Model | | | | | | | | | | | | | |
| --- | --- | --- | --- | --- | --- | --- | --- | --- | --- | --- | --- | --- | --- |
| Bridgestone Potenza RE980AS+ | 1st | 8.9 | 9.1 | 9.2 | 9.1 | 9.1 | 8.9 | 8.9 | 8.9 | 8.8 | 8.8 | 8.6 | 8.7 |
| Continental ExtremeContact DWS 06 Plus | 2nd | 8.8 | 9.1 | 9.2 | 9 | 9 | 8.9 | 8.9 | 8.8 | 8.7 | 8.8 | 8.5 | 8.4 |
| Vredestein Hypertrac All Season | 3rd | 8.8 | 8.9 | 9 | 8.9 | 8.9 | 8.8 | 8.8 | 8.7 | 8.8 | 8.8 | 8.7 | 8.5 |
| Michelin Pilot Sport All Season 4 | 4th | 8.7 | 9.1 | 9.2 | 9.1 | 9.1 | 8.9 | 8.9 | 8.9 | 8.6 | 8.7 | 8.5 | 8.3 |
| Yokohama ADVAN Sport A/S+ | 5th | 8.6 | 8.9 | 9 | 8.8 | 8.8 | 8.4 | 8.4 | 8.4 | 8.3 | 8.7 | 8 | 8.6 |
| BFGoodrich g-Force COMP-2 A/S PLUS | 6th | 8.4 | 9 | 9.1 | 9 | 9 | 8.6 | 8.7 | 8.6 | 8.1 | 8.3 | 7.8 | 7.9 |
| Goodyear Eagle Sport All-Season | 7th | 8.4 | 8.8 | 9 | 8.7 | 8.8 | 8.2 | 8.2 | 8.1 | 8.2 | 8.3 | 8 | 8.3 |
| General G-MAX AS-05 | 8th | 8.3 | 8.8 | 8.9 | 8.7 | 8.7 | 8.5 | 8.6 | 8.5 | 8 | 8.3 | 7.8 | 8 |
| Pirelli P Zero All Season Plus | 9th | 8.3 | 8.9 | 9 | 8.9 | 8.9 | 8.6 | 8.6 | 8.6 | 8.4 | 8.5 | 8.3 | 7.3 |
| Cooper Zeon RS3-G1 | 10th | 8.3 | 9 | 9 | 8.9 | 8.9 | 8.3 | 8.3 | 8.3 | 8.3 | 8.4 | 8.2 | 7.6 |
---
President & Automotive Expert at COR Wheels
Robert Herrera has been with COR Wheels for 17 years and has a great passion for the automotive industry. During his time at COR Wheels, he has driven and test-driven a variety of vehicles.
---