Selecting the right winter tires for an SUV requires careful deliberation. They need more grip on slippery surfaces than normal while still fitting properly and maintaining a quiet, comfortable ride.
At COR Wheels, we recognized these challenges and took the initiative to conduct comprehensive tests to sift through the noise. Our aim was simple: to guide you toward the best winter tires for SUVs. So, read on to uncover our results and tailored recommendations.
In this article:
How We Test & Pick The Best SUV Tires in Snow
The list below is the result of our comprehensive 2023 COR Wheels Tire Test. We subjected 25 top-rated winter tires on the market to exhaustive testing, then integrated feedback from numerous American drivers about real-world performance.
Our primary focus was undoubtedly on winter performance (including how each tire fares in light snow, deep snow, and on ice). But we also understood the importance of versatility and didn't turn a blind eye to dry and wet performance.
Factors like comfort, durability, and price also played pivotal roles in our final selections to ensure that our recommendations not only give you safety in winter conditions but also offer value for money and a comfortable ride.
The 8 Best Snow Tires For SUV In 2023
---
1. Michelin X-Ice Snow SUV
Best for Overall Snow Performance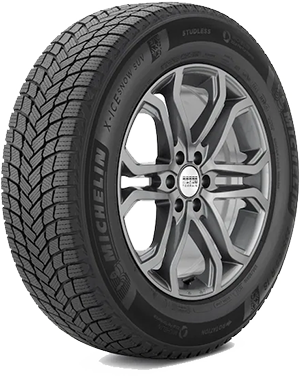 Tire Type
Winter/Snow
Tire Size
16″ – 22″
Weight
27.93 LBS – 41.27 LBS
Load Index
100 - 116
Load Range
SL – XL
Speed Rating
– T: up to 118 mph
– H: up to 130 mph
Warranty
40,000 miles
Ratings
8.9/10
The Michelin X-Ice Snow SUV boasts superior performance across winter conditions and ranks as our top pick.
Michelin proves once again why it's a technology powerhouse. A newly innovated V-shaped tread pattern not only showcases an aggressive appearance but fundamentally improves traction by increasing the void in the tire.
Another highlight of engineering is the Flex-Ice 2.0 compound. This silica-rich compound retains flexibility in freezing conditions, crucial for maintaining a grip on diverse winter terrains, from wet and icy patches to dry pavement.
Whether navigating city streets or highway stretches, this tire steadfastly holds its ground. It can make your car's performance remain unhindered, even under acceleration or during sudden braking.
On the test tracks blanketed in a thick layer of snow of 7 inches and more, the tires bit into the snow with confidence and launched our SUV forward without hesitation. Even when we approached a particularly slippery section at around 30 mph, the vehicle maintained its composure.
The Michelin X-Ice Snow's primary focus might be winter surfaces, but that doesn't mean it neglects the dry tarmac. But you should keep in mind that its soft compound can become problematic during summer.
Aside from snowy conditions, the Michelin X-Ice Snow also shines on wet roads. Traction remains consistent, even on drenched surfaces.
Through large puddles, instead of skimming over them, the tire's V-shaped grooves efficiently channeled the water out, and our car remained firmly grounded with no signs of hydroplaning.
The tire's high-silica compound can give you a smooth ride by absorbing most road imperfections with ease. Noise levels, while not the absolute best, are well within tolerable limits, with only a faint hum discernible at higher speeds.
Given its design for harsh cold months, we didn't expect it to match all-season tire longevity. Yet, it does manage to impress within its own category. What's more? Michelin is one of the rare players that offer a treadwear warranty (40,000 miles for this tire).
While it might come at a premium compared to some budget winter tires, the Michelin X-Ice Snow justifies its price tag.
Those seeking ultra-quiet performance or intending to use them year-round, especially in warmer climates, might want to consider alternatives. But if you usually navigate challenging winter conditions, the X-Ice Snow stands as a frontrunner in its category.
Exceptional acceleration traction on packed and unpacked snow
Excellent wet/slush traction
Very good handling and braking on dry surfaces
Good tread life for a winter tire
Longest treadwear warranty in the category
Not the quietest tire around
Less effective in hot summer conditions
Expensive, even when compared to other tires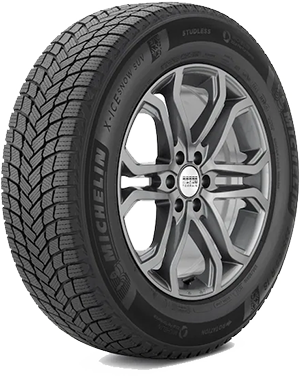 ---
2. Bridgestone Blizzak DM-V2
Best for Wet and Snow Traction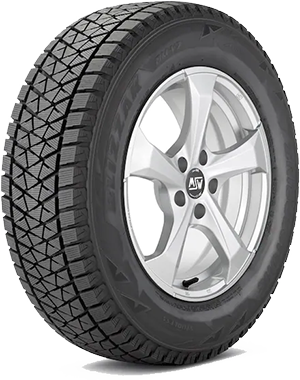 Tire Type
Winter/Snow
Tire Size
15″ – 22″
Weight
23.0 LBS – 45.0 LBS
Load Index
95 – 117
Load Range
SL – XL
Speed Rating
– R: up to 106 mph
– T: up to 118 mph
Warranty
None
Ratings
8.8/10
The Blizzak DM-V2 is known for its wet and snow traction excellence. It features Bridgestone's adaptive Multi-Cell compound, which not only remains flexible in sub-zero temperatures but also efficiently wicks water off packed snow and ice. Microscopic bite particles embedded within this compound drastically enhance grip, making sudden brakes on glare ice safer.
Furthermore, the tire's design—a directional tread with 15% more aggressive block edges than its predecessor and 3D zig-zag sipes—works in harmony to expel water, slush, and snow, optimizing traction.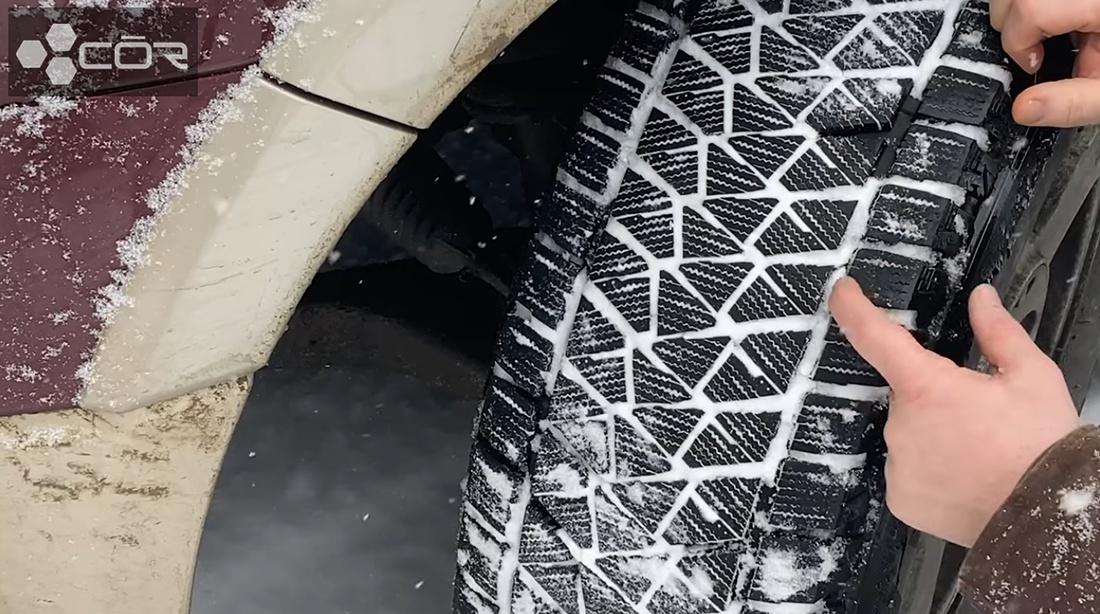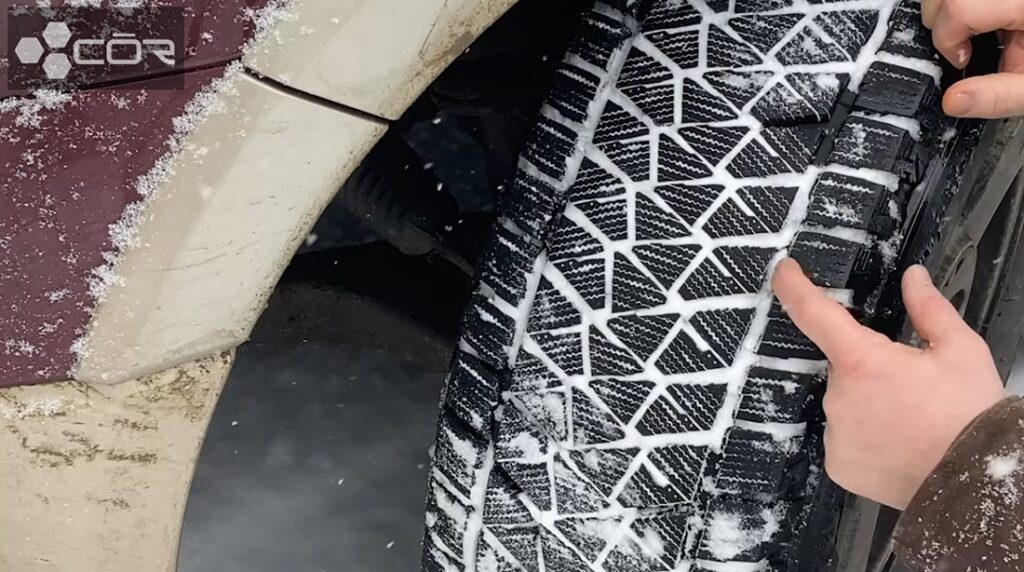 Whether it's accelerating grip, cornering tenacity, or traction during urgent braking, the DM-V2 consistently delivers you enough confidence. Its grip on icy and snowy roads feels almost three times as superior as an "all-season" tire.
We drove on tracks covered with more than 6 inches of fresh snow, pushing to 50 mph and approaching a sharp bend. The tires always held their ground, delivering impressive control and stability.
In wet conditions, the Bridgestone Blizzak DM-V2's performance is also nothing short of impressive. You can easily see its ability to retain grip and stability, even in the face of challenging wet surfaces, is on par with specialized wet-performance tires.
On the damp curves of our track, we took turns at around 40-50 mph. The unique zig-zag tread design always ensured a reliable grip, allowing for confident cornering despite the wet surface.
The Blizzak DM-V2 also showcased its adaptability on dry roads. However, this winter specialization does bring about its own limitations. The tire had a tendency to be a bit sluggish with smaller inputs, likely due to the taller tread blocks and sipes, resulting in slightly less precise handling.
The tire doesn't compromise on comfort. You can enjoy a quieter experience compared to many of its counterparts, particularly other heavy-duty winter tires. It's as quiet as the X-Ice Snow SUV, but you won't be annoyed by the sound of rough surfaces, gravel, and expansion joints.
This tire doesn't have durability as good as we hope for, with an estimated tread life of around 30,000 miles and no treadwear warranty. This may be a concern for some buyers.
Still, it will offer you enhanced safety and confidence to drivers navigating slushy roads, making it a comprehensive package for those facing harsh winter conditions.
Exceptional snow and ice performance
Superior wet traction and hydroplaning resistance
Acceptable dry performance
Not super expensive for a premium winter tire
Faster wear
Less precise handling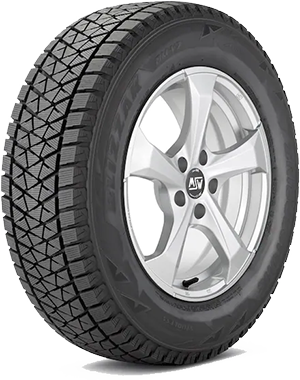 ---
3. Bridgestone Blizzak WS90
Best for Ice Traction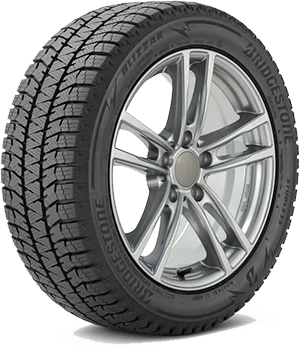 Tire Type
Winter/Snow
Tire Size
14″ – 19″
Weight
17.0 LBS – 32.0 LBS
Load Index
82-104
Load Range
SL – XL
Speed Rating
– T: up to 118 mph
– H: up to 130 mph
Warranty
None
Ratings
8.8/10
This pick will give you the confident control on ice you need as an SUV owner. Bridgestone Blizzak WS90 has utilized advancements in computer modeling combined with an updated rubber compound to enhance its overall performance. Its directional pattern promises increased block stiffness, ensuring more responsive steering and an extended wear life.
Complementing this is Bridgestone's EdgePerformance technology package. It incorporates full-depth features and interlocking sipes, engineered to sustain the tire's impressive performance throughout its lifespan. As with other winter Blizzak tires, the WS90 also uses the Multi-Cell compound with bite particles.
The tire performs at its peak on icy roads. During our test sessions, we often pushed our vehicle to higher speeds on long icy stretches, and the Blizzak WS90 consistently demonstrated an exceptional grip.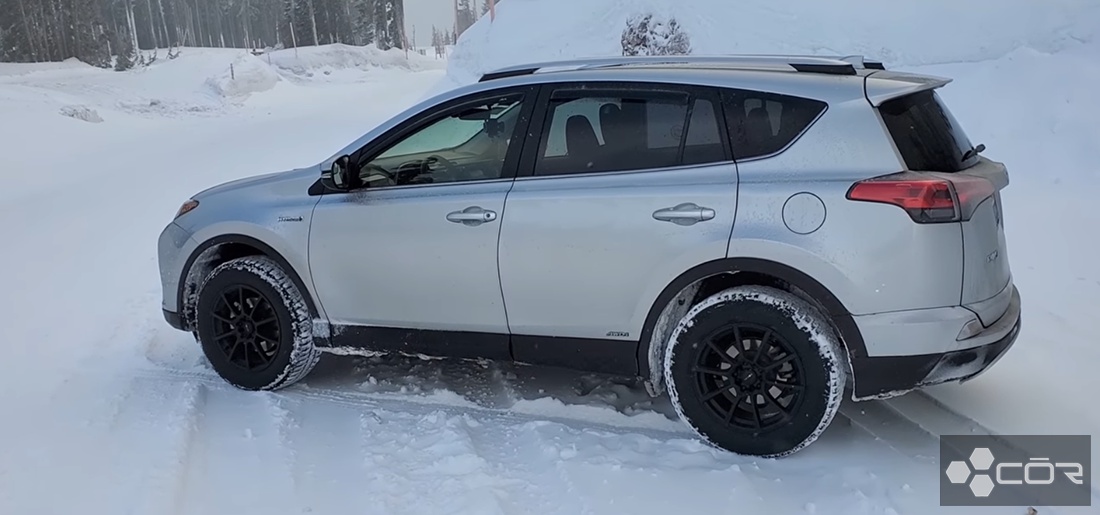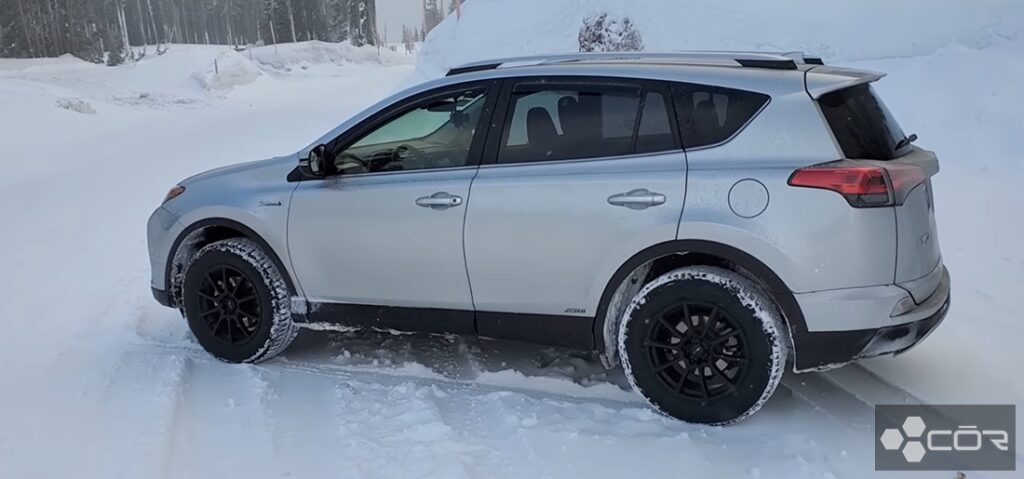 We credit this grip to its unique "bite particles" that effectively clear the thin layer of water on the ice. This capability allows you to maintain control, even when you encounter unexpected slippery patches.
As we ventured through the snow of various depths, we noticed that the tire's design features enabled it to efficiently channel away the snow. So you will find this translates to stable acceleration, responsive braking, and impressive cornering ability, allowing you to navigate with assurance.
The Blizzak WS90 isn't just an ice specialist; it excels in wet conditions as well. We love its unmatched grip, even on the slipperiest surfaces, and the ability to fight off hydroplaning. Your cornering attempts will remain stable, with braking distances being notably short.
Where we'd like to see some improvements is its behavior on dry pavement. You may find the steering slightly less intuitive in tight bends. While it swiftly reacted to inputs and gave us an added sense of precision, it was heavy at the center as well.
On the other hand, you can perform impressive braking in the dry, consistently stopping vehicles in under 90 feet.
The Blizzak WS90 does present a more firm ride, which means most road imperfections are distinctly felt. However, this tightness can be advantageous. It keeps the ride anchored, making it feel controlled rather than jarring.
We don't have much to say about its durability. It's just somewhat average in the category. But overall, this ire is a clear winner if you frequently find yourself on icy surfaces.
Superior traction on icy and snowy roads
Best-in-class wet road performance
Good dry traction with precise braking on dry pavement
Not too expensive
The steering might take some time to get used to
Can be firm on rough terrains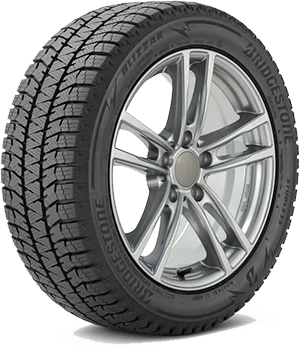 ---
4. Vredestein Wintrac Pro
Best for All-Around Performance
| | |
| --- | --- |
| Tire Type | Performance Winter/Snow |
| Tire Size | 14″ – 20″ |
| Weight | 18.0 LBS – 38.0 LBS |
| Load Range | SL – XL |
| Speed Rating | H, V, Y |
| Warranty | None |
| Ratings | 8.8/10 |
The Vredestein Wintrac Pro is a beacon of hope for performance-car enthusiasts who won't confine their sports cars to just fair-weather outings.
With its roots embedded in catering to sports cars, this tire is a synergy of advanced technology and elegant design. It features a directional tread pattern carved from a blend of resin and silica. This potent mix bolsters traction and fosters enhanced handling and precise braking even on wet, snow-laden, or icy terrains.
To further its prowess on snowy terrains, the tire has been heavily siped. These sipes meander along with the outer tread blocks and run lengthwise at the center, offering a robust grip during acceleration and braking.
During our rigorous tests, the Wintrac Pro showed impressive capabilities in snowy conditions.
It smoothly navigated the snow-clad roads at 25-35 mph. It even allowed for controlled, deliberate slides when desired. That was an exhilarating experience for us, with the only hiccup being the car's ground clearance – something that the tire obviously can't control.
However, there are some minor shortcomings when pitched against premium players.
When it comes to ice traction, you can notice the Vredestein Wintrac Pro nestles comfortably in the middle of the pack. It doesn't quite match the impeccable performance of the top contenders but certainly outshines many others. You will also feel the steering slightly less agile on slushy portions.
On dry and wet cold terrain, this tire doesn't disappoint you either. In fact, it even outperforms our top picks in certain areas. In our comparative tests, its stopping distance from 50 mph was almost 10 feet shorter than that of the Michelin X-Ice Snow.
That said, we appreciated the balance and communication the tire offered but felt a void in its steering authority. The steering, especially at higher speeds, lacked a bit of precision. It exhibited a minor wander and somewhat dull responses.
The Wintrac Pro gives you amazing traction on damp surfaces. It offers the right blend of control and rotation, making it easy for you to traverse. Whether it is highway cruising or navigating gravelly terrains, its ability to smooth out road imperfections will make your long drives a sheer pleasure.
Just remember that it kind of produces a distinctive pattern noise. While not overwhelmingly loud, the unique tones can be occasionally discernible, slightly dampening the otherwise plush experience.
Powerful acceleration
Short braking distances
Exceptional wet handling
Attractive pricing
Superior durability
Distinct cabin noise at certain speeds
A bit dull steering response at times
---
5. Cooper Evolution Winter
Best for Value
Tire Type
Winter/Snow
Tire Size
15″ – 20″
Weight
17.0 LBS – 39.0 LBS
Load Index
84 – 114
Load Range
SL – XL
Speed Rating
– T: up to 118 mph
– H: up to 130 mph
Warranty
none
Ratings
8.7/10
This is a value-packed offering for winter road warriors. Integral to the Evolution Winter tire is its winter-focused compound, specifically molded to form a studdable, directional pattern. This design assists with acceleration and braking during the harsh winter months.
Cooper's Snow Groove Technology is another standout feature. This design incorporates a sawtooth pattern within the grooves, which effectively traps snow. The goal is to create the coveted snow-on-snow traction, maximizing grip during deep snowfalls.
As such, the Cooper Evolution Winter tire rivals anything you might consider premium tires here. It will give you exceptional stability even on icy surfaces. The tire's traction allows your SUV to navigate even deep snow drifts without exerting undue pressure on the engine.
It managed common challenges we introduced, such as breaking through snow banks or initiating movement from a stop, with ease. Even on unplowed roads, the tire's traction remains unyielding. And once studs are fitted, it can outperform most studless winter tires, especially on ice.
Our test track sessions underscored this mid-range tire's capabilities on dry and wet roads. On a straight dry strip at cruising speeds of around 40-50 mph, the tire delivered a respectable performance. It wasn't top-tier, but stability was maintained, and the tread pattern proved competent.
However, when taking sharper turns, it became evident that while the tire could handle everyday driving scenarios, it wasn't in the same league as some premium offerings.
You might observe the same results on roads with a layer of standing water. It can hold its own and resist hydroplaning to some extent but don't expect the finesse of pricier competitors.
The ride quality is only decent. You can feel some inconsistencies when maneuvering rough patches. At near-highway speeds of about 60 mph, the tire also exhibits moderate noise levels.
Treadwear is a surprise. Like the Wintrac Pro, the tire displayed minimal signs of wear even after multiple runs across varied terrains. This standout treadwear performance made it a frontrunner among the tires we tested.
In short, the Evolution Winter offers top-notch winter capabilities with a more middle-of-the-road performance on other surfaces. It doesn't dazzle alongside the elite tires in the market, but it doesn't falter dramatically either. When you factor in the price tag and its super durability, it'll be a worthwhile investment for most people.
Competitive pricing
Good winter traction and controllability
Acceptable wet and dry traction
Impressive treadwear
Noisy
Handling nuances on sharp turns
---
6. Pirelli Scorpion Winter
Best for Snow and Wet Traction
Tire Type
Winter / Snow
Tire Size
16″ – 22″
Weight
24.0 LBS – 66.0 LBS
Load Index
99 – 116
Load Range
SL – XL
Speed Rating
– H: up to 130 mph
– W: up to 168 mph
Warranty
none
Ratings
8.5/10
The Pirelli Scorpion Winter is a winter tire crafted specifically for modern SUVs with optimal performance during wet and cold months.
Diving into its construction, the Scorpion Winter boasts a tread rubber compound that incorporates a novel polymer blend paired with an increased content of silica components. This blend not only facilitates enhanced grip but also ensures stable handling in quintessential winter conditions.
Its snow booster ridges, embedded within its grooves, are introduced to grip onto the snow and compact it deep within the tread. On slushy or water-covered terrains, these broad circumferential grooves acted swiftly to expel winter remnants.
When it comes to light snow, the Scorpion Winter truly excels. On straightaways and curves of our tracks, the slick compound provided us an exceptional grip, making our drive feel steady and controlled at speeds roughly around 45-55 mph.
However, it faced challenges as the snow got deeper and deeper, primarily because of its relatively shallow tread depth. On icy terrains, its lack of design asymmetry also restricted it to an average performance level. Its inadequate traction here makes it a poor choice for those freezing temperatures.
But the Scorpion Winter gets almost everything you need on wet roads. It efficiently displaces water and delivers you a consistent grip on damp surfaces. Even at speeds of around 50-60 mph with pooled water, it will confidently resist hydroplaning and give you a reassuring sense of control.
On dry surfaces, the Scorpion Winter also stands out with a grip that competes with the likes of the Wintrac Pro. The tire's light weight can show its worth in tight turns as the steering is notably crisp around the obstacles. The tire's response to your high-speed straight-line runs also proves its stability and control.
In terms of comfort, the Scorpion Winter offers an impressive ride. Its compound delivers a smooth journey, which can cushion you from the roughness of the road.
However, we have a more mixed reception about its noise isolation. When graded as a winter tire, it remains relatively quiet. But it can occasionally sound louder than some touring tires you've used.
Exceptional traction on wet and light snow-covered roads
Superb handling on dry pavement
Outstanding stopping power
Average tread life
Disappointed ice traction
---
7. Continental VikingContact 7
Best for Long Tread Life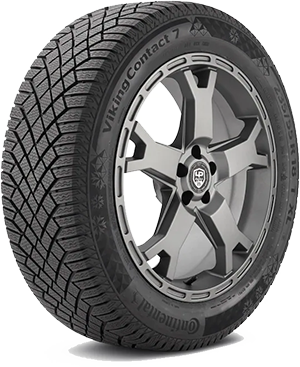 Tire Type
Winter/Snow
Tire Size
15″ – 22″
Weight
13.0 LBS – 41.0 LBS
Load Index
72 – 117
Load Range
SL - XL
Speed Rating
– H: up to 118 mph
– T: up to 118 mph
Warranty
none
Ratings
8.6/10
The Continental VikingContact 7 stands out as a go-to choice for those prioritizing long tread life in their winter tires.
The inclusion of ContiSeal technology ensures automatic self-sealing in the event of punctures. It can give you peace of mind when venturing onto rugged terrains. Meanwhile, ContiSilent technology incorporates a polyurethane foam absorber. It can effectively diminish road noise to contribute to a quieter cabin environment.
The longevity and durability of the VikingContact 7 truly set it apart. After about 300 miles, it was striking to note the little to no signs of wear on our tested tires, even when subjected to warmer temperatures. Many drivers shared in our survey that their tire could accumulate 30,000 miles on average, and some even reached 55,000 miles.
Many tires in this category might start showcasing evident signs of wear, such as feathering, uneven tread depth, and exposed shoulder areas in the same conditions. The VikingContact 7 remained remarkably intact, and this underscores its superior wear resistance.
The traction on varied snow and icy surfaces should be enough for you to have smooth accelerations and decelerations without causing any unsettling skids or slips.
That said, it wasn't the leader in this segment. The tire has secure cornering and respectable braking distances. But you should still exercise a tad more caution, especially when confronted with rapidly changing icy conditions.
Similarly, it almost didn't cut because of its performance on dry and wet terrains. It's still better than the vast majority of winter tires, but we anticipate more from a top name like this.
While acceleration and braking stand out, the tire doesn't fully eclipse premium segment rivals. If you're a performance enthusiast, you will notice some minor shortcomings in steering feedback and road contact.
Hydroplaning resistance remains steadfast even at high speeds, and its cornering grip doesn't falter. It's still a reliable choice if you usually traverse diverse wet terrains. However, it slightly trails behind in wet braking distances when compared to some alternatives like the Blizzak WS90.
Ride quality was where it surpassed our expectations. It produces low noise levels on smooth surfaces and absorbs road imperfections effectively. But there's still some room for improvement. On uneven terrains or when encountering potholes, there's a pronounced noise, and vibrations can be felt within the vehicle's cabin.
Durable tread compound for extended lifespan
Significant value for its price in moderate winter conditions
Good grip and traction on varied terrains
Noise on rough terrains
Steering feedback could be improved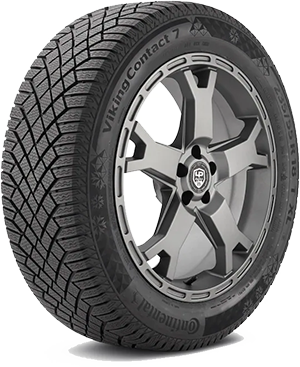 ---
8. Firestone Winterforce LT
Best for Budget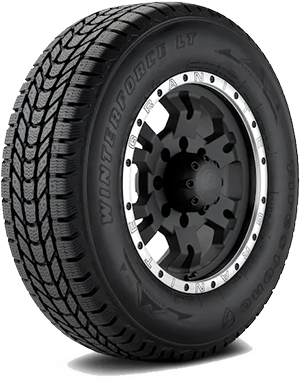 | | |
| --- | --- |
| Tire Type | Winter/Snow |
| Tire Size | 16″ – 20″ |
| Weight | 37.0 LBS – 58.0 LBS |
| Load Index | 111 – 126 |
| Load Range | C1 – E2 |
| Speed Rating | – R: up to 106 mph |
| Warranty | None |
| Ratings | 8.4/10 |
Overall Score: 8.4/10
The Winterforce LT is our notable budget choice in the crowded market of winter tires. Designed to combat the challenges of icy and snowy roads, it doesn't compromise on the essentials while staying budget-friendly.
Firestone utilizes a unique winter compound molded into an aggressive directional tread. This allows flexibility in frigid temps for adaptable, grippy performance on ice.
High-density siped blocks further enhance this construction, providing excellent biting edges to grab loose snow and ice. But that's not all. These blocks also accept metal studs, dramatically boosting traction on hard-packed snow and ice.
The Winterforce LT will lend you a praiseworthy winter performance. It inspires confidence on mildly snowy roads with minimal slip and maximum control. On our test drives, the tire felt almost as adept as some of the more premium options we've tested under similar conditions.
In deep snow, it doesn't lead the segment but provides you decent traction for navigating snowy paths fairly well. At moderate speeds under 10 inches of snow, the tire can't squeeze ou the unbeatable grip of top-tier models, but it won't leave you stranded either.
On the ice, performance is more nuanced, and its limitations become more evident. We felt the need to handle the steering more deliberately, sensing a slight hesitation in the tire's grip on the ice.
When it comes to dry performance, the Winterforce LT presented a paradox. On straight stretches, our driving was reasonably steady, even at highway speeds around 55-60 mph.
However, when we put it through the paces around corners, the tires didn't quite inspire the confidence we had hoped. There was a noticeable drop in grip, making us second-guess when taking sharp turns at any significant speed.
Wet surfaces bring out a more predictable behavior from the Winterforce LT. The tires offer a level of reliability that you'll appreciate if you worry about the unpredictable winter rain showers. They can manage to wade through wet patches without any sudden loss of traction.
As for ride quality, while it does provide stability and assurance, the plushness falls short of higher-end products. You may pick up on a slightly increased level of noise. It won't be deafening, but you'll notice it as soon as the wheels roll on the road.
Treadwear presented itself as a weakness of the Winterforce LT. After diverse conditions over a few weeks, we noticed wear signs quicker than expected with clear wear patterns.
Reasonably priced
Suitable for daily winter commuting
Excellent performance on light snow
Reliable wet and dry traction
Cornering and steering on dry surfaces lack confidence
Can be quite noisy on rough terrains
Average durability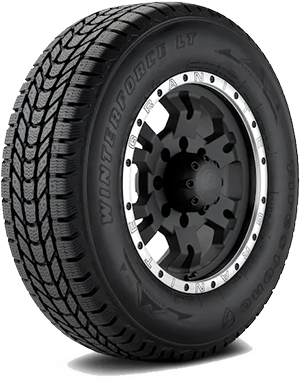 ---
How to Choose The Best Snow Tires For Your SUVs
Climate
If you live in an area with heavy snowfall, icy conditions, and freezing temperatures, always go for maximum snow traction and deep tread depth. Where winters are milder, you can balance snow grip with wet and dry handling.
Size
Ensure you pick the right size for your SUV. Using the manufacturer's recommended tire size to get optimal performance, safety, and fuel efficiency.
Studdable vs. Non-Studded
Studded winter tires offer enhanced grip on icy roads. However, they can be noisy and might cause road damage. Many regions have restrictions on their use.
Non-studded winter tires are a quieter alternative and provide excellent snow and ice grip without the studs.
Budget
Snow tires represent an investment, though prices can vary widely. Determine how much you're willing to spend.
High-end choices provide maximum snow and ice traction but typically cost much more. There are also capable budget options at the same time, so always balance cost with performance needs.
Conclusion
With the help of our 2023 COR Wheels Tire Test, our team narrowed down to 8 standout SUV snow tires.
For drivers seeking the best overall winter performance, we recommend the Michelin X-Ice Snow SUV. Its category-leading grip on snow and ice, combined with impressive wet and dry handling, makes it a top choice for versatility.
Those needing a balance of price and quality can consider the Cooper Evolution Winter for its value and capable snow/ice traction. An even more affordable pick is the Firestone Winterforce LT, which provides a respectable winter performance at a lower price point.
Here is the summary of the 8 best snow tires for SUV in the 2023 COR Wheels Tire Test:
| Tire Brand & Model | | | | | | | | | | |
| --- | --- | --- | --- | --- | --- | --- | --- | --- | --- | --- |
| Michelin X-Ice Snow SUV | 1st | 8.9 | 8.9 | 9 | 9 | 9.3 | 9.1 | 8.7 | 9.1 | 8.3 |
| Bridgestone Blizzak DM-V2 | 2nd | 8.8 | 8.6 | 8.9 | 9.1 | 9.4 | 9.2 | 8.8 | 8.6 | 8.1 |
| Bridgestone Blizzak WS90 | 3rd | 8.8 | 8.6 | 8.9 | 9.1 | 9.4 | 9.1 | 8.7 | 8.3 | 8.3 |
| Vredestein Wintrac Pro | 4th | 8.8 | 8.8 | 8.9 | 8.8 | 9.1 | 8.9 | 8.4 | 8.7 | 8.6 |
| Cooper Evolution Winter | 5th | 8.7 | 8.5 | 8.7 | 8.9 | 9.2 | 9 | 8.5 | 8 | 8.6 |
| Pirelli Scorpion Winter | 6th | 8.6 | 8.8 | 9 | 8.6 | 9.1 | 8.5 | 8.2 | 8.7 | 8.1 |
| Continental VikingContact 7 | 7th | 8.6 | 8.4 | 8.5 | 8.6 | 8.9 | 8.6 | 8.2 | 8.7 | 8.4 |
| Firestone Winterforce LT | 8th | 8.4 | 8.3 | 8.5 | 8.6 | 9 | 8.7 | 8.1 | 8 | 8 |
---
President & Automotive Expert at COR Wheels
Robert Herrera has been with COR Wheels for 17 years and has a great passion for the automotive industry. During his time at COR Wheels, he has driven and test-driven a variety of vehicles.
---