As one of the most popular sedan series from Honda, the Civic generally runs well on most all-terrain surfaces with average to quality tire sets. Still, drivers with niche preferences would like to customize their driving experiences to the highest levels; hence, our COR Wheels team compiles a comprehensive list of the 10 best tires for Honda Civic based on terrain and specific needs.
Scroll for more insights into each tire option!
In this article:
A. How to Choose The Best Tires for Honda Civic
1. Understanding The Honda Civic
Honda Civic is one of the brand's best-selling hatchbacks/sedans. Primarily tailored for regular on-road usage, Civic works best with high-quality touring tires that can strike through paved, smooth surfaces such as suburban roads, city streets, and highways. You should also factor in the tire's steering response and optimized footprints; otherwise, the Civic car will fail to do a decent job when navigating roadblocks or vehicles if its handling characteristics do not sync with the tire's groove designs.
Like most Honda sedans, the Civic is equipped with the FWD (front-wheel drive system), meaning most of its traction and power lie in the two front wheels. As such, the Civic might encounter quite some trouble dealing with severe winter conditions; it would be best if you seek capable tires that can cut through basic wet conditions, light snow terrains, and occasional thicker snow without much problem.
You should not skim over the sedan's ground clearance, which is sufficient for clear obstacles (e.g., driveways and speedbumps) but far from enough when handling rugged/off-road terrains. Aggressive tires like off-road AT, max traction off-road, etc., will not be the best match for the Honda Civic – though on some occasions, a light on-road AT tire should do. And should you frequent uneven roads and occasional off-road paths, we will introduce 2 best AT tires below.
Also, the Honda Civic enjoys quite spacious cargo space but lacks major structural support for heavy towing and loading. As it is more suited to passengers carrying and daily commuting, tires with high load ratings/load ranges are not really necessary.
2. Choosing The Right Tire Type for Your Honda Civic
a. Touring All-Season Tires
Touring tires are the fitting choice for casual on-road driving and among the most affordable models on the market. You can aim for more expensive grand touring tires if there are higher traction demands, but most of the time, cheap tires like standard touring models should do in most daily driving situations.
Opt for touring tires if:
You prefer excellent riding comfort. Most touring tires balance noise and riding quality very well – an excellent choice for long drives. 
You want year-round traction. Touring tires can handle various on-road conditions, such as dry/wet, light snow, etc. Plus, while not all of them excel in severe winters, there are still quite a few exceptions from notable brands like Michelin, Bridgestone, etc.
Your car must withstand much abuse, but you still aim for long-term usage. Compared to specialized or high-performance tires, touring models are built with more tread patterns and durable compounds. Their warranty is also competitive, ensuring 3-6 years of mindless driving after purchase.
You are not a spirited driver. As mentioned, touring tires still lack the required integrity and composure to handle extreme riding dynamics. But if you mostly engage in casual rides with no extra speed requirements, these tires will easily suffice.
b. Performance Summer Tires
Summer tires, as the name suggests, aim to level up standard touring tire models with more enhanced traction and footprints in dry, warm conditions. They will be a perfect fit if:
You want extra tire integrity for dynamic on-road handling in summer. Summer tires enjoy large and continuous tread blocks that pave the way for very precise steering and responsive handling. Plus, thanks to their impressive cornering grip, you can take high-speed turns with much more confidence.
You do not travel much in severe cold weather. These tires are summer-focused, so it would be best to reserve their applications for your summer rides only. Still, some premium summer tires do perform decently in mild cold or light snow, so you can use them all year round if your neighborhood rarely suffers from harsh winters.
You have some money to spend. If you can afford generous spending with your budget, do not hesitate to seek high-performance tires (ultra-high-performance ones would be even better) to customize your driving experience to the fullest.
c. Performance Winter Tires
An opposite of summer tires, winter tires mostly concentrate on wintertime performance. You should consider them if:
You live in/have to travel through harsh winter conditions. Even mid-range winter tires can handle decent snow and terrains, ensuring your safety throughout all winter months.
You have low demands/limited usage in summer. Winter tires are usually not really recommended for frequent/spirited summer usage. Nevertheless, some outstanding options in the market deal well with casual, low-speed rides or low/cool summer temperatures; as such, you can enjoy maximum snow performances while still having decent driving experiences when winter is over.
B. How Did We Pick and Test The Best Honda Civic Tires
After putting 196+ best-selling tires through real-life testing in January (for Winter evaluations) and June-July (Summer), our COR Wheels team negotiated our agreed overall score with general customer feedback (gathered from another separate customer survey) to single out the best performers on the market.
To ensure the most reliable results, we installed the 215/50R17 tire size version on the Honda Civic 2022 Sedan EX for the entirety of our tests.
C. The Best All-Season Tires for Honda Civic
1. Michelin CrossClimate2
Best uses: dry terrains, highways, high-speed leans, deep water, snow roads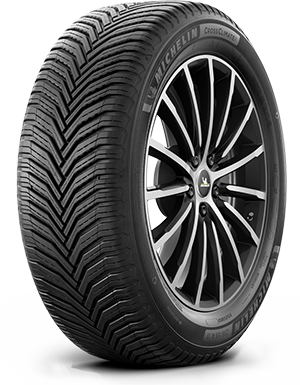 Tire Type
Grand Touring All-Season
Tire Size
16″ – 22″
Weight
20.99 LBS – 36.55 LBS
Load Index
91 – 114
Load Range
SL – XL
Speed Rating
– H: up to 130 mph
– V: up to 149 mph
Warranty
60,000 miles
Ratings
8.9/10