Dangers and traction loss lurk around mud terrains on every mile, requiring capable handlings and extra stability that no on-road or off-road AT tires could suffice. Mud tires are clearly the better choice for your aggressive driving style here, though whether these models perform up to advertisements is still an issue that needs investigating.
Our COR Wheels team has dug deep into the tire market to single out the ten best tires for mudding. Scroll to learn their respective highlights and how these notable features could fit your specific needs.
In this article:
How Did We Test & Pick The Most Aggressive Mud Tires for Trucks
As part of the 2023 COR Wheels Tire Test, 40 best-selling all-terrain tires were put into our Winter evaluations (in January) and Summer assessments (June – July) on different terrains. Seven criteria are employed as our main scoring framework. Along with winter/snow performance and price, our 5 major focuses are:
Mud traction
Off-road performance
Treadwear
Dry traction
Wet traction
Once the final results were negotiated, we compared these findings with verified customer feedback (gathered from our annual surveys) to choose the 10 best performers.
Top 10 Best Mud Tires In 2023
---
1. Yokohama Geolandar M/T G003
Best Mud Tires for Overall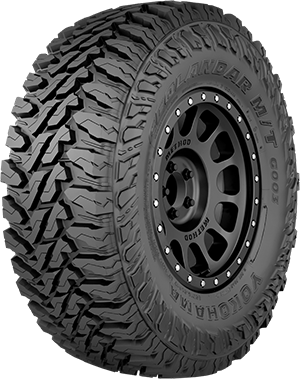 | | |
| --- | --- |
| Tire Type | Off-Road Max Traction |
| Tire Size | 15″ – 22″ |
| Weight | 41.05 LBS – 86.95 LBS |
| Load Index | 100 – 129 |
| Load Range | C1 – F2 |
| Speed Rating | – Q: up to 100 mph |
| Warranty | 45,000 miles |
| Ratings | 9.1/10 |
Yokohama Geolandar M/T G003 delivers the proudest, most consistent performances out of the competition.
The Triple Polymer, high-density tread compounds are molded in high-vold patterns to offer more off-road and on-road handlings, aided by the pitch variation and block orientation to reduce intrusive noises. At the same time, the sipes are worked deep into the tread for more grippy wet confidence.
These features translate very well into our mud-terrain tests; the contact patch established itself with great self-awareness and rarely felt hesitant while navigating thicker, stickier puddles around off-beaten corners. Brakings were slightly dragging at high speeds beyond 55 MPH, but still managed gentle yet decisive stops during new entries.
And if you have to travel through underwater mud often, Geolandar M/T G003 will be a huge delight; the steering force admittedly needs to be more consistent, but that is a pretty breezy feat even for beginners. After very brief struggles in the first few moments (about 4-5 seconds), you will soon find your car rolling past mud pits beyond 5 inches in little to no drama at all.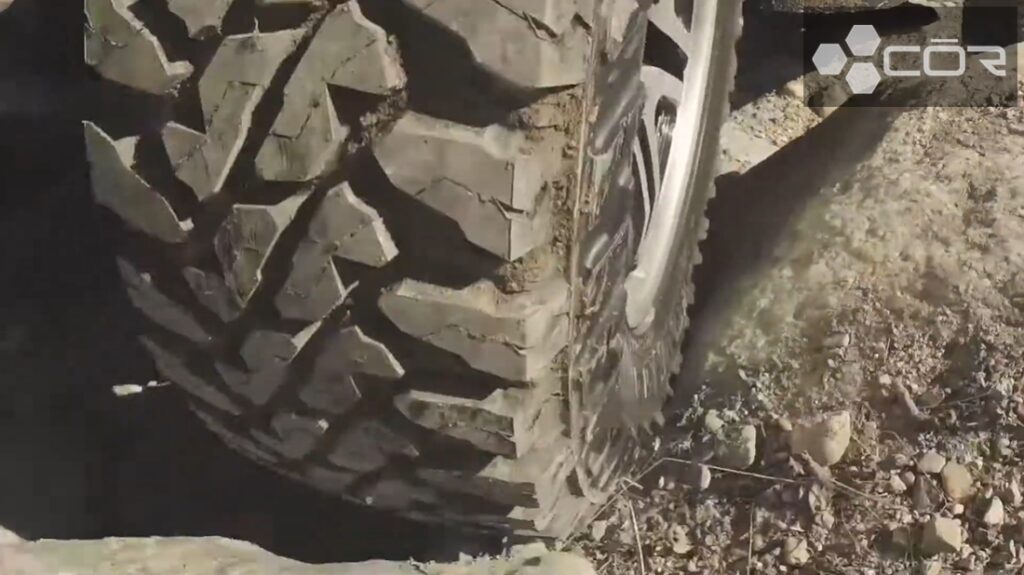 Better yet, Yokohama Geolandar M/T G003 achieved all these off-road prowess without sacrificing much on-road confidence; the experience remains pleasant and generally composed even when you return to daily driving roads. G003's sturdy, durable Triple Polymer compounds handle road cracks on paved grooves and at tight crooks with enough subtlety for an off-road tire, ensuring your daily road comfort fluctuates between tolerable to pretty decent (very few major bumps).
On a small note, we did think the dry steering response could have been sharper when dealing with abrupt turns.
Excellent off-road handlings
Very good traction on on-road, dry terrains
Satisfying in on-road wet conditions
Decent riding comfort
Great treadwear
Horrid on ice
A bit noisy at high speeds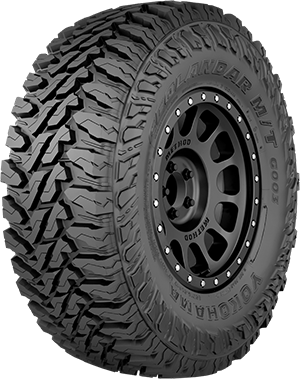 ---
2. BFGoodrich Mud-Terrain T/A KM3
Best Aggressive Mud Tires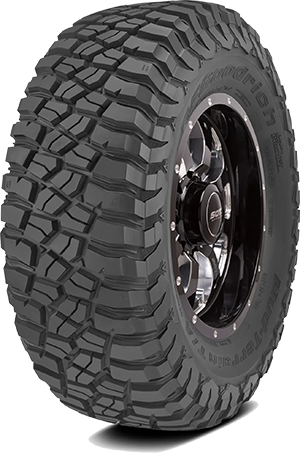 | | |
| --- | --- |
| Tire Type | Off-Road Max Traction |
| Tire Size | 15″ – 22″ |
| Weight | 41.05 LBS – 86.95 LBS |
| Load Index | 100 – 129 |
| Load Range | C1 – E2 |
| Speed Rating | – Q: up to 100 mph |
| Warranty | None |
| Ratings | 8.9/10 |
BFGoodrich Mud-Terrain T/A KM3 takes the crown for aggressive traction on extremely challenging muddy terrains.
Its Krawl-Tek tread compounds (symmetrically molded) enhance wet, slick traction, while the spacious tread blocks offer more biting edges and stable foundations in rocky and loose terrains. Sidewall Sculptures keep sidewall splitting and snagging away, and the shoulder notches improve stability on mud and dirt.
Aided by the very strong and responsive sidewalls, KM3 performed even better on thick, rugged mud patches than on shallow puddles, pouncing on viscous soil and water with so much confidence that traction loss around the edges was mostly swallowed down. Refills required minimal input – and even less so when we entered sweeping curves – allowing adventurous, spirited leans that would delight all rebellious souls out there.
You can also settle your worries when tackling off-road dirt and rock; the same mud confidence persists thanks to the capable grooves and spacious tread blocks, which interlock to instill more bites onto the terrains.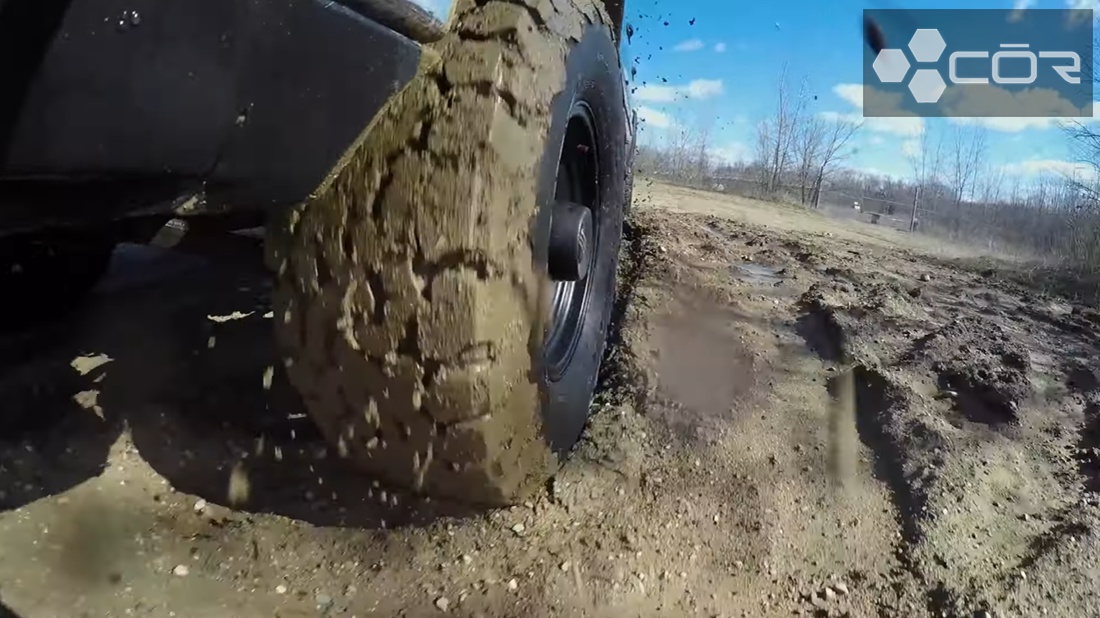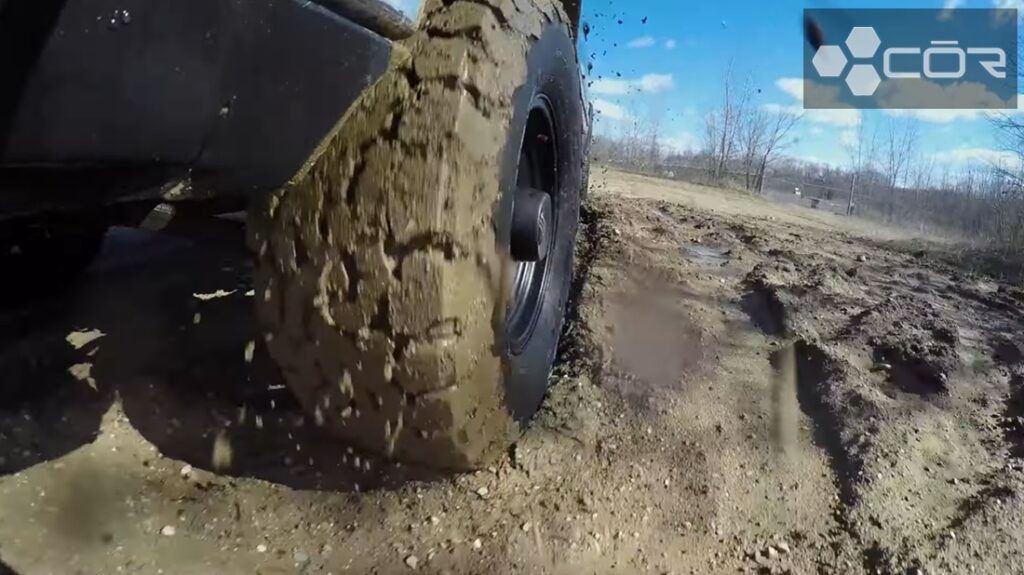 Loose dirt and scree slopes are obviously a non-issue, but even very thick bedrock on mountain passes does not pose much of a challenge, adapting to your abrupt accelerations to and from 45 MPH without problems.
On-road dry traction is similarly delightful; on the other hand, if you have high hopes for wet on-road, then prepare for a bit of turnoff since slippage happens quite often on standing water. Also, the treadwear is decent but does not withstand high ambient temp well judging by our test, so you should expect the first tread scruffs after 4-5 months.
Aggressive designs that suit very aggressive mud
Satisfying handling of dirt, rock, and sand
Great dry on-road traction
Fairly decent on deep snow
So-so treadwear
On-road wet traction could have been better
Underwhelming light snow traction, bad on ice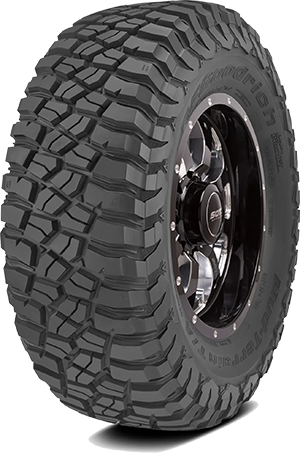 ---
3. Cooper Discoverer STT PRO
Best Mud Tire for Truck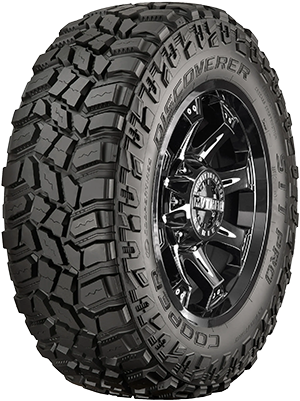 Tire Type
Off-Road Max Traction
Tire Size
15″ – 22″
Weight
43.0 LBS – 94.0 LBS
Load Index
104 – 129
Load Range
C1 – F2
Speed Rating
– P: up to 94 mph
– Q: up to 100 mph
Warranty
None
Ratings
8.9/10
Cooper Discoverer STT PRO is the best match for heavy-loaded trucks on extended driving.
Its robust compounds are molded into high-void patterns, working with alternating cleats/scoops and deep treads to offer more mud traction. The mud dimple aids in self-cleaning, while the anti-stone ribs eject pebbles and small rocks to keep drilling punctures at bay. Sealing the deal is the circumferential and lateral channels that help with hydroplaning.
With so many sidewall aid-ons, Discoverer STT Pro did not cave in when installed in our heavy trucks and already established power contact points on the mud when we loaded the first 4000 lbs into the cargo. Despite more loads added to the total weight after every stop (2000 lbs at a time), the tires retained their relatively light-hearted road manners, even managing extra grip when we squeezed our steering wheel with push-and-pull techniques.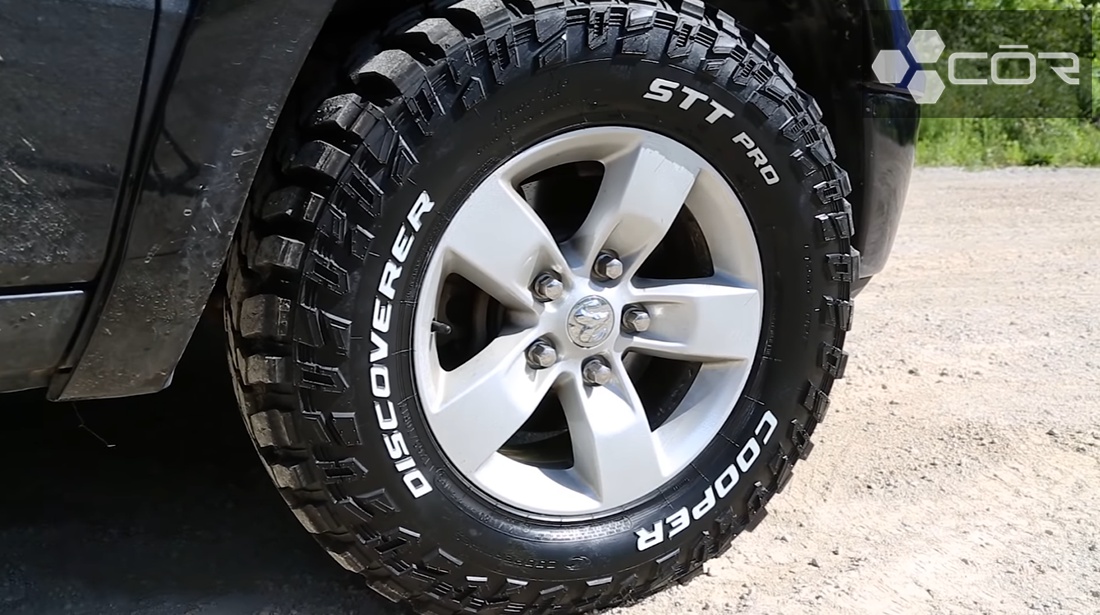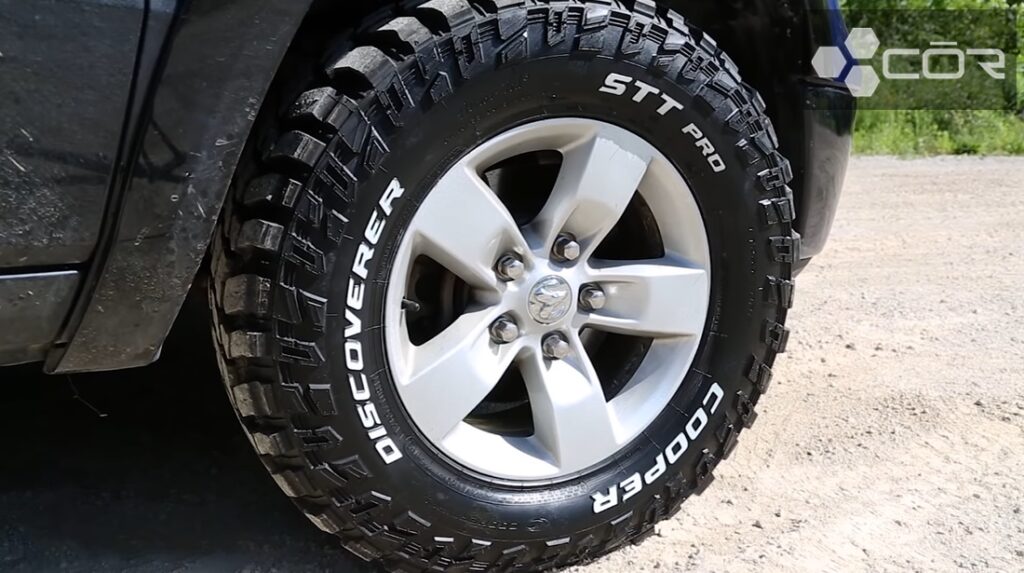 So if you have to transfer heavy truck cargo back and forth on extended roads through muddy, sticky terrains or any other off-road surfaces, Discoverer STT Pro will more than suffice. Not to mention, the exceptional tread depth (22/32" maximum) can lift your mind off constant concerns about treadwear rates; your heavy-duty truck should carry on drama-free for at least 60-70,000 miles.
On-road performances are not as bold, but you do not have to look out for immediate anger: slippages and jostles might be a bit more frequent at high speeds or during roadblock maneuverings, but they do not overstep their lines. Thus, in regular, daily driving or leisurely approaches through shallow rainwater, your car will still cope well.
Consistent traction on heavy trucks
Great tread depth
Satisfying handling on dirt, rock, and mud
Good enough dry traction
Great on snow (for a mud tire)
Satisfying riding comfort
High road noise levels
Occasional slippages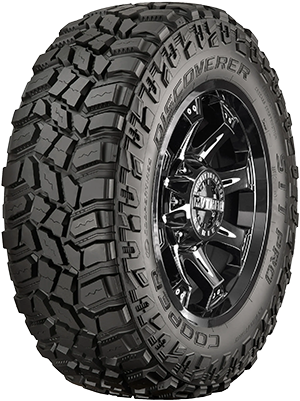 ---
4. General Grabber X3
Best Mud Tire for The Money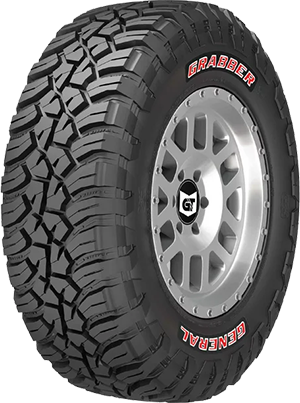 | | |
| --- | --- |
| Tire Type | Off-Road Max Traction |
| Tire Size | 15″ – 20″ |
| Weight | 50.0 LBS – 81.0 LBS |
| Load Index | 108 – 129 |
| Load Range | C1 – E2 |
| Speed Rating | – Q: up to 100 mph |
| Warranty | None |
| Ratings | 8.8/10 |
General Grabber X3 offers the best value for the money, striking a much more impressive balance between quality and cost than other tires of the same pricing range.
Grabber X3 arrives with robust compounds featuring traction notches and block chamfers to grip better in mud and sand. Strong evacuation channels offer great self-cleaning abilities, while the grooves' stone bumpers work with debris and stone. There are also full sipes included to improve wet traction.
Thanks to these technologies, X3 retained surprising integrity for a tire of its price, handling clay and sandy mud gracefully with its intricate, interlaced grooves and rarely sinking deep under the clammy patches. We also loved how the tire dealt well with unplanned steering, carrying us into neck-bottle corners in only very few harmless stutters. Even deeply dented clay pits proved to be best friends with the aggressive evacuation sipes.
Fans of off-road dirt clawing will also fall in love with X3's boundless footholds on these terrains; the tire shines even better than on mud terrains and plows through deep ruts like they are nothing. Sand and rock traction lose a few power bites but do not lag behind mud performance much, allowing for your seamless terrain transition when dealing with rugged patches of sand, rock, and dirt combined.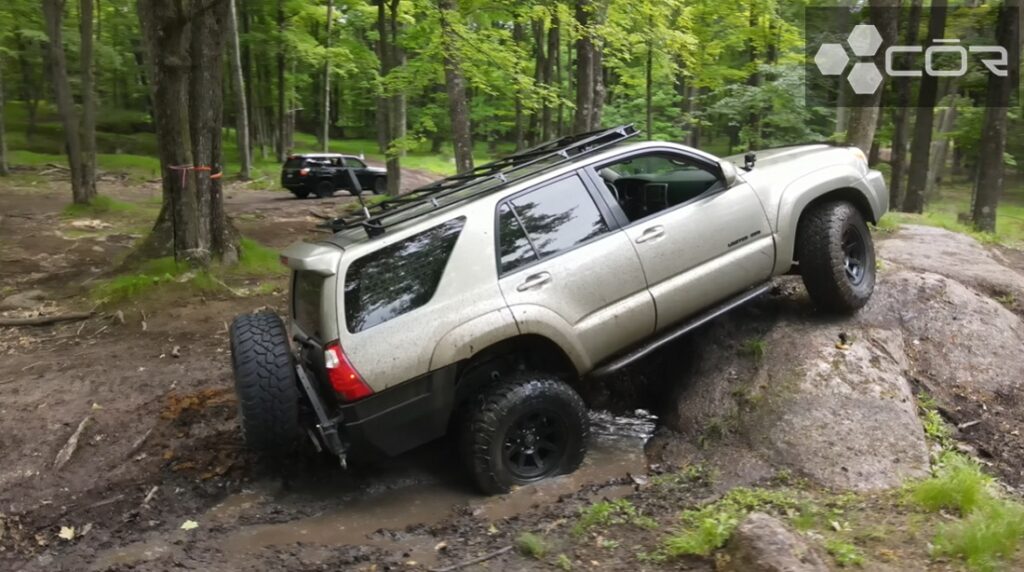 Compared to some competitors, X3 is surprisingly good on on-road pavements (especially wet); the mud-channeling designs manage to deliver some of their perks into moderate downfalls or average water depth below 7 inches. Snow performance is also very amazing, making X3 a good passed-off winter tire for you to turn to when no harsh snowstorm is around.
The tread could have dealt with winter chills better, but its wear rate is still much better than same-sector rivals – a good choice for people looking for longer uses without breaking the bank. Our only major complaint is the faint on-center rib feel when navigating waterlogged bends, which might throw beginners off guard.
Good value for the money
Very capable on mud and dirt; satisfying on loose terrains
Great dry traction
Excellent snow performance
Acceptable road noises
Muted on-center ribs on waterlog
Jumbles still occur often
---
5. Firestone Destination M/T2
Best for Long-Lasting Tread Life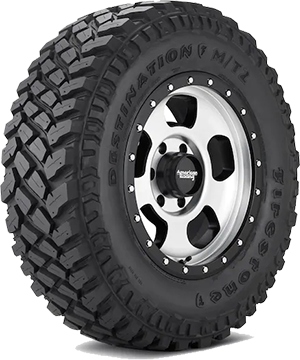 Tire Type
Off-Road Max Traction
Tire Size
15″ – 20″
Load Range
D – E
Speed Rating
– Q: up to 100 mph
– T: up to 118 mph
Warranty
None
Ratings
8.7/10
Firestone Destination M/T2 is the longest lasting mud tire when it comes to tread life.
Regardless of which M/T2 size model you choose, its initial tread depth does not stoop to any number below 19/32" (22/32" is the maximum); hence, extended usages of 80,000 or even 85,000 miles are totally within reach. These numbers also align well with our test ride, as we could barely observe any clear signal of damage or burnouts, even under extreme mud abuse.
Treadwear aside, you can trust Firestone Destination M/T2 in other qualities, too, especially off-road mud traction. The attack angles (23 degrees) work extremely well with the sidewall lugs to grill the tires onto wet, slick mud, pushing your truck forward in relative ease at any speed you choose (though regular ranges between 40 and 50 MPH were the safest in our test).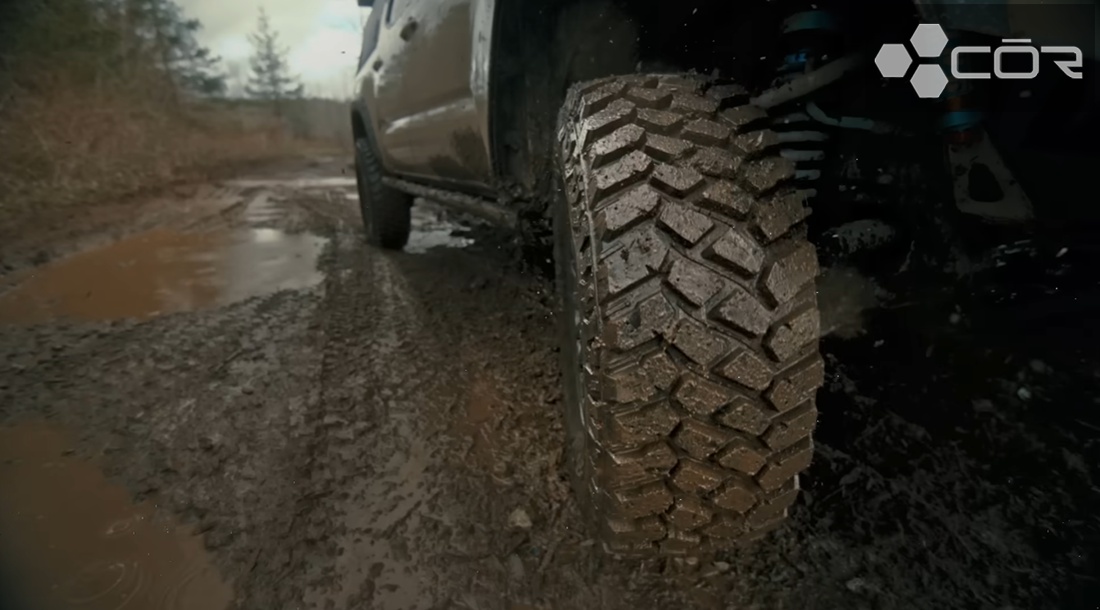 Swamps of mushy, soft mud didn't linger long on the sidewalls when we traversed them under the rain – what with the high void area and extra compound layers – so you can stay more confident when traveling through muddy trails under wet, heavy downfalls.
The stone ejectors instill even more confidence in MT2 when it comes to rock and dirt traction, and on-road dry asphalts are hardly anything to worry about. You should tread with more caution on on-road wet paths, though: MT2 apparently ranks last regarding wet traction, drifting often even during straight-line driving.
Long tread life
Great on dirt and rock; satisfying on loose terrains
Decent dry traction and snow performance
Tolerable riding comfort
Steering wanders on dry pavements
Drifting often on wet on-road paths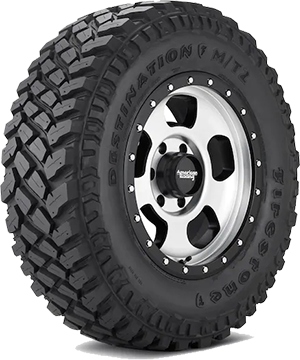 ---
6. Toyo Open Country A/T III
Best for All-Around Performance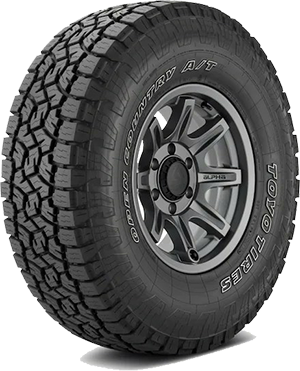 Tire Type
Off-Road All-Terrain
Tire Size
15″ – 22″
Weight
28.0 LBS – 76.0 LBS
Load Index
100 – 129
Load Range
C1 – XL
Speed Rating
– H: up to 130 mph
– T: up to 118 mph
Warranty
50,000 – 65,000
Ratings
8.6/10
Toyo Open Country A/T III delivers consistent, almost unchanged handling capabilities across all on- and off-road terrains.
The tire utilizes chip-resistant compounds that distribute void areas evenly, supported by the multi-wave 3D sipes to increase wet stability and grip. Sealing the deal is the ample lateral grooves, interlocking to whisk water while bolstering more confidence on snowy surfaces.
These sipes and shoulder grooves fall into the middle spectrum – neither too strong nor too soft, just right for all types of terrains. As a result, Toyo did not suffer from much whiplash during road texture changes, performing literally the same on almost every terrain. Our experience on off-road mud and sand did not differ much from on-road wet or even deep snow, for instance, as the tire well caved into the path textures and seemed unfazed at the face of unannounced speed changes and low-angled turns.
This is a very powerful competitive edge if you are a fan of predictable, tame riding – since most skitters and response delays are extremely easy to foresee and maneuver around no matter where you drive into. Those living in harsh winter regions with thick ice could also rejoice: unchanged all-terrain handlings mean Toyo does better on ice than any other competitor, mustering enough self-stability to tread uneventfully at any regular driving rate you choose.
With such impressive adaptability, it's a given that Toyo's treadwear is beyond-average, expected to last well into 70-80,000 miles according to customer feedback.
Still, for a mud tire, the fact that Toyo Open Country seems slightly less confident in mud than in other terrains might be a bit of a letdown – especially if you prioritize mud traction ways above other qualities.
Very consistent handling across all terrains (on-off-road alike)
Very good treadwear
The best noise control in the competition
Good riding comfort
Slightly less confident in mud than in other terrains (though still good enough for a mud tire)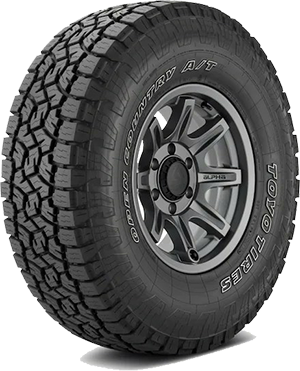 ---
7. BFGoodrich All-Terrain T/A KO2
Best Mud Tire for Daily Driving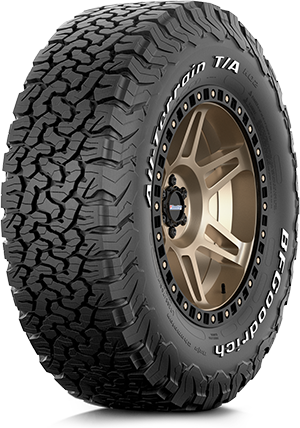 Tire Type
Off-Road All-Terrain
Tire Size
16″ – 20″
Weight
42.81 LBS – 70.72 LBS
Load Index
115 – 129
Load Range
C1 – E2
Speed Rating
– Q: up to 100 mph
– T: up to 118 mph
Warranty
50,000
Ratings
8.6/10
If you are looking for capable tires that handle daily driving with a dash of mud and dirt, you can't go wrong with BFGoodrich All-Terrain T/A KO2.
This tire features computer-optimized compounds with interlocking tread blocks and 3D sipes plus loose ejection features to deliver great traction at acceptable road noises. The upper Sidewall Armor protects the sidewall rubber from pebbles and rocks, while the Serrated Shoulder provides the necessary claw in deep sand and dirt.
Such an aggressive yet flexible design allows BFGoodrich All-Terrain T/A KO2 to mold very well on daily-driving pavements – almost the same as an on-road AT tire. Steering response stayed responsive and on time in most critical landing situations, and we rarely had to engage the pedals to compensate for traction loss – even at tighter crooks or doglegs.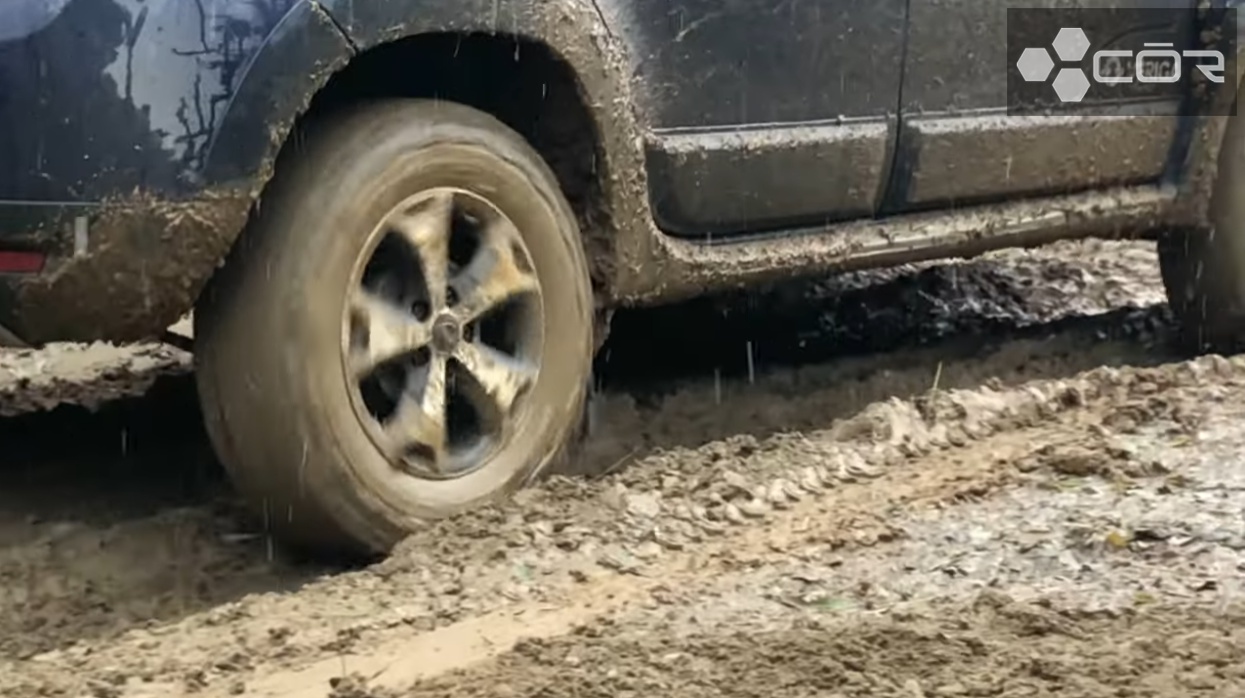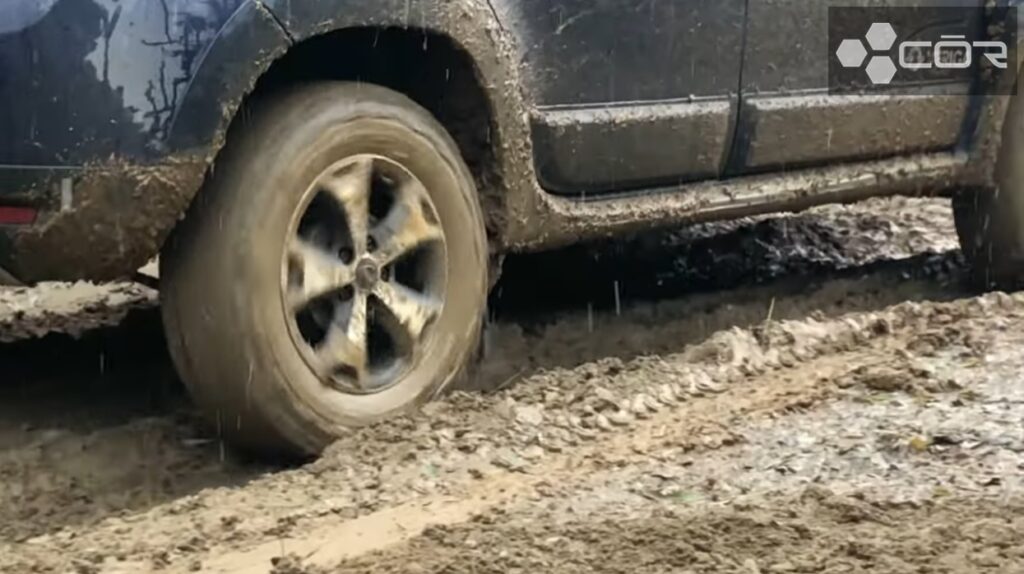 You can also trust BFGoodrich All-Terrain T/A KO2 to compose itself well on wet on-road paths. Muted feedback was sometimes spotted during our test due to the slippery nature of rainwater, but nothing average drivers could not handle given consistent steering.
Of course, as a mud tire, KO2 does not disappoint with its off-road performance. Though slightly less confident than on dirt or rock, the power interlocking locks and deep sipes could still choke out extra bites to accompany your demands for highly spirited mud-driving anytime you want, grinding through gravel, wet patches and sticky puddles with only minor hiccups.
Treadwear is also the last thing to worry about – not the best in the market, but enough to land itself on the middle spectrum thanks to the well-built compound layers. You can expect it to last for 40-50,000 miles.
Work well on daily roads
Very good off-road qualities
Pretty confident with wet traction
Satisfying treadwear
Good riding comfort
Slightly less sure-footed on deep mud than on snow and some other off-road terrains (but still great)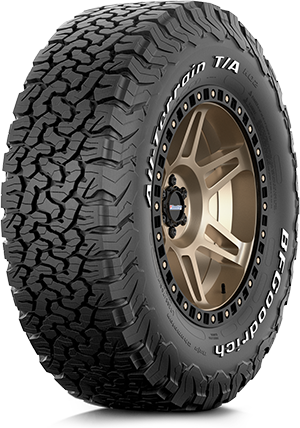 ---
8. Sumitomo Encounter AT
Best for Comfort and Ride Quality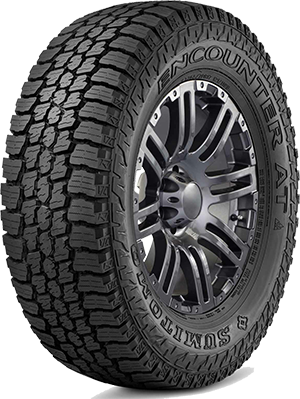 Tire Type
Off-Road All-Terrain
Tire Size
15″ – 20″
Weight
35.0 LBS – 84.0 LBS
Load Index
105 – 127
Load Range
C1 – XL
Speed Rating
– Q: up to 100 mph
– T: up to 118 mph
Warranty
60,000
Ratings

8.5

/10
Sumitomo Encounter AT leads the race in ultimate riding comfort.
The brand molds Encounter AT with stepped center-block edges to grip loose terrains better, while numerous connecting ribs are instilled into the open shoulder to improve stability. Four circumferential grooves help evacuate water, and the full-depth/zigzag sipes offer more stability on slippery and even snowy surfaces.
All these complex and aggressively interlocking slits gave off the impression of a very bumpy ride. But we were wrong: you could trust Encounter AT to handle impacts with much better subtlety than any other tire on this list.
Encounter's block edges smoothed out the clammy mud paddles and let the contact patch settle in quickly, refilling traction loss in depth, decisive buffs to give us a generally cushioned feel despite abrupt, whiplashing steering. The aggressive zigzag sipes meant for snowy roads also balanced the gritty texture of gravel mud extremely well.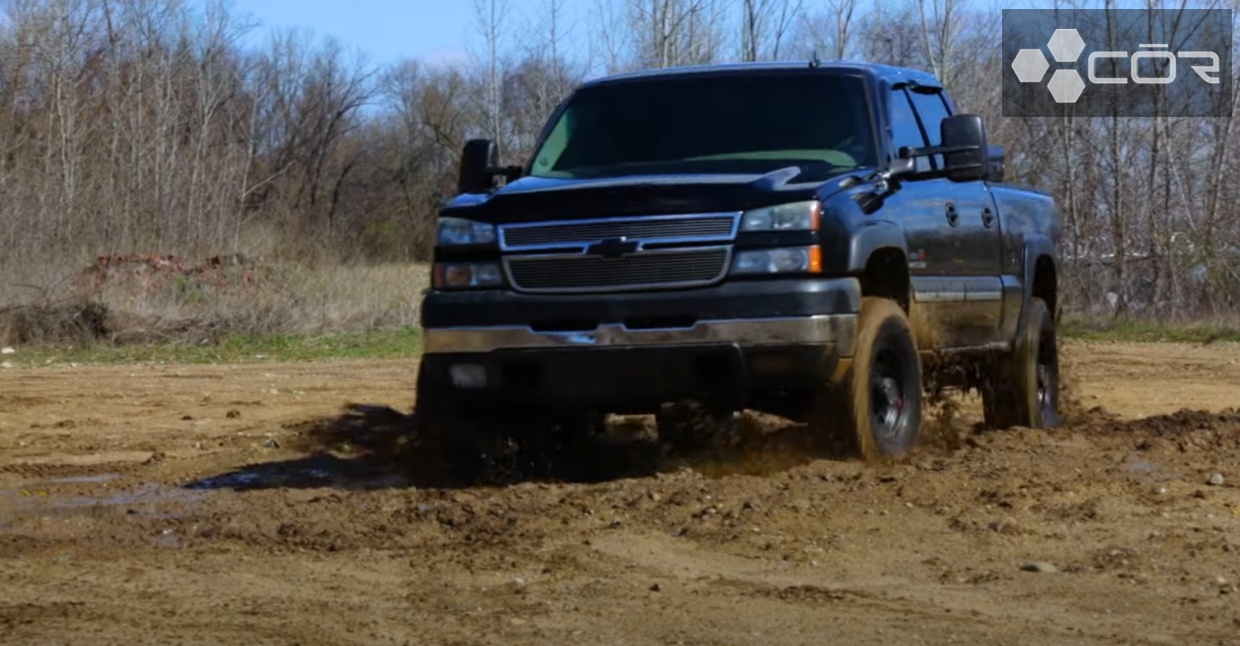 You will enjoy relatively the same riding comfort when returning to on-road terrains; Encounter AT only jerks on small cracks in the first 1-2 seconds but flattens out quickly after that. Even deep, waterlogged road sections only result in harmless side-to-side shakes to shrug off water, so you can expect the car to carry on in no significant drama mid-downfalls and storms.
Those preferring quiet rides would also appreciate how Sumitomo Encounter AT swallows down tread noises with its well-balanced tread blocks. Except for low rumblings at corners (loud slurping sounds on wet surfaces that stem from the water/mud and not the tread itself), Sumitomo Encounter keeps every audible reaction under control.
Sumimoto's treadwear clearly benefits most from this class-leading impact handling, remaining relatively unchanged after our tests. Aided by the brand's 60,000-mile warranty, you do not have to worry about tread life issues for at least the first five years of usage.
There are still drawbacks: like BFGoodrich KO2 and Toyo Open, Sumitomo Encounter has surprisingly less sharp feedback on deep mud compared to other terrains, which takes away a few points. And on sandy dunes, soft particles still seep under the high wall angles when the steering wheel slackens. As such, this tire can accompany you on daily routes with occasional mud patches showing up.
Best riding comfort and noise control
Great dry and wet on-road traction
Great on light and deep snow alike
Less sharp feedback on deep mud than other off-road terrains (still decent)
Struggling a bit with soft sand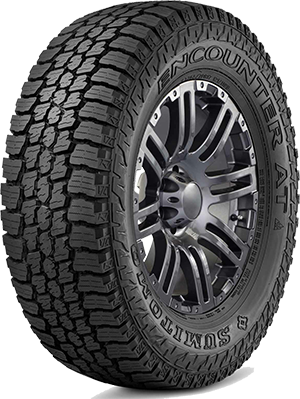 ---
9. General Grabber A/TX
Best for Mud and Snow Traction
Tire Type
Off-Road All-Terrain
Tire Size
14″ – 20″
Weight
28.0 LBS – 80.0 LBS
Load Index
95 – 127
Load Range
C1 – XL
Speed Rating
– Q: up to 100 mph
– T: up to 118 mph
Warranty
50,000 – 60,000
Ratings
8.5/10
General Grabber A/TX is the best mud tire for snow, with numerous winter-focused technologies included in the design.
Its tough, cut-resistant compounds (acoustically molded) enjoy an extra absorption layer below the tread to enhance comfort, while the wide footprints distribute pressure to prevent irregular wear. Deep tread and multiple-angle blocks aid loose-terrain traction, combining with traction sipes and notes to offer more bites on snow and dirt.
From the very moment our car touched the muddy snow, it was clear that Grabber A/TX and snow terrains belonged: the contact patch made instant connections with the road pavements and handled accelerations towards 65 MPH with relative ease. The tire's wide footprint and multiple-angle blocks did a great job plowing through even deep smud, seemingly unfazed even when we entered 8-inch zones – minus brief freezes touching cold puddles.
Better yet, you can choose between studded and studless modes. Studless designs will work smoothly on paved, favorable-condition paths, while extra studs can deliver more grip on rugged and inconsistent snow packs to ensure your car encounters no accidents.
General Grabber A/TX is an off-road tire and hence, also performs pretty well on solely mud terrains. Though mud does not have the same melting point as snow, the tire still has evacuation channels strong enough to divert most stickier soil-water packs off the main contact patch, even allowing straight revs to 55 MPH if you apply competent countersteering.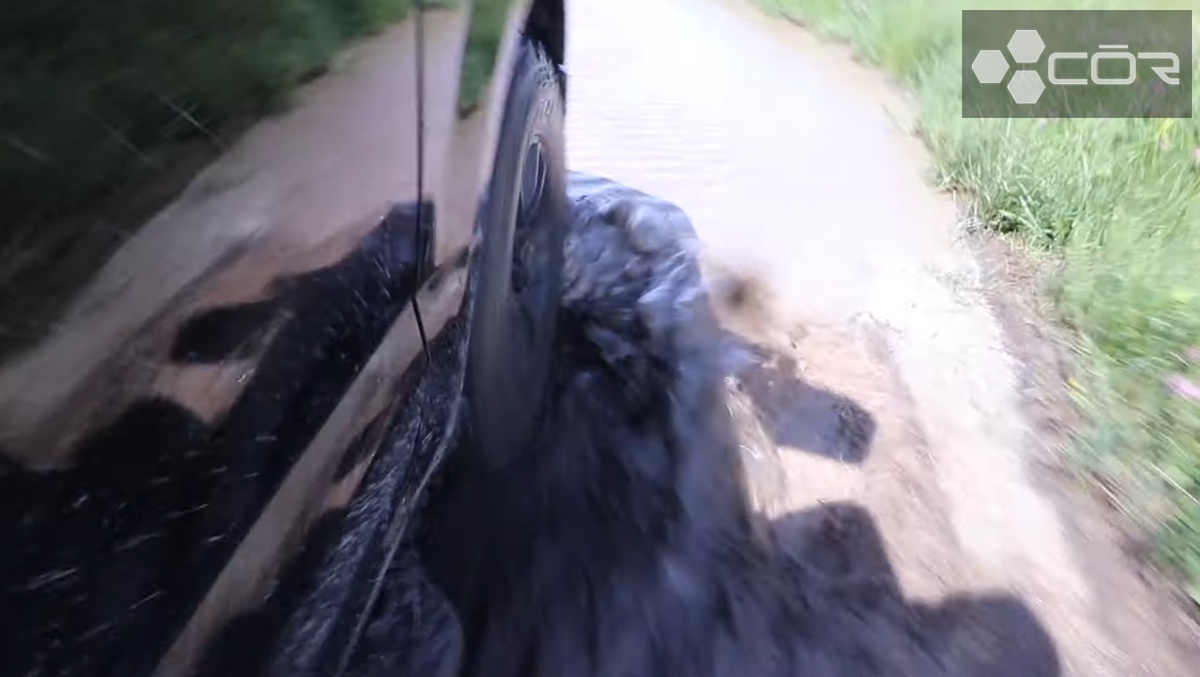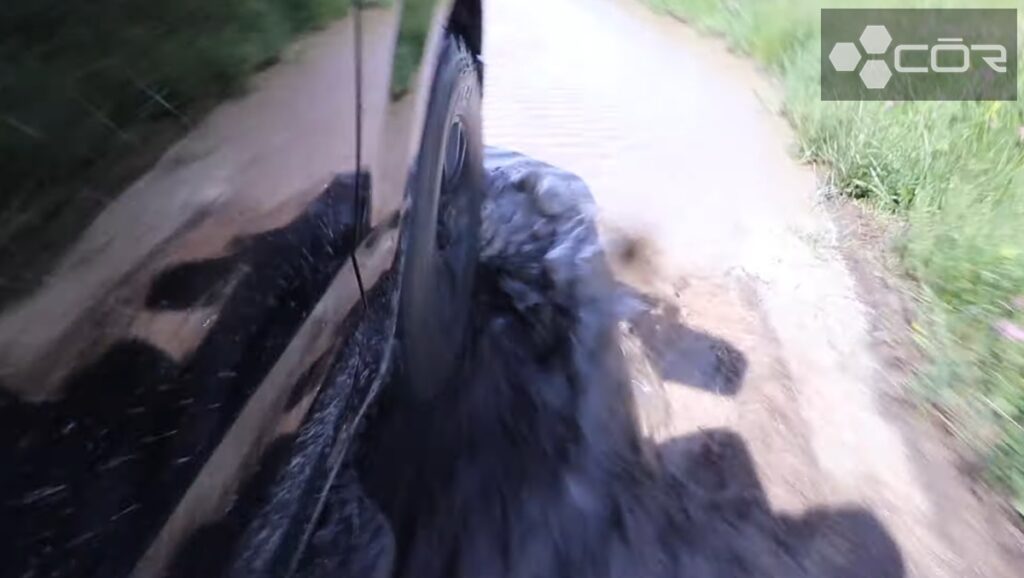 The model also delivers a stellar performance on on-road surfaces, and its powerful capability on dirt and rock is a given – even better than on mud, even. The tread copes well with cold temperatures thanks to the well-put absorption layers, and could ensure at least 40,000 miles of usage with no significant cuffs for you.
Nevertheless, the constant jostles and hiccups around wetter road sections push its overall riding comfort quite low behind other rivals – though still decent enough for long truck usage.
Very capable on snow
Great on dirt, rock, and sand; satisfying mud traction
Handling on-road traction well
Satisfying tread life
Riding comfort could have been improved
---
10. Falken WildPeak A/T3W
Best for Wet Weather Traction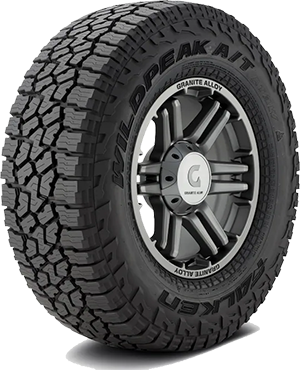 Tire Type
Off-Road All-Terrain
Tire Size
15″ – 22″
Weight
31.1 LBS – 84.0 LBS
Load Index
99 – 129
Load Range
C1 – XL
Speed Rating
– H: up to 130 mph
– T: up to 118 mph
Warranty
55,000
Ratings
8.5/10
Falken WildPeak A/T3W beats other mud tires in wet traction. Its step-down accessories and support ramps provide more handling rigidity, aided by the 3D canyon sipes that offer more wet edges and wear resistance. At the same time, the aggressive upper wall protections keep the tire from damage and drilling.
More impressively, the tire features heat diffusion under the lower parts of the sidewalls when hauling or towing loads. Our truck started off well with 4000 lbs of cargo entering waterlogged, muddy crooks, and managed its composure well with every 1500 lbs added along the ride. Even on particularly slippery rutted rails, A/T3W had no trouble refilling traction loss around the flanks and ground through mid-rain underwater mud with surprisingly more polite manners than expected for a mud tire.
With such collected control even over very wet, thick mud, you can stay confident when returning to wet on-road asphalts. Falken Wildpeak does not take more than 5 seconds to find its footings and easily whisks off rainwater 7 inches deep and beyond to pave the way for underneath contact points, only suffering from minor edge drifting.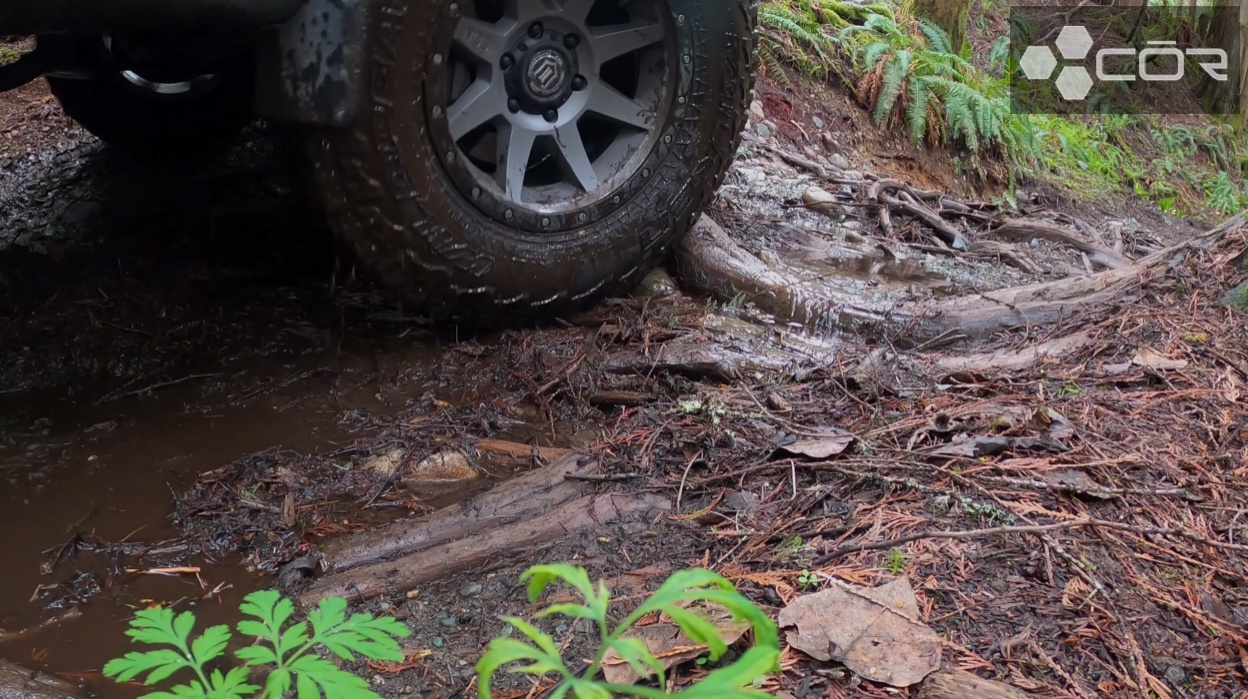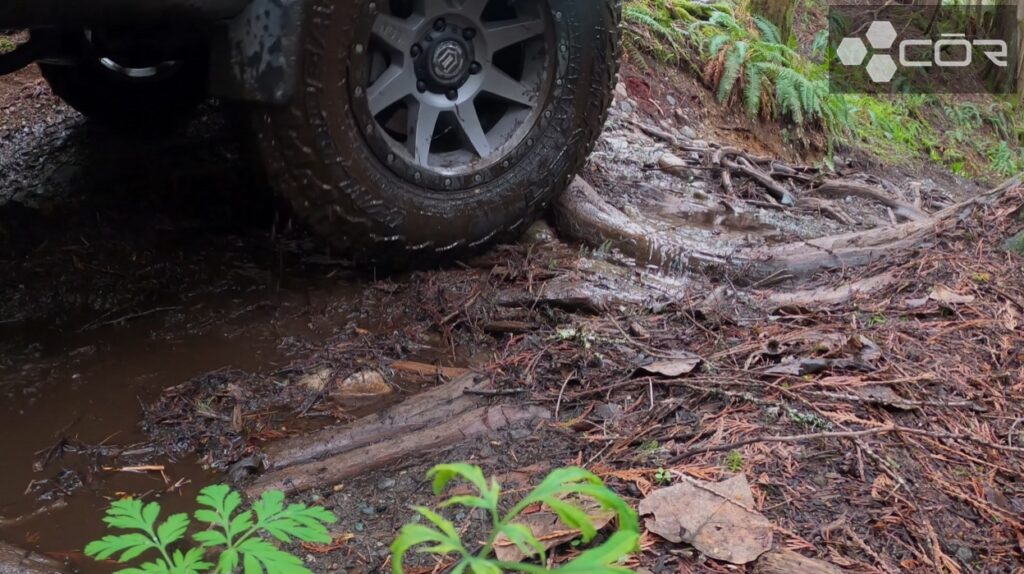 Provided punctual brakings and deft speed alterations, you can even choke out extra confidence dealing with drenching off-camber bends and dogleg corners mid-storm.
Returning to dry weather traction is undoubtedly a breeze for A/T3W, guaranteeing safe traveling for you all year round with satisfying treadwear (at least 55,000 miles of no major shredding). The only exception is ice terrains (though A/T3W's performance here is still much better than other tires), struggling more frequently at higher speeds beyond 45 MPH.
Confident in wet weather (off- and on-road alike)
Great dry traction
Overall good off-road qualities
Satisfying treadwear
Great riding comfort
Struggling more on ice than on other terrains
Occasional muted steering at abrupt turns
---
How to Choose The Right Mud Tire
Driving conditions. It would be best to turn to mud tires if you venture off-road often. For cars that mostly engage on-road paths with a dash of occasional light off-road, then all-terrain tires will do.
Vehicle Suspension. Ample ground clearance does better with wider tires. Vehicles low to the road, on the other hand, need narrower tires.
Budgets. Mud tires have a broad range of pricing but mostly stay on the more expensive side of the spectrum. Settle your priorities before shopping.
Preferences. Are you a fan of quiet, predictable rides? Or do you seek aggressive treads that support spirited driving? Pitch your preferences against the current budgets to get the best tire values.
Conclusion
Yokohama Geolandar M/T G003 is the ultimate choice if you can afford generous spending; except for a bit of louder road noises and wet slippage, the tire has no competitors.
Meanwhile, tight-budget customers would do well with General Grabber X3's predictable confidence and capable mud-evacuating channels. And people in between the two spectrums should settle for BFGoodrich Mud-Terrain T/A KM3, lauded for its aggressive performance through thick, underwater mud.
Here is the summary of the 2023 COR Wheels Tire Test for the 10 best mud terrain tires:
| Tire Brand & Model | | | | | | | | | | | | |
| --- | --- | --- | --- | --- | --- | --- | --- | --- | --- | --- | --- | --- |
| Yokohama Geolandar M/T G003 | 1st | 9.1 | 9 | 8.7 | 8.2 | 8.2 | 8.9 | 9.4 | 9.6 | 9 | 9.5 | 9.4 |
| BFGoodrich Mud-Terrain T/A KM3 | 2nd | 8.9 | 8.8 | 8.2 | 7.7 | 7.8 | 8.2 | 9.3 | 9.4 | 8.9 | 9.5 | 9.3 |
| Cooper Discoverer STT PRO | 3rd | 8.9 | 8.7 | 8.3 | 8.1 | 8 | 8.3 | 9.2 | 9.3 | 8.8 | 9.4 | 9.2 |
| General Grabber X3 | 4th | 8.8 | 8.6 | 8.6 | 8.4 | 8 | 8.3 | 9.1 | 9.3 | 9 | 9.1 | 8.9 |
| Firestone Destination M/T2 | 5th | 8.7 | 8.6 | 8.2 | 8.1 | 7.9 | 8 | 9.1 | 9.3 | 9 | 9 | 9.2 |
| Toyo Open Country A/T III | 6th | 8.6 | 9 | 8.7 | 8.6 | 8.4 | 8.6 | 8.7 | 9.1 | 8.7 | 8.5 | 8.7 |
| BFGoodrich All-Terrain T/A KO2 | 7th | 8.6 | 8.9 | 8.6 | 8.5 | 8.2 | 8.4 | 8.8 | 9.1 | 8.8 | 8.5 | 8.9 |
| Sumitomo Encounter AT | 8th | 8.5 | 9 | 8.7 | 8.7 | 8.7 | 8.8 | 8.6 | 8.9 | 8.5 | 8.2 | 8.6 |
| General Grabber A/TX | 9th | 8.5 | 8.9 | 8.6 | 8.5 | 8.1 | 8.5 | 8.7 | 9 | 8.7 | 8.5 | 8.7 |
| Falken WildPeak A/T3W | 10th | 8.5 | 8.8 | 8.7 | 8.5 | 8.5 | 8.5 | 8.6 | 8.9 | 8.6 | 8.3 | 8.5 |
---
President & Automotive Expert at COR Wheels
Robert Herrera has been with COR Wheels for 17 years and has a great passion for the automotive industry. During his time at COR Wheels, he has driven and test-driven a variety of vehicles.
---