Vredestein Quatrac Pro has been one of the brand's central focus in the past few years, as numerous technologies and extra features were included to deliver an all-rounded and inclusive all-season performance.
Many consider it one of the best grand-touring tires for rain, so our COR wheels team was motivated to test-ride it for ten days straight. And now that the results finally arrived, keep scrolling through our review to see how things turned out!
In this article:
Vredestein Quatrac Pro Specifications & Features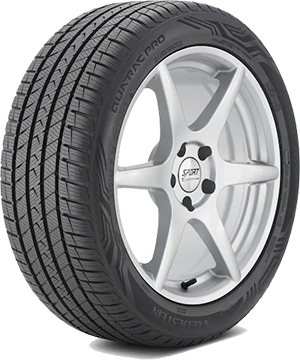 | | |
| --- | --- |
| Tire Type | Grand Touring All-Season |
| Tire Size | 17″ – 21″ |
| Weight | 23.5 – 32.5 lbs |
| Load Index | 91 – 103 |
| Load Range | H – XL |
| Speed Rating | V – W |
| Warranty | 40,000 miles |
| Ratings | 8.5/10 |
The tire maker introduces high-silica, high-resin tread compounds molded into asymmetric patterns. At the same time, its first ribs and outboard shoulders are tailored for steering, handling, and traction in wet and dry conditions – supported by compound stiffness, large blocks, and low void ratios.
Regarding wintry conditions, Quatrac Pro leaves the inside shoulder slots and inboard ribs to take care of the task, with lateral notches and open circumferential grooves to whisk slush and water off the contact patches. Sealing the deal is the high-density zigzag sipes, whose traction quality is enough to grant this concept tire a 3PMSF (3-peak mountain snowflakes) symbol for wintry conditions.
Like most grand all-season and all-weather tires, Quatrac Pro entails polyester casings (single-ply) with two supporting steel belts. Meanwhile, extra high-speed performance and handling are achieved through the premium polyamide reinforcement in the middle.
With all of these perks, Vredestein claims that this tire delivers 10% better performance on wet roads.
Vredestein Quatrac Pro Review & Performance Test Results
Our team tested the Quatrac Pro (224/40R18 tire size version) on the latest model of Toyota Corolla. It was evaluated along with other grand-touring tires as a part of the 10-day 2023 COR Wheels tire test.
1. Dry Performance: 9/10
Dry Traction: 9.1/10
Vredestein must have invested a proper amount in customer demand research, because the dry traction Quatrac Pro delivered is excellent. The buffed outboard and inboard shoulders give our performance considerable support in all the right places, and we could easily observe the surge in turn-in gain.
In the dry test, our Corolla bites confidently onto the pavements, breezing through dry road conditions without significant delays or drags, biting confidently onto the terrains.
Parts of the tire walls sometimes gave in due to the softer compounds than the rest, but none of us felt they were mushy; there was a nice balance between flex and stability, enough for us to stay planted for long hours under comfortable composure.
Still, we could not help but feel like the traction suffered a bit when the dry weather turned cool. Below 45 to 50 degrees, it was hard to ignore the noticeable lags in braking distances, and our tires had a slightly annoying tendency to roll out their "flat" spots when sitting idle for more than 30 minutes before driving.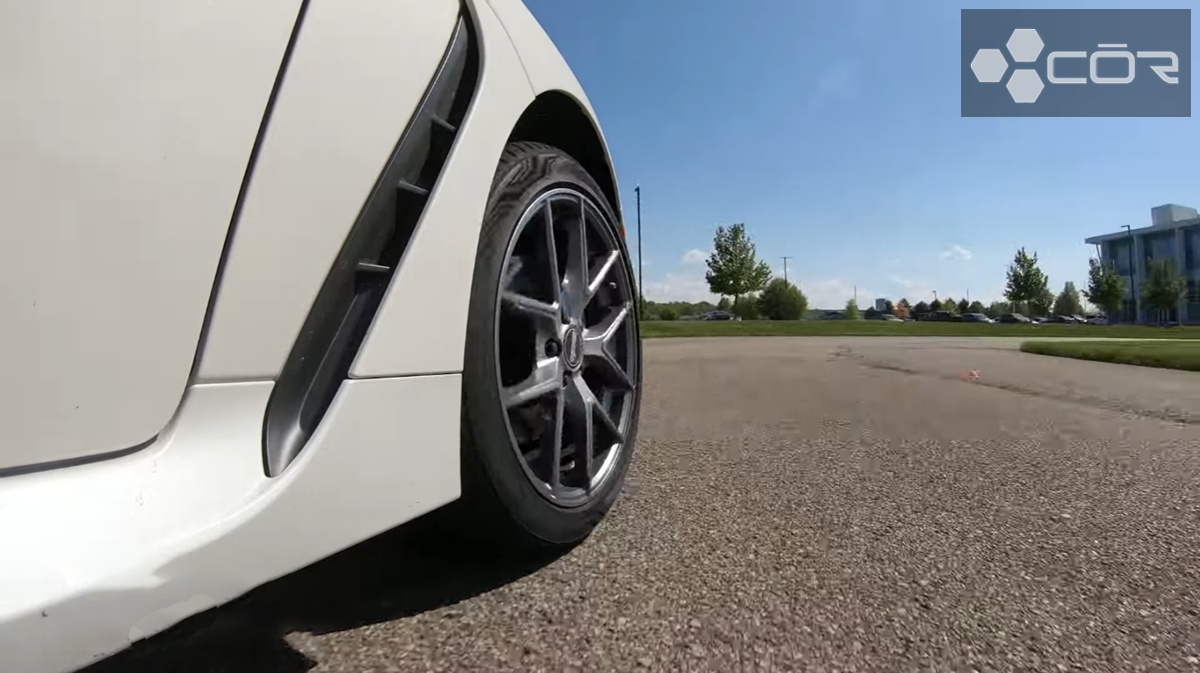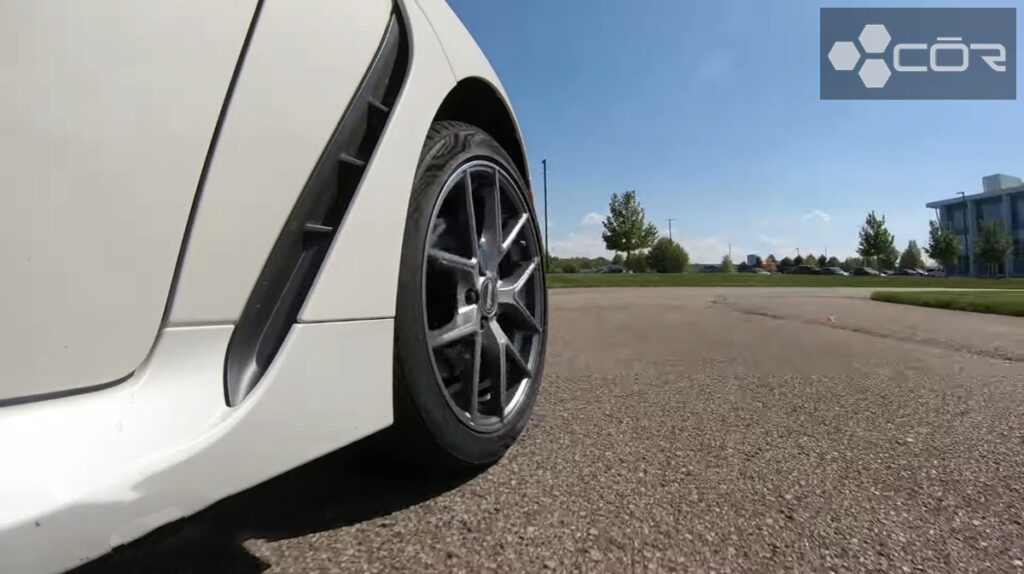 Corner Stability: 8.9/10
Though we just claimed above that the sidewalls did not feel too squishy, they were still a tad squishier than other Vredestein models; our team was afraid to attempt tight cornering at first.
But turns out we were wrong. The wide tread sections and extra ply casings ensured the tire was kept in perfect shape, delivering a non-drama response whenever we took unexpected turns.
The twitchy, squirming feel often observed in tires with supple sidewalls did not seem to exist here; it did feel softer than our expectations, but still provided accurate, controlled, and punctual forces at the end of the day.
On another note, the soft sidewalls did sometimes cause a vague, ominous feeling that new drivers take some time to get used to.
Steering Response: 8.9/10
Vredestein Quatrac Pro left little room for complaints in terms of crisp steering response, credited to the continuous center ribs with much fewer sipes than other all-season tires.
The tires launched into action right after we turned the steering wheel, carrying us through lanes and merges with sharp responses and little to no floats. Each input and output was instant and felt connected, and the delays were so small they totally slipped off our attention.
The only concerning drawback is that Quatrac seemed to exhaust its own traction due to the concentrated pressure of standing in the same spot for hours during traffic. Such fatigue caused our steering to feel a bit drifty from time to time.
2. Wet Performance: 8.9/10
Wet Traction: 8.9/10
Quatrac's wet grip capability is only a tiny tad behind its own performance in dry weather, and that is already pretty impressive for an all-season tire.
The low void ratios allow Quatrac Pro to grind more rubber against the ground, providing us with improved and more surefooted grips on slippery surfaces. At the same time, the notched tread patterns smoothed out road imperfections to palm out our smooth ride; it was as if the tires did not even notice any rainwater as we cornered and steered through the wet roads.
There was a reassuring thud every time we changed turns, and slippages were only few and far between. Our team members even leveled up the challenges by switching to "Launch" control – and yet, no noticeable traction loss seemed to occur.
What kept the model from receiving a higher score was the substandard rolling resistance and lockups for its wet braking. Plus, we had to admit that 180-degree turnabouts were pretty scary under heavy downpours; even when we tried our best not to push the car around, fishtail issues still lurked around the corner.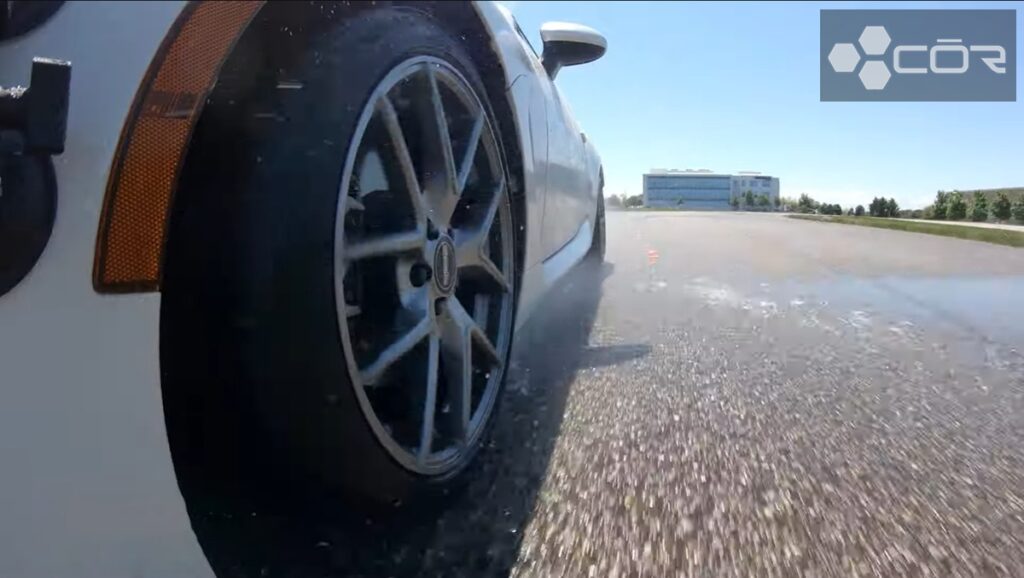 Hydroplaning Resistance: 8.8/10
The tire's aquaplaning resistance is also noteworthy. Quatrac Pro owned it to the circumferential grooves and adjacent notches, whose combined depths work as the rubber tunnel to transport water off the shoulders. We rarely experienced straight aquaplaning higher than 1/2 inches during standing-water travels, even as the car was revved to greater avg speeds.
From inside the cabins, we could literally hear the slurping noises of water slipping off the firm rubber and how the tires hit the road contacts with a dull but confident thump. Contact points felt solid and strongly present; and guaranteed the average speed did not exceed 80 MPH, even mud and debris had a difficult time infiltrating our tire grooves.
In another vein, hydroplaning likelihoods did seem to rack higher on deep puddles at highway rates. It was possible that our lightning-speed travels gave the tires little time to proceed and channel huge water flows. So avoid going higher than 85 MPH to keep the issue at bay.
3. Snow/Winter Performance: 8/10
Light Snow Traction: 8.5/10
As mentioned above, Quatrac Pro earned a 3PMSF label due to the zigzag high-density sipes, and their premium builds translated pretty well into our light-snow test rides.
The tires clicked well onto the terrain as if the two had always belonged, and we felt a strange sense of familiarity as its grooves whisked off snow and water the same way they did on wet tracks.
Our Corolla sank deep into 8 inches of snow blankets and took no more than 5-6 seconds to dig itself out. The silica, soft compound needed stronger grinding force to chew through, but at the end of the day, its lateral grip on snow still felt consistent and confident enough for all of us.
Deep Snow Traction: 7.9/10
As the car was subjected to snow deeper than 9 inches, our tires went through clearly tough moments. We tried to drive as slowly as possible, yet the wheels suffered from sudden lost traction every 10-15 minutes.
And in worsened scenarios – when the circumferential channels failed to keep thick snow out of the grooves – we even had to make our car slip on purpose to let the traction control snap back into action.
The lack of support (single-ply instead of two-ply) was the most likely culprit we could think of for this underwhelming performance.
Ice Traction: 7.6/10
Quatrac Pro's ice traction fell into the middle range of the spectrum, lagging behind models from Goodyear, BFGoodrich, and even General AltiMAX by a very long slide.
Its center section, while sufficient for dry lands and snow, was far from aggressive on the slick, icy roads. The driving rate was reduced to as low as 50 MPH – and even then, occasional slippage still occurred. We did not dare risk our lives accelerating higher.
In compensation, Quatrac Pro was more tolerable on thick ice than on thin ice; the stable, solid structure and lower water content allowed these terrains to endure our tire's pressure better.
4. Comfort: 8.7/10
Ride Quality: 8.9/10
These tires are competitive when it comes to riding quality; they combine continuous center ribs with fluffy compound elements to deliver us feathery handlings over bumped roads. Sharper bumps were rolled over so seamlessly that it felt like they got swallowed by our tires, and smaller cracks were even less visible.
However, it seemed these comfortable ride qualities only peaked at favorable city driving conditions (ex: dry roads) and got worse as the weather grew more challenging. On wet, icy terrains, they were downright struggling to move forward.
Noise: 8.5/10
The road noise level was so-so: not to the point of being a bother, but enough that we could not just simply ignore it.
As the treads ground deep onto the terrains, they literally crackled, transmitting some noises straight to our cabins. The longer we drove, the louder the noises due to the slight tread wear, although they eventually whitened out when we returned to smoother road patches.
5. Treadwear and Durability: 8.1/10
Quatrac Pro's maximum tread life is possibly sacrificed to give room for smoother rides.
The short mileage warranty (40,000 miles) did not feel that assuring for us, either; so all in all, this model is not the best candidate if you prioritize durability.
Quatrac Pro Pros and Cons
Excellent traction (but not the best) on dry roads
Adaptive biting edges
Decent wet traction and water evacuation capability
Smooth, soft feel
Coping well on light snow with good winter traction
Struggling on deep snow and ice
Not very quiet ride
Less-than-decent tread life
Muted steering feedback from time to time
Quatrac Pro Competitors & Alternatives
Other all-season tires – namely Bridgestone WeatherPeak, Michelin CrossClimate2, and Pirelli Cinturato WeatherActive, are on the same table with Quatrac Pro.
Vredestein's representative still crowned the comfort test, with firm yet well-cushioned feels over major road impacts. However, some of its minimal secondary movements might manifest a sense of uncontrol.
Pirelli exceeded other competitors in terms of wet steering characteristics, which navigate tighter sections and slalom with ease. The playful, bright response syncs up great with our team members, compensating for the frequent grip loss.
Michelin CrossClimate 2 allowed more flexibility than any other contender in the group. Its accurate yet firm one-to-one feel closely accompanies drivers' inputs for a more intuitive adjustment. However, it tends to slightly overreact on coarser surfaces and generate white, medium-volume noise.
The WeatherPeak is still much more competitive than many available market tires out there. But within this test group alone, it clearly ranked last due to notable struggles in adequate grip and braking.
Conclusion
According to our Vredestein Quatrac Pro review, it leaves too much to be desired regarding ice and snow performance. Still, if you prefer smooth rides over sporty driving feeling and do not mind a few internal noises, then this model is a good model to invest in.
Those who live in Southern states with more precipitation than snow can find this a good match.
Vredestein Quatrac Pro
PRICE
SOLD BY

Offers

In Stock

Offers

In Stock

Offers

In Stock

Offers

In Stock
---
President & Automotive Expert at COR Wheels
Robert Herrera has been with COR Wheels for 17 years and has a great passion for the automotive industry. During his time at COR Wheels, he has driven and test-driven a variety of vehicles.
---