BFGoodrich might not be the most famous brand out of those we have tested, but its Advantage Control model has earned quite a rave feedback from fans and non-fans alike. They incorporate previous features from predecessors with more updated technology and design optimization, which cement the tire's position on the best-selling lists.
Hence, Advantage Control is a non-skip contender in our test ride. After ten consecutive days of constant evaluation, we could finally review how this tire copes with different terrain challenges.
In this article:
BFGoodrich Advantage Control Specifications & Features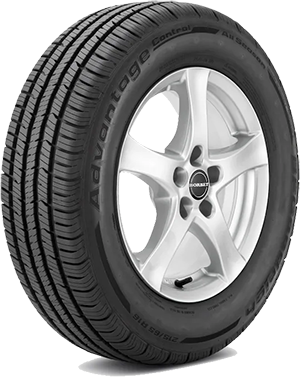 Tire Type
Grand Touring All-Season
Tire Size
14″ – 20″
Weight
17.04 LBS – 33.91 LBS
Load Index
84 – 103
Load Range
SL – XL
Speed Rating
– H: up to 130 mph
– W: up to 168 mph
Warranty
65,000 – 75,000 miles
Ratings
8.7/10
Armed with semi-solid rib centers and classic 5-rib patterns, the model promises better dry and wet grips than some of its older siblings.
For starters, BFGoodrich employees confirm Advantage Control has an 8 feet shorter stopping distance on slippery roads than its leading competitors, aided by temperature-flexible, all-season compounds for more confidence in all weather conditions.
The package also introduces silica-rich, advanced compound layers molded into symmetric, touring-focused tread designs, which promote comfortable rides and lower tread noises. At the same time, the computerized footprint sustains contact forces to strengthen consistent, longer tread wear.
An intimate look into the sidewalls reveals their extra material reinforcement, enhancing responsive steering systems and crisper handling.
The circumferential, wide grooves align closely with the lateral notches featuring AquaFlume technology, whose combined structural integrity leverages the entire curvilinear groove networks. BFG hopes to achieve a faster water-dispersing with these upgrades, improving wet stability and hydroplaning resistance on the go.
These tires impress further with full-depth treads and Active Sipes Technology, integrated deep into each block for more solid wintry/wet weather performance across the entire tire lifespan.
And regarding internal construction, Advantage Control does not stray far from tradition. It comprises a polyester casing (two-ply) to offer better comfort and durability, supported by robust, nylon-reinforced steel belts for higher-speed reliability.
By the time of our report, BFGoodrich confidently backs its H speed-rated models with a 75,000-mile treadwear warranty. W and V speeds have slightly less warranty coverage at 65,000 miles. All tire sizes from 15 to 20 inches are covered by these guarantees.
BFGoodrich Advantage Control Review & Performance Test Result
For its test ride during the 2023 summer and winter COR Wheels tire test, our team uses the 225/45R17 variants on the latest 2022 Subaru Outback model, here is the result:
1. Dry Performance: 9.1/10
Dry Traction: 9.2/10
BFG Advantage Control does not play around when it comes to dry traction.
Its stiff silica compounds play a major role in road contact and grip sustainment. Our members could feel the consistent connection between the tires and our suspension system as we navigated the car around cracked pavements.
Any lack of contact, if any, was immediately filled in with the computerized footprints; hence, our ride remained delightedly uneventful, even when obstacles or other vehicles veered our way.
And on particularly slippery terrains (but not to the point of being considered a "wet road"), we could literally sense how the notched rubber bit onto our riding surfaces to keep things under control.
The only real competitor of Advantage Control in terms of dry traction is Michelin CrossClimate 2. Advantage Control is at a slightly inferior position compared to the latter due to its heavy-weighted internal structure, which explains why we sometimes felt a minor system delay when accelerating.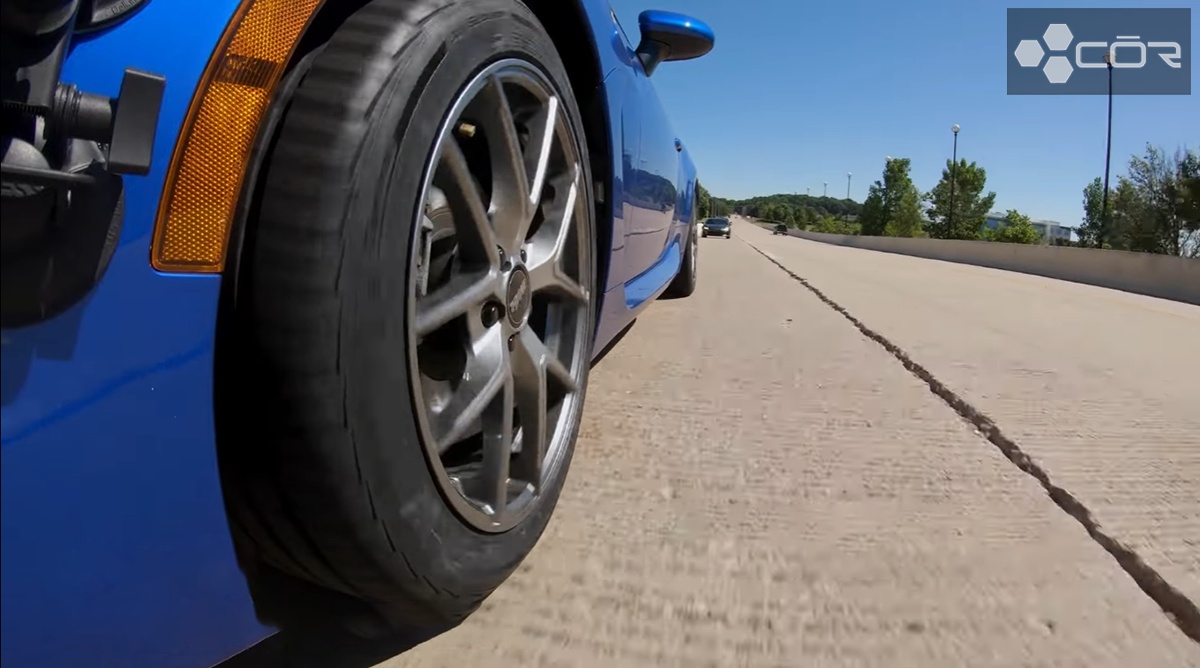 Corner Stability: 9/10
Corner stability is another strong point of Advantage Control – something our team already anticipated even before stepping into our Subaru.
Unlike standard all-season tires, Advantage Control introduces rim protectors to the package, whose stiffness compensates for all other lackluster compartments if there are even any. Each of our cornering endeavors delivered a stable, unshaken feel, and we particularly liked how the compounds retained enough flex to transition smoothly from one curve angle to another.
Our team members admittedly looked down on the nylon reinforcement at first – since it is a standard feature found in almost any other all-season tire. We were (luckily) mistaken; the tire sidewalls were thick enough to compensate for the soft nylon, allowing us to resist horizontal forces without much difficulty.
At times, the tire exhibited (very minor) body roll degrees during cornering, causing perceptible leans for our Subaru Outboard. But at least from what we observed in our test, it did not cause any immediate danger or safety compromise.
Steering Response: 9.1/10
The symmetrical tread patterns and continuous center ribs prove one of Advantage Control's strongest assets.
Due to the constant connection between the ground and these center sections, our tire and steering maintain a good yet highly communicative operation. They were keenly attuned to each other's input to blacken out all possible speed and grip consistency, giving us a good sense of the car's position and expected directions.
Hence, our steering attempts were relatively easy, with few significant jolts or jerks that might throw us off balance. To put things in perspective, we gradually increased our speed from 80 MPH to more than 160 MPH, and the car's steering remained breezy and effortless.
However, be more cautious with aggressive laps; the tire was admittedly behind competitors like Cooper Endeavor or General AltiMAX RT45 in lateral traction and objective braking with slower response. The tire's leisure approach only suited us best in more regular driving styles.
2. Wet Performance: 8.7/10
Wet Traction: 8.7/10
Here is where the full-depth sipes exhibit their strengths. They act like both a pump and a protective barrier, disrupting the continued water flow to maintain our connection with the road surfaces.
Driving through wet roads was a pleasant and comfortable experience for us all, as we barely felt any signal of traction loss. No slippage risks were around the corners, even in critical moments or urgent braking; it only took a few milliseconds to resume our speed and steering force.
So why did our team give us a score lower than 9? In standing water, the tire's grooves did not work as effectively as we had hoped and still allowed thin water layers to linger on the rubber compounds. Hence, the tire-road connection kind of slipped away, and we had to pay extra attention to the road to prevent accidents.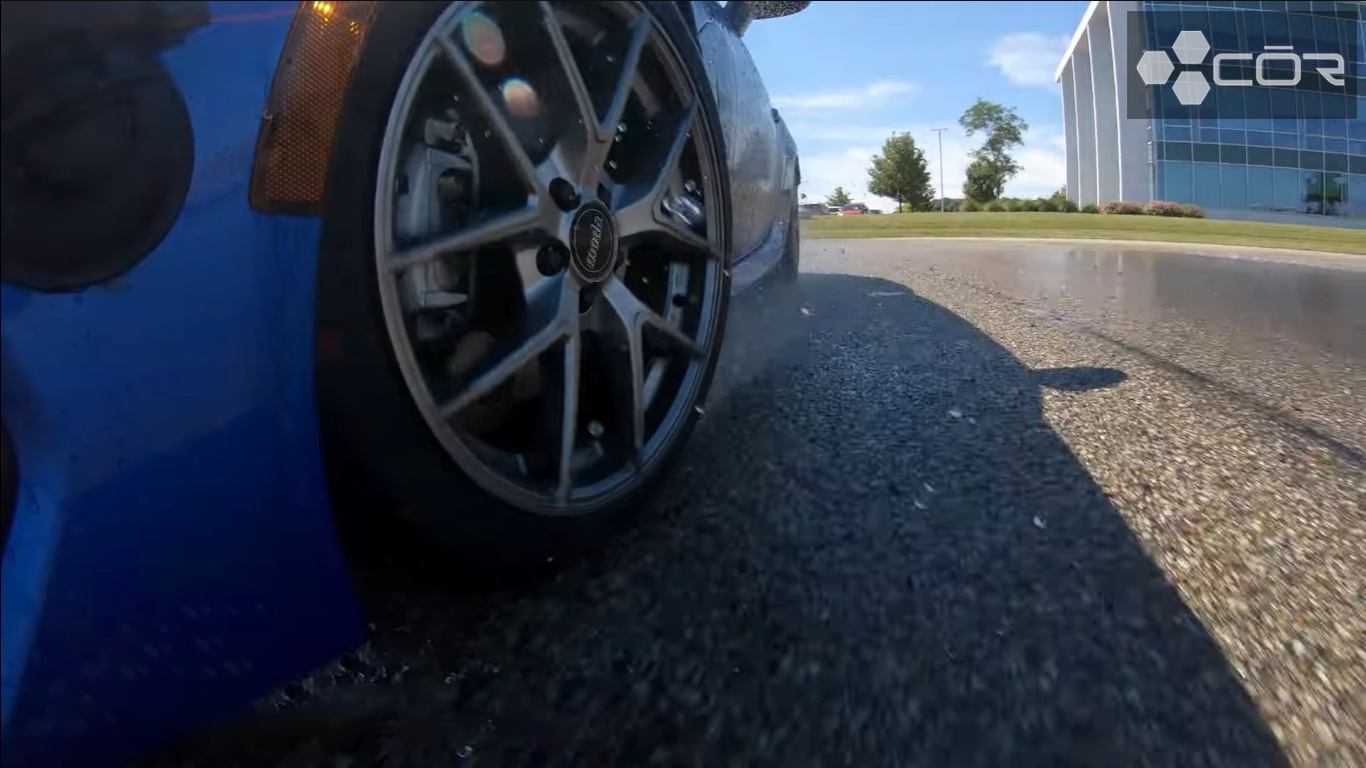 Hydroplaning Resistance: 8.7/10
Though not as good as we hoped, its hydroplaning resistance still leaned enough into the positive end of the spectrum. Advantage Control owned it to the open-ended shoulder blocks and four circumferential grooves, as their deep channels are disrupted evenly to disrupt water films and maintain road contact.
Our first few hundred miles through waterlogged road sections went on with little problem: the tire whisked water off its sides in seconds before our steering input even sank in. We traveled consistently through deep water and puddles, and even mid-way acceleration did not sound like that much of a challenge.
We did encounter some unexpected struggles when entering road patches of extra wet mud and debris. Raindrops or water alone is an easy feat for the tire; however, it seemed to undergo quite a pain fighting thick mud off the rubber. Our team still escaped it safe and sound, but not without more steering forces and higher rev than required.
3. Winter/Snow Performance: 8.5/10
Light Snow Traction: 8.7/10
Surprisingly, its performance on light snow is on par with its wet traction.
The deep sipes and self-cleaning grooves seemed to perform on light snow the same as with slippery roads, as we rarely felt disrupted or jostled by the packed snow under the tire's rubber.
We entered some deeper zones (but still within the light-snow category) of 5 to 6 inches to see how far its handling could go – and the snow slipped off the tires before we even decided on our new cornering inputs.
Snow is still more compact and solid than rainwater, so there was some natural hydroplaning at particularly rough patches of our test ride. But again, we always keep in mind that this is an all-season tire and hence, did not feel taken aback or unprepared.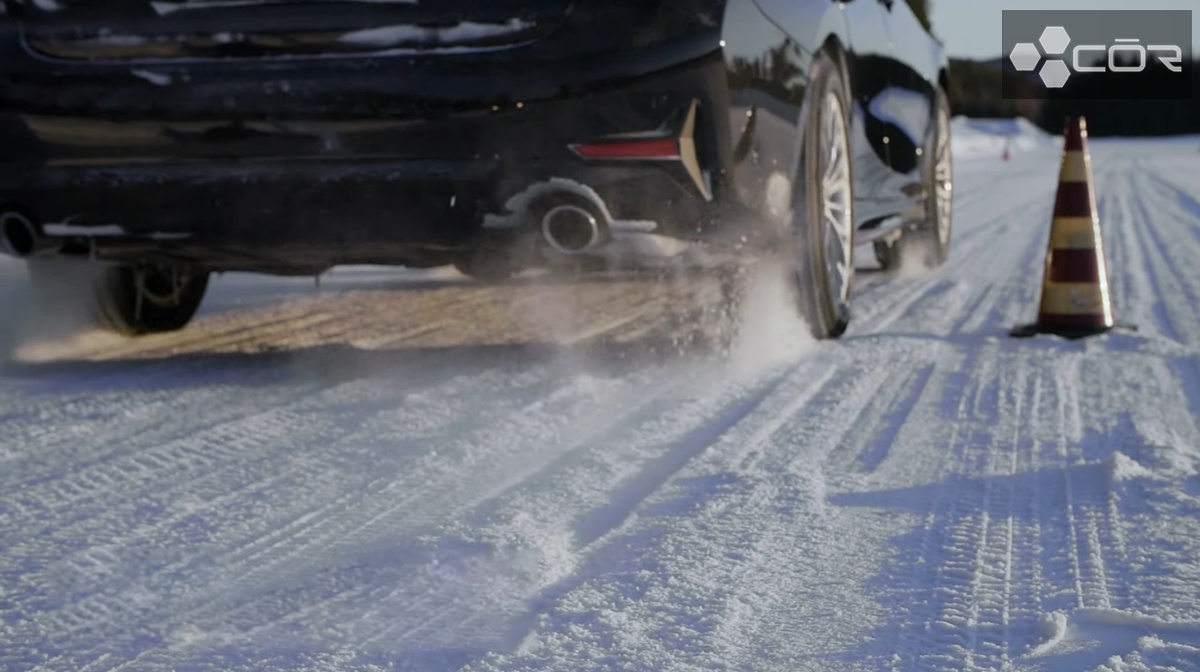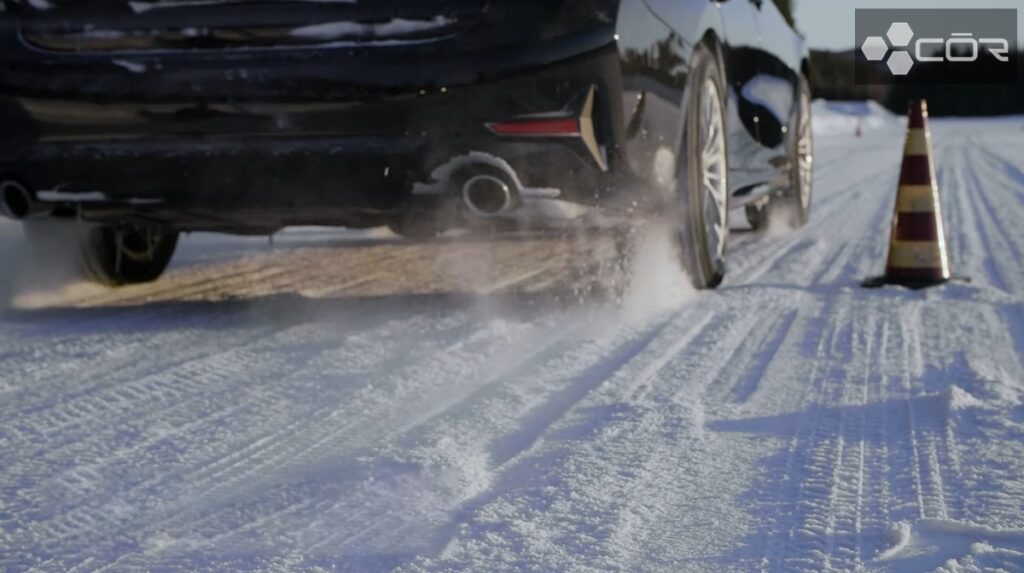 Deep Snow Traction: 8.4/10
Notable increases in snow density and volume lead to more traction struggle – so we understand why the tire failed to maintain the same smooth performance on lighter snow terrains.
The good news is that its deep-snow traction is still beyond average.
After a few seconds of whisking off the residue and dense snow off the grooves, our Subaru moved itself forward a bit shakily but still surefooted enough, retaining its highly tuned focus on our steering and suspension control.
We took much more time to push it through the snow piles after BOTH rain and deep snowfall – but overall, Subaru still managed under sufficient acceleration.
Ice Traction: 8.2/10
Given that the ice density remains consistent, Advantage Control provides decent traction and footings on thick icy roads – enough to allow us to get more impromptu with our acceleration. Skidding is still a possibility, though BFG's responsive steering and Subaru's capable sensors can keep those accidents at bay.
However, note that consistent ice density is considered a luxury in this city, fluctuating constantly according to weather and temperature. Hence, the uneventful scenario we described above is only few and far between; we had to keep our eyes on the road all the time to prevent severe traction loss and even collision.
4. Comfort: 8.6/10
Ride Quality: 8.9/10
Stiff compounds do not often go with comfort or smooth rides. Fortunately, Advantage Control learns to take advantage of both stability and flexibility by combining firmer compounds with full-depth, responsive sipes and grooves.
Our ride is straight-line and consistent while still giving enough room for unexpected direction; it did not feel soft to the point that we could be shaken off our driving seats anytime. We also experienced little difficulty with braking and steering; despite rare delays, they responded accurately and promptly most of the time.
Noise: 8.4/10
Under downpours, we hardly heard anything – but that was possibly because the rain noises swallowed them down. But once the weather cleared up and we were back to dry roads, the squawking sounds became more obvious, though still at an acceptable level.
We suspected the increased void area had much to do with this issue. Compared to the much quieter Vredestein HiTrac All Season or Michelin Primacy Tour A/S, these differences in noise levels rang loud and clear in our ears, especially on smooth asphalt.
5. Treadwear and Durability: 8.7/10
Advantage Control wore faster in heavy rain and deep snow – but left little room for complaints in more favorable driving conditions. Thanks to the computerized footprint and symmetrical tread, our treadwear remains almost unchanged after 800 miles or so.
It is hard to give you a more specific confirmation than this with our short 10-day test; but given that there are two different mileage warranties, drivers can be confident in how durable these tires can last.
Advantage Control Pros and Cons
Great dry performance
Comfortable ride
Good hydroplaning resistance
Perform well on light and deep snow
Can be noisy
Wet traction can still be improved
Occasional delays in acceleration
Advantage Control Competitors & Alternatives
General AltiMAX RT45, Vredestein HiTrac All Season, and Cooper Endeavor, and BFGoodrich Advantage Control are all principal players in the category.
BFGoodrich performs much better than the other three in terms of basic traction communication. Due to fewer imbalances, each of its laps feels more consistent and several notes quicker. But the ride comfort seems to pale in comparison with the other three.
Meanwhile, Endeavor is the no.1 candidate for highway performances. Unlike competitors, Endeavor absorbed most resonance over cross-cut concretes even at maximum speeds, and the feathery, crispy, responsive handling worked well with all driving rates.
The AltimAX RT45 took the crown in snow acceleration, partly thanks to its straight-line traction confidence. Its lateral traction proved helpful in snowy corners and also improved lap times.
Vredestein showed more wet braking advantages than others, but performed so-so in other aspects (despite still being considered market-competitive). Its stopping distance needs some improvement, too.
Conclusion
According to our BFGoodrich Advantage Control review, the tire promises good dry traction and decent performances in all weather at $113.00 to $246.00.
Seasoned drivers would still wish for more upgrades in road noise and wet traction, and fans of highway speeds will find their better fit somewhere else. But other than that, this BFGoodrich model checked all of our basic criteria boxes.
BFGoodrich Advantage Control
PRICE
SOLD BY

Offers

In Stock

Offers

In Stock

Offers

In Stock

Offers

In Stock

Offers

In Stock

Offers

In Stock
---
President & Automotive Expert at COR Wheels
Robert Herrera has been with COR Wheels for 17 years and has a great passion for the automotive industry. During his time at COR Wheels, he has driven and test-driven a variety of vehicles.
---