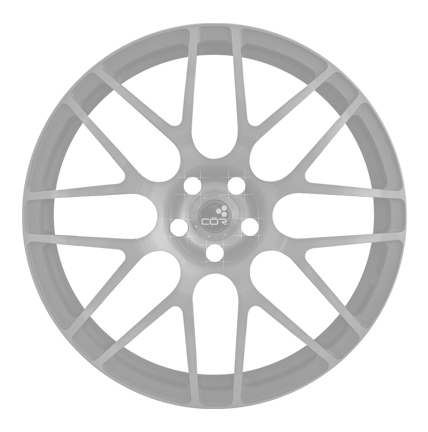 COR International wheels are not mass-produced. Each wheel is built to ensure the optimal fitment for each vehicle, and to satisfy our clients demand for individualization.
Every COR modular center begins its transformation from aluminum to work of art under the immense heat and pressure of the forging process. 6061 Aluminum is forged on our custom proprietary dies, and then lathe turned and machined in state-of-the-art milling equipment usually reserved for aerospace and other ultra precise machining.
Finally, the 3 unique parts are hand assembled, using proprietary custom manufactured aircraft grade fasteners that provide an elegant, lightweight solution to such a demanding and critical function. These fasteners are finished torqued to exacting specifications. Most wheel manufacturers end the manufacturing process here, but COR's penchant for quality control goes the extra mile by having each wheel checked for leaks to ensure they are airtight and verifying that run-out is within tolerances to ensure a smooth, vibration-free ride.
The COR Monobloc series, undergoes the same scrutiny and attention to detail as our modular designs. Unlike many of our competitors who source lower cost forgings, COR's commitment to excellence requires starting with the very best forgings available. In this pursuit, we selected the very same forging utilized by automotive manufacturers such as Aston Martin, Ferrari, Lamborghini, and Mercedes. Furthermore, this forging is utilized not by their mass-market models, but rather by their statement vehicles such as the AMG Black Series and Superleggera models. Make no mistake, there is no finer wheel that you can select for your automobile.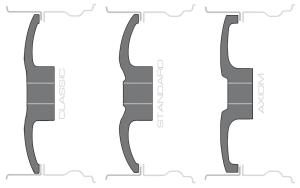 Before any of our designs are released for commercial sale, they undergo a battery of tests to ensure they will withstand the rigors of the road and the test of time with poise. Once the center is released from the development stage, it is on to the finishing process, where each and every part is hand-polished and then finished as per our client's request.
The resulting wheel is a tribute to countless hours of research and development, to fine-tuning of designs, and to carefully chosen and applied finish coats. Owners of COR products can rest assured that no attention to detail is spared in the creation of their wheels. Every vehicle application is thoroughly researched and approved for proper clearance, load capacities, and even aftermarket brake compatibility.*
**Aftermarket brakes must be disclosed at time of ordering, and may affect certain aesthetic elements such as outer rim width.