A symbol of American trucks, the Chevrolet Silverado 1500 stands out with its impressive towing capacity, rugged build, and adaptability across various conditions. But to truly optimize its performance, you also need the right set of tires.
Given the vast range of options available, the process of tire selection can be daunting for Silverado owners. This guide aims to streamline your decision with top recommendations and insights into making the best tires for the Silverado 1500.
In this article:
How to Choose The Best Tires for Your Chevrolet Silverado 1500
We – owners of the Chevy Silverado 1500 – often have a wider array of needs than we might initially anticipate. From commuting to rugged off-road adventures, each of you has unique requirements and driving scenarios they prioritize. It's a good idea to understand these diverse needs before delving into our recommendations so you can make a choice suitable for your specific use case.
Understanding Your Chevy Silverado 1500
The Chevrolet Silverado 1500 is a standout in the full-size pickup truck category with its strength and adaptability. When selecting tires for your Silverado, the focus should not only be on daily drives but also on its inherent strengths: hauling, towing, and handling rougher terrains.
Silverados are often seen shuttling between city streets, highways, and even rugged work sites, requiring a tire that's up for varied challenges.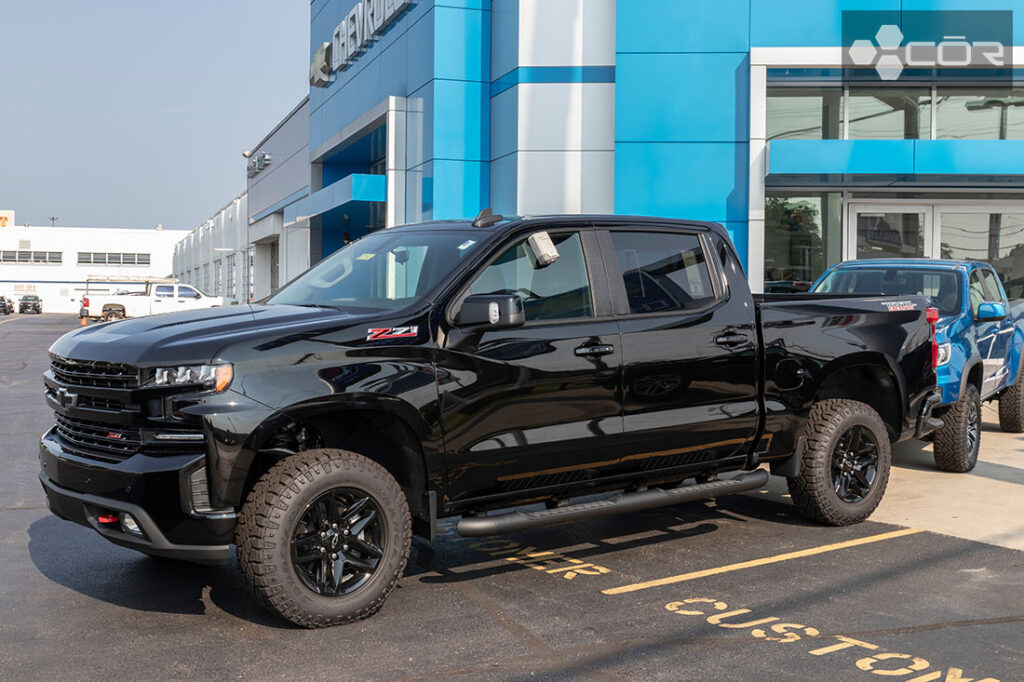 This truck typically comes with a RWD (rear-wheel drive) or 4WD (four-wheel drive) setup. With its RWD configuration, there's an emphasis on rear traction, which is crucial when towing or carrying heavy loads. You should pay attention to tires that ensure stability and prevent slippage.
If your Silverado has a 4WD configuration, it's designed to confidently tackle off-road scenarios. Such capabilities demand a tire that can navigate through mud, sand, and rocky paths, all while maintaining durability.
Remember that a noteworthy aspect of this truck is its towing capacity. This trait implies that tires with a higher load rating, generally in the range of 100 to 120 or more, are a good idea for your Silverado. These ratings make sure that the tires are robust enough to manage the added stress, particularly during your prolonged towing or hauling tasks.
Choose A Tire Type That Suits Your Driving Demands
For the Chevy Silverado 1500, you have a broad spectrum of tire categories to consider, catering to the truck's diverse capabilities. From all-season to all-terrain and even specialized snow tires, there's a fit for your specific need. Each category is designed to enhance the Silverado's performance in distinct scenarios.
All-Season Tires
All-season tires are a versatile choice for Silverado 1500 owners. They offer a balanced performance in a range of weather conditions, from the sun-baked days of summer to the chilly winds of fall. They help your Silverado remain adaptable to changing road conditions without the need to switch tires with the seasons.
Consider the following scenarios to know if you should choose all-season tires for your Silverado 1500:
Regular City and Highway Drives: Do most of your drives involve well-paved city streets or highways? All-season tires are adaptable. They have smooth rides on dry surfaces, making them suitable for daily commuting or highway cruising.
Occasional Wet Roads: Does your area experience occasional rain, causing wet roads but not severe flooding? The design of all-season tires offers more than enough wet traction to handle damp conditions while reducing the risk of hydroplaning.
Mild Winters: Is your region characterized by light snow or chilly conditions rather than harsh, icy winters? Many all-season tires, while not made with the specialized rubber compounds seen in winter tires, can handle light snow and cooler temperatures adequately.
Towing and Load Needs: Do you use your Silverado 1500 for periodic towing or carrying heavy loads? All-season tires designed for trucks typically have decent load ratings. They can accommodate your Silverado's versatile capabilities pretty well.
Prioritizing Longevity: Are you seeking tires that offer a good balance between performance and longevity? Many all-season tires for full-sized trucks are crafted for year-round usage. They can provide a decent tread life amidst diverse conditions.
Budgetary Considerations: Are you looking for a cost-effective tire solution without compromising too much on performance? Standard all-season tires provide a blend of performance and affordability. However, if you're willing to invest more for superior handling and comfort, there are premium all-season options available.
Remember that while all-season tires offer adaptability, they might not be optimal for very rugged terrains or regions with heavy snowfall. For those conditions, consider specialized tires, like all-terrain or winter options below.
All-Terrain Tires
All terrain tires for Chevy Silverado 1500 are designed to strike a balance between on-road comfort and off-road capability. They combine robust construction with tread patterns to provide:
Towing Capabilities in Diverse Conditions: Do you tow trailers or boats across variable terrains? The sturdiness of all-terrain tires comes with stability and grip, whether you're on gravel roads or muddy paths.
Durability: Are you looking for tires that can withstand rougher surfaces without quick wear? The reinforced construction of all-terrain tires is designed to resist punctures and abrasions from rocky or uneven terrains.
Rugged Look: Are aesthetics important to you? All-terrain tires can enhance the rugged appearance of your Silverado 1500 and complement its robust nature.
Just keep in mind that all-terrain tires might not deliver the smoothest ride on highways as all-season tires would, or the specialized cold-weather performance of winter tires.
Winter Tires
This type of tires is uniquely formulated and designed to combat the harsh conditions of the cold months. Check them out if you face regular snowfall and icy roads.
These tires possess deep treads and unique siping to effectively grip snowy roads and reduce the risk of sliding. The rubber compounds in winter tires remain pliable in freezing temperatures with a better grip on slick surfaces.
If you're towing during the winter, the added weight might create huge traction challenges. Winter tires can offer extra biting edges and provide safer and more stable towing. Even if snow or ice isn't a regular occurrence in your daily drives, these tires outperform others in very cold temperatures due to their specialized rubber composition.
How Did We Test and Pick Tires for Silverado 1500?
During the 2023 COR Wheels Tire Test, our dedicated team meticulously reviewed 196+ tires available on the market before we narrowed it down to the top 10 best-suited for the Chevy Silverado 1500.
We conducted our tests using the 255/70R17 size during distinct dry and winter periods. Additionally, feedback from drivers across the country played a role in our evaluations. They gave us a comprehensive understanding of real-world performance and expectations.
Best All Season Tires for Silverado 1500
1. Michelin Defender LTX M/S
Best uses: highway commuting (dry and wet), light off-roading, and periodic towing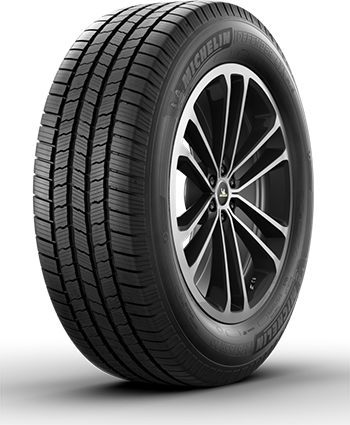 Tire Type
Highway All-Season
Tire Size
15″ – 22″
Weight
23.0 LBS – 60.19 LBS
Load Index
95 – 129
Load Range
C1 – XL
Speed Rating
– H: up to 130 mph
– T: up to 118 mph
Warranty
50,000 – 70,000 miles
Ratings
8.9/10