Bridgestone WeatherPeak is not the first grand-touring tire released by the brand, but the sales speak volumes about its popularity.
Newcomers naturally expect WeatherPeak to check all the boxes of a typical grand-touring model: all-season compatibility, comfortable ride, and quiet noise.
Our extensive June to July tests have been carried out to see whether the famous model lacks in any of these aspects – and so far, the results are favorable. Scroll through our review to learn more!
In this article:
Bridgestone WeatherPeak Specifications & Features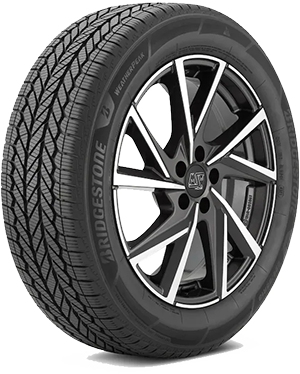 Tire Type
Grand Touring All-Season
Tire Size
15″ – 20″
Weight
16.0 LBS – 35.0 LBS
Load Index
82 – 111
Load Range
SL – XL
Speed Rating
– H: Up to 130 mph
– V: UP to 149 mph
Warranty
70,000 miles
Ratings
8.9/10
With the inclusion of Evolve sipes to optimize snow and wet performance, Bridgestone claims to deliver a better tire efficiency never seen before.
Specifically, all-season compounds are molded into symmetric patterns to offer more traction in diverse conditions. The Evolve grooves sipes are slotted deep into the center ribs, strengthening tread stiffness for a more predictable steering system and practical biting edges. If done right, this design could propose plenty of support for worn tires in slippery conditions.
At the same time, the huge shoulder slots promise sure-footed cornering characteristics in dry conditions – while featuring ample lateral notches to evacuate footprint water in more dynamic scenarios.
The broad circumferential grooves foster efficient water evacuation, aided by Snow Vices technology for snow and slush grip. While their performance still needs further testing, it seems it is qualified enough to earn a Three-Peak Mountain Snowflake (3pmsf) symbol from critics.
A closer look into WeatherPeak's internal construction reveals single-ply polyester castings that support two built-in steel belts. Nylon reinforcements are added to the mix to further enhance high-speed performance and stability.
Other features included on the tire are:
The three-dimension siping, constructed at full depth to promote extra snowy grip and better wear performance
Flexible fitment ranges (with tires of 15 to 20 inches) to suit diverse vehicle types. Cases in point are Toyota Camry, Ford Fusion, Subaru Outback and Forester, Chevy Impala, and more.
Bridgestone seems to have lots of confidence in the tire's full-depth 3D sipes and robust construction, to the point that it issues quite a lengthy limited warranty (70,000 miles) to assist its long-time customers.
Bridgestone WeatherPeak Review & Performance Test Result
Our team has selected the most common WeatherPeak size (225/40R18) to pair with the capable and flexible Ford Mustang's V8 engine.
As with other grand-touring tires, WeatherPeak was thoroughly tested during the 10-day 2023 COR Wheels tire test in varied terrains. The result is that this tire earns an 8.9/10, taking the lead in its category.
1. Dry Performance: 9/10
Dry Traction: 9.2/10
Like most other grand-touring, all-season tires, Bridgestone WeatherPeak does not show any real issue with its dry traction.
The fact that this tire delivers blocky patterns is enough of a clue about its traction-oriented nature.
Our Ford Mustang gripped the pavements almost immediately, lending quite a reassuring contact between the tire's rubbers and the driving terrain. As we accelerated from our standstill positions to about 160 MPH, its power delivery was effortless, without any detected slippage or traction-related issues.
When we slowed down on the grooved pavement of highways, we noticed that the tires tended to grip on and follow the grooves rather than crossing over it. That surely increased traction on dry, gravel roads, and it did jiggle us a bit but was negligible if we moved at higher speeds.
And the dry braking distance also has some spotlights; its responsive bite is hard to be ignored, particularly if you are a seasoned driver. The tires and suspension work together for quite a smooth deceleration, and we managed to skid the heavy Mustang to a full stop at the end of the test ride with great predictability.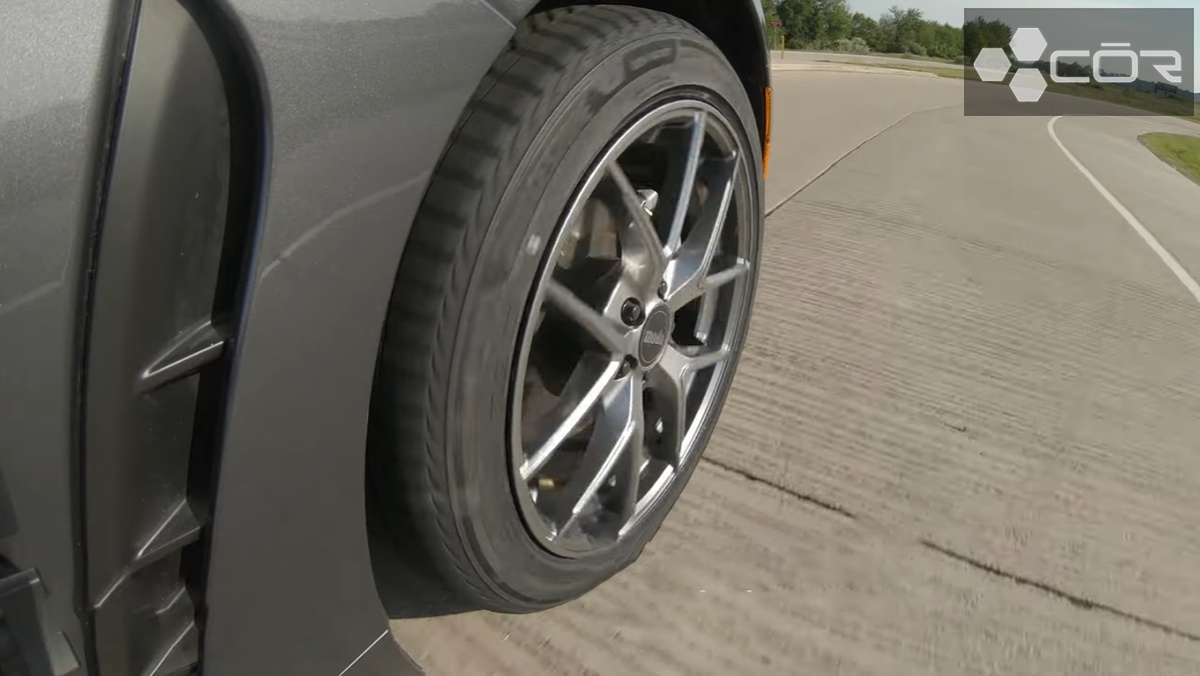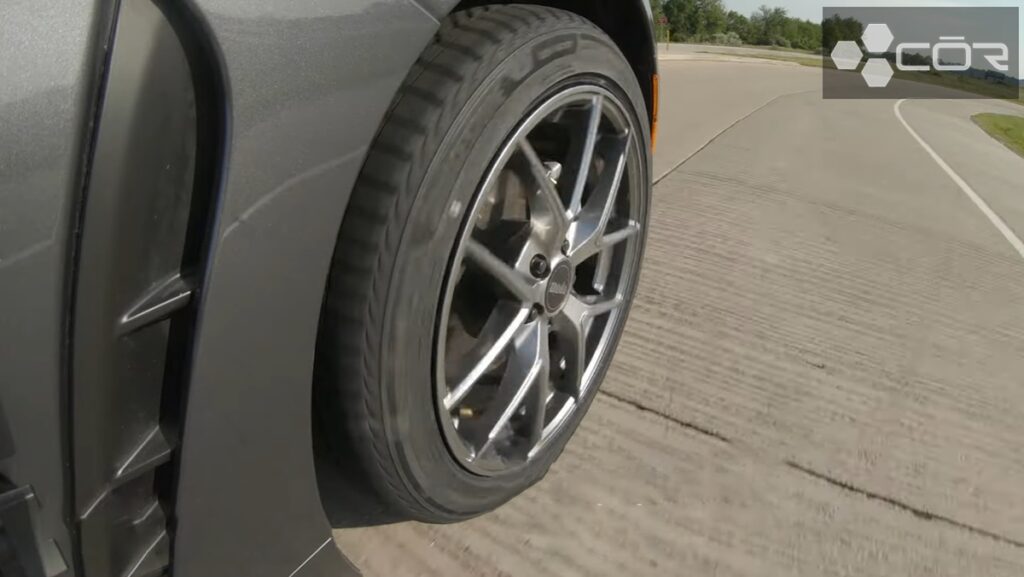 Corner Stability: 8.9/10
Our team was quite satisfied with WeatherPeak in this critical aspect, all thanks to the tire's strong shoulder blocks and sidewalls.
Furthermore, while most touring tires only have polyester casings and twin belts, Bridgestone WeatherPeak introduces new plates to the table with extra nylon-reinforced cases. They protect the tire's inner structure, supporting its rounded shape while navigating corners at high speeds.
Some of our members have slightly less favorable feedback on the tire's harder cornering, which is stuck on the pavement when the driving gets somewhat more aggressive. However, these minor issues are not enough to reduce its overall rating.
Steering Response: 8.9/10
Great traction and well-defined tread patterns usually sacrifice steering response, but we still felt quick steering feedback on this WeatherPeak tire.
With each steering adjustment, the tires swiftly translated the flick of our wrist into precise direction changes. They feel well-weighted enough to balance comfort and on-time feedback, allowing us to navigate through twisty turns with more confidence than other tires. Even other high-quality models like Vredestein Quatrac and General AltiMAX 365 AW lag behind Bridgestone WeatherPeak here.
We do admit a slight oversteering tendency when speeding up at turns. However, it is neither unpredictable nor down-right bad.
2. Wet Performance: 9.1/10
Wet Traction: 9.1/10
All-weather tires are known for delivering better dry performance than wet; Bridgestone WeatherPeak is among our first exceptions. Their extra biting edges are supported by well-placed sipes, notches, and angled blocks, delivering us a smooth yet strong control with our acceleration attempts (to 170 MPH) on damp roads.
When we navigated wet-road corners, it maintained its composure and answered quite predictably to all our steering inputs.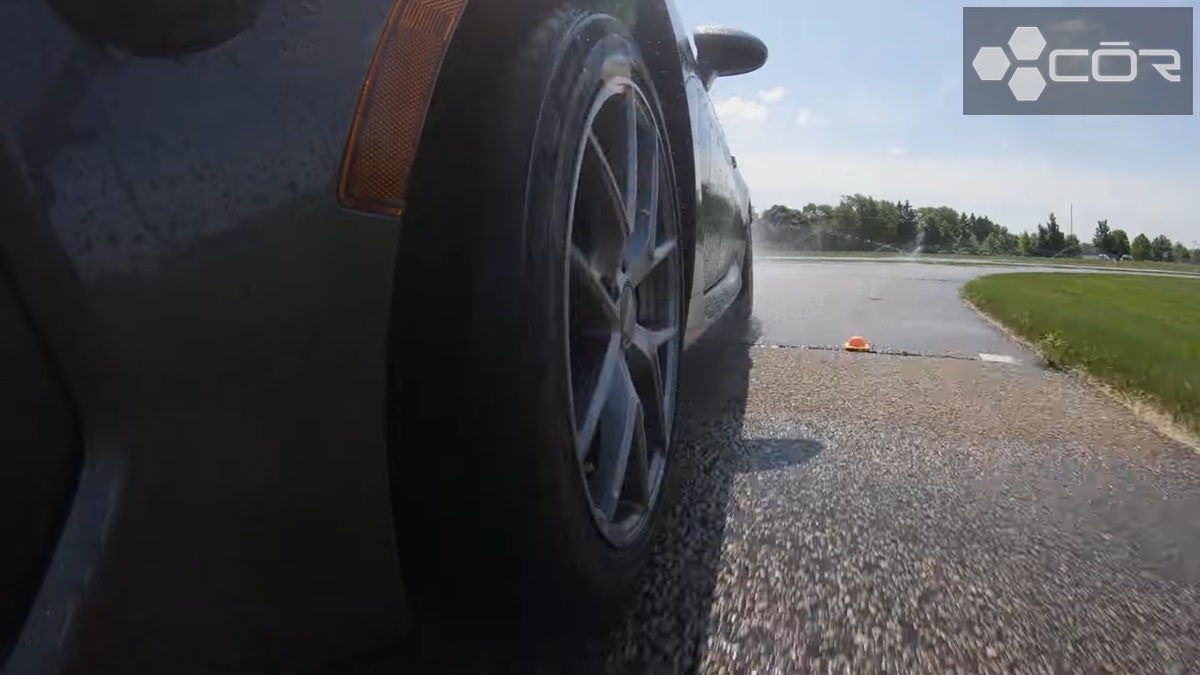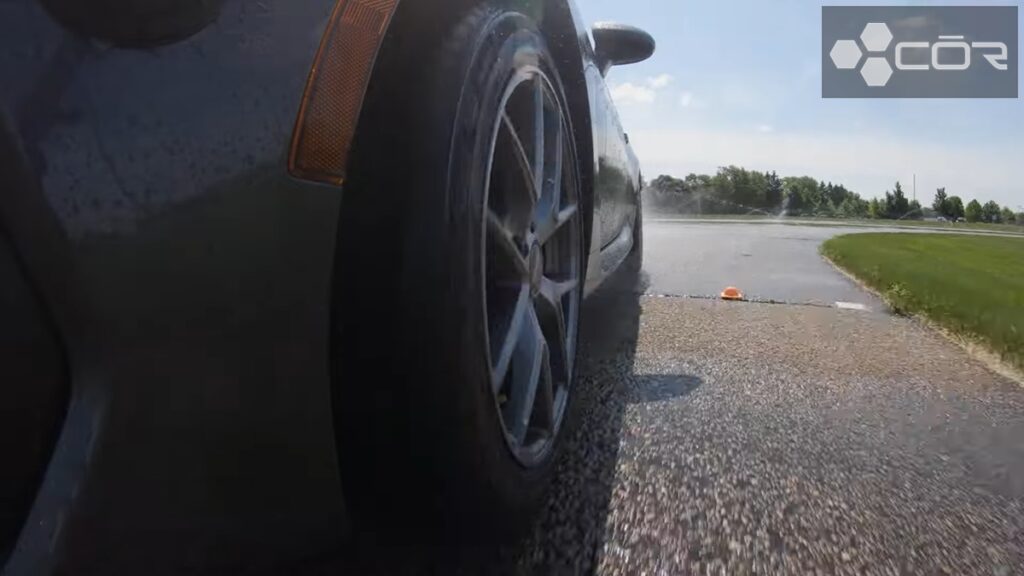 Hydroplaning Resistance: 9.1/10
The aforementioned circumferential grooves and shoulder blocks work their magic here, keeping water buildups from infiltrating the tire's non-bump operation.
And we felt its presence even more clearly when encountering standing water and deer puddles. They were dispersed through channels almost instantly, with none lingering on the sidewalls for more than one second. Hence, we were able to complete our test ride safely and smoothly despite the heavy rain of July summers.
It would be better if its braking distance was shorter in urgency, like a clearer bump when hitting the brake pedal on wet roads. It was not bad but still fell short of the Michelin CrossClimate2.
3. Winter/Snow Performance: 8.9/10
Light Snow Traction: 9.3/10
For well-designed all-seasoned tires, light, occasional snow is almost the same as wet traction. This sentiment also applies to Bridgestone WeatherPeak, whose stiffer compounds and deep sipes play a crucial role in its highly-acclaimed snow performance.
Specifically, looking closer into its four circumferential grooves, one can see how the "Evolve" sipes protrude to offer extra grip on snowy roads. Besides winter traction, these sipes also act like a self-cleaning channel to help the tread channel unwanted particles.
As such, the tires' performance on light snow surpasses our expectations – if not even better than its own wet traction. Its composure struck confidently through turns, offering us a predictable and stable handling experience as the Mustang rode through curvy and snow-covered twists. Struggles, if any, were hard to notice for all of us.
Deep Snow Traction: 8.9/10
The same wide grooves and cribs mentioned above prove their capable performance even when the snow deepens. Despite slight falters (which is not considered a drawback, since WeatherPeak is never meant to be a winter tire), it still clawed forward faster than our initial expectation.
The deep, wide-spaced grooves dug well into the thick snow blankets, planting the rubber firmly onto the wet snow to avoid slippage. They are further supported by the reinforced sidewalls and solid shoulder blocks for better structural integrity; our handling and steering inputs felt controlled and precise.
But that only held true for compacted snow, as when we went through deeper, fluffy snow, the tire spinned and splashed snow everywhere.
Ice Performance: 8.5/10
WeatherPeak does not deliver the same shiny performance on ice as with snow compaction. But it still surpasses numerous other tires we have tested from the same sector nonetheless, which is already more than we could hope for an all-season tire.
On slushy roads (mix of melting snow and ice), WeatherPeak is quite close to a middle-end winter tire: its biting edges offer a respectable grip amount, while the center-rib snow vices enhance the car's footing in slushier conditions.
Sadly, the tire loses a lot of traction when it comes to completely icy roads.
4. Complete Comfort: 8.7/10
Ride Quality: 8.9/10
Blocky patterns and stiff compounds naturally raise suspicion about ride comfort. Fortunately, the internal groove sipes have interlocked and balanced them out, so we did not experience many comfort problems during our test.
The tire feels compact and soft, transmitting little vibration from road surfaces. This noticeable smoothness scores quite huge for us, especially since Bridgestone does not have to sacrifice handling and cornering to trade for it.
As mentioned above, slight rebounding might happen at hard corners. But again, it is something most drivers will eventually be used to.
Road Noise: 8.5/10
What brings down WeatherPeak's comfort score is noise generation.
To clarify, it is not half-bad per se, and even better than popular tire brand models like BFGoodrich Advantage Control and Firestone WeatherGrip. Still, as WeatherPeak performs great in other sections, we did hope its noise reduction achieves the same level of quality.
All in all, Bridgestone maintains quiet rides and decent tread noises on cross-cut concretes; however, the cyclical pattern sounds grow more prominent once our roads smooth out. You should also look out for the blocky center ribs, which might make low noises if the blocks are not internally connected.
5. Treadwear and Durability: 8.7/10
WeatherPeak's blocky patterns provide much less tread pattern life than V-shape patterns (commonly found in other all-season tires).
At first, that sounds like a huge drawback to us. But after a few rides into the town, we discovered Bridgestone had sacrificed a bit of maximum tread life to focus on the more important issue: tread wear rates.
Specifically, this tire manufacturer stiffens the compounds and reduces the amount of horizontal sipes, while increasing actual snow vices and evolving spies.
As such, the tread will wear down more naturally and evenly, seemingly offering a much better lifespan than Pirelli Cinturato P7 Plus II or even Vredestein Quatrac Pro.
Bridgestone WeatherPeak Pros & Cons
Great dry and wet traction
Good snow performance, comparable to improved winter- performance tires
Smooth ride
Easy handling over broken pavement grooves
Slightly more noise than expected
Occasional corner rebounds upon aggressive driving
Competitors and Alternative
Michelin Cross Climate 2 and Vredestein Quatrac Pro are two other competitors directly pitched against Bridgestone WeatherPeak.
Our test reveals Bridgestone still outperforms the other two when it comes to riding comfort. Michelin, despite nice control, is a little too firm over road imperfections and results in slight jostles. Similarly, Vredesetein tends to overreact over coarse surfaces, producing medium white noise that might titter on the annoying spectrum.
However, Michelin is the best of the group regarding dry performance; it cushions both the first and final travel bits to deliver a more sophisticated, polished feel. These are the higher highs lacking in Bridgestone and Vredestein, though they are both still competitive.
Conclusion
For a reasonable price range of $166 – $267, Bridgestone WeatherPeak is a real deal for its beyond-expectation performance in dry, packed snow, and wet conditions. You will not likely need to buy dedicated winter tires once purchasing WeatherPeak if the winter is not too harsh.
Still, you might need time to get used to the corner rebounds and noises on grooved pavements. These are not necessarily huge drawbacks, but still something to consider if you prefer more quietness and fewer bumps for long-hour trips.
Bridgestone WeatherPeak
PRICE
SOLD BY

Offers

In Stock

Offers

In Stock

Offers

In Stock

Offers

In Stock

Offers

In Stock
---
President & Automotive Expert at COR Wheels
Robert Herrera has been with COR Wheels for 17 years and has a great passion for the automotive industry. During his time at COR Wheels, he has driven and test-driven a variety of vehicles.
---