The Goodyear Eagle series (especially its Eagle Sport lineups) has satisfied numerous drivers thus far.
Therefore, many have high expectations of the Goodyear Eagle Exhilarate. While this tire delivered impressive performance in certain regards, our real-life testing revealed several areas for improvement. Keep scrolling to learn more about our findings.
In this article:
Goodyear Eagle Exhilarate Specifications & Features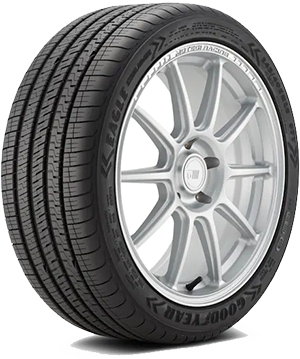 The Goodyear Eagle Exhilarate is designed for sporty coupes, sports sedans, and muscle cars that need high-speed handling/traction on dry tracks and stability in light snow and rain.
Its five-rib, asymmetric pattern combines with ActiveGrip Technology to distribute pressure evenly.
The ActiveBraking Tech features an optimized tread block design that guarantees maximum road contact when hard braking.
The silica content blended into the compound improves traction in wet weather.
Circumferential grooves and lateral notches resist hydroplaning.
Built-in sipes and grooves provide extra grip on snow and ice.
Lightweight yet high-strength steel belts and a two-ply polyester casing make the tire lighter and more flexible, reinforced by polyamide plies for better capability at high speeds.
Goodyear Eagle Exhilarate Review & Performance Test Results
During the 2023 COR Wheels Tire Test, we installed the 245/40R18 tire size version of the Goodyear Eagle Exhilarate on our 2022 Toyota Corolla car model.
1. Dry Performance: 8.8/10
Dry Traction: 8.9/10
The Goodyear Eagle Exhilarate maintained excellent traction on dry roads, especially when we kept our driving speeds below 60 MPH. Furthermore, thanks to the powerful five-rib pattern distributing pressure evenly, acceleration and deceleration could barely make the tire slip.
The extra silica content in the compound also helped the Exhilarate connect well with different road textures (cobblestone, brick, asphalt, etc.). As a result, transitioning between various surfaces was never easier for us, even when the car was loaded with 300 to 400 lbs of cargo. You are unlikely to encounter any real danger, even as a beginner.
On another note, driving beyond 60 MPH caused more slippage and shudders than we expected. The Exhilarate also felt slightly off balance when going through extended highway curves.
Corner Stability: 8.7/10
The Exhilarate impressed us with its cornering performances. Occasional understeer and oversteer still occurred when we abruptly changed our speeds. But our car could recover quickly from them and regain its balance. Hard braking did not dampen the car's stability much, allowing us to navigate roadblocks and tight corners easily.
Nevertheless, we noticed a slight drag when carrying more than 400 lbs of cargo. Seasoned drivers or those who prefer leisurely, low-speed rides will not find it annoying. But if you often travel at high speeds, remember to pay attention to the tire's reactions and adjust accordingly when handling off-camber bends and carousels.
Steering Response: 8.8/10
There is hardly anything to complain about. The Exhilarate was responsive, aligning with our steering inputs promptly.
The tire also reacted well to abrupt acceleration/sharp turns and did not delay too long. So even with occasional understeer and oversteer accidents around corners, we were comfortable with our steering and rarely felt threatened by the tire's unexpected feedback (or lack thereof).  
The Eagle Exhilarate might be less responsive when accelerating past 65 MPH or driving longer than 3 hours on end, but that is normal for most all-season tires.
2. Wet Performance: 8.5/10
Wet Traction: 8.6/10
The sipes and notches were not as strong as Goodyear claimed, as they still wavered in cold water and around flooded corners deeper than 6 inches, causing the car to shudder.
Fortunately, the tire still performed well in other situations, breezily cutting through shallow puddles and lightly slippery, straight roads at speeds from 40 to 50 MPH. Loading heavy cargo will only weigh down your car when ascending or descending; otherwise, you do not have to worry too much about serious tire drag or traction loss.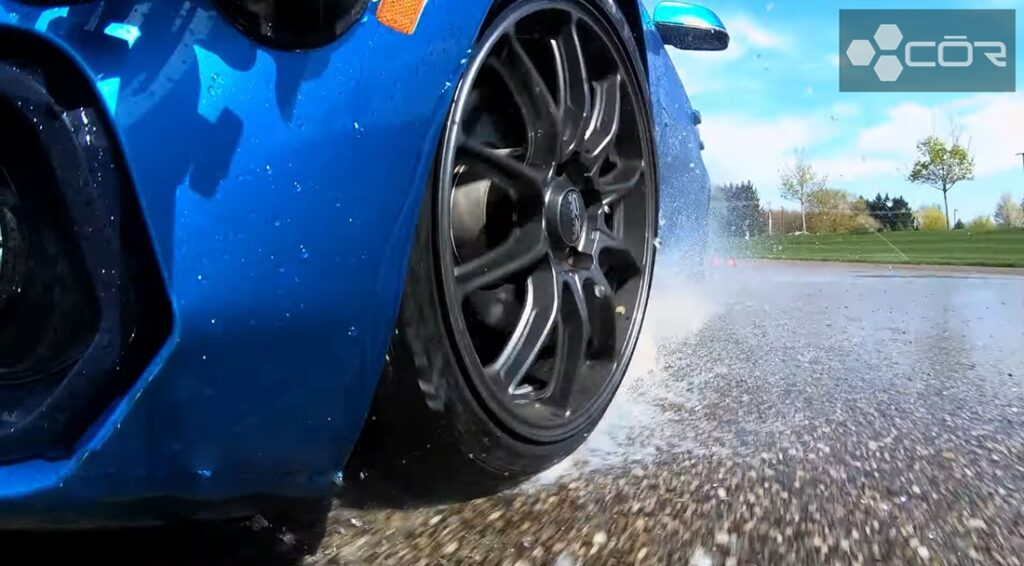 Hydroplaning Resistance: 8.4/10
Overall, the Eagle Exhilarate did not suffer from excessive hydroplaning.
The grooves and lateral notches revealed their weaknesses in water deeper than 5.5 inches. Fortunately, this drawback did not significantly impede the tire's water evacuation, so we could easily control our car at 40 – 45 MPH. You could also rev to higher speeds without trouble, given that your cargo does not exceed 250 lbs.
On another note, the tire's anti-hydroplaning capability was not at its best during ascending and descending. As a result, our car still felt heavy and dragged on steep slopes and mountain passes from time to time.
3. Winter/Snow Performance: 6/10
Light Snow Traction: 6.6/10
The Goodyear Eagle Exhilarate was disappointing on snow. We slowed down to 25 MPH and avoided twisty roads during our test, yet the tire struggled to maintain decent traction and kept slipping. This lack of control became more pronounced on highways and when ascending; even snow chains could not help the tire regain much confidence.
Needless to say, you should not try any aggressive steering technique or carry cargo heavier than 200 lbs. The heavy drag when the car is packed at full passenger capacity means traveling alone will be the best choice.
Deep Snow Traction: 5.8/10
The tire could not deal with deep snow well, slipping even more frequently than in light snow and taking a long time to recover from understeer/oversteer. Hydroplaning was most noticeable on wet, thick snow, forcing us to drive very slowly at below 20 MPH.
The Exhilarate managed to crawl nearly 5 miles with snow chains installed, but the shudders still occurred very often. You'd better take short drives on deep snow only and refrain from using this tire in harsh snow storms.
Ice Traction: 5.6/10
We had to stop our test rides after only 4 miles; the Exhilarate could hardly stabilize on straight roads and caused the Corolla to shake a lot when cornering and ascending. Acceleration and deceleration further compromised the tire's stability; our team had no choice but to drive below 10 MPH the entire time while avoiding abrupt speed changes at all costs.
Any extra weight beyond 100 lbs will result in serious sliding. If you really have to carry heavy cargo on icy roads, divide it into smaller loads and handle them one by one.
4. Comfort: 8/10
Ride Quality: 8.1/10
Despite being an ultra-high-performance tire, the Eagle Exhilarate did not handle high speeds and aggressive driving as well as we had hoped, resulting in unignorable vibrations and jostles.
Fortunately, the tire was quite well-composed on paved roads or during casual, moderate-speed drives (40 to 60 MPH). This is great news if you mostly commute on regular tracks and only have to deal with basic steering situations. As mentioned, traversing on different dry road textures is also fine.
Noise: 7.8/10
The tire's noise was not disastrous but far from exceptional; it screeched loudly around corners and got twice as noisy while ascending and descending. The noise level reached their peak in cold weather and on thick snow.
All in all, your tire will be at its quietest when driven below 55 MPH on straight roads without twists and tight corners.
5. Treadwear and Durability: 7.6/10
Like most Goodyear tires, the Eagle Exhilarate withstood high temperatures and resisted sharp debris well during our test.
But as mentioned, its composure at high speeds and in cold weather still needs improvement. As such, the tire is unlikely to last long if subjected to harsh winter conditions. Its warranty (45,000 miles) is decent but not too impressive.
Goodyear Eagle Exhilarate Pros & Cons
Great dry traction
Crisp steering response
Good wet traction
Hydroplaning still occurs
Disappointing in winter
Underwhelming noise control and treadwear
Goodyear Eagle Exhilarate Competitors & Alternatives
The Continental ExtremeContact DWS 06 Plus, Michelin Pilot Sport All Season 4, and Pirelli P Zero All Season Plus were considered direct competitors of the Goodyear Eagle Exhilarate in our test:
The Goodyear Eagle Exhilarate gripped firmly on dry tracks and controlled slippage quite well in wet weather. However, its wintertime traction was very disappointing. 
The Continental ExtremeContact was consistent and composed across all terrains, including light snow. Unfortunately, its steering was not always crisp, especially on rough surfaces.
The Michelin Pilot Sport AS4 was powerful and confident at both low and high speeds. But like the Goodyear Eagle, it would be best if it absorbed more road imperfections.
The Pirelli P Zero AS Plus balanced sporty steering and riding comfort well for spirited driving. Nevertheless, its light snow and wet traction left a lot to be desired. 
Conclusion
The Goodyear Eagle Exhilarate is great on dry tracks and does not lose too much confidence in wet weather.
However, its performance in winter is underwhelming (sometimes unrideable in deep snow and icy conditions) and does not always handle road impacts and tread noises well. So, if necessary, use snow chains or install aftermarket upgrades on your vehicle for a better driving experience.