Capable all-season handlings have been advertised for numerous tire models; unfortunately, not all of their designs translate well into actual driving practice.
To aid you in your buying decision, our COR Wheels team managed to single out the ten best all-season car tires in the market. Scroll for our full report.
In this article:
How Did We Test & Pick The Best Tire Brands for All Season
105 all-season best sellers have been tested in our 2023 COR Wheels Tire Test based on the six major criteria:
Dry Performance
Wet Performance
Winter/Snow Performance
Comfort
Treadwear
Price
Our score, coupled with customer feedback gathered from the annual survey, set the 10 best performers apart from the rest.
Top 10 Best All-Season Tires In 2023
---
1. Michelin Crossclimate2
Best All-Season Tire for Overall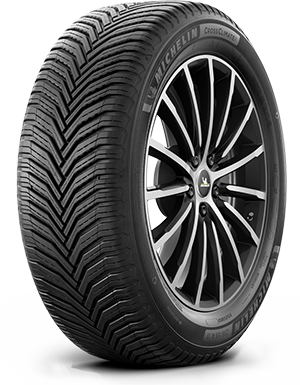 Tire Type
Grand Touring All-Season
Tire Size
16″ – 22″
Weight
20.99 LBS – 36.55 LBS
Load Index
91 – 114
Load Range
SL – XL
Speed Rating
– H: up to 130 mph
– V: up to 149 mph
Warranty
60,000 miles
Ratings
8.9/10
Michelin Crossclimate2 is the best overall all-season tire, whose V-formation compounds are engineered to offer wintertime, wet, and dry performance in relatively similar confidence.
The PIANO Noise Reduction tunes out airborne noise through augments of timing variation and tread geometry, while the center rib works with blocks aligning with aft forces to streamline speed changes. At the same time, the V chamfers increase contacts, while the shoulder block and 3D SipeLock support confident handling and rigidity.
Our test ride on asphalt roads was pleasant; CrossClimate 2 had the best dry traction out of the bunch, breezing us through the pavement grooves in straight, decisive lines of 45 MPH without drama. Punctual, responsive steering aided in every step and did not falter one bit, even with our strong countersteering toward tight crooks while revving up near 65 MPH.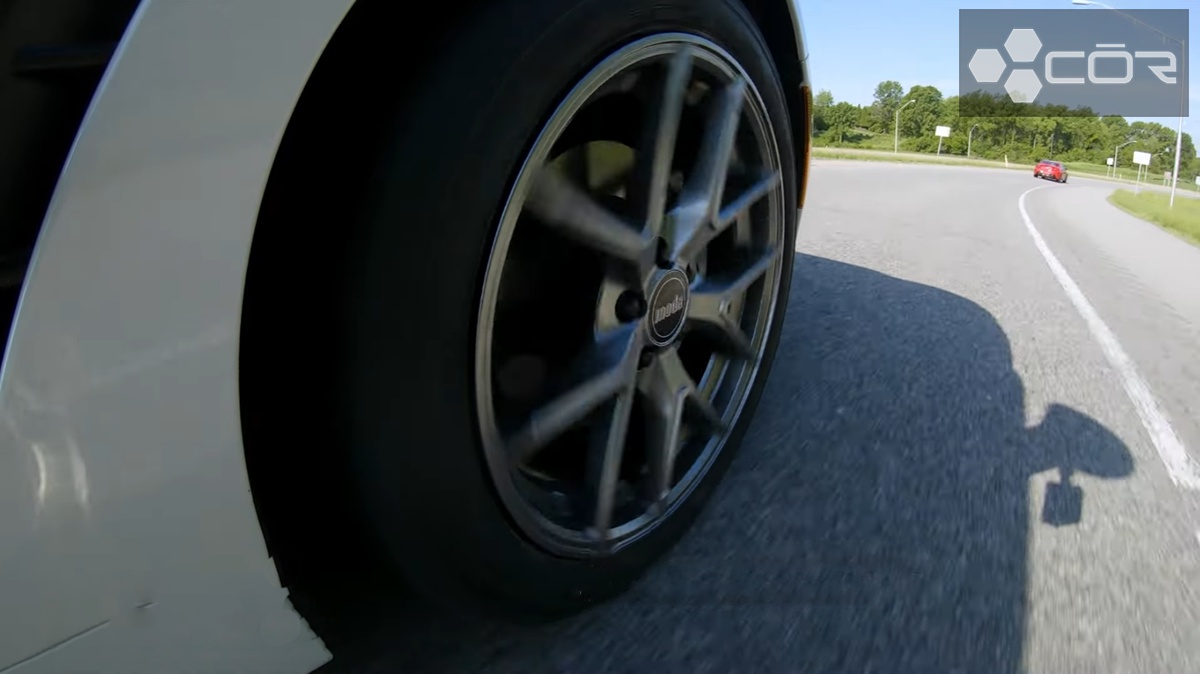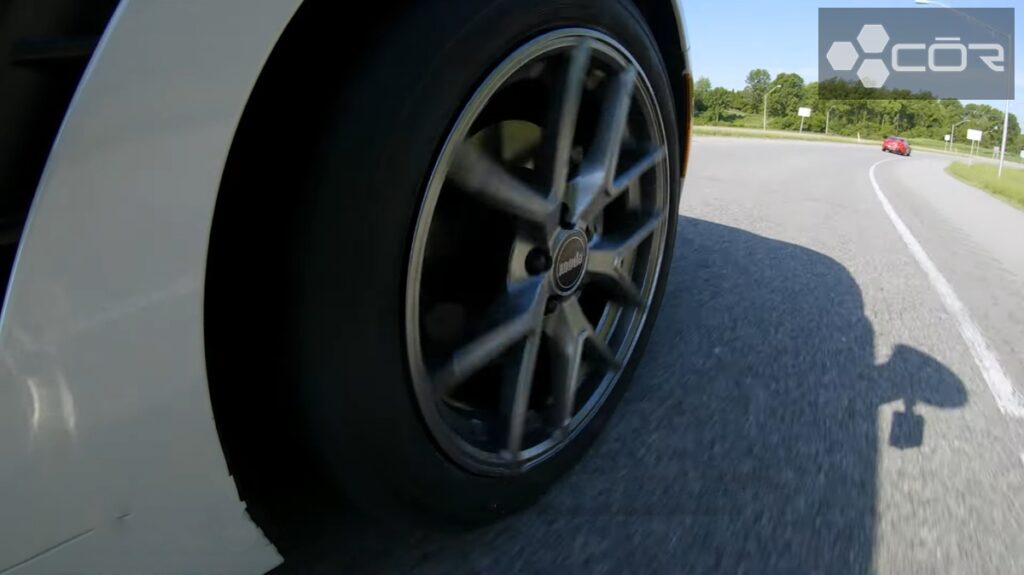 Hence, you can trust the tire to handle roadblocks and extremely tight corners with ample composure without sacrificing smooth, solid on-center feels.
And if you have to travel on wet surfaces often, rejoice: CrossClimate 2 is the first and only tire on the list that delivered the exact same traction from dry terrains into wet.
Thanks to the strong sidewalls and well-placed groove blocks, we barely spot any difference before and after texture transition, gripping the road pavements breezily at 55 MPH and revving up from there in bold confidence. Hydroplaning might sometimes occur when you navigate through S-curves – and even then, they would be tamed enough not to pose any true disturbance to your road feedback.
On snow, you admittedly have to be more careful with your directional turns; the thick, cold snow seeping under the contact patch did result in slightly fainter power delivery.
The great news is that they were predictable and easy to recover from. You can use snow chains for more generous traction on both deep and thick snow alike to push your car forward without drama on mountain passes and highways. Icy roads are slippery at any driving rate above 55 MPH but will remain a non-issue for you otherwise.
There was little room to complain when it came to riding comfort; CrossClimate2 cushioned road impacts well on regular sidewalks, only causing a few tolerable noises and jostles at abrupt turns or steep ascents. Other than that, no glaring drawbacks were spotted, so you can trust CrossClimate2 to offer reliable grip and stability in a variety of conditions on-road.
Equal confidence in dry conditions and wet surfaces
Satisfying snow handling
Excellent riding comfort; tolerable internal noises
Good treadwear
Ice traction could have been better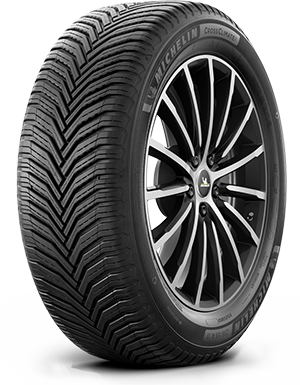 ---
2. Bridgestone WeatherPeak
Best All Season Tire For Wet Roads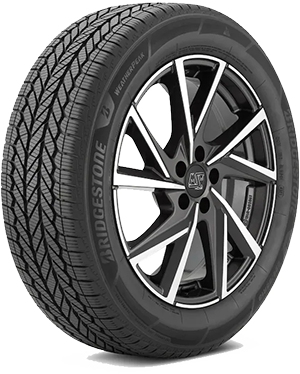 Tire Type
Grand Touring All-Season
Tire Size
15″ – 20″
Weight
16.0 LBS – 35.0 LBS
Load Index
82 – 111
Load Range
SL – XL
Speed Rating
– H: Up to 130 mph
– V: UP to 149 mph
Warranty
70,000 miles
Ratings
8.9/10
Bridgestone WeatherPeak is an excellent tire for wet road conditions. The symmetric compounds and evolving sipes pave the way for predictable steering and wet biting edges, while shoulder blocks ensure confident cornering characteristics. Wide grooves promote aquaplaning resistance, aided by Snow Vices that enhance snow grip.
Most of these features shine well on wet terrains; except for harmless skitters around the edges, WeatherPeak bonded with wet roads almost the same way it did on dry. Shallow water of below 5 inches was a given, but even performances in deep, stagnant water 7 inches and beyond did not bring in much struggle.
You can travel at regular driving rates mid-storm and handle corners/ road obstacles uneventfully without major slippage. Hydroplaning was also a very distant risk, only happening few and far between when we let the steering wheel slacken.
Of course, as a top-tier tire, WeatherPeak is also very good on dry roads. Still, it was its light snow handling that surprised us most: the evolving sipes worked even better on snow than on dry regular roads, whisking sticky particles off the tread in an instant to carry the car straight towards 65 MPH with very few hiccups.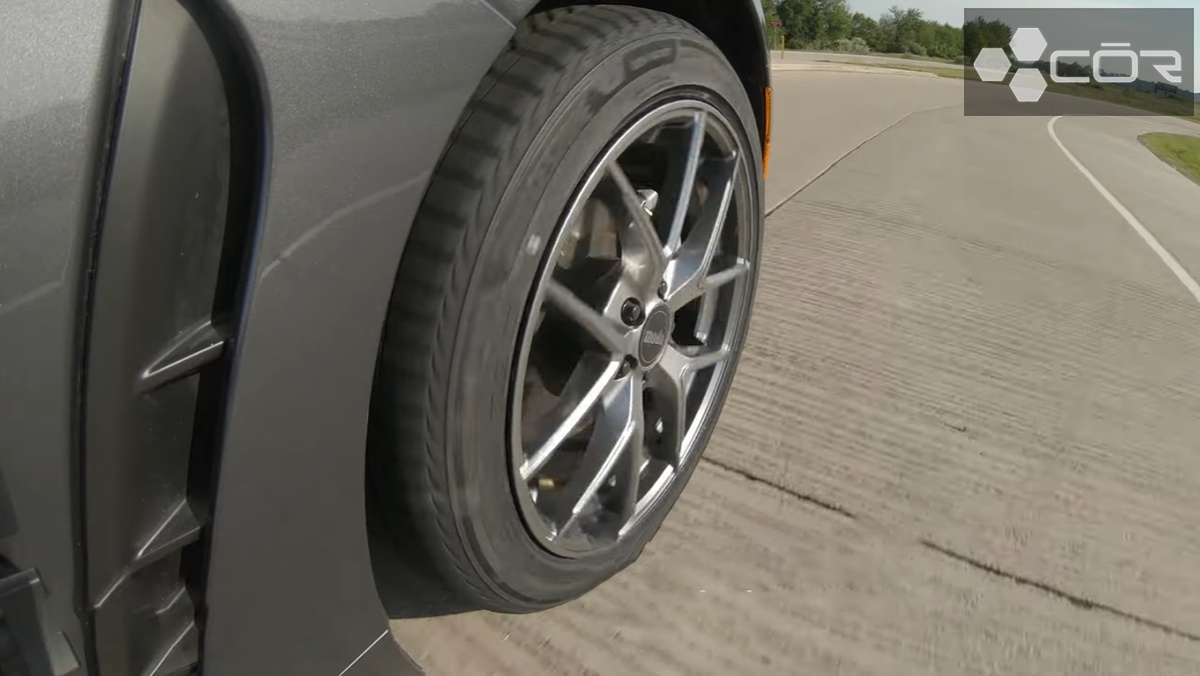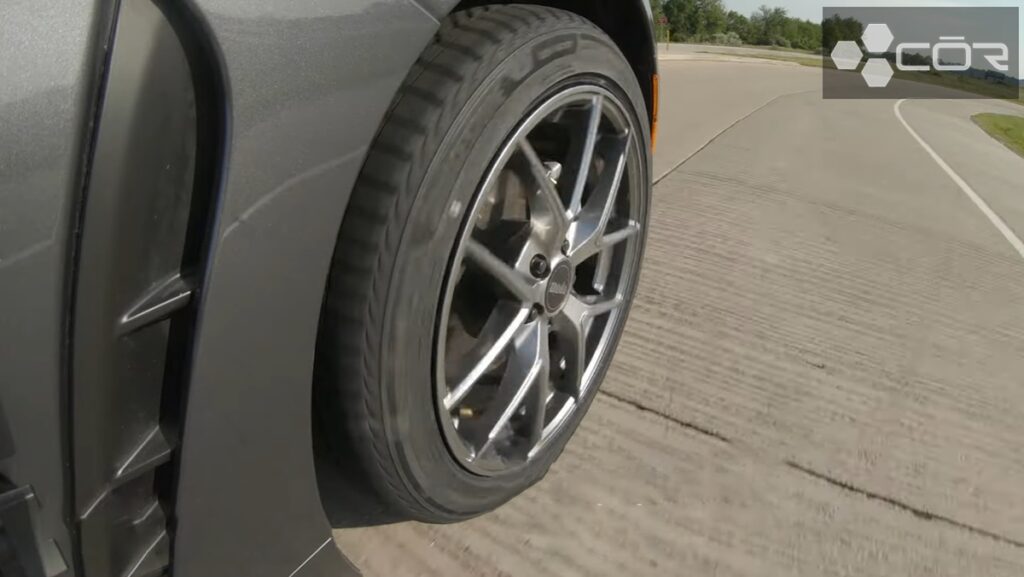 Even very thick snow is unlikely to give your car much trouble, minus a few stumbles that can easily be handled with countersteering or, better yet, high-quality snow chains.
The slippery nature of icy roads admittedly made WeatherPeak trip every now and then. Still, the tire's traction on these surfaces is much better than competitors: given punctual preparations, you may even dive into carousels or doglegs the same way as on regular roads and enter corner exits with smooth, decisive strikes.
You will notice occasional rumbling noises pop up around corners but are generally low-key, and ride comfort over large bumps is very satisfying.
On another note, our team noticed slight symptoms of burnout during the last testing days. Fortunately, they were neither pronounced nor intrusive to the ride's overall stability, so you can still drive worry-free for at least four to five years.
Confident wet traction
Satisfying dry performance
Exceptional traction on light snow (even better than on dry roads)
Good treadwear and smooth ride
Slight symptoms of burnout after heavy abuse
Occasional noises around corners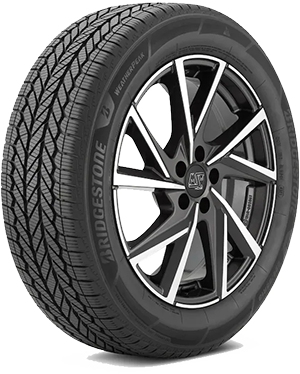 ---
3. Pirelli Scorpion WeatherActive
Best All Season Tire For Comfort and Noise
Tire Type
Crossover/SUV Touring All-Season
Tire Size
18″ – 22″
Weight
28.087 LBS – 39.677 LBS
Load Index
100 – 114
Load Range
SL – XL
Speed Rating
– H: up to 130 mph
– Y: up to 186 mph
Warranty
60,000 miles
Ratings
8.9/10
If you prioritize comfortable cushioned feel and noise control for your SUV above all else, Pirelli Scorpion WeatherActive will hit the spot.
The tire includes resin/polymer compounds of V-formation patterns to combine comfort and quietness on wet, dry, and winter terrains. Rigid three-rib block designs and long, narrow footprint offer stability and lateral traction through turns, while the trumpet-shaped and zigzag grooves combine to increase wet grip and hydroplaning resistance. At the same time, the multiple tread bites, shoulder notches, and deep sipes grant the tire the 3PMSF label.
As such, there was not much to complain about the way Pirelli Scorpion WeatherActive handled road imperfections. Jostles still occurred just like any other tire, but they became increasingly more distant as we rode further onto the main streets, almost disappearing completely after half an hour or so.
Better yet, the impressive lack of tread noise is a huge delight if you are a fan of tamed, quiet rides. Despite our unplanned steering and sometimes very bold accelerations (40 straight to 70 MPH in only five seconds), WeatherActive only let out vague protesting noises that were swallowed down under the patch almost instantly.
With that much riding comfort, of course you do not have to pay much mind to WeatherActive's performance on dry roads. With corner stability even better than the No.2 WeatherPeak, Scorpion WeatherActive has no trouble carrying you into road crooks of all types and remains excellently confident navigating around long, consecutive corner points and carousels. Wet performances were likely reliable; the worst we experienced was only some hydroplaning around the flanks at very thick water beyond 9 inches.
We were also generally pleased with how WeatherActive held its ground in winter conditions. Its performances on light and deep snow were actually better than the champion Michelin CrossClimate2, so you don't need extra studs or snow chains to plow through snow banks or hard-packed particles. In more favorable conditions, you can even surge to highway speed with no problems!
Scorpion WeatherActive also shined with its stable ice grip (the best out of the list). Except for glazed ice and blind curves, you will see the tire handle basic steering situations in predictable manners and pull back into lines quickly after unexpected slippage. Feel free to use it as a replacement for snow tires if desired!
With the treadwear being just as excellent (literally unchanged after our test), it is hard to find any significant downside with WeatherActive – though we did wish the steering could be sharper at double apexes.
Very comfortable ride; excellent noise control
Very confident on snow and ice
Good dry and wet traction
Great treadwear rates
Steering grew muted at double apexes
---
4. Continental CrossContact LX25
Best All Season Tire For SUV/Crossover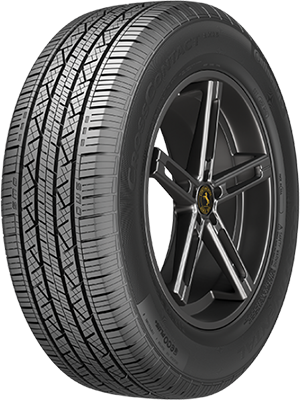 Tire Type
Crossover/SUV Touring All-Season
Tire Size
16″ – 22″
Weight
24.0 LBS – 43.0 LBS
Load Index
95 – 114
Load Range
SL – XL
Speed Rating
– H: up to 130 mph
– V: up to 149 mph
Warranty
65,000 – 70,000
Ratings
8.8/10
SUV and crossover drivers will have quite a blast with the reliable Continental CrossContact LX25 tire model.
The symmetric compounds utilize the EcoPlus tech and absorption layers for more riding comfort, steering response, and reduced stopping distance. Its continuous circumferential rib reduces road noise, the circumferential grooves evacuate water, and the diagonal/lateral sipes provide more edges in slippery driving conditions. Sealing the deal are the Traction Grooves with extra biting teeth for excellent traction on snow.
CrossContact LX25's dry traction was terrific, with very obvious clicking sharpness that we could not observe in similar SUV tires during our test. Hence, the tire took little time (if at all) to familiarize itself with the road patterns and already rolled with aggressive boldness at 55 MPH after only five minutes. And while top speed was not really a priority for SUV driving, we still managed to rev to 65 MPH on straight lines with no unexpected roadblocks.
And feel free to tow extra cargo or passengers of 500 to 550 lbs if you need to, since our five-member team did not encounter many tire drags despite our above-average combined weight.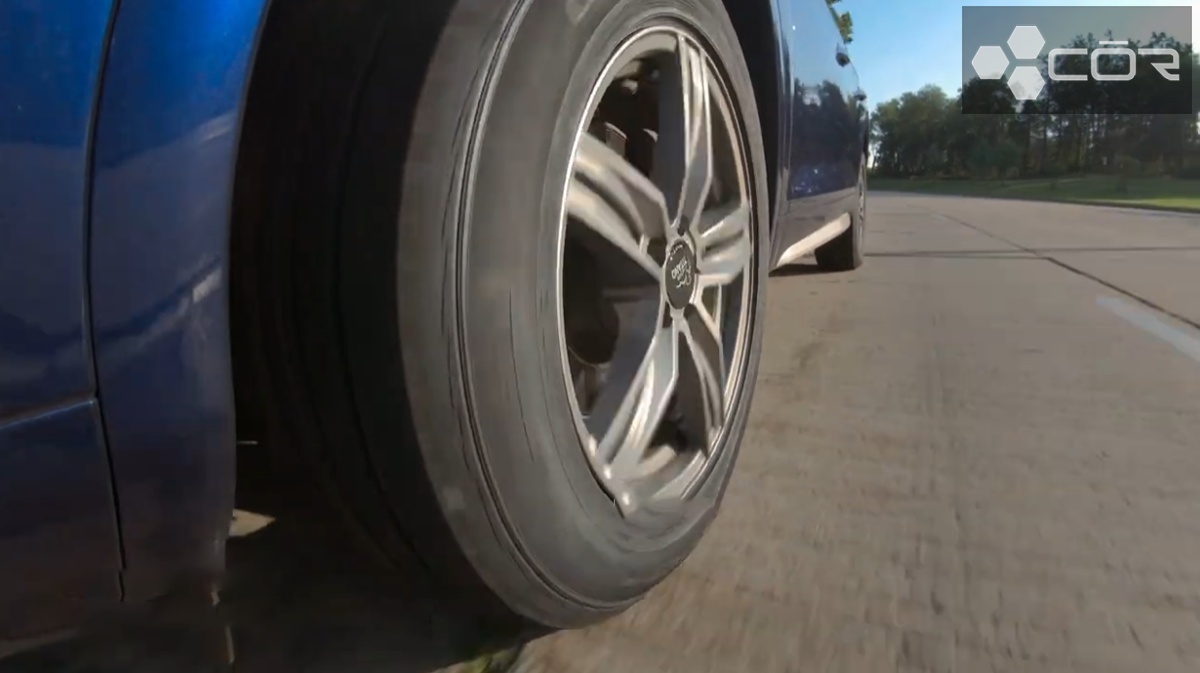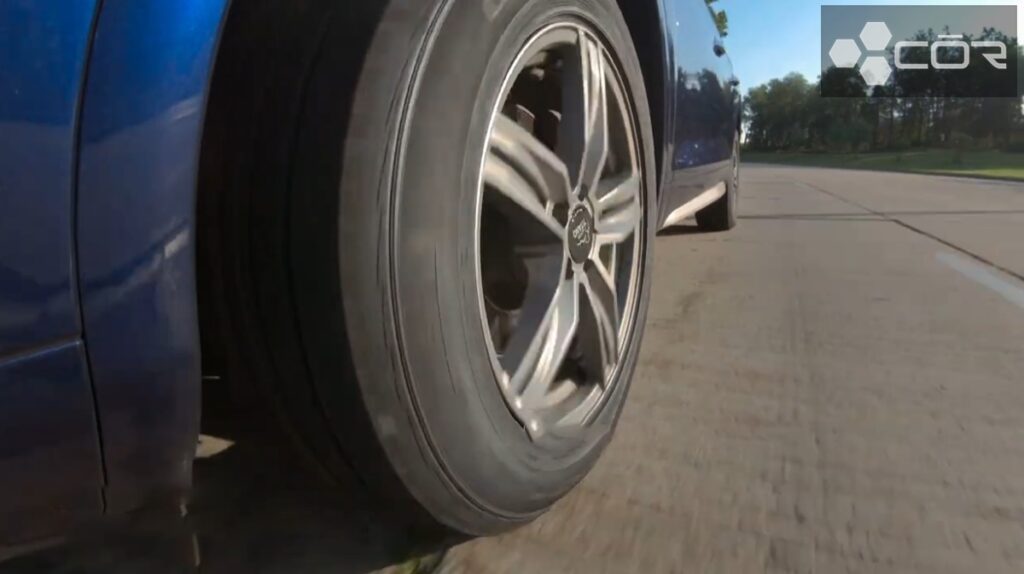 Wet performance was also a non-issue. Thanks to the combined power of EcoPlus compounds and smartly-blended grooves, hydroplaning was crushed before it had the chance to worsen, leaving only thin layers of water that barely scratched the contact patch.
Thus, with extremely minimal inputs, CrossContact LX25 will drive you forwards in stagnant water of 5 inches and beyond just fine. You can stay just as confident during flowing water mid-storm, too, judging by how LX25 only shook from time to time at particularly sticky patches and remained effortless in the rest.
If you have to tow cargo frequently into light snow roads, LX25 brings good news. Its diagonal and lateral sipes harmonized well with the circumferential ribs, spreading snow packs evenly around the contact points to pave the car in uneventful strikes at 40 to 50 MPH. Revving beyond 55 MPH might cause some uncertain stumbles – but fortunately, nothing that snow chains cannot fix. You do not have to bind them to all four tires; just the two fronts are enough.
However, slippage started to happen more frequently on deep snow and even led straight to violent throwbacks upon thick ice buildups. Still, they were rather tolerable on straight-line paths; you only need to exert more caution around curves and corners.
Excellent dry and wet on-road traction
Great riding comfort
Good tread design and treadwear rates
Satisfying on light snow
Growing weaker on deep snow and ice (though still tolerable)
Stumbles in winter when revving beyond 55 MPH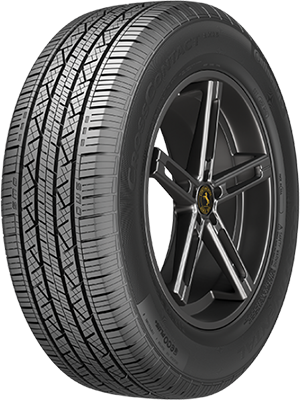 ---
5. Pirelli P7 AS Plus 3
Best All Season Tire For Snow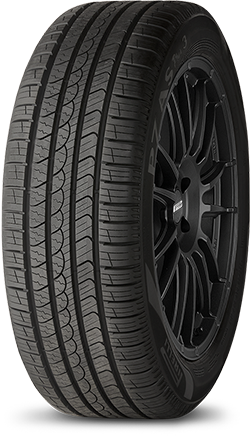 Tire Type
Grand Touring All-Season
Tire Size
17″ – 20″
Weight
19.0 LBS – 30.0 LBS
Load Index
91 – 104
Load Range
SL – XL
Speed Rating
– H: up to 130 mph
– V: up to 149 mph
Warranty
70,000
Ratings
8.8/10
For all-season drivers that mostly travel on snow, a set of Pirelli P7 AS Plus 3 will do.
AS Plus 3 introduces functionalized polymer compounds, molded asymmetrically and aided by large outboard shoulders for better cornering grip and steering response. The sipes and grooves are distributed in balance to reduce void space for the road-tire contact, while zigzag and deep sipes create extra wet grip. At the same time, the circumferential grooves increase aquaplaning resistance.
Though these features are mostly tailored for regular dry/wet roads, we found them to work pretty well on light snow of 3-4 inches. Clingy snow lingered a little on the sidewalls but slid off quickly after a few consistent rolls, so our speed maintenance at 45 MPH was rarely compromised.
Wide corners were also a non-issue with at least 5 to 6 seconds of preparations; and when equipping snow chains on all four tires, you'll witness even the faint drifting near the borderline disappearing completely. So even if you are a beginner, taking over the tire's slippage with consistent palm-to-palm steering is more than effortless.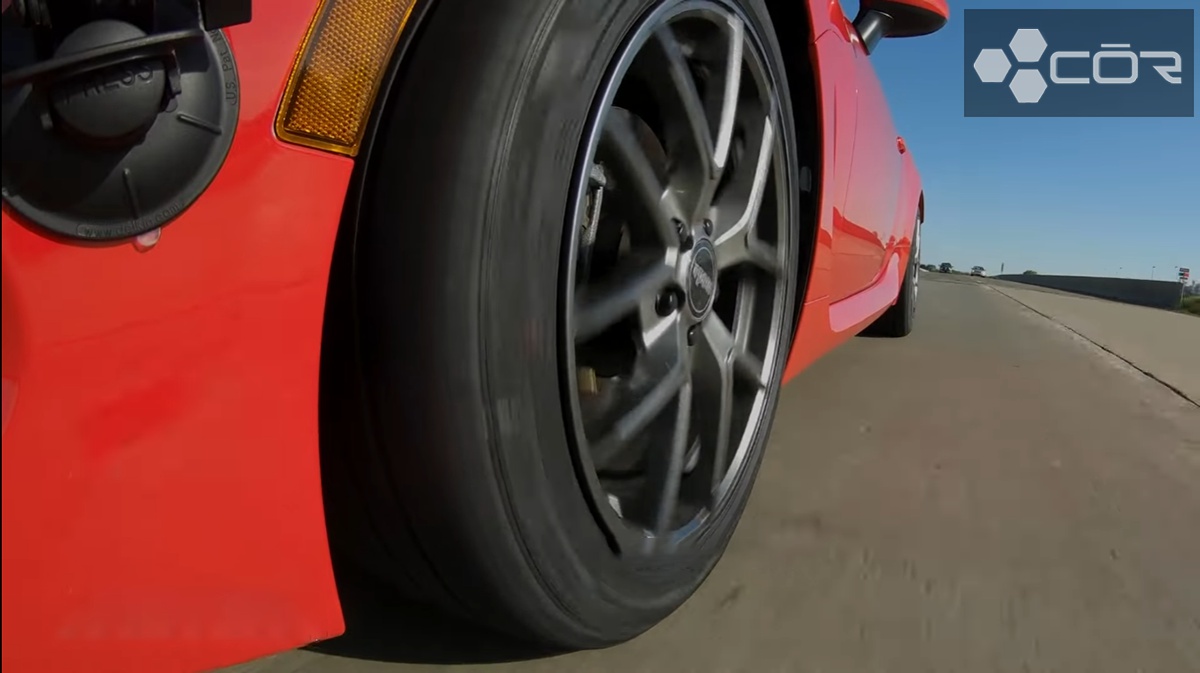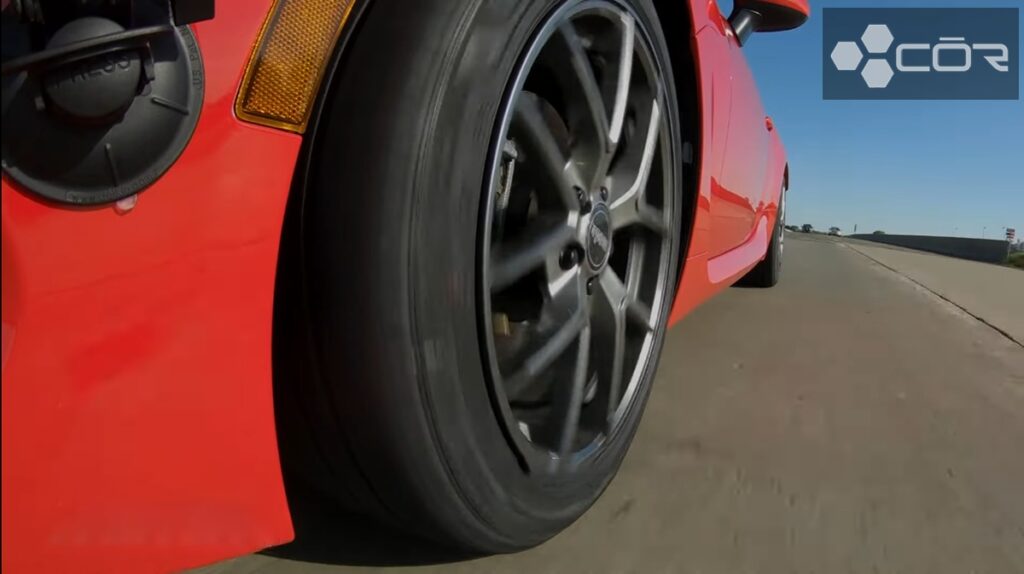 You will likely encounter more hiccups when the snow volumes rise past the 7-inch benchmark, but no worries; things were still in pretty great control in our ride. Again, snow chains will do an excellent job choking out extraction – but if you do not have one, just alternate between handbrake turns and shuffle steering below 55 MPH to move the car forward.
Ice traction was not as bold as on snow, though, seemingly easily triggered with loose palm-to-palm steering and worsening during back-to-back turns. Fortunately, low-speed, straight-line driving managed to reduce these risks significantly, so remember only to engage in dynamic handling/ abrupt accelerations when you encounter true emergencies.
P7 AS Plus 3 truly did not disappoint with its capable and very consistent dry performance. You will find its cornering and steering response to be even on par with the No.1 Michelin CrossClimate 2 – meaning every type of road material can be handled with little to no pronounced jostles.
Wet traction, though not as sharp, is still excellent for frequent travels in heavy rainfalls and storms, even managing its composure on extremely slippery bridges despite high-speed rates beyond 60 MPH.
The only true drawback worth mentioning is the initial shudders when transitioning from dry to wet road sections or vice versa.
Good handling of snow
Excellent dry on-road traction
Good wet performance
Great riding comfort and treadwear
Struggling on ice
A bit weak during road texture transitions
c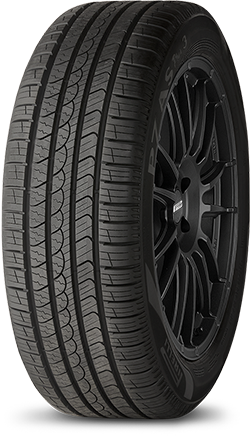 ---
6. Michelin Defender LTX M/S
Best All Season Tire For Highway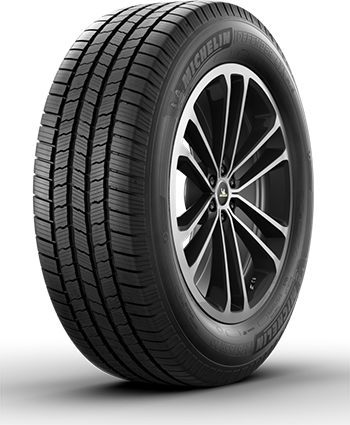 Tire Type
Highway All-Season
Tire Size
15″ – 22″
Weight
23.0 LBS – 60.19 LBS
Load Index
95 – 129
Load Range
C1 – XL
Speed Rating
– H: up to 130 mph
– T: up to 118 mph
Warranty
50,000 – 70,000 miles
Ratings
8.8/10
Few tires can deliver a better highway experience than the powerful Michelin Defender LTX M/S.
LTX M/S features the strong Evertread compound, molded symmetrically to accommodate the independent blocks and 3D Active sipes for more capable dry handling. Lateral grooves, circumferential channels, and open shoulders evacuate water to promote stopping distance and wet traction, while the MaxTouch Construction optimizes the contact patch and distributes acceleration, cornering, and braking forces evenly, increasing tread life.
No wonder dry traction is a massive improvement over standard touring tires; even our experienced members were thrown back by how quickly the tire and highway asphalts bonded with each other.
Constant, almost back-to-back speed fluctuations did not deter the tire once bit, hence the breezy and almost effortless maneuvers during lane changes and curve sweeping. You may experience lots of adventurous riding styles here and even allow a bit of intentional oversteer through curves that recover themselves quickly – a true delight for spirited souls.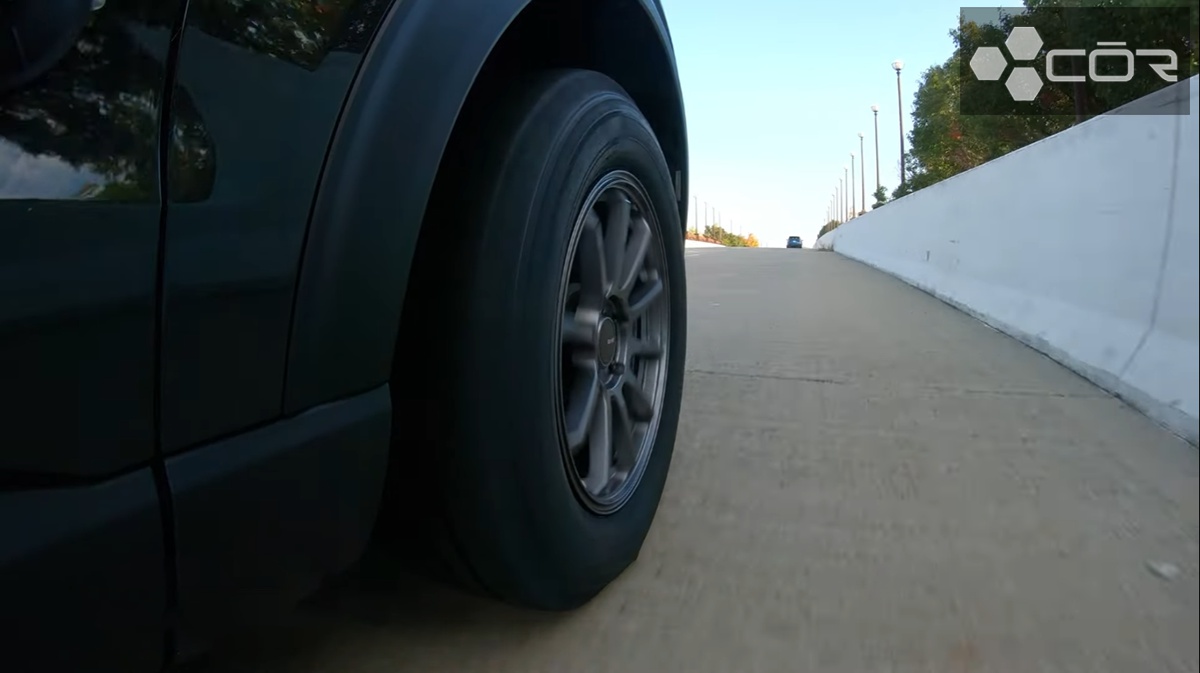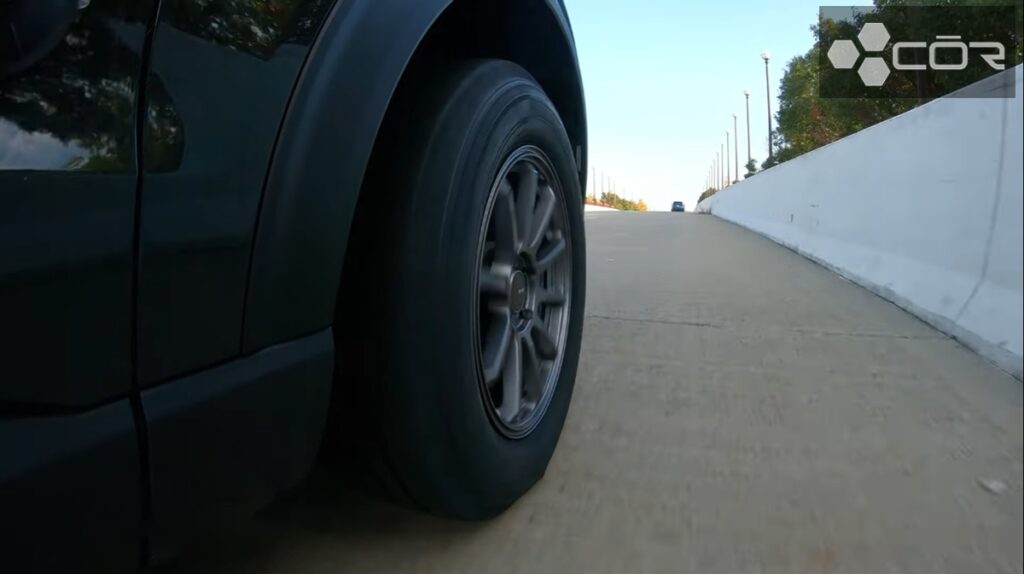 During rainy seasons, highway traveling with Defender LTX M/S will be just as fun for you thanks to sturdy channels and lateral grooves. Hydroplaning only lurked around for the first mile or two in our test track and stopped becoming a true bother afterward.
Better yet, slightly daring outward leans did not throw the tire off its on-center stability like we expected, remaining unwavering from corner entries to the last few points of corner exits. This allows you to experiment late apex or even countersteering at blind curves; except for brief flank shakes, nothing else can put you in actual danger.
Given this admirable highway confidence, we could already gauge how well these tires would perform once returning to regular roads. And indeed, cornering and steering response (both dry and wet) became even more stable here, to the point that even slight complex moves like late brakings out outside-in lines became easy for beginners. Chances of control loss or unrecoverable oversteer will be very low for your car.
Regarding snow performance, Michelin Defender LTX M/S was more or less the same as the Continental CrossContact LX25 at No.5 – meaning you can retain pretty stable traction on light snow and skittle a little on deep snow and ice. While snow chains are not always necessary, remember to hover over the acceleration pedals to prepare for unexpected coughing.
Excellent highway confidence (both dry and wet)
Pretty good snow handling
Great riding comfort and treadwear
Occasional coughs on snow and ice that are unpredictable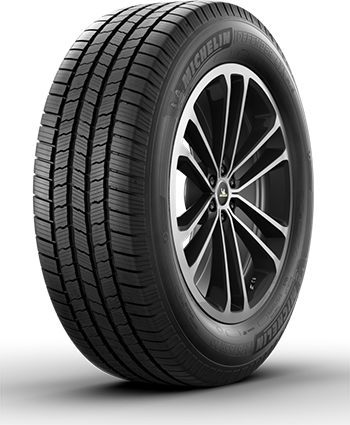 ---
7. Yokohama Geolandar CV G058
Best All Season Tire For Treadwear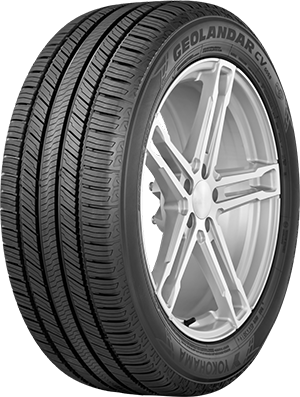 Tire Type
Crossover/SUV Touring All-Season
Tire Size
16″ – 20″
Weight
23.0 LBS – 36.0 LBS
Load Index
96 – 110
Load Range
SL – XL
Speed Rating
– H: up to 130 mph
– V: up to 149 mph
Warranty
65,000
Ratings
8.7/10
Yokohama Geolandar CV G058 surpasses most competitors in the tire industry when it comes to treadwear rates.
The CV2 compounds (with blended Micro Silica) are molded symmetrically into a five-rib pattern, working with the intermediate ribs, rounded blocks, and chamfered edges to increase load characteristics and longer life.
Its 5-pitch variation designs cancel noises on road surfaces, while the large Pass Through grooves evacuate water. Wrapping things up are the 3D and 2D sipes, combined to boost slippery-surface traction and wintertime grips.
Though our ten-day test might be too short, the tire's excellent stability on road bumps and during temperature fluctuations already gave us a good hunch. Compared to other tires, burnouts or fatigue were much harder to notice (if existent at all), and heavy abuse on particularly rough terrains (ex: cobblestones) did not cause major drifting around the corners.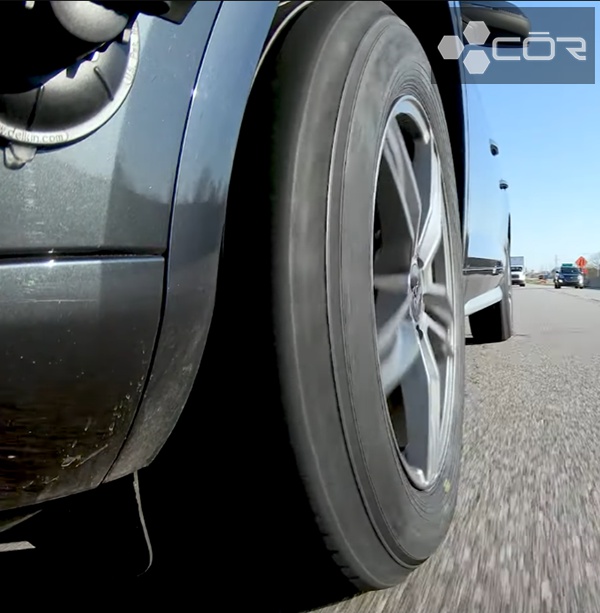 You should have no problem maintaining good, consistent tire rolls for the first five or six years – even with constant towing of 1000 to 1500 lbs. And aided by the generous 65,000-mile warranty, there is even less problem to worry about.
Corner stability on dry roads lacks a bit of punctual in-line hugs due to the simple rib design. Fortunately, our car handled corners with excellent confidence most of the time and only encountered slightly excessive leans at tight hairpins or constant zigzag points. Dry traction and steering response were at their peaks on asphalt and concrete roads alike, footholds barely changing throughout our gradual accelerations.
You will also have quite a great experience on wet terrains. Minus a bit of hydroplaning on damp mud roads, Geolandar CV G058 is not much different from the Pirelli P7 AS Plus 3 at #5, meaning you can handle heavy rainfalls and storms well at driving rates below 60 MPH.
What will impress you more is actually the tire's ice traction. Sure, hiccups were frequent during our test due to the ice's slippery nature, but the chamfered edges held their grounds surprisingly well to ensure traction loss was recovered within short periods.
There is not much to complain about when it comes to riding comfort, though the noises should have been toned down a little when we attempted decelerations right before lane merges.
Excellent treadwear rates
Good dry and wet traction
Decent handling on snow-covered roads; surprisingly good on ice
Deceleration noises
A bit of hydroplaning on wet roads with mud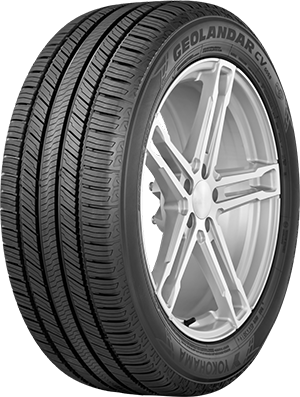 ---
8. Continental ExtremeContact DWS 06 Plus
Best Ultra High-Performance All Season Tire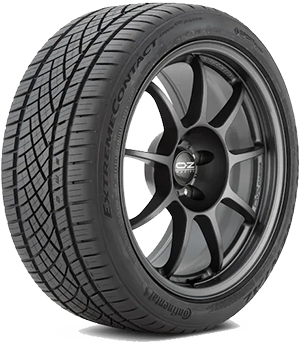 Tire Type
Ultra High Performance All-Season
Tire Size
16″ – 22″
Weight
19.0 LBS – 36.0 LBS
Load Index
83 – 114
Load Range
SL – XL
Speed Rating
– W: up to 168 mph
– Y: up to 186 mph
Warranty
50,000
Ratings
8.5/10
Continental ExtremeContact DWS 06 Plus made its way onto the list as the best ultra high-performance tire. Featuring performance-tuned asymmetric compounds blended with SPORTPLUS+ technology, the tire uses chamfered edges and macro-blocks for excellent braking and handling performance, especially around corners.
High-angled circumferential grooves evacuate water, while the 3D sipes and X-sipes increase wet biting edges and stability in severe weather conditions.
Hence, DWS 06's capability on dry roads is a delight: the way the contact patch settled snugly onto the pavement grooves without a second reminder was a good foreshadowing of how it would grip during the rest of the ride. Spirited leans or occasional oversteer did not strip the on-center rib of its composure, either, filling out traction loss in only 1-2 seconds to complete the strikes uneventfully for a smooth exit.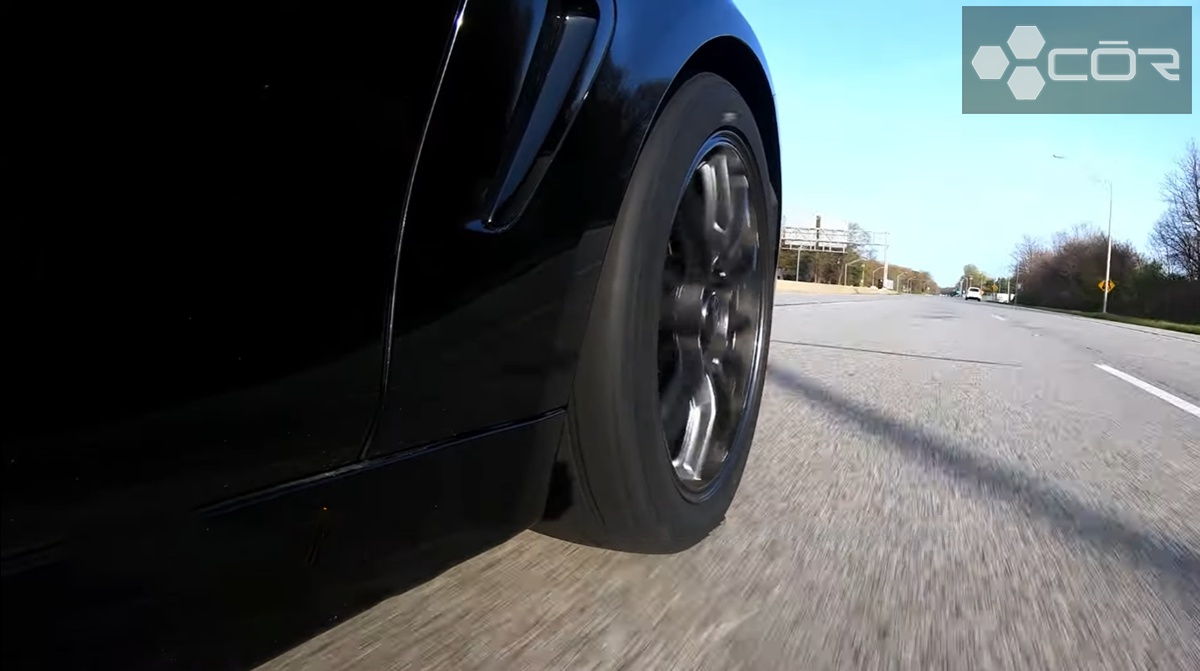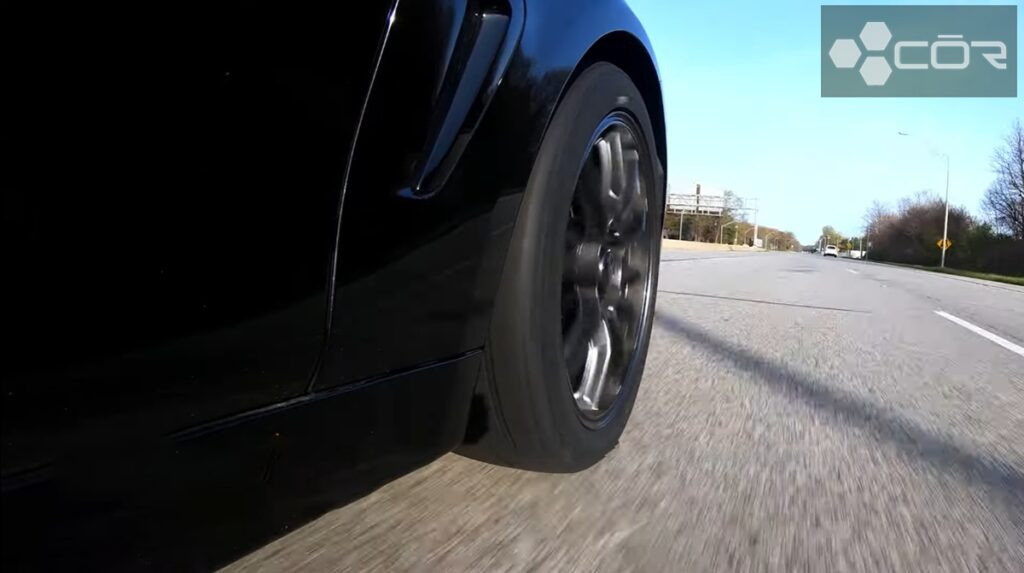 Steep ascents toward graded surfaces are unlikely to challenge your driving skills, either; you only need to grind the steering wheel down a little with one hand, and the car can already take certain steps upwards at regular 40-45 MPH cuts.
Our experienced team even tried to test the limit by surging to 65 MPH with no announcements – yet the side-to-side shakes only popped up for about 3 seconds and got crushed right away.
As an ultra high-performance tire, DWS 06 Plus also performs within expectations during rainy seasons. Frequent hydroplaning in the first one and two miles admittedly gave us a false alarm, but it fortunately disappeared in the rest of the ride. Tackling U-turns or even blind curves was easy thanks to the predictable steering response, leaving us enough margin to decelerate or brake on time when unexpected slippage occurred.
However, you may have to brace yourself for disappointment when winter comes. DWS 06 Plus was somewhat tolerable on light snow but worsened when snow volumes increased beyond 5 inches. And on dense ice rinks, it could not fetch more than 3 miles beyond 45 MPH without constant shakes.
Excellent high performance on dry roads
Confident on wet terrains
Good riding quality; fairly quiet rides
Underwhelming snow traction; sometimes unrideable on ice
Treadwear is not that impressive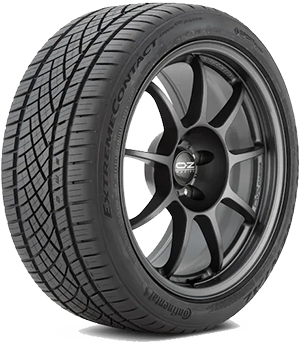 ---
9. Goodyear Wrangler Workhorse HT
Best All Weather Tire for Quiet Rides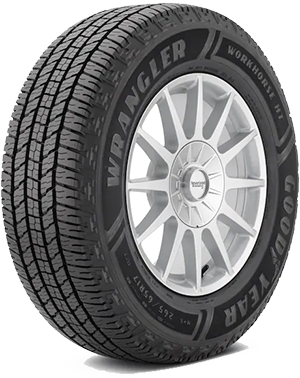 Tire Type
Highway All-Season
Tire Size
16″ – 22″
Weight
37.0 LBS – 42.98 LBS
Load Index
113 – 121
Load Range
C8 – XL
Speed Rating
– H: Up to 130 mph
– T: UP to 118 mph
Warranty
60,000
Ratings
8.7/10
It is not easy to find an all-season tire as quiet as the Goodyear Wrangler Workhorse HT model.
The durable, symmetric tread compounds feature interlocking blocks for optimal yet quiet handling on dry roads. Strong shoulders add tread life, while the circumferential grooves and lateral voids promote good water evacuation. There are also shoulder lugs and in-groove edges combined to enhance wet confidence.
What impressed us was the extremely quiet tread noises, for the interlocking blocks trampled them down so well that these sounds were reduced to faint whispers barely heard from our cabin.
This is certainly a huge competitive edge if you prefer dynamic yet noiseless rides – regardless of your driving techniques and types of sweeping moves, noises will always be the last thing to worry about. Better yet, if your car is equipped with aftermarket wheels or nuts, tread noises will be literally non-existent!
Dry-road handling is also excellent, as Wrangler HT's cornering and steering ability are quite literally the same as another highway tire on our list – the Michelin Defender LTX M/S at #6. Our abrupt inputs at a 90-degree corner translated to a smooth and on-point cornering with no sign of oversteering. As such, you can easily weave through congested traffic or switch lanes resting assured that the tire will respond promptly.
Unfortunately, what pushed Wrangler HT to the near-bottom position is the very lackluster ice and deep snow manners; plus, hydroplaning was not disastrous but admittedly happened quite often around tire crooks. Use snow chains and avoid serious accelerations at all costs.
Very quiet
Excellent dry performance
Good treadwear and riding comfort
Precise cornering feedback
Noise control could have been better
Struggling on deep snow and ice (sometimes unrideable)
Frequent hydroplaning at corners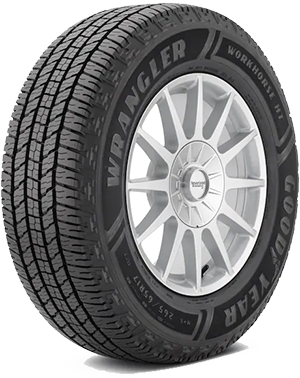 ---
10. General AltiMAX RT43
Best Budget All-Season Tire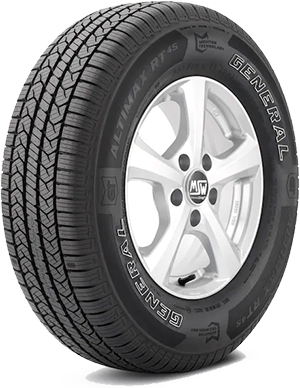 Tire Type
Grand Touring All-Season
Tire Size
14″ – 18″
Weight
15.0 LBS – 28.0 LBS
Load Index
84 – 103
Load Range
SL – XL
Speed Rating
– H: Up to 130 mph
– V: UP to 149 mph
Warranty
65,000 – 75,000 miles
Ratings
8.2/10
Low-demand drivers would do well with a tire like General AltiMAX RT43; it is the cheapest of the bunch while still handling basic driving situations well.
AltiMAX RT43 features Twin Cushioned Silica that combines low-density foundations with high-density tops to absorb road vibrations. Its symmetric designs, continuous ribs, and independent blocks use soundwave suppression to trample tread sounds, while the Anti-Slip Sipes and circumferential grooves increase biting edges on slippery roads.
This tire construction seemed simple compared to other higher-end models, but General AltiMAX RT43 still maintained pretty good dry traction on regular roads. Wide-radius corners or even tighter crooks with good preparation time could still be tackled easily- and once getting familiar with the road pavements and how the steering feedback works, you can even play around with occasional oversteers or outward leans without much problem.
Despite the cheap price tag, its winter performance managed to settle in the middle among our tested tires. We could even navigate through a wet pavement of light snow (about 3 inches) with occasional yet harmless drifting. If it was not the profound noise on snow that bothered us, the tire would have seized a higher rank with the confident, planted feel it delivered.
Slippage and hydroplaning were controlled well on shallow water at 45 MPH and rarely got truly out of line. With pronounced drifting at sharp turns, you can simply engage the braking pedals or use shuffle steering techniques to wriggle your car out of the sticky road patches gradually.
Unfortunately, wintertime traction, riding comfort, and treadwear is the reason why AltiMAX RT43 is a budget tire, bottoming the list with a very huge gap from the Wrangler Workhorse HT at No.9.
Budget tire
Decent dry traction
Tolerable riding comfort
Underwhelming in every other metric
Sometimes unrideable on ice
---
How to Choose Good All-Season Tires for Your Driving Needs
Consider Your Driving Purpose
Even the highest-quality tire will not do if it does not fit your driving demands. Ask yourself about:
Your driving conditions: What is the weather in your living regions? Areas with very cold snow require all-season tire models with excellent wintertime traction. Warmer climates, on the other hand, can do with a standard tire designed for dry and wet conditions.
Your driving habits: Aggressive drivers that prefer fast cornering should settle for a tire of exceptional handling and grip. Meanwhile, casual riding suits comfort-focused tires better.
Assess The Type of Tire
All-season tires are categorized into several types. Again, assess whether their offerings align with your driving needs:
Performance tires: Excellent handling and grip, but expensive and short-lived
Touring tires: Suitable for drivers that do not need extreme performances; great fuel economy and comfort
Winter-rated tires: Deeper tread patterns and softer compounds to handle ice/snow better.
Conclusion
Michelin CrossClimate 2 is our ultimate tire pick for excellent performance across all metrics – none ranking below 8.5, except for the slightly weaker ice traction that still manages to land on our Top 3. As such, you can trust this all-season model to deliver a true all-season performance catering to most of your driving preferences.
Here is the summary of the 10 Best All-Season Tires in the 2023 COR Wheels Tire Test:
| Tire Brand & Model | | | | | | | |
| --- | --- | --- | --- | --- | --- | --- | --- |
| Michelin CrossClimate2 | 1st | 8.9 | 9.2 | 9.2 | 8.6 | 8.7 | 8.9 |
| Bridgestone WeatherPeak | 2nd | 8.9 | 9 | 9 | 8.9 | 8.7 | 8.7 |
| Pirelli Scorpion WeatherActive | 3rd | 8.9 | 8.9 | 9 | 8.8 | 8.9 | 9.1 |
| Continental CrossContact LX25 | 4th | 8.8 | 9.1 | 9 | 8.2 | 8.8 | 9 |
| Pirelli P7 AS Plus 3 | 5th | 8.8 | 9.1 | 8.9 | 8.1 | 8.9 | 8.9 |
| Michelin Defender LTX M/S | 6th | 8.8 | 9.2 | 9 | 8.2 | 9 | 8.9 |
| Yokohama Geolandar CV G058 | 7th | 8.7 | 8.9 | 8.9 | 8.2 | 8.6 | 9.1 |
| Continental ExtremeContact DWS 06 Plus | 8th | 8.5 | 9.1 | 8.9 | 7.4 | 8.7 | 8.4 |
| Goodyear Wrangler Workhorse HT | 9th | 8.3 | 9.1 | 8.6 | 7.6 | 9 | 8.6 |
| General AltiMAX RT43 | 10th | 8.2 | 8.6 | 8.4 | 7.3 | 8.4 | 8.2 |
---
President & Automotive Expert at COR Wheels
Robert Herrera has been with COR Wheels for 17 years and has a great passion for the automotive industry. During his time at COR Wheels, he has driven and test-driven a variety of vehicles.
---