The Wrangler All-Terrain Adventure with Kevlar has made its way onto the best-seller list solely because of its Goodyear origin. The tire's real-life performance, on the other hand, is a huge source of controversy: some claim it does a spectacular job, while others report significant traction loss even with non-spirited driving.
Our COR Wheels team took the matter into our own hands with a detailed, inclusive tire review of Wrangler Kevlar's road handlings and rankings. Scroll for more!
In this article:
Wrangler All-Terrain Adventure with Kevlar Specifications & Features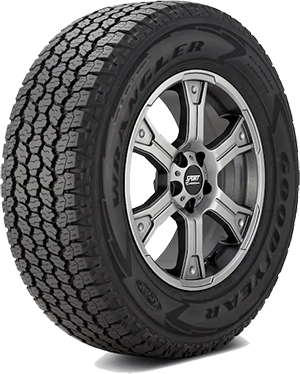 Tire Type
On-Road All-Terrain
Tire Size
16″ – 20″
Weight
36.0 LBS – 58.0 LBS
Load Index
107 – 126
Load Range
C1 – XL
Speed Rating
– H: up to 130 mph
– T: up to 118 mph
Warranty
60,000 miles
Ratings
7.3/10
Goodyear Wrangler All-Terrain Adventure with Kevlar is tailored for on-road light trucks that occasionally venture into rugged off-road paths. It is available in two sizes: Standard Load (½ ton trucks) and Pro-Grade E (¾ to 1 ton pickup vehicles, SUVs, and vans).
The specialized, long-wearing rubber compound is symmetrically molded into multi-faceted designs to combine on-road and off-road traction.
For Pro-Grade tire size, Goodyear deploys chunk- and chip-resistant compounds to add more tread life under high-torque uses.
Traction ridges (bottoming the outboard circumferential grooves) and open blocks clear snow and mud.
Durawall Technology protects the tire's polyester cords from abrasion, scuffing, punctures, and cuts.
Making up the internal structure are the double steel belts spirally wrapped by the advanced DuPont Kevlar cord for an enhanced blend of solidity and comfort.
Goodyear Wrangler All-Terrain Adventure with Kevlar Review & Performance Test Results
As part of the annual 2023 COR Wheels Tire Test, we used the 255/70R16 tire size version of the Goodyear Wrangler All-Terrain Adventure with Kevlar on our Jeep Wrangler car model (2018 version).
1. Dry Performance: 8.3/10
Dry Traction: 8.6/10
Wrangler Kevlar kept itself quite composed through the most basic landing and reversing situations. Its traction adaptability to mid-way speed changes was not exactly stellar, but enough to veer our Jeep into line without spiraling down the road. We were also pretty pleased with how this road tire redeemed itself around roadblocks once the danger zone was over, striking quite a good balance between flexibility and sidewall sturdiness.
Our experiments with extended wet grass terrains remained just as delightful; the grooves encountered little trouble bending the tickling grass under the patch to pave a clearer way for itself. Texture transitions from smooth asphalt to grass (and vice versa) were barely an issue, except for slight faltering around the corners that you could have easily controlled using strategic shuffle steering.
Rugged mountain passes are where Kevlar starts to show its pronounced lack of confidence. While its footholds were relatively retained throughout most of our straight-line endeavors, they stuttered on thicker gravel and plummeted dramatically upon inconsistent, graded surface angles. Thus, we had no choice but to alternate between hard braking and downshifts to keep the contact patch well-established.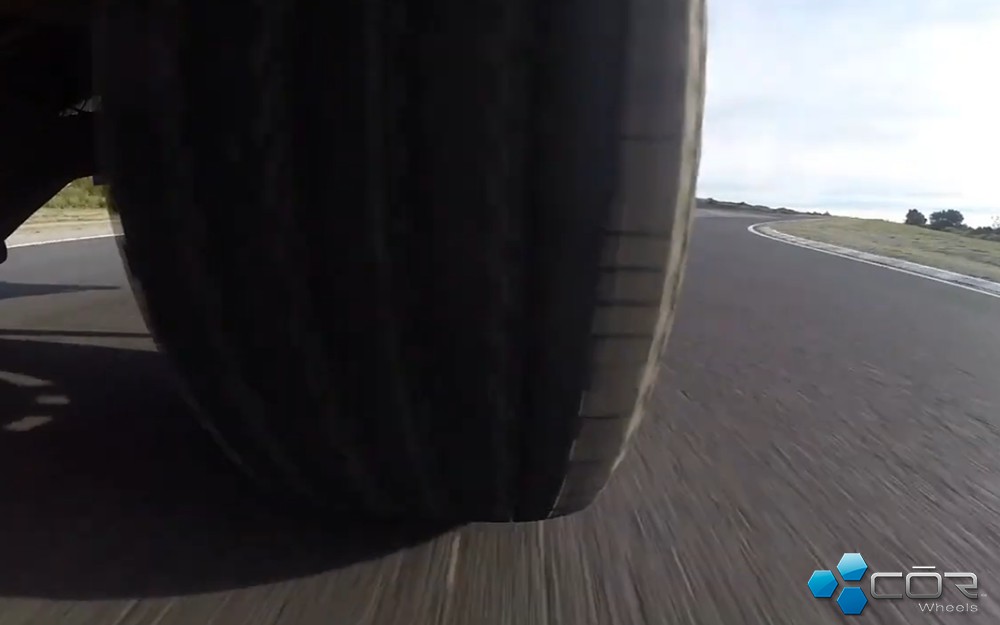 Corner Stability: 8/10
Despite the lack of cornering-focus features, Kevlar did a greater job than expected when dealing with early apex and gentle, sweeping curves on both regular streets and highways. Each thud landed precisely on the designated entry points and kept its momentum well throughout the liner down to the exit, taking little time recovering traction drifts and occasional over-reactions near the borderlines.
On another note, you may want to engage dynamic accelerations more cautiously; some of the sidewall parts were still too soft to handle that huge amount of concentrated pressure within limited timeframes. Tight, alternating switchbacks and corner carvings also wore down the tire quite fast, leading to fainter footings after the first five minutes.
Steering Response: 8.2/10
Wrangler AT Adventure knew how to monitor and catch up with our constantly-changing inputs, judging by its accurate and intimate feedback for lane changes and sweeping skids towards 90-degree directional turns. The way it veered around other vehicles or roadblocks could have used more subtlety – but all in all, it still stayed very much in our favor.
But when put against other tires, Kevlar displayed a concerning lack of confidence during impromptu leans or emergency brakings against unexpected road twists. Delays at turns were to be expected when we revved up to 50 MPH. Any attempt to raise above the 50-MPH benchmark will also strip your car of its smooth, continuous bond with the road pavements.
2. Wet Performance: 7.4/10
Wet Traction: 7.3/10
The tire was at its peak on damp grass or shallow puddles dotted over an otherwise dry road. And even during such non-challenging circumstances, ominous stutters still occurred every now and then.
Our car started to experience serious shudders upon heavily slippery surfaces during and post-rain. Wrangler Adventure's traction ridges and open blocks could not deliver half of their advertised power and kept tripping over themselves despite our sluggish driving rates (below 35 MPH). Worse, cornering endeavors were almost impossible unless we started to veer the steering wheel from at least 1 foot before the actual entry.
You can still ride the car safely in heavy rainy seasons with this tire, but do not expect smooth, clean strikes on every wet surface. Accelerations and hard brakings should also be avoided at all costs to keep Kevlar's panic reactions at bay.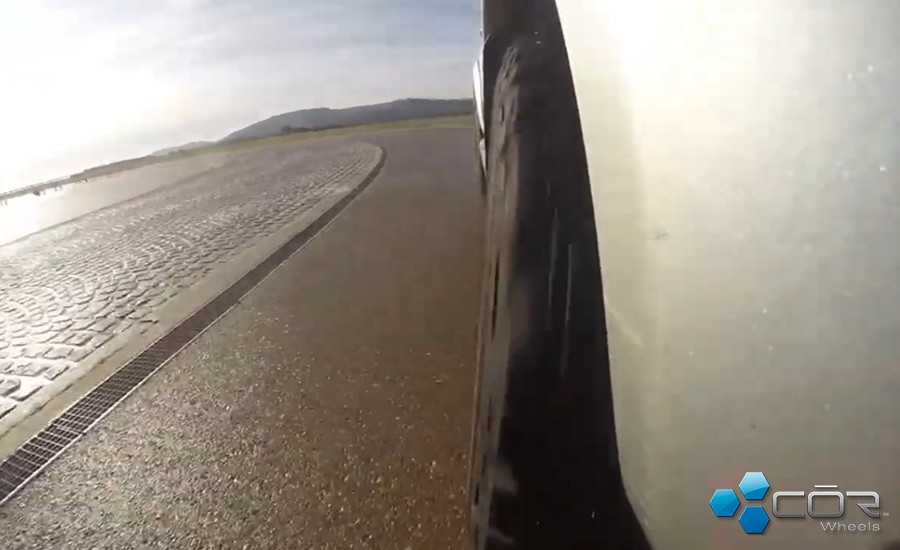 Hydroplaning Resistance: 7.4/10
Kevlar's simplistic tread designs and almost non-existent channels obviously did not work well against hydroplaning.
Our Jeep kept slipping on rainwater and took about five seconds longer than other tires to re-establish the contact points; packing the Jeep full with four passengers only worsened the triggers and almost sent the car crashing at carousels. You would be better off driving alone on these tires and with as little cargo as possible.
3. Off-road Performance: 7.1/10
Dirt Traction: 7.7/10
The tire admittedly needs some refinements on hard-packed dirt; we navigated corners with quite some difficulties and took longer to recover from traction loss during quick, sharp turns toward the opposite directions.
Fortunately, you can set your worries aside with Kevlar's performances on loose dirt. It was not exactly sharp, but sufficient for basic driving situations and simple hand-over-hand steering techniques. Cargo below 700 lbs did not choke the car off its track as much as we thought, either.
Rock Traction: 7.4/10
Though tight steering forces could still grind down our car on rocky trails, its footholds felt significantly lacking. Any attempts beyond 40 MPH increased the frequency of coughs and violent hiccups, worsening over time as we increased our lean angles.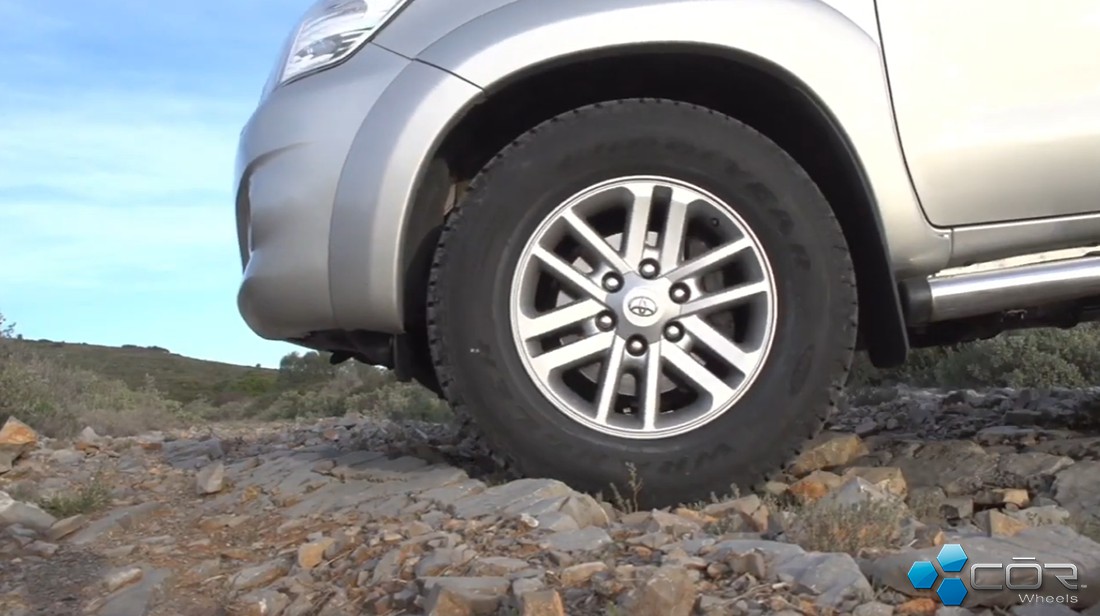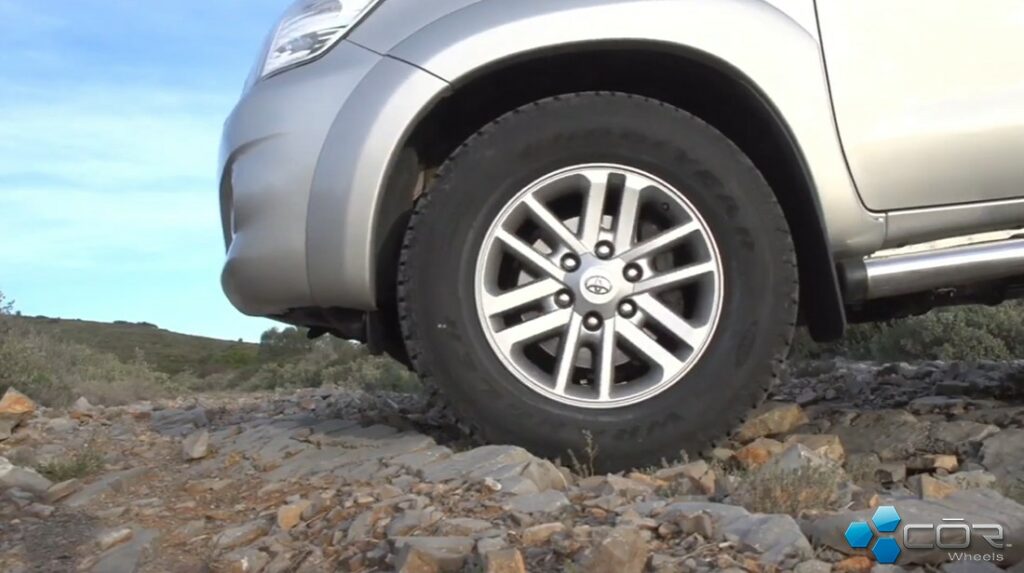 The tire tamed itself down a little upon softer rock terrains; however, you still should not expect the ominous stutters to be eliminated completely.
Sand Traction: 7/10
Goodyear already did a bad job redirecting regular rainwater on-road, so the way it fell flat on sand dunes was unsurprising. In fact, the tire-road connection was even fainter here than during rainy seasons, only surging under extra steering force and losing momentum too fast to handle any dynamic techniques.
Airing down the tire to 15 PSI did help us a little with traction maintenance, however. It would be even better if you kept your driving rates below 25 MPH.
Mud Traction: 6.3/10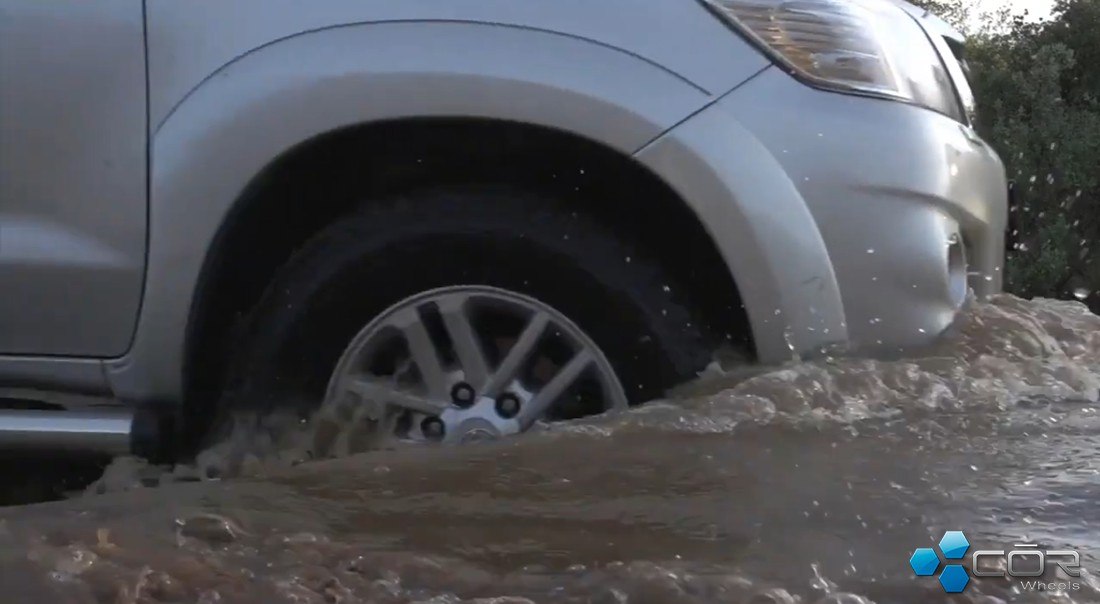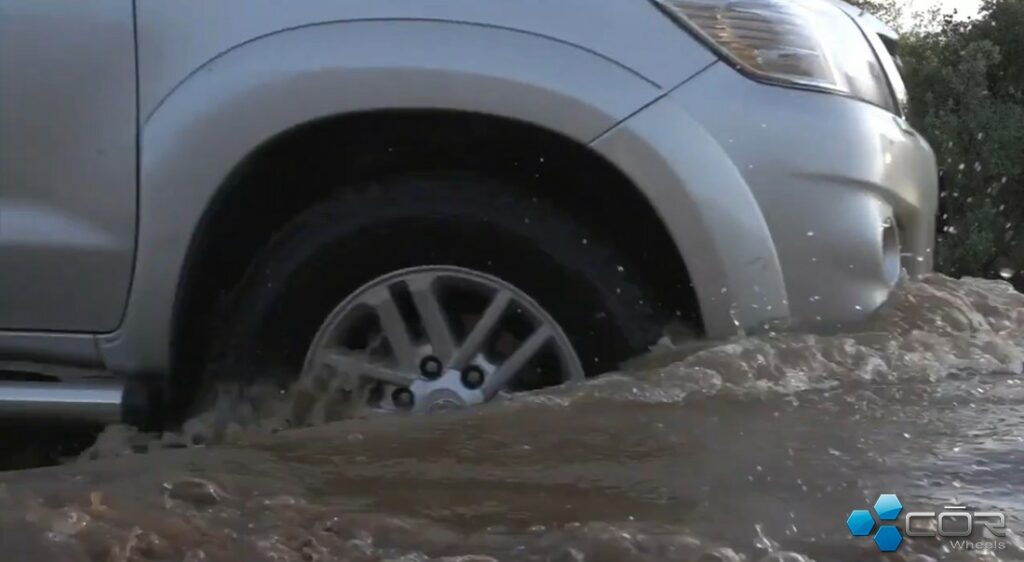 Despite additional traction ridges and open blocks, Kevlar's capability in muddy conditions was almost non-existent, barely rideable between 10 and 15 MPH and shaking horribly at any other number. Reducing passengers and cargo weight did not help us much, judging by the same dragging feel under the contact patch that carried on till the very last few miles of our test rides.
All in all, you can still tackle occasional slush on dry or gravel dirt, but an entire muddy road section is certainly out of reach.
4. Winter/Snow Performance: 6.4/10
Light Snow Traction: 7/10
Even when our team bound the tires with snow chains right from the start, Kevlar still disappointed us with the frequent shakes and jostles.
The only silver lining is that some of its drifting symptoms were quite predictable at 15-20 MPH – though that could hardly be considered an advantage when we observed how other Goodyear tires plowed at regular 40-45 MPH ranges without issues. Hence, you should only use the tire around late winter and early-mid spring.
Deep Snow Traction: 6.4/10
Goodyear Wrangler Kevlar suffered from significant traction reduction on deep snow terrains, repeating almost every drawback observed on off-road mud paths.
Snow chains seemed useless, if not even dragging the tire down around corners. Thus, you should avoid these terrains at all costs or only travel a short distance, preferably below 2 miles.
Ice Traction: 5.7/10
Our ride had to stop short after 3 miles due to the horrible drifting and panic reactions at 10 MPH – which was more than enough proof of how incompatible Kevlar was against ice terrains.
Occasional buildups and ice melting could still be dealt with at regular driving rates regardless of your car model. But frankly, so did almost every other premium tire, so we could hardly call this a competitive edge.
5. Comfort: 7.8/10
Ride Quality: 7.7/10
Kevlar could handle road bumps pretty decently at 40 to 45 MPH and kept wavering ribs somewhat under control during corners. However, the tire was still pushed to the bottom of the list due to unpredictable shakes on wet and off-road paths; the way its sidewalls cave into themselves during sharp turns will likely tick you off as well.
Road Noise Levels: 7.9/10
While noise control could have definitely been better at corners, high-speed leans, and rough push-pull up steep ascents, Kevlar was actually quite pleasant in most basic steering situations.
Casual maneuvers around predictable obstacles are unlikely to disturb your rides, and extra loads of no more than 700 lbs did not result in annoying sidewall groans like some other tires we have tested.
6. Tread Wear and Durability: 6.7/10
Unlike other Goodyear tires, Kevlar showed disappointing strength against heavy abuse and frequent usage, evident in the muted feedback and shredded top after a mere one week into the test.
In compensation, the 60,000-mile warranty is quite reassuring – especially given how short-lived this all-terrain tire is – so you do not have to worry much about treadwear problems for 5-6 years.
Kevlar's Pros and Cons
Pretty good dry traction
Not bad on off-road dirt
Decent noise control
Fairly comfortable rides
Wet traction could have been better
Unrideable in deep snowy conditions, ice, and mud
Disappointing tread life
Conclusion
Even on on-road terrains, the Goodyear Adventure with Kevlar is not always punctually predictable. As a result, the tire's performances on wet roads, off-road paths, and snow/ice surfaces range from mediocre to disappointing.
The tire performance in this Goodyear Wrangler All-Terrain Adventure with Kevlar tire review has proven the opposite of what Goodyear advertised – It doesn't suit many light truck or pickup truck models and can't handle too heavy load, just anything below 700 lbs on dry road. It will work best for SUVs and some pickup trucks as your assistant on smooth roads and non-challenging dirt, preferably in favorable temperatures.
Goodyear Wrangler All-Terrain Adventure with Kevlar
PRICE
SOLD BY

Offers

In Stock

Offers

In Stock

Offers

In Stock

Offers

In Stock

Offers

In Stock
---
President & Automotive Expert at COR Wheels
Robert Herrera has been with COR Wheels for 17 years and has a great passion for the automotive industry. During his time at COR Wheels, he has driven and test-driven a variety of vehicles.
---