Honda CR-V has proven to be a stellar representative of the brand's long-standing legacy, with numerous back-to-back updates and redesigns that aim for year-round traction across most terrains. Nevertheless, their handling characteristics might be dramatically compromised when paired with incompetent tire models – all the more reasons to up your games when browsing options for the best tires for Honda CR-V.
This inclusive list will recommend the market's current ten best performers based on our actual performance tests. Keep scrolling!
In this article:
A. How to Choose The Best Honda CR-V Tires
1. Understanding The Honda CR-V
The Honda CR-V is a compact crossover, which means it aims to combine SUVs and traditional sedans by offering blended-in versatility and slightly better adaptability to varied driving purposes. As such, you should look for stable yet flexible tires that can handle various road trip types, from long family journeys to short/moderate daily commuting.
As an SUV hybrid, this crossover also inherits a decent towing capacity besides its quite spacious cargo space, usually coupled with foldable rear seats to give room for sports equipment, groceries, etc. Hence, if your loading demand is high, seeking capable tires with a load index from 100 is a must.
On another note, thanks to its pretty generous ground clearance (especially compared to sedans), the Honda CR-V can handle occasional off-road terrains and slightly rough/uneven surfaces. Under such circumstances, its handling characteristics can only be maximized to the fullest when paired with strong performance/all-terrain tires with well-combined grooves and rugged sidewalls.
Furthermore, the crossover is also equipped with an optional AWD (all-wheel drive system), which offers heightened stability and traction for snowy conditions. You should seek durable, well-composed tires that can withstand cold temperature extremes while providing good clawing actions (with or without snow chains) to ensure riding safety for all winter months.
2. Choosing The Right Tire For Your Honda CR-V
a. Touring Tires
Do you mostly engage in casual on-road riding, such as everyday commuting and highway driving? In that case, touring tires will be the most solid choice without eating too much into your financial budget. 
However, note that touring tires continue to be divided into smaller categories. Consider your niche preferences carefully to settle on the best option.
Standard touring tire: A reliable choice if you prioritize longevity and comfort over sporty road manners. They handle basic driving situations well, generate very little tread noise, and have decent composure against moderate weather.
Grand touring tire: Grand touring tires are better in case you wish for higher-speed turns and crisper cornering. They retain the most highlighted features from standard tires (comfortable rides, low noises, etc.) while introducing better steering responsiveness and cornering stability thanks to the aggressive tread compounds. 
Crossover/SUV touring all-season tire: With their sturdier constructions and reinforced sidewalls, you can load moderate cargos or even perform light towing tasks without sacrificing your riding comfort. They are the best picks for camping, family trips, or being used as taxis.
b. Performance/Summer Tires
Are you into spirited and adventurous driving? Given that you live in a region with year-round warm temperatures, performance/summer tires will do. They are considered a significant upgrade of grand touring tires for summer dry conditions, delivering excellent steering feedback and sporty handling to quench your thirst for dynamic rides and adventurous leans. 
c. All-Terrain Tires
All-terrain (AT tires) can handle both on-road and off-road driving situations – though, to choose the most suitable option, you should question which one of the two is your ultimate priority:
On-road AT tire: Opt for this option if you still travel mostly on-road, with only some occasional off-road trips/ light-off-road ventures thrown in between.
Off-road AT tire: If you are a construction worker, frequent off-road traveler, or simply an adventurous soul who wants to tackle rough terrains, these tires will be the right choice for your Honda C-RV. Note that their on-road comfort will inevitably be sacrificed during the process, however.
d. Winter Tire
You should definitely opt for winter tires if you have to travel through severe winter conditions on the Honda CR-V on a very frequent basis. Premium tire models usually work very well with the CR-V's steering and handling characteristics by offering impressive braking performances, deep grooves/sipes for the best traction, and robust sidewalls to tackle icy roads.
B. How Did We Pick and Test Honda CR-V Tires
After picking out notable performers from more than 196 best-seller tires for the 2023 COR Wheels Tire Test, we tested their 235/60R18 tire size versions on our Honda CR-V 2022 EX to narrow the competition to only 10 contenders.
Along with our test result, gathered American customer feedback was also factored in to ensure the most inclusive and consistent results.
C. Best All-Season Tires for Honda CRV
---
1. Michelin CrossClimate2
Best uses: highway curves, regular roads, tight corners, snow and light ice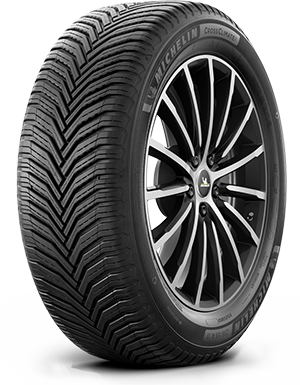 Tire Type
Grand Touring All-Season
Tire Size
16″ – 22″
Weight
20.99 LBS – 36.55 LBS
Load Index
91 – 114
Load Range
SL – XL
Speed Rating
– H: up to 130 mph
– V: up to 149 mph
Warranty
60,000 miles
Ratings
8.9/10