Good dry-road traction is considered a given for most all-season tires, so it could not be regarded as a distinct competitive edge.
But wet performances are a different story. Certain tire models thrive much better in the rainy season and on waterlogged roads than others, making them popular choices among frequent travelers to humid or even flooded regions.
Our 2023 COR Wheels Test has put 105 tires under intense evaluation to single out the 10 best all-season tires for rain. Scroll through each segment for more guidance on their ratings and tire grip capacity.
In this article:
How Did We Test and Pick The Best Tires For Rain?
Our COR Wheels team has scoured the American tire industry to select 105 best-selling all-season tires for investive test rides. We also conducted a survey on customer feedback from American drivers for a more consistent and reflective report. After 10 consecutive days of testing, the members scored, negotiated, and decided on the 10 best candidates.
Each tire's all-around performance was evaluated on 6 major criteria: treadwear, comfort, wet, dry, winter/snow traction, and price. Regarding our main focus, wet performance, two distinguishing characteristics were involved in the final score:
Wet traction
Hydroplaning resistance
Finally, 10 tires were shortlisted from the 105 competitors to be crowned as the best wet weather tires.
Top 10 Best Tires For For Rain In 2023:
---
1. Michelin CrossClimate2
Best For Wet Traction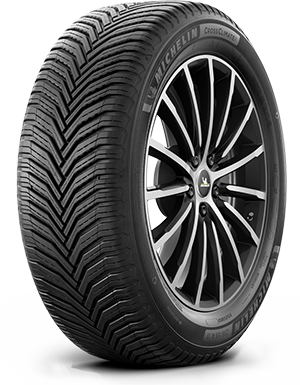 Tire Type
Grand Touring All-Season
Tire Size
16″ – 22″
Weight
20.99 LBS – 36.55 LBS
Load Index
91 – 114
Load Range
SL – XL
Speed Rating
– H: up to 130 mph
– V: up to 149 mph
Warranty
60,000
Ratings
8.9/10
Michelin CrossClimate2 delivered the most consistent wet traction out of the tires we have tested.
The brand's investment into the designs is the secret behind this: the grooves are distributed towards the center (in a V-shape) to optimize block angles and channel water faster. At the same time, each block edge is accompanied by an extra V-ramp for better stopping power and wet biting edges.
Our team members were particularly pleased with the tire's 3D Sipelock technology, interlocking the sipes in an intricate, high-density pattern that ensures unwavering levels of grip. The tire felt sure-footed yet still lighthearted, plowing through deep, standing water with an impressive confidence that was even on par with our previous dry-performance test.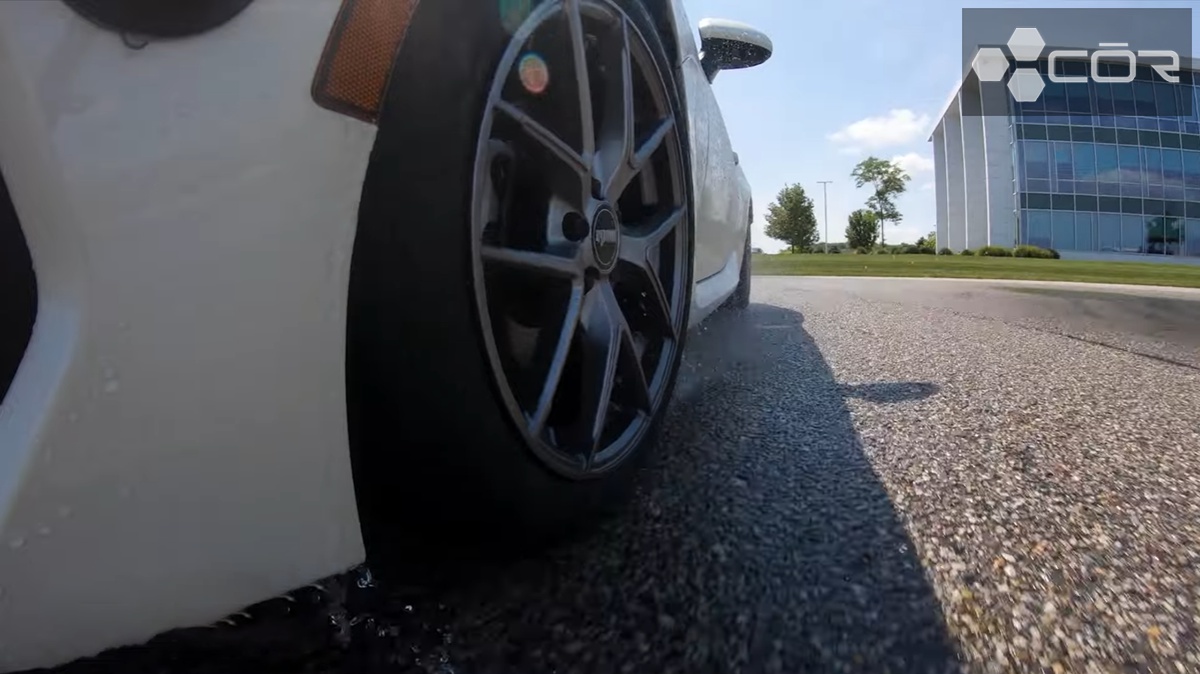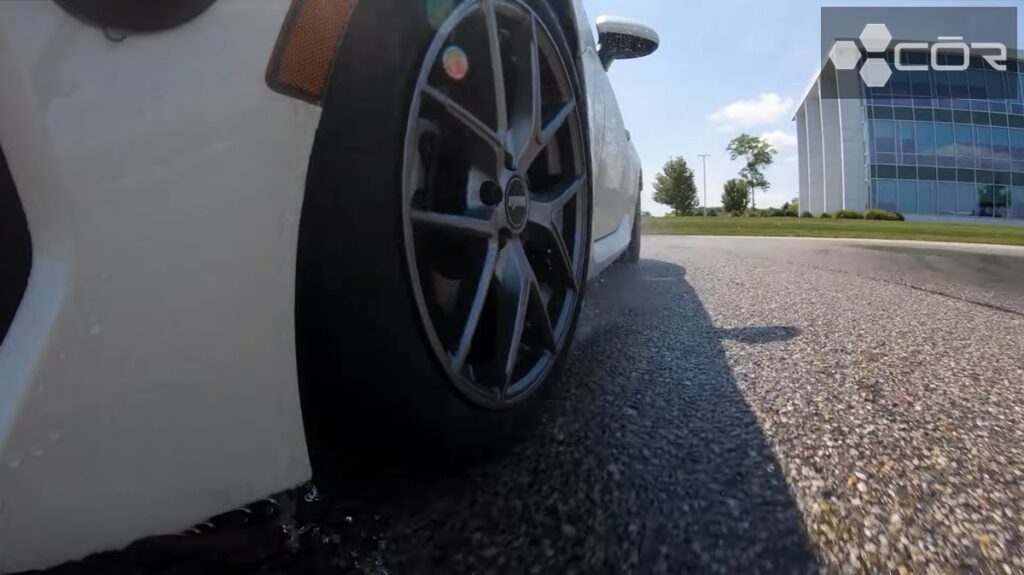 Trickier intersections observed a bit of stuttering that quickly disappeared before fully registering, and we could not spot any noticeable drag even when the rainwater plunged a bit deeper than expected into the 3D sipes. Their even-spaced, consistent tread patterns kept any debris or mud from lingering too long, allowing our car to process secure road contact without significant hiccups.
We started at a low speed (around 25 MPH or so) and gradually accelerated until the car fully bounced down the street at 80 MPH. Hydroplaning risks were a bit higher now that the grooves had less time to process large water amounts between hits, but nothing Michelin CrossClimate 2 could not handle. After 3 hours, the worst issue we experienced was only some minor slurps at particularly deep puddles of water.
On another note, CrossClimate 2 was also a delight in other environments and provided smooth ride qualities – although we did think something could have been done to improve the tire's underwhelming ice traction. The tire is a great option for people looking for all-year usage, and can even replace snow tires on light snow terrains.
The best wet traction (among all-season tires)
Great hydroplaning-driving qualities
Comfortable ride
Adequate tread life
Minor bumps
A bad tire in icy conditions
A bit expensive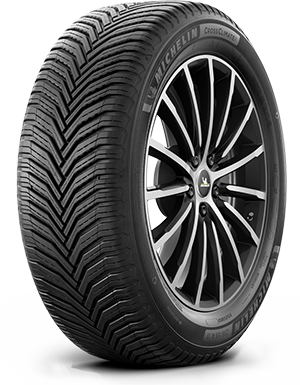 ---
2. Bridgestone WeatherPeak
Best Overall Performance in Wet Conditions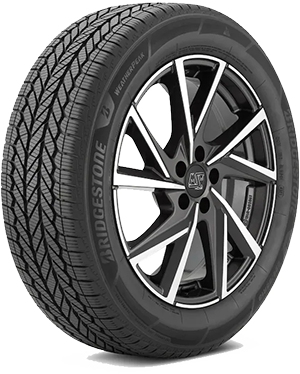 Tire Type
Grand Touring All-Season
Tire Size
15″ – 20″
Weight
16.0 LBS – 35.0 LBS
Load Index
82 – 111
Load Range
SL – XL
Speed Rating
– H: Up to 130 mph
– V: UP to 149 mph
Warranty
70,000 miles
Ratings
8.9/10
Bridgestone WeatherPeak is a very close second behind the Michelin CrossClimate 2.
WeatherPeak is armed with 3D sipe full-depths, which lace with groove channels and Evolving sipes to encourage better traction and higher-speed water flow. These Evolving sipes also bite onto the center rib for more stable cornering, while lateral notches and huge shoulder blocks offer dynamic handling in particularly deep water.
The Snow Vices imprinted on the tread block are supposed to assist with snow terrains, but we found they worked pretty well on regular wet roads, too. Our team liked the way these vices and slits distributed forces evenly and reassuringly under the rubber, leaving us little room for accidental slippage.
As such, the sidewalls snapped almost instantly into action whenever there was a slurping sound near the contact patches (indicating water invasion), flicking water and mud off our sipes before they sank deep.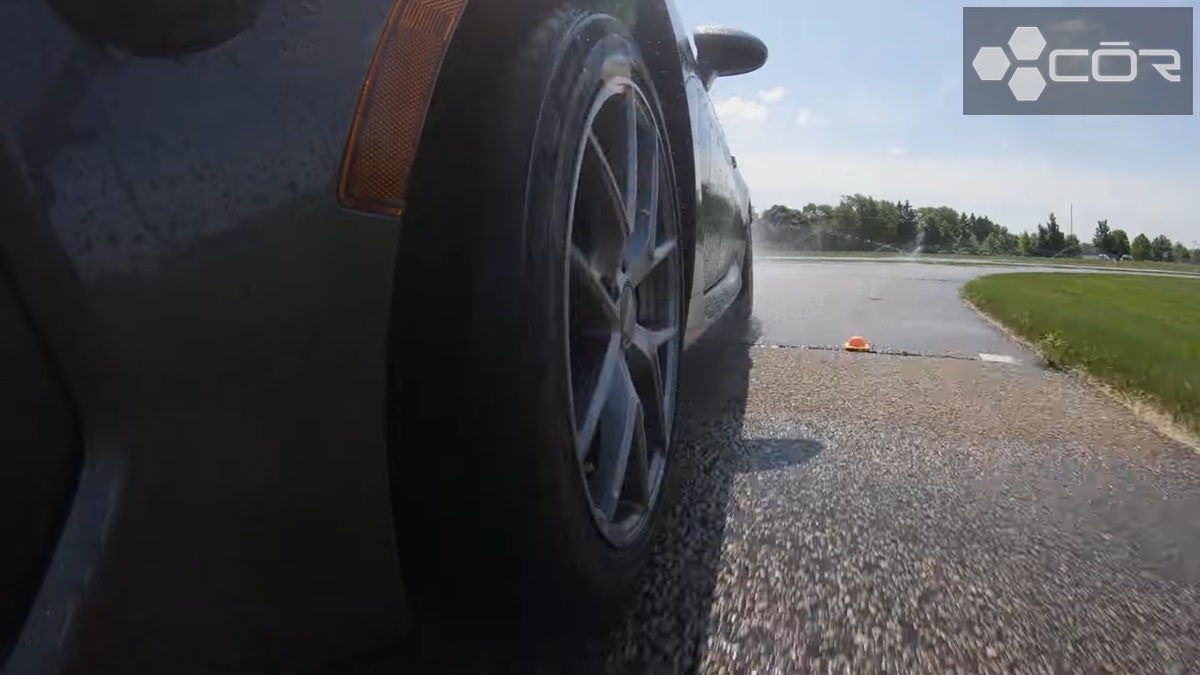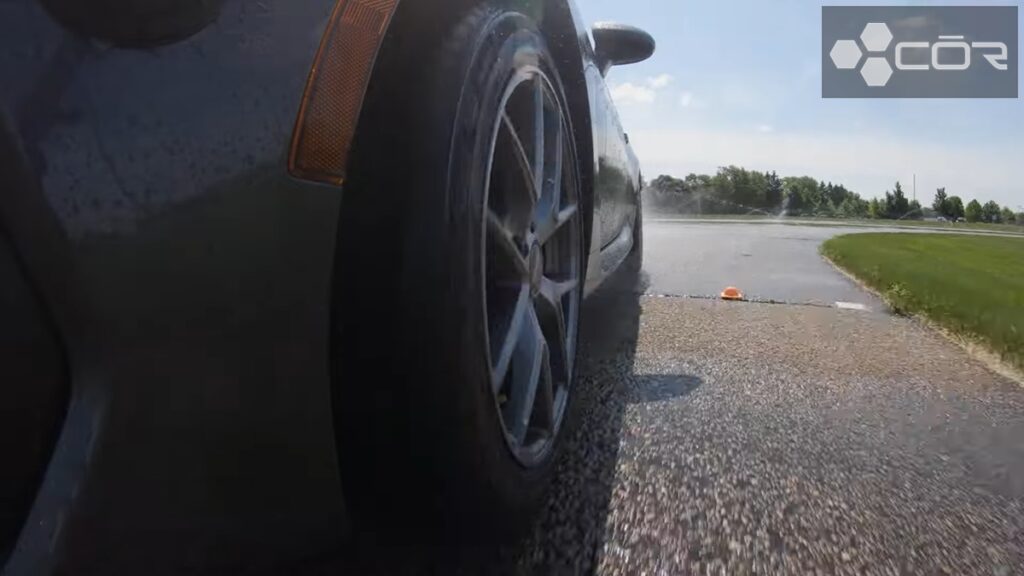 When stopping at traffic lights even under downpours, and the braking capability around these critical periods did not disappoint us. Skids were barely noticeable, allowing us to pull confidently from 50 MPH to a full stop in less than 80 feet without disrupting the ongoing traffic. There was little to no noise during the grinding – a rare feat for typical wet braking distances.
Bending or navigating wet curves was also a breeze. Water had more chances of sinking deep into the sipes now due to the riskier steering angles, but our Bridgestone WeatherPeak could still cope just as it did with straight-line driving. Slight jostles aside, there was little to worry about.
Even better, Bridgestone WeatherPeak maintained its reliable handling on dry pavements (though surprisingly not as good as on wet roads – which is rare for all-season tires). And the Snow Vices technology had a fair share of spotlight on winter roads, chewing through snow packs with a slick and even manner rarely seen even in some expensive winter tires.
Their noise ratings could have been improved, though. And slippage still happened when we accelerated from a dead stop with moderate throttle.
All in all, Bridgestone WeatherPeak is a very capable choice for drivers in humid or snowy regions, lending great assistance in harsh-condition navigation and steering.
Great traction in slippery conditions
Good treadwear life
Handle snowy conditions better than some winter tires
Dry traction is not as good as wet (but still competitive)
Dry traction is not as good as wet (but still competitive)
Occasional noise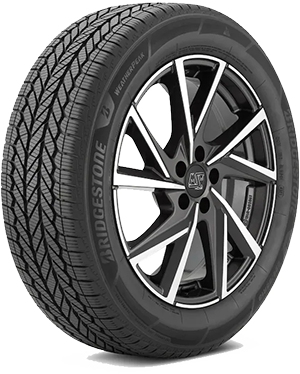 ---
3. Michelin Defender LTX M/S
Best for Highway Driving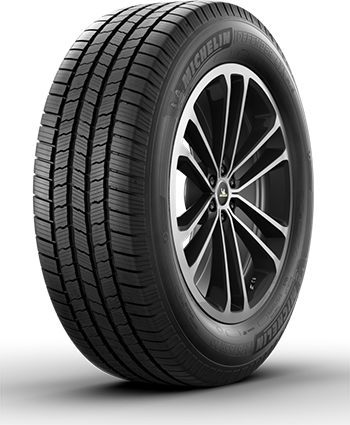 Tire Type
Highway All-Season
Tire Size
15″ – 22″
Weight
23.0 LBS – 60.19 LBS
Load Index
95 – 129
Load Range
C1 – XL
Speed Rating
– H: up to 130 mph
– T: up to 118 mph
Warranty
50,000 – 70,000 miles
Ratings
8.8/10
Fans of highway driving would be pleased with what Michelin Defender LTX M/S could deliver to the table.
This type of tire features Michelin's advanced Evertread compound, with better molds and reinforcements to handle bad conditions and higher speeds. Each active 3D sipe is interlaced with the independent tread block, combining flexibility and stability for a more sensitive response in wet weather conditions.
What we particularly liked was the lateral grooves and huge circumferential channels. Hydroplaning resistance increased its working rate as a result, giving our tires more time to process large amounts of water when we gradually revved up the car's speed on wet highways.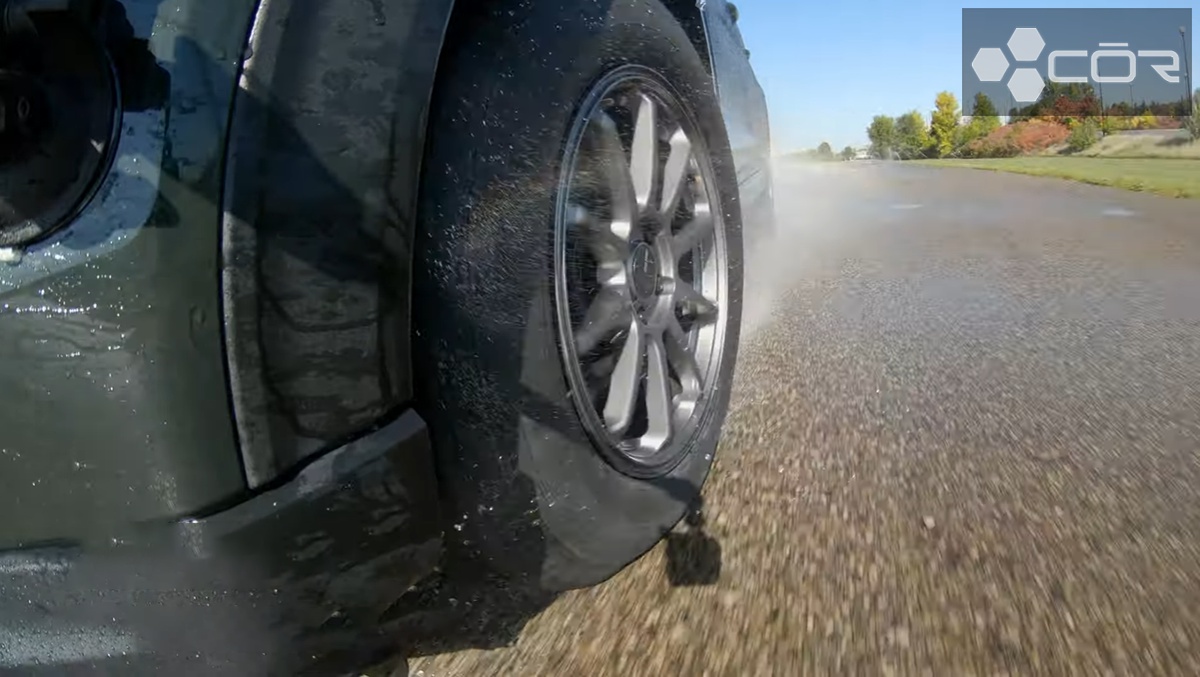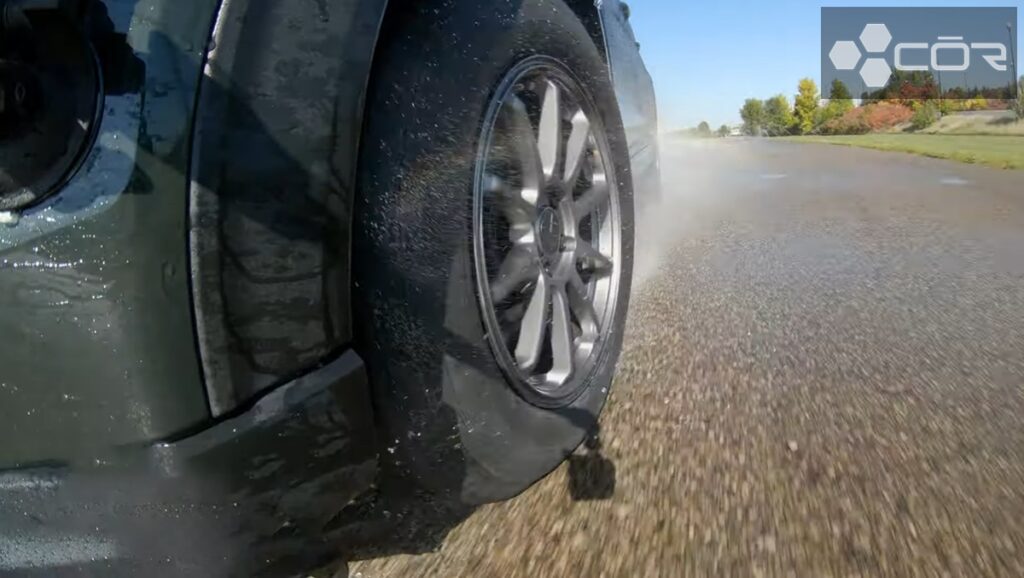 At first, we veered into the safe territory of 45 MPH to test the water before landing on the highways. Acceleration surged slowly until our team passed the 75-MPH mark: there was vague, muted feedback about 2 seconds into the new speed rate, but other than that, the rest was delightful. And as long as we kept it at 55 MPH or thereabouts, there was no sign of hydroplaning lurking around.
The reinforced mold seemed to take very little time to adapt to different highway speeds – and even allowed wider steering arcs without pushing us into danger.
And thanks to the solid, firm ribs, we got into wet intersection corners with less drama than most other all-season tires. Some cornering flexes got in the way during more impromptu endeavors – but since highway corners are generally rounder and wider than regular streets, we treated this slight falter as a non-issue.
Wet tests aside, Michelin Defender LTX M/S also impressed us with its treadwear, showing few signs of changes even after being subjected to varied terrains for several consecutive days. The level of performances on light snow was passable, but we had to tread with much more caution on ice and deeper snow blankets. Using them as winter tires (even temporary) on highways and regular roads alike would be risky.
Works with varied highway speeds and acceleration rates
Stable cornering
Good treadwear life
Extreme ride comfort
Struggling on deeper snow and ice
Occasional flexes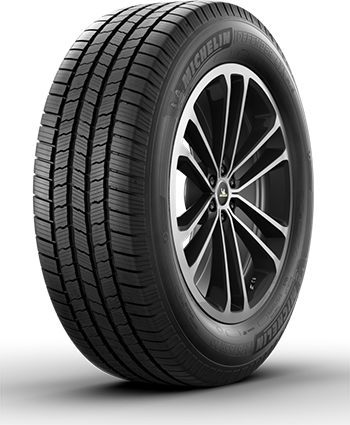 ---
4. Continental CrossContact LX25
Best SUV Tires for Rain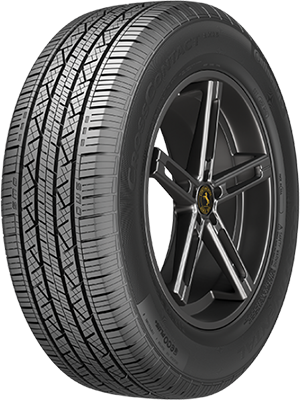 Tire Type
Crossover/SUV Touring All-Season
Tire Size
16″ – 22″
Weight
24.0 LBS – 43.0 LBS
Load Index
95 – 114
Load Range
SL – XL
Speed Rating
– H: up to 130 mph
– V: up to 149 mph
Warranty
65,000 – 70,000
Ratings
8.8/10
Continental, particularly its CrossContact LX25 model, has delivered great test results during the COR wheels tire test and made our list as the best SUV candidate. We tested it on a 2023 Honda Odyssey, and there are numerous features to gauge due to the extra traction demands compared to regular cars.
For starters, there is a Comfort Ride absorption layer placed underneath the tread to smoothen the ride without dampening steering responses. Wide, consistent circumferential ribs take charge of noise reductions, while the open grooves redirect water flow to add excellent hydroplaning resistance.
To seal the deal, diagonal and lateral sipes interlock for extra traction and biting edges on slippery terrains, while the next-gen EcoPlus tech helps reduce the braking distance on wet roads.
They handled our SUV's suspension well and did not seem to lag or weigh down under intense pressure. The Honda literally dug itself into the standing water thanks to the wide-space ribs, grinding forward slowly but surely with no residue water on the side walls.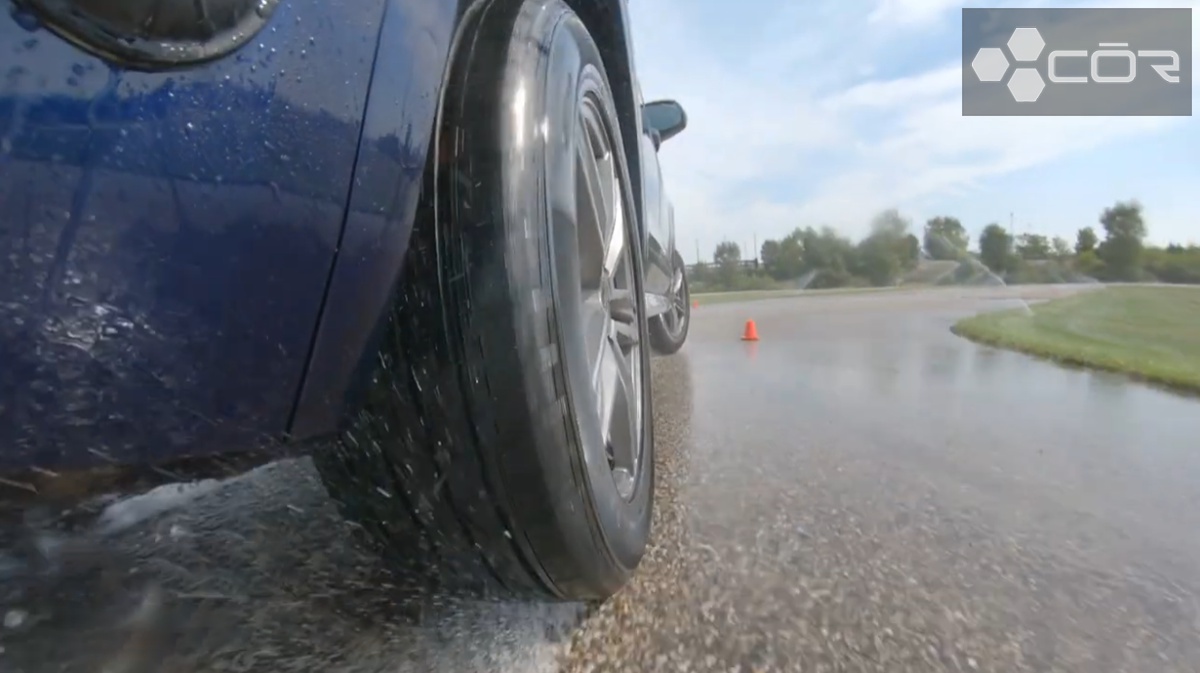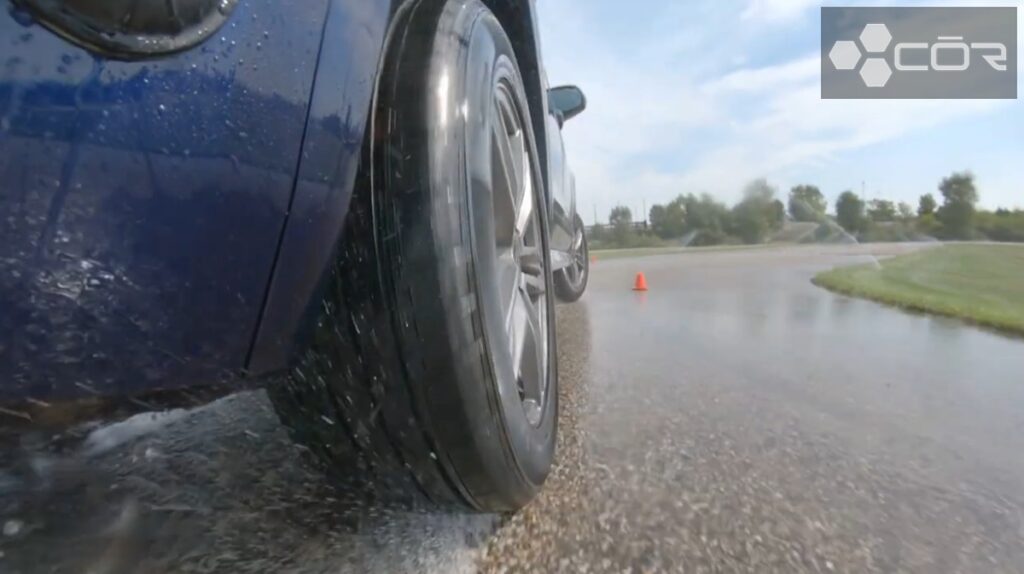 Like with other wet tires, we also played with different acceleration and deceleration endeavors, from gradual and slow to sudden/unannounced. CrossContact LX25 seemed unfazed by these wild experiments, which could deliver stable acceleration from a complete stop on the wet road with only minor delays in between.
Hydroplaning did not occur even when we deliberately switched directions to disrupt its water-flow control, and the Continental tires went on to remove thicker mud and debris from the grooves with the same effortlessness.
At one point, our Honda had to undergo abrupt merging from ramps into wet highways at 70 MPH, and we admittedly braced ourselves for potential slippage. Fortunately, that did not happen; CrossContactLX25 recovered quickly from the initial shock and adeptly adjusted to our new inputs, blending seamlessly with other road vehicles.
But CrossContact LX25 was quite underwhelming in snow conditions. In compensation, its dry-condition traction and ride comfort are top-notched, cementing its position as a perfect choice for year-round SUVs and crossovers from midsize onwards.
Tailored made for midsize SUVs and crossovers
Amazing ride comfort, fairly quiet ride
Good treadwear
Great dry-tarmac traction
Snow traction is far from an exceptional performance
Minor delays from time to time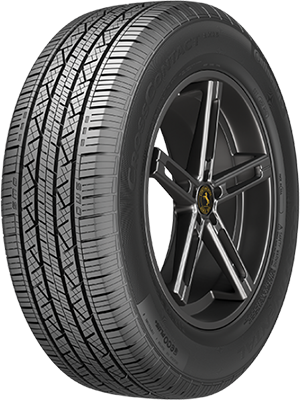 ---
5. Continental TerrainContact H/T
Best For Wet Off-Road Performance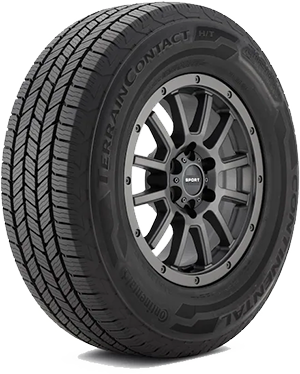 Tire Type
Crossover/SUV Touring All-Season
Tire Size
16″ – 22″
Weight
29.0 LBS – 57.0 LBS
Load Index
99 – 126
Load Range
E1 – XL
Speed Rating
– H: up to 130 mph
– T: up to 118 mph
Warranty
60,000 – 70,000
Ratings
8.6/10
Off-road terrains and all-season tires hardly meet each other halfway, but Continental TerrainContact H/T can get the job done decently even in the rain.
Like some other options on our list, TerrainContact H/T also enjoys lateral notches and circumferential grooves, which work great in aquaplaning resistance. They also share the same interlocking, full-depth sipes observed in the likes of Michelin CrossClimate 2.
But what makes the real difference this time is the extra Traction Grooves, featuring grippy teeth within the grooves and tread blocks to retain exceptional grip and footprint on rugged, gravel roads. Hence, although vibrations still occurred for us on the already-uneven off-road paths, our traction performance remained tight.
The car ground through ruts and rocks with loud cackling sounds, which might have been annoying in other driving conditions but not this one – since they indicate our tire's clear dominance and constant contact with the road. Loose materials like mud and sand failed to throw us off balance, as the strong circumferential grooves flung them off our way in an instant.
At times, the car stumbled upon fallen tree/log obstacles – another typical trait of off-road terrains after violent rainstorms. TerrainContact H/T did give a bit of shake when maneuvering around them but kept its composure nonetheless. With a bit of acceleration to 60-70 MPH and slightly more grinding force on the steering wheel, we got out of the mess safe and unscratched.
On wet roads, the tire shined with its 10-foot shorter stopping distance compared to other tires on our test like Michelin Defender LTX M/S or Vredestein Pinza HT. Though we could feel some secondary movements over some bumps, laps and corners under heavy rain were quick and under control.
Wet off-road capability aside, Continental TerrainContact H/T is also generally satisfactory on dry surfaces thanks to slick, smooth rolls and predictable tire wear. However, snow and ice performance needs improvement – though that is nothing new – and we also think the oversteering tendency could have been toned down a bit more.
Good footholds on off-road terrains (both wet grip and dry grip)
Great hydroplaning resistance
Safe ride; stable maneuverability around obstacles
Good treadwear life and ride comfort
Oversteering tendency (though uncommon)
Underwhelming levels of performance in snow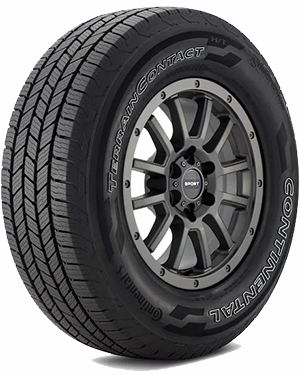 ---
6. Pirelli P7 AS Plus 3
Best for Performance in Wet and Dry Weather Conditions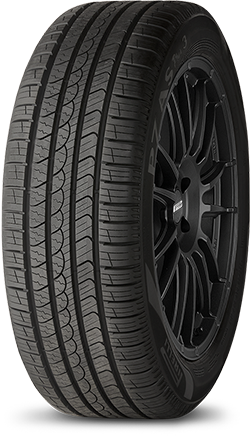 Tire Type
Grand Touring All-Season
Tire Size
17″ – 20″
Weight
19.0 LBS – 30.0 LBS
Load Index
91 – 104
Load Range
SL – XL
Speed Rating
– H: up to 130 mph
– V: up to 149 mph
Warranty
70,000
Ratings
8.8/10
Pirelli P7 AS Plus 3 is a smart investment for people valuing dry- and wet-weather performance alike.
The tire's core features clearly cater to both: a case in point is the asymmetrically-modeled polymer, delivering consistent, excellent grips in all conditions. Pirelli's fans also appreciate the outboard, larger shoulder blocks designed for precise steering, along with balanced sipes/grooves distribution to cut off voice space.
At the same time, the zig-zag, deep central sipes are intertwined to offer more powerful bites. On both dry and damp roads, their power deliveries came through for our car, as the circumferential grooves were wide enough to whisk off debris and rainwater at the same speed rates.
Our steering inputs sank in instantly and delivered prompt responses in all weather ranges – and except for harmless, minor rolling resistance when encountering deep water zones, AS Plus 3 plowed through with a striking level of confidence and little stuttering.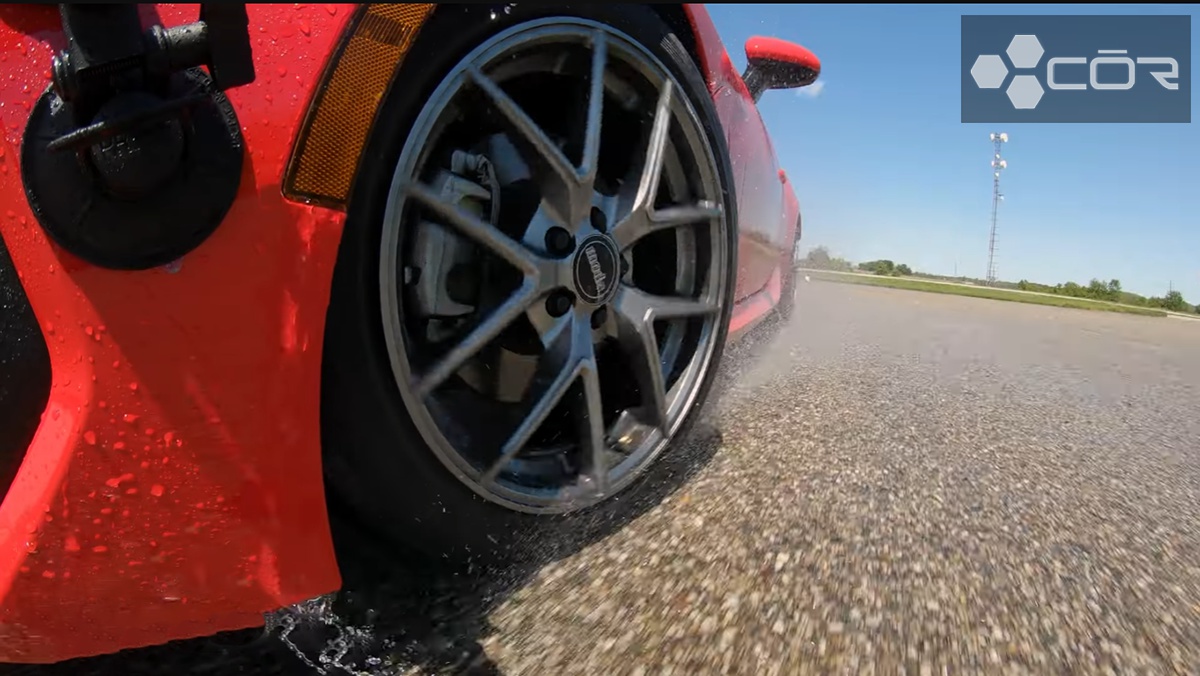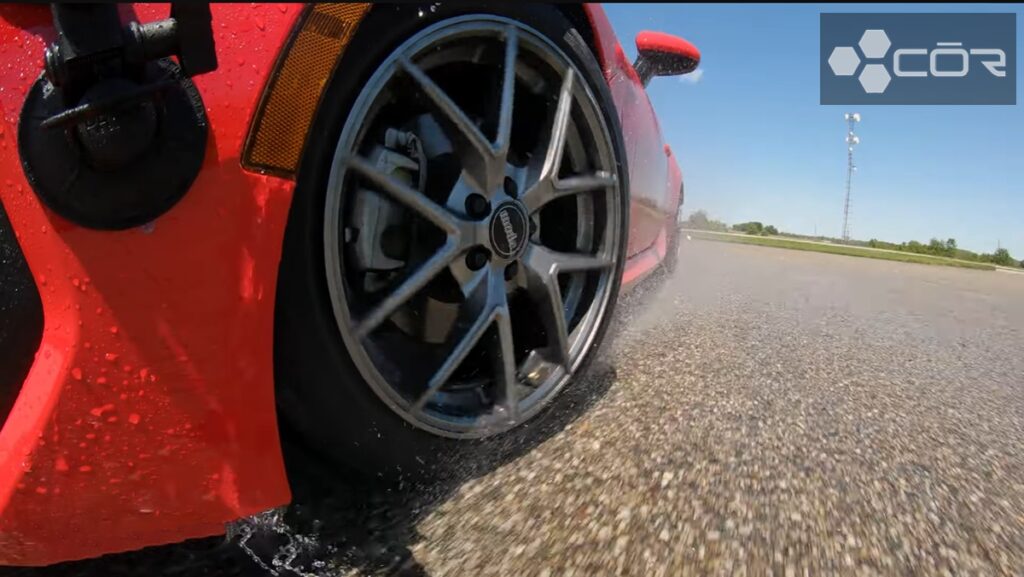 Corner stabilities were also persistent, remaining relatively unchanged even when we veered our car from dry patches into wetter sections. Their center ribs were a good balanced performance between flex and stability, keeping us from the common shocks often associated with abrupt terrain changes.
Hence, we allowed ourselves to ramp up the car from 50 MPH straight to 70 MPH through the wet-dry boundaries: the ride did not suffer from any significant falter, rebounding quickly from its tremors to carry on as if the changes had not happened.
To put things in perspective, our team concluded the test ride by negotiating wet hairpin turns on an otherwise dry mountainous road; the same consistency and sure-footed feel continued there, too.
On the other hand, the transition to deep snow and icy roads did not go as smoothly; we slipped more than once even with assistance from snow chains. Fortunately, snow performances were among the only few qualities AS Plus 3 needs to improve, making this model a wise investment for long-term usage.
Good dry-wet transitions
Great footholds and stability
Quiet, comfortable ride
Exceptional treadwear
Uncomfortable (and even downright dangerous) on snow and ice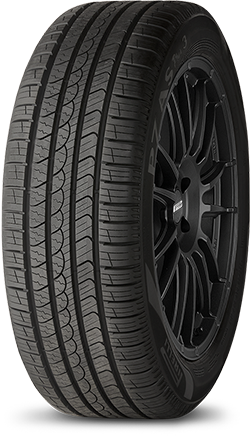 ---
7. Continental ExtremeContact DWS 06 Plus
Best for Dry & Wet Performance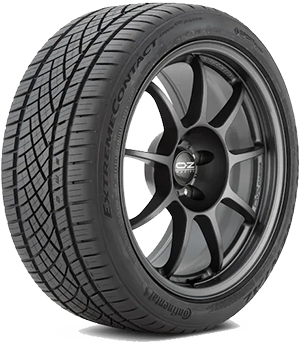 Tire Type
Ultra High Performance All-Season
Tire Size
16″ – 22″
Weight
19.0 LBS – 36.0 LBS
Load Index
83 – 114
Load Range
SL – XL
Speed Rating
– W: up to 168 mph
– Y: up to 186 mph
Warranty
50,000
Ratings
8.5/10
Another excellent choice in dry-wet performance is ExtremeContact DWS 06 Plus from Continental.
Unlike some other Continental predecessors, DWS 06 Plus features higher circumferential groove angles to evacuate water even faster. The 3D sipes return for extra biting edges, aided by X-sipes to improve longitudinal and lateral grips at the same time, especially in inclement conditions.
Wrapping up the packages is the intricate yet well-thought combination of chamfered block edges and macro-blocks which offers more cornering and steering response. This design proved practical for us on post-rain terrains, as the surface was now laced with both heavily wet and dry patches.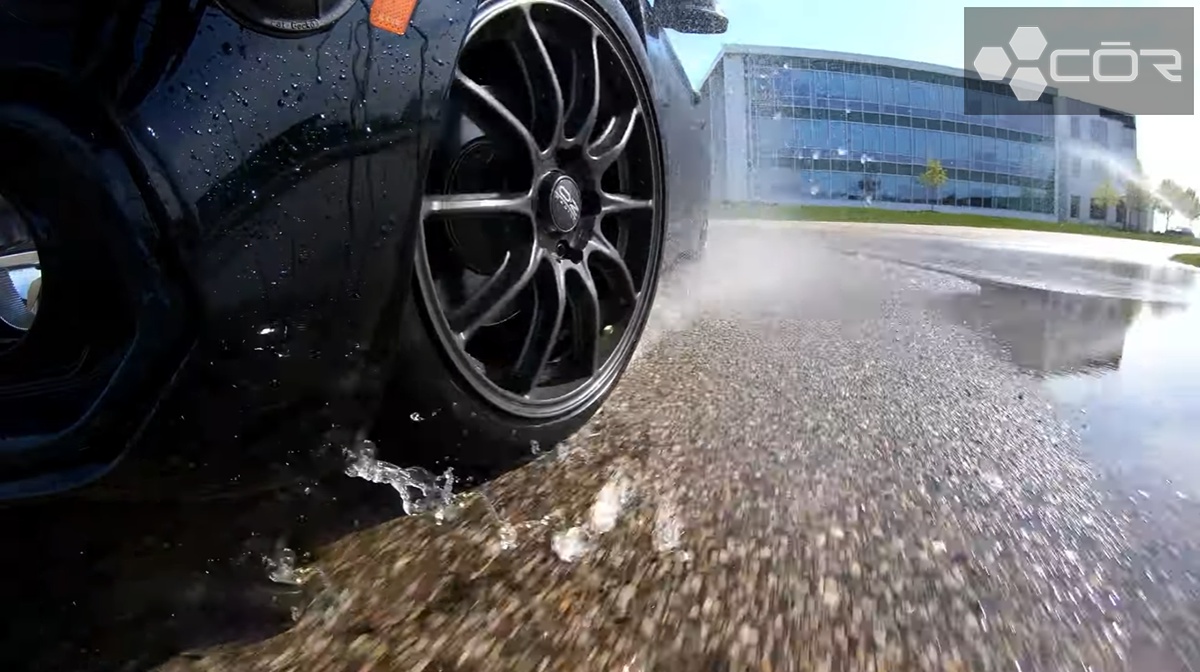 Our car found its way through both easily, wasting little to no time adjusting to the call of our steering wheel. Tire compounds and rubbers retained their capable grip despite the constant texture changes, and we could literally feel the slight rebounds and thuds swallowed down under the lateral/circumferential grooves.
Acceleration and traction maintenance on wet uphill slopes were as breezy as on regular roads. We started at about 30 MPH at the hill's bottom and maxed out at 75 MPH mid-way; during the process, drags were only prominent at the beginning before vanishing completely after 10 minutes into the ascent.
Better yet, despite being in a much more compromising position than our previous experiments, the car reacted the same to the inconsistent dry-wet patches, and moments of panic startle/ stalls were only few and far between.
Still, keep in mind the tire's drawbacks in other aspects: its ice traction is one of the worst among the premium tire types we have tested, and the tread life leaves much to be desired. Consider how much these downsides impact your trip before spending money.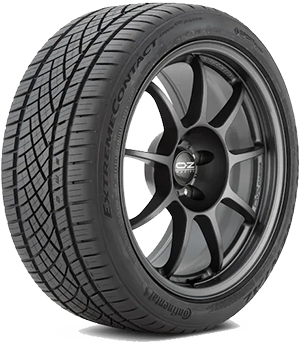 Sure-footed tire; reacting well to dry-wet transition
Decent ride comfort
Good corner stability
d
Pose much more ice danger than other grand-touring tires
Lackluster treadwear rates
Rumbling tire noise levels
---
8. Vredestein Quatrac Pro
Best For All-Weather Performance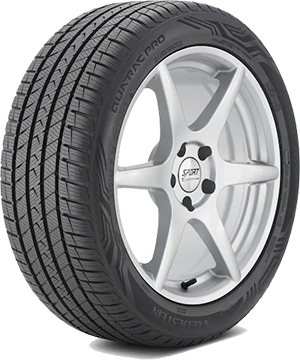 | | |
| --- | --- |
| Tire Type | Grand Touring All-Season |
| Tire Size | 17″ – 21″ |
| Weight | 23.5 – 32.5 lbs |
| Load Index | 91 – 103 |
| Load Range | H – XL |
| Speed Rating | V – W |
| Warranty | 40,000 miles |
| Ratings | 8.5/10 |
Thanks to its inclusive longitudinal traction, Vredestein Quatrac Pro can work well for drivers living in moderate-climate weather all year round.
The first ribs and outboard shoulders are among Quatrac Pro's most notable highlights, offering stiff, large tread blocks and lower void ratios than some older siblings.
These features are aided by lateral notches and circumferential grooves to distribute and redirect slush/water better from contact patches. At the same time, the high-density zigzag sipes add more biting edges.
Given favorable weather, the tire's high-silica experienced no difficulties adjusting to the ambient temperature. We tested Quatrac Pro's wet traction consistently within Florida's daily fluctuating average temp (72 to 91°F), and it did not show any worrying signal of carving, bending, or giving up under the added heat.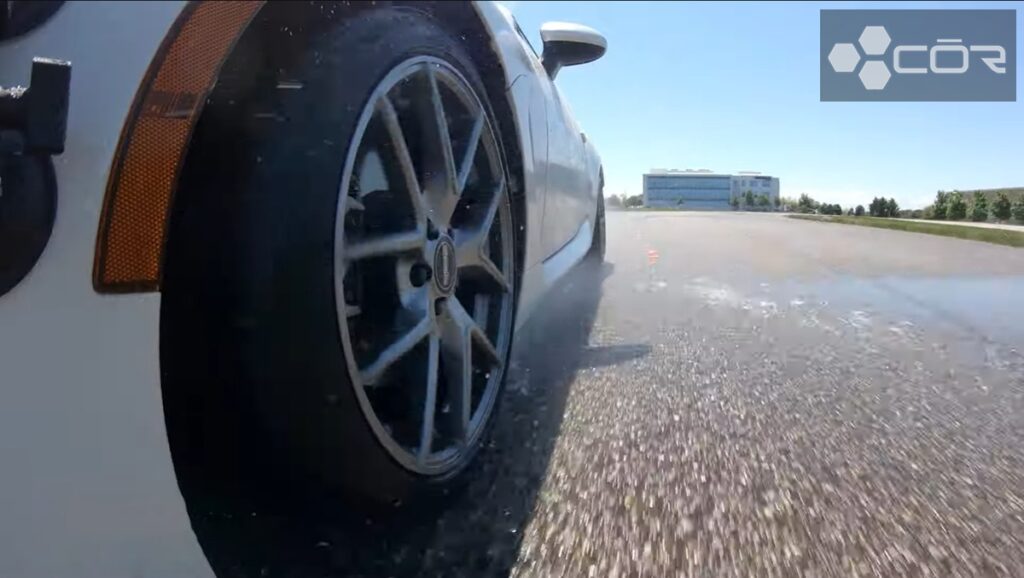 Our January test delivered more or less the same results. Quatrac familiarized itself pretty fast with the constant temperature changes (between 57 and 70°F) thanks to the responsive silica and resin, keeping us from unexpected stalls or freezes during particularly temp-unstable days.
Hence, inputting new steering demands stopped being a risky endeavor for us just 5 minutes or so into the ride; the car even allowed impromptu acceleration (30 MPH to 80 MPH) and deceleration (80 MPH to 0) with relative ease.
Furthermore, due to the stiff, stable tread blocks, hydroplaning resistance rarely wavered regardless of which weather and temp it was put under; as a result, violent jostles or slippages were not really a threat for all of us.
Labeled as a 3PMSF tire, Vredestein Quatrac Pro's performance on light snow surpassed other all-season M/S tires but was not so stellar that you could trust on thick snow and ice. Certain parts of the tire sidewalls were made softer to lend more comfort quality, which explains why its treadwear rate and durability are far from the best. Consider buying Quatrac Pro if you do not mind constant tread/tire replacement.
Cope well with fluctuating summer/winter conditions.
Excellent traction on dry/wet roads and in heavy rain
Fantastic level of ride comfort
d
Underperforming in deep snow
Substandard treadwear
Low cornering tread noises
---
9. Michelin Pilot Sport All Season 4
Best For Daily Driving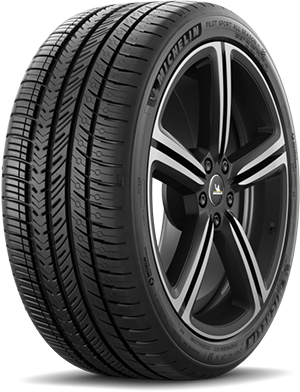 Tire Type
Ultra High Performance All-Season
Tire Size
16″ – 22″
Weight
19.29 LBS – 38.69 LBS
Load Index
84 – 114
Load Range
SL – XL
Speed Rating
– V: up to 149 mph
– Y: up to 186 mph
Warranty
30,000 – 45,000
Ratings
8.4/10
Not everyone fancies premium features for regular, good-condition driving; if that is your case, models like Michelin Pilot Sport All Season 4 will suffice.
For instance, there are huge rain grooves combined with circumferential slits to create power channels for heavy water evacuation. Meanwhile, sunflower oil is extracted for the coated Helio Technology, smoothing the rubber's muscles so that they cope better with lower temperatures.
As a result, both dry and wet traction on well-built, consistently-textured roads felt feathery for our team; the steering response was so sharply responsive that we even had to tone down our control arcs to avoid over-pushing the car.
Rolling through small cracks or bumps was also a breeze for us since the cushioned blocks swallowed them down neatly, and low noises only occurred at unexpected turns or corners.
Likewise, risk of hydroplaning was a non-issue. The tire's oily center rib did bend a few times in extremely deep water – but considering that deep water is not very common in daily driving, we did not treat it as a drawback.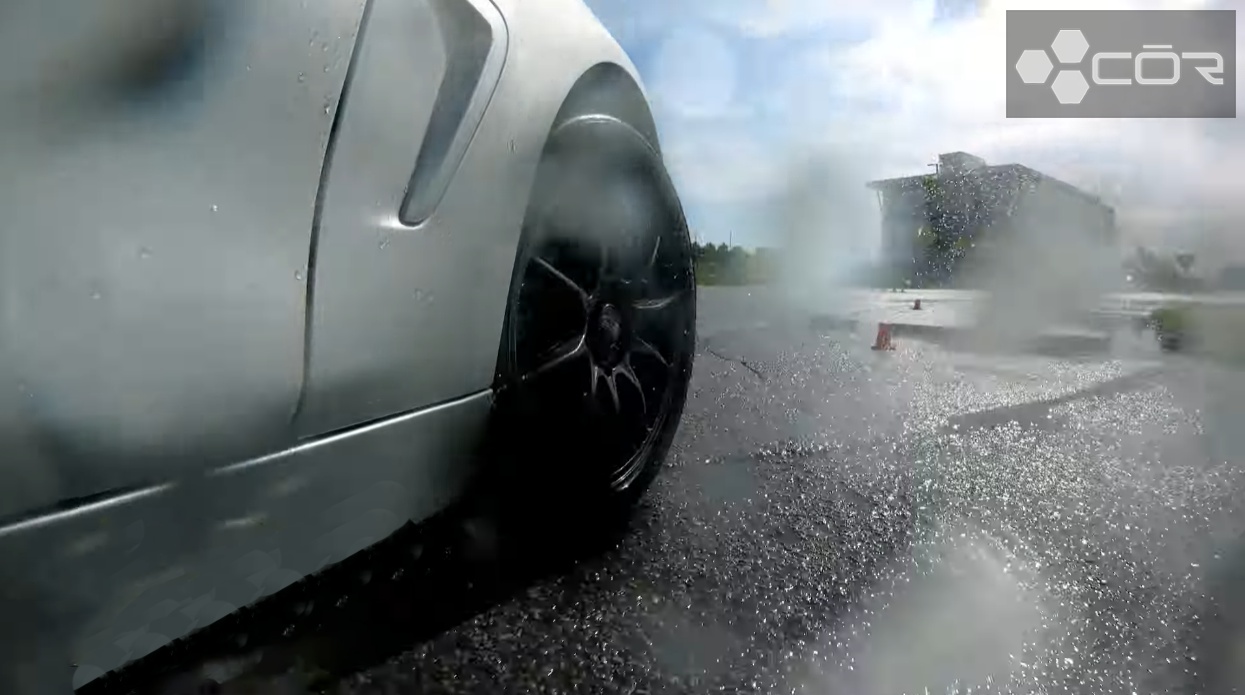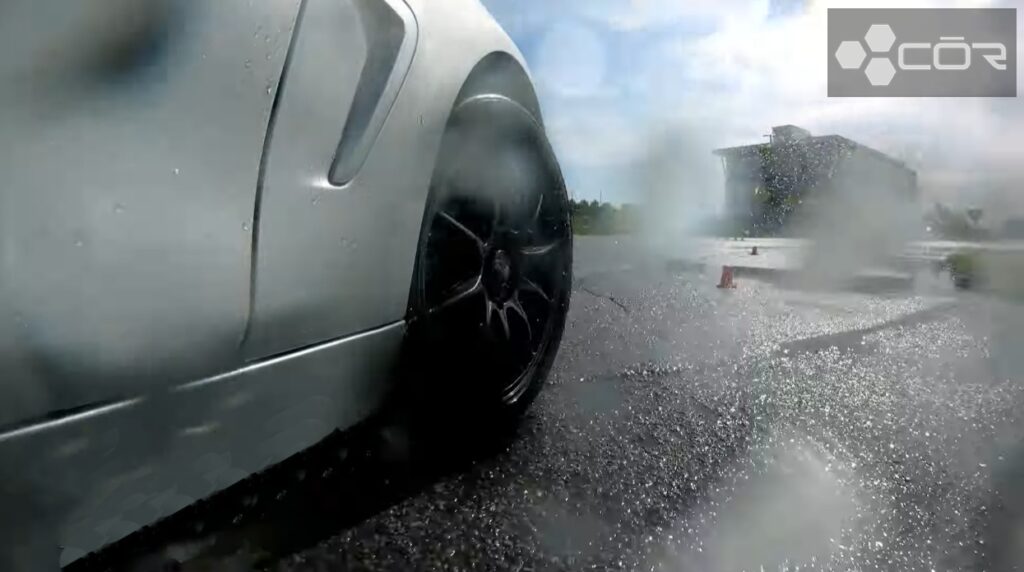 Slits and grooves also received very few complaints from our team thanks to their good evacuation rates; under favorable temp, they could even tackle mud and thick debris for us as easily as any other higher-performance alternatives.
Note that "daily driving" mentioned here does not apply to thick snow and ice. Michelin All Season 4 could still handle snow below 5 inches but stepped into dangerous zones at anything beyond that; in fact, its ice traction ranked last on this list. Tread wear is also so-so, just enough for a regular, cheaper tire.
Great performance on regular, well-paved roads
Good steering response and corner stability under favorable weather
Decent ride comfort
Efficient hydroplaning resistance
Perform very badly on deep snow, ice, or any other tough conditions
Not durable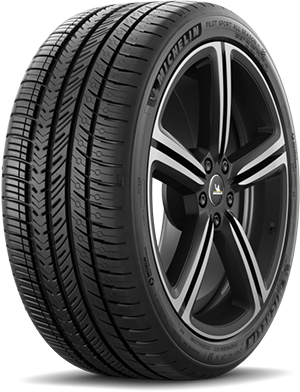 ---
10. Bridgestone Alenza AS Ultra
Best For Tread Life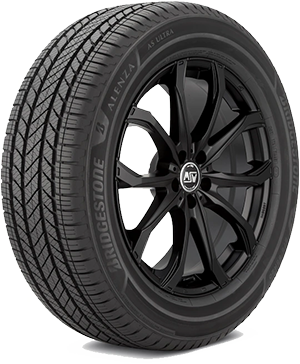 Tire Type
Crossover/SUV Touring All-Season
Tire Size
16″ – 22″
Weight
25.0 LBS – 42.0 LBS
Load Index
99 – 116
Load Range
SL – XL
Speed Rating
– H: up to 130 mph
– W: up to 168 mph
Warranty
80,000
Ratings
8.5/10
Although other tires have better tread metrics, they tend to deteriorate faster when facing wet, slippery road surfaces. Unlike them, Bridgestone Alenza AS Ultra holds itself much better here.
The tire uses premium, high-silica compounds in asymmetric tread patterns, whose sturdy layers could even dampen road noises. Interlocking snow vices and sips add tons of wet-weather grip and protective barriers to the tread, too.
But what we like best is the open-ended grooves, built so well that water was whisked away before it could sink any further into our tread areas. That is why our rides could carry on for two consecutive days under heavy rainfall without serious signals of tear and wear.
We even swapped the new Bridgestone Alenza AS tire with a slightly worn one (below 8/32) to see whether the remaining treads would be shredded faster – and to our delight, its wear rate remained the same.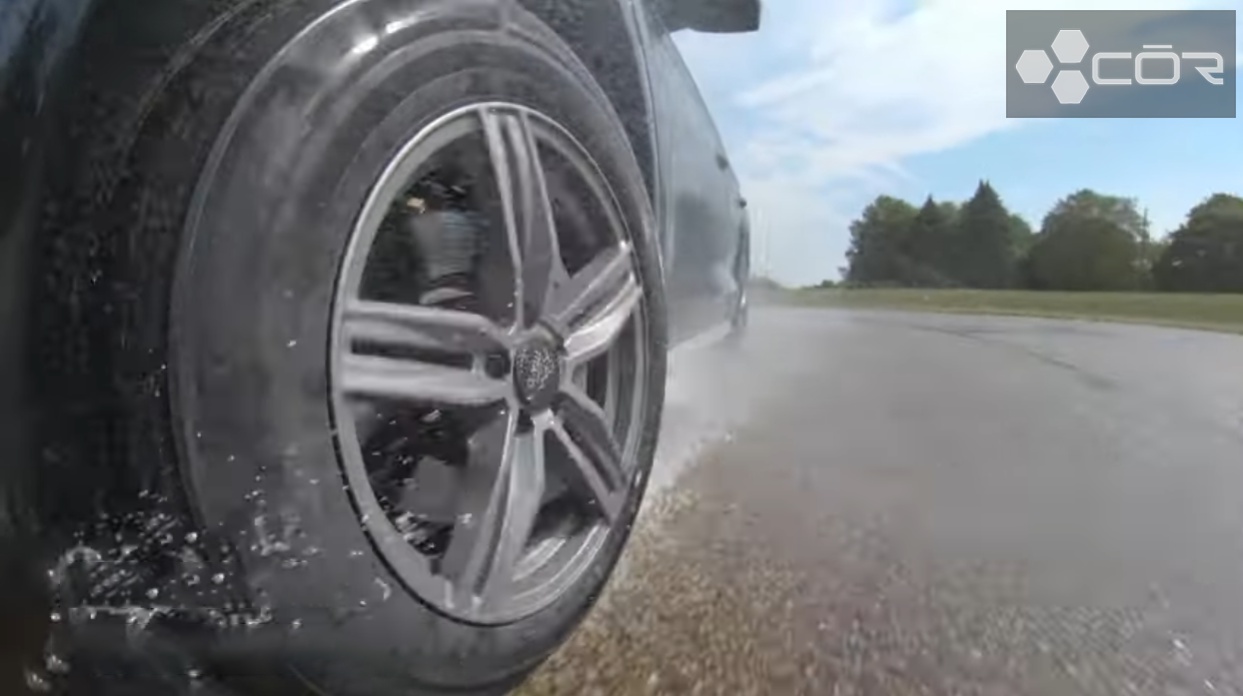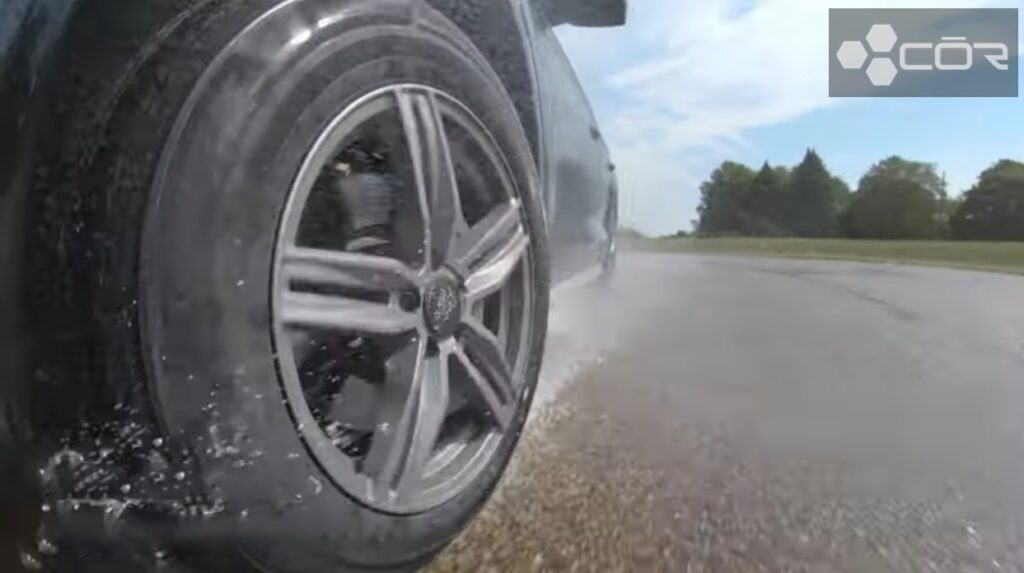 The best part of all: the brand issued an 80,000-mile treadwear warranty to ensure worry-free operation, far exceeding other treadwear mileage warranty policies for more popular tires. Thus, despite not having the best treadwear ratings on the list, Bridgestone Alenza AS remains a superior, budget-saving choice when it comes to durability.
If there is one thing we would like to improve, it's the ride comfort. Bridgestone Alenza AS brings much more noise and minor bumps than expected, which might bother sensitive drivers.
Good treadwear rates on wet surfaces
Very generous mileage warranty (80,000 miles)
Stability in rainy weather
Can handle light snow traction
Subpar deep snow/ice traction
Not the quietest tires; lots of noises and minor bumps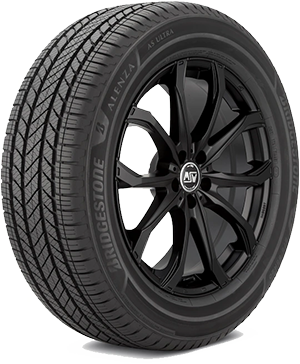 How To Choose The Best, Most Comfortable Tire for Rain?
Aside from our above review, here are a few other factors to keep in mind during tire purchase:
Tread design: Which tread pattern works best is up to your preference and driving habit. But regardless of your style, always look for tread patterns with deep grooves and channels to prevent poor aquaplaning resistance/disperse water.
Advanced tread compound: Softer compounds are grippier and more responsive on slippery surfaces, but suffer from durability trade-offs. Harder rubbers, on the contrary, provide less traction but last longer. Choose one that aligns best with your priority.
Load index: This rating indicates the maximum weight the tire can carry. Bigger vehicles (say, SUVs or crossovers) definitely need a higher-index choice of tire.
Speed ratings: Frequent driving on highways often go hand in hand with higher speed ratings. The less challenging your driving terrain is, the lower the speed rating you will need.
Conclusion
Michelin Cross Climate 2 is our ultimate pick for its unmatched, consistent and powerful delivery in rainy conditions. And wet driving aside, even its dry and winter traction is on top compared to other competitors.
The other nine high-performance tires are still worth a second look, though, introducing standout features in treadwear, driving compatibility, and overall performance that suits smaller rain-rating niches. Consider their pros, cons, and range of prices carefully before settling on the well-fitted rain tires.
Here is the summary of the 10 best tires for rain in the 2023 COR Wheels Tire Test:
| Tire Brand & Model | | | | | | | | | | | |
| --- | --- | --- | --- | --- | --- | --- | --- | --- | --- | --- | --- |
| Michelin CrossClimate2 | 1st | 8.9 | 9.2 | 8.3 | 9.2 | 9.2 | 8.6 | 8.7 | 9 | 8.5 | 8.9 |
| Bridgestone WeatherPeak | 2nd | 8.9 | 9.1 | 9.1 | 9.1 | 9 | 8.9 | 8.8 | 8.9 | 8.5 | 8.8 |
| Michelin Defender LTX M/S | 3rd | 8.9 | 9 | 9 | 9 | 9.2 | 8.2 | 9 | 9.1 | 8.9 | 8.9 |
| Continental CrossContact LX25 | 4th | 8.9 | 9 | 9 | 8.9 | 9.1 | 8.2 | 8.8 | 9 | 8.7 | 9 |
| Continental TerrainContact H/T | 5th | 8.9 | 9 | 9 | 9 | 9.1 | 8 | 8.9 | 8.8 | 8.9 | 8.8 |
| Pirelli P7 AS Plus 3 | 6th | 8.8 | 8.9 | 8.9 | 8.9 | 9.1 | 8.1 | 8.9 | 9.1 | 8.7 | 8.9 |
| Continental ExtremeContact DWS 06 Plus | 7th | 8.7 | 8.9 | 8.9 | 8.8 | 9.1 | 7.4 | 8.7 | 8.8 | 8.5 | 8.4 |
| Vredestein Quatrac Pro | 8th | 8.7 | 8.9 | 8.9 | 8.8 | 9 | 8 | 8.7 | 8.9 | 8.5 | 8.1 |
| Michelin Pilot Sport All Season 4 | 9th | 8.6 | 8.9 | 8.9 | 8.9 | 9.1 | 7.2 | 8.6 | 8.7 | 8.5 | 8.3 |
| Bridgestone Alenza AS Ultra | 10th | 8.6 | 8.9 | 8.9 | 8.8 | 9 | 7.8 | 8.3 | 8.5 | 8.1 | 8.4 |
---
President & Automotive Expert at COR Wheels
Robert Herrera has been with COR Wheels for 17 years and has a great passion for the automotive industry. During his time at COR Wheels, he has driven and test-driven a variety of vehicles.
---