The Toyota Camry is undoubtedly a crowd-pleaser for extended family trips and smooth daily driving. Nevertheless, like most Toyota models, the car has certain requirements about its type of tires – something drivers of all levels should bear in mind to ensure a stable driving experience.
Our COR Wheels team has conducted real-life evaluations to identify the top ten best tires for a Toyota Camry. Scroll through our discussions to learn which areas make them stand out.
In this article:
A. How to Choose The Best Tires for A Toyota Camry
1. Understanding The Toyota Camry
Toyota Camry is a family sedan designed for daily transportation, accommodating up to 5 passengers. It's suitable for extended road trips and everyday commuting, which requires you to seek compatible tires that can offer great year-round lateral grip without sacrificing ride quality.
Aside from regular streets, Camry can handle more agile steering and cornering on rougher summer terrains or highways as well; you can aim for performance-focused tires with large shoulders and stable/flexible ribs to prevent burnout symptoms or long delays at high speeds.
Most Toyota Camry models come with an AWD (all-wheel-drive system), usually known for their decent capability in snow or light off-roading conditions. However, due to the Camry's limited ground clearance, true off-roading is not recommended; you should only pair them with tires that have extra biting edges on snow (usually labeled as 3PMSF) and avoid off-roading/all-terrain tires during your tire purchase.
As a sedan for families, the Camry offers ample space and cozy interiors for luggage, groceries, or cargo (with a payload capacity ranging from 925 to 1100 pounds); remember to pick tires with a load index rating of at least 77 if you frequently carry heavy loads during long trips.
2. Choose The Right Type of Tire for Your Toyota Camry
a. Touring All-Season Tires
If you prefer consistent traction and smooth riding across all-year weather, these touring tires will be the most reliable options for you.
You can opt for Standard models if the car mostly engages in casual, light rides (and they are also among the cheapest in the market). However, for higher demands in steering and cornering without sacrificing riding quality, you may consider Grand touring tires instead.
b. Performance Tires
Performance tires will take your handling to a new level with stronger constructions and reinforcing ribs, ensuring you can experiment with extremely spirited driving dynamics, accelerations, and complex steering techniques.
Choose Max performance summer tires if these high demands mostly apply to your summer rides and not so much in other seasons. Note that they tend to be quite expensive and not meant for year-round usage.
Meanwhile, Ultra-high-performance tires will offer a good balance between performance and comfort for you across all weather and seasons. Tires of different price ranges provide different degrees of snow traction, noise levels, or riding comfort, so set your budget wisely. 
c. Winter Tires:
As the name suggests, winter tires are usually tailored exclusively to harsh winter conditions. Still, some reputed tire manufacturers do produce premium winter tire options with reliable/great summer traction – a truly versatile option if you do not want to switch tires for every seasonal usage. 
B. How Did We Pick and Test High-Quality Tires for The Toyota Camry
After eliminating low-quality contenders from our lists of 196 best-selling tires, we installed the remaining ones (in their 205/65R16 tire size version) on our Toyota Camry 2022 Hybrid LE model for Summer and Winter evaluations (Note that we exclude Max Performance Summer tires from Winter assessments automatically).
Our team members then compared the test scores and cross-referenced them with consumer reports, establishing a full chart of the top ten all-around performers.
C. Best All-Weather Tires for Toyota Camry
1. Michelin CrossClimate2
Best uses: spirited on-road driving, deep water, dry and wet corners, superior traction on snow, long-term usages, high-speed endeavors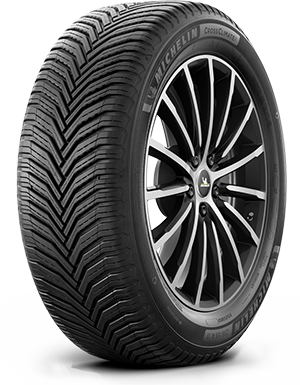 Tire Type
Grand Touring All-Season
Tire Size
16″ – 22″
Weight
20.99 LBS – 36.55 LBS
Load Index
91 – 114
Load Range
SL – XL
Speed Rating
– H: up to 130 mph
– V: up to 149 mph
Warranty
60,000 miles
Ratings
8.9/10