Even the best truck tire brands cannot guarantee 100% high-quality production for all their models, hence the inconsistent performance efficiency among many tires of the same generation.
To confirm that each tire delivers the same promised power delivery as their advertisements claimed, our COR Wheels team has conducted stringent real-life tests to settle on the 10 best options on the market. Scroll through our article for a more detailed discussion.
In this article:
How Did We Test & Pick The Best Truck Tires?
As part of the 2023 COR Wheels Tire Test, our team has brought 35 best-seller truck tires into our Summer (June-July) and Winter evaluations. Each tire was assessed and scored based on six criteria:
Winter/Snow Performance
Dry Performance
Wet Performance
Comfort
Treadwear
Price
Once confirming our negotiated scores were 90% consistent with customers' gathered feedback, we released a full ranking chart that lends a more detailed overview of how each tire in the 35-contender lineup performs against each other. Ten models with the highest overall scores were picked out to be included in this article.
Top 10 Best Truck Tires 2023
---
1. Michelin Defender LTX M/S
Best Light Truck Tire for Highways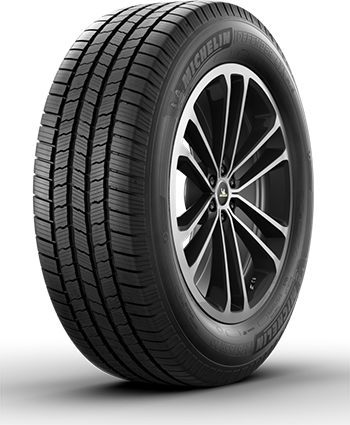 Tire Type
Highway All-Season
Tire Size
15″ – 22″
Weight
23.0 LBS – 60.19 LBS
Load Index
95 – 129
Load Range
C1 – XL
Speed Rating
– H: up to 130 mph
– T: up to 118 mph
Warranty
50,000 – 70,000 miles
Ratings
8.8/10
Michelin Defender LTX M/S is a tough component to beat on highways, featuring the classic Evertread compound with extra upgrades to withstand tougher surfaces in extended periods. These compounds are symmetrically molded, aided by stable tread blocks and dense 3D sipes for better dry traction and stability in harsh weather.
At the same time, the multiple shoulder slots, lateral grooves, and circumferential channels whisk water off the contact patch to improve stopping performance and wet-road traction. Sealing the deal is the MaxTouch Construction, evenly distributing forces to promote longer wear.
All these features translate excellently on highways; our spirited start at 55 MPH and roughly 500 lbs of cargo already felt breezy on asphalt highway roads with occasional chips. The dense sipes did a spectacular job finding established contact points to strengthen LTX M/S's stability; hence the little to no traction changes when we entered more inconsistent textured patches. You will find accelerations (both gradual and abrupt) to be equally effortless, adapting well to new steering inputs and directional skid corrections.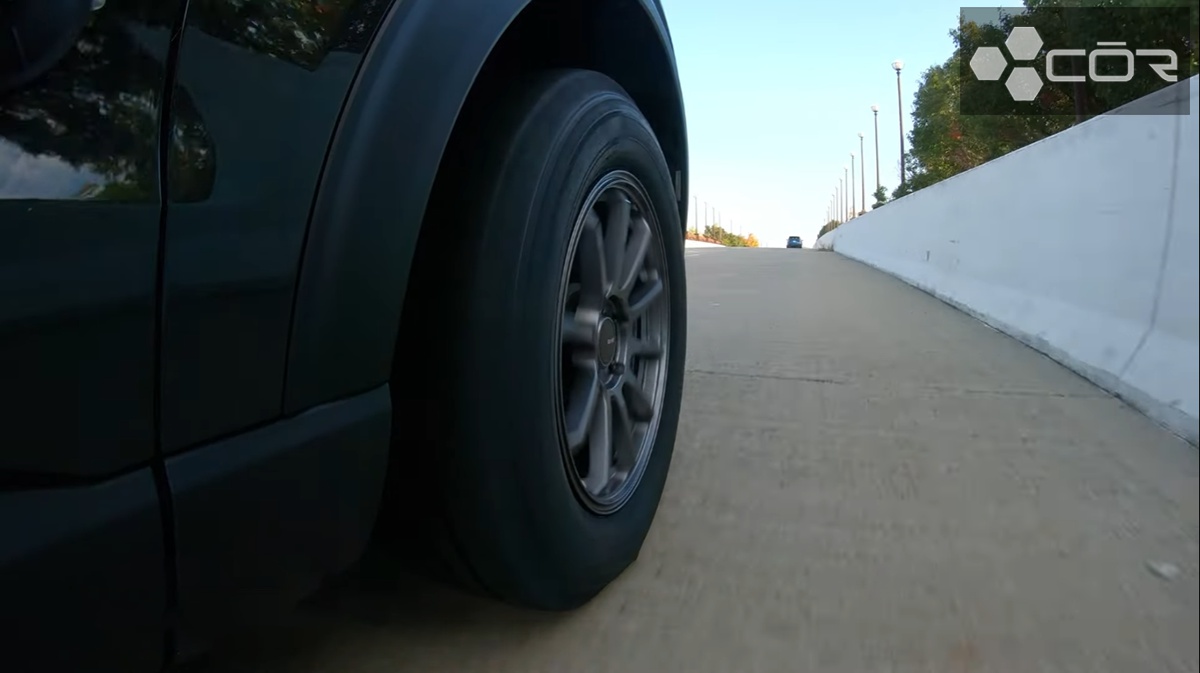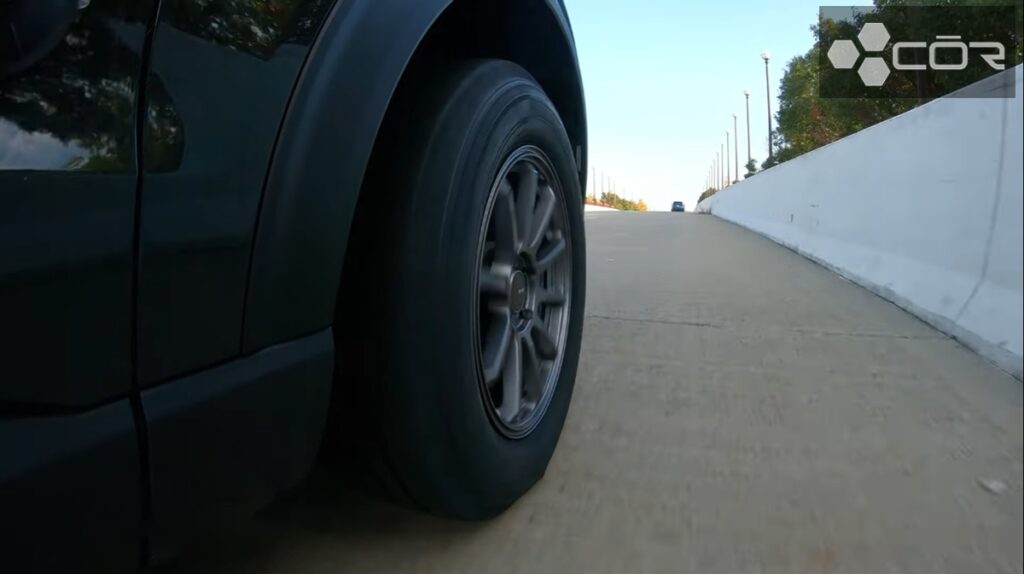 Rainy seasons are the last thing to stop LTX M/S from its powerful strikes. Hydroplaning and drifting were kept well under control at below 55 MPH; unless some truly unexpected roadblocks intrude mid-way, you will unlikely lose on-center stability when diving in wide- and low-radius corners. Speed accelerations needed more careful insertions during wet S-curves but were totally doable; if you are a fan of more dynamic veering, feel free to indulge in more adventurous leans without minding accidental over-reactions.
As a highway tire, LTX M/S is not the brightest star on off-road terrains. However, its capability remained pretty decent – especially on off-road rutted dirt trails – thanks to the powerful lateral grooves and shoulder slots that distributed dirt density well under the patch. The lack of sharpness felt more pronounced as we transitioned to sand dunes and rock paths, but drifting symptoms are thankfully still in control if you know to slow down a little on more slippery sections.
It is the slightly lackluster mud grip that you have to look out for. We could still maintain basic road handling on drier sections (with more soil than mud water) but failed to choke out proper steering response during most other attempts.
Excellent highway confidence in both dry and wet weather
Great off-road dirt handling for a highway tire
Satisfying riding comfort
Long treadwear warranty (50k-70k miles)
Slippery on wet mud trails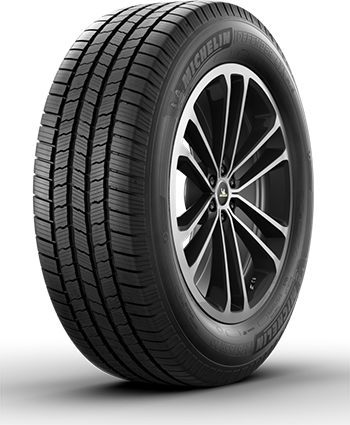 ---
2. Continental CrossContact LX25
Best All-Season Truck Tire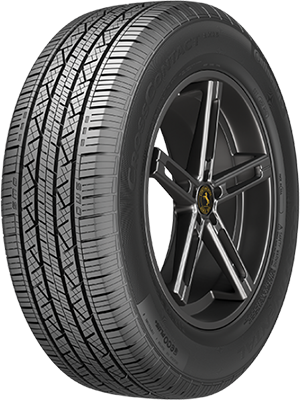 Tire Type
Crossover/SUV Touring All-Season
Tire Size
16″ – 22″
Weight
24.0 LBS – 43.0 LBS
Load Index
95 – 114
Load Range
SL – XL
Speed Rating
– H: up to 130 mph
– V: up to 149 mph
Warranty
65,000 – 70,000
Ratings
8.8/10
All-season drivers will find the CrossContact LX25 model from Continental to be the best option out of the bunch.
At first glance, the tire already stands out with its modern EcoPlus+ Tech compound, symmetrically molded to work better with the underneath absorption layer for smoother riding and better steering response. Its continuous circumferential rib reduces airborne noises and delivers crisper handling, while the circumferential grooves evacuate water to resist hydroplaning issues.
There are also the capable diagonal and lateral sipes that provide more bites on slippery surfaces, supported by Traction Grooves and biting teeth to cage snow and dirt better.
We had little doubt about CrossContact LX25's power bites on dry summer roads. Traction losses were not exactly 100% absent but well-controlled, trampled down so quickly under the tread that you may as well consider them non-existent. Speed accelerations were not an issue at all, allowing us to fluctuate in clean cuts between two extremes (35 and 65 MPH) with little to no drama. And given the impressive continuous rib (one of the best on the list), you will likely retain the same confidence toward hairpins or carousel corners.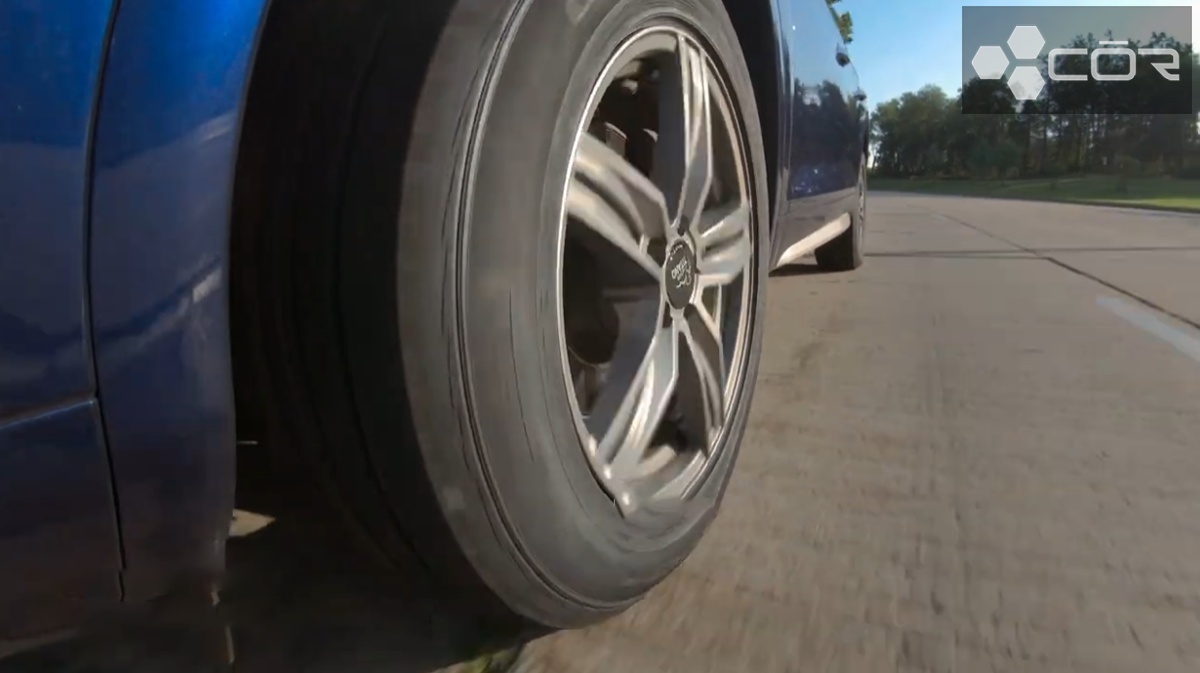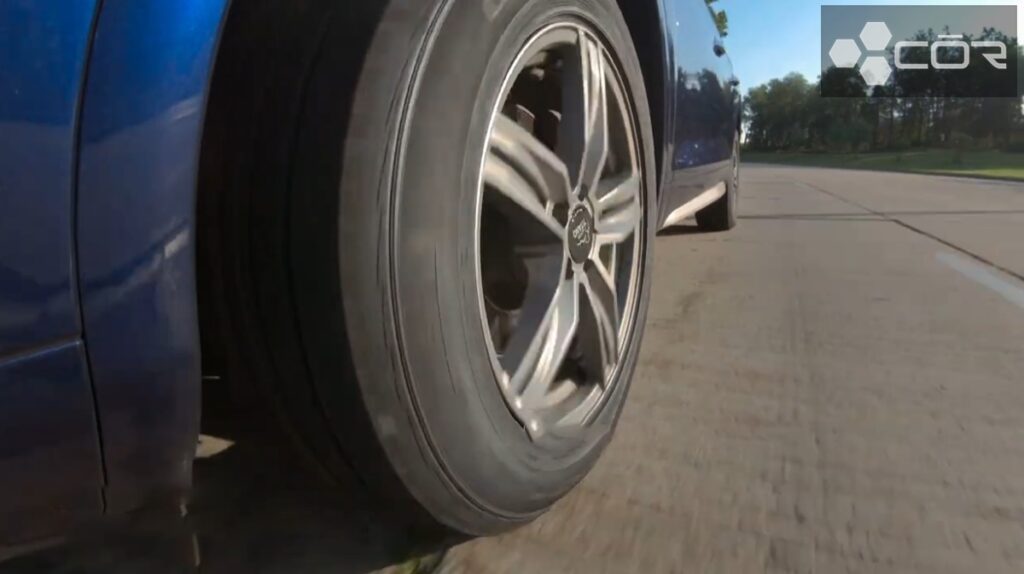 Hydroplaning started to occur a bit frequently as our truck tittered on 5 inches of stagnant water and beyond. Still, you should not worry too much: the well-placed circumferential grooves of CrossContact LX25 took care of the hardest part and spread out rainwater into thin, faint layers that barely left a drag on the tire's tread. Symptoms of burnout stalls after extended driving were also low-key enough to retain effortless 55-MPH strikes even around corners, so you do not need to slow down for safety reasons.
Winter performances are also a huge delight. While you might observe more pronounced stumbles on deep snow beyond 5 inches than on light snow, the same controlled composure on wet snowless terrains carried most of its edges to these roads, ensuring speed changes were still possible for us in emergency veerings or urgent corner exits.
Icy roads tripped the truck around turns and curves, but that was it – nothing truly dangerous. Just apply the accelerator pedals more strategically if you intend to get near highway speeds, and stay away from tricky corners to reduce the risks of slipping on glazed ice.
Great handling of dry-road surfaces
Decent snow performance
Rideable on straight icy roads
Hydroplaning in water above 5 inches
Might struggle with tricky corners and glazed ice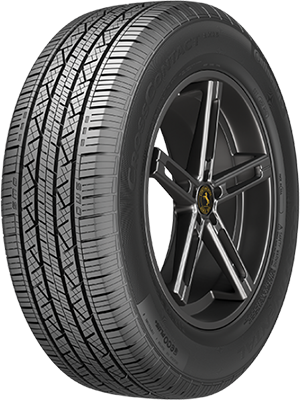 ---
3. Cooper Discoverer AT3 4S
Best On-Road All-Terrain Truck Tire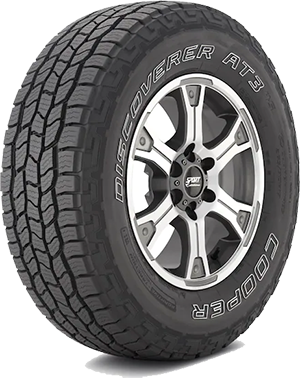 Tire Type
On-Road All-Terrain
Tire Size
15″ – 22″
Weight
29.0 LBS – 45.0 LBS
Load Index
99 – 117
Load Range
SL – XL
Speed Rating
– H: up to 130 mph
– T: up to 118 mph
Warranty
65,000 miles
Ratings
8.6/10
Cooper Discoverer AT3 4S surpasses all on-road AT truck tires in our tests with its optimized Adaptive-Traction Tech, silica-based compounds, and five-rib designs for better dry/wet/off-road performances.
Lateral notches and AquaVac circumferential channels resist hydroplaning, while the Zigzag sipes offer more wet-condition bites and tread stability. At the same time, snow traction is handled using saw-tooth edges included in the SnowGroove Technology.
As an on-road AT tire, Cooper Discoverer AT3 4S does not disappoint at all when it comes to dry on-road traction. Its sharp yet gentle, cushioned feel settled our worries just minutes into the ride, carrying the truck in such breezy strikes at 55 MPH that we decided to rev straight to 65 MPH after a mile or two.
Loading capability is also the last thing you should worry about. As the total load of the 700-lb trailers and 200-lb cargo (not to mention our combined weight) did not throw the truck off the line, you should have no problems handling at least 1500 lbs of extra weight during extremely extended trips.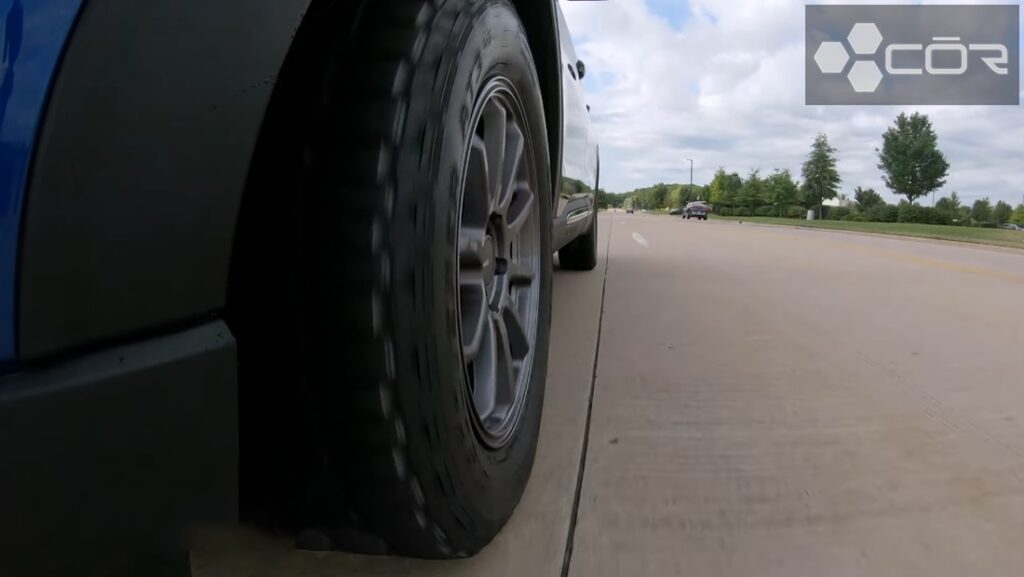 Cornering ribs lacked occasional bites dealing with low-radius crooks but were very stable otherwise; you should be able to observe this boundless confidence even after the rainy seasons are at the door. Aquaplaning is not a threat unless you get stuck in deep water beyond 7 inches. We experienced wet traction losses, but it got refilled quickly enough to keep our truck constantly moving forward without major jostles.
The tire's off-road performances deserve some spotlights. In fact, we maintained our composure on off-road gravel dirt much better than wet on-road surfaces, owing much to the Zigzag sipes and saw-tooth edges that clawed confidently through varying soil depth.
And while Discoverer AT3 4S was admittedly much less compatible with off-road rock and loose terrains, that is unlikely to pose real troubles if you rarely rev up beyond 45 MPH. We maintained decent footholds at 40 to 45 MPH, even affording occasional late brakings at moderately wide corners.
The AT3 4S does great on light and deep snow with the help of Snow Grooves, but we did wish these designs could carry themselves into ice buildups. Straight-line driving (or a bit of veering from time to time around roadblocks) was tolerable, but any slightest signal of angled surfaces or sharp adjustments will send your truck fluttering in at least 5 seconds.
Very confident on dry pavements
Controlled wet traction
Good manners on off-road dirt
Great handling of light and deep snow
Performances on ice and off-road loose terrains could be better at higher driving rates.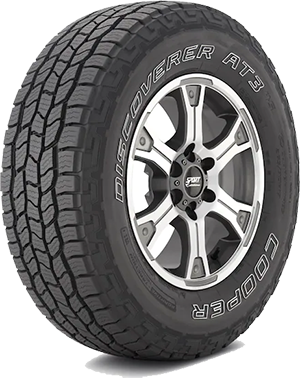 ---
4. Falken WildPeak A/T3W
Best Pickup Truck Tire For Budget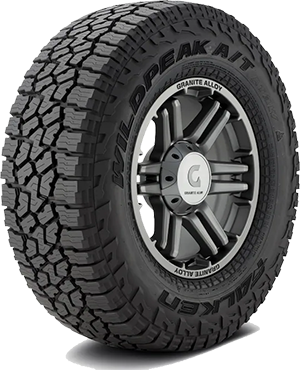 Tire Type
Off-Road All-Terrain
Tire Size
15″ – 22″
Weight
31.1 LBS – 84.0 LBS
Load Index
99 – 129
Load Range
C1 – XL
Speed Rating
– H: up to 130 mph
– T: up to 118 mph
Warranty
55,000
Ratings
8.6/10
Want a decent pickup truck tire that does not eat up much into your budget? Then trust Falken WildPeak A/T3W to do the job.
The tire compounds are molded in optimized patterns to resist tear on off-road, coarse surfaces, while the step-down add-ons work with support ramps to strengthen handling stability and prevent stone damage. Aggressive features on the upper sidewalls protect A/T3W from thick and sharp debris; at the same time, the 3D Canyon Tech offers more snow/wet bites and gives tread blocks more support in extreme torque conditions.
Falken WildPeak A/T3W might lack a few stable footholds when cornering, but other than that, you can count on this budget tire to handle basic steering situations with excellent confidence. After the initial bites settled, our truck (with 600 lbs of cargo) could already establish its presence on main roads at 50 MPH with little to no mid-way stuttering. No tire drags on rugged patches could pull A/T3W down for more than three seconds, allowing you to keep your inputs stable whether you are an experienced driver or not.
Off the road, the way A/T3W's support ramps stretched out on sticky, thick ruts to gum the contact patch further on the road felt extremely assuring. Carrying the truck at regular driving rates was a given, but even highway limits (85 MPH) seem not that impossible if you can predict roadblocks at least 4 to 5 miles ahead.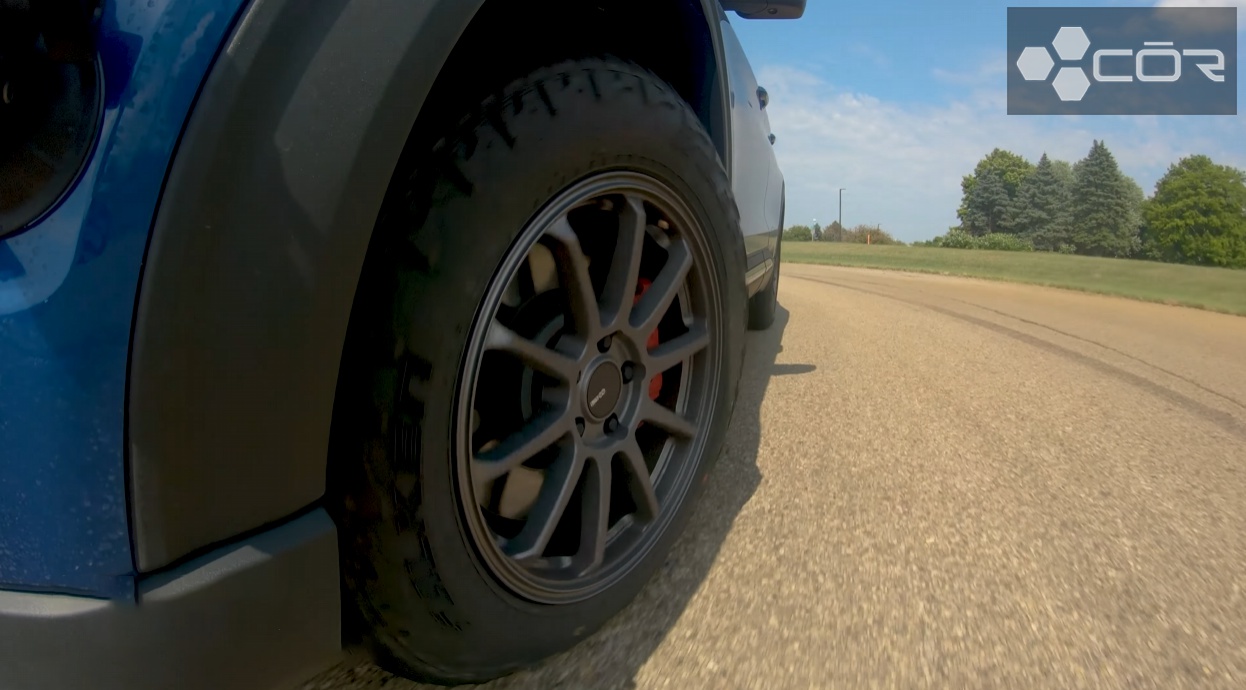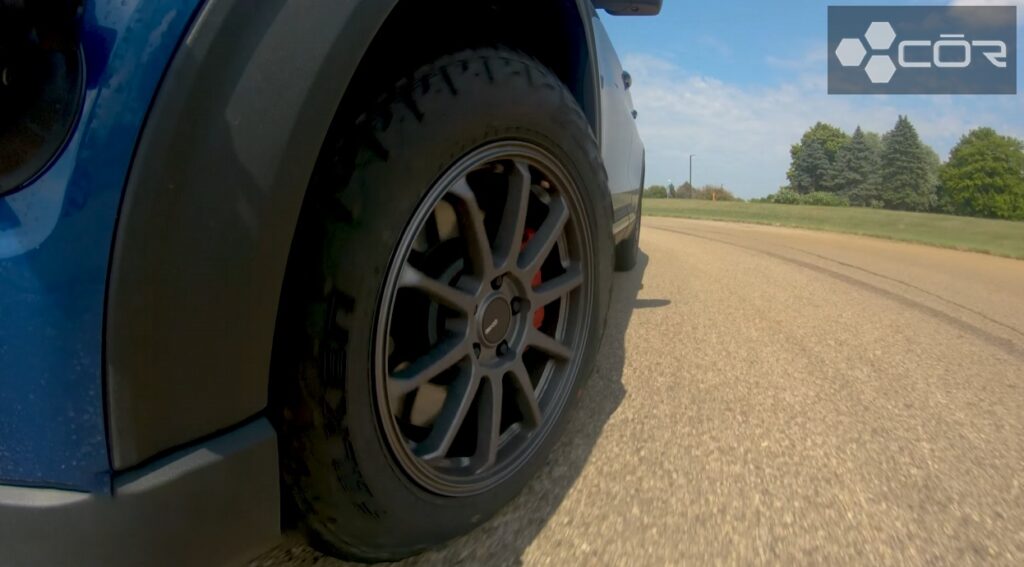 Meanwhile, sand and rock traction are much better than all the all-terrain tires ranking above; it was not 100% vulnerable to unexpected throwbacks but knew how to recover from them within acceptable margins. So although the frequent stumbles might be annoying, you will rarely feel threatened by them, easily regaining control at critical steering moments (especially during tight-spaced curves) to keep both your cargo and passengers in check.
But the tire struggled to maintain tolerable footings at higher speeds than 45 MPH and needed constant attention diving through multiple corner entries and exits.
Fortunately, in compensation for the lackluster mud traction, A/T3W shines brilliantly in wintertime. The 3D Canyon Tech was obviously very assuring on light and snow roads, but even ice traction will give you some room to speed up. You might only lose control in rare moments of lackluster steering, and the tire will remain surprisingly stable throughout the rest of your ride.
Good on-road confidence
Excellent manner on off-road dirt; decent on sand and rock
Impressive wintertime traction (ice included)
Deliver fairly smooth rides
Mud performances need improvements
Occasional rumblings
---
5. BFGoodrich All-Terrain T/A KO2
Best Off-Road Truck Tire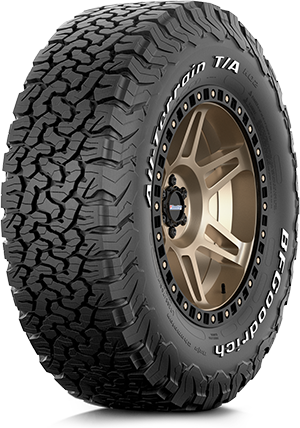 Tire Type
Off-Road All-Terrain
Tire Size
16″ – 20″
Weight
42.81 LBS – 70.72 LBS
Load Index
115 – 129
Load Range
C1 – E2
Speed Rating
– Q: up to 100 mph
– T: up to 118 mph
Warranty
50,000 miles
Ratings
8.6/10
Though other off-road AT tires still rank among the top, BFGoodrich All-Terrain T/A KO2 outsells them all.
A set of BFGoodrich All-Terrain T/A KO2 features durable tear-resistant compounds molded aggressively, along with innovative sipes, loose-object ejecting features, and high-void pattern to balance on- and off-road handling with acceptable, mild road noises.
Furthermore, the Sidewall Armor on the upper shoulders utilizes the double-thick sidewall rubbers and Serrated Shoulder Designs to provide more clawing action, allowing better steering on sand, rock, and deep dirt during dynamic driving.
No wonder T/A KO2 bonds with off-road gravel ruts even better than its rival, the Falken WildPeak A/T3W. We experienced much better composure and less unwavering on-center stability. All steering movements and speed changes adapted well into the contact patch to yield immediate feedback, hence the almost non-existent chance of oversteering and understeering during alternating slalom curves.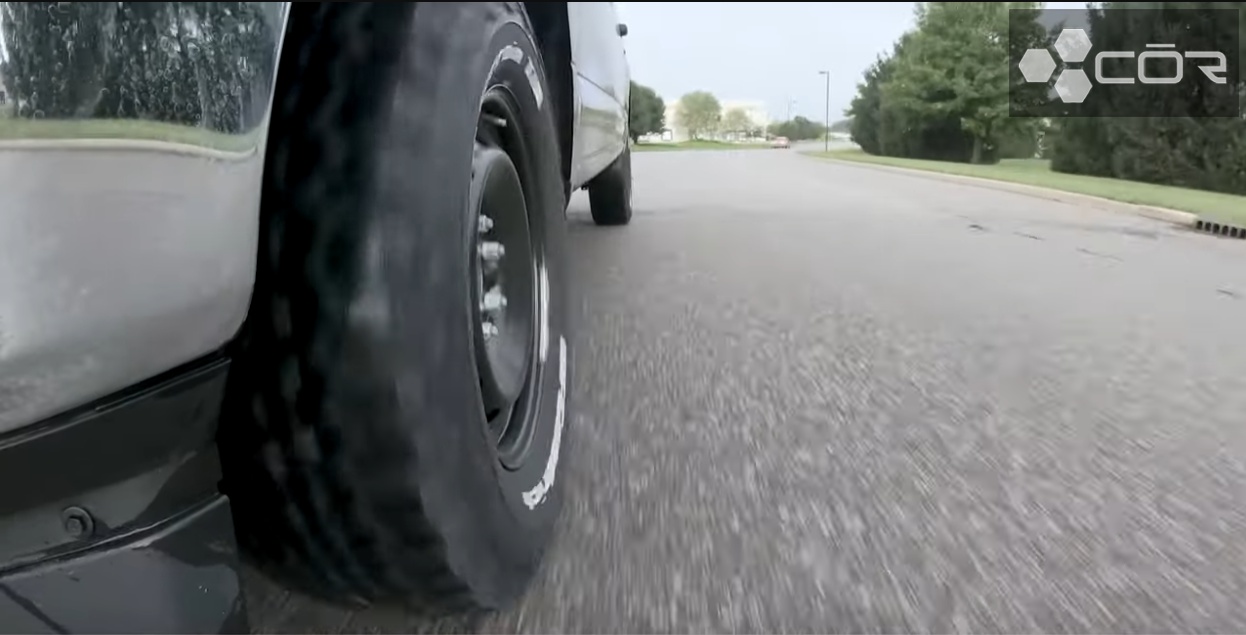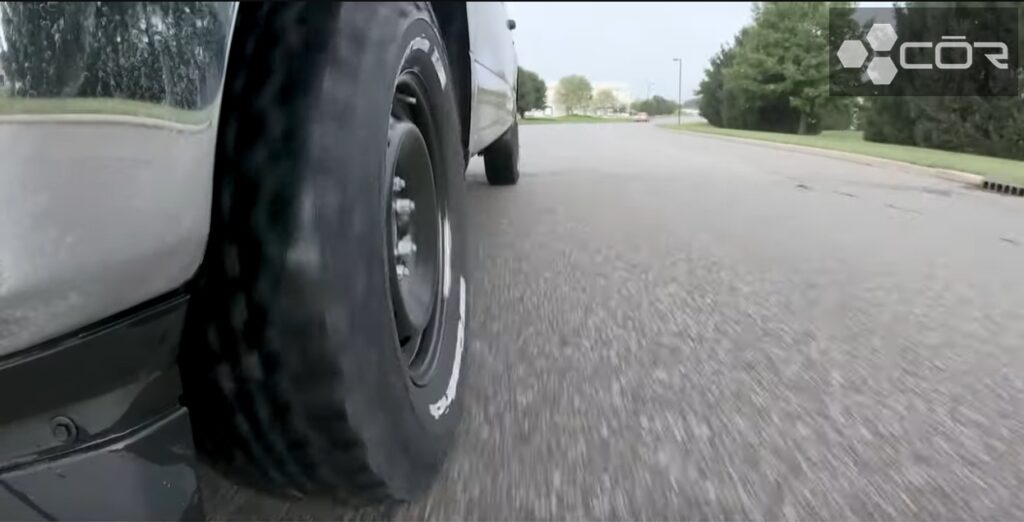 And while Falken A/T3W still showed some hesitancy on sand and rock, you will find it difficult to recognize those symptoms in BFGoodrich T/A KO2. The tire treats small pebbles and thick sand particles as mere trivial roadblocks, throwing them off the contact patch in smooth, bold cuts to palm out our road contact conveniently at 55 MPH. Towing trailers at 1200 lbs (or slightly heavier) will be a non-issue for you due to the extremely low risks of all-around flips.
On mud terrains, BFGoodrich T/A KO2 is not as confident as on off-road dirt and rock but still superior to most competitors; in tamed strikes below 45 MPH, KO2 dispersed and thinned out thick wet mud quite quickly without the need for more forceful inputs.
That is a positive indicator of how the tire will deal with dragging puddles or deep holes during your trip; with basic push-and-pull and some acceleration forces thrown in between, you can easily get your truck out of the mess in no time.
Off-road handling aside, BFGoodrich T/A KO2 also leaves little room for negative feedback once your truck returns to regular on-road streets. We do wish for better noise control and fewer overreactions on pronounced bumps – but other than that, the rest was non-dramatic.
An excellent all-rounder on off-road paths (no metrics below 8.5)
Great on-road manners
Stable with heavy loads
Decent treadwear
Overreactions and loud noises on large road bumps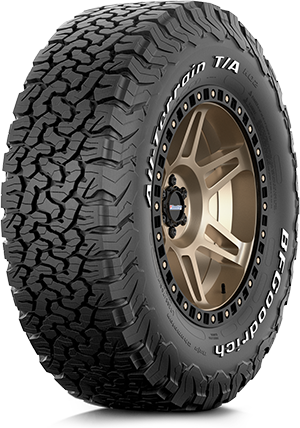 ---
6. Pirelli Scorpion Zero All-Season Plus
Best Street/Sport Truck All-Season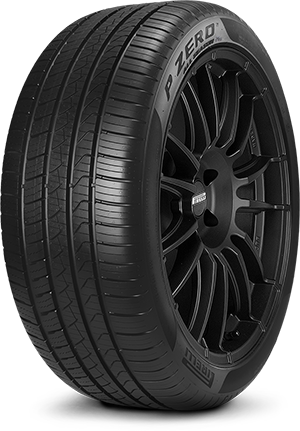 | | |
| --- | --- |
| Tire Type | Street/Sport Truck All-Season |
| Tire Size | 17″ – 23″ |
| Weight | 31.0 LBS – 39.0 LBS |
| Load Index | 102 – 111 |
| Load Range | XL |
| Speed Rating | Y – Up To 186 MPH |
| Warranty | 50,000 miles |
| Ratings | 8.4/10 |
Few street/ sport all-season tires can surpass the powerful delivery brought by Pirelli Scorpion Zero All-Season Plus. For this model, Pirelli introduces the newest all-season, high-performance compounds molded asymmetrically with a high-silica matrix, special polymer, and resins to balance all-around handling.
Large outboard shoulders handle braking and handling enhancements across wet and dry conditions, while the four circumferential grooves take care of hydroplaning issues. Wrapping up is the zigzag, winter-centric sipes that create more bites for slippery winter surfaces.
Thus, confident, non-stuttering dry performances are clearly within the tire's capability. Despite the rather heavy trailer (1500 lbs), Scorpion Zero caved itself onto the road pavements in impressive alignments, not once losing connections with the road, even when we switched to leisurely shuffles to test its limits.
Better yet, gradual weight addition (about 50 lbs per time) every 25 minutes on the way still could not strip the tire of its composure – a huge competitive edge if you have to engage in towing tasks on a frequent basis.
Diving into tight-neck crooks under heavy loads (both in dry and wet weather) will also be quite a breeze for you, regardless of your truck model. The massive outboard shoulders play a huge role in ensuring even stability with no pressurized forces in the wrong places, hence our effortless attempt to recover from brief oversteering at initial corner entries. You do not have to worry about rollover accidents, either, as the shoulders cover more than enough margin to keep that possibility at bay.
On another note, wintertime traction might be very disappointing for you. Snow grip was horrid but at least still rideable; unfortunately, the same could not be said about the tire's performance on icy roads, which sent us straight tumbling over nothing. The treadwear rate was decent but also far from outstanding.
Sure-footed on dry surfaces
Cornering well (even in wet conditions)
Great cushioned feel
Disappointing in winter, especially on ice
Mediocre treadwear
---
7. Goodyear Wrangler DuraTrac
Best For Treadwear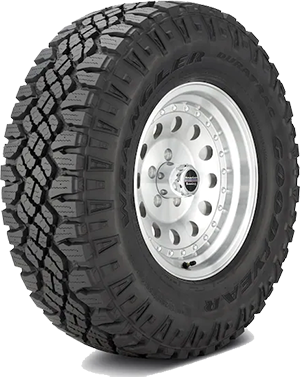 Tire Type
On-/Off-Road Commercial Traction
Tire Size
15″ – 22″
Weight
28.0 LBS – 76.0 LBS
Load Index
100 – 129
Load Range
C1 – XL
Speed Rating
– H: up to 130 mph
– T: up to 118 mph
Warranty
50,000 – 65,000 miles
Ratings
8.3/10
If you worry about the tire's lifespan or treadwear rates, a set of Goodyear Wrangler DuraTrac should settle those fears instantly.
For Wrangler DuraTrac, Goodyear introduces rugged tread compounds that resist tearing, chunking, and chipping (even under heavy loads) and symmetric designs with angled blocks and large shoulders to strengthen dry/wet traction.
The self-cleaning stepped blocks, zigzag sipes, and TractionGroove Tech employed below the grooves create extra biting edges for snow and mud. There is also a sturdy rim lock that keeps severe wheel slips at bay.
Almost every Wrangler feature focuses on resisting damage and drilling, hence the tire's impressive handling of heavy abuse and extra weight. Our starter with 1500 lbs went on uneventfully in the first five miles with very few burnout symptoms, which encouraged us to add about 100 lbs every half hour along the way – and even then, tread fatigue only started to show up after the fifth day of testing.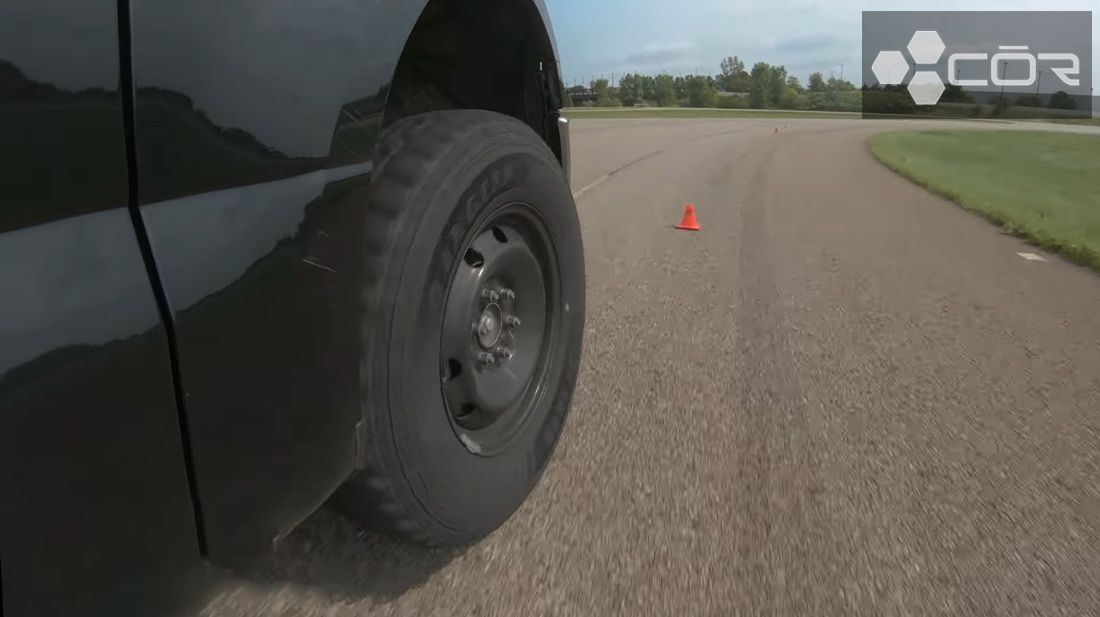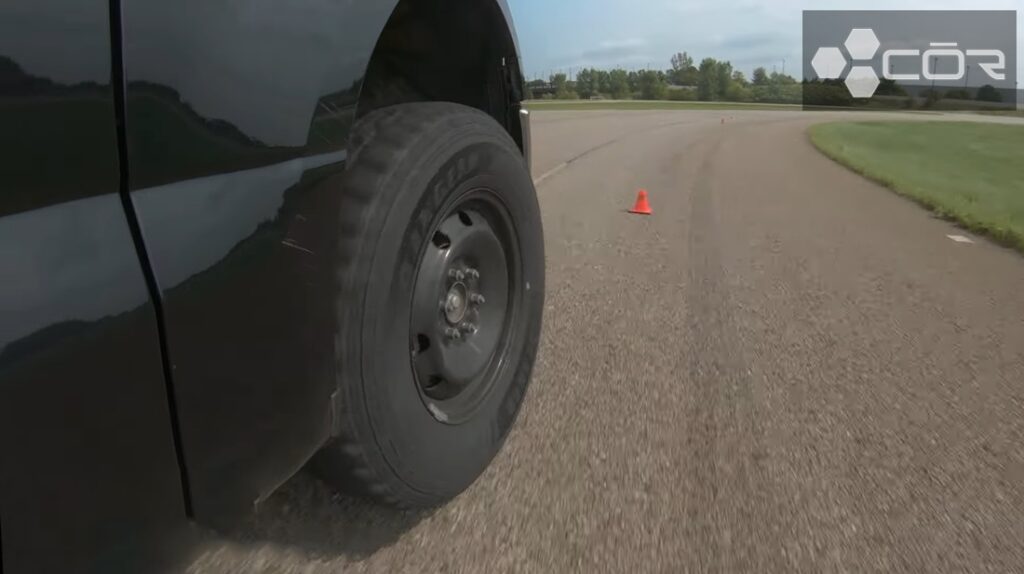 According to customer feedback, Goodyear Wrangler DuraTrac might wear down much faster once it only has about 10''/32 tread depth left (hence our 8.1 score), but no worries; you will still have plenty of time with the tire nonetheless until that day comes, given the thick initial tread depth.
Commercial tires are usually not very stellar on dry-road terrains, yet Goodyear Wrangler DuraTrac astonished us with its surprisingly grippy footholds on rugged cobblestone paths. You may still find the steering and cornering feel to be a bit muted from time to time, but thanks to the tire's great traction, collisions and accidents remain a very distant threat regardless.
Better yet, Goodyear Wrangler handled powered snow even better than the champion Michelin Defender LTX M/S and was the first tire on the list that delivered the exact same confidence on both light and snow terrains. Ice grip was not as great but very much rideable below 45 MPH, so we really encourage you to use Wrangler DuraTrac as a winter tire in moderate snow temperatures.
On another note, the tire was rather disappointing on wet on-road terrains. Although these surfaces do not pose much stall risks as snowy roads, Wrangler DuraTrac still underperformed with constant, borderline annoying jitters even on straight lines. Hydroplaning was tamed but also happened more often than not; you should avoid abrupt accelerations if possible and stick to one particular driving rate only.
Good tread life
Very impressive snow handling for a commercial traction tire
Great dry traction with decent cornering and steering
Wet traction still has room for improvements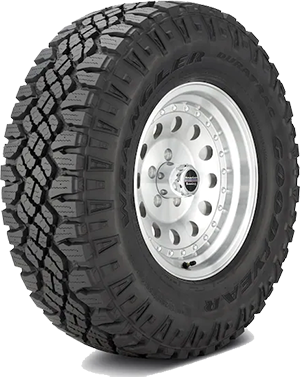 ---
8. BFGoodrich Mud-Terrain T/A KM3
Best Mud Truck Tire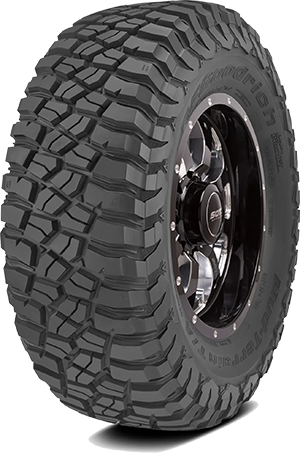 | | |
| --- | --- |
| Tire Type | Off-Road Max Traction |
| Tire Size | 15″ – 22″ |
| Weight | 41.05 LBS – 86.95 LBS |
| Load Index | 100 – 129 |
| Load Range | C1 – E2 |
| Speed Rating | – Q: up to 100 mph |
| Warranty | None |
| Ratings | 8.3/10 |
Frequent travelers into deep, sticky mud terrains will find BFGoodrich Mud-Terrain T/A KM3 a better assistant than most.
The tire utilizes Krawl-Tek compounds, molded symmetrically to assist the tread blocks in providing stable foundations and biting edges for all approach angles. Its Traction-Armor Sculpture keeps sidewall splits and snags at bay, while notched shoulders improve mud and dirt road grip.
Stone bumpers and mud-phobic bars aid self-cleaning abilities; at the same time, hydroplaning issues are handled by the lateral notches and wide grooves.
This off-road max traction tire is extremely powerful across all off-road terrains, but mud grip remains its best highlight. KM3's level of poised, composed management despite sticky mud layers was very pronounced here, leaving all other on-road AT tires in this list by a long margin thanks to the notched shoulders and self-cleaning mud-phobic bars.
Each strike plowed through the soil and water in clean, swift cuts that felt effortless, undeterred when the cargo loads increased by 50 lbs every five miles. You can even rev towards 55 MPH with intentional late brakings around muddy corners, and KM3 will pull you back to the track before slippage can occur – indeed a true fighter that will assist you in any steering conditions around mud roads.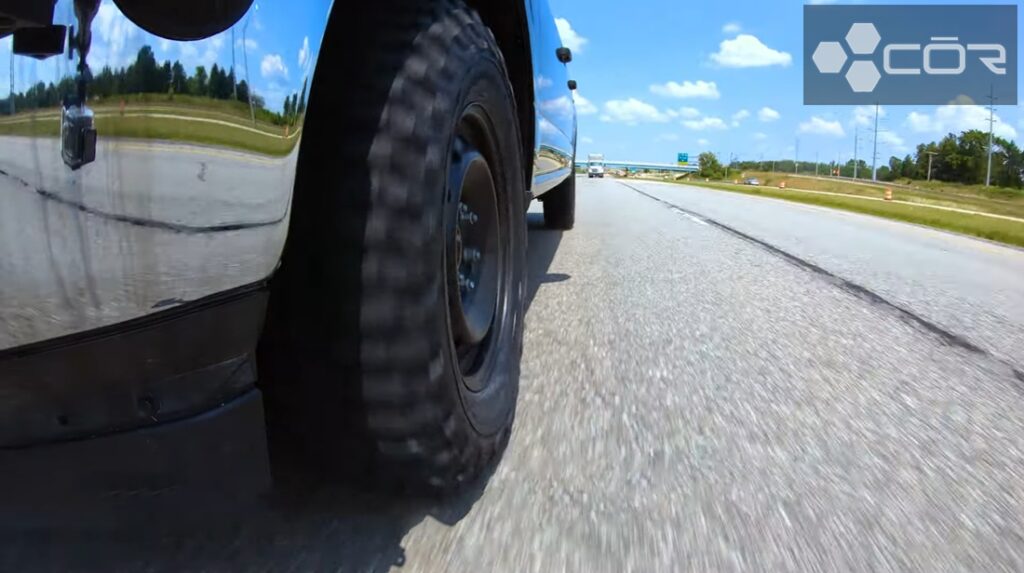 The same plowing action that worked excellently on mud pits continues to shine on other sand, rock, and dirt terrains; even the thickest gravel layers near riverbanks were nothing against KM3's aggressive but flexible rotations. The only real problem you might face is occasional choking on sand dunes due to their gritty textures, but even such occasions are only a few and far between.
On-road dry traction is great; unfortunately, in rainy seasons or deep water beyond 5 inches, slippage started to become a real recurring issue for us due to the muted self-cleaning abilities under the grooves.
Wintertime traction was also mediocre, reaching its worst on icy roads; we even had to halt the test ride despite our very equipped truck model, so it would be better to avoid these terrains altogether unless you are experienced.
Exceptional off-road manner (with no metric below 8.9)
Confident on dry roads
Decent on light snow
Good riding comfort
Underwhelming wet and deep snow traction
Disastrous on icy roads (ice grip bottoming the list)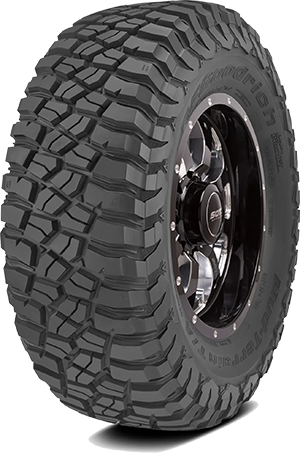 ---
9. Michelin X-Ice Snow SUV
Best for Winter/Snow Light Truck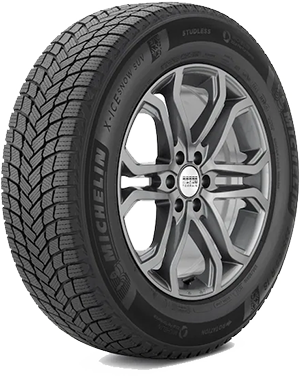 Tire Type
Winter/Snow
Tire Size
16″ – 22″
Weight
27.93 LBS – 41.27 LBS
Load Index
100 - 116
Load Range
SL – XL
Speed Rating
– T: up to 118 mph
– H: up to 130 mph
Warranty
40,000 miles
Ratings
8.9/10
Michelin X-Ice Snow SUV will be an excellent choice for light-truck drivers living in cold snow climates or having to travel through such regions often. Its Flex-Ice 2.0 compound uses inclusion technology to generate more surface roughness, increasing grip for both ice and snow endeavors.
Furthermore, the extra silica content in the compound (molded in a V-shape) works with enhanced groove widths and directional patterns to improve slush performance, snow grip, and hydroplaning resistance. Multiple sipes (both notched sipes and thickness-varying ones) deliver more bites to seal the deal.
The mind-blowing composure on light snow is therefore unsurprising; traction loss was reduced to almost nothing at below 55 MPH and only occurred in weak protests when we neared highway limits, so you will not have to rely on extra studs or snow chains to get out of build-up snow packs at tight corners or during curve liners.
Even when the snow volume increased past the safe 9-inch benchmark, Michelin X-Ice Snow SUV still stayed in line with very little steering inputs; most of the stutters, if happening, are only because of the cold ambient temperatures. Heavy towing in storms or snow falls is usually not recommended for most snow drivers – but if desired, you can totally carry 1500 lbs or more using this capable tire.
When transitioning on ice, Michelin X-Ice Snow SUV again proves to be the best star. Minus occasional hiccups around the flanks – which any driver should expect on sloppy terrains like ice – this road tire is composed, well-behaved, and very predictable. Even beginners should maintain great handling at 45 to 50 MPH with little to no drama, so you can imagine what a smooth ride it would be for average or advanced drivers.
With such an incredible foothold on winter surfaces, Michelin X-Ice Snow SUV undoubtedly performs just as consistently on on-road terrains, both dry and wet weather alike.
Unfortunately, be prepared that this powerful performance is a trade-off for treadwear rates; judging by how the outer parts almost caved in during extremely hot and cold weather in our test, you should expect shredding after 20,000 to 30,000 miles of driving.
Incredible traction in winter
Very reliable on on-road terrains across all weather
Good riding comfort
Less-than-impressive tread life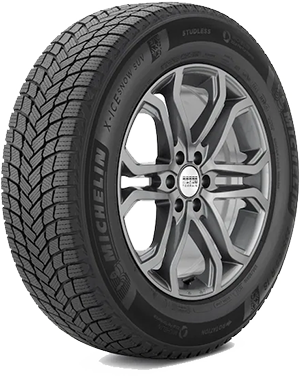 ---
10. Bridgestone Blizzak DM-V2
Best For Winter Snow Truck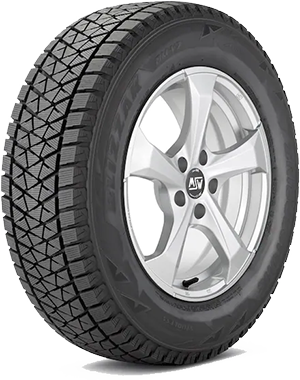 Tire Type
Off-Road All-Terrain
Tire Size
15″ – 22″
Weight
23.0 LBS – 45.0 LBS
Load Index
95 – 117
Load Range
SL – XL
Speed Rating
– R: up to 106 mph
– T: up to 118 mph
Warranty
None
Ratings
8.9/10
Few truck tires can surpass Bridgestone Blizzak DM-V2 when harsh wintertime arrives.
To boost the tire's flexibility in all freezing conditions, Bridgestone uses NanoPro Technology Multicell featuring microscopic bites and water-friendly hydrophilic coating. The directional designs deliver 15% more edge aggressiveness than the previous DM-V1 model, supported by the circumferential/lateral grooves and zigzag 3D sipes in hydroplaning resistance and snow-bite increases.
As a result, Bridgestone Blizzak DM-V2 proudly tops the entire list as the best tire on light snow terrains, leaving almost no room for any negative feedback.
Drifting symptoms lurked around occasionally but felt so faint that they were practically unobservable unless we paid very close attention. And given consistent driving rates below 55 MPH with predictable and well-planned surges, you will find cornering attempts to be almost no different from typical straight-line driving, as all the possible burnout indicators around the borderlines are rightfully swallowed at corner entries.
We even managed to use one-palm steering around hairpins without stumbles, so you should be able to tackle all types of road curves and crooks regardless of your current driving habits. Hauling a 2000-pound camper on light, powdery snow (about 3 inches) didn't challenge the tire much, delivering more edges than Bridgestone Blizzak DM-V2; that's why we suggest this tire for demanding towing tasks with your heavy truck.
Deep snow performances are just as delightful; occasional hesitations mostly stem from the increased amount of heavy snow on the contact patch (which takes longer to handle) rather than internal stalls from the tires themselves. Transitioning from light- to deep-snow region and vice versa is a breeze – hard to notice any difference if the driving is kept in uniform strikes – so you can drive through tricky paths of inconsistent snow depths with total peace of mind.
And like the Michelin X-Ice Snow SUV, Bridgestone Blizzak DM-V2 is very well-controlled on ice terrains minus a few harmless stutters, further cementing its position as the best winter truck tire.
On-road dry/wet handling is likewise excellent as the snow features continued to flex their best even on these terrains; steering response was sharp for us, and over-reactions were surprisingly scarce. Still, the ratings would be much higher if Blizzak DM-V2 had better noise control and treadwear rates.
Incredible snow traction
Great on-road confidence
Excellent loading capacity, best for heavy trucks
A bit noisy
Lackluster treadwear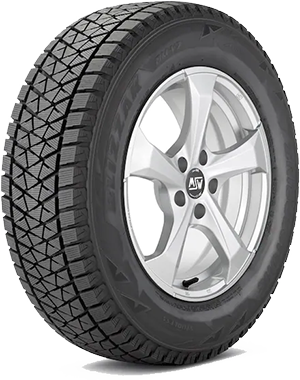 ---
How to Choose The Best Truck Tires
Consider Your Driving Condition. This is quite straightforward; frequent highway driving obviously warrants a good truck tire for highways. On the other hand, off-road ventures should work with an off-road AT tire or off-road max traction, depending on the terrain's roughness.
Assess Your Budgets. Set your priorities straight. Cross out qualities you do not really need to avoid spending too much for too little.
Confirm The Truck's Weight and Size. As seen in this list, a few models are made for heavy-duty trucks, others for light trucks, and some for SUVs and crossovers. Make sure you buy the right tire size for the right vehicle type.
Conclusion
Michelin Defender LTX M/S is our ultimate pick for excellent, all-rounder performance across most terrains, on- and off-road alike. For those with little money to spare, though, Falken WildPeak A/T3W should do the job just fine.
Here is the summary of the 10 Best truck & light Truck tires in the 2023 COR Wheels Tire Test:
| Tire Brand & Model | | | | | | | |
| --- | --- | --- | --- | --- | --- | --- | --- |
| Michelin Defender LTX M/S | 1st | 8.8 | 9.2 | 9 | 8.2 | 9 | 8.9 |
| Continental CrossContact LX25 | 2nd | 8.8 | 9.1 | 9 | 8.2 | 8.8 | 9 |
| Cooper Discoverer AT3 4S | 3rd | 8.6 | 9.1 | 8.6 | 8.3 | 8.6 | 8.5 |
| Falken WildPeak A/T3W | 4th | 8.6 | 8.8 | 8.7 | 8.5 | 8.5 | 8.5 |
| BFGoodrich All-Terrain T/A KO2 | 5th | 8.6 | 8.9 | 8.6 | 8.5 | 8.2 | 8.4 |
| Pirelli Scorpion Zero All Season Plus | 6th | 8.4 | 9 | 8.7 | 7.4 | 8.5 | 8.2 |
| Goodyear Wrangler DuraTrac | 7th | 8.3 | 8.4 | 8.3 | 8.5 | 7.6 | 8.1 |
| BFGoodrich Mud-Terrain T/A KM3 | 8th | 8.3 | 8.8 | 8.2 | 7.7 | 7.8 | 8.2 |
| Michelin X-Ice Snow SUV | 9th | 8.3 | 8.9 | 9 | 9 | 9.1 | 8.3 |
| Bridgestone Blizzak DM-V2 | 10th | 8.3 | 8.6 | 8.9 | 9.1 | 8.6 | 8.1 |
---
President & Automotive Expert at COR Wheels
Robert Herrera has been with COR Wheels for 17 years and has a great passion for the automotive industry. During his time at COR Wheels, he has driven and test-driven a variety of vehicles.
---