Most standardized AT tires can pounce on smooth, well-paved paths on-road with little drama, but few have enough self-composure and confidence to roll on rougher, less consistent beaten paths. That is where off-road max traction tires enter the scene, ready to assist drivers on their sturdy, aggressively-built tread patterns and in-block sipes.
Our COR Wheels team has managed to settle on the ten best tires for off roading on the market. Scroll for a more detailed analysis of their highlights and competitive edges.
In this article:
How Did We Test & Pick The Best Off-Road Tire Brands
As part of the 2023 COR Wheels Tire Test, 30 best-selling off-road tires were tested on different terrains based on seven major criteria:
Off-road performance (our main focus), entailing the tire's stability on dirt, sand, mud, and rock.
Treadwear (our main focus)
Winter/snow traction
Dry traction
Wet traction
Comfort
Price
Coupled with verified customer reviews gathered from our corresponding surveys, our team settles on the top 10 best performers out of the competition.
Top 10 Best Off Road Truck Tires 2023
---
1. Yokohama Geolandar M/T G003
Best for Overall Off-Road Performance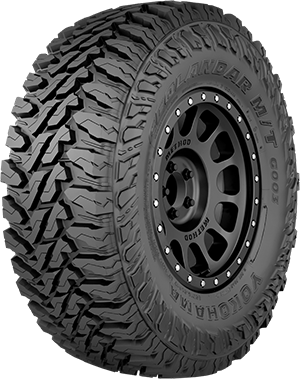 | | |
| --- | --- |
| Tire Type | Off-Road Max Traction |
| Tire Size | 15″ – 22″ |
| Weight | 41.05 LBS – 86.95 LBS |
| Load Index | 100 – 129 |
| Load Range | C1 – F2 |
| Speed Rating | – Q: up to 100 mph |
| Warranty | 45,000 miles |
| Ratings | 9/10 |
Yokohama Geolandar M/T G003 has no competitors in overall stability and traction grip on off-road terrains.
The tire offers aggressive, high-density tread compounds with Triple Polymer blending to ensure maximum traction and handling. Ample void areas are supported by pitch variation and block orientation to cut off loud road noises, while the full-depth sipes work with the compounds to sustain G003's confident footholds on wet surfaces.
You will experience extremely stable, almost-perfect grip retainment on off-road dirt, just like we did in our performance test. G003 settled quickly and established contact points with so much self-awareness that all minor traction losses around the flanks were swallowed before leaving any real impact. Speed changes to and from 45 -75 MPH were generally bumpless, and even late brakings at tight corners proved to be within safe territories.
Traction on mud also leaves little room for complaints: drivers who must travel through clay mud often will be especially delighted with how seamless and aggressive the sipes and grooves exhibited themselves here. G003 shows no hesitations in finding anchors on slimy, slippery surfaces, and does a good job fighting off sticky particles with buffed, continuous on-center ribs.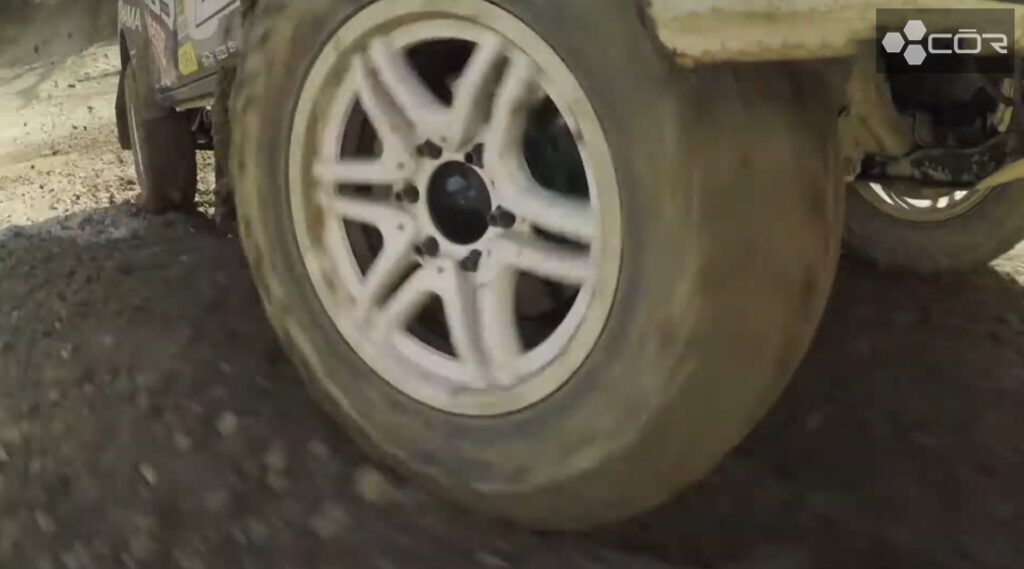 Even rocky roads with sharp pebbles and small stones can not leave much of a scratch on your car. Geolandar G003 admittedly has to struggle a little on stacked staircase rocks or surfaces with a more angled build, but other than that, the entire ride is breezy. You can even tow trailers of 3000-4000 lbs and add more cargo along the way without sacrificing the car's footings.
Soft sand particles might create a more skittish feel around the edges of your tires compared to other terrains. But no worries: G003 still performs much better on sand than most of its rivals. The void area makes it extremely easy to whisk particles off the contact patch, grinding down the tire to pave you straight to 60-65 MPH with no significant delays.
Needless to say, this impressive flexibility translates well to tread life; both our tests and customer feedback indicate at least 60,000 to 70,000 miles of no major tread cuffs.
Still, you should look out for loud squeaking sounds at highway speeds; not to mention, G003 is not the best option for you on ice terrains.
Near-perfect on off-road dirt and rock
Very satisfying and confident on loose terrains
Great dry and wet traction on-road
Handling snow well
Horrible on ice terrains
Noise control could have been better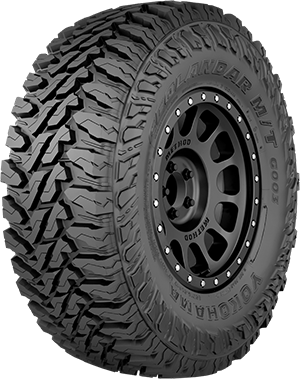 ---
2. Cooper Discoverer STT PRO
Best for Extreme Off-road Conditions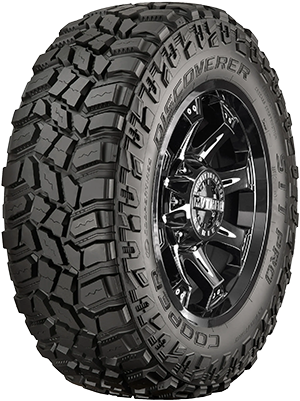 Tire Type
Off-Road Max Traction
Tire Size
15″ – 22″
Weight
43.0 LBS – 94.0 LBS
Load Index
104 – 129
Load Range
C1 – F2
Speed Rating
– P: up to 94 mph
– Q: up to 100 mph
Warranty
None
Ratings
8.8/10
Cooper Discoverer STT PRO leads the test when it comes to very aggressive, harsh off-road terrains that could downright throw your car off the track.
The tire is aggressively molded into high-void patterns, aided by the alternating scoops/cleats and deep initial tread depth to offer more footings on soft/mud terrains. Its extra mud dimples assist STT's self-cleaning capabilities, while the anti-stone ribs prevent puncture drills by ejecting small pebbles.
Hence, Discoverer STT Pro is extremely powerful on rutted roads. Regardless of your car model, you will find it a breeze to track through rutted trails with deep narrows, just like our Ford did in our test. Even washboard boards with littering troughs and ridges could not choke the tire out of its traction grip, either, allowing our team to rev to highway speeds while still towing 2000 to 3000 lbs of trailers/cargos.
And performances on mud are even better than dirt – a great competitive edge if you have to tackle viscous, very deep ruts and puddles more frequently than most. STT's extra mud dimples make self-cleaning a flash and throw sticky, headstrong mud off the sidewalls in less than three seconds; you can handle even trickier muddy corners like doglegs, double apexes, or downright blind curves with ease.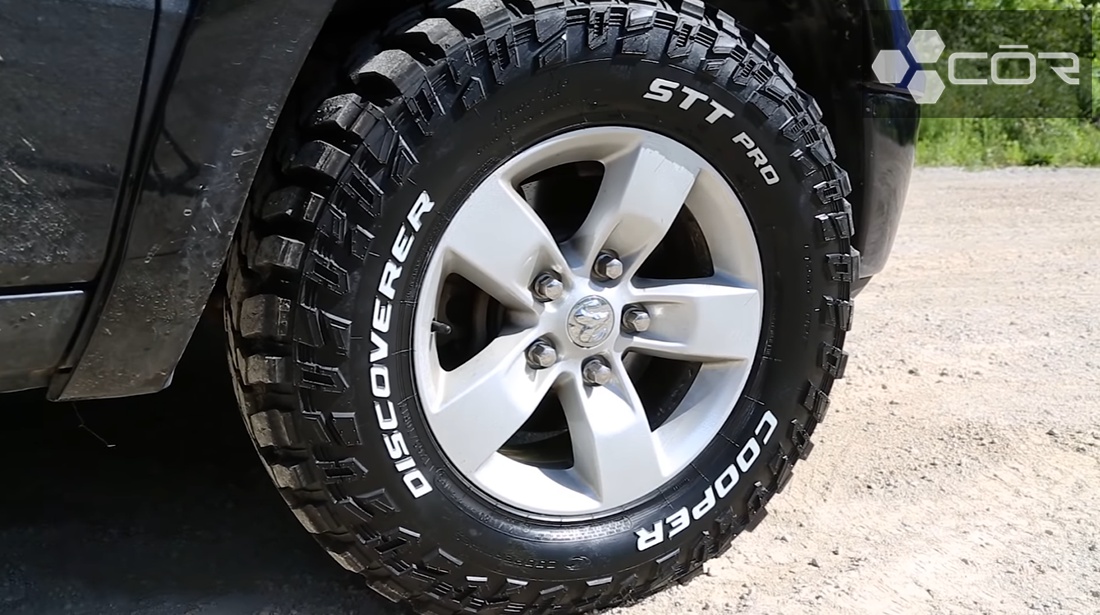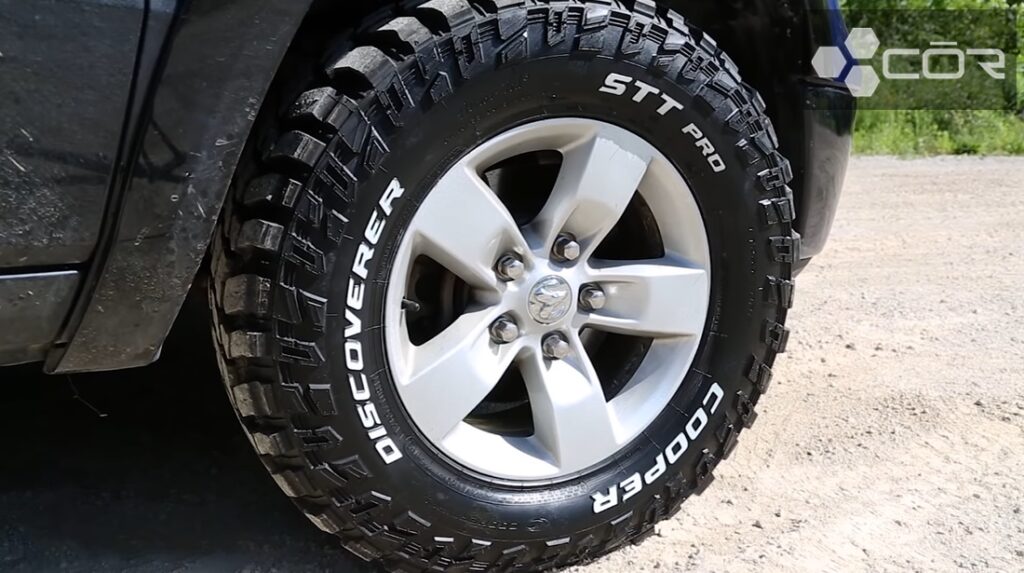 Rock gardens with very dense concentrations are just as effortless; the rubbers might squeak a little entering the gritty, rough textures, but you will soon find your car settling in well. Given consistent, even steering input and gradual speed changes, you can dive straight into off-camber rocks (tilted slightly to one side) in more adventurous leans without putting yourselves and other passengers at risk!
Regarding sand terrains, beginners might struggle a bit on thick dunes with varying sand depths. But for drivers of average levels onwards, the ride is mostly uneventful. With the help of the deep, spacious grooves that increase STT Pro's footprints, STT gums itself almost stubbornly on the road and does not sway even during abrupt, unplanned veering.
The tread life is not exactly exceptional but not bad for an off-road tire, seemingly capable of 40-43,000 miles without shredding. Nevertheless, the increasing squealing during spirited steering at blind curves and U-turns did not sit well with our members. Wet traction on-road was also underwhelming compared to other tires.
Aggressive and strong on harsh off-road terrains, especially dirt/rock
Good dry on-road traction
Satisfying riding comfort
Decent treadwear
Can handle light and deep snow
Noises increase over time
Lack of on-road wet confidence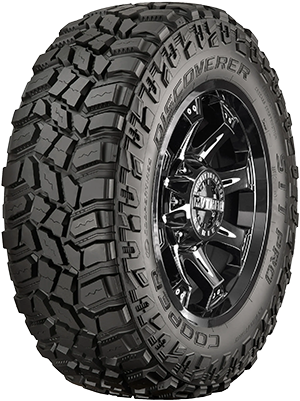 ---
3. General Grabber X3
Best for Off-road Performance and Comfort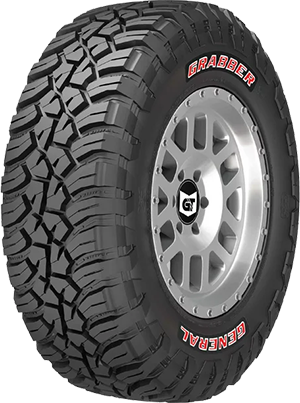 | | |
| --- | --- |
| Tire Type | Off-Road Max Traction |
| Tire Size | 15″ – 20″ |
| Weight | 50.0 LBS – 81.0 LBS |
| Load Index | 108 – 129 |
| Load Range | C1 – E2 |
| Speed Rating | – Q: up to 100 mph |
| Warranty | None |
| Ratings | 8.7/10 |
Most off-road tires often sacrifice riding comfort for more off-road power; but if you want a good negotiation of both, trust General Grabber X3 to do the job.
Grabber X3 utilizes robust, symmetrically-molded high-void compounds with traction notches and block chamfers for better loose-surface grip. Evacuation channels help the tire self-clean in mud, while the stone bumpers under the grooves release smaller debris and stones. Deep sipes provide wintertime/wet bites, supported by multiple-pitch blocks that minimize droning noises.
X3 was at its peak when we traversed off-road dirt patches. The car established contact points quickly to save us from stuttering moments of panic reactions, traveling breezily at regular driving rates (40 to 55 MPH) in no drama.
If desired, you can surge straight to 75 MPH in seconds (given consistent steering), even when the car tramples on loose, granule dirt that keeps sneaking under the tread. X3 does a good job redirecting them off the sidewalls thanks to the strong evacuation channels.
Loose terrains like sand and mud will not pose much difficulties for you, either. Smaller soft sand particles are harder to tackle, but X3 smooths them out well – and its self-cleaning abilities on very sticky mud are very pleasant. Our cornering attempts on both terrains were pretty much non-challenging, enabling low-angled leans at high speeds.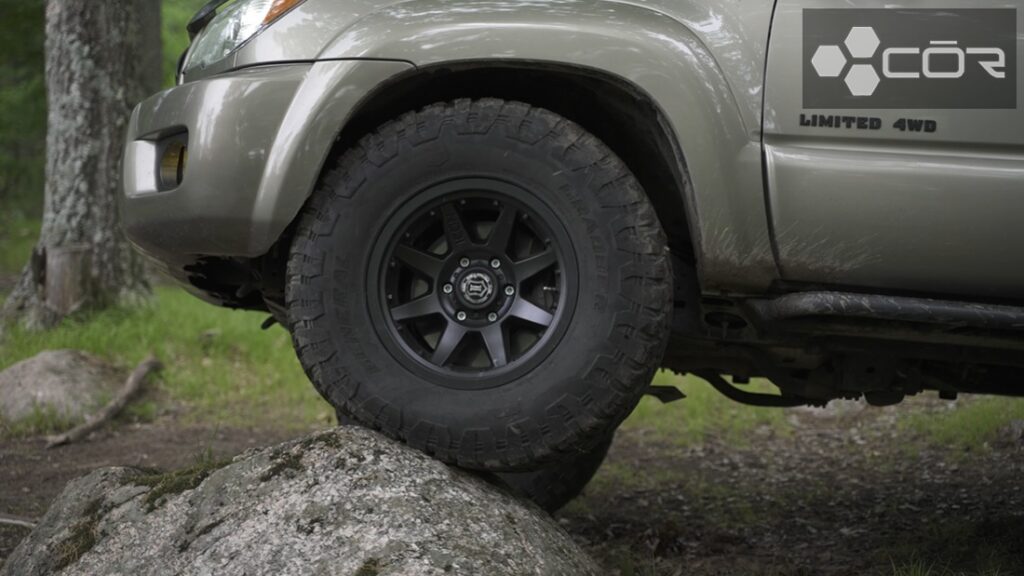 On rock terrains, stumbles and brief hiccups happen slightly more often than expected on quick, neck-tight turns. Still, unless you are very sensitive to road bumps, most drivers will not feel bothered much by them.
The best part is that the X3 does not react as aggressively to major road cracks as other tires sometimes do; you can trust the Grabber X3 to carry on comfortably bumpless on daily-driving roads with very few squeaking, annoying tread noises. Jostles only increased when we navigated around rugged mountain passes or canyon roads during rough accelerations – but overall, they are still under your control.
X3's treadwear rate is more or less the same as the Cooper Discoverer ranking at #2 – nothing exceptional but not underwhelming, either, and can still accompany you for 40-45,000 miles.
On another note, our biggest complaint mostly lies in the on-road dry steering, which grew muted and less responsive when entering consecutive S-curves on highways.
Satisfying riding comfort with few noises at regular speeds
Great off-road qualities
Confident enough on dry on-road surfaces
Good wet performance
Snow traction is within control
Decent on ice
Steering response grows muted at consecutive S-curves
---
4. Toyo Open Country A/T III
Best All-Around Off-Road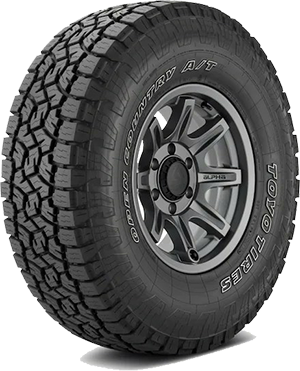 Tire Type
Off-Road All-Terrain
Tire Size
15″ – 22″
Weight
28.0 LBS – 76.0 LBS
Load Index
100 – 129
Load Range
C1 – XL
Speed Rating
– H: up to 130 mph
– T: up to 118 mph
Warranty
50,000 – 65,000
Ratings
8.7/10
Toyo Open Country A/T III is the best all-around tire on the list; every tested metric during our rides (on- and off-road traction, ice, comfort, wear, etc.) is ranked above 8 out of 10.
Toyo Country III introduces aggressive, chip-resistant compounds that are symmetrically formulated to distribute void area pressure evenly for longer durability. Increased block rigidity supports better handling without sacrificing riding comfort, while the traction-focused, three-dimension wave sipes improve wet confidence. At the same time, the lateral grooves bolster traction and hydroplaning resistance in wet, snowy conditions.
With these well-built features, Toyo Country's absolute confidence in mud terrains is unsurprisingly delightful for mud travelers. During our test, its sturdy 3D sipes plowed through thick, viscous puddles instantly to set up contact points, trampling down all corner stutterings to push our car forward with relative ease at 30 MPH. You will find yourself fluctuating between speed extremes in little drama, and can even squeeze extra boldness around doglegs and carousels thanks to the stable continuous ribs.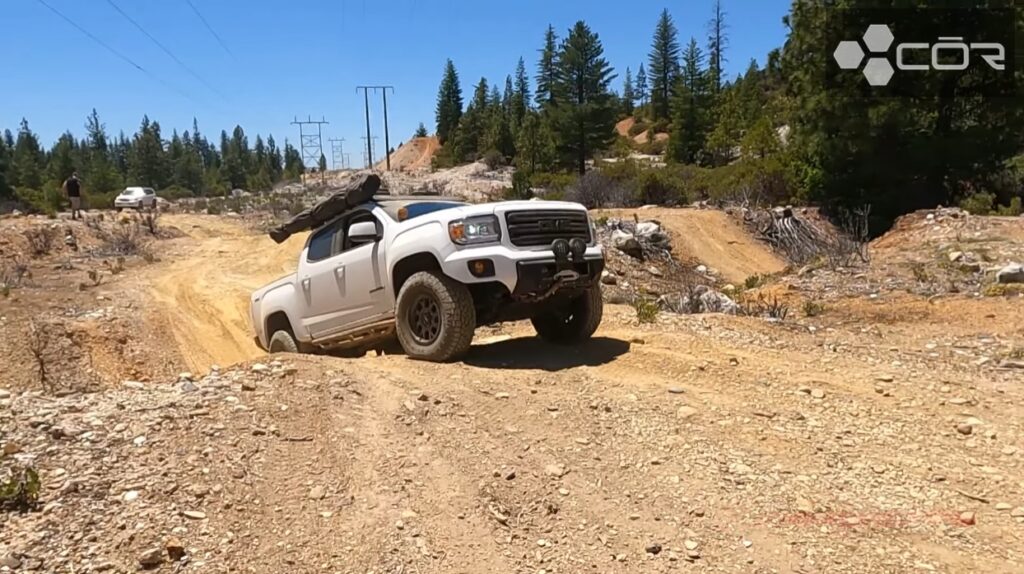 Dirt and rock traction are also among Toyo Country's strongest assets, remaining composed of hard-packed and loose particles alike. Even wet gravel/slippery rock gardens could not pose bigger issues than occasional jitters – all with the help of the traction-focused sipes – so you can ride off-road mid-downfalls or rainstorms without much worry about safety compromise.
On sand terrains, Toyo kept breezing through thick dunes with no problems, though we had to march a bit more carefully on sandstone trails since there are many sharp stones and soft sand mixed together. You just need to air down your tires a couple of PSI to increase cornering grip in these cases.
Off-road qualities aside, Toyo Open Country does not lose its reliable stability on on-road pavements either, and even its snow and ice performance is above average. Better yet, Toyo does not have to sacrifice comfort for treadwear or vice versa, ensuring you can engage in regular/daily driving for at least 50,000 miles with the tires remaining relatively unscratched and very few jostles.
Its noise control is one of the best in the market, but we did wish for fewer rumblings on wetter, more skittish surfaces.
Every metric is beyond average
Good off-road qualities
Confident in snow and on-road surfaces
Great riding comfort and treadwear
One of the best off-road tires on ice
Rumblings on wet surfaces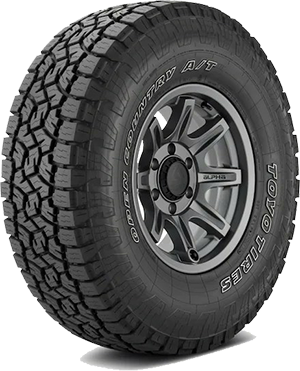 ---
5. BFGoodrich Mud-Terrain T/A KM3
Best for Aggressive Tread Patterns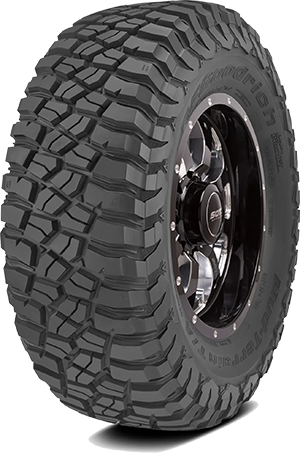 | | |
| --- | --- |
| Tire Type | Off-Road Max Traction |
| Tire Size | 15″ – 22″ |
| Weight | 41.05 LBS – 86.95 LBS |
| Load Index | 100 – 129 |
| Load Range | C1 – E2 |
| Speed Rating | – Q: up to 100 mph |
| Warranty | None |
| Ratings | 8.6/10 |
BFGoodrich Mud-Terrain T/A KM3 has one of the best aggressive tread patterns around, which can cope well with inconsistent steering, angled surfaces, and consecutive directional changes.
This tire model arrives with a special Krawl-Tek compound technology to handle extra slick/rock grip, supported by the huge tread blocks that give better foundation stability in loose/rocky conditions. Sidewall Sculptures fight off splitting and snagging damage, while the shoulder notches improve mud and dirt traction. The stone bumpers and mud-phobic bars assist in self-cleaning the tire off muddy particles and keeping stone-drilling damage at bay.
With the grooves, sipes, and extra add-ons interweaving well with each other, T/A KM3 has no issues tackling back-to-back veering on off-road dirt. You can veer right, left, then right again in consecutive cuts without feeling any fatigue signal – which proves quite a competitive edge when unexpected roadblocks or vehicles enter your sight line. Double apexes with multiple entry/exit points on our test track were handled with enough confidence and subtlety, not losing an ounce of traction at sudden braking or declarations.
Muddy terrains with littering clay pits and marsh swamps are also a non-issue, even better than dirt paths. The mud-phobic bars do a great job of spreading the sticky mud before it has enough time to settle on the tread, allowing KM3 to gain enough momentum for your next turns or angled leans without the common panic attacks.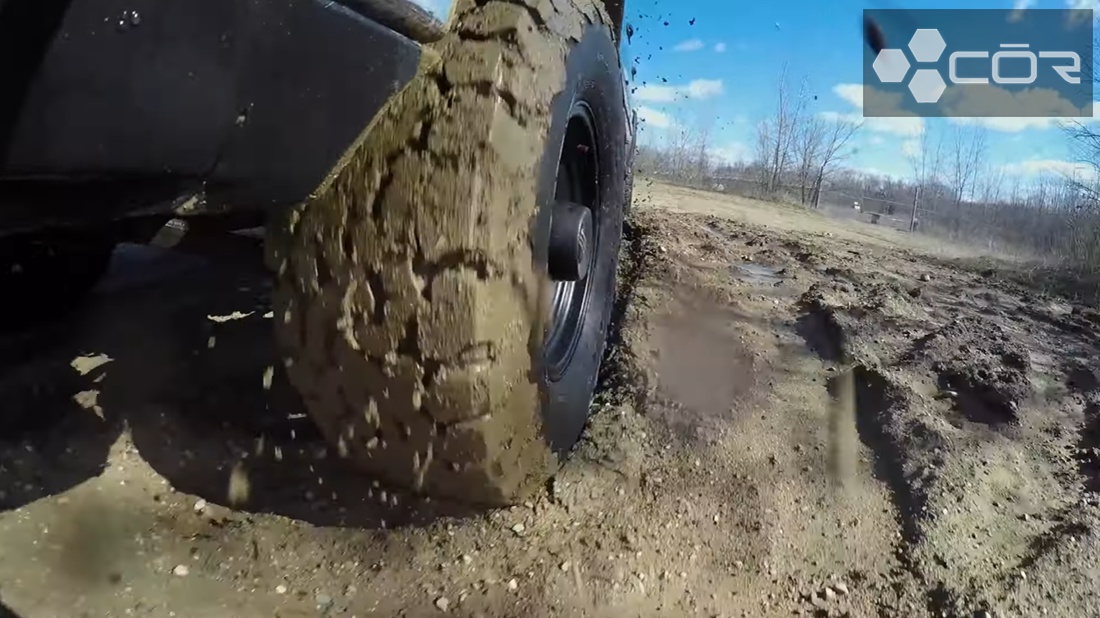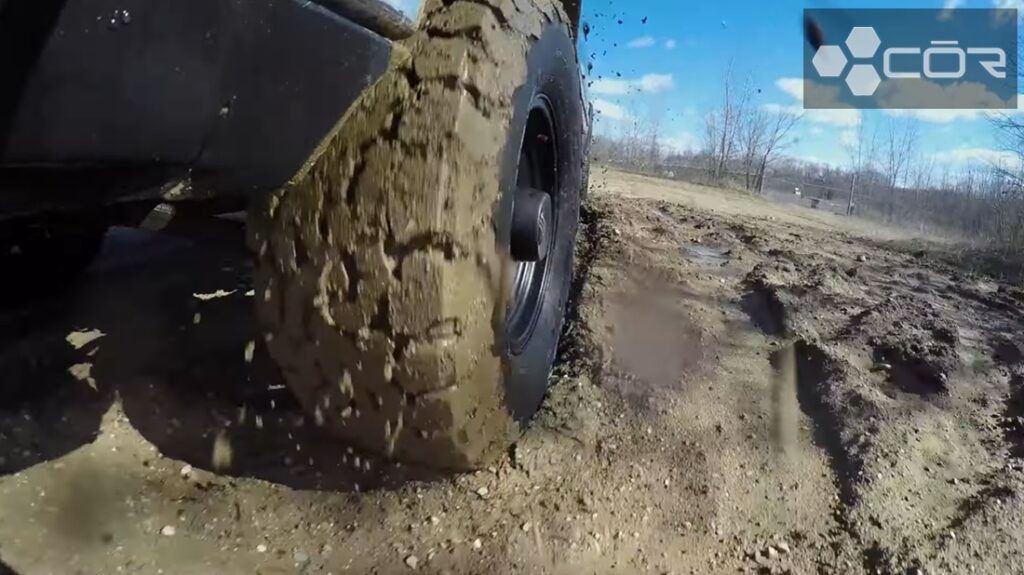 Stacked rocks showcased no less confidence, as the KM3 could strike slowly but surely higher across the staircase and stabilize the ribs with every movement at 45 MPH; in favorable conditions, surges to 70 MPH and above are within your reach.
Sand particles are smaller, intrusive, and less predictable, hence KM3's brief delays at particularly thicker patches. But you do not have to worry about any significant danger or speed compromise; KM3's tread patterns are still very aggressive here, evident in the way it navigates through constant washes with varying, inconsistent sand depths.
Still, you will find it lackluster on wet-road pavements and only decent on snow; in icy conditions, it is sometimes almost unrideable. This lack of competence in wet, cold temperatures clearly impacts the tread's heat control, so brace yourself for the first signals of shredding around the first 20,000 miles or so.
Aggressive patterns can handle constant directional changes and angled surfaces.
Good dry on-road traction
Satisfying off-road confidence
Decent on snow
Very underwhelming on ice
Less-than-stellar riding comfort
Mediocre treadwear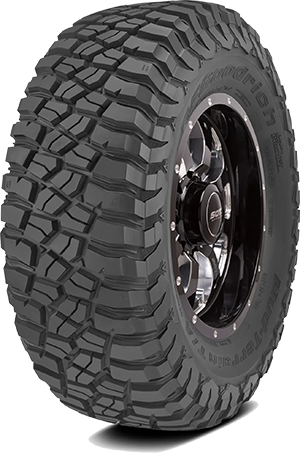 ---
6. BFGoodrich All-Terrain T/A KO2
Best for Snow and Mud Traction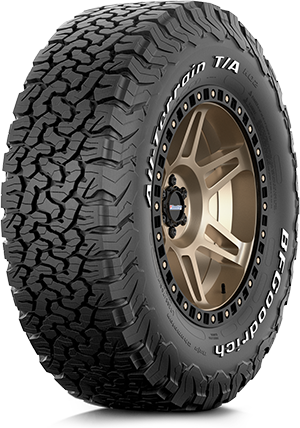 Tire Type
Off-Road All-Terrain
Tire Size
16″ – 20″
Weight
42.81 LBS – 70.72 LBS
Load Index
115 – 129
Load Range
C1 – E2
Speed Rating
– Q: up to 100 mph
– T: up to 118 mph
Warranty
50,000
Ratings
8.6/10
BFGoodrich All-Terrain T/A KO2 is a terrific off-road tire for mud and snow terrains.
Its chip-resistant compounds are computer optimized, offering high-void patterns and interlocked tread blocks/sipes for more stability and traction with acceptable noises. The Sidewall Armors feature sidewall rubbers twice thicker than previous BFGoodrich models, supporting the Serrated Shoulders in extra clawing bites for mud, dirt, and rocks.
The tire traveled seamlessly through basic mud terrains in our test, easily handling the most critical steering situations like lane changes, reversing, and backtracking. Hence, you can be confident of optimal safety even with beginner driving levels. Deeper pits with much thicker ruts admittedly pose more challenges, but this issue can be solved instantly by revving down to 30-35 MPH while taking 3-4 PSI off the front tires.
This confidence carried on to snow blankets, but this time twice better thanks to the ample void area and the snow's low-melting points. You should find it easy to maintain consistent, uneventful speed fluctuations between 40 and 65 MPH on deep snow beyond 7 inches. With the help of extra snow chains, we even dived straight into tight crooks at low angles using very minimal steering inputs.
Ice traction is not the best, but still ranks among the top of the competition. Provided limited loads (preferably below 5000 lbs) and well-inflated tires, traveling deep into thick ice build-ups for hours should be a non-issue; you do not have to pull over every 30-45 minutes like with some other competitors.
BFGoodrich KO2 also does not disappoint on other on-road and off-road terrains like dirt and rocks; its confidence in on-road wet surfaces is similarly noteworthy, guaranteeing your bold, smooth driving in moderate water depth below 7 inches.
The tread held its ground quite well despite our heavy abuse, so you can expect it to last for at least 50,000 miles. However, it seems some degrees of noise control have to be taken away to achieve that decent tread life; be more aware around corners if you are a fan of quiet rides.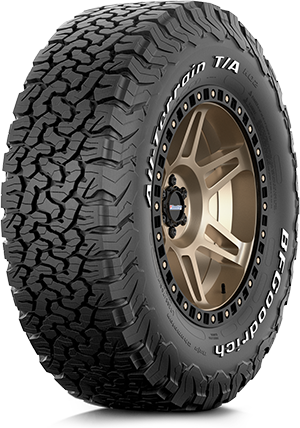 Handling mud and other off-road terrains well
Very satisfying on snow
Decent on ice
Good dry and wet traction
Pretty great treadwear (for an off-road AT tire)
Cornering noises
Occasional slippage in water beyond 7 inches
---
7. General Grabber A/TX
Best for All-Terrain Performance
Tire Type
Off-Road All-Terrain
Tire Size
14″ – 20″
Weight
28.0 LBS – 80.0 LBS
Load Index
95 – 127
Load Range
C1 – XL
Speed Rating
– Q: up to 100 mph
– T: up to 118 mph
Warranty
50,000 – 60,000
Ratings
8.5/10
General Grabber A/TX is the best choice if you want to handle both on-road pavements and light off-road terrains.
The tire features touch compounds with absorption layers beneath the treads to enhance riding comfort, while the optimized, wide footprints distribute pressure evenly for more consistent wear.
Stone bumpers are slotted in between to eject debris and rocks, and the Sidewall Lugs keep sidewall punctures at bay. The deep treads and multiple-angle blocks (for loose terrains), combined with traction sipes and notches, offer extra wintertime grip.
Hence, Grabber A/TX is very confident on off-road paths. Dirt terrains proved to be a non-challenge, as the contact patch sustained enough anchor to grip granule particles well, even during our whiplashing speed surges/reductions between 35-55 MPH. Traction loss did happen along S-curves and chicanes but refilled itself just as quickly, so you do not have to launch panic braking.
The available traction is still sufficient if you frequently traverse light rock and sand. The stone bumpers eject pebbles and stones without difficulty, growing more caved into the road pavements as you settle into your driving speeds. Harder rocks/thicker sands posed more hesitancy at turn entries and steep ascents on our test track – but given that you are looking for all-terrain tires and not max traction ones, this drawback could be let off the hook.
While slippery and jerks grew more frequently as our speeds accelerated along the ride, they were very predictable; even if you are just a beginner or have little experience, the tire leaves enough extra margins to fall back on in case of overreactions or excessive outwards leaning.
Grabber A/TX retains lots of confidence on on-road paths, too; its steering response is mostly punctual and accurate, ensuring you can drive straight, veer left/right, and maneuver roadblocks with great footholds in most daily driving situations. You can drive with A/TX in wet weather with few hydroplaning issues, given the water level being lower than 8 inches.
Based on our test, the tread has pretty great durability and chip resistance thanks to the absorption layers; hence, worries about cracked rubbers or damaged sidewalls are rather unnecessary. But to trade for this tread life, it seems A/TX does give away some riding comfort – especially on highways – resulting in minor but constant bumps at high speeds.
Good all-terrain performance (on-road and light off-road)
Pretty good treadwear
Capable on light and deep snow
Great on ice (for an off-road AT tire)
Minor but frequent bumps at high speeds
Low rumblings around turns and curves
---
8. Falken WildPeak A/T3W
Best Off Road Tire for Durability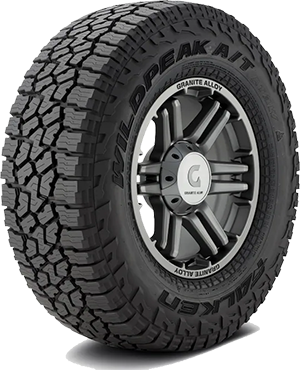 Tire Type
Off-Road All-Terrain
Tire Size
15″ – 22″
Weight
31.1 LBS – 84.0 LBS
Load Index
99 – 129
Load Range
C1 – XL
Speed Rating
– H: up to 130 mph
– T: up to 118 mph
Warranty
55,000
Ratings
8.5/10
Falken WildPeak A/T3W is the ultimate choice if you prioritize excellent durability and longer usage.
The durable compounds are optimized with step-down features and support ramps, offering both handling stability and stone damage prevention. Aggressive sidewall parts protect the treads from sharp debris (common in off-road situations); meanwhile, the 3D canyon sipes support the blocks under extreme torque conditions and create extra bites for ice/light snow conditions.
Thanks to the well-spaced blocks and grooves, WildPeak A/T3W enjoys very consistent and uniform rolls. The contact patch and sidewalls suffer from no concentrated pressure, so even when treadwear does happen, its impact is evenly spread. You can enjoy at least 60-70,000 miles without much tread damage. In fact, the A/T3W stayed relatively unchanged after our summer/winter test, even on below-zero January days and overheating asphalts in June-July (100 degrees F at max).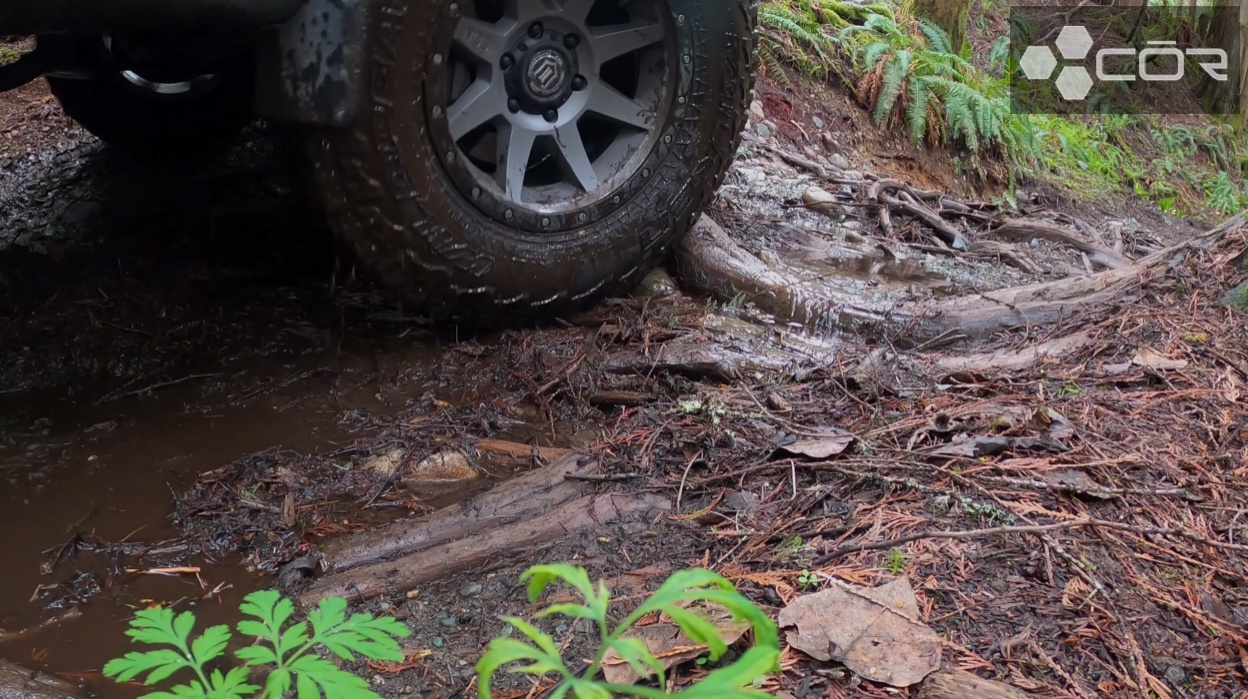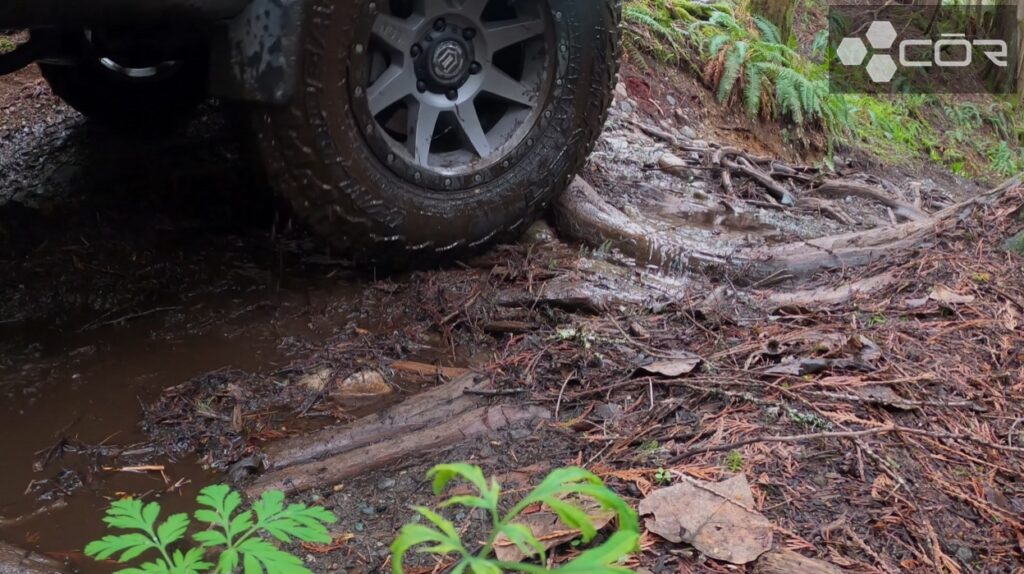 The tire's durability is raised to new heights thanks to the aggressive side walls and support ramps, keeping thick debris, sharp stones, and sticky mud at bay with very confident self-cleaning. Cracks and physical dents will not become a looming threat, allowing you to be much more generous with cargo loads (about 5000 lbs) and the amount of allowed passengers.
This impressive, strong stability and damage resistance translates well into traction performance: A/T3W rarely showed severe burnouts or fatigue when we tested it on off-road terrains, tackling texture changes tactfully with only some pronounced hesitations at much rougher sections (ex: graveled, deep clay mud or rock staircases). Its on-road and snow-riding comfort offers you a seamless driving experience, and you'll enjoy its low-key tread noises.
Great durability, good damage resistance, and even wear
Capable off-road handlings
Generally confident in dry/wet on-road and snow conditions
Decent ice traction
Great riding comfort with acceptable noises
Hesitations on rugged patches are pronounced.
---
9. Firestone Destination M/T2
Best Off Road Tire For Value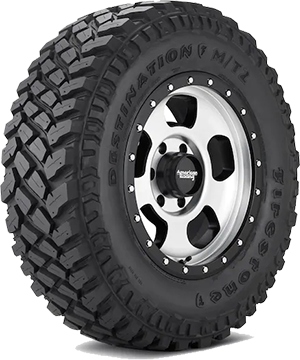 Tire Type
Off-Road Max Traction
Tire Size
15″ – 20″
Load Range
D – E
Speed Rating
– Q: up to 100 mph
– T: up to 118 mph
Warranty
None
Ratings
8.7/10
Firestone Destination M/T2 has much better performance and road handling than other tires of the same pricing.
It utilizes tear- and chip-resistant rubber compounds with 23-degree angles that pull power on soft, loose terrains with relative ease. The serrated sidewall lugs provide extra side bites, while the stone and mud ejectors clear off debris/pebbles to sidestep stone damage.
As such, M/T2 leaves little room for complaints on dirt traction; its aggressive side walls molded themselves well onto the road surfaces to carry our car straight to 70 MPH (sometimes even higher in more favorable conditions) with no problems. You can even squeeze extra traction with constant push-and-pull when entering grassy dirt fields; M/T2 stays composed and does not stutter much despite the inconsistent textures.
Rocky terrains are also M/T2's best friends; speed increases were slightly more difficult for our team than on dirt at corners, but it will be easier when you are back to straight-line driving. Uneven pebbles near quarry sites only resulted in minor hiccups at higher speeds (75+ MPH) and nothing more – a pretty impressive feat compared to same-sector tires.
M/T2's performances on loose terrains (sand and mud) do not pose much of a challenge for you as an average driver; grinding the steering wheel with sufficient force can breeze your car through deep pits and sand dunes beyond 7 inches. Beginners encounter more slippage around the corners, though, so we suggest revving down to 20-35 MPH and alternating between punctual brakings and decelerations.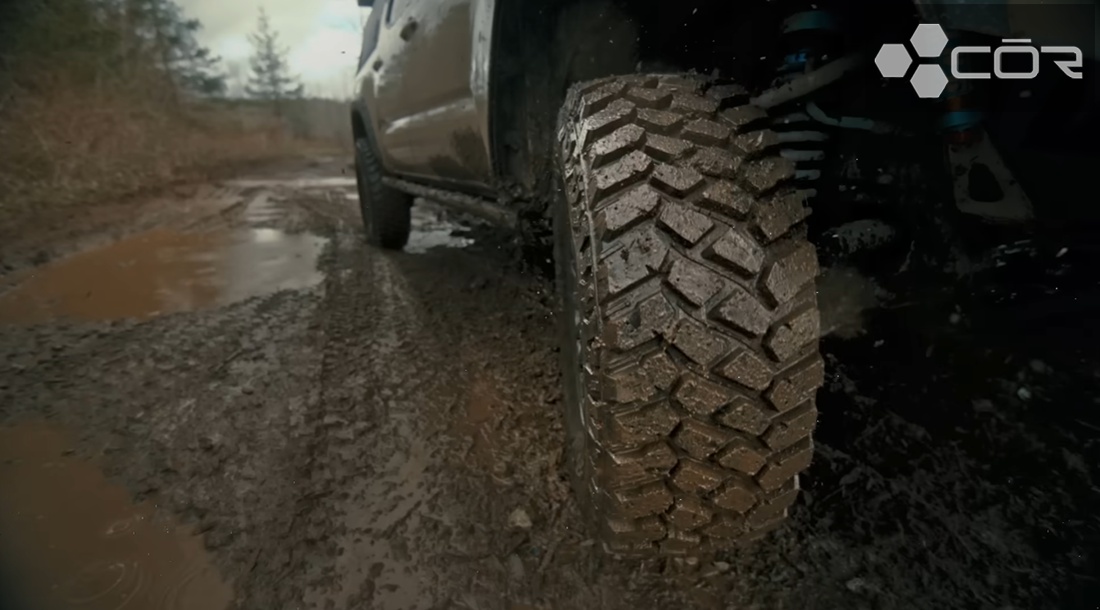 For a tire of its price, snow traction is also delightfully decent; icy roads are tackier but rideable at consistent speed rates.
Still, Destination M/T2 does deliver muted (sometimes even slightly weak) feedback with its steering on dry-road pavements. Plus, the lack of temperature adaptability seems to take quite a toll on the tread's health – though it is still not bad for an off-road model in the grand scheme of things.
Great quality for the price
Very confident on off-road terrains
Decent snow handling
Mediocre on-road traction
So-so treadwear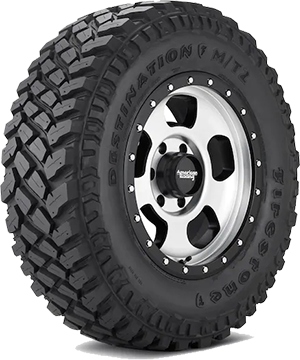 ---
10. Kumho Road Venture MT71
Best Off-Road Tire for Budget
| | |
| --- | --- |
| Tire Type | Off-Road Max Traction |
| Tire Size | 15″ – 22″ |
| Weight | 49.0 LBS – 86.0 LBS |
| Load Range | D – E |
| Speed Rating | – Q: up to 100 mph |
| Warranty | None |
| Ratings | 8.7/10 |
Kumho Road Venture MT71 takes the crown as the best budget tire while still delivering basic off-road decency.
This Kumho model utilizes the Tri-Blended compounds, with proprietary polymer mixed in to handle severe conditions during heavy hauls/towing. The zig-zag, high-void dual-pitch design ensures maximum traction on loose surfaces, aided by the stone/mud ejectors between blocks to prevent stone and debris damage. Furthermore, each shoulder features extra biting edges to protect the sidewalls and increase grip.
For a budget tire, Venture MT71 sends you a lot of confidence on dirt and rock terrains, with bold, self-aware performances not that much different from the more expensive tires above. You can tow 3000-4000 lbs trailers through washboards and riverbeds without drama, and the extra support from the dense rocks/dirt even manages to stabilize the on-center ribs further for narrower cornerings. The rides are overall smooth and bumpless.
And loose terrains cannot compromise Venture MT71's performance, either; during our test, they delivered better footholds than the Falken WildPeak A/T3W (ranking at #8) and General Grabber A/TX (#7) thanks to the very well-built ejectors. MT71 self-cleaned quickly and refilled traction just as breezily, except for very thick sand dunes or deep and gravelly mud of more than 5 inches. You, even as a novice, should not encounter troubles with the tire's sharp, punctual steering response here.
The tire's snow performances are above-average and deliver predictable, well-controlled stutters, surpassing the much pricier tires. You can use them as temporary winter tires anytime, minus during harsh storms.
Unfortunately, its on-road handlings explain the low price; even on well-paved, smooth roads, jostles are very frequent. MT71 is also the least comfortable tire out of the top 10, annoying most daily drivers with its constant tread rumbles and coughs that seem to get easily triggered by anything.
---
How to Choose The Right Off-Road Tires
Consider the following critical factors:
Types of terrains. If you mostly engage in light off-roading (ex: soft mud or gravel paths), then an off-road AT tire would do. Meanwhile, full-on mud tires will be a suitable choice when tackling rougher surfaces.
Tire size. Larger tires offer better traction and ground clearance but sacrifice on-road handling and fuel efficiency. Assess your needs to see whether large or small tires are a better fit.
Ply ratings. High ply ratings (more layers of sidewall fabric and rubbers) withstand abuse better and last longer but compromise riding comfort during the process. Like with tire sizes, it is up to your preference whether high or low ratings will be more ideal.
Conclusion
Yokohama Geolandar M/T G003 obviously has no competitors at all and deserves to be lauded as the ultimate pick. Its off-road ratings (especially on sand and mud) are impressive, and the tire also does great during on-road conditions with exceptional riding comfort and noise control.
All in all, except for ice roads (the tire's weakest point), you can trust Geolandar G003 in any weather and terrain.
Here is the summary of the 10 best off-road tires in the 2023 COR Wheels Tire Test:
| Tire Brand & Model | | | | | | | | | | | |
| --- | --- | --- | --- | --- | --- | --- | --- | --- | --- | --- | --- |
| Yokohama Geolandar M/T G003 | 1st | 9 | 9 | 8.8 | 8.2 | 8.9 | 9.4 | 9.6 | 9 | 9.5 | 9.4 |
| Cooper Discoverer STT PRO | 2nd | 8.7 | 8.7 | 8.3 | 8 | 8.3 | 9.2 | 9.3 | 8.8 | 9.4 | 9.2 |
| General Grabber X3 | 3rd | 8.7 | 8.6 | 8.6 | 8 | 8.3 | 9.1 | 9.3 | 9 | 9.1 | 8.9 |
| Toyo Open Country A/T III | 4th | 8.7 | 9 | 8.7 | 8.4 | 8.6 | 8.7 | 9.1 | 8.7 | 8.5 | 8.7 |
| BFGoodrich Mud-Terrain T/A KM3 | 5th | 8.6 | 8.8 | 8.2 | 7.8 | 8.2 | 9.3 | 9.4 | 8.9 | 9.5 | 9.3 |
| BFGoodrich All-Terrain T/A KO2 | 6th | 8.6 | 8.9 | 8.6 | 8.2 | 8.4 | 8.8 | 9.1 | 8.8 | 8.5 | 8.9 |
| General Grabber A/TX | 7th | 8.6 | 8.9 | 8.6 | 8.1 | 8.5 | 8.7 | 9 | 8.7 | 8.5 | 8.7 |
| Falken WildPeak A/T3W | 8th | 8.6 | 8.8 | 8.7 | 8.5 | 8.5 | 8.6 | 8.9 | 8.6 | 8.3 | 8.5 |
| Firestone Destination M/T2 | 9th | 8.5 | 8.6 | 8.2 | 7.9 | 8 | 9.1 | 9.3 | 9 | 9 | 9.2 |
| Kumho Road Venture MT71 | 10th | 8.5 | 8.1 | 8.3 | 7.7 | 8 | 9 | 9.2 | 8.9 | 9.1 | 9 |
---
President & Automotive Expert at COR Wheels
Robert Herrera has been with COR Wheels for 17 years and has a great passion for the automotive industry. During his time at COR Wheels, he has driven and test-driven a variety of vehicles.
---