General AltiMAX RT43 might not be the first name people think of regarding premium grand touring tires. Nevertheless, thanks to the innovative anti-slip designs, wide circumferential grooves, and fair riding quality, the tire manages to earn a good reputation reflected in the impressive sales increases each year.
A more detailed report of the RT43's performance will be disclosed in our following tire review.
In this article:
General AltiMAX RT43 Specifications & Features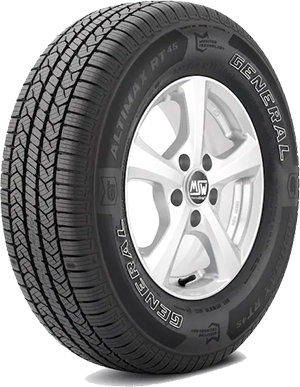 Tire Type
Grand Touring All-Season
Tire Size
14″ – 18″
Weight
15.0 LBS – 28.0 LBS
Load Index
84 – 103
Load Range
SL – XL
Speed Rating
– H: up to 130 mph
– W: up to 168 mph
Warranty
65,000 – 75,000 miles
Ratings
8.2/10
General AltiMAX RT43 is aimed towards standard cars and vehicles during daily driving situations, promising well-balanced quietness, riding comfort, and traction with the following features: 
The twin cushion silica tread utilizes high-density tops and low-density bases to absorb tread noises, promoting riding comfort.
Symmetric tread patterns, which feature continuous ribs and independent blocks, minimize squeaking sounds via sound wave suppression technology.
Anti-slip design and circumferential grooves increase biting edges for slippery roads.
Low-Surface Abrasion Tech prevents tread distortion and surface abrasion for longer RT43's tread life and more uniform treadwear.
Double steel belts (strengthened by polyamide layers) foster good handling.
The polyester cord body enhances riding quality.
General AltiMAX RT43 Review & Performance Test Results
Our team used the 225/50R17 tire size version of General AltiMAX RT43 on the 2018 Honda Accord car model, testing its performance in January and June-July as part of the 2023 COR Wheels Tire Test.
1. Dry Performance: 8.6/10
Dry Traction: 8.8/10
General AltiMAX RT43 composed itself very well on dry roads. The initial shakes after we settled on the road at 40 MPH were noticeable but hardly concerning, as traction recovery occurred just seconds after. We managed excellent confidence through straight endeavors and even performed a bit of daring leans when navigating through rocks and tree branches, or when overtaking other vehicles in the same lane.
Rougher brick roads did send a faint flurry of jostles our way. Still, even that was a non-issue if we kept our steering wheel straight and applied consistent driving rates all through. RT43 also showed impressive competence dealing with hard brakings, pulling us to a stop with surprising gentleness compared to other tires we have tested.
Likewise, highways did not pose much of a problem. Except for long toll plaza curves and elevated turns that naturally wear down the contact points after several hours, AltiMAX RT43 bonded well with the asphalts and rarely hesitated towards our whiplashing input changes.
Heavy cargo still needed to be inserted with strategy – but given that we could deal well with the tire drags with 4 passengers, you should have no problems carrying extra weight on a regular basis.
On another note, as expected of most General touring tires, AltiMAX RT43 experienced more slippage accidents as we accelerated nearer highway limits (85 MPH). Fortunately, save for tightly-spaced curves, there was not much safety compromise.
Corner Stability: 8.5/10
AltimAX RT43 did a very spectacular job in tight corners that required significant speed reductions, such as chicanes and hairpins. The decelerations between extreme speeds were carried out with excellent smoothness and very faint (if existent at all) rib wavers, hence our non-dramatic maneuverings down to the exits.
Still, you might experience some struggles with wider-radius corners or attempted intentional steer; the tire's grooves and sipes did not receive enough support to withstand sudden power surges without major lagging. Early or late apex were doable but had to be performed with strategy – and preferably as infrequently as possible; otherwise, we would have downright plummeted around the liners.
Steering Response: 8.5/10
AltiMAX RT43 is not exactly the sharpest or most punctual tire for you in this regard, especially during critical 180-degree turns or sudden veering. Nevertheless, thanks to the predictable patterns and quite stable contact patches on regular roads, it still grazed safely into our list's top ranks. Inputs and feedback were closely parallel most of the time, only exhibiting hesitations or longer delays during harsh texture transitions or deep dives into esses.
Better yet, unlike most tires that grew fainter along higher speeds, the AltiMAX RT43 remained surprisingly responsive when we revved gradually toward 60 MPH. Sure, occasional stalls were not completely kept out of the picture, but RT43 recovered fast and maintained excellent momentum since.
2. Wet Performance: 8.4/10
Wet Traction: 8.4/10
AltiMAX managed to retain almost all of its dry edges on shallow puddles. Higher speeds beyond 55 MPH did still result in brief panics around the flanks, but you can trust the tire to deliver well in almost any other situation. From lane merges and swift dives to steep ascents, RT43 rarely lost touch with the driving terrains, trampling slippage in startlingly decisive moves that left no room for accidental plummets.
We admittedly did not have the same seamless experience with water depth beyond 5 inches – though fortunately, RT43 managed to keep danger at bay despite the jostles and gliding. Accelerations, while not really recommended for extremely slippery surfaces, were still possible with consistent push-pull and gradual revs. You will unlikely have many issues with moderate to light brakings, evident in the way our car pulled over with very predictable reactions.
In another vein, thick slush and sticky gravel were far from its best highlights. Our car got stuck here more often than not, requiring extreme steering force to wriggle its way out of the mess.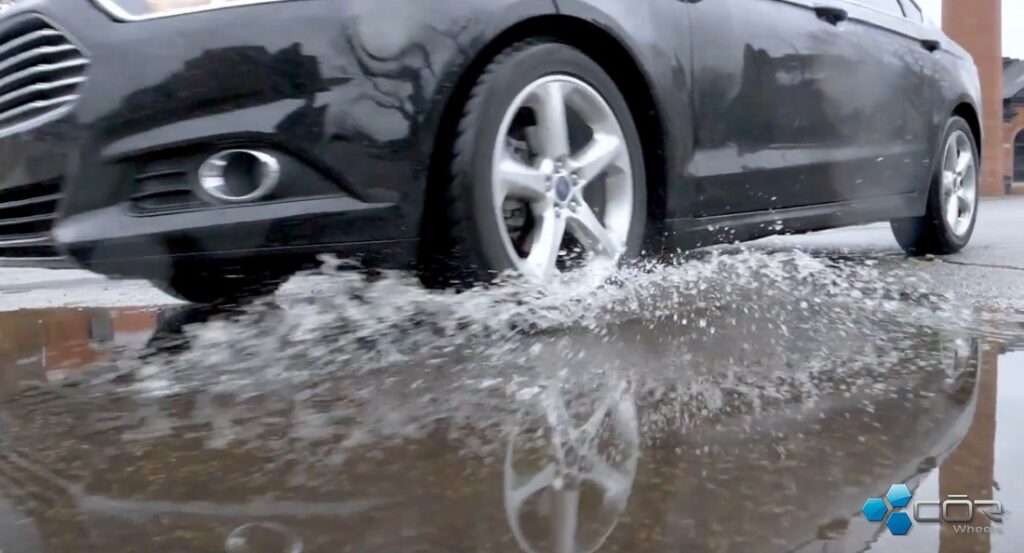 Hydroplaning Resistance: 8.4/10
Although the anti-slip design and circumferential grooves did not exert as much stability as we had hoped, AltiMAX RT43 still ticked most of our boxes in light to moderate water depths (below 5 inches).
Water redistribution still occurred regularly within acceptable margins, and accidental hokes around particularly flooded corners did not immediately damper the car's momentum. Furthermore, thanks to the rather consistent tire rolls, you can avoid serious panics and coughs when unplanned accelerations are required to sidestep unexpected roadblocks.
Deep water beyond 5 inches did pave the way for more hydroplaning issues – though we managed to minimize the damage by hovering between 35 and 37 MPH while ensuring the downshifts were smooth.
3. Winter/Snow Performance: 7.3/10
Light Snow Traction: 8/10
The tire delivered well on light snow terrains. Its clawing actions might not be exceptional, but enough to handle basic driving situations with little to no stutter, almost comparable to a winter tire. Snow chains (even on just two tires will be sufficient) will also help you regain lots of confidence on slopes, highway transitions, and tight corner entries.
Deep Snow Traction: 7.2/10
AltiMAX only exhibited decent footings at low rates (not beyond 35 MPH) and faltered significantly at any other number. Cornering attempts were not totally out of reach – but judging by the way our less physique-competitive members struggled to keep the cars straight, it would be better to avoid them altogether if you lack expertise.
Snow chains did help a little, though mostly on well-paved roads. On rugged passes and canyon roads, the traction losses and drifting returned in full force.
Ice Traction: 6.6/10
Ice traction was not the best but not completely disastrous when compared to other rivals. Decent footings could still be achieved on thick ice build-ups at 20 MPH (25 to 30 on moderate packs), even raising the bars higher when we removed all passengers and cargo.
Pulling the tire over after every 30 minutes also seemed to strengthen its sidewalls somewhat for us, so remember this tip whenever you have to engage in extended trips on ice terrains.
4. Comfort: 8.4/10
Ride Quality: 8.5/10
We were pleased with RT43's subtle and cushioned impact handling across all terrains at regular driving rates – light snow included (when equipped with snow chains). More road vibrations lurked around in wet conditions and on mountain passes, but were not enough to throw the car off-balance or make it downright uncomfortable – a good choice if you do not have exceptionally high demands in this regard.
Noise: 8.2/10
Low-key squeakings should be expected on highways, corners (especially from tight angles), and canyon roads. But other than that, they remained quite tame and well-controlled, even whitening out when we kept speed changes at a minimum. You will also find the tire to be pretty quiet when loaded with cargo below 100 lbs and only 1-2 passengers.
5. Tread Life and Durability: 8.2/10
The tire still caved in quite easily under cold temperatures, though fortunately not enough to leave notable dents on the tread after our testing. Plus, the 75,000-mile warranty is also very reassuring; you can have your tread issues settled for about five or six years after purchase.
General AltiMAX RT43 Pros & Cons
Good dry traction
Reliable steering and cornering in dry conditions
Pretty good traction on wet roads
Handling light snow quite well
Decent treadwear rates
Competitive 75,000-mile treadwear warranty
Fairly smooth rides
Struggling on deep snowy roads and ice
Noise control could have been better
Competitors and Alternative
General AltiMAX RT43 shared many things in common with BFGoodrich Advantage T/A Sport, Firestone Champion Fuel Fighter, and Pirelli Cinturato P7 All Season Plus, while also differing from them in certain regards:
General AltiMAX RT43 had impressive footings on wet and light snow terrains compared to the rest, but its bumpy ride took away some of its scores.
BFGoodrich TA Sport excelled in dry track performances and engaging road handlings. However, the tire generated much more tread noises than the rest.
Firestone Champion Fighter delivered all-around traction across all terrains. Nevertheless, it would do better without constant jostles over large cracks.
Pirelli Cinturato balanced riding comfort and treadwear extremely well, but there was a lot of room for wet performance improvements.
Conclusion
The tire is not exactly exceptional in our General AltiMAX RT43 reviews, but its behavior on on-road terrains (both dry and wet) was good enough to be rated beyond 8. Light snow performances played mostly in our favor as well.
Hence, it would be best to install these all-season tires during casual daily driving, occasional highway rides, and light snow in favorable temperatures. Deep snow/ice can still bond with the tire at low driving rates, but are not exactly the safest place to attempt corners or spirited handling.
General AltiMAX RT43
PRICE
SOLD BY

Offers

In Stock

Offers

In Stock

Offers

In Stock

Offers

In Stock

Offers

In Stock
---
President & Automotive Expert at COR Wheels
Robert Herrera has been with COR Wheels for 17 years and has a great passion for the automotive industry. During his time at COR Wheels, he has driven and test-driven a variety of vehicles.
---