Highway driving is not as drastic and traffic-packed as on regular roads, but it could bring about extreme discomfort if paired with the wrong sets of tires.
Fortunately, all the 10 contenders for the best all-terrain highway tires in our COR Wheels Tire Test have respective strengths that elevate them above the noise, suited to niched preferences and driving needs.
In this article:
How Did We Test & Pick The Best Tires for Highway?
The list was hand-picked based on our results reports from the 2023 COR Wheels Tire Test, which evaluated real-life metrics of 40 best-selling all-terrain tires in the market to single out the best 10 performers.
Aided by verified customer feedback gathered in our surveys, the road tires were categorized based on 7 major criteria (in which the first three become the main focus):
Dry Performance
Comfort & Noise
Treadwear
Winter/Snow Performance
Wet Performance
Off-Road Traction
Price
Top 10 Best All Terrain Tires for Highway Driving
---
1. Vredestein Pinza AT
Best for Overall Performance on Highway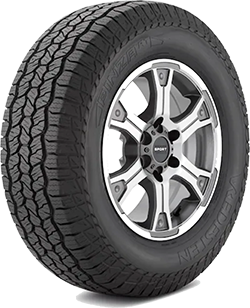 | | |
| --- | --- |
| Tire Type | On-Road All-Terrain |
| Tire Size | 15″ – 20″ |
| Load Range | C – SL |
| Speed Rating | S, H, T |
| Warranty | 70,000 |
| Ratings | 9/10 |
Vredestein Pinza AT beat all other competitors in overall riding quality on highways. Such a feat is attributed to the computer-aided four-groove pattern built for respectable road handling, coupled with extra biting edges from the multi-pitches and good surface grips brought about by high void ratio and shoulder elements.
The zigzag grooves and deep sipes offer great traction on wet surfaces and do even better on smooth asphalts, surprising us with how seamless and grippy it was as our car tires rolled onto the first highway miles.
Brief traction losses were there in the first initial bites if we truly paid attention, but swallowed so quickly under the strong contact points that they could be very well considered as non-existent. The car settled quickly at 40 MPH and grew stronger on its footholds as we navigated through curves, unfazed by the crosswinds or occasional angled leans we applied throughout the way.
And thanks to the tire's broad shoulder elements, highway bumps and cracks were handled very well. While the jostles could still be faintly felt, the tires palmed over them in enough cushioned feel that those vague vibrations rarely posed themselves like a true threat.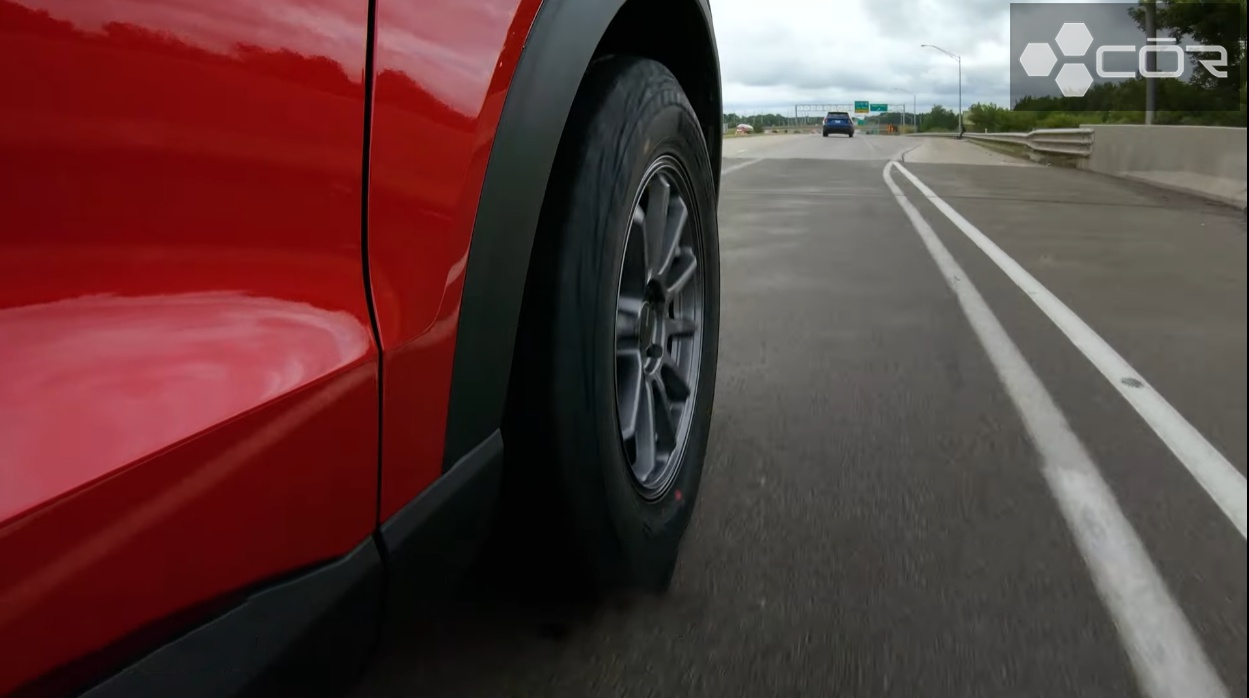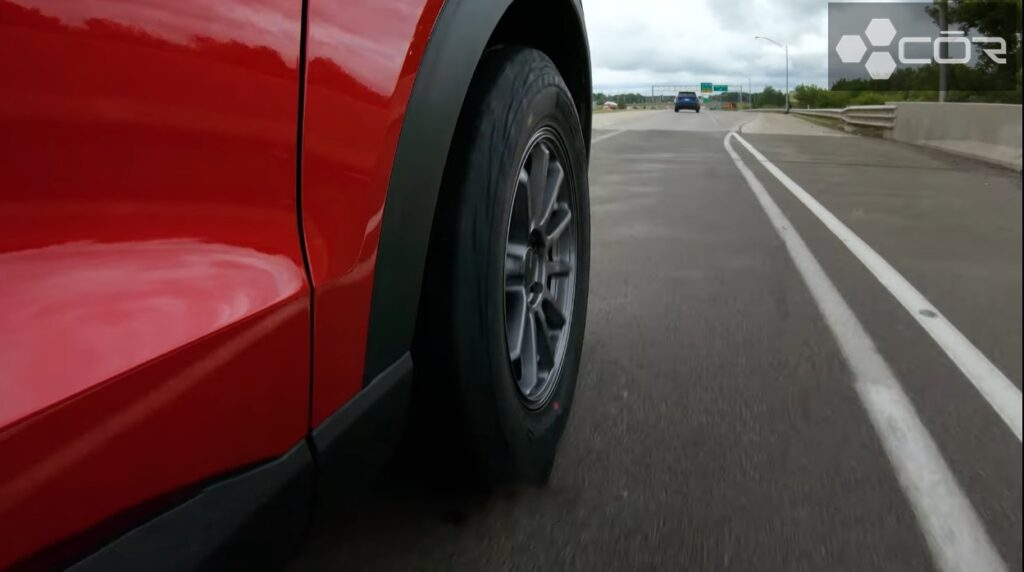 Hence, accelerations nearing 80 MPH were generally comfortable and breezy, only stuttering slightly at back-to-back curves and smoothed out during the rest. At about 65 MPH, the noise was amplified to about 70dB, a bit louder than our daily conversation and not that annoying. So if you seek something more spirited rather than daily leisure highway commuting, be prepared for the noise.
The best thing about Vredestein Pinza AT is that it does not have to sacrifice treadwear rates to give room for riding comfort. Subjected to various terrain changes, yet the tread stayed mostly intact after our trips – no visible dents, cuffs, or any other signals worth worrying about.
And except for ice and mud traction, which fell lackluster (compared to the rest of the tire, not the other competitions), Vredestein Pinza AT held its composure extremely well in all other terrains beside dry highways, including wet, wintry, and off-road surfaces. One can trust Vredestein Pinza AT to deliver all-year round, anytime and anywhere.
Very excellent performance on dry highways/pavements
Excellent grip on snow
Handling off-road dirt, sharp rocks, and sand well
Top-class, excellent comfort
Traction on ice and mud is less than on other terrains
---
2. Falken WildPeak A/T Trail
Best For Off-Road Traction & Durability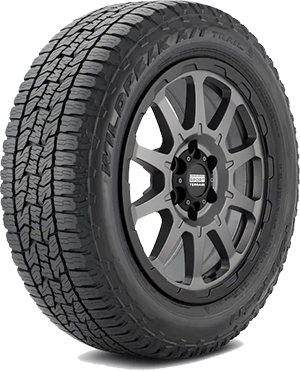 Tire Type
On-Road All-Terrain
Tire Size
16″ – 20″
Weight
26.0 LBS – 42.0 LBS
Load Index
95 – 111
Load Range
SL – XL
Speed Rating
– H: up to 130 mph
– V: up to 149 mph
Warranty
65,000
Ratings
8.9/10
Falken WildPeak A/T Trail is a powerful assistant on off-road terrains. The tire model introduces silica-enriched, layered compounds symmetrically molded to enhance durability over varied conditions and temperatures, supported by the littering of open shoulders, circumferential grooves, and independent blocks with edges and notches.
At the same time, punctures from sticks and rocks were countered with over-shoulder ribs and rugged upper-sidewall constructions. We also appreciated the 3D interlock sipes below the rubber, offering biting edges that more than suffice through dirt and snow plowing.
Our full-size SUV gripped the wet, sticky off-road dirt in almost the same manner on on-road dry roads. Accelerations from our starting point of 40 MPH towards 55 had to be done a bit strategically in the first five minutes or so but grew more and more effortless the longer we rode, eventually bracing the road patterns as if they were long-lost friends.
Performances on rock terrains were accompanied by more bumps and side shakes due to their rugged nature, but remained composed nonetheless. Falken WildPeak A/T Trail breezed through the gap between rocks with little drama and held its ground when texture and lane changes occurred within short notice.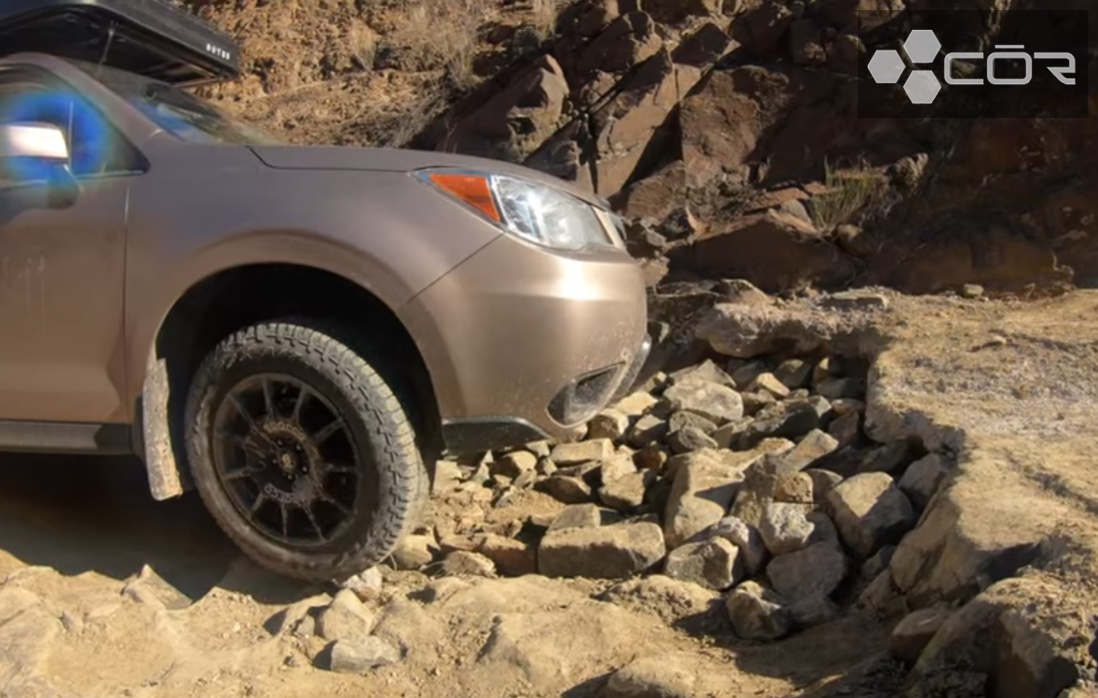 Sharper rocks dented closely into the rubber did produce a worrying "thud" sound that had us get off the car to check, but turned out that was a false alarm; after that, our car trampled on them as if nothing happened.
The 3D canyon sipes surely did their intended jobs in redirecting sand; while some of the softer and trickier particles still got in, they were not powerful enough to stall the car or create a heavy-dragging feel at our contact patch. And mud performance was only a (small) tad behind sand, calling for a bit of consistent push and pull to get the car out of rough patches, but it was likely the only significant drawback worth mentioning.
Highway performance didn't lose its spotlight, as well, allowing us to rev up to 75 MPH with minimal road noise (even less than the Pinza AT at No.1) that blended into the wind's howl. And after our test in scorching summer days (June-July) and below-zero winter days, treadwear was far from the biggest issue.
However, we loved to see a slight increase in corner stability when dealing with consecutive ascents/descents on mountain passes.
Amazing on off-road and highways
Great dry/wet traction
Very stable on snow
Good treadwear
Cornering felt lackluster at times
Underwhelming on ice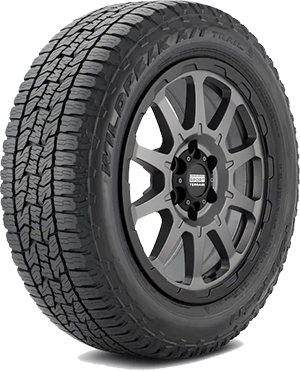 ---
3. Cooper Discoverer AT3 4S
Best for All-Weather Traction and Comfort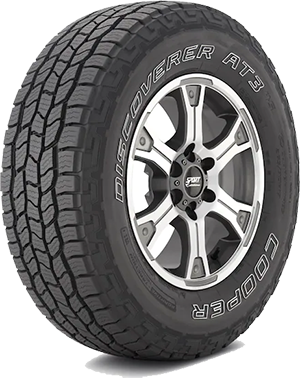 Tire Type
On-Road All-Terrain
Tire Size
15″ – 22″
Weight
29.0 LBS – 45.0 LBS
Load Index
99 – 117
Load Range
SL – XL
Speed Rating
– H: up to 130 mph
– T: up to 118 mph
Warranty
65,000 miles
Ratings
8.8/10
While other standard tires performed extremely well in certain weather and became less confident in others, Cooper Discoverer AT3 4S settled beginner worries with relatively similar performances across all types of temperature/extreme weather conditions.
The tire utilizes silica-based compounds with five-rib designs, engineered to offer dry and wet capabilities. Its AquaVac, circumferential channels and lateral notches promise good water evacuation, while the micro ZigZag sipes deliver more biting edges and tread block footings.
Better yet, we also appreciated the unique saw-tooth edges (SnowGroove tech), which is supposed to cater to snow traction but worked extremely well in other conditions (like summers), too.
With its incredible temperature adaptability, Cooper Discoverer AT3 4S did not bolt back when touching hot asphalts the same way other tires did, taking less than 5 seconds to establish its anchor and carrying us at an uneventful speed surge of 40 to 55 MPH. Though our car witnessed a 1-2 MPG drop in gas mileage, we considered this a trade-off for the excellent tread life, as we noticed no signs of overheating on searing highways.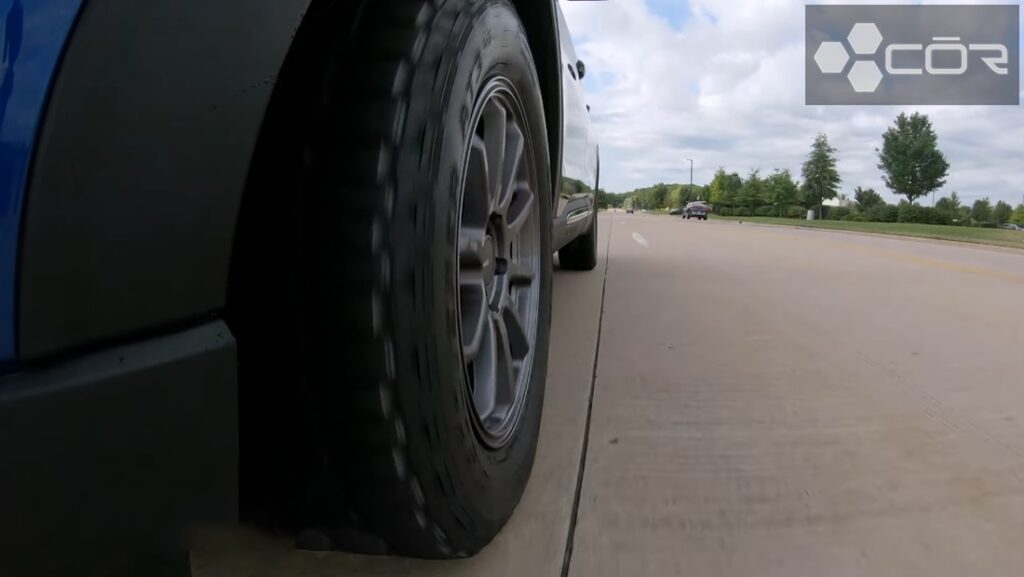 The way Cooper Discoverer AT3 4S retained its grip when we transitioned from hot to cold asphalts (post-rain, long puddle patches, or mid-downfalls) was also amazing. Changes in the rubber flexes were hard to notice, not stripping off much cornering grip even when we entered the entries a bit more abruptly than expected.
Hydroplaning did occur a bit more frequently as the water deepened beyond 5 inches, but nothing truly dangerous compared to the grand scheme of things.
Cold snow or harsh snow storms on highways were not much of a challenge, either, further cementing AT3 4S as an all-weather tire: the SnowGroove shined with all its maximum capability and curved entirely onto the road patterns without needing snow chains. Except for lack of visibility (typical of any storm), we barely experience any real driving compromise, treading forward just like how we did in on-road wet.
Regardless of terrain and weather, riding comfort remained a great delight; we ground through bumps and cracks with little difficulty and only sensed a faint sense of panic jostles when handling slightly larger road imperfections (under construction). Road noises were also tolerable, minus some low rumbling (thankfully swallowed by the crosswinds) as we revved nearer to 60 MPH.
Consistent traction across weather conditions on highways
Great dry traction
Pretty good wet traction
Satisfying off-road qualities (for an on-road AT tire)
Great riding comfort, tolerable noises
Occasional panic reactions
A bit of rumbling at 60 MPH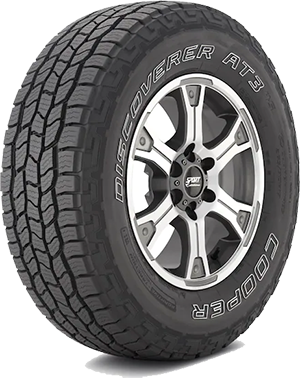 ---
4. Continental TerrainContact A/T
Best All Terrain Tire For Dry & Wet Traction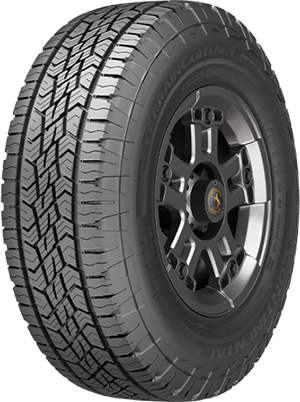 | | |
| --- | --- |
| Tire Type | On-Road All-Terrain |
| Tire Size | 17″ – 22″ |
| Load Range | XL – SL |
| Speed Rating | H: Up To 130 Mph |
| Warranty | 60,000 |
| Ratings | 8.7/10 |
Most on-road AT tires are satisfying in dry/wet traction on highways, but Continental TerrainContact A/T is the most confident and consistent of them all.
The tire introduces +Silane compounds molded in open patterns to offer more stability, while the closed shoulders and tread blocks promise less uneven wear. Plus, with edge-block grooves and deep sipes to add to +Silane additives, all-season wet traction becomes a non-issue.
Continental's advertisements translated well into our experimental endeavors on dry highways. Well-paved roads were an (obvious) given due to the stable blocks and shoulders; but even on very cracked sections with small bumps and crevices littered every few feet, its bold confidence barely deterred.
Brief, sudden jostles were tackled well thanks to the flat, wide contact patch that reached all over to palm out the road, hence our non-dramatic fluctuations between 30 and 55 MPH even at low-radius corners.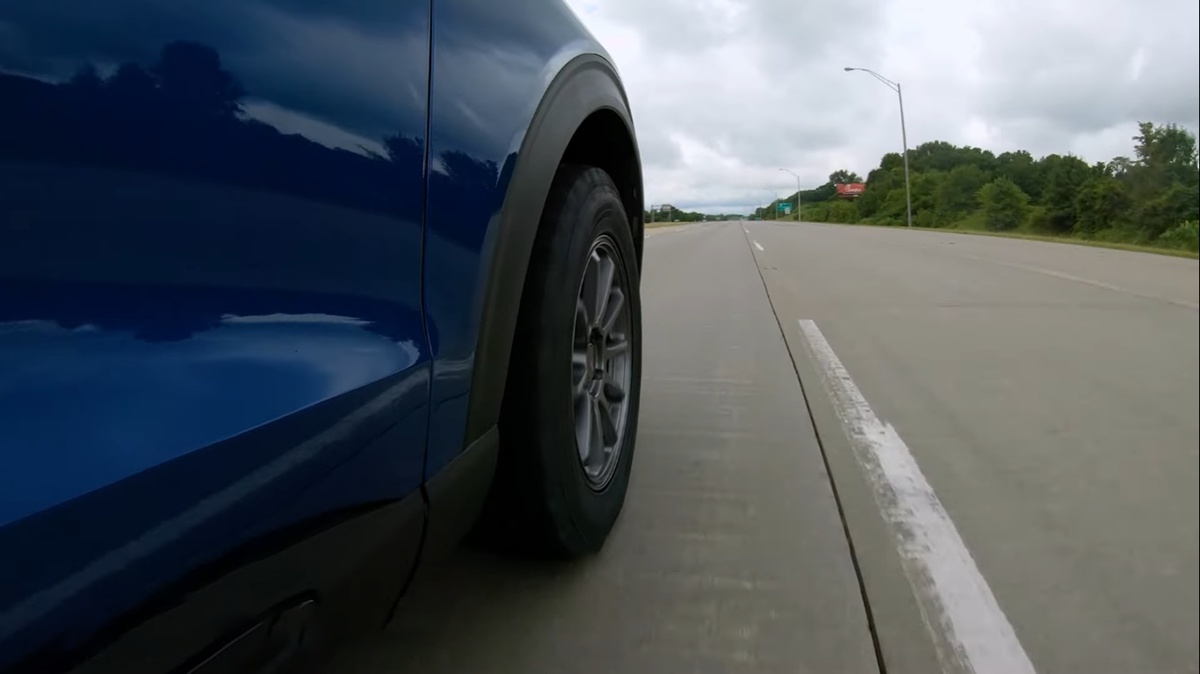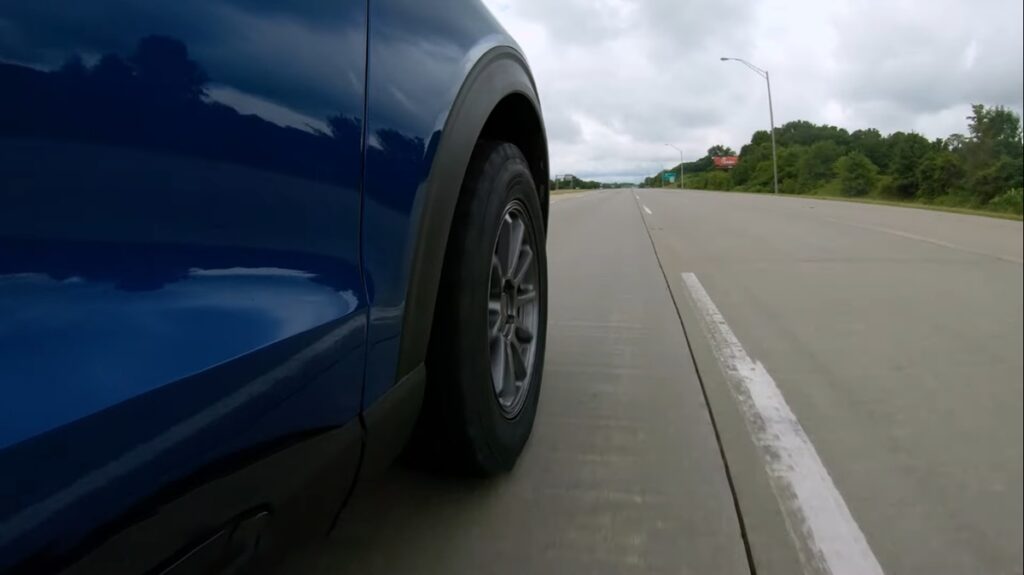 Better yet, most of these stable footings continued to carry themselves into waterlogged patches. Driftings did happen – but mostly because of the terrain's slippery nature more than anything else – and it was not like they were frequent.
Our bold start at 45 MPH in deep water beyond 5 inches was delightfully sturdy (given consistent turns of the steering wheels), and at tight, wet crooks, our team even managed to choke a bit of extra traction out of the tire by maximizing the entire tire width to stabilize corner entries.
And aside from the generally satisfying riding comfort, our team members were all impressed by how Continental TerrainContact A/T handled road noises, even on freeways. Though the brand did not mention any particular technology in noise reduction, we believe the open-pattern and edge-block grooves played a role in cutting through air pockets to reduce "whining sounds," resulting in a generally noiseless ride except for minor squeaking at sweeping curves.
On another note, off-road terrains and snow surfaces did not seem like TerrainContact's best assets (especially on deep snow, ice, and mud). Tread carefully if you plan to use the tires in spirited driving under such conditions.
Confident and consistent dry/wet traction
Good steering and cornering
Little hydroplaning
Satisfying comfort with great ride control
Only decent on light snow, dirt, sand, and rock
Struggling with deep snow/ice and mud
c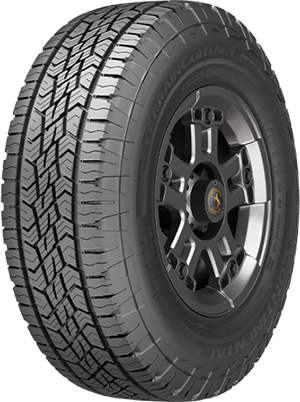 ---
5. BFGoodrich Trail-Terrain T/A
Best for Light Off-Road Use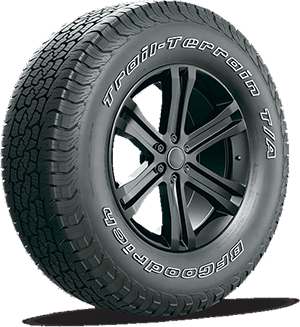 Tire Type
On-Road All-Terrain
Tire Size
15″ – 22″
Weight
24.12 LBS – 46.1 LBS
Load Index
96 – 117
Load Range
SL – XL
Speed Rating
– H: up to 130 mph
– T: up to 118 mph
Warranty
60000 miles
Ratings
8.6/10
BFGoodrich Trail-Terrain T/A is just the right tire option for non-aggressive, light off-road driving, reserved for combined off-road and highways (with about 80% highways). Included in the package are the advanced, chip-resistant compounds to handle damage and gravel, along with optimized footprints (to even out pressure distribution) and closed shoulders that swallow airborne noise.
Extra biting edges are offered in the form of ample voice spaces for inboard elements, while the deep 3D sipes generate traction for severe conditions on icy, wet, or off-road roads.
Some of these features were admittedly too soft on very hard/rough terrains but worked just fine for lighter off-road surfaces. BFGoodrich Trail-Terrain made friends quickly with the soft, gravel dirt along the way, taking no more than 5 seconds to establish anchor points and proper setups for the contact patch to catch up with our steering.
Once we found our grounds and learned all the crooks and corners of these textured roads, there was hardly any noticeable difference between light dirt and asphalts; given no twisties or unseen roadblocks, even abrupt accelerations straight to 55 MPH in five seconds were possible.
We also had very little difficulty with terrains of smaller, fewer rocks. Trail-Terrain TA held enough in itself to traverse through rugged patches at regular, normal speeds and did not seem to face as much trouble as we thought diving into corners. Soft, thin sand was likewise smooth and did not require much steering force to stay on land – except for off-camber bends, where we needed more consistent decelerations to keep small particles from entering the high side-walls' angles.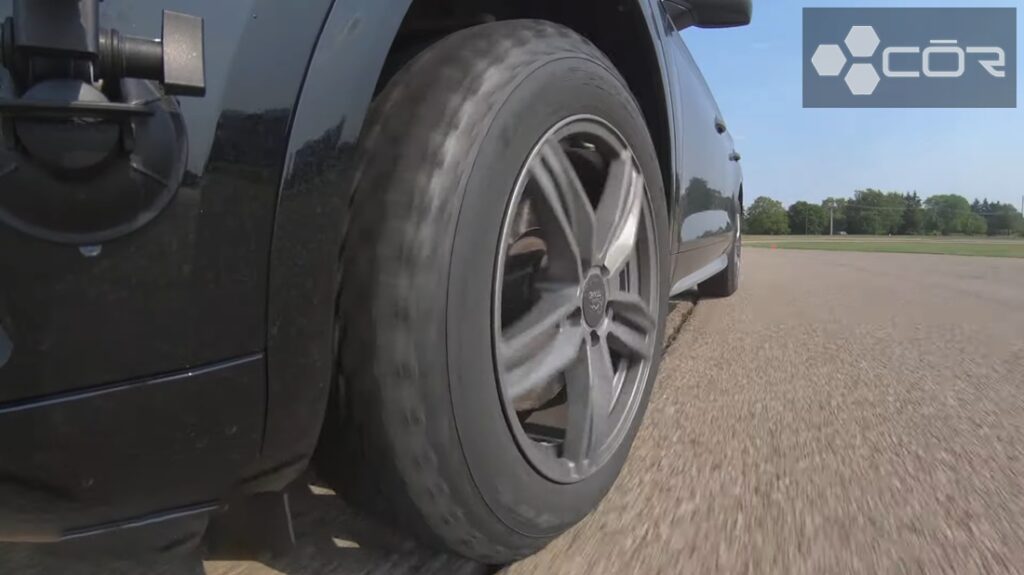 On light mud, BFGoodrich Trail-Terrain exhibited a few occasional symptoms of hiccups in the first few miles. Fortunately, they were less pronounced as the contact patch grew more comfortable around the sticky muddles over time, and stopped shuddering when faced with sudden, cold water.
Being back to dry highway asphalts from our light off-road adventures was like a fish back to water; BFGoodrich Trail-Terrain almost flew over the road with hardly any significant delays. Unfortunately, we could not see the same aggressive boldness in on-road wet traction; the fact that it was even less impressive than the tire's snow traction said something.
Handle light mud/sand/rock/dirt well
Pretty good dry traction
Satisfying riding comfort with tolerable noise on highways
Good treadwear
Decent on snow
Underwhelming on-road wet traction (even worse than on snow)
Not capable of tackling more aggressive off-road paths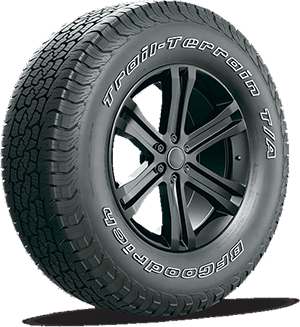 ---
6. General Grabber APT
Best All Terrain Tire for Value
Tire Type
On-Road All-Terrain
Tire Size
16″ – 20″
Weight
From 42.0 LBS
Load Index
From 116
Load Range
E1 – SL
Speed Rating
– R: up to 106 mph
– S: up to 112 mph
Warranty
60,000 miles
Ratings
8.6/10
General Grabber APT offers the best tire value compared to other competitors within the same pricing range.
The brand equips this model with robust chip-resistant compounds (symmetrically molded), aided by absorption layers underneath to swallow road imperfections. Counter shoulder angles dissipate center sounds, and flat tread profiles even out pressure distribution to combat wear.
Our team was particularly impressed with the deep sipes, traction notches, and staggered deep grooves, whose combined power creates hundreds of extra biting edges and plowing capabilities.
What makes it stand out is the 14/32" tread depth, while normal passenger tires only boast 10-11/32". This tire is a real bang for the buck, for many respondents in our survey shared that the tread was mostly still there after 8,000 miles and only displayed some hints of wear after another 10,000 miles (18,000 miles in total).
Handling dry highways was a breeze at regular 40-50 MPH and grew delightfully more reliable as we accelerated (given it was below 60 MPH), suffering from very little stuttering during multiple exit and entry points.
We also managed gentle yet decisive stops at critical lane merge points or around roadblocks in very few whiplashes and hence, could allow ourselves a little bit of wilder steering/leaning without putting the car in danger.
Off-road handlings were also very satisfying given their price value, with no terrains straying too far from the "decent" boundaries. Our team vibed best with dirt and rock traction thanks to the robust absorption layers; while the vibrations and hiccups during speed changes were a bit annoying (less tolerable on rocks), they knew where to stop before things got worse.
Loose terrains were much trickier due to the sticky feel and soft, thin particles that easily infiltrated the deeper grooves. Still, fluctuations between hard decelerations and light accelerations allowed us to get through most rugged patches safe and sound, minus pronounced shakes when cornering.
General Grabber APT did not perform half-bad on snow and ice terrains (considering it is an on-road AT tire), though we still think extra snow vices or Traction Claw tech could have significantly elevated its overall ratings. On-road wet grip, on the other hand, was a bit underwhelming compared to the rest.
Great tire value
Pretty great on dry surfaces
Good enough off-road handlings for an on-road AT tire
Decent on snow
Good tread life (60,000-mile warranty)
Ice traction could have been better
Much less confidence in wet compared to dry
Occasional noises at abrupt turns or aggressive sweeping
---
7. Bridgestone Dueler A/T Revo 3
Best for Long-Lasting Tread Life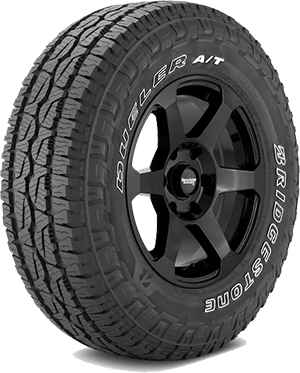 Tire Type
On-Road All-Terrain
Tire Size
16″ – 22″
Weight
28.0 LBS – 76.0 LBS
Load Index
100 – 129
Load Range
E, SL
Speed Rating
– H: up to 130 mph
– T: up to 118 mph
Warranty
60,000 miles
Ratings
8.5/10
Bridgestone Dueler A/T Revo 3 ranks first when it comes to long-lasting tread life. The reason is simple: its initial tread depth far exceeds the standard 11/32" or 10/32" with 13/32" at max (for P sizes), combined with the tear- and chip-resistant rubber compound. Hence, even before testing, we could already gauge that this tire would beat other competitors in tread life by a very long margin.
Even when we towed a 5000 lb trailer on a highway at 102°F (Florida), the tire didn't overheat but was a bit warm to the touch. Some drivers reported that the tread was only eaten up halfway through at the time they accumulated 43,000 miles.
But, of course, tread life was not the only feature worth mentioning. Dueler Revo 3 also introduced symmetrical compounds and strong, stabilized shoulders and blocks to assist road handling. Wide grooves and open shoulders promise water evacuation, while inboard sipes with 3D-stepped lugs seek traction on slippery or soft terrains.
Dry experiments were wildly fun without sacrificing safety; we switched back and forth between 30 and 55 MPH with no qualms, maintaining an impressive connection with the road surfaces despite abrupt, almost whiplashing 180-degree turns. The solid on-center ribs allowed much leaning angles than most tires we tested, while still sparing extra margins for us to fall back on in case roadblocks lurked around.
Bridgestone Dueler A/T Revo 3 also shined on off-road terrains, with no metrics rated below 8; it struggled slightly on loose surfaces due to a lack of consistent density support but carried on almost breezily on rock and dirt.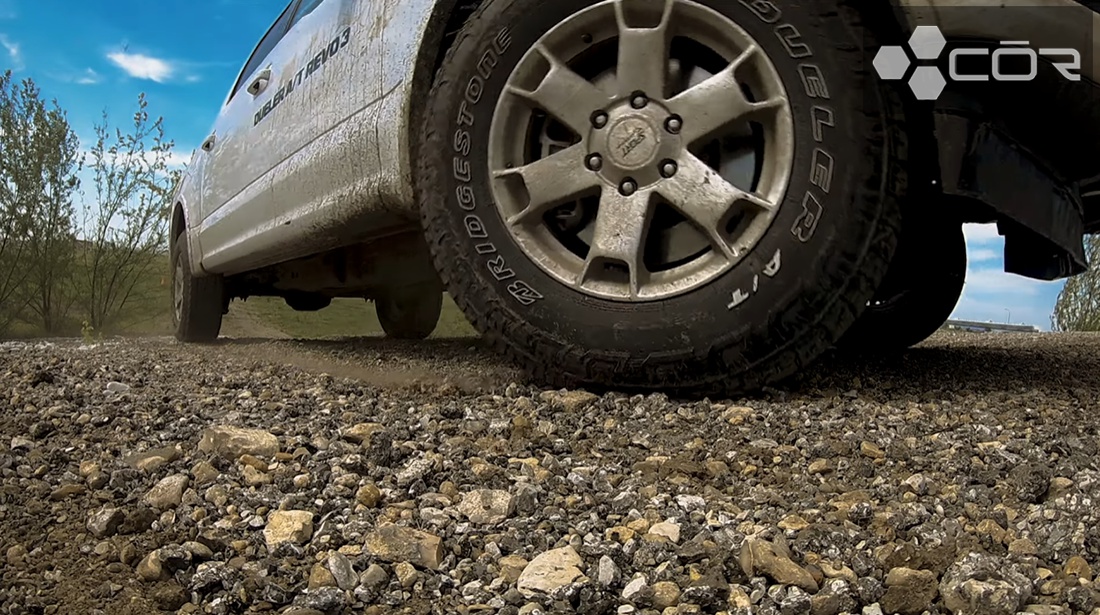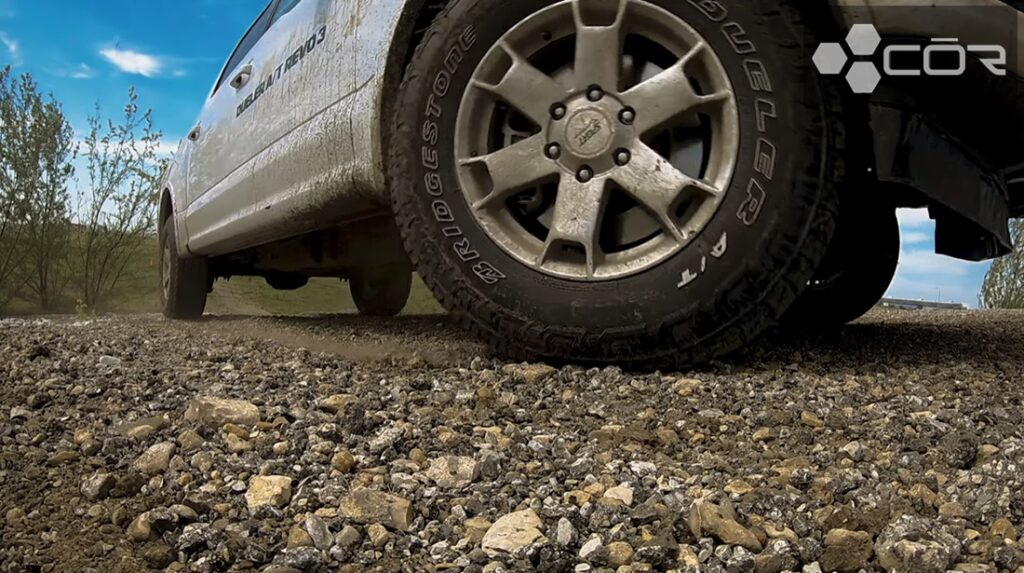 Stutters happened at muddier patches – and more frequently at corners – though they were by no means considered real struggles. Better yet, in favorable conditions with the aid of constant hand-on-hand steering, we even choked out very smooth, non-dramatic accelerations toward 65 MPH.
On another note, wet traction was mediocre – decently good but nothing exceptional. And while riding comfort was not bad in the grand scheme of things, it would be better if there were more cushioned feels and noise-swallowing ribs built into the tread.
Long tread life due to great initial tread depth
Very excellent on-road dry traction
Good handling on off-road terrains
Pretty capable on light snow and deep snow
Underwhelming tread wear
Wet traction could have been better
So-so on ice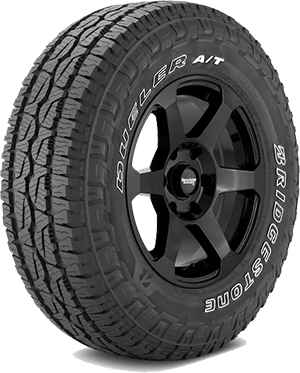 ---
8. Goodyear Wrangler DuraTrac
Best All Terrain Tire For Commercial Use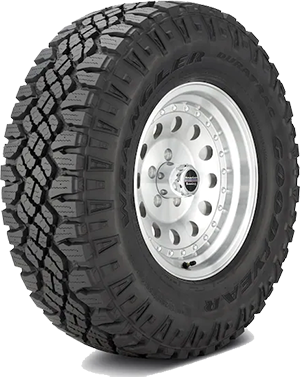 Tire Type
On-/Off-Road Commercial Traction
Tire Size
15″ – 22″
Weight
28.0 LBS – 76.0 LBS
Load Index
100 – 129
Load Range
C1 – XL
Speed Rating
– H: up to 130 mph
– T: up to 118 mph
Warranty
50,000 – 65,000 miles
Ratings
8.3/10
As the best AT commercial traction tire we have tested, Goodyear Wrangler DuraTrac introduced rugged, chip-resistant compounds that promise great towing and loading applications.
Symmetric large shoulders and angled centers enhance stability, while the self-cleaning blocks, TractiveGroove tech, and zigzag sipes offer more biting edges in plowing tasks.
Hence, DuraTrac performed not exceptionally but more than enough on dry roads due to the pretty accurate steering feedback and consistent on-center feel. It breezed us through most highway sections with minor, harmless stutters at mid-corners or exit points. Accelerations to 75 MPH were quite smooth – and even when we decided to add more to the challenges by towing a 3000 lbs trailer, real struggles only came around from 65 MPH onwards.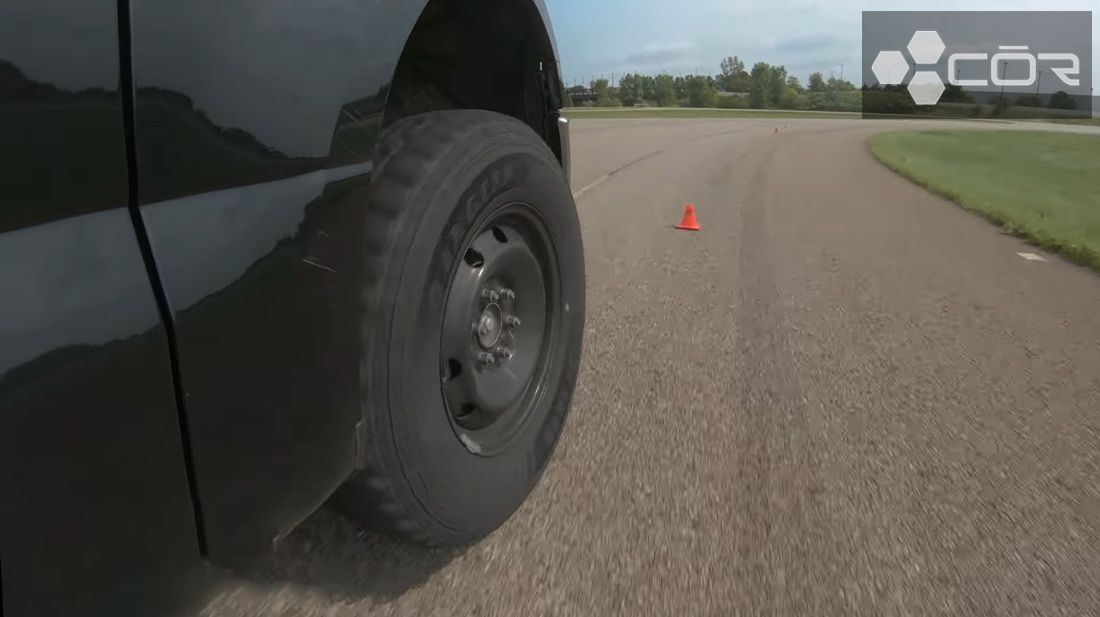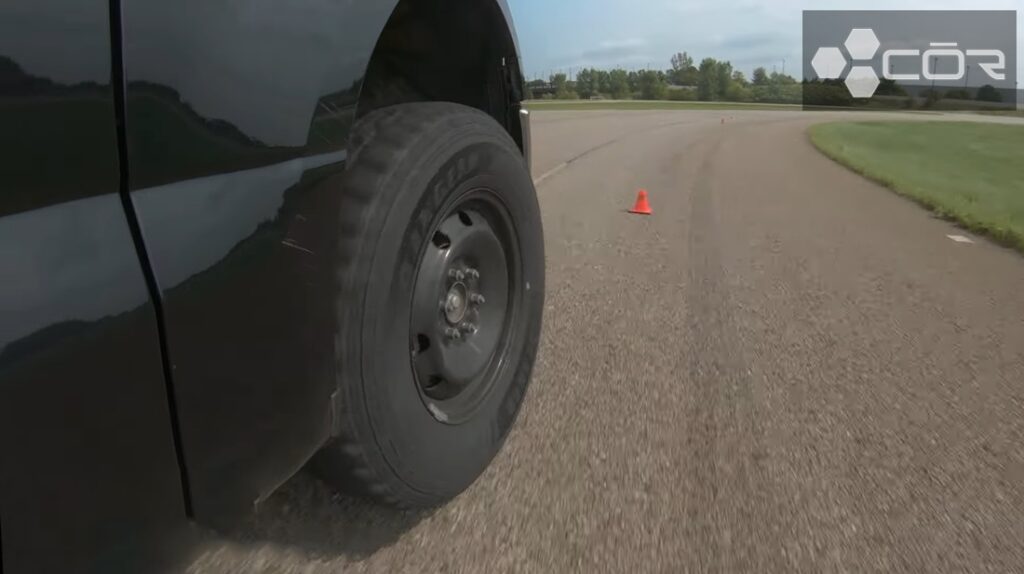 Tight highway curves posed more challenges with their low angles and thin, intrusive dust, but they were not much behind straight-line traction like we first expected. The bumpy, panic reactions could be smoothed out using more straightforward, forceful steering, and once the tire settled in, it brought about an all-encompassing cushioned feel that grew more and more comfortable the longer we rode.
No wonder treadwear was hardly an issue to worry about much. Symptoms of fatigue could be faintly felt after the sixth day of our test, but not enough to damper the sharpness of our steering and grip – quite consistent with customer reports of at least 40,000-mile usages with this tire.
Snow and off-road performances struck on a satisfying note, too; Goodyear Wrangler DuraTrac plowed through snow and dirt well thanks to the TractiveGroove, resulting in smoother contact points and much fewer skitters. Better yet, when equipped with snow chains, its deep snow capabilities was twice more powerful, threatening to exceed even the Vredestein Pinza AT (ranking at #1) and Falken WildPeak Trail (#2).
Still, we had to take away some points from Wrangler DuraTrac due to its noise control, which was alright on regular dry surfaces but grew somewhat louder in more humid weather.
The best commercial tire out of the bunch
Great dry traction
Handle corners on highways well
Good off-road capabilities
Traction not confident in wet
More road noises on wet highways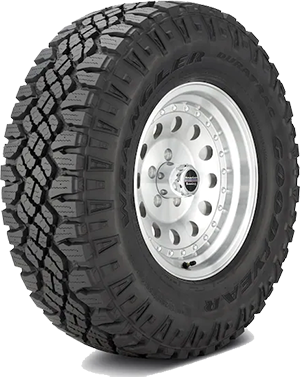 ---
9. Hankook Dynapro AT2
Best All Terrain Tire for Budget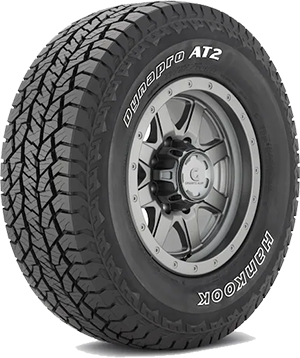 Tire Type
On-Road All-Terrain
Tire Size
16″ – 22″
Weight
From 41.0 LBS
Load Index
From 113
Load Range
E1 – SL
Speed Rating
– T: up to 118 mph
– S: up to 112 mph
Warranty
60,000 miles
Ratings
8.2/10
Tight-budget customers would find the best deal with Hankook Dynapro AT2 models. Their tread is equipped with rigid shoulder tie bars for tread block stabilization. Meanwhile, the stepped edges reduce road noises, the extra silica layers enhance wet grip, and the wide grooves help with hydroplaning issues.
For a budget tire, the multi-direction grooves are surely a strong highlight, allowing Dynapro AT2 to deliver better performances than what we gauged from its low upfront cost. Its corner stability was not revolutionary but did its job at tight crooks and S-curves on highways, even leading the expensive Goodyear Wrangler DuraTrac (ranking right above) by a very long slide. Steering was responsive and punctual, handling accelerations below 55 MPH just fine without delays.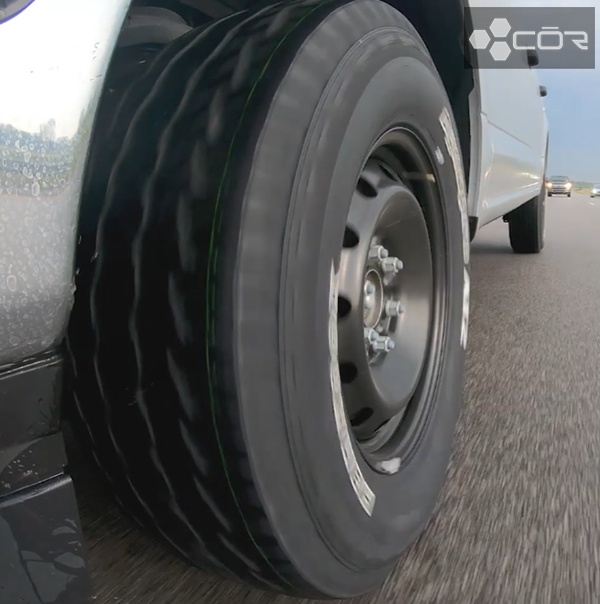 The riding comfort also landed on a high note. While jostles and bumps were not completely off the hook, they felt vaguely distant under the silica compounds and reduced to low rumblings when we flicked the steering wheel with decisive, cleaner cuts. Noises were louder than usual when we rolled through canyon roads, but overall acceptable.
Unfortunately, for wet, snow, and off-road terrains, the reason for Hankook Dynapro AT2's low prices was clear: their handling looked and felt very underwhelming, better suited to regions with milder climates and soft dirt/mud only.
A budget tire
Pretty good on dry traction
Decent riding comfort and fairly quiet ride
Could tread through off-road dirt and rock with no real danger
Lackluster wet traction
Struggling a lot in sand and mud
Not suited to harsh snow and ice
---
10. Pirelli Scorpion ATR
Best for On-Road Performance and Handling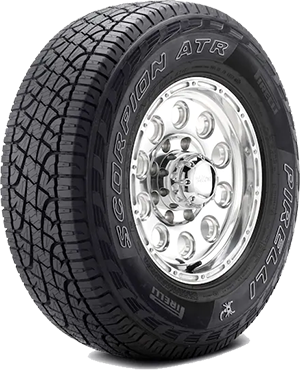 Tire Type
On-Road All-Terrain
Tire Size
15″ – 24″
Weight
25.0 LBS – 67.0 LBS
Load Index
96 – 121
Load Range
C1 – XL
Speed Rating
– H: up to 130 mph
– V: up to 149 mph
Warranty
50,000 miles
Ratings
8.1/10
For those who mostly travel on-road, especially on highways, and do not pay much attention to off-road handling, Pirelli Scorpion ATR will do.
Scorpion ATR delivers silica-enhanced compounds molded symmetrically to assist the stable tread blocks and center ribs in directional stability enhancement. The interlocked blocks promote acoustic riding comfort, while lateral and circumferential grooves channel water off the contact patch.
We also appreciate the small slits/sipes under the blocks that give our dry traction a bit of extra anchoring. Pirelli Scorpion ATR felt just right on dry pavements, with enough grip and condition-oriented sharpness that fit well into regular, non-aggressive driving.
In daily highway driving rates between 40 and 50 MPH at basic corner crooks, stutters and delays were only few and far between. Still, we could feel a little vibrations if we pressed the gas pedal to 75 MPH on highways.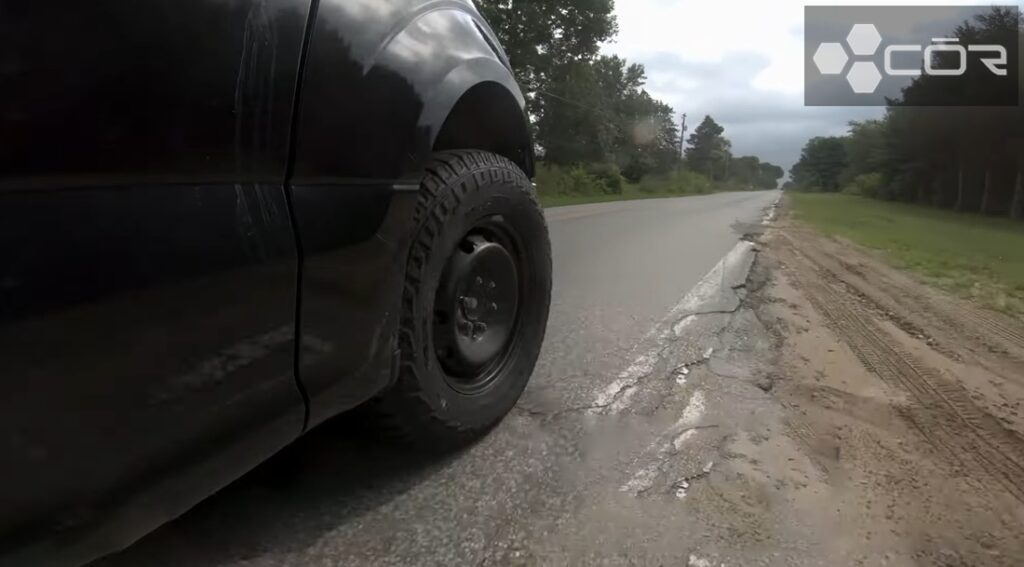 Navigating around normal roadblocks like tree branches, stones, or other vehicles was also pretty much a breeze. Given enough preparation, Pirelli Scorpion ATR could pull itself to a gentle yet decisive stop (not a full stop, by the way) and swiftly curved left or right around the obstacles to merge back on track like nothing had happened.
Tread noise control on highways was surprisingly good, even on par with Falken WildPeak A/T Trail (ranking at #2) and BF Goodrich Trail-Terrain T/A (#5). Still, there is no sugarcoating about its performance on other terrains: it was either so-so or downright horrendous. On ice and off-road mud, Scorpion ATR was almost unrideable.
Enough for on-road, regular highway driving
Pretty good noise control
Decent treadwear
Wet traction could have been better
Very bad in off-road and snow/ice, sometimes unrideable
---
How to Choose The Best All-Terrain Highway Tires
You can judge a tire's theoretical metrics based on the exact criteria we used for our COR Wheels Tire Test: dry performance, comfort, treadwear, winter performance, wet performance, off-road traction, and price.
Also, consider other tips:
Assess your needs. Which driving type do you engage with the most? If it is solely highway driving, opt for tires that deliver as much noise control and riding comfort as possible. But if you also want to cater to occasional dirt/mud traveling, then take off-road criteria more seriously.
Read customer reviews. Once your choices have been narrowed, refer to our test results or check customer reviews to gain more valuable insights.
Consult expert teams. Still unsure about where to spend your money? Then talk to experts/professionals at the local tire shops/ tire retailers.
Conclusion
Drivers with a generous budget definitely need to bring home the Cooper Discoverer AT3 4S models, whose all-around performance in almost every rated metric surpassed all premium competitors in our test. Meanwhile, low-budget customers will likely be pleased with Hankook Dynapro AT2 – decent in dry grip and occasional off-road dirt but nothing stellar.
Here is the summary of the 10 best all terrain tires for highway in the 2023 COR Wheels Tire Test:
| Tire Brand & Model | | | | | | | | |
| --- | --- | --- | --- | --- | --- | --- | --- | --- |
| Vredestein Pinza AT | 1st | 9 | 9 | 9 | 8.8 | 8.9 | 8.9 | 8.7 |
| Falken WildPeak A/T Trail | 2nd | 8.9 | 9 | 8.9 | 8.7 | 8.6 | 8.8 | 8.8 |
| Cooper Discoverer AT3 4S | 3rd | 8.8 | 9.1 | 8.6 | 8.3 | 8.6 | 8.5 | 8.5 |
| Continental TerrainContact A/T | 4th | 8.7 | 9 | 8.8 | 7.6 | 8.7 | 8.5 | 8.2 |
| BFGoodrich Trail-Terrain T/A | 5th | 8.6 | 8.8 | 8.4 | 8 | 8.5 | 8.6 | 8.2 |
| General Grabber APT | 6th | 8.6 | 8.7 | 8.3 | 7.8 | 8.5 | 8.7 | 8.2 |
| Bridgestone Dueler A/T Revo 3 | 7th | 8.5 | 8.9 | 8.5 | 7.8 | 8.5 | 7.7 | 8.3 |
| Goodyear Wrangler DuraTrac | 8th | 8.3 | 8.4 | 8.3 | 8.5 | 7.6 | 8.1 | 8.7 |
| Hankook Dynapro AT2 | 9th | 8.2 | 8.6 | 8 | 6.7 | 8.2 | 8.1 | 7.6 |
| Pirelli Scorpion ATR | 10th | 8.1 | 8.6 | 8 | 6.6 | 8.2 | 7.9 | 6.6 |
---
President & Automotive Expert at COR Wheels
Robert Herrera has been with COR Wheels for 17 years and has a great passion for the automotive industry. During his time at COR Wheels, he has driven and test-driven a variety of vehicles.
---