Summer is the all-time favorite season for spirited driving. However, typical standard/touring tires usually fail to meet sporty drivers' expectations in terms of cornering stability and traction. That is where summer tires enter the scene with their specialized footprints and aggressive grooves, ready to tackle most dry on-road terrains.
Our review will discuss 10 promising contenders for the best summer performance tire. Scroll for further details!
In this article:
How Did We Test & Pick The Best Summer Tires
As part of the 2023 COR Wheels Tire Test, 30 popular summer tires have been evaluated in real-life performance testaments based on the six major criteria:
Dry performance (our main focus), including dry traction, cornering stability, and steering response
Wet performance (main focus)
Comfort & noise (main focus)
Winter/snow performance
Treadwear
Price
Once the overall score and customer feedback (gathered from our annual survey) were negotiated, we singled out the best 10 performers.
Top 10 Best Rated Summer Tires 2023
---
1. Michelin Pilot Sport 4S
Best Overall Summer Tire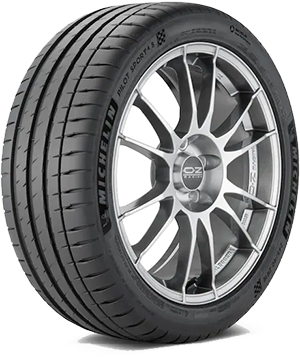 | | |
| --- | --- |
| Tire Type | Max Performance Summer |
| Tire Size | 17″ – 22″ |
| Weight | 18.92 LBS – 35.27 LBS |
| Load Index | 84 – 108 |
| Load Range | SL – XL |
| Speed Rating | – Y: up to 186 mph |
| Warranty | 20,000 – 30,000 miles |
| Ratings | 8.7/10 |
Michelin Pilot Sport 4S leads the competition as the best overall summer tire.
Its asymmetric patterns feature high-performance compounds crafted using advanced technologies dedicated for the 24 Hours of Le Mans competition. The low-void shoulder and dry-focused rubber improve braking and handling. At the same time, the inboard shoulder (with silica-infused compounds) and center ribs increase wet confidence. The optimized contact patch distributes pressure evenly through turns for reduced hotspots and better tire life throughout aggressive usage.
With all these features Sport 4S was a delight on asphalt roads, leaving little room for panic reactions. The car immediately settled in once we picked out a particular starting point (in this case, 40 MPH) and maintained composed footholds from that moment toward whiplashing accelerations near 80 MPH. It also pulled slowly to a semi-stop with ease before each lane change entry; hence, hiccups or missteps during your heavy-traffic maneuverings will likely occur few and far between, if existent at all.
You do not have to pay much attention to cornering forces, either; it falls straight into Pilot Sport 4S's strengths. The on-center rib, aided by silica-infused compounds, remained unwavering at wide-radius angles and grew surprisingly even more confident around tight-neck crooks. Some of our adventurous leanings and intentional oversteer rebounded very quickly, ensuring traction loss at the borderlines was only a faint, non-dangerous possibility.
Wet performance was also excellent. It was by no means as bold and aggressive as on dry terrains, but we managed to keep the tires in line most of the time and trampled down slippage right away. Abrupt changes from slippery asphalts to concrete surfaces or vice versa did not send us fluttering like with other tires; hence, we could achieve breezy decelerations and responsive steering around blind curves or closed-spaced switchbacks even in water as deep as 8-9 inches.
If you prefer subtle, smooth bump handlings over pronounced shakes and jostles, then good news: Pilot Sport 4S definitely seized the top 1 of our test in riding comfort thanks to the optimized rubber and sure-footed contact points. They ground through road cracks with decisive cuts that felt very final, not sparing room for any lingering vibrations or hesitant rolls. Real shudders only happened in colder temperatures below 32 degrees F – and even then, they were not overly intrusive.
Except for the lackluster treadwear (which we already expected beforehand) and occasional loud rumblings on highways, Pilot Sport 4S did not have any other glaring drawback. It is a true all-rounder that will not disappoint despite your car make and driving style.
Excellent traction and steering response on dry surfaces
Satisfying cornering
Great riding comfort
Great aquaplaning control
Mediocre treadwear
Rumblings on highways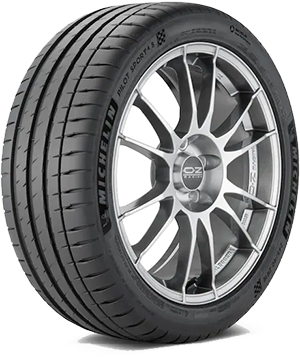 ---
2. Michelin Pilot Super Sport
Best for High-Performance Cars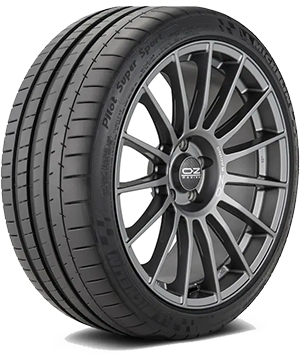 | | |
| --- | --- |
| Tire Type | Max Performance Summer |
| Tire Size | 17″ – 22″ |
| Weight | 19.64 LBS – 34.94 LBS |
| Load Index | 88 – 110 |
| Load Range | SL – XL |
| Speed Rating | – Y: up to 186 mph |
| Warranty | 30,000 miles |
| Ratings | 8.6/10 |
Michelin Pilot Super Sport is an excellent tire for high-performance cars in both aesthetics and functionalities.
Aside from the aerodynamic, sleek cover that delights all dedicated automobile enthusiasts, the Super Sport also introduces Bi-Compound rubber tread (molded asymmetrically) and side-by-side outboard. They work with the track-type, low-void shoulder to endure more high-performance stress, while the inboard shoulder and notched ribs in the center improve high-speed maneuvering on wet surfaces.
Sealing the deal are the double steel belts, high-strength Twaron cord, and polyester casings, whose combined stability straightens the tire on rougher, more challenging road textures.
No wonder Pilot Super Sport was a blast on dry terrains; just like its sibling Pilot 4S, Super Sport bonded instantly with the pavement grooves and showed very few hesitations at unplanned left/right veering.
S-curves proved to be quite a non-issue, and even speed surges straight to 80 MPH at cloverleaf interchanges did not challenge us much despite the tight, closely-spaced ramps. Unless you get truly lackluster with your steering input, the risks of response delays or muted feedback are generally very low.
Super Sport also satisfied us with its capable wet confidence – which was even a note better than the Pilot 4S champion ranking above due to the slightly sturdier compound blending.
Deep puddles post-rain stalled some other tires we tested but certainly not this one, as the notched centers did a great job dispersing stubborn water through smaller inboard sipes and interlocking grooves. Given well-prepared corner entries, your high-performance car can blast itself to highway speeds at water beyond 9 inches without difficulties or heavy drags.
We had no real trouble with riding comfort, though occasional panic hiccups during consecutive switchbacks or steep ascents could have been toned down for a more streamlined steering consistency.
Very easy accelerations
Unwavering confidence on both dry and wet surfaces
Good impact handling; controlled noises
Underwhelming tread life
Slightly panic reactions during switchbacks and ascents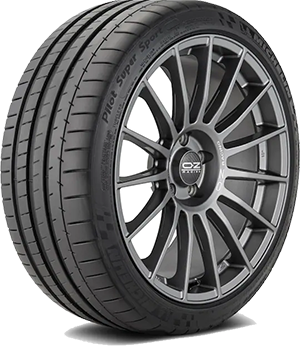 ---
3. General G-MAX RS
Best Value Summer Tire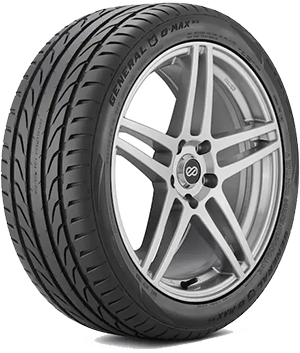 Tire Type
Ultra High Performance Summer
Tire Size
16″ – 20″
Weight
18.0 LBS – 33.0 LBS
Load Index
91 – 106
Load Range
SL – XL
Speed Rating
– W: up to 168 mph
– Y: up to 186 mph
Warranty
None
Ratings
8.6/10
General G-MAX RS performs much better than most tires of the same pricing range, strengthening its position as the best tire for value.
Its summer compounds are directionally molded into G-MAX tread pattern, aided by the sturdy center rib for better braking and acceleration. The SmartGrip Tech offers sporty handling and crisp response, while StabiliTread distributes pressure evenly throughout the large contact patch to improve tire longevity and cornering traction. Hydroplaning issues are taken care of by the angled, wide notches, and broad shoulder slots offer extra slippery bites in severe conditions.
G-MAX RS delivered satisfactory grip on dry terrains, especially concrete roads. The stable summertime compounds rarely exhibited burnout symptoms due to overheating, caving themselves well on the pavement textures to carry us breezily through 60-75 MPH. You will likely experience some stutters at any number beyond that, but no worries; we managed to keep things under control with consistent pulls and extra handbrake forces.
The steering response was also pleasantly punctual and responsive, aligning well with our driving commands despite very minimal/low-key inputs. There was a slightly wilder edge during our wide-lean test that suited adventurous souls very well; you can experiment a little with different veering angles while still having enough margin to lean back when unexpected slippage happens.
G-MAX RS did not falter much behind premium competitors above when it came to wet traction. Aside from some admittedly pronounced struggles at deep water (beyond 8 inches) or damp grass, the tire was breezy and uneventful during the rest of the ride. Even small-radius U-corners turned out not to pose as much challenge as we expected; rev down below 35 MPH with alternating brakings, and you should pass through them with little issue.
Except for maneuvers at roaring highway speeds, G-MAX RS was generally comfortable and smooth despite inconsistent road builds. Still, we would love to see some improvements with its noise control: while the noises were neither disruptive nor frustrating, they seemed to get provoked easily (even with very basic steering moves) and will likely throw you off at unexpected timing.
Best tire value
Confident on dry and wet pavements
Good riding comfort
Handling corners well
Noise control could have been better
Rugged jostles during highway-speed maneuvers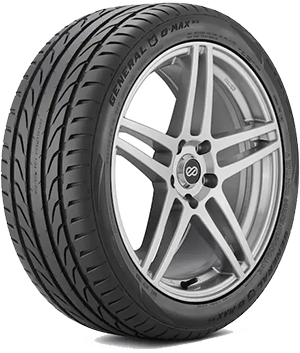 ---
4. Continental ExtremeContact Sport
Best for Handling
Tire Type
Max Performance Summer
Tire Size
16″ – 20″
Weight
19.0 LBS – 34.0 LBS
Load Index
88 – 102
Load Range
SL – XL
Speed Rating
– H: up to 130 mph
– Y: up to 186 mph
Warranty
30,000 miles
Ratings
8.5/10
If stable, responsive handling is your top priority, Continental ExtremeContact Sport will be an ideal tire model.
The tire utilizes specialized five-rib compounds and asymmetric design to emphasize wet traction, well-rounded performance, and precise handling. Its outsider shoulder blocks are widely spaced to improve high-speed manners and lateral grip, while the continuous centers ensure solid feel and constant road-rubber contact.
On another note, the optimized footprint distributes even pressure to keep irregular wear at bay. Deep grooves provide straight paths for water redirection, and the Quickview Indicators offer an immediate assessment of whether the tire can perform in a particular wet/dry condition.
ExtremeContact Sport knew how to settle worries at tight corners. On banked, circular crooks that require consistent and unwavering accelerations, the tire did a great job gumming its contact patch within the track and in alignment with our veering directions, taking over other vehicles almost effortlessly.
Consecutive zigzag patterns and trickier dogleg corners were also handled with grace thanks to the aggressive yet flexible on-center rib. Aside from blind curves where part of your sight line is obstructed, you will not have to worry once about possible collisions or drifting.
Steering response was similarly satisfactory. At regular driving speeds, we could still maintain control with only one hand on the steering wheel and the other only hovering.
Abrupt turns to the opposite direction through countersteering did strip the feedback a little – but that was likely the only situation where we truly needed to worry about the tire's control. You can trust ExtremeContact Sport to handle all basic steering situations in little to no drama.
Great dry confidence aside, ExtremeContact Sport was also among the top ranks in terms of wet grip, only letting hydroplaning issues seep through when deep, flowing water increased their volumes during heavy downfalls.
You will likely retain the same breezy, cushioned riding comfort as on regular dry pavements, but be aware that the tread would squeak much more often during waterlogged consecutive curves and double apexes.
Good, confident handling
Great dry traction
Controlled wet grip
Riding over bumps well in both dry and wet weather
Squeaking noises around waterlogged patches
Slightly muted feedback during abrupt turns toward opposite directions
---
5. Yokohama ADVAN Fleva V701
Best For Comfort Drive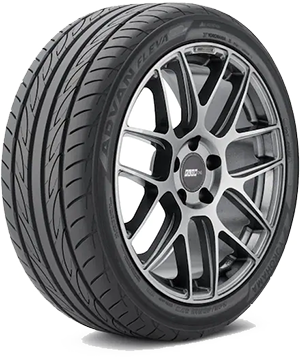 Tire Type
Ultra High Performance Summer
Tire Size
15″ – 17″
Weight
17.0 LBS – 24.0 LBS
Load Index
82 – 92
Load Range
SL – XL
Speed Rating
– V: up to 149 mph
– W: up to 168 mph
Warranty
None
Ratings
8.5/10
Yokohama ADVAN Fleva V701 offers unmatched drive comfort regardless of your driving terrain and steering habits.
Its nanoBLEND/ advanced compound combines high-performance polymers with extra silica content to boost dry/wet efficiency and longer life. The 2-in-1 contrasting pitch reduces airborne noise, while the solid shoulders and center rib propose precise, high-speed handling. Water evacuation is handled with the drop-point and jag circumferential grooves, and the mold contours distribute pressure evenly.
Hence, Fleva V701's riding comfort was at its peak most of the time. Sure, stutters and coughs did occur around highway curves, but they rarely suffered from the abrupt, unpredictable provoking often seen in other more aggressive tires.
The intricate tire-road connection ensured we could sense when those jostles would manifest and react accordingly, so it is unlikely you will be taken aback at critical corner entries or lane change points.
The smooth steering feel also aided a lot in the tire's overall comfort. Punctual responses aside, it played a critical role in delivering precise, on-point footholds on road bumps, so our car experienced very few stutter echo or distant jostles.
Each thud landed exactly where we aimed at, hence the confident, almost velvety speed changes to and from 55 MPH in all dry terrains. You are totally welcome to add extra cargo or trailers (preferably below 350 lbs for sedans) and still enjoy the same solid yet comfortable ride.
Dry traction was an obvious given on straight-line roads and even more stable when diving into corners. ADVAN Fleva V701 is also the first model on the list to have beyond-average tire wear, as it coped well with temperature fluctuations and will likely last you for 30,000 to 40,000 miles.
Unfortunately, wet performance is where the tire faltered. Traction on slippery road surfaces was still tolerable, but hydroplaning issues occurred very often despite the brand's claim, forcing us to avoid excessive dynamic driving and resort to shuffle steering instead. You could still choke out extra traction on more shallow patches (preferably water below 3 inches) but remember to tread with caution in deeper zones.
Good and predictable comfort
Confident, outstanding grip on dry surfaces
Good treadwear rate
Underwhelming performance on damp roads
Stutters at highway curves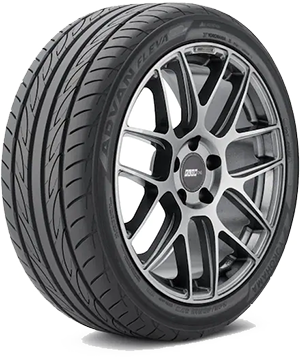 ---
6. Firestone Firehawk Indy 500
Best For Long Tread Life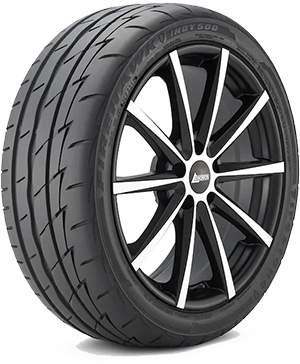 | | |
| --- | --- |
| Tire Type | Ultra High Performance Summer |
| Tire Size | 16″ – 20″ |
| Weight | 19.0 LBS – 35.0 LBS |
| Load Index | 84 – 106 |
| Load Range | SL – XL |
| Speed Rating | – W: up to 168 mph |
| Warranty | None |
| Ratings | 8.4/10 |
Firestone Firehawk Indy 500 is the best choice in terms of long-lasting tread life while still delivering great handling confidence.
Indy 500 uses the Long Link Carbons, silica-enhanced tread, asymmetrically molded to work with the independent shoulders in improving dry handling/cornering. The Pulse Groove Tech blended into the center grooves, combining with two extra circumferential grooves to shorten the stopping distances in wet conditions.
Asymmetrical, well-placed tread blocks also helped even out the tire rolls to minimize concentrated pressure. Hence, despite its rather humble initial tread depth (9 to 10/32"), the Indy 500 spread out all contact points well and, in turn, trampled the symptoms of burnout to very faint feedback around the flanks.
Judging by how the rubber sidewalls stayed relatively unchanged after our Winter and Summer evaluation, we could gauge about 40 to 45,000 miles of seamless driving for your car. Many American drivers shared in our survey that their tires still had about 5/32" left after 25-30k miles.
Fortunately, the improved treadwear rates did not affect Indy's overall comfort across dry terrains. Road bumps were still present but rather low-key when we kept things civilized below 55 MPH, and the excellent, punctual steering response aided further to the smooth, breezy strikes through S-bends or tight turns.
You do not have to pay much attention to its cornering ability, either. The rib held its ground well on asphalt/concrete roads and even carried some of its dry sharpness into waterlogged patches in wet weather (though traction at deep water beyond 5 inches did admittedly need some refinements). The best bet is to hover over the accelerator pedals in case of mishaps and keep your driving rate consistent at 30 to 40 MPH.
Indy's road noise control, overall, still found itself among the upper half of our list: rumblings were frequent but short-lived and tended to fade out during longer riding. Nevertheless, it would be better if these noises could be controlled better at dynamic surges during sharp U-turns or off-camber bends – a technique quite common in sporty summer driving.
Great tread life compared to tires of the same tread depth
Excellent dry performance
Decent wet grip
Tolerable jostles
Noisy at U-turns and off-camber bends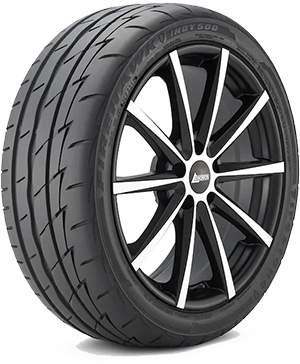 ---
7. Bridgestone Potenza Sport
Best for High-Speed Performance
Tire Type
Max Performance Summer
Tire Size
16"-22"
Weight
18.0 LBS – 34.0 LBS
Load Index
88 – 110
Load Range
SL - XL
Speed Rating
– W: up to 168 mph
– Y: up to 186 mph
Warranty
None
Ratings
8.1/10
High-speed lovers will find Bridgestone Potenza Sport to be the best match out of the bunch.
This tire introduces uninterrupted, large circumferential ribs and broad shoulder blocks to increase longitudinal and lateral grip at high velocities. Enhanced compounds promote steering response and wet performance, while the engineered geometry promotes water evacuation and even wear. There are also lateral notches and tuned sequences, which reduce tread harmonics to smooth out riding comfort.
Potenza Sport is very capable on dry terrains. Our rather adventurous start at 55 MPH turned out to be quite a non-issue, as the interrupted ribs adapted to new speed inputs right away and held their lines in stable strikes throughout our straight-line maneuverings. Abrupt and whiplashing accelerations to 85 MPH alike did not mute out the steering feedback like what we often observed in other tires: on the contrary, traction loss seemed to recover even faster.
You will likely observe the same confidence when tackling tight corners: our test car dived straight into dogleg crooks with a very sure-footed feel, experiencing relatively no changes from previous straight driving except for a few harmless jitters.
Oversteer and understeer only happened occasionally at corner entries – and even then, they rebounded very fast – so there is nothing to fret about even if you are a fresh novice.
And Potenza Sport is definitely one of the strongest tires on wet terrains (on par with Michelin Pilot Super Sport at #2). Except for skittish slippage and a bit of hydroplaning on concrete roads and highway curves, we could not spot much of a significant difference compared to its confident dry grip earlier. The car tackled stagnant/flowing water mid-rain just fine with no need for excessive steering force or panic brakings.
Hence, you can rev straight to 60 to 65 MPH in severe weather and still get over the water logs safe and sound – a great competitive edge for those living in regions of all-year humid climate/rainy season.
Unfortunately, Potenza Sport detailed with cold temperature and sharp dirt terribly, pushing the tire's durability to the bottom half of our list. The same went with tread noise control; brace yourself for downright roars that get louder the higher the speeds.
Stable dry and wet traction even at high speeds
Decent riding quality
Quick oversteer/understeer recovery
Underwhelming noise control
Horrible treadwear rates (even for summer tire standards)
---
8. Hankook Ventus R-S4
Best for Dry Traction and Acceleration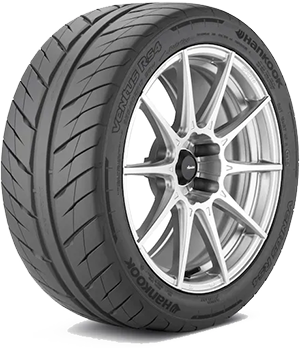 Tire Type
Extreme Performance Summer
Tire Size
15" - 19"
Weight
19.0 LBS - 38.0 LBS
Load Index
86 – 102
Load Range
SL-XL
Speed Rating
– V: up to 149 mph
– W: up to 168 mph
Warranty
None
Ratings
8/10
For drivers that rarely travel on wet surfaces and mostly engage in dry terrains, Hankook Ventus R-S4 is a versatile choice for the occasion.
Hankook utilizes carbon black, silica compounds for its Ventus R-S4 model, which is arranged into directional, low-void patterns. The wide center rib proposes immediate steering responses and creates uninterrupted road-tire contact, while the massive outboard blocks and chamfered edges deliver better high-g lateral cornering grips under loads. At the same time, there are sidewall reinforcement materials and high-modulus fillers, reducing sidewall flexes to give the tire better footholds.
Hence, despite fewer add-ons compared to higher-ranking models, Ventus R-S4 is still more than sufficient for basic dry-terrain traction. The contact patch and on-center ribs combine well together to gum the tire and car firmly on track, supporting our steering inputs with grippy plantings and immediate, punctual feedback.
Endeavors between 50 and 65 MPH were breezy and, despite the combined weight of our four-member team, suffered from little to no traction drifting when leaning outwards to tackle wide-radius corners.
Hence, you will likely encounter no trouble weaving through U-pins on mountain roads. Traveling on slightly angled surfaces (such as hilly roads or canyon passes) does not pose much of a challenge, either, guaranteed your input is consistent.
Hankook Ventus R-S4 also shined for its class-leading treadwear rates. Our ten-day test, though relatively short, could already gauge positive indicators about its durability judging by the stable, unchanging sidewall rubbers during very sudden speed changes. You will likely have quite a blast with the tire in 35,000 to 40,000 miles.
On the downside, Hankook Ventus R-S4 bottoms our list when it comes to riding quality, giving off very pronounced (sometimes borderline annoying) squeaking and rumbling on asphalt roads and highways. And as foreshadowed above, it is definitely not a tire for wet surfaces, with hydroplaning issues already brimming in water as shallow as 3-4 inches.
Confident, solid traction in dry road conditions
Stable cornering with crisp feedback
Excellent treadwear
Bad on wet surfaces
Terrible riding comfort; harsh rides
---
9. Michelin Latitude Sport 3
Best Summer Tire for SUVs and Crossovers
Tire Type
Street/Sport Truck All-Season/Summer
Tire Size
18″ – 21″
Weight
29.76 LBS – 40.45 LBS
Load Index
101 – 113
Load Range
SL – XL
Speed Rating
– V: up to 149 mph
– W: up to 168 mph
Warranty
20,000 miles
Ratings
8/10
Most SUV and crossover drivers prioritize exceptional stability under loads over speed; thus, Michelin Latitude Sport 3 will be the best summer sport tire to settle on in this case.
The tire features asymmetrically-molded tread compound and ample void ratio that improve wet confidence. Various thickness sipes minimize block deformation and strengthen rolling resistance, while the sturdy internal structures of steel cords and hybrid filaments keep tire distortion at bay.
Thanks to this stable, unwavering structure, Latitude Sport 3 managed its excellent dry confidence despite simple-design grooves and sipes. Once the contact points were settled, they were hard to break, not being choked out of their composure during our wild experiments with various steering techniques.
From tamed shuffle steering to whiplashing lock veering, Sport 3 always delivered accurate tire flexes without sacrificing footholds, remaining unfazed during speed surges to and from 55 MPH. You will find it a breeze to load/tow cargo and trailers (of 2500 to 3000 lbs) and even handle 4-5 passengers at the same time.
Hydroplaning was not completely off the hook when we entered deeper zones, but it thankfully stayed in the line and was compensated for by the tire's very confident wet grip. Blind/tight curves or slippery gravel trails with snowmelt did send the car slightly fumbling – but that is likely the only occasion you have to truly worry about the tire's control management. The rest of our wet maneuvers were a breeze.
Nevertheless, the distracting over-reactions over road bumps and rugged twisty roads – combined with unpredictable squeaking – pushed Latitude Sport 3 down on our list when it comes to riding comfort. Treadwear was also horrendous, only slightly better than the Pirelli P Zero (ranking at #10) and lagging behind every other competitor.
Aggressive footholds on dry terrains
Satisfying confidence on wet surfaces
Handling high speeds well
Horrible treadwear (even for summer tire standards)
Lackluster riding comfort/noise control
---
10. Pirelli P Zero (PZ4)
Best Summer Tire for Luxury Cars
Tire Type
Max Performance Summer
Tire Size
17″ – 24″
Weight
19.0 LBS – 46.0 LBS
Load Index
86 - 115
Load Range
SL - XL
Speed Rating
– H: up to 130 mph
– Y: up to 186 mph
Warranty
None
Ratings
7.8/10
Drivers of luxury cars prioritize dry on-road performance while also looking for aesthetic designs; hence, no other contender in our list suits them better than Pirelli P Zero (PZ4).
The tire introduces sleek, carbon black and silica compounds (adjustable according to manufacturers' needs) for the best dry handling. Its asymmetric pattern features strong outer shoulders, aided by circumferential grooves to improve hydroplaning resistance, noise, and overall comfort. Sealing the deal is the cap ply (either 1-ply or 2-ply based on your desired characteristics), strongly reinforced to match the engineered automobile and allowing for personalized fine-tuning.
P Zero was very confident on concrete and asphalt roads alike, as the sleek carbon-silica blend balanced tire flex and stability well enough to keep over-reactions/drifting at bay. We found our car to blast on main roads at 45-50 MPH with very little problem: it did not trip/grow muted after long hours of driving or back-to-back strikes, even managing swift, clean cuts during consecutive S-curves and extremely tight corners.
Steering response was great and very punctual (even better than the General G-MAX RS at #3), so you do not have to look out often for delays or faint feedback. Better yet, the quite well-built center ribs maintained excellent composure during speed surges and abrupt lock steering; coupled with the beautiful color that did not get dimmed despite thick, high-speed dust and gravel, your luxury car will be a sight to see on most dry highways.
On another note, every other metric (wet grip, comfort, treadwear) unfortunately ranked last or second to last in our list. The constant hydroplaning and major squeaking were sometimes downright unbearable, and the fact that its tread patterns coped badly with temperature extremes did not make things better.
All in all, Pirelli P Zero (PZ4) is more suited to short trips on non-challenging roads rather than exhaustive, long travels through diverse terrain textures.
Beautiful, luxury design
Confident, great dry handling
Superior steering response
Underwhelming wet grip, comfort, treadwear
How to Choose The Best Summer Tire For Your Driving Needs
Consider your driving habits and conditions
Straight-line driving or moderate summers could do with basic/standard tires. However, extreme heat and high-speed cornerings should be handled with a more aggressive and well-built tire. And if you mostly live in humid climates or regions with extremely cold winters, switching to winter tires is a better idea.
Inspect the metrics
Always remember to research these information tidbits before settling on a tire:
Read customer reviews
Research what other customers or critics say about the tire's real-life performance. If the tire is included in our COR Wheels Tire Test, you could check out its rankings on our charts or scroll through detailed review articles.
Conclusion
Michelin Pilot Sport 4S is the only tire in the list that pays keen attention to every metric (except for treadwear), hence its position as our ultimate pick.
Still, those putting handling above other qualities would do well with a set of Continental ExtremeContact Sport. And if you have other niche preferences, remember to check out the remaining 8 best-rated summer tires on the list.
Here is the summary of the 10 best summer tires in the 2023 COR Wheels Tire Test:
| Tire Brand & Model | | | | | | | | | | | | |
| --- | --- | --- | --- | --- | --- | --- | --- | --- | --- | --- | --- | --- |
| Michelin Pilot Sport 4S | 1st | 9.4 | 9.4 | 9.3 | 9.3 | 8.6 | 8.7 | 8.6 | 8.6 | 8.7 | 8.5 | 8 |
| Michelin Pilot Super Sport | 2nd | 9.3 | 9.4 | 9.3 | 9.2 | 8.7 | 8.8 | 8.7 | 8.5 | 8.6 | 8.5 | 7.9 |
| General G-MAX RS | 3rd | 8.9 | 8.9 | 8.7 | 8.7 | 8.6 | 8.5 | 8.5 | 8.5 | 8.5 | 8.3 | 8.2 |
| Continental ExtremeContact Sport | 4th | 9 | 9.1 | 8.9 | 8.9 | 8.6 | 8.6 | 8.5 | 8.5 | 8.6 | 8.5 | 7.8 |
| Yokohama ADVAN Fleva V701 | 5th | 8.9 | 8.9 | 8.8 | 8.9 | 8.2 | 8.4 | 8.1 | 8.4 | 8.5 | 8.3 | 8.6 |
| Firestone Firehawk Indy 500 | 6th | 9 | 9.1 | 9 | 9 | 8.3 | 8.3 | 8.3 | 8.3 | 8.4 | 8.3 | 8 |
| Bridgestone Potenza Sport | 7th | 9.1 | 9.1 | 9 | 9.1 | 8.7 | 8.7 | 8.7 | 8.2 | 8.4 | 8.1 | 6.3 |
| Hankook Ventus R-S4 | 8th | 8.9 | 9 | 9 | 8.8 | 7.1 | 7.2 | 7 | 7.4 | 7.6 | 7.3 | 8.6 |
| Michelin Latitude Sport 3 | 9th | 9.1 | 9.2 | 9.2 | 9.1 | 8.5 | 8.7 | 8.2 | 8 | 8.2 | 7.9 | 6.2 |
| Pirelli P Zero (PZ4) | 10th | 8.9 | 9 | 8.9 | 8.9 | 8.1 | 8.2 | 8 | 8.1 | 8.2 | 8 | 6.1 |
---
President & Automotive Expert at COR Wheels
Robert Herrera has been with COR Wheels for 17 years and has a great passion for the automotive industry. During his time at COR Wheels, he has driven and test-driven a variety of vehicles.
---