All-terrain tires aim to balance stability and tire flex for better road handling across all surfaces (hence the name).
However, not every tire model, even those from prestigious brands, live up to our stringent criteria regarding performance consistency. To save you research time, our COR Wheels team has tested and singled out the ten best all-terrain tires for the money.
Scroll for further details and discussion.
In this article:
What Are All Terrain Tires?
All-terrain or AT tires and developed for drivers traveling on diverse surfaces on a frequent basis: cases in point are paved roads, mud, dirt, and gravel. As such, their tread patterns enjoy much more aggressive enhancement than standard touring tires (made for everyday driving), with better stability during off-road endeavors.
Still, note that AT tires have never been meant for dedicated, extreme off-road performances, so you should not expect the same powerful delivery as with specialized off-road tire models.
How Did We Test & Pick The Best All-Terrain Tires?
As part of the annual 2023 COR Wheels Tire Test, the 40 most popular all-terrain tire models have been competing against each other for Summer (June-July) and Winter periods. Their performance metrics were rated based on the seven major assessment factors:
Off-road Performance
Winter/Snow Performance
Dry Performance
Wet Performance
Comfort
Treadwear
Price
Aided by verified feedback from the customers themselves, our team members negotiated the scores with each other to agree upon the ten best performers on the market.
Top 10 Best All-Terrain Tires In The Industry: A Full List
---
1. Vredestein Pinza AT
Best On-Road All Terrain Tire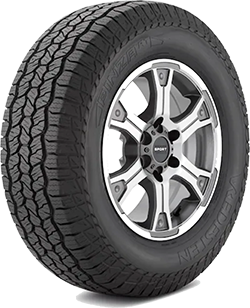 | | |
| --- | --- |
| Tire Type | On-Road All-Terrain |
| Tire Size | 15″ – 20″ |
| Load Range | C – SL |
| Speed Rating | S, H, T |
| Warranty | 70,000 |
| Ratings | 9/10 |
Vredestein Pinza AT takes the crown as the best on-road AT tire on the market with excellent design optimization.
A first glance into the tire's construction reveals four grooves blended into the compounds to provide off-road, rugged looks that handle a good amount of road handling. The multiple pitches employ aggressive bites along the shoulders, aided by ample void area for a much better grip on wet and loose surfaces.
Our first rides with Vredestein Pinza AT on dry terrains was quite a delight. Traction losses, while still happening on occasional bumpy roads, felt very faint to the point that we sometimes did not even spot them – hence our breezy and almost effortless speed changes to and from 55 MPH on both asphalt and concrete roads.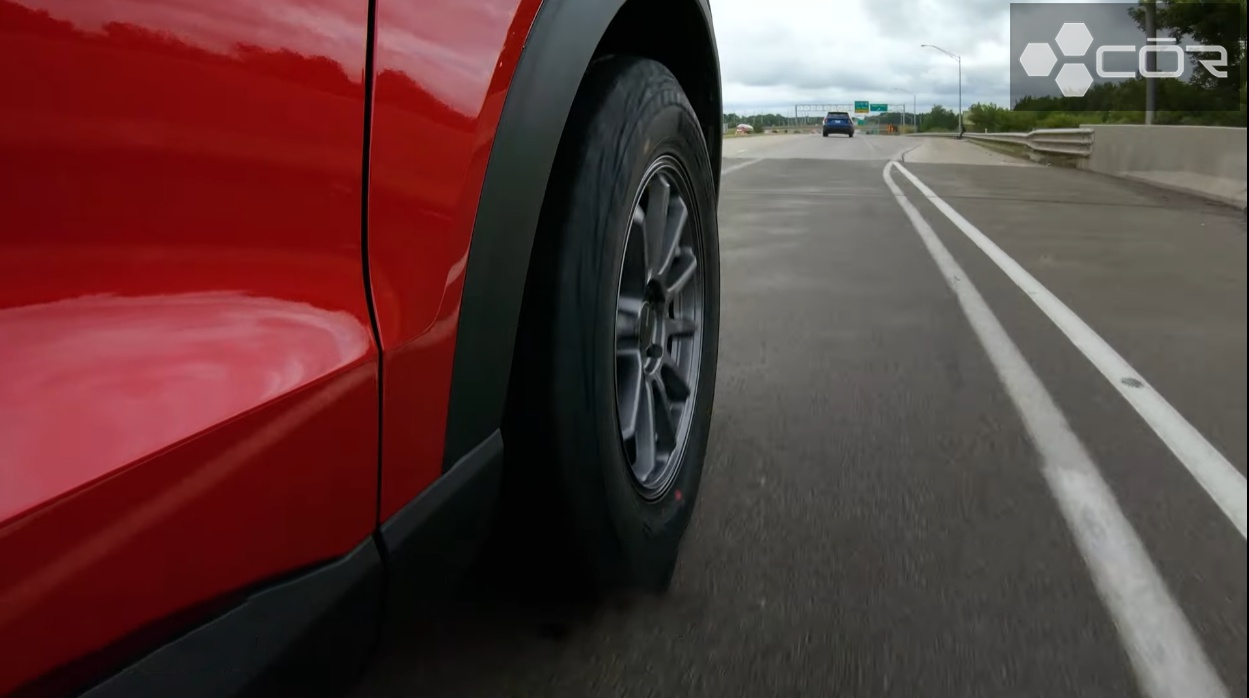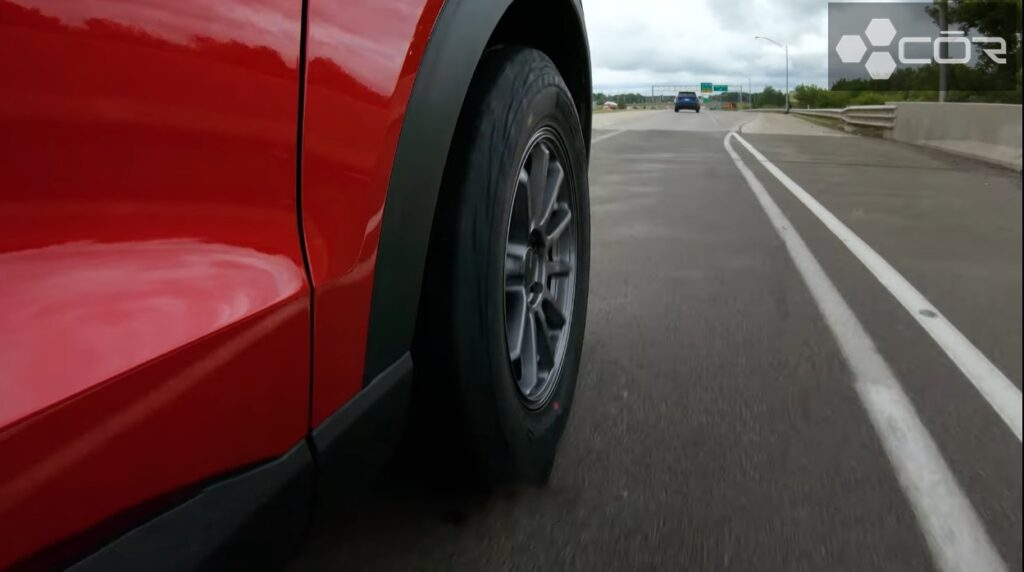 And you will likely have very little trouble on tarmacs or cobblestone paths, judging by how our Pinza AT dived onto these surfaces in relatively unchanged composure. Better yet, thanks to aggressive shoulder bites, gumming the tire tight onto the corner lines while dealing with mid-way steering changes will also be a piece of cake even if you're a beginner.
On off-road dirt, the confidence Pinza AT exudes is undeniable. We still noticed slight drifting around the flanks since this is still an on-road AT tire at the end of the day; however, the way our car recovered from those stumbles in less than 3 seconds is enough proof of Pinza's capable compatibility on these terrains. Our six-member team navigated through curves and U-turns quite uneventfully despite the combined weight and minimal input, so feel free to tow trailers or cargo of approximately 1000 lbs without putting yourself at severe risk.
This composure carried itself well into other off-road terrains like sand or rock, as the well-placed sipes threw pebbles and loose sand particles in consistent strikes every step of the way to push our car forward. Although you may observe a slight traction decrease when entering mud roads, be confident that the slippages are still very much under control here.
We had even fewer complaints during wintertime: Pinza AT was unfazed in the face of cold, chilly ambient temperature, hence the very little difference between its snow and off-road dirt handling. Ice terrains were a nightmare for other tires but not Pinza AT, carrying itself in predictable cuts at regular driving rates; you can totally use this as a winter tire for moderate winter weather.
Excellent on-road handling
Reliable off-road manners
Very satisfying snow handling for an on-road AT tire
Good riding comfort
Great treadwear warranty (70k miles for passenger tires and 50k miles for truck tires)
Slight traction decrease on off-road mud
---
2. Sumitomo Encounter AT
Best All-Terrain Tire for Dry Traction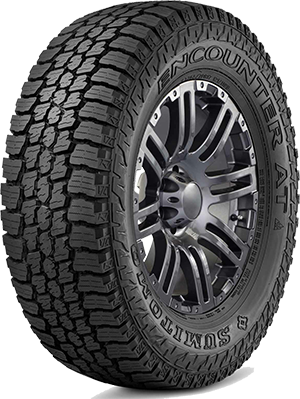 Tire Type
Off-Road All-Terrain
Tire Size
15″ – 20″
Weight
35.0 LBS – 84.0 LBS
Load Index
105 – 127
Load Range
C1 – XL
Speed Rating
– Q: up to 100 mph
– T: up to 118 mph
Warranty
60,000
Ratings

8.8

/10
Sumitomo Encounter AT utilizes all-terrain rugged compounds, featuring center-block stepped edges for more loose-terrain bites. Five connecting ribs employed in the shoulders aim to improve stability, while the four circumferential grooves evacuate standing water to retain more grip.
At the same time, the in-block siping designs and zigzag winter-focused sipes work together for even more footholds in the snow or rainy season – enough to grant the tire the 3PMSF symbol.
Our team blasted the car in striking aggressiveness on on-road dry terrains, rarely experiencing over-reactions from the sidewalls or contact patches as we did with other off-road AT tires in the test. Traction was pronounced, trampling down drifting symptoms just as quickly as it appeared; hence, you should be confident in its on-center stability across all surfaces, even tighter crooks or carousels.
Speed accelerations were already effortless on regular streets and grew surprisingly even more stable once we navigated to highways. The outrageous yet controlled lean at angled curves will give you tons of delightful moments if you belong to those adventurous souls; better yet, despite our extended steering through back-to-back entries, the tire did not show burnout signals even once – a huge competitive edge if you want to engage in days-long trips through the cities.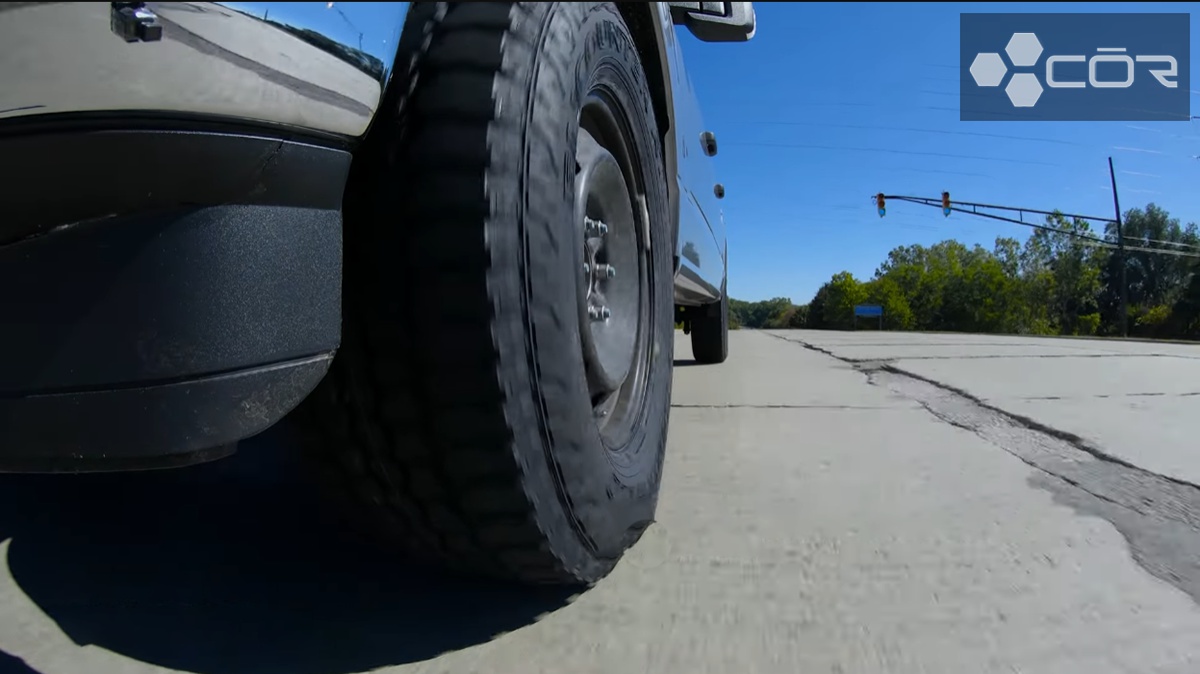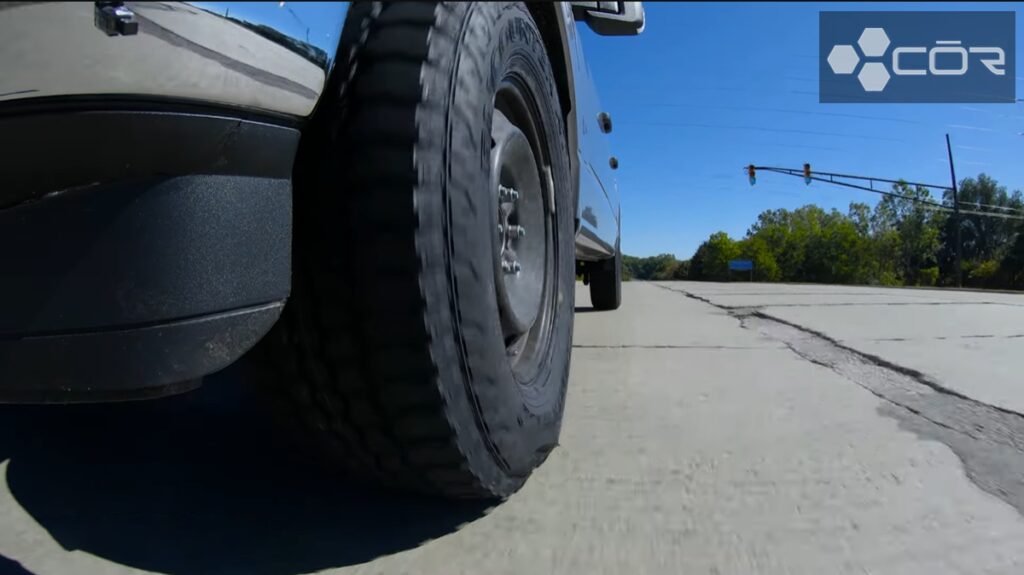 Encounter AT also proves its power on off-road terrains as an off-road AT tire. Dirt manners left very little room to complain about thanks to the stable connecting ribs, whisking loose and hard-packed dirt alike with surprisingly short and consistent intervals. Sand and rock traction, while not as dept, will still bond well with your predictable steering at 40 to 55 MPH, even squeezing out more grip if you know how to alternate between push-pull and shuffle steering.
Shallow slushy puddles were handled with ease, and the brief slippage on clay muds or deep ruts could be pulled back into line when accelerations were applied strategically. Beginners should carry as little loading here as possible – but if you are an average or advanced driver, feel free to allow 2-3 passengers or extra 500 lbs of trailer/cargo along the ride.
On snow, you can plow through snow as deep as 7 inches in little to no drama and enjoy pretty punctual responses without snow chains. Unfortunately, ice traction was a significant reduction; Encounter AT will work better on ice roads if you keep things below 40 MPH.
Excellent dry traction and dry performances
Pretty confident on wet terrains
Good off-road handling on dirt; decent on sand and rock
Great snow manners
Ice traction is underwhelming
Slippage on off-road mud still occurs
---
3. Falken WildPeak A/T Trail
Best All-Terrain Tire for Heavy Duty Trucks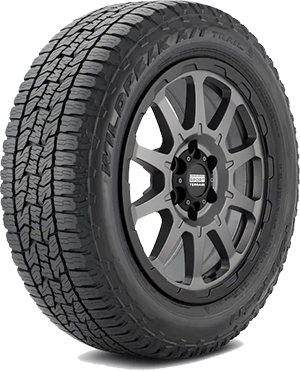 Tire Type
On-Road All-Terrain
Tire Size
16″ – 20″
Weight
26.0 LBS – 42.0 LBS
Load Index
95 – 111
Load Range
SL – XL
Speed Rating
– H: up to 130 mph
– V: up to 149 mph
Warranty
65,000
Ratings
8.8/10
Drivers of heavy-duty trucks for agriculture or construction sites will find Falken WildPeak A/T Trail an ideal solution.
The compound of Wildpeak A/T Trail (silica-enriched) is symmetrically molded to provide more durability over diverse temperatures and conditions. Independent edges and notches enhance wet traction, while the circumferential grooves, open shoulders, and deep initial tread depth aid anti-hydroplaning qualities where standing water volumes are present.
Meanwhile, there are rugged over-shoulder ribs and sidewall features that prevent stick/rock punctures and other off-road damage. Interlocking 3D sipes offer all-condition durability and extra bites for ice and snow traction (3PMSF).
Falken WildPeak A/T Trail did not disappoint us with the constant, almost immediate tire-road contact established just 4-5 seconds into our ride. You will likely find WildPeak's composure to be relatively uniform no matter how the cargo is added (all at once or divided into intervals). Our car could rev straight to 65 MPH without being dragged down by the extra load, so you are unlikely to experience response delays or muted feedback through speed changes.
And you should be confident during Heavy downpours with WildPeak A/T Trail; except for occasional dragging on particularly rougher surfaces (such as brick or tarmac), we could not really tell the difference between dry and wet traction.
As for straight-line driving, even blind curves and hairpins will be easy to handle for you. Since hydroplaning was only few and far between, chances of the tire drifting mid-drive or during critical turns are below 1 percent.
As an on-road AT tire, WildPeak AT did a terrific job tackling off-road dirt. Bumps, inconsistent textures, and stick gravel debris were cushioned over in bold decisiveness, so once your heavy truck is back to more favorable paths, you may find WildPeak's off-road dirt manner to be not that much different from on-road behaviors.
And if you are afraid of thick off-road locks tittering the heavy truck off the track, Falken WildPeak AT will settle that fear with the competitive anti-drilling sidewall features that keep the sidewalls safe from damage. No significant drawbacks were spotted, though we did think the noises could have been toned down during texture transitions.
Excellent dry and wet on-road performance
Very capable off-road handling (no metrics below 8.6)
Good snow and ice handling
Pretty good riding comfort
Noises during road texture transitions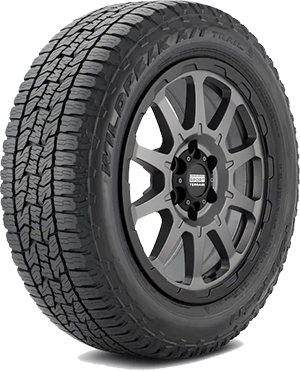 ---
4. Toyo Open Country A/T III
Best All-Terrain Tires for SUV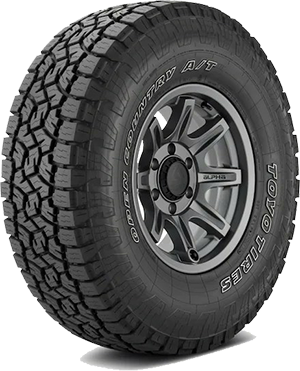 Tire Type
Off-Road All-Terrain
Tire Size
15″ – 22″
Weight
28.0 LBS – 76.0 LBS
Load Index
100 – 129
Load Range
C1 – XL
Speed Rating
– H: up to 130 mph
– T: up to 118 mph
Warranty
50,000 – 65,000 miles
Ratings
8.7/10
Toyo Open Country A/T III is a fitting match for SUVs and crossovers, evident in the symmetric, chip-resistant compound that utilizes even void distribution to deliver better handling and rigidity. Multi-wave 3D sipes and wet-focused compound layers increase wet confidence, while the lateral grooves reduce hydroplaning and bolster performances in snow conditions.
This off-road AT tire, true to its name, is spectacular on off-road dirt. Soft gravel dirt was spread out in startlingly clean cuts before truly sinking in the sidewalls, so speed changes or even sudden skids towards the opposite direction remained mostly smooth from beginning to end. Washboards or deeply rutted tracks are a non-issue now with the generous void areas, allowing you to choke out good initial bites despite heavy loads above 500 lbs.
Sand and rock traction will not pose much rolling difficulty for you, either. Their inconsistent, sometimes very unpredictable patterns and textures made it harder for Open Country A/T to gauge proper reactions, but they adapted quickly and knew how to minimize traction loss to an acceptable level.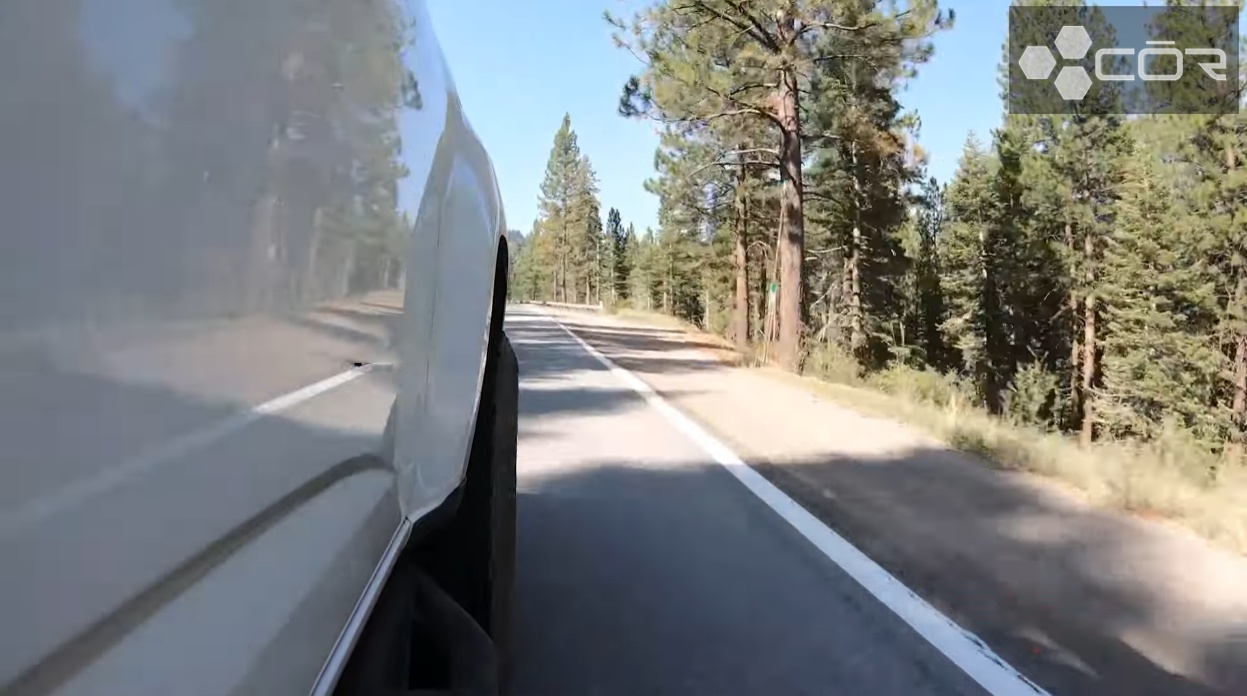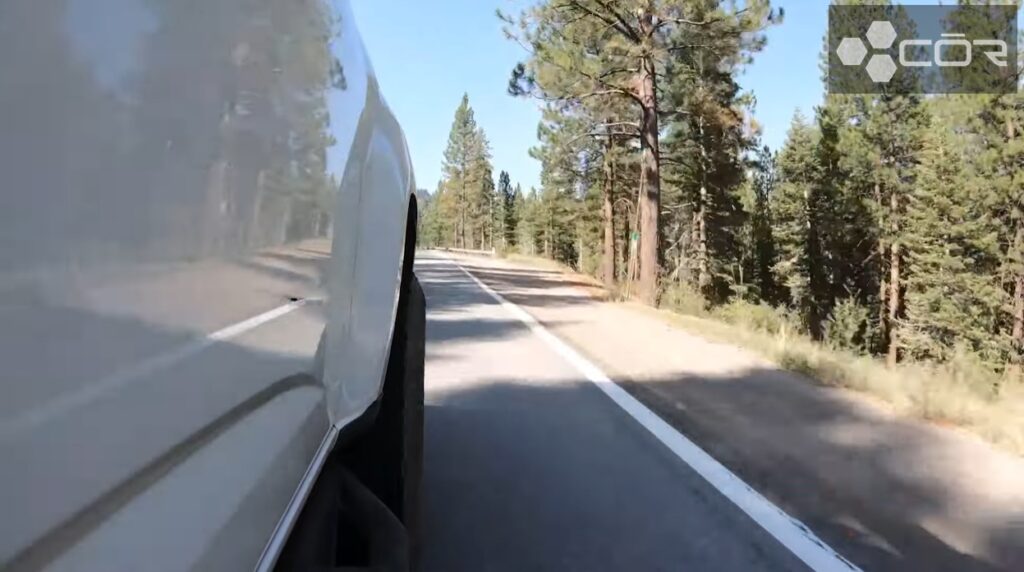 The same sentiment will also likely apply to your mud travels – judging by how faint skittish feel only happened on particularly trickier corners and stayed distant during the rest of our ride.
Regarding on-road dry terrains, Open Country A/T III manages to shine through the noise – its traction was even a note better than on off-road dirt, landing the tire on a sure-footed thud that made it easy for us to observe where the tire would be heading to. And due to the very aligned steering response, you can have safe experiments with your speed changes, ranging from abrupt surges at highway extremes to gradual decelerations before lane entries.
Slippery surfaces (both snowed and snowless) bonded well with Toyo Open Country A/T III and kept hydroplaning at a minimum, so be confident that your car can cope with them without snow chains. Still, the ratings would have been even higher if Open Country could reduce the frequencies of temporary stalls in low ambient temperatures (below 30 degrees F).
Good dry-road and wet-road confidence with 500-lb loads
Exceptional off-road dirt handling; satisfying in other off-road terrains
Good snow and ice manners
Temporary stalls in cold weather
Noise control could be better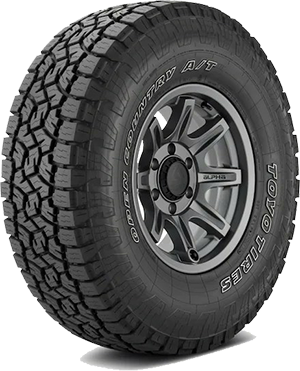 ---
5. Falken WildPeak A/T3W
Best For The Money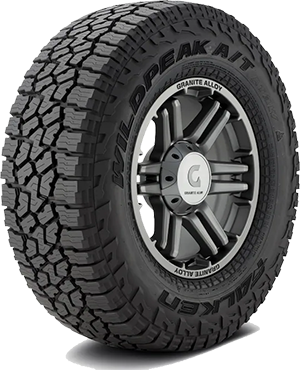 Tire Type
Off-Road All-Terrain
Tire Size
15″ – 22″
Weight
31.1 LBS – 84.0 LBS
Load Index
99 – 129
Load Range
C1 – XL
Speed Rating
– H: up to 130 mph
– T: up to 118 mph
Warranty
55,000
Ratings
8.6/10
Falken WildPeak A/T3W delivered much better performance than other tires in the same price range, making it one of the best for value.
There are the all-season durable compounds that resist damage on off-road and coarse surfaces without sacrificing pavement handling. Support ramps work with the stepped block features to prevent stone damage, while the sharp, off-road debris and off-camber bends are taken care of by the strong upper-sidewall enhancements.
Sealing the deals are the 3D Canyon sipes (for snowy conditions) and lower-sidewall heat diffusion that reduces overheating risks when hauling or towing.
Most basic steering situations on dry roads are totally within A/T3W's capability; it was hard for us to find any slightest signal of hesitancy or coughing symptoms in the way it refilled traction loss and pushed the car forward through pronounced bumps.
Towing loads beyond 1500 lbs made the car slightly slower, but any number below 1500, and you can count on the tire. The damage-resisting compounds also work well on canyon passes or mountain roads, gumming you even tighter on the road to keep collisions at bay.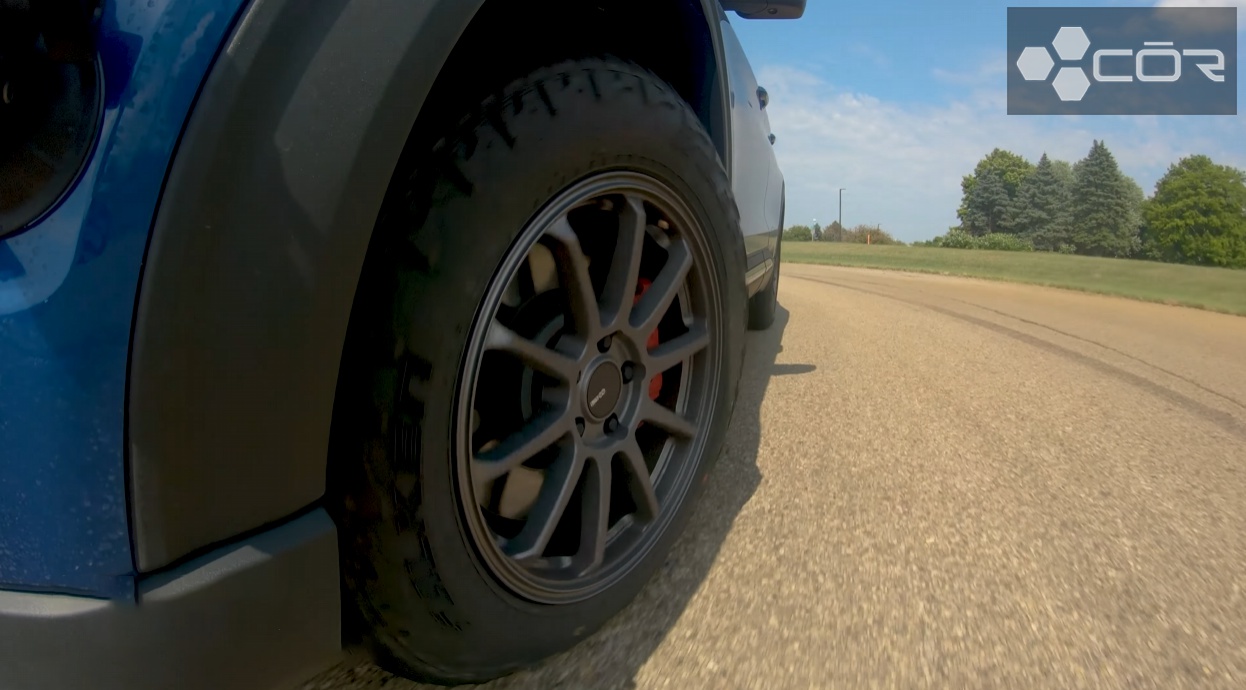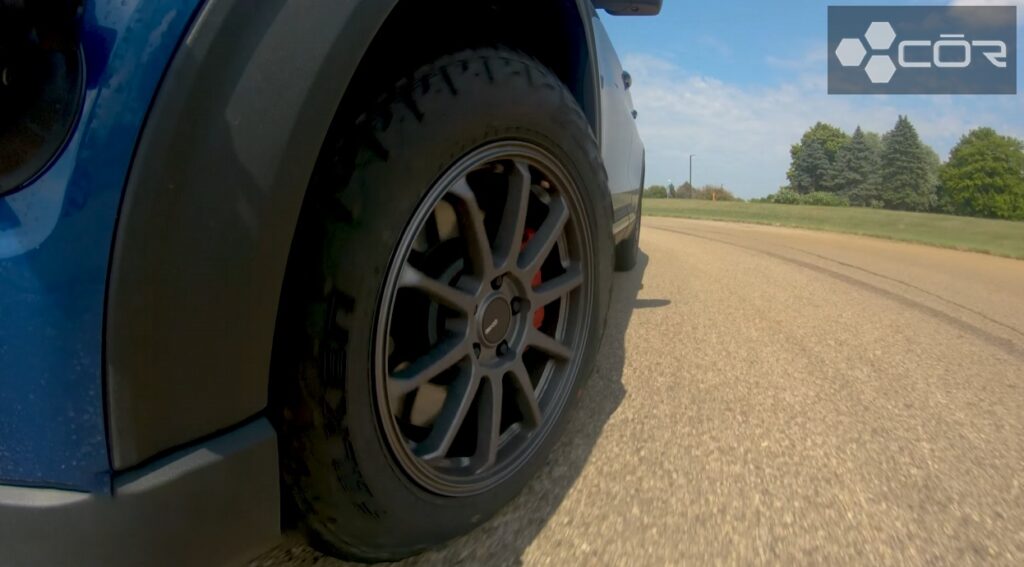 These behaviors translate pretty well to off-road dirt (though with a slight sharpness reduction around the edges). Sticky gravels did cling to the outer lines but not for long, sliding off in an instant when the strong grooves and sipes sprung to action. Thus, it should be easy enough for you to handle straight-line steering with minimum inputs – and even around tight corners or rough curves with limited visibility, well-prepared corner entries will do the job for you.
The combined support ramps and stepped features worked great for stones and rocks, too. While we did not exactly experience a 100% bumpless ride (corner jostles were still very transparent), you can be confident that no major stone drilling can occur at regular driving speeds.
Mud terrains posed more heavy drags to the tire than we would have liked, but nothing that countersteering could not handle; if you still want to err on the safe side, avoid corners while keeping the steering consistent at 35 MPH.
We are also quite delighted with A/T3W's performance on snow with frequent but harmless skitters on thick particles. Entering icy roads, it slipped here and there at unexpected timing but still didn't cross the lines. The treadwear rate is just decent – nothing exceptional, though.
Good on-road manner
Pretty confident in off-road handling
Generous warranty
Mud traction could be better
Treadwear is mediocre
---
6. BFGoodrich All-Terrain T/A KO2
Best Off-Road All-Terrain Tire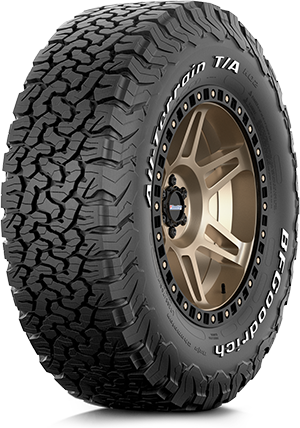 Tire Type
Off-Road All-Terrain
Tire Size
16″ – 20″
Weight
42.81 LBS – 70.72 LBS
Load Index
115 – 129
Load Range
C1 – E2
Speed Rating
– Q: up to 100 mph
– T: up to 118 mph
Warranty
50,000 miles
Ratings
8.6/10
Though other off-road AT tires also make it to the list, BFGoodrich All-Terrain T/A KO2 is the most all-rounder choice of it all.
This tire features tear-resistant compounds, aggressively molded with high-void patterns and extra features, such as loose-object ejecting add-ons, innovative sipes, and interlocking blocks. Together, they work to deliver good on- and off-road handling within tolerable noise.
Wrapping the package is the Sidewall Armors with tougher rubbers for the upper shoulders, twice thicker than its predecessor, to keep the tire from damage. There is also the serrated shoulder design that provides extra clawing traction for rock, sand, and deep dirt.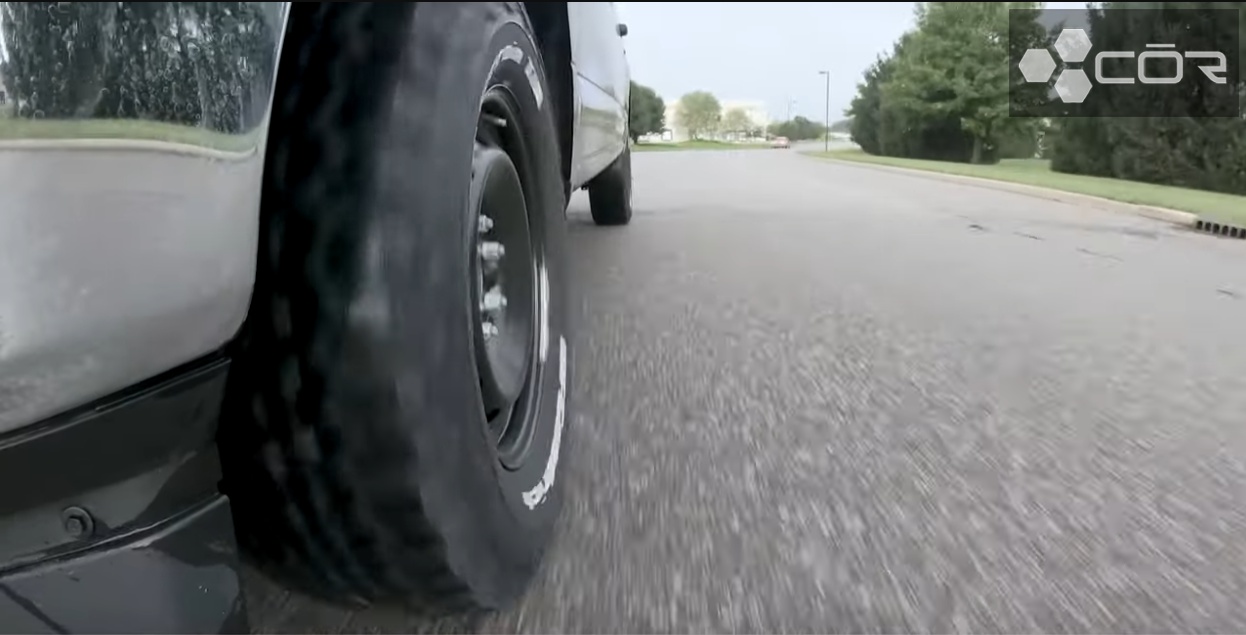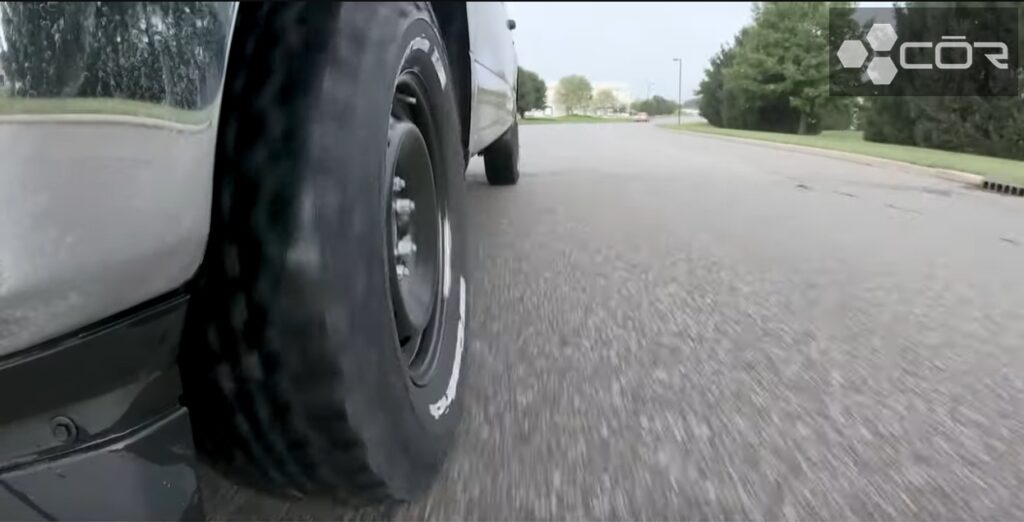 T/A KO2's off-road power was already spelled out the moment our car tipped on thick dirt; its serrated shoulders truly lived up to the expectation by clawing through the wet soil with significantly confident strikes. Speeds beyond 55 MPH might lead to slightly muter feedback, but the rest was a breeze. You may find KO2's grip on these rutted trails to be no different than how a typical touring tire performs on dry roads.
The sharpness dimmed a little on sand and rock – but again, that is a common trait shared by most off-road AT tires on this list. So aside from the occasional throwbacks at abrupt turns or minor stalls upon announced brakings, there is nothing you should be concerned about: contact points are within the line, and drifting symptoms are compensated quickly through the ample void ratio and well-built sipes.
Likewise, mud roads only posed real troubles in marshy areas or particularly very deep clay pits (usually 8 inches forward); on any other terrain besides that, you can trust All-Terrain T/A KO2 to behave tamed and in close alignment with your steering inputs. And since our intentionally late brakings around corners did not stutter the tire as expected, you should totally be able to engage in early/late apex or tight doglegs without issues.
On-road performances are excellent, a total non-issue like most AT tires on the top 5, so there is not much to discuss. Unfortunately, KO2 fell short on ice, rumbling in non-dangerous but bothersome side-to-side shakes over thin air. If there is a huge storm or very thick ice build-ups, it would be much better for you to resort to winter tires.
Great off-road qualities
Confident, predictable on-road performances
Great on light snow
Underwhelming ice traction
Pretty noisy sometimes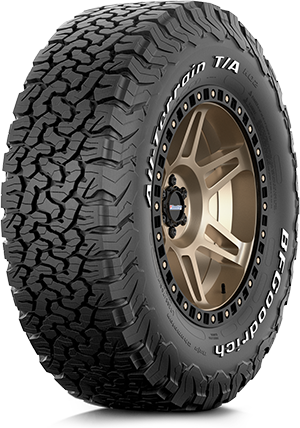 ---
7. Cooper Discoverer AT3 4S
Best All Terrain Tire For Light Truck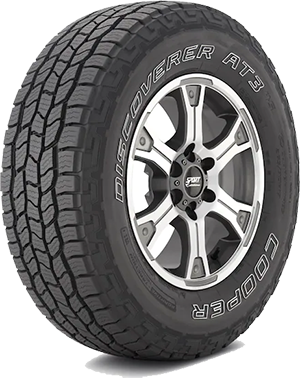 Tire Type
On-Road All-Terrain
Tire Size
15″ – 22″
Weight
29.0 LBS – 45.0 LBS
Load Index
99 – 117
Load Range
SL – XL
Speed Rating
– H: up to 130 mph
– T: up to 118 mph
Warranty
65,000 miles
Ratings
8.6/10
Cooper Discoverer AT3 4S is the perfect all-terrain choice for light trucks, with better handling capacity than standard cars but not as intense as tires for heavy-duty trucks.
The tire utilizes Adaptive-Traction tech that combines silica layers with five-rib designs for powerful dry/wet performance and off-road ability. Wide notches and AquaVac channels evacuate water, while the micro-gauge sipes deliver better traction on slippery surfaces. Lastly, the SnowGroove tech maximizes the power with outboard grooves and saw-tooth edges to keep the tire stable on snow.
This on-road tire handled our 900-lb trailer with ease on dry roads, not swaying as expected when we gradually added 100 lb to the cargo at every 25-minute stop. Contact points were punctual and consistent through varied steering techniques; unless there was a huge 180-degree flip that changed the entire track, they would not likely crumble. Such stability is a true relief if you ride the first light trucks in your life; the sturdy five-rib designs and unwavering sidewalls promise to push most road mishaps under control.
There is also little doubt about AT3 4S's composure as the rainy season comes. No stutters or slippage came as a surprise; all of them were very easy to predict, so you can correct those skids before they actually occur.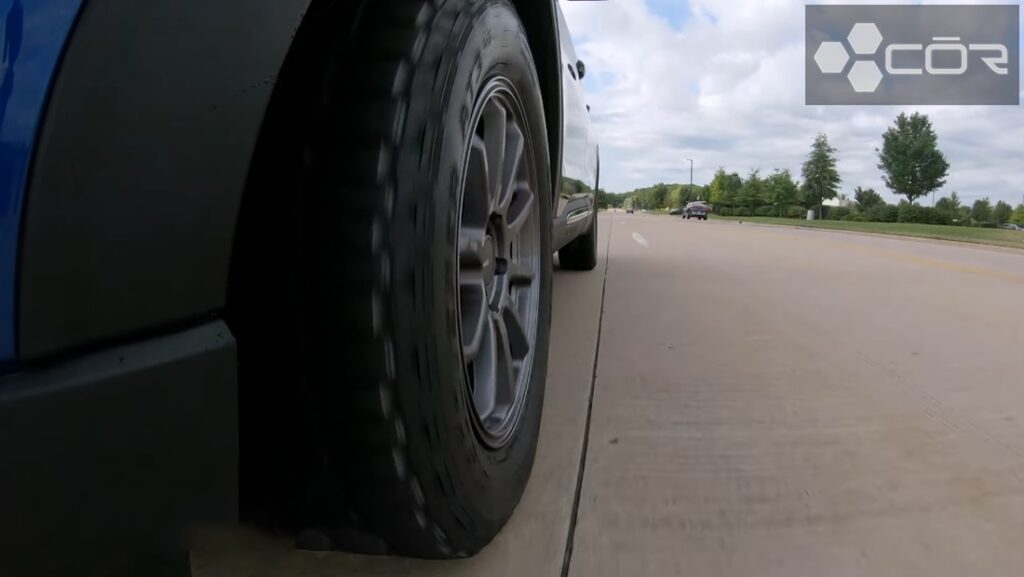 Minor drags before corner entries grew fainter and got stable once again near exits – so unless unexpected roadblocks and vehicles intrude, you should have no problems finding your momentum throughout these road crooks.
Most of the tire's core features are still tailored for on-road handling; hence, you might find off-road traction on rock or loose terrains to be rather lacking and less stable at higher speeds. But in compensation, off-road dirt traction is excellent; we retained an even better footing than on wet on-road sidewalks, fluctuating swiftly between 35 and 65 MPH to adapt better to inconsistent gravel depths.
Some of our team members still wished for sharper cornering stability to deal with knotty turns. But since dynamic riding is not really a priority for light truck drivers, you may let this drawback slide if desired.
Great dry traction and steering response
Controlled wet traction; few hydroplaning risks
Pretty comfortable
Good off-road dirt handling
Underwhelming on other off-road terrains than dirt
Cornering around knots could have been sharper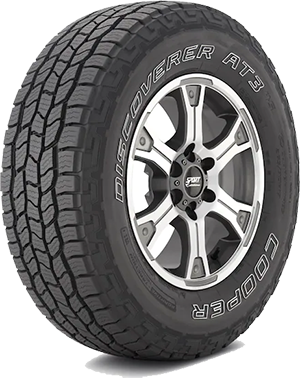 ---
8. Cooper Discoverer Rugged Trek
Best Rugged All-Terrain Tire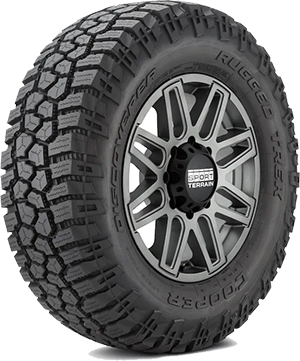 Tire Type
Rugged All-Terrain
Tire Size
16″ – 22″
Weight
41.0 LBS – 70.0 LBS
Load Index
111 – 126
Load Range
E1 – XL
Speed Rating
– Q: up to 100 mph
– T: up to 118 mph
Warranty
55000 – 60000 miles
Ratings
8.5/10
Cooper Discoverer Rugged Trek leads the rugged all-terrain competitions thanks to the symmetric, bold tread patterns and Stable Trac Tech that promotes road stability. The micro-gauge, omnidirectional sipes enhance rough-surface grip, while the Whisper Grooves dampen tread noise.
We also note the high-void, deep tread pattern whisking water off the contact patch. At the same time, the stone blockades and earth diggers provide more traction on off-road rocks and loose surfaces. As a result, Rugged Trek composed itself with excellent confidence on off-road dirt right from the beginning.
Unlike other tire models from Cooper that take the first few miles to truly settle in, the grooves here embraced our deeply rutted trails and gravel paths in minutes at 55 MPH, remaining stable on straight lines and relatively confident around corners. Trickier paths of dirt and small pebbles are also a non-issue for you, allowing you to be a little more generous with your cargo (about 500 to 500 lbs) without dragging the tire down.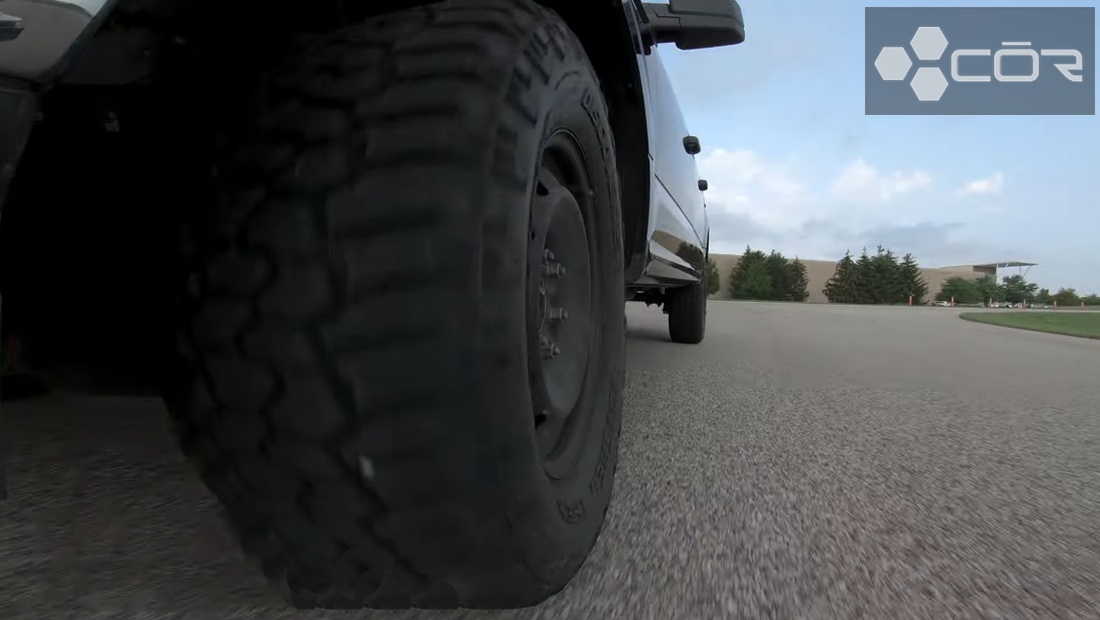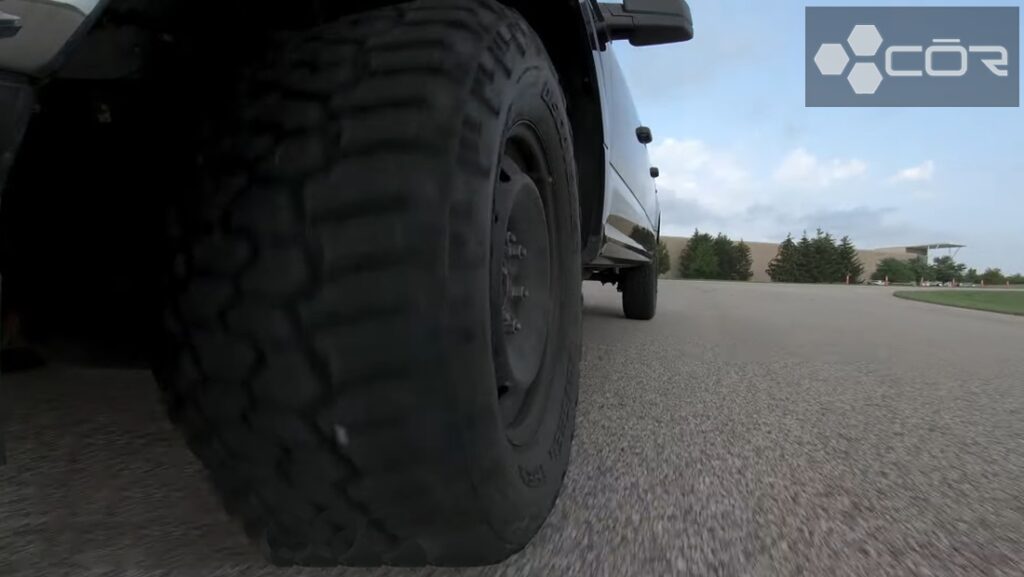 A lot of AT tires on this list have trouble retaining composure in mud, but you will not likely encounter such problems with Rugged Trek. The powerful earth diggers did a great job plowing thick clay and underwater mud off our way, recovering from drifting symptoms quickly enough to pull the car gently back to the track.
And to our delight, Rugged Trek made friends quickly with sand and rock terrains. Of course, their inconsistent depths still threw Rugged Trek off guard here and there, but given how easily we regained our footing with very low-key steering forces, you should have quite an easy experience with speed changes and brakings here regardless.
Most rugged AT tires do not pull much focus on on-road handling. Yet, you will be delighted to discover that Rugged Trek is one of the very few exceptions: its traction was even on par with some on-road AT tires above, caving onto the paved grooves in close alignment to breeze our car through basic reversing and lane changes situations.
Snow performances were not bad, but we did wish for better ice stability: compared to other terrains, Rugged Trek showed a lot of hesitancy on ice and ranked last on the list. Only travel to icy roads if you do not tow much cargo and are not that far from the destination.
Excellent, all-round off-road handling (no metrics below 8.6)
Exceptional on-road manner for a rugged AT tire
Aright riding comfort
Bad ice traction (ranking last on the list)
Occasional noises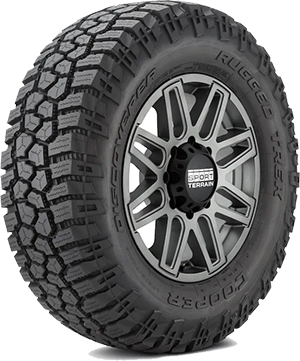 ---
9. Firestone Destination A/T2
Best All-Around All-Terrain Tire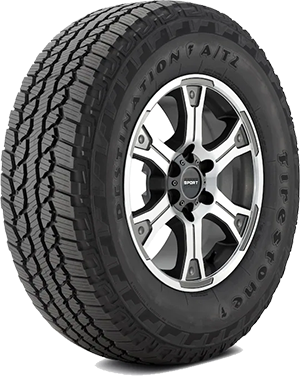 Tire Type
Off-Road All-Terrain
Tire Size
15″ – 20″
Weight
15.0 LBS – 35.0 LBS
Load Index
77 – 111
Load Range
SL – XL
Speed Rating
– H: up to 130 mph
– W: up to 1868 mph
Warranty
55,000 miles
Ratings
8.5/10
Firestone Destination A/T2 is an all-around tire that, while not finding itself in the Top 5, distributes its capability pretty evenly across all metrics.
The tire utilizes a symmetric compound with high-void patterns and solid ribs, providing constant tire-road contact. Its deep HydroGip grooves enhance wet confidence and hydroplaning resistance, while the aggressive shoulders and Stone Rejecters strengthen the tire on off-road terrains and rocks. Last but not least, heavy sipes and center-rib notches deliver more snow/icy traction, granting the 3PMSF labels.
No wonder Destination A/T2 is so confident on dry roads. Minus a bit of muted on-center feel when cornering, you will find this tire to perform not that much differently from other on- and off-road tires at higher rankings. Its steering response is actually even better than the Falken WildPeak A/T3W at No.5, rarely falling behind the steps unless U-turns are handled too abruptly.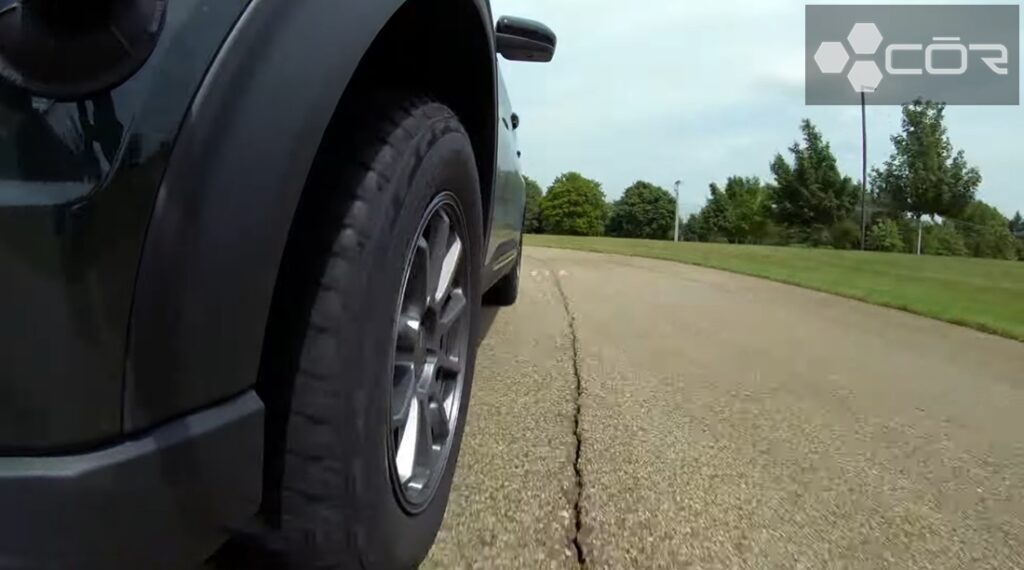 Off-road performances are not the brightest, but enough for you to breeze through most critical situations. The HydroGrip sipes turned out to perform better than we expected on wet mud and sticky gravel, paving enough room for the contact patch to regain its lost composure and march forward in resumed strikes. Occasional drifting on sand dunes and rock staircases was frequent for us (every 1-2 miles) but nothing unpredictable, so you should handle them under expectation even with basic push-and-pull technique; no need to get extra.
Likewise, snow traction was alright – nothing impressive but nothing disastrous, either. Snow chains might help you get more traction around tight corners and mountain passes – and regarding icy roads, we alternated between slow driving below 35 MPH and punctual brakings to keep the car from slipping.
Those with high expectations for riding comfort might still feel slightly disappointed with the squeakings at high speeds. But if you are noise-tolerable, Destination A/T2 actually did a decent job here: the low rumblings mostly emerged at acceleration entries and panned out once the car got used to the new changes.
Decent, all-round performance across all metrics
Predictable stutters that compensate for themselves quickly
Good hydroplaning control
Quite comfort
Nothing truly stands out; every criterion is mediocre
Not for deep snow or ice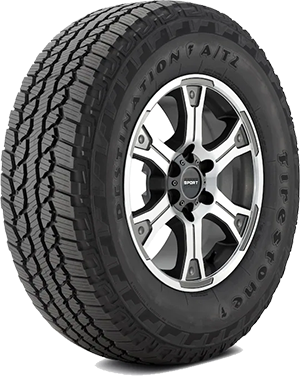 ---
10. Goodyear Wrangler DuraTrac
Best On-Road All Terrain Tire For Truck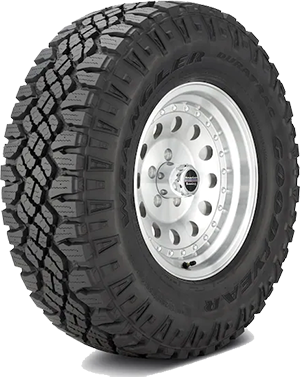 Tire Type
On-/Off-Road Commercial Traction
Tire Size
15″ – 22″
Weight
28.0 LBS – 76.0 LBS
Load Index
100 – 129
Load Range
C1 – XL
Speed Rating
– H: up to 130 mph
– T: up to 118 mph
Warranty
50,000 – 65,000 miles
Ratings
8.3/10
Goodyear Wrangler DuraTrac is a great tire for trucks that mostly traverse on-road conditions.
Goodyear introduces to its Wrangler DuraTrac models rugged tread compounds that resist block tearing, chunking, and chipping during heavy loads. Highly-angled blocks and symmetric designs enhance wet and dry balance, while the stepped blocks and zigzag sipes self-clean to bite better on snow and deep mud.
On our test, Wrangler DuraTrac did a better job on deep, thick dirt than expected thanks to the self-cleaning stepped blocks. A few side-to-side shudders were not enough to choke out the tire – if not even make it more stable after recovery – so you should be able to alternate between 40 and 60 MPH without issues.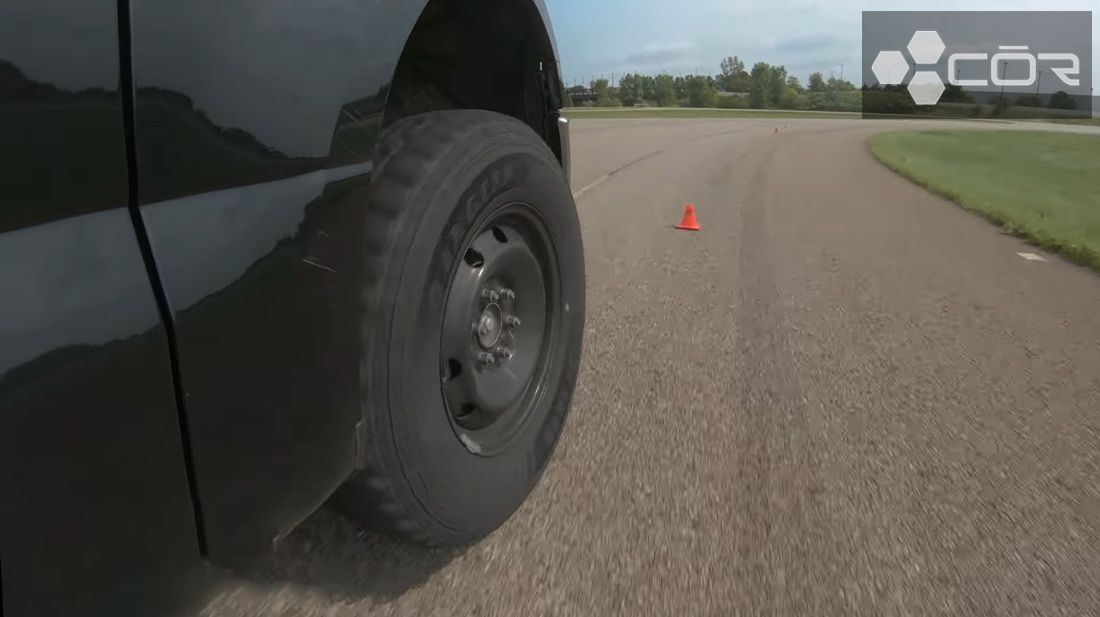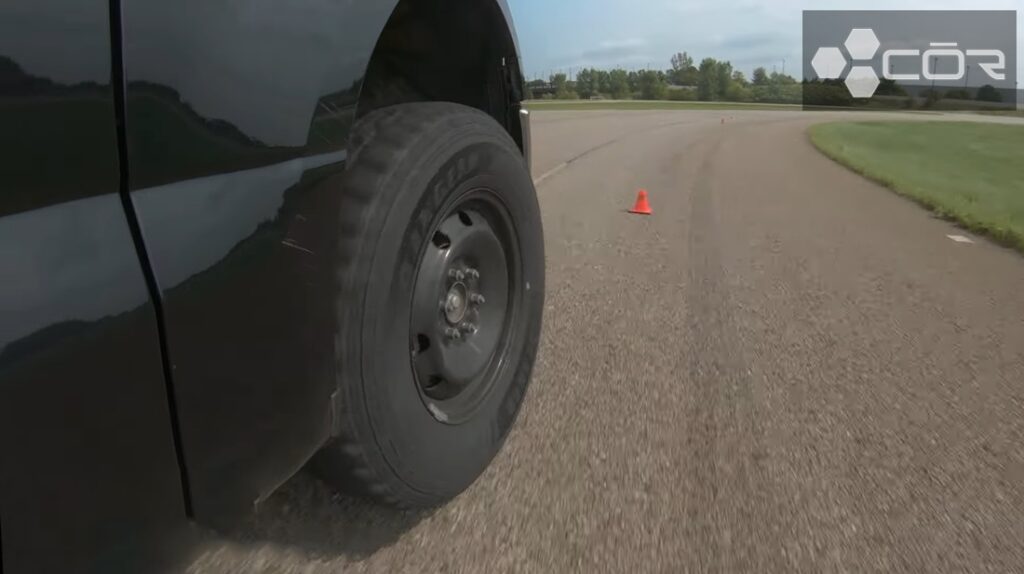 Mud and rock performances also landed themselves around the top ranks: heavy drags were more common here but again, not enough to truly deter the tire's decisive cuts.
Even tricky roads with a combination of both mud and rock will unlikely throw your car off guard if you know where to engage the braking pedals. And sand grip was not much far behind these two, only faltering on thick coastal sands and remaining easy to control in the rest.
Unfortunately, the cornering and steering response on on-road surfaces were the weakest among the top 10, bringing in pronounced jostling even when we traveled on very well-paved roads. Tread noises are also horrid, unable to tone out unless you employ aftermarket upgrades.
Pretty capable off-road handling, especially on dirt
Reliable dry traction
Snow and ice performances are good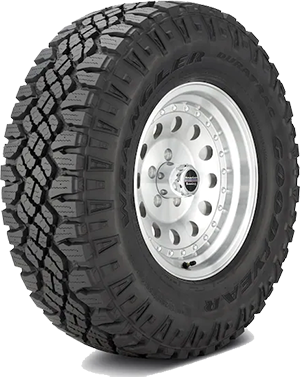 ---
How to Choose The Best All-Terrain Tires
Set your priority straight regarding:
Driving conditions: Light daily driving should do with a casual, comfort-oriented tire. Frequent off-road venturing, on the other hand, requires a more aggressive model.
Vehicles: Are you driving a crossover, light truck, or heavy-duty vehicle? Ensure the tire size matches the vehicle's wheel.
Traction and Noise: It would be best to find tires with deep biting edges and sipes without sacrificing noise control. Feel free to put one above another if you have certain priorities.
Conclusion
Vredestein Pinza AT is the ultimate choice for on-road drivers that handle occasional off-road terrains. But if you are looking for stable off-road AT models, there is no better choice than the classic BFGoodrich All-Terrain T/A KO2.
Here is the summary of the 10 Best all terrain tires in the 2023 COR Wheels Tire Test:
| Tire Brand & Model | | | | | | | | |
| --- | --- | --- | --- | --- | --- | --- | --- | --- |
| Vredestein Pinza AT | 1st | 9 | 9.1 | 9 | 8.9 | 9 | 9 | 8.7 |
| Sumitomo Encounter AT | 2nd | 8.8 | 9 | 8.7 | 8.7 | 8.7 | 8.8 | 8.6 |
| Falken WildPeak A/T Trail | 3rd | 8.8 | 9 | 8.9 | 8.7 | 8.6 | 8.8 | 8.8 |
| Toyo Open Country A/T III | 4th | 8.7 | 9 | 8.7 | 8.6 | 8.4 | 8.6 | 8.7 |
| Falken WildPeak A/T3W | 5th | 8.6 | 8.8 | 8.7 | 8.5 | 8.5 | 8.5 | 8.6 |
| Cooper Discoverer AT3 4S | 6th | 8.6 | 9.1 | 8.6 | 8.3 | 8.6 | 8.5 | 8.5 |
| BFGoodrich All-Terrain T/A KO2 | 7th | 8.6 | 8.9 | 8.6 | 8.5 | 8.2 | 8.4 | 8.8 |
| Cooper Discoverer Rugged Trek | 8th | 8.5 | 8.9 | 8.7 | 8 | 8.1 | 8.4 | 8.8 |
| Firestone Destination A/T2 | 9th | 8.5 | 8.9 | 8.6 | 8.1 | 8.6 | 8.4 | 8.3 |
| Goodyear Wrangler DuraTrac | 10th | 8.3 | 8.4 | 8.3 | 8.5 | 7.6 | 8.1 | 8.7 |
---
President & Automotive Expert at COR Wheels
Robert Herrera has been with COR Wheels for 17 years and has a great passion for the automotive industry. During his time at COR Wheels, he has driven and test-driven a variety of vehicles.
---