Winter brings along numerous unpredictable road mishaps, hence the need for specialized truck snow tires that assist standard SUVs, trucks, and pickups in tackling thick snow buildups.
Our COR Wheels team has decided on the seven best performers based on their road handling in real-life tests; scroll for further details.
In this article:
How Did We Test & Pick The Best Truck Snow Tires
40 best-selling winter and all-terrain tires have been put to evaluation in our annual 2023 COR Wheels Tire Test. Their overall performance was evaluated based on the six main criteria:
Winter/snow (our main focus), entailing the tire's traction on light/deep snow and ice
Dry traction
Wet traction
Comfort
Treadwear
Price
Customer feedback in our survey was also factored in, coupled with the test scores to single out the 7 best contenders in the competition.
Top 7 Best Winter Tires for Trucks 2023
1. Bridgestone Blizzak DM-V2
Best for Overall Snow Performance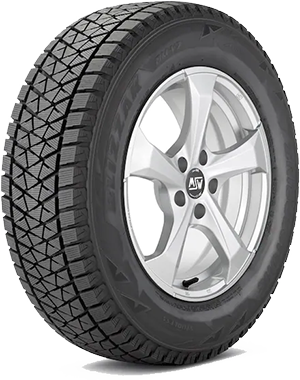 Tire Type
Winter / Snow
Tire Size
15″ – 22″
Weight
23.0 LBS – 45.0 LBS
Load Index
95 – 117
Load Range
SL – XL
Speed Rating
– R: up to 106 mph
– T: up to 118 mph
Warranty
None
Ratings
8.8/10
Bridgestone Blizzak DM-V2 crowns the competition as the best tire for overall snow performance.
The DM-V2 tire utilizes the NanoPro Multicell compounds, with microscopic particles and hydrophilic coats that whisk water flexibly despite below-freezing temperatures. Its directional pattern features 15% stronger block edges than the previous DM-V1 models, delivering wide circumferential/lateral grooves and zigzag 3D sipes that channel slush and increase snow bites.
Hence, DM-V2 left very little room for improvement on light snow: it bonded right away with tread pavement textures and breezed through the nervous initial bites quickly to settle into our 45 MPH input.
Powdered snow dispersed smoothly under the contact patch during straight-line driving and surprisingly scattered even faster at tight corners. You could rev down to 30 MPH to err on the safer side, but judging by how DM-V2 adapted well to texture and speed changes, we do not think that is necessary. All in all, this tire is best friends with snow drivers of all levels.
Deep snow beyond 7 inches did not pose much difficulty, either, minus some harmless side-to-side shakes at speed entries. The hydrophilic coats worked well with the interlocking grooves to control in-and-out water intrusion; hence, even if you are not confident in your driving skill, maintaining breezy strikes at regular, non-spirited driving speeds should be a general non-issue.
Ice terrains were admittedly more slippery, but the strong, well-built sidewalls of DM-V2 held their ground better than any other competitor. Abrupt speed surges sent our truck into skittish jitters, but those were likely the only occurrences where our truck lost its confidence; the rest of the ride was rather uneventful. In favorable temperatures, you can still travel on thick ice build-ups without issue, even towing light trailers of 1000 to 1500 lbs in little to no drama.
Snow performance aside, Bridgestone Blizzak DM-V2 is lauded as an all-rounder for a reason; its confidence on on-road dry and wet surfaces is among the best of its class, handling waterlogs and large bumps in your daily commuting road. The best part of all, DM-V2 did not have to sacrifice smooth riding comfort for that capable performance, though you still have to watch out for slightly louder rumblings on highways or during consecutive switchbacks.
Excellent confidence in light and deep snow
Good grip on ice
All-round performance on on-road pavements
Satisfying riding comfort
Pretty noisy on highways or during consecutive switchbacks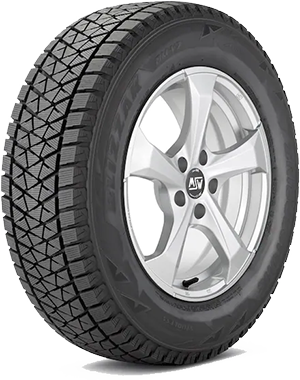 ---
2. Goodyear WinterCommand Ultra
Best for Light Snow Traction
Tire Type
Winter / Snow
Tire Size
15″ – 18″
Weight
22 LBS – 28 LBS
Load Index
115 – 129
Load Range
SL – XL
Speed Rating
– T: up to 118 mph
– H: up to 130 mph
Warranty
none
Ratings
8.5/10
If excellent footholds on light snow-covered roads are your priority above other features, then a set of Goodyear WinterCommand Ultra would do.
This tire utilizes Cryo-Adaptive compounds molded in directional patterns to maintain traction and flexibility in harsh, cold weather. Its ActiveGrip technology is incorporated to improve slush/rain and snow handling, while the SipeGrip and Active Cuts blend themselves under the tread for clearer, more responsive road handling. Sealing the deal are the V-tread hydro grooves that evacuate snow, slush, and water off the contact patch.
With these powerful interlocking features, WinterCommand Ultra gripped light snow with little to no hesitations; after a bit of seconds-long warm-up, our truck already powered on the main street at 45 MPH confidently and treated unexpected roadblocks like a non-issue.
Each maneuver was decisive and smooth, caving well into the steering input. Whether you prefer safe driving or something more fun, WinterCommand proves to be capable of adapting to them all.
While deep snow (beyond 6 inches) and thick ice are not WinterCommand Ultra's strong specialty compared to light snow, you will still find yourself at ease here.
Brief slippages near the borderlines were frequent but thankfully very predictable, and given strong, consistent push-and-pull, there is no reason you cannot march through snow banks and ridges with relative comfort from beginning to end.
Accelerations were pretty easy for us due to the latest car upgrades – but even if your vehicle is of older makes, gradual fluctuations between 40 and 55 MPH should bring about no real trouble.
On-road performances were satisfying in the grand scheme of things. Hydroplaning issues did get annoying on wet bridges and slippery gravel trails, but they could all be passed off as general road annoyance rather than actual danger.
If you can tolerate some rather obvious jostles on canyon roads and mountain passes, then traveling on-road with WinterCommand Ultra would be a great experience overall. Otherwise, they might be a huge turn-off for fans of tamer, more subtle handling.
Optimal traction on light snow
Decent on deep snow and ice
Decent on-road grip
Obvious jostles on rugged trails
Hydroplaning issues still occur (though not dangerous)
---
3. General Grabber Arctic LT
Best for Deep Snow Traction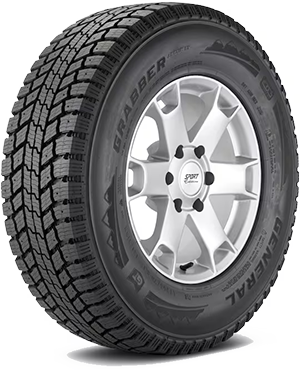 | | |
| --- | --- |
| Tire Type | Winter/Snow |
| Tire Size | 16″ – 20″ |
| Weight | 41.0 LBS – 60.0 LBS |
| Load Index | 115 – 126 |
| Load Range | E1 |
| Speed Rating | – R: up to 106 mph |
| Warranty | None |
| Ratings | 8.5/10 |
Drivers prioritizing deep snow performance will find General Grabber Arctic LT the best candidate.
This studded tire features robust chip- and cut-resistant compounds for better flexibility in cold temperatures. Their symmetrical design features extra center blocks supported by squared shoulders, intermediate blocks, and reinforcement bars, strengthening buttresses to improve all-weather braking and handling. The angled sipes, further enhanced by alternating metal studs (optional), offer more snow bites in icy conditions and packed snow.
Grabber Arctic's light snow traction was an obvious given, but it was on deep snow that the tire shined greatly. Even without studs, its strong sidewalls and intermediate blocks already did a great job stabilizing the center ribs on track, carrying us eventfully through deep, hard packs beyond 7 inches with only very minor stutters.
Needless to say, the inclusion of extra studs powered up the anchor points even better – to the point that even late brakings could not send the truck floating. This tire will be an excellent choice if you have to deal with deep, hard snow on narrow roads with lots of corner entry points.
Grabber Arctic LT showed much more hesitance on icy terrains than snow, so it would be better if you avoided abrupt accelerations and whiplashing, tight corners altogether here. Riding comfort was also far from the best – though it seemed like a trade-off for the tire's otherwise durable and sturdy tread patterns.
Indeed, Arctic LT definitely ranks itself among the upper top of our list in terms of tread wear, not losing internal composure in extreme weather and showing very little fatigue in overheating summer. Your truck should be able to handle 50,000 to 60,000 miles just fine.
Handling snow well
Confident on-road grip
Great treadwear
Underwhelming on ice
Mediocre riding comfort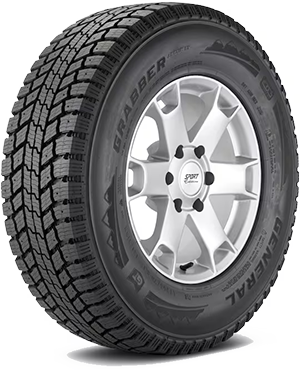 ---
4. Firestone Winterforce LT
Best for Affordability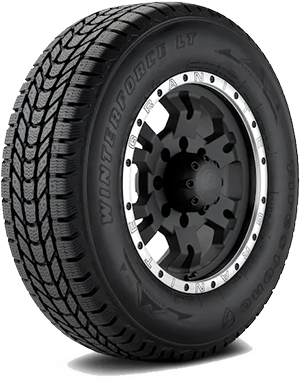 | | |
| --- | --- |
| Tire Type | Winter/Snow |
| Tire Size | 16″ – 20″ |
| Weight | 37.0 LBS – 58.0 LBS |
| Load Index | 111 – 126 |
| Load Range | C1 – E2 |
| Speed Rating | – R: up to 106 mph |
| Warranty | None |
| Ratings | 8.4/10 |
Firestone Winterforce LT is the most affordable tire out of the bunch while still delivering satisfying winter performance.
It features aggressive, directionally-molded tread compounds that are studdable, offering extra snow/ice edges for more reliable traction. The high-density sipes enhance stability on loose snow, while the shoulder and intermediate blocks gum the tires better on packed snow roads. Adding to the overall riding quality are the polyester casing and double steel belts, combining strength with tire flex.
Despite the upfront price, Winterforce LT was clearly on par with all the more expensive options ranking above on light snow. Longitudinal traction was instant and strong – and when paired with the responsive steering input, spirited diving and low-angled leans at 40-65 MPH are easy for novices and seasoned drivers alike.
We encountered very little problem on straight, smooth asphalts and retained relatively the same composure on snow-covered hills without studs. Hence, it's easy to imagine how much more traction you will receive when premium studs are gummed onto the rubber compound.
Winterforce was also a star on deep snow terrains, with overall stability even better than the pricey Goodyear WinterCommpand (ranking at #2) and General Grabber Arctic (#3). Slippages will be less likely to interrupt your ride and almost non-existent in favorable temperatures. Consistent push-and-pull easily breezes your truck through decelerations and accelerations to and from 55 MPH.
You can choose to raise the bars higher with studs – but even without them, the risks of skidding and collisions are low regardless. Ice terrains were just as delightful given low driving rates, and we could still tackle basic cornering attempts with enough preparation time (preferably 5-6 seconds ahead).
Nevertheless, Winterforce LT is still a budget tire, so you should brace yourself for lackluster performances in every other non-winter metric: on-road traction, comfort, and treadwear. They were not downright bad, but far from the tire's highlight features, resulting in non-dangerous but very unpredictable jostles/traction loss.
A budget tire
Very capable on light and deep snow (even on par/better than expensive alternatives)
Decent wet traction
Mediocre on-road handling
Underwhelming comfort and treadwear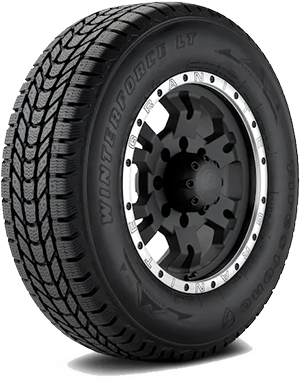 ---
5. Bridgestone Blizzak LT
Best for Studless Snow Traction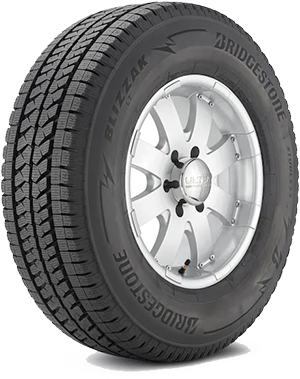 | | |
| --- | --- |
| Tire Type | Winter/Snow |
| Tire Size | 16″ – 20″ |
| Weight | 37.0 LBS – 53.0 LBS |
| Load Index | 111 – 126 |
| Load Range | C1 – E2 |
| Speed Rating | – R: up to 106 mph |
| Warranty | None |
| Ratings | 8.2/10 |
Unlike some same-sector competitors, Bridgestone Blizzak LT does not need studs to deliver extra power; in its studless form, the tire is still at its peak snow performance.
Blizzak LT utilizes rugged winter compounds to withstand harsh conditions under heavy loads. The outboard shoulder tie bars stabilize tread blocks and reduce irregular wear, while the outboard, wide circumferential grooves evacuate deep slush and water for better hydroplaning resistance. To aid in snowy/wet-road grip, Bridgestone also includes zigzag center grooves, thick sipe densities, and independent blocks.
Hence, Blizzak LT delivered very confident, almost eager traction on light snow roads without extra support from snow chains or studs. Slush and soft, powdered snow could not linger on the sidewalls for long and slid off almost instantly once the grooves got to work, which helped carry our truck in pleasant yet decisive cuts at 50 MPH without trouble.
Even rough brick pavers with inconsistent, varying snow depths did not sway the Blizzak LT off its track, either, assuring you can stay confident in almost every basic driving terrain regardless of winter conditions.
Studless deep snow traction was just as delightful with the help of stable tie bars and zigzag centers, balancing grippy footholes and tire flex well to plow through 7 inches of packed, cold snow in little to no drama. Accelerations beyond 55 MPH might throw at you a few brief stutters; but with any number below 55, you can gain relatively the same confidence and traction as on light snow roads.
Blizzak LT performed great on ice terrains when studded – but like on snow, you can also expect decent studless traction at regular driving rates. Occasional drifting was unavoidable but still in control, so you do not have to worry about traction loss at off-camber bends or, worse, blind curves.
Unfortunately, this tire did not grip well on on-road dry pavements and handled overheating asphalts very badly. Hence, once the winter season is over, Blizzak LT is unlikely to last you into spring or summer.
Gripping snowy roads (light and deep alike) well even in a studless mode
Excellent traction on wet roads
Decent on ice
Underwhelming dry-road traction
Bad treadwear and riding comfort
Not impressive treadwear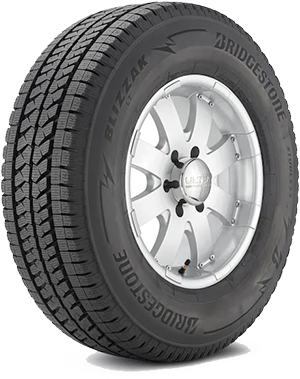 ---
6. BFGoodrich All-Terrain T/A KO2
Best for All-Terrain & Snow Traction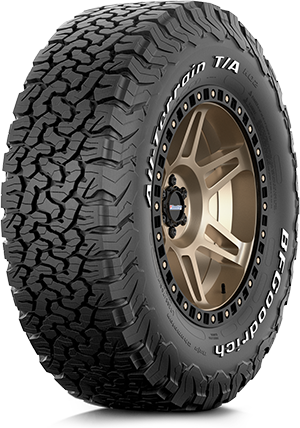 Tire Type
Off-Road All-Terrain
Tire Size
16″ – 20″
Weight
42.81 LBS – 70.72 LBS
Load Index
115 – 129
Load Range
C1 – E2
Speed Rating
– Q: up to 100 mph
– T: up to 118 mph
Warranty
50,000 miles
Ratings
8.5/10
BFGoodrich All-Terrain T/A KO2 handles off-road snow and other beaten terrains better than most.
The tire introduces racing, cut- and chip-resistant compounds with 2x longer tread life than previous BFGoodrich models. Its aggressive, high-void patterns work with innovative sipes, interlocking blocks, and loose-object ejecting features to combine on-road and off-road handling without sacrificing noise control.
On another note, the Sidewall Armors feature sidewall rubbers twice denser than their predecessors, aided by the Serrated Shoulders that provide extra clawing on deep rock, sand, and dirt.
Hence, it was unsurprising how T/A KO2 handled snow of varying depths with lots of self-composure. The wet, sticky snow only lingered on the sidewalls for a few brief seconds before being whisked off under the sipes and void areas, powering the truck forwards at any chosen speed rate while facing very few delays.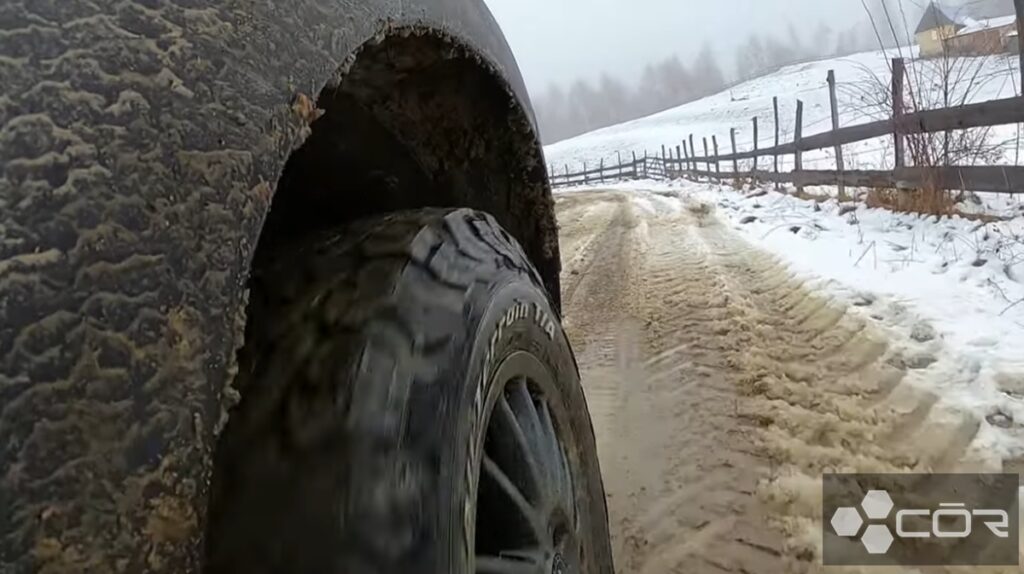 Furthermore, the aggressive, dense sidewall rubbers seemed to work on rough, off-road snowy paths even better than on-road; the clawing technology fit in just right to deliver sharp, punctual high-speed responses (beyond 65 MPH) that did not feel like overreacting. Thus, you can either march forward at leisurely paces or apply abrupt acceleration forces, and T/A KO2 will learn to adapt to your steering tendency instantly.
Thick ice build-ups did not play much in T/A KO2 as we had hoped due to the constant skittish jitters; but in compensation, the tire's performance on other off-road terrains (aside from snow) was very much a delight. Its ample high-void space worked spectacularly in evacuating loose particles like mud and soft sands, while the aggressive compounds boned tight with sharp, thick dirt and rock to minimize drifting.
Judging by how off-road traction loss was refilled instantly, you should not have much problem engaging in adventurous leans or spirited drivings during off-road double apexes/back-to-back curves.
On-road stability is also an obvious given. Except for loud noises during U-turns and a bit of slippage when we maneuvered obstacles on wet pavements, it is hard to find a real significant drawback in this tire.
Work great in both on-road and off-road snowy conditions
Confident in all on-road and off-road terrains
Great treadwear
Decent riding comfort
Noisy
Underwhelming ice performance
A bit of hydroplaning when handling roadblocks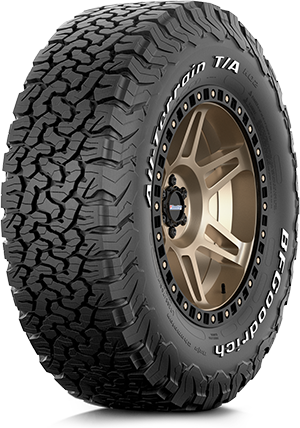 ---
7. Toyo Open Country M/T
Best for Maximum Traction in Snow & Mud
Tire Type
Off-Road All-Terrain
Tire Size
15″ – 24″
Weight
39.0 LBS – 109.0 LBS
Load Index
108 – 131
Load Range
C1 – F2
Speed Rating
– P: up to 94 mph
– Q: up to 100 mph
Warranty
None
Ratings
8.2/10
Toyo Open Country M/T closes our list as the best off-road max traction tire for snow or mud roads (sometimes even a combination of both).
The tire offers 3-ply sidewalls with high turn-ups to add durability and strength against tears and punctures on rough textures. Its high-void patterns and alternating scalloped/open shoulders grip softer surfaces (snow and mud), while the deep sipes inside the hook-shaped blocks enhance handling confidence throughout paved roads.
There was little doubt about Toyo's road manners on off-road mud. The tire self-cleaned in startlingly bold confidence and dispersed the remaining, stickier particles evenly with consistent rolls; hence, our truck encountered no drama when tackling clay, sandy mud at roughly 45 MPH. Accelerations were breezy on straight lines and only required minor refinements during ascents or crooks, so you should handle the rugged textures just fine even at beginner levels.
Light and deep snow with Toyo also prove to play significantly in your favor. Its scalloped shoulders and void patterns (which have worked so well on loose mud terrains) shone once again on snow, cleaning up the messy powdered snow in quick, clean cuts to pave the way for the contact patch to settle. With sharp steering responses and unwavering ribs, the tire only stuttered on slightly deeper snow (mostly beyond 7 inches) and retained its composure in the rest of our test rides.
On-road deep snow is an obvious non-issue, but you will find Toyo to cope well with off-road, muddy snow, too. Hydroplaning was few and far between, and you can even manage to choke out extra traction with snow chains on mountain passes and deep gravel trails.
Icy surfaces are not exactly Toyo's strength, but a decent grip could still be achieved if you make turns at consistent pacing. The tire also worked great on snowless on-road surfaces with satisfying treadwear.
Nevertheless, road noise control was rather lackluster, downright screeching at sharp turns.
Great traction on snow and mud
Excellent dirt, rock, and sand confidence
Satisfying on-road grip
Pretty good treadwear
Underwhelming road noise control
Less-than-stellar ice performance
---
How to Choose The Right Winter Truck Tires
Consider Your Climate
Areas with heavy snowfalls need aggressive tires that can handle snow and deep ice. Moderate winters, on the other hand, would do with a less-sturdy tire.
Assess Your Driving Style
Frequent off-road venturing requires tires with excellent snow and mud traction. But for truck drivers that mostly engage on well-paved roads, you can be more carefree with your tire choices.
Confirm Your Truck Sizes
Obviously, snow tires are not made equally: some are tailored for smaller cars or light trucks, and others fit larger passenger vehicles. Ensure your purchased tire fits well into the truck's wheel.
Look For the 3PMSF Symbol
Short for 3-peak Mountain Snowflake symbols, the 3PMSF letters indicate the tire satisfied basic snow/ice traction standards.
Read Customer Reviews
If the tire is not included in our COR Wheels tire test review, you can check out other customer feedback on automobile forums to gauge how it performs in actual, real-life driving conditions.
Conclusion
Bridgestone Blizzak DM-V2 is the ultimate pick if you need an all-rounder that delivers maximum power and traction across all snowed and snowless on-road terrains.
On another note, other options on our list are also worth a second look for people prioritizing a certain performance quality over others (or having to balance out their budgets for winter driving conditions). The last two tires (#6 and #7) also do a spectacular job handling off-road surfaces.
Here is the summary of the 7 best snow tires for trucks in the 2023 COR Wheels Tire Test:
| Tire Brand & Model | | | | | | | | | | |
| --- | --- | --- | --- | --- | --- | --- | --- | --- | --- | --- |
| Bridgestone Blizzak DM-V2 | 1st | 8.8 | 8.6 | 8.9 | 9.1 | 9.4 | 9.2 | 8.8 | 8.6 | 8.1 |
| Goodyear WinterCommand Ultra | 2nd | 8.5 | 8.6 | 8.6 | 8.6 | 9 | 8.4 | 8.4 | 8.3 | 8.1 |
| General Grabber Arctic LT | 3rd | 8.5 | 8.8 | 8.8 | 8.4 | 9 | 8.6 | 7.8 | 8 | 8.7 |
| Firestone Winterforce LT | 4th | 8.4 | 8.3 | 8.5 | 8.6 | 9 | 8.7 | 8.1 | 8 | 8 |
| Bridgestone Blizzak LT | 5th | 8.2 | 7.8 | 8.6 | 8.9 | 9.3 | 8.9 | 8.5 | 8.2 | 6 |
| BFGoodrich All-Terrain T/A KO2 | 6th | 8.5 | 8.9 | 8.6 | 8.5 | 9 | 8.8 | 7.7 | 8.2 | 8.4 |
| Toyo Open Country M/T | 7th | 8.2 | 8 | 7.7 | 9 | 9 | 9 | 8.8 | 7.6 | 7.2 |
---
President & Automotive Expert at COR Wheels
Robert Herrera has been with COR Wheels for 17 years and has a great passion for the automotive industry. During his time at COR Wheels, he has driven and test-driven a variety of vehicles.
---