Lauded as one of the most powerful pickup truck lines, the Dodge Ram 1500 has skyrocketed in sales for decades. However, customer feedback in certain regards seems quite mixed due to the significant quality variations in the tire types installed.
That explains why browsing through options carefully to single out the best tires for Dodge Ram 1500 is important; none of its upgrades and feature highlights would work in your favor if assisted by incompetent tires. Scroll through our guides for 10 promising recommendations based on actual testing.
In this article:
A. How to Choose The Best Tires for Dodge Ram 1500
1. Understanding The Dodge Ram 1500
Dodge Ram 1500 is a pickup truck primarily tailored for paved surfaces (e.g., highways) and on-road rides. Hence, you should choose tire models that promote striking balances between daily traction and comfort, with decent clawing actions to handle light snow or thicker gravel.
The light truck is equipped with the 4×4 (four-wheel-drive system), aided by higher ground clearance to handle off-road surfaces like rugged dirt trails or muddy conditions. Aggressive tires with sturdy groove/sipe combinations, extra in-built block features, and even stone ejectors will be welcomed; and if you want optimal off-road performances without sacrificing comfort and noise control, there are also premium tire models for such preferences.
Still, note that the Ram 1500 still lacks the required flexibility for extremely rugged terrains, so off-road max traction tires should be out of the question. Pickup trucks like these also receive quite negative feedback regarding high-speed, sporty performances (especially when loading heavy cargo), so do not opt for specialized performance tires during your browsing.
Ram 1500 has a towing capacity of roughly 2000 lbs, so remember to settle for tires with a load index of 99 onwards (unless you have very low demands regarding this criterion). With so much extra weight, the truck tends to struggle to pull or park within tight spaces, so it's better to look for tire models with flexible, wide rolling ranges sensitive to small steering changes along the way.
2. Choosing The Right Tire For Your Ram 1500
Ram 1500 has both significant advantages and disadvantages, so it might be quite tough to cater to those design features while putting your priorities above all else. Weigh up your driving needs and budget carefully before settling for one of the following tire types:
Highway All-Season
Do you mostly engage in highway rides? Then tire models tailored for smooth highway experience will be your best friends, delivering excellent traction while lending sufficient attention to steering and cornering. Pricing ranges vary depending on your riding quality preferences; the more cushioned they are, the higher they will charge.
Crossover/SUV Touring All-Season
If you opt for grippy traction while towing moderate cargo loads, these crossover/SUV tires should do. Like highway tires, they also offer good traction and decent composure across wet and snow weather – though the exact price will depend on the brand and your requirements for riding comfort.
c. All-Terrain
As the name suggests, all-terrain tires aim to balance on/off-road qualities with decent riding comfort and noise control. Opt for on-road AT tires if casual drives are still your priority at the end of the day. Off-road AT tires, on the other hand, lean further towards off-road demands (with good to acceptable on-road manners, depending on the pricing). 
Have a tight budget and low driving demands on both terrains? Then commercial AT tires will be an excellent choice, though you should note that their performances and overall comfort might not be on the same level as their on-road/off-road AT counterparts.
Winter
Winter tires are the obvious choice if your Ram 1500 is mostly used in snow or has to travel through tough, snowy conditions. While most of these tires are not recommended for summer usage, there are still some exceptions (and, of course, at a very high price). Set your preferences straight to ensure your budget is well-spent.
B. How Did We Test and Pick The Best Tires for Dodge Ram 1500
196+ best-selling tires were put to rigorous summer and winter tests (and an extra off-road test for all-terrain tires).
The follow-up shortlist was then narrowed down further as we installed their 275/65R18 tire size versions on our Ram 1500 Big Horn (latest update), whose performances were ranked in order based on both our team's scores and customer feedback. From there, we singled out the best ten performers that made their way to the top of the entire list.
C. Best All-Season Tires for Ram 1500
1. Michelin Defender LTX M/S
Best uses: dry and wet conditions below 10 inches,  highways, mountain passes, canyon roads, moderate snow traveling, light off-road gravel dirt and rock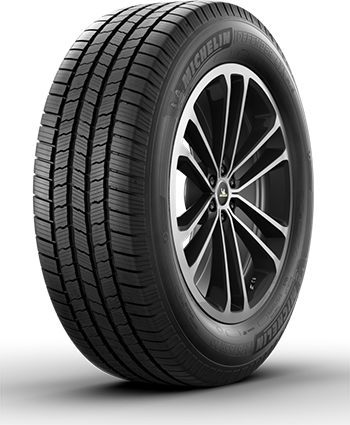 Tire Type
Highway All-Season
Tire Size
15″ – 22″
Weight
23.0 LBS – 60.19 LBS
Load Index
95 – 129
Load Range
C1 – XL
Speed Rating
– H: up to 130 mph
– T: up to 118 mph
Warranty
50,000 – 70,000 miles
Ratings
8.8/10