Though not as famous as its AltiMAX 365 AW siblings, the General AltiMAX RT45 still introduces new plates to the table with well-designed shoulder slots, lateral voids, and angled tread blocks. The public has generally positive feedback for its all-season performance, which motivated us to verify these claims through intensive 10-day test rides.
This review will discuss our major findings regarding RT45's traction, durability, and riding comfort. Scroll for details!
In this review:
General AltiMAX RT45 Specifications & Features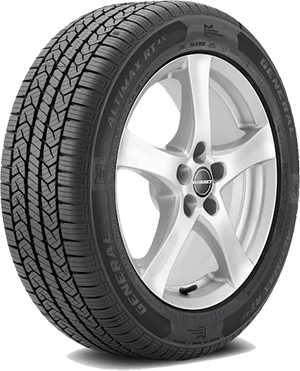 Tire Type
Grand Touring All-Season
Tire Size
14″ – 20″
Weight
14.341 LBS – 30.204 LBS
Load Index
82 – 107
Load Range
SL – XL
Speed Rating
– H: up to 130 mph
– V: up to 149 mph
Warranty
65,000 – 75,000 miles
Ratings
8.3/10
AltiMAX RT45 introduces robust, symmetric tread compounds with interlocking blocks, which aims to strengthen dry grip and handling simultaneously.
The circumferential grooves whisk water off the tread areas to promote better hydroplaning resistance and wet traction. At the same time, extra biting edges were delivered through the power combinations of sipes, shoulder slots, and lateral voids, preventing slippage on slick terrains.
This tire also includes visual alerts to inform drivers of existing tire issues. Specifically, the even wear of its VAI (visual alignment indicator) indicates correct alignment, while uneven wear points to misalignment issues. Similarly, the RTM (Replacement tire monitoring) is imprinted onto the rib to display "Replace tires" when changes are needed.
From a more internal perspective, General RT45 arrives with twin steel belts and polyester casings. The two receive additional support from the polyamide ply, further stabilizing the tire tread for extended durability and sure-footed handling.
General AltiMAX RT45 Review & Performance Test Results
We used the 224/45R17 version of AltiMAX RT45 on our 2016 Honda Civic to test its traction, treadwear, ride comfort, and aquaplaning resistance as part of the annual 2023 COR wheels tire test.
1. Dry Performance: 8.8/10
Dry Traction: 8.8/10
RT45 performed great on dry roads, though admittedly below our expectations.
We had high hopes for the combination of sipes and lateral voids before getting into the car; and while they still delivered the promised biting edges on cracked pavements, the rubber contact did not feel as surefooted and powerful as other touring tires.
Abrupt directional changes from left to right or 90-degree turns still made its grooves slightly fumble, though some of our members let it slide due to the quick recovery afterwards.
At about 50 MPH, lane changes and intersection merges were not much of an issue. Despite minor bumps and stutters at the entry, RT45 retained enough grip for both punctual acceleration and deceleration, allowing us to blend seamlessly into the traffic without much drama or delays.
Our tires also worked pretty well with switchbacks/ sharp movements, applying pointed forces where they were needed to avoid over-the-top transitions.
As the test ride relocated to uphill ascents, we did notice a minor decrease in traction stability when grinding through the gravel slopes. As experienced drivers, we simply revved up to 55 MPH and breezed through the struggling zones with ease – but beginners might take more time pulling the tire back to its original composure.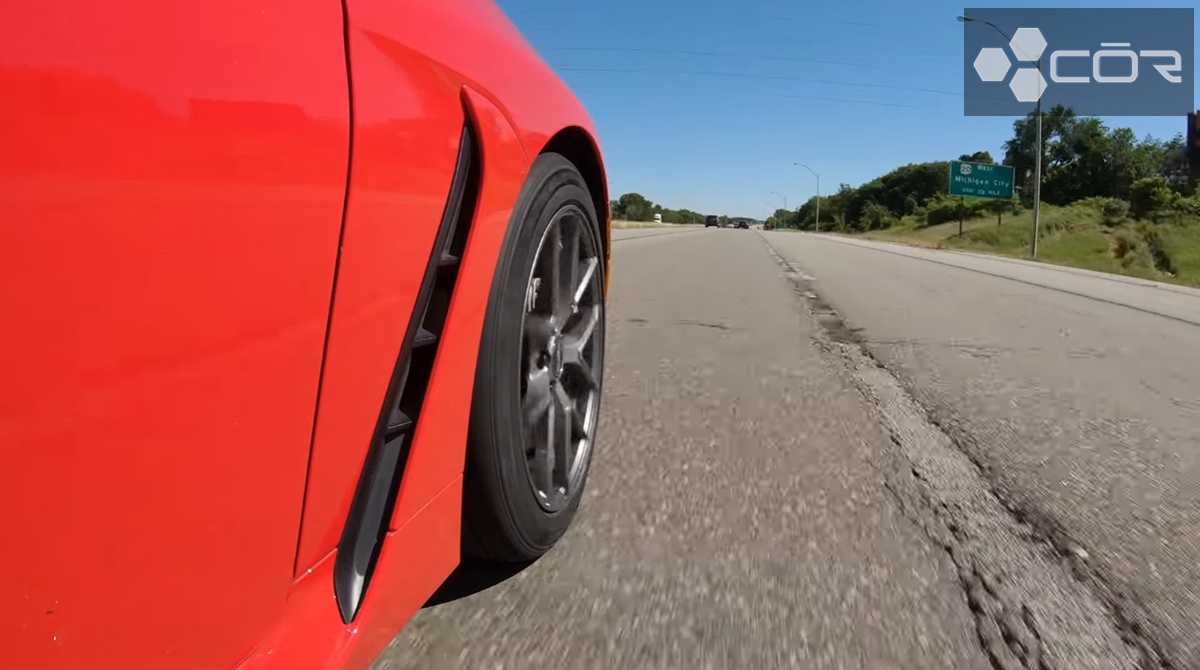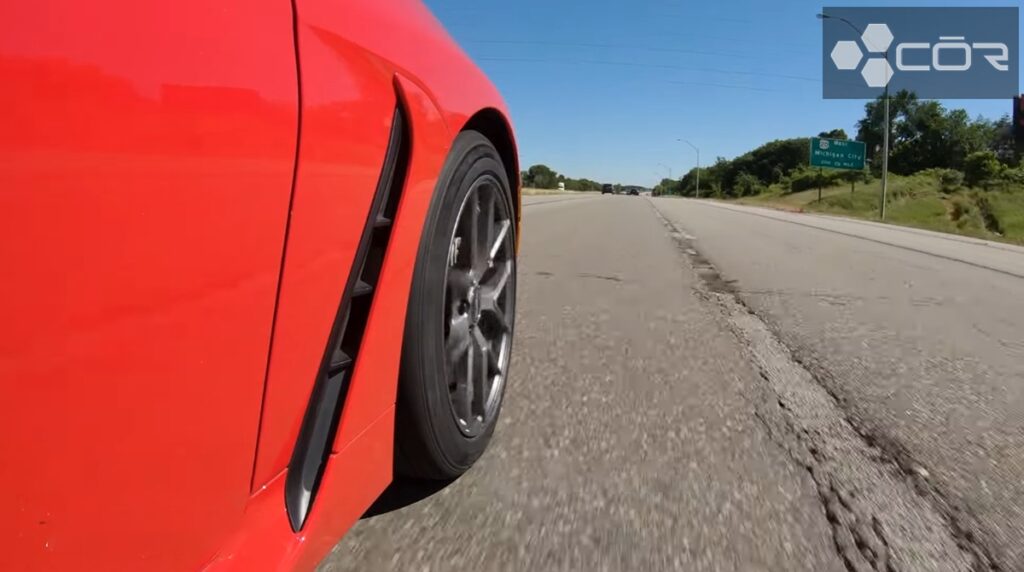 Corner Stability: 8.7/10
RT45's corner stability still leaned into the positive spectrum, but not enough to be considered exceptional. Thanks to the symmetric, even-spaced tread blocks, the tire retained sufficient foothold to tiptoe over common road twists and carry out our basic commands, but that was it.
Its well-supported center ribs rarely felt flimsy or unstable for us, but the daring, reassuring sensation often seen in premium tires was not there, either. The tire seems to fall into an ambiguous gray area between those two: it could navigate sweeping curves or 90-degree intersections with confidence, but hesitated in front of tight hairpins or off-camber bends.
Accelerations from 0 MPH to 60-70 MPH mid-cornering were generally uneventful, minus some minor entry lags. They were brief and did not cause any safety compromise, but there was a sense of uncontrolling in them that kept us from trying out wider cornering arcs.
Steering Response: 8.8/10
The steering was prompt and decent, just like the rest of the tire's dry performance.
It responded accurately to our inputs most of the time and showcased pretty good adeptness at constant U-turns. What is lacking is the eagerness and zeal that helped top tires like Michelin or Bridgestone WeatherPeak gain extra steering power; AltiMAX RT45 just did exactly what we told it to do without adding any more bite to its navigation strides.
That was why our team members preferred to use AltiMAX RT45 on straight-line driving or regular street curves at roughly 50 to 55 MPH. Under any other circumstance where more dynamic handling was needed, such as narrow roundabouts or blind curves, it suffered from long delays and hesitant stutters.
2. Wet Performance: 8.5/10
Wet Traction: 8.6/10
RT45 retained the same accurate and controlled performance it did on dry roads, though with slightly less dynamic.
In standing waters or flooded road stretches, we did not struggle much with speed maintenance, except for the slight shudders that went straight to our cabin whenever cold water slid deeper into the grooves. There was a safe extra margin left to allow impromptu steering changes or speed adjustments, and braking performance from 60 to 0 MPH mid-way was delightfully fast without lagging.
Our biggest issue was the temperature; the traction got worse as temperature dropped and the rainwater got colder. In winter conditions (no snow or ice yet), heavy, cold rain falls even made our tire freeze/stall on the spot.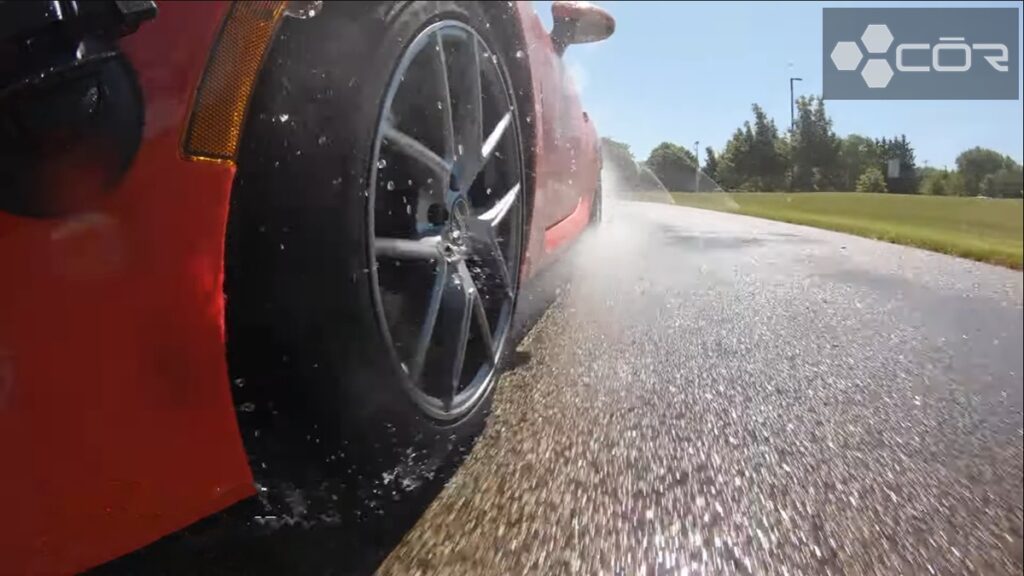 Hydroplaning Resistance: 8.5/10
The lateral voids and circumferential grooves have generally fulfilled their designated jobs. Water still clung onto the AltiMAX RT45 rubber, but we could feel it gradually slipping off as the tire rolled forward. As such, the rest of our ride still felt light and pretty breezy, without the usual heavy water-weightedness found in cheaper individual tires.
Still, as mentioned above, the tire seemed to weaken at cold temperatures and hence, its water-channeling grooves also suffered by that point. We found more water inside the grooves on freezing winter mornings or when the temp dropped below 50°F in January.
3. Winter/Snow Performance: 7.7/10
Light Snow Traction: 7.9/10
RT45's delivery on light snow traction was good enough for an all-season tire. The open shoulder slots and grooves worked on light snow the same way they did on rainwater, albeit slower due to the more compacted snow particles.
Traction felt sure-footed and quite confident on more consistent-textured patches, and we experienced very few jitters accelerating from 25 MPH to more than 50 MPH. With thicker snow sections (more than 5 inches), our team used snow chains to squeeze out more traction; the cold struggles were significantly reduced after that.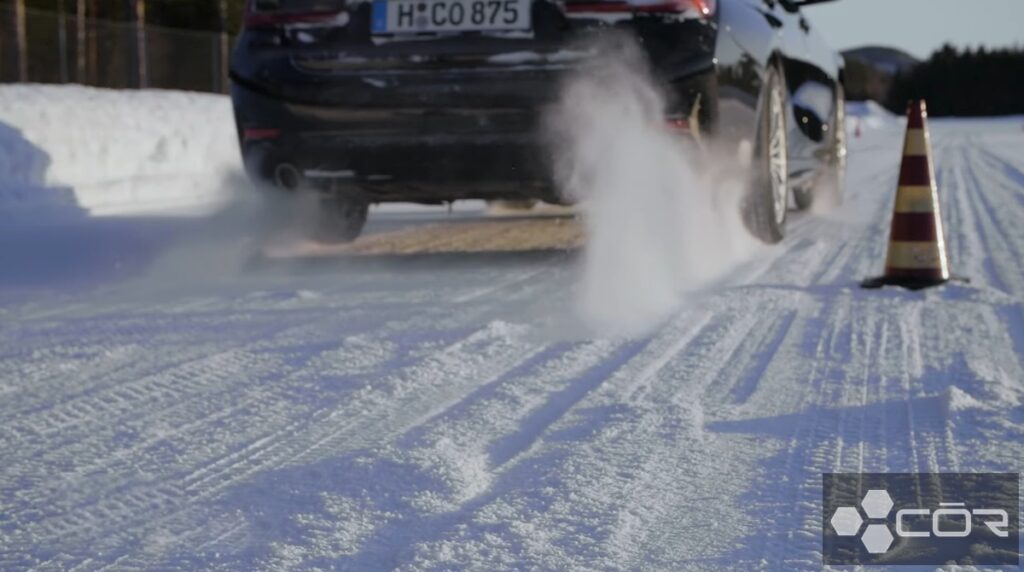 Deep Snow Traction: 7.9/10
Although we did carry the snow chains into thicker snow from 7 inches onwards, the strained compounds still felt very pronounced. The Honda Civic tended to shake a little from side to side before dragging itself forward, hence our decision to stay safe at a rate below 45 MPH.
Accelerations beyond 50 MPH were still possible but had to be done more strategically now than on light snow; the moment our car lurked forward, we had to adjust our tempo instantly.
Ice Traction: 7.5/10
RT45's ice traction was surprisingly good among the grand touring tires we have tested, falling at the middle spectrum. Its interlocking sipes and shoulder slots handled the slippery ice better than expected, toning down some of the more unstable icy parts to anchor the tire securely.
We still had to exert caution across the thinner sections and did not dare accelerate to more than 50 MPH for fear of cracks. But overall, the ride went on unevenly without major startled reactions, and only suffered from slight corner skidding when our steering wheel turned abruptly.
4. Comfort: 8.4/10
Ride Quality: 8.6/10
Despite not delivering the same traction capability as other premium models, RT45's ride quality was up to the standard. Violent bumps and panic reactions were very rare and only happened under unfavorable conditions; otherwise, the comfortable ride mostly stayed smooth and consistent, rarely throwing our team off balance.
Road Noise: 8.3/10
It was the noise levels that brought down RT45's overall comfort score. These roars and rumbles started low but grew more obvious as we navigated to highways or bumpy roads at higher speeds.
Worse, they did not sound very distinctive to us, meaning new beginners could easily mistake the sounds from other car parts (say, wheel bearings) for tire noises.
5. Treadwear and Durability: 8.3/10
At first, we thought ride comfort was sacrificed to optimize treadwear, but turns out RT45's tread life was not really stellar, either.
During our test ride, overheating happened more than once, which sent us into doubt about its tread life. Our team understood that the tire had been put into lots of abuse and challenges in these ten days – still, considering it is a General tire, we did expect more.
Fortunately, the 75,000-mile warranty (for T & H speed ratings) and 65,000-mile warranty (V tires) were satisfying enough to compensate for the underwhelming tread depth/life.
AltiMAX RT45 Pros & Cons
Decent performance on light snow
Crisp steering response
Effortless lane changes
Good mileage warranty (75,000- and 65,000-mile)
Dry and wet traction is not as good as other tires
Noisy
Not impressive treadwear
General AltiMAX RT45 Competitors and Alternatives
BFGoodrich Advantage Control, Cooper Endeavor, and Vredestein HiTrac All Season are the direct competitors against General AltiMAX RT45.
Vredestein HiTrac topped the group in terms of reliable, reassuring wet traction, whose braking performances were efficient and more precise than the rest. However, the steering response compartment was pretty lacking.
General RT45 delivered composed and polished dry-pavement manners – and given that it was not a premium model, the winter traction was also great. That said, as discussed above, its tread noises were borderline annoying.
Cooper Endeavor introduced the best steering feel out of the group; it was crisp, responsive, and accurate. But there could have been more improvement in its wet brakings and even snow performance.
BF Goodrich was more comfortable than most, riding softly and breezily over large road imperfections. Its ratings could have been raised higher with more pronounced steering feedback, though.
Conclusion
To sum up our General AltiMAX RT45 tire review, it is a decent tire that dutifully performs every task with little distinctive dynamic. Its dry traction (which is supposed to be a given for all-season tires) also leaves a lot to be desired.
But considering its starting price was a mere $99, the tire could still be a good investment. Just ensure you do not turn to General AltiMAX when traveling through high-demand terrains like storms, heavy winter downpours, or worse, off-road paths.
General AltiMAX RT45
PRICE
SOLD BY

Offers

In Stock

Offers

In Stock

Offers

In Stock

Offers

In Stock

Offers

In Stock

Offers

In Stock
---
President & Automotive Expert at COR Wheels
Robert Herrera has been with COR Wheels for 17 years and has a great passion for the automotive industry. During his time at COR Wheels, he has driven and test-driven a variety of vehicles.
---