While touring tires mostly cater to everyday commuting and convenient terrains, grand-touring all-weather tires like Firestone WeatherGrip aims for higher. Their comfortable yet aggressive tire materials are meant to tackle more challenging riding conditions, equipping sporty or luxury car drivers with a more satisfying user experience.
Where Firestone WeatherGrip lands on the grand-touring scale is what our team has tested. Let's see the result!
In this article:
Firestone WeatherGrip Specifications & Features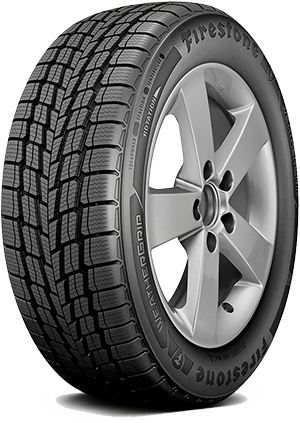 Tire Type
Grand Touring All-Season
Tire Size
15″ – 19″
Weight
17.0 LBS – 35.0 LBS
Load Index
82 – 106
Load Range
SL – XL
Speed Rating
H: Up To 130 Mph
V: Up To 149 Mph
Warranty
65,000 miles
Ratings
8.3/10
Firestone WeatherGrip starts off with an advanced tread compound for all-season operation, whose structure is molded into a directional pattern for more traction focus. This design aims to improve the car's road-holding ability during snowy and wet conditions.
Aiding the tread compound is the Hydro-Grip Technology Package, which, as the name suggests, is meant to boost the hydroplaning resistance. It achieves such a feat by utilizing circular footprints that piece through deep grooves and standing water, which helps the car expel water and residue particles from underneath the tires.
We have also spotted an open, large, broad-grooved, chamfered shoulder slot, which Firestone incorporates in the hope of providing better cornering/braking and road grip on wet streets at higher speeds.
A Snow Traction Clawing Technology system is also utilized for the tire's shoulder ribs and centers. Paired with the intermediate snow vice ribs, it digs further into lighter snow to gain safe traction, propelling the car forward for better snow performance.
The brand covers its WeatherGrip model with the TractionTech Package – or, more specifically, the power interlock grooves that increase the car's stability on slippery streets. Drivers can also spot the tire's notable zigzag, high-density sipes littered across the surface, which produces extra biting edges on rugged roads.
A closer look into the WeatherGrip's internal construction reveals the polyester, single-ply casing – supported by two nylon-reinforced steel belts – for improved cornering performance and higher-speed durability.
Like any other manufacturer, FireStone utilizes the tread wear indicator (TWI)- considered an industry-standard feature and even law-compulsory for certain regions.
They are narrow rubber bars recessed into tire grooves and protrude about 2/32 inches above the walls. Once the tread reaches a depth of 2/32 inches, the bars will be pushed flush against the surface.
With all of these promises from Firestone, the brand grants you a 65,000-mile warranty.
Firestone WeatherGrip Review & Performance Test Results
Our team decided to choose the 215/45R17 (also one of the brand's best-sellers) as the representative model for our performance test.
All four WeatherGrip 215/45R17 tires are installed on the Toyota Prius 2022 and test-runed for 2 days (from June 29th to July 1st, 2023) as a part of the 2023 COR Wheels tire test.
Here is how our extensive performance test turns out:
1. Dry Performance: 8.8/10
Dry Traction: 9/10
As previously mentioned, WeatherGrip features directional tread designs. It is crystal clear that this tire aims to deliver the highest longitudinal traction possible, which is evident in our comfortable rides through the rougher patches of NW 33rd streets.
As we pressed our Toyota Prius's accelerator pedal, the tire translated power smoothly to the roads, gripping the surface confidently without noticeable traction loss or slippage.
We took a further step by letting the Prius go down hill freely without braking, and we did feel a little drag – the tires' effort to grip on the road, which is why we gave it a 9 out of 10.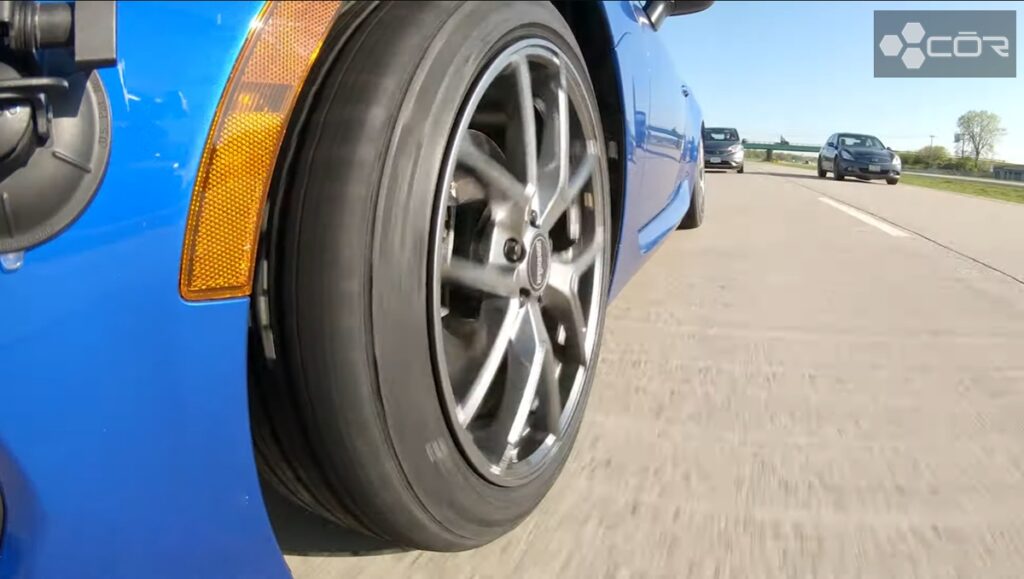 Corner Stability: 8.7/10
The Firestone's chamfered shoulders are meant to improve better corner grips. And does it work? Fortunately, the answer is Yes: WeatherGrips are no slouches on dry paved roads. The very moment we initiated a turn, WeatherGrips responded almost eagerly, translating the inputs into immediate responses.
And even when we pushed the tires' utter limits, their cornering grips were still progressive and predictable. With reduced body rolls at higher speeds, chances of accidents are almost non-existent.
Still, since this tire is not particularly designed with cornering in mind, we found their aggressive maneuvers to fall slightly shorter than expected, especially for drivers seeking extremely sharp responses.
Its cornering quality is still a tad behind same-sector tires like Pirelli P7 AS Plus 3 and BFGoodrich Advantage Control, so we could not give it a higher score.
Steering Responses: 8.7/10
Despite being a grand-touring tire, WeatherGrip's directional pattern makes it resemble typical winter tires – and as we all know, winter tires are usually not the best candidate for responsive steering feels due to the limited contact patch.
Hence, Firestone WeatherGrip reacts a bit slower to drivers' input, and the steering does not feel linear. We are not particularly fond of its on-center feels, either, since the tires fail to deliver a natural pass from straight directions to complex turns.
Fortunately, the tire's impressive straight-line trackings are its redeeming quality. Most drivers consider it the most critical feature for passenger cars, anyways, which is why WeatherGrip still manages to earn a high score from us in this regard.
2. Wet Performance: 8.7/10
Hydroplaning Resistance: 8.8/10
Thanks to Firestone's well-placed HydroGrip package, the WeatherGrip models enjoy rounded footprints that can easily cut across standing water.
The open shoulders and full grooves seal the deal to evacuate water off the tread, resulting in better hydroplaning resistance qualities. It could afford us quite a lot of traction when driving through normal rain. But when we went through a heavy downpour with deep puddles, it started to glide or plane a bit. Luckily, we could still regain traction if slowing down.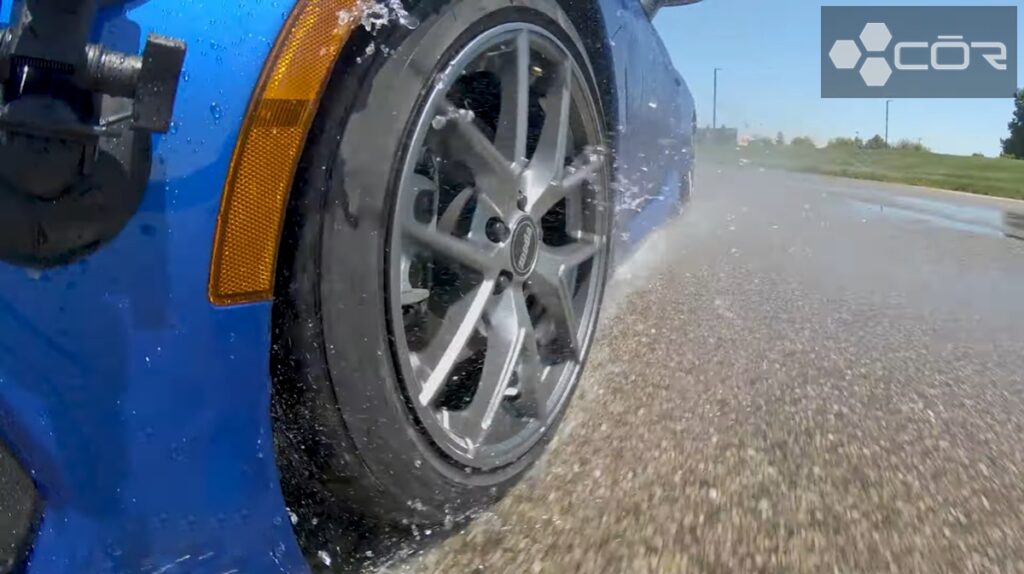 Rain tractions do not just involve hydroplaning quality; their tread compounds must deliver enough sticking wet drives.
And from our exclusive test, WeatherGrip does a decent job in this regard; it feels surefooted at corners and has great longitudinal tractions. What keeps it from getting a higher score is the braking; drivers suffer from much longer stopping distances than with any other tires.
Wet Traction: 8.7/10
Its wet-surface traction feels a bit lacking compared to dry-condition traction, but satisfying nonetheless. What most of our team members like about them is the balanced amount of power (neither too much nor too little), keeping things civilized.
It would be better if the braking distances had been improved, but laid-back, undemanding drivers will not likely have complaints. Although they are far from the top of the class, their qualities are still enough to ensure road safety.
3. Winter and Snow Performance: 8.3/10
Light Snow Traction: 8.8/10
Driving on light snow should not be a problem with WeatherGrip, as the tire offers lots of traction and grip. The moment our Toyota Prius entered the snow-covered roads, WeatherGrip immediately launched into action with its exceptional grip.
The special Snow Tractions Clawing Package works wonders from the shoulder ribs and tire centers, digging effortlessly into the snow to propel the car forward. Its snow dispersion also steps into the scene to ensure steady, controlled movements; slippage didn't happen during the test.
Still, when the snow gets more compacted, our tires exhibit a small tendency or traction loss; we have to exert more effort to avoid losing our momentum.
Deep Snow: 8.2/10
Performances during extreme snow conditions are decent but not so great. The tires still made their way through below-the-hood snow, but more than that was beyond their reach.
The deeper the snow became, the less stable WeatherGrip was, as we noticed some hesitation.
Ice Traction: 7.8/10
Driving on ice is not what these tires excel at; just so-so. You have to crawl slowly to get over an icy road, and we do not recommend traveling on icy hills. Still, that is more than what we could hope for for an all-season tire.
4. Comfort: 8.2/10
Ride Quality: 8.5/10
Firestone itself claims to deliver great ride qualities for its customers – and the brand clearly succeeded. WeatherGrip travels smoothly across any road with little to zero harshness/vibrations within the cabin. Trust the solid sidewalls to smooth out any common road imperfection, even on poorly-built roads.
Some of our team members do feel a slight shudder upon hitting large potholes on the second day of testing, but most concur that this issue is no big deal.
Noise: 7.8/10
Admittedly, WeatherGrip's characteristics are not exactly favorable; you could still hear them on highways or at high speeds, much more than similar grand touring tires like Yokohama AVID Ascend GT or General AltiMAX RT45. The noise levels also become more pronounced on rough or coarse road textures.
However, for everyday commutes or at low speeds, the noises are still kept under control – which is why we still decide to give it a beyond-average rating of 8.5 out of 10.
5. Treadwear and Durability: 7.7/10
With much thought and consideration going into the tread grooves, shoulder blocks, and centers, drivers do not have to worry too much about durability issues for any Firestone tire.
A 10-day test can't give us a rough idea about its treadwear, but considering the 5-year warranty for 65,000 traveled miles, it's still a good pick.
Firestone WeatherGrip Pros and Cons
Excellent dry performance, decent snow/winter traction
Comfortable, smooth ride
Generous mileage warranty
Still need slight increases in wet tractions
Not for icy, deep-snow roads
Occasional loud noises
Firestone WeatherGrip Competitors and Alternatives
General AltiMAX 365 AW or Vredestein Quatrac Pro are two notable rivals of Firestone WeatherGrips.
We tested all three on our Prius to see how they differed (all are of 215/45R17 size). There is not much of a difference between WeatherGrips and AltiMAX (both did well in dry and slight snow and needed improvements for thick snow and deeply wet conditions).
Looking closer, we could see that the AltiMAX has the longest braking distance but is a bit more responsive than the WeatherGrips.
On the other hand, the Quatrac Pro filled the void the other two left behind with superior wet traction and even more comfort. The WeatherGrips even fell behind in terms of noise, being the loudest among the three.
Conclusion
From our test, dry tractions are still the tire's strongest point, suited for everyday commutes, city driving, and those living in places with not very harsh winters.
Other performances are not as good, but still on the very positive side of the spectrum. Considering some of its qualities and warranties even outsell premium tires (like Michelin), $127.00 to $234.00 does not seem like a huge price to pay for.
Tread more carefully on icy, deep-snow roads. Turn to other tire alternatives if you live in regions with thick snow during winter.
Firestone WeatherGrip
PRICE
SOLD BY

Offers

In Stock

Offers

In Stock

Offers

In Stock

Offers

In Stock

Offers

In Stock
---
President & Automotive Expert at COR Wheels
Robert Herrera has been with COR Wheels for 17 years and has a great passion for the automotive industry. During his time at COR Wheels, he has driven and test-driven a variety of vehicles.
---