The Cooper CS5 Ultra Touring has raised expectations with several dry-focused features compared to some of the brand's last models. Nevertheless, whether these upgrades live up to the hype still evokes several debates, especially given extremely negative feedback regarding its traction maintenance during wintertime.
Hence, a performance test by our COR Wheels team has been carried out in 2023, whose findings will be discussed in the detailed review below.
In this article:
Cooper CS5 Ultra Touring Specifications & Features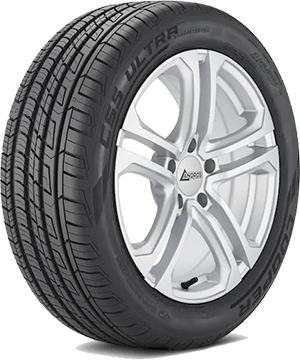 Tire Type
Grand Touring All-Season
Tire Size
15″ – 20″
Weight
19.0 LBS – 36.0 LBS
Load Index
85 – 111
Load Range
SL – XL
Speed Rating
– H: up to 130 mph
– W: up to 168 mph
Warranty
50,000 – 70,000 miles
Ratings
7.4/10
A grand touring tire from the reputed Cooper group, the CS5 Ultra is designed for drivers of crossovers, sedans, and coupes that seek good combinations of responsive handling, corner stability, and quiet riding comfort across every weather condition and terrain, light snow included.
Some notable highlights are as follows:
The Coupled Silica compounds, asymmetrically molded, work with the Stabiledge Performance to reduce flexes for the tread blocks, interlocking every tire tread element for better high-speed stability and steering response.
Broad outboard shoulders feature minimal void area to boost lateral traction.
Inboard shoulders and center ribs foster more open spaces and better sipe density to reduce hydroplaning and strengthen the tire's wet confidence.
The 3D micro-gauge sipings across the footprint deliver extra bites for more aggressive footings on low-friction surfaces (e.g., light snow).
Two strong steel belts, single-ply, high-turnup casings, and spiral nylon reinforcements improve durability and handling manners.
Cooper CS5 Ultra Touring Review & Performance Test Results
Our team used the 225/50R17 tire size version of Cooper CS5 Ultra Touring on the 2022 Honda Accord car model during the annual 2023 COR Wheels Tire Test.
1. Dry Performance: 8.3/10
Dry Traction: 8.6/10
Cooper CS5 composed itself pretty well on dry roads. Despite the initial shakes in the first few minutes that were almost borderline concerning, this all-season tire fortunately regained its footing fast, embracing the road patterns in confident strikes once we finally settled with our 40-45 MPH range.
We navigated swiftly through lane merges and roadblocks, even trampling over evident stones and debris on the road with surprisingly few jostles, given the tire's lack of impact-absorption features.
Accelerations proved a similar non-issue – guaranteed they did not exceed 57 MPH. Tire flexes did occur around the flanks from time to time but were kept quite low-key, rarely posing true danger unless we turned the steering wheel too abruptly to sidestep oncoming vehicles. Braking performances also didn't fall short thanks to the infrequent and very predictable chokes, so you should have no problems engaging them in critical situations.
There were still drawbacks, however. While highway traction was still decently good, the lack of sharpness felt quite clear compared to regular roads and grew more concerning the nearer we reached 70 MPH. The way Cooper CS5 became muter during extended parabolic curves also needed to be addressed properly.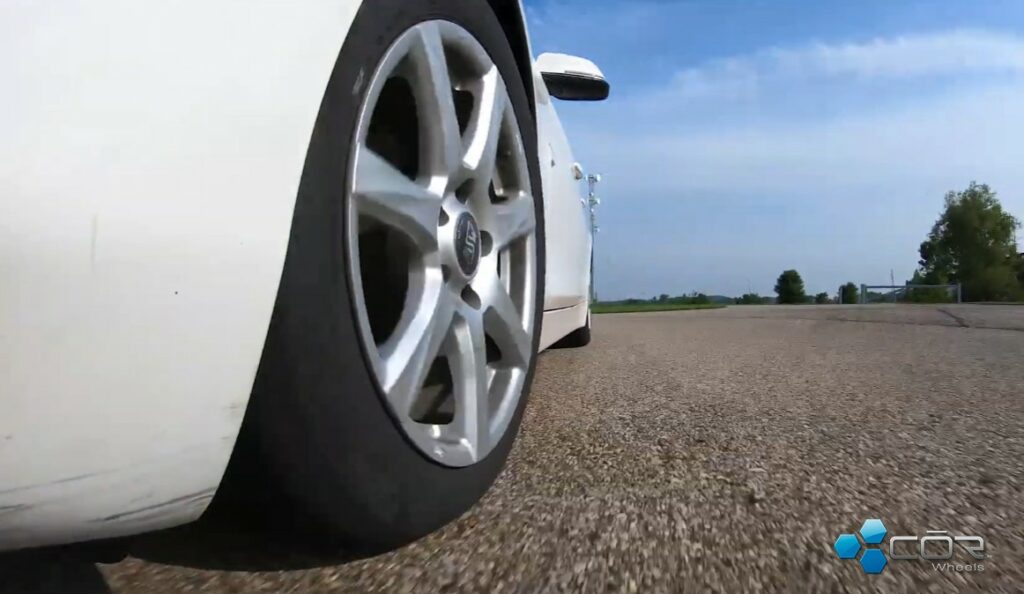 Corner Stability: 8.2/10
For a tire with little to no cornering-oriented features, Cooper CS5 actually did a better job than expected. Wide, sweeping curves or corners were totally within the tire's comfort zone; it trampled rib wavers almost instantly to reduce drifting issues and pulled off quite consistent momentum when we kept the driving rates stable between 40 and 45 MPH.
But if you prefer to power through corners with strong accelerations, the CS5 Ultra is admittedly quite a letdown. It took a lot of time to recover from oversteer, shook ominously as we tried to hug the liner in closer alignment, and did not have the best responsive reactions towards mid-way changes. Towing any extra weight beyond 500 lbs also felt quite risky here, judging by the ill-timed shudders.
Steering Response: 8.2/10
Cooper CS5 Ultra did its job with punctual and quick steering responses on regular streets and well-paved roads. This Cooper tire was not always sensitive to minimal input changes across sweeping corners or correction skids, but thankfully retained a strong enough tire-road connection to ensure no reactions went out of line.
Except for steep ascents or extremely graded surfaces, you will rarely have to exert more steering force than necessary to gauge proper feedback. Nevertheless, you might notice a significant performance decrease once the car tips over highways.
Strong turns of the steering wheel felt shimmy more often than not, and aggressive cuts across tight curve entries struck us as quite shaky due to long feedback delays at the most unexpected timing.
2. Wet Performance: 8.2/10
Wet Traction: 8.3/10
Our Honda Accord encountered little danger on shallow puddles or moderately slippery surfaces. The lateral traction was clearly lacking compared to dry roads but not enough to sabotage Cooper CS5's tire-road connection, hence our uneventful and mostly predictable straight-line endeavors in regular driving rates. Even spirited cornering attempts are not that difficult to get a hold of if you keep abrupt speeds/directional changes at a minimum.
We were slightly disappointed with the tire's performance during rainfalls or moderate stagnant water (from 3 inches onwards), however. No real safety compromise actually occurred, but the tire was a major put-off regardless due to the blatant lack of aggressive footings and significant efficiency drops at higher-speed attempts (50 MPH onwards).
And since towing loads beyond 500 lbs already seemed risky around dry curves, they are clearly out of the question if you want to tackle tight, wet corners.
Hydroplaning Resistance: 8.1/10
At moderate speeds (below 40 MPH), hydroplaning was a non-issue. To clarify, it still occurred – but was controlled quite well thanks to the tire's well-placed inboard shoulders and center ribs. Constant alternations between downshifts and slight speed revs also helped keep the tire's stable base across shallow/moderate puddles, so chances of serious slippage around corners or during sharp turns will be extremely rare regardless of your driving levels.
The tire started to lose major edges during high-speed endeavors and got worse on wet highways – a total opposite of Cooper's advertisements. And as mentioned, deep water from 3 inches onward was also far from the tire's strengths, resulting in constant stutters and heavy drags (due to intrusive water) despite our attempt to grind down the steering wheel with better force.
3. Winter/Snow Performance: 6.3/10
Light Snow Traction: 7.2/10
The tire could not keep hydroplaning issues completely off the hook in regular wet conditions; it was unsurprising its light snow performance fell disappointingly flat. Straight-road endeavors could only graze the barest hint of decency if we constantly downshifted while keeping driving rates below 30 MPH; meanwhile, cornering was downright impossible without snow chains on all four.
On a slightly more positive note, you can expect fewer jostles and hiccups in warmer temperatures beyond 40 degrees F; temporary stalls/freezes occurred much less frequently, making the drifting symptoms easier to predict/prevent the longer we rode.
Deep Snow Traction: 6/10
There was hardly any highlight worth mentioning. Cooper CS5 seemed to retain its decent traction best at extremely low driving rates (preferably as close to 9 MPH as possible) and stuttered violently at any other number. Towing anything beyond 300 lbs was obviously out of reach, judging by the way our Ford almost crashed trying to crush down a particularly inconsistent-textured snow road section.
Just like with our light snow tests, the tire gained slightly better confidence in warmer temperatures, but still could not completely get rid of the back-to-back slides. Hence, it would be much better to bring snow chains with you all the time and avoid twisty roads as much as possible.
Ice Traction: 5.3/10
Ice traction was horrid – not a single hint of reliability regardless of our steering technique. Even well-paved roads with moderate ice buildups could not save our car from downright plummeting, which could have led to accidents had the test been carried out on a heavier-traffic road.
Spirited driving was obviously impossible, but even tame rides below 5 MPH carried themselves with major struggles. Given that the tread and grooves almost gave up completely after a mere 4 miles, our advice is to avoid ice terrains at all costs or only travel extremely short distances if you have no other option.
4. Comfort: 7.6/10
Ride Quality: 7.7/10
While the tire could not shake off the major vibrations across huge dry-road bumps, the way it recovered itself quickly despite minimal steering input was somewhat enough to compensate for that oversight. Still, we did have to raise questions about its lackluster composure on wet and snow terrains, which wavered in extremely short intervals due to the lack of proper clawing actions.
All in all, you will likely have the best experiences on dry, regular streets, preferably well-paved.
Noise: 7.4/10
Even drivers that are noise-sensitive would find the constant squeaking around the flanks to be extremely annoying. Any slightest bump or road cracks would trigger some sort of protesting sound out of the tire, only getting a bit tamer when we removed cargo and passengers.
5. Treadwear and Durability: 6.7/10
The 70,000-mile warranty is definitely the most notable edge of Cooper CS5 Ultra in terms of treadwear, especially when compared to the tire's otherwise very alarming treadwear rates.
Just five days into our test, signals of mild shredding and burnouts already became prominent, and the tire also held itself badly against temperatures below 40 degrees F. It is clear these issues will not translate well into longer usage.
Cooper CS5 Ultra Touring Pros & Cons
Pretty good dry traction
Decent steering response
Fairly smooth rides with tolerable jostles over road bumps
Generous 70,000-mile treadwear warranty
Bad road manners during winter and on wet road surfaces
Horrid tread life
Competitors & Alternatives
While Cooper CS5 Ultra Touring clearly fell behind competitors like Firestone WeatherGrip, Goodyear Assurance WeatherReady, and Yokohama AVID Ascend GT, it did have some strong points:
Cooper CS5 Ultra Touring has pretty good riding comfort on dry paved roads, but needed huge improvements in every other aspect.
Firestone WeatherGrip shone through with excellent riding comfort, though it would be better if the tire manufacturer paid more attention to its wet performance.
Goodyear Assurance WeatherReady led the group with satisfying light snow grip and steering response. However, we would appreciate more on-road refinements, especially around corners.
Yokohama Ascend GT withstood summer overheating very well. Unfortunately, the same did not apply to extremely cold temperatures.
Conclusion
The tire performed pretty consistently on dry roads and could deliver good steering feedback in basic driving situations. Unfortunately, every other metric in this Cooper CS5 Ultra Touring tire review disappoints us, especially wintertime performance and treadwear.
There is no way it can be used as a winter tire, even temporarily; Cooper CS5 should only be reserved for summer usage in short-term periods.
Cooper CS5 Ultra Touring
PRICE
SOLD BY

Offers

In Stock

Offers

In Stock

Offers

In Stock

Offers

In Stock

Offers

In Stock

Offers

In Stock
---
President & Automotive Expert at COR Wheels
Robert Herrera has been with COR Wheels for 17 years and has a great passion for the automotive industry. During his time at COR Wheels, he has driven and test-driven a variety of vehicles.
---