Jeep Wrangler is equipped with powerful driving modes, compact designs, and constant updates since its first release in 1986. To this day, many still laud the car as one of the most high-performance Jeep SUV models, though its driving efficiency also depends significantly on your choice of tire type/tire quality.
Hence, our COR Wheels Team has strived to determine the best tires for the Jeep Wrangler through rigorous performance tests that lasted in both Summer and Winter. Scroll through our guides for more inclusive reviews.
In this article:
A. How to Choose The Best Tires for Jeep Wrangler
1. Understanding The Jeep Wrangler
Jeep Wrangler is a compact, mid-sized off-road SUV meant for construction workers, outdoor enthusiasts, or adventurers who travel on rugged terrains. Hence, standard touring all-season tires are clearly not meant for this SUV; you should omit them entirely during your browsing to seek stronger tires for highway/off-road endeavors.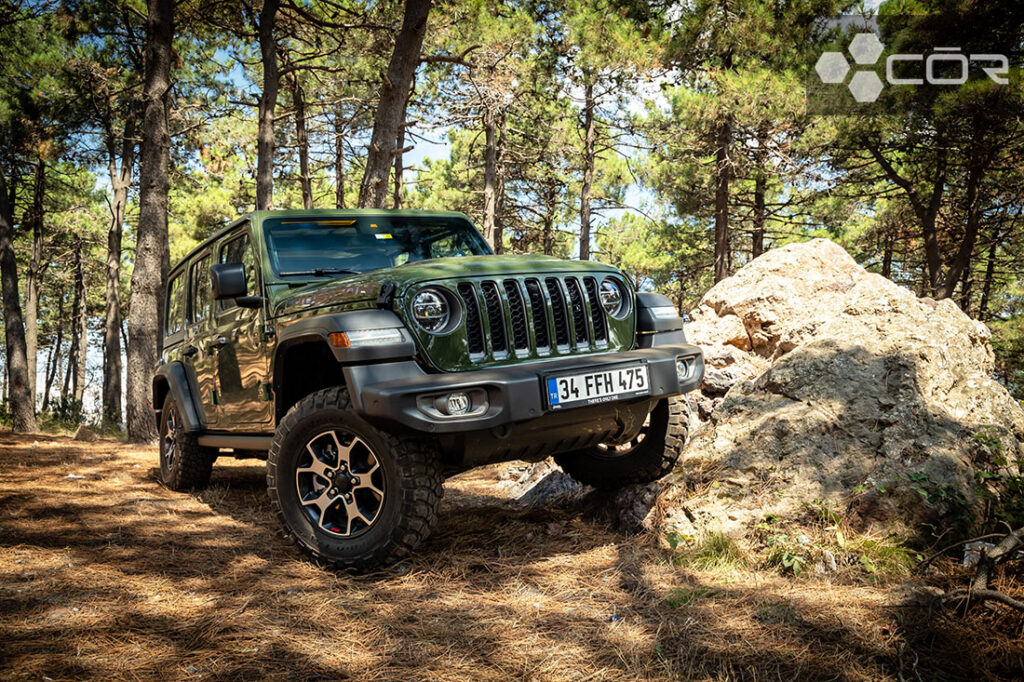 All Jeep Wrangler models arrive with the 4WD (four-wheel drive) system that distributes power evenly to all wheels to enhance control and traction. Aided by the very spacious high-ground clearance (when compared to regular SUVs), the car should handle extreme obstacles, thick rocks, and harsh winter conditions just fine. We suggest you choose extremely high-traction tires with responsive and very aggressive clawing actions regardless of steering techniques and road textures – but feel free to lower your standards a little if you do not travel off-road that often.
Modern generations of Jeep Wranglers introduce aligned suspension systems, which absorb shocks to provide smoother rides even on rough surfaces – contrary to popular beliefs that off-road SUVs are often ill-cushioned and uncomfortable. Thus, it would be best to settle on tires with well-distributed pressure, even rolls, and noise-absorption layers under the tread to maximize your riding quality.
The Wrangler also offers underbody protection and rugged chassis to keep punctures, rock drilling, and other off-road damage at bay. You should look for tires with deep initial depths, chamfered edges, and reinforced bumpers to maintain consistent performances over longer periods.
Loading up to 1351 pounds (full passengers and cargo) is also totally within the operation scope of this 5-passenger SUV. You do not have to pay much attention to this area if there are no demands; otherwise, remember to single out premium tires with a load index of 91 onwards (higher ratings if you frequently hauling something).
2. Choosing The Right Tire Type for Your Jeep Wrangler
As each driver frequents different terrains and has different purposes, assess your driving habits, terrains, riding demands, and budgets carefully to settle on one of the following tire types:
a. Highway All-Season Tires
Do you look for balanced comfort and versatility through everyday commuting and highway driving? Then these tires are for you, as they work well into wet, dry, and mild snow conditions while still prioritizing smooth experiences and riding comfort. 
Compared to other specialized tires (e.g., winter/summer tires), highway tires enjoy much longer durability thanks to the even wear and sturdy rubber compounds. Their pricing range is quite broad (ranging from as low as $50 to $250), so negotiate your needs well to avoid overspending.
b. All-Terrain Tires
AT tires offer highlighted features for both on- and off-road capabilities. Which tire works best for your situation, however, depends on your prioritized driving terrain.
Choose on-road AT tires if you still put daily commuting above off-road ventures at the end of the day. They offer comfortable rides and low noise while typically falling into the middle spectrum of the pricing range.
Off-road AT tires will be a much better choice when you demand high-quality off-road handling without sacrificing decent on-road practicality. They are often priced from middle to upper ranges, depending on your further niche preferences regarding riding quality and tread life.
Want a tire similar to off-road AT tires but with more durability features and on-road balance? Rugged AT tires are the way to go, with pricing categories similar to off-road AT tires in terms of size, brands, durability, comfort, etc. 
If you have low demands on both terrains and wish to keep your budgets within the lines, a commercial tire should do – though note that its traction and riding comfort might not be on par with other more specialized rivals. 
c. Off-road Max Traction Tires
AT tires are catered to light off-road conditions only, so off-road max traction tires will obviously be a much better choice if you wish to engage in extreme off-road ridings involving deep pits, tough riverbeds, etc. Most of them do not emphasize on-road traction much, though you can compensate for that by aiming for more premium tire models – and, of course, at a very high price.
d. Winter Tires
If you live in harsh winter climates or only use Jeep Wrangler around winter months, a couple of winter tires should do. 
Depending on tire brands and models, you can choose to omit snowless features out of your priority; note that more capabilities in non-winter conditions will inevitably equate to higher costs.
B. How Did We Test and Pick The Best Tires for Jeep Wrangler
A shortlist was established after we evaluated 196+ best-selling tires in the first round of the COR Wheels Tire Test. Their 285/70R17 versions were then installed on the Jeep Wrangler 2022 Rubicon for further assessments. Finally, we combined our own scores with gathered customer feedback to conclude the ten best tire options in the current market.
C. Best Highway All-Season Tires for Jeep Wrangler
1. Michelin Defender LTX M/S
Best uses: high-speed highways, water below 10 inches, paved roads, snow terrains, off-road rock/dirt, sweeping curves, long trips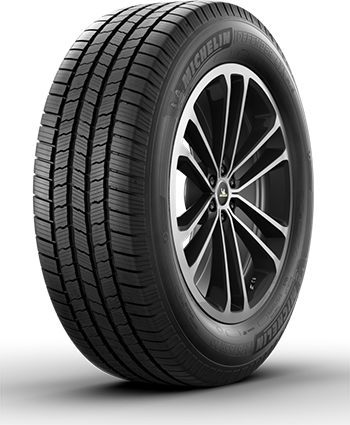 Tire Type
Highway All-Season
Tire Size
15″ – 22″
Weight
23.0 LBS – 60.19 LBS
Load Index
95 – 129
Load Range
C1 – XL
Speed Rating
– H: up to 130 mph
– T: up to 118 mph
Warranty
50,000 – 70,000 miles
Ratings
8.8/10