As an SUV owner, you want all season tires that can handle anything thrown at them. But with countless options all claiming to offer exceptional performance, how do you know which one truly delivers?
Comprehensive testing data is scarce, leaving many to rely on vague manufacturer claims or simplistic consumer reviews. Tires that appear similar on paper can perform vastly differently. There are also issues that only come up after hundreds of miles.
That is why we conducted this 2023 COR Wheels Tire Test to identify the best-rated all season tires for SUVs. Continue reading to learn more about our testing process and the standout tires that make the cut.
In this article:
How Did We Pick The 10 Best All Season Tires For SUV Tires?
Our 2023 COR Wheels Tire Test began with an initial shortlist of 25 potential candidates. These tires were deemed to be some of the best on the market based on preliminary research.
And we subjected them to a series of rigorous real-world tests before coming up with a top 10. The result is also based on real feedback from American drivers in a recent COR Wheel survey.
Our evaluation criteria were extensive. Each tire was assessed for performance under dry, wet, and winter conditions, and we also examined comfort and noise levels, treadwear, and overall value for money.
However, the three key components that were critical in our final evaluations were traction, comfort and noise levels, and treadwear longevity.
Top 10 Best SUV All Season Tires In 2023
---
1. Pirelli Scorpion WeatherActive
Best Overall Performance For SUV
Tire Type
Crossover/SUV Touring All-Season
Tire Size
18″ – 22″
Weight
28.087 LBS – 39.677 LBS
Load Index
100 – 114
Load Range
SL – XL
Speed Rating
– H: up to 130 mph
– Y: up to 186 mph
Warranty
60,000 miles
Ratings
8.9/10
For drivers looking for a tire that doesn't just get the job done but runs circles around its competitors, the Pirelli Scorpion WeatherActive takes the cake.
Fashioned into a directional tread pattern, it's quick on the draw and provides excellent traction and stability in all weather conditions. The central zigzag grooves and trumpet-shaped lateral grooves ensure swift responses during heavy rain or slush and keep you on track.
With its biting edges within the tread blocks, deep sipes, and generous shoulder notches, this tire delivers powerful traction even amidst snowfall, hence the Three Peak Mountain Snowflake (3PMSF) symbol.
Once the rubber hit the road, the exceptional dry traction and handling were clear as day. Accelerating smoothly from a stop, the quick steering reflex enabled easily merging into flowing 45 mph traffic. On winding country roads, the tire felt planted and controlled when rounding 55mph sweepers. Mid-corner bumps barely registered, thanks to the composed ride quality.
It swallowed bumps and mutes noise for tranquility on the road, regardless of small impacts or imperfections. Even during our test drive along a cobblestone street riddled with potholes at 30 mph, the tire demonstrated a comforting resilience.
At moderate and higher speeds, such as 40-50 mph, the tire noises blended into consistent tones. As a result, it maintained a peaceful cabin environment. This is a feature we particularly appreciated during a late-night drive along the freeway.
Up against the best all weather SUV tires like the Continental CrossContact LX25, the Pirelli unsurprisingly couldn't match the absolute limit of dry grip. But during normal driving scenarios, it responded instinctively to driver inputs, whether tipping in or powering out of turns.
Even on rain-soaked roads, the Scorpion's wet traction rivaled the best in the category. Circulating a tight roundabout at 40mph in a heavy downpour, the tire maximized grip throughout the constant turn. Standing water also didn't faze it – hydroplaning resistance remained excellent at up to 50mph in 2-3 inches of water.
Light snow and slush were similarly handled with aplomb. Accelerating from a standstill in 4 inches of fresh snow, the composed traction control enabled smooth starts.
The tire finished strong after our intensive 200-mile test drives with the least wear and tear. But Pirelli only supports its customers with a 60,000-mile warranty. It is not bad and on par with most other products – but not something we expect from that premium.
Also, those prioritizing cost-effectiveness and long-lasting tread life might want to consider alternatives.
Excellent all-weather traction
Effective noise control
High-speed stability and responsive handling
Top-tier winter performance among all season tires
Impressive durability even on abusive uses
Higher price compared to other all season tires
Average treadwear warranty
---
2. Continental CrossContact LX25
Best for Dry and Wet Traction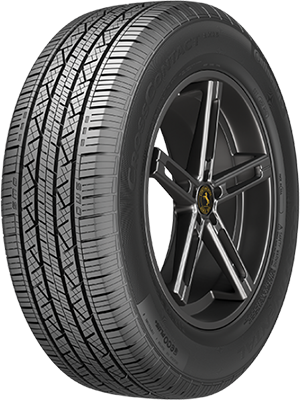 Tire Type
Crossover/SUV Touring All-Season
Tire Size
16″ – 22″
Weight
24.0 LBS – 43.0 LBS
Load Index
95 – 114
Load Range
SL – XL
Speed Rating
– H: up to 130 mph
– V: up to 149 mph
Warranty
65,000 – 70,000 miles
Ratings
8.9/10
When non-winter traction is your priority, the CrossContact LX25 confidently leaves many competitors in the dust.
It brings plenty of goodies to the table, showcasing the Next Generation EcoPlus+ Technology compound. This design is intended to extend tread life and enhance hydroplaning resistance. It's the secret behind shorter stopping distances in wet conditions.
This tire doesn't compromise on durability or safety either. The Comfort Ride Technology inclusion under the tread is the path to improved comfort without sacrificing steering response.
Bumps fade away as the miles fly by with the hushed, cushy driving experience that the CrossContact LX25 delivers.
The tire impressively absorbed vibrations and shocks caused by bumpy roads, offering a plush, smooth ride that our team all appreciated. More so, it had demonstrated impressive noise comfort. The minimal tread and cavity noise generated blended harmoniously into a tone that, while noticeable, was very much acceptable for discerning drivers.
After 200 miles of testing, the tread remained unflinchingly robust, thanks to the EcoPlus Technology that reinforces the tire's traction and lifecycle.
This technology can go the extra mile to save gas, reduce driving costs, and make the tire more durable and energy-efficient. Continental also gives us confidence with a 65-70,000-mile warranty – a sign of impressive tread life expectancy.
The dry grip is simply phenomenal. Our car stayed planted and controlled even at higher interstate speeds of 70+ mph. Cornering limits were approached smoothly with ample warning as the tire progressed into oversteer.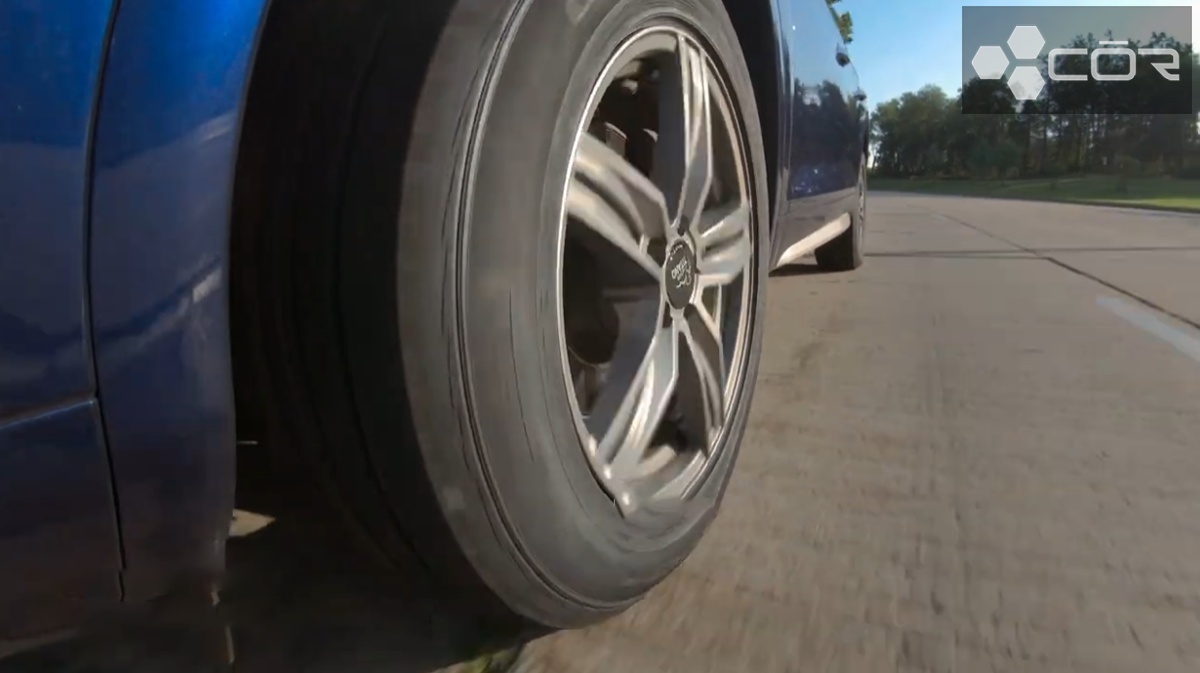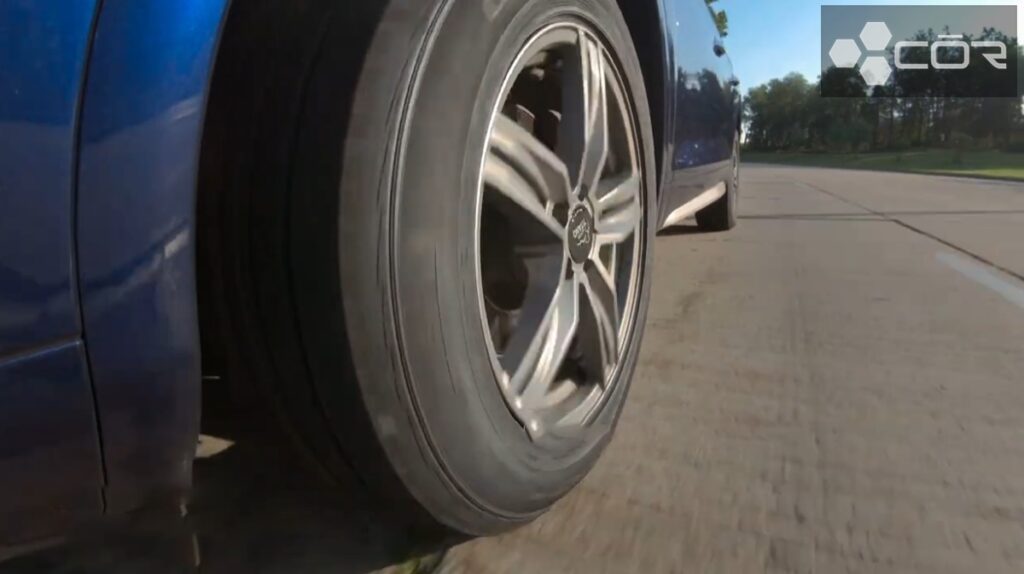 When flicking into turns, its response to inputs was scalpel sharp yet measured, with an impressive mid-corner grip. The tire allowed holding the line precisely, even when pushed hard through tight 60 mph switchbacks.
On rain-soaked roads, the CrossContact excelled, bolstering front-end traction for confident turn-in, whether at intersection speeds or highway pace.
Accelerating out of corners was drama-free as the tread rapidly channeled away water. The numerous grooves and sipes offered excellent aquaplaning resistance, making the LX25 an all-weather star.
Even in 8 inches of fresh snow, the CrossContact LX25 maintained its composure thanks to its snow-trapping tread blocks. Still, for heavy snow exceeding 10 inches, a dedicated winter tire remains the best option.
We also wished the ice traction were a bit better. This is where the CrossContact LX25 trails the Pirelli the most. But for light snow, the LX25 inspires capability beyond its all-season status.
Excellent all season capability
Superior dry and wet traction
Impressive tread life expectancy and warranty
High comfort levels and low noise
Some noticeable tread noise
Less optimal for heavy snow and icy conditions
Over-sensitive steering response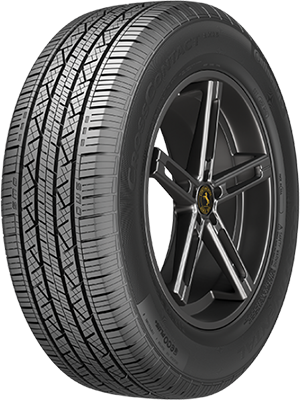 ---
3. Yokohama Geolandar CV G058
Best Snow and Ice Traction For SUV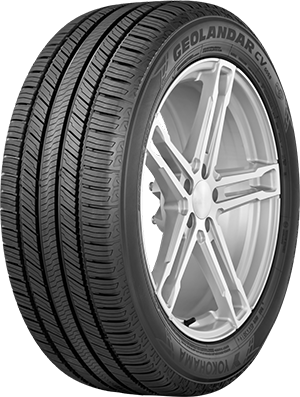 Tire Type
Crossover/SUV Touring All-Season
Tire Size
16″ – 20″
Weight
23.0 LBS – 36.0 LBS
Load Index
96 – 110
Load Range
SL – XL
Speed Rating
– H: up to 130 mph
– V: up to 149 mph
Warranty
65,000 miles
Ratings
8.8/10
Our rigorous testing process has singled out the Yokohama Geolandar CV G058 as the best SUV tire in class for snow and ice traction.
The secret behind the Geolandar's impressive performance lies in the sipes dividing the tire's treads into smaller sections. At the same time, the cutting-edge CV-2 tread compound delivers stellar road grip on wet and snowy surfaces.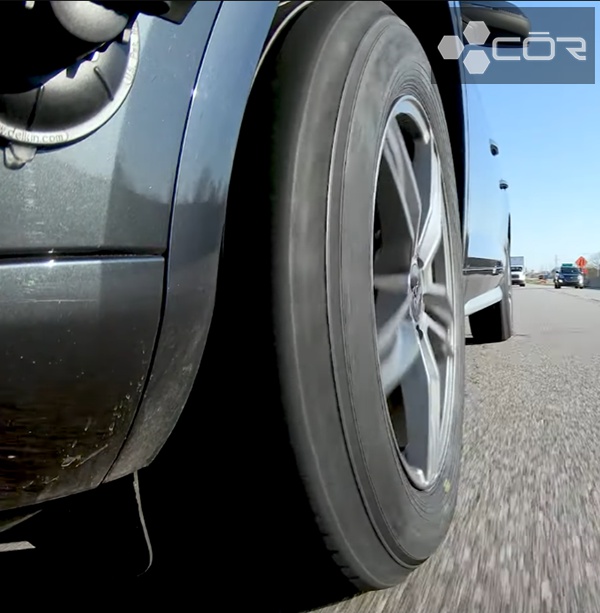 The near-continuous center tread rib, on the other hand, enhances stability and responsiveness while keeping road noise in check. And as if it needed more, the flat and wide road contact point ensures durability by reducing uneven wear.
When the snow started falling, the sipes and winter-ready rubber allowed the Geolandar to rise to the occasion. Driving on snow-covered backroads was stress-free, even when we pressed the gas pedal to 40 mph. The tire kept cutting through 6-8 inches of powdery snow uneventfully.
As our SUV plowed through 12 inches, the tire started to show signs of hesitance and dragging. But with the help of snow chains, we finally managed to get out of that 20-mile-long snow-coated road.
Ice is not where an AS tire can have its moment, yet Yokohama came out on top in our test. As long as we kept the speed not exceeding 25 MPH, the tire moved forward with little slippage. We only noticed some drifting when taking a low-radius curve, and the 12-0 stopping distance was also impressive with nearly 50 feet.
Once out on the open highway, the Geolandar CV G058's solid straight-line tracking made cruising effortless, even at speeds as high as 75 mph. The responsive steering only needed subtle inputs from us to maintain the course. Through sweeping 65 mph bends, the robust dry grip and traction enabled confidently carving through the curves.
In heavy rainfall, the tread compound and grooves proved their merit. Large standing puddles were traversed at 50 mph without hydroplaning.
Comfort was a strong suit as the variable-pitch tread muted noise, reducing highway drone to a faint whisper. Smaller imperfections were smoothed over, though bigger potholes and expansion joints did reverberate through the chassis.
Stellar winter performance for the price
Excellent tread life
Comfortable and quiet ride
Effective hydroplaning resistance
Not suitable for performance driving
Noticeable vibrations with larger road imperfections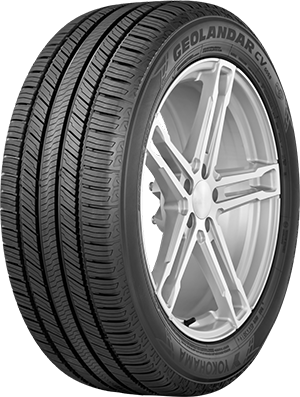 ---
4. Cooper Discoverer EnduraMax
Best Long-Lasting Tread Life For SUV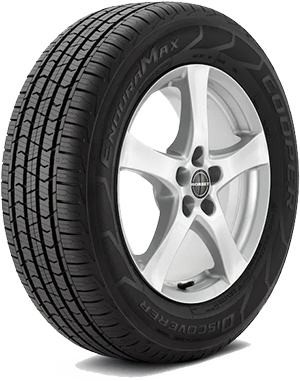 Tire Type
Crossover/SUV Touring All-Season
Tire Size
16″ – 20″
Weight
22.0 LBS – 34.0 LBS
Load Index
94 – 107
Load Range
SL – XL
Speed Rating
– H: up to 130 mph
– V: up to 149 mph
Warranty
60,000 miles
Ratings
8.7/10
The Cooper Discoverer EnduraMax not only does it provide solid performance year-round, but it's also our top choice for its truly impressive tread life.
Its Durable-Tread Technology enhances the resilience of the tread compound. It can reduce wear and tear while boosting resistance to abrasive surfaces.
Cooper doesn't stop there; it equips the tire with Armor Belt Technology, reinforcing its strength with light truck steel belts. Adding to this, a nylon enhancement promises stability even at high speeds.
In addition, the EnduraMax tire boasts a chip and tear-resistant compound that ensures protection from rough surfaces. Cooper goes a step further with Winter Grip Technology. With sawtooth grooves embedded in the tread design, the EnduraMax promises optimal grip, even in the harshest winter conditions.
During our test, they revealed its composed dry road manners. The mechanical grip kept body roll in check as speeds built rapidly when stabbing into a tight 60 mph cloverleaf ramp. The precise turn-in had us grinning as the tire rolled onto its shoulders and held an exact line at the limit. But it seemed to ask more than the available traction when we tried to make a sharp turn (almost 90 degrees) at 70 mph.
At 60 mph on the soaked interstate, we blasted through deep-standing water of 3 inches. The tread grooves ejected water at an astounding rate and only left some hints of hydroplaning in 5 inches of water or more.
Accelerating from 50 mph in a downpour, the abundant siping ensured the tires maintained a tenacious bite on the drenched pavement. It wasn't on the Scorpion WeatherActive or the CrossContact LX25's level, but we loved it regardless.
From suburban errands to highway hauls, the noise faintly penetrated our cabin at 65 mph cruise. Small cracks and patched areas were smoothed over, though hitting a sharp pothole induced some minor reverberation.
And most importantly, after 500 hard miles, the Durable-Tread construction showed barely any signs of wear. Even under the 100+ °F heat of Florida, the Discoverer EnduraMax didn't overheat (only felt warm to the touch). Though the treadwear warranty only lasts for 60,000 miles, many drivers shared in our survey that the tire still had about 30% usable tread depth left after the 60,000-mile mark.
Although the handling could be slightly improved, this tire brings a reliable and robust solution to a variety of driving conditions.
Highly durable construction
Can withstand damage from hardpacked surfaces
Safe and stable on-road performance
Excellent wet and light snow traction
Smooth ride transitioning between road types
Quiet operation
Handling slightly inferior to conventional touring tires
Responsiveness could be improved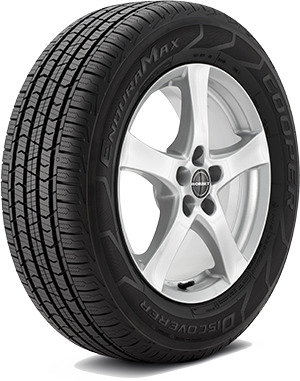 ---
5. Goodyear Assurance ComfortDrive
Best Comfort and Noise For SUV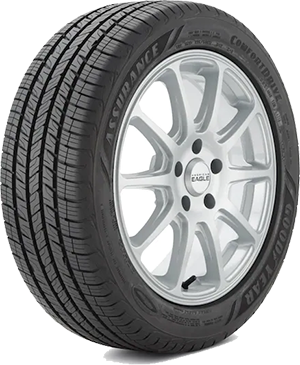 Tire Type
Grand Touring All-Season
Tire Size
16″ – 20″
Weight
22.0 LBS – 35.0 LBS
Load Index
87 – 109
Load Range
SL – XL
Speed Rating
– H: up to 130 mph
– V: up to 149 mph
Warranty
60,000 miles
Ratings
8.7/10
Boosting an already stacked deck of all season SUV tires, this is our choice when it comes to pure comfort and noise.
Goodyear utilizes the ComfortFlex technology in the tread compound to cushion impacts and refine handling. The internal structure also consists of a two-ply casing and twin steel belts reinforced with a cap ply for durability. Symmetrically placed AquaChannel grooves help with water evacuation, while the soybean oil-infused tread compound enhances wet traction.
In our experience, the Assurance ComfortDrive delivered on its promise of a smooth, quiet ride. Its unique tread pattern minimized road noise levels while the grooves further reduced tire chatter and vibration, making it one of the quietest in its category.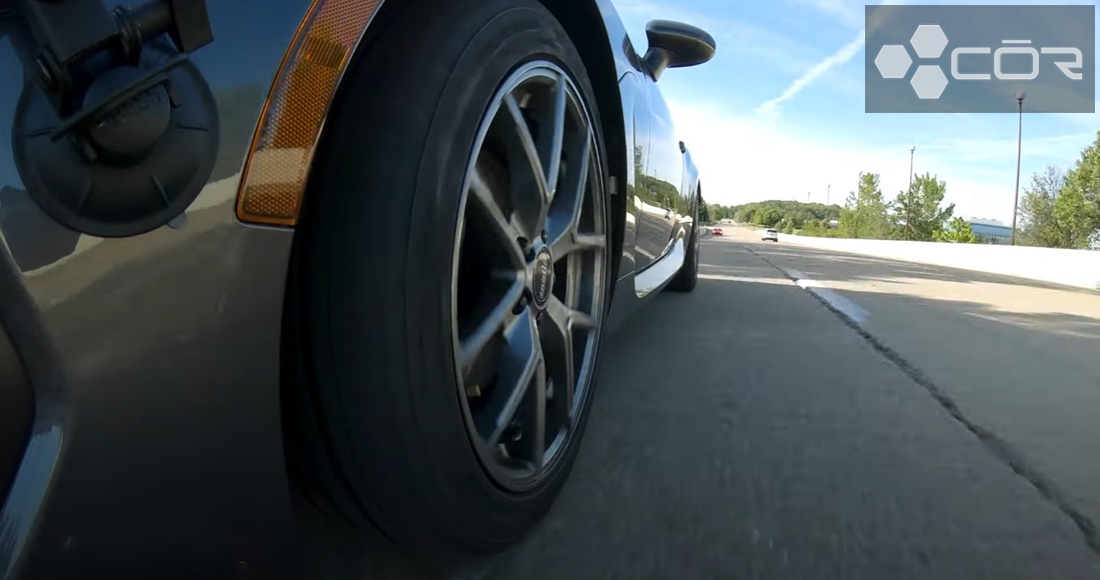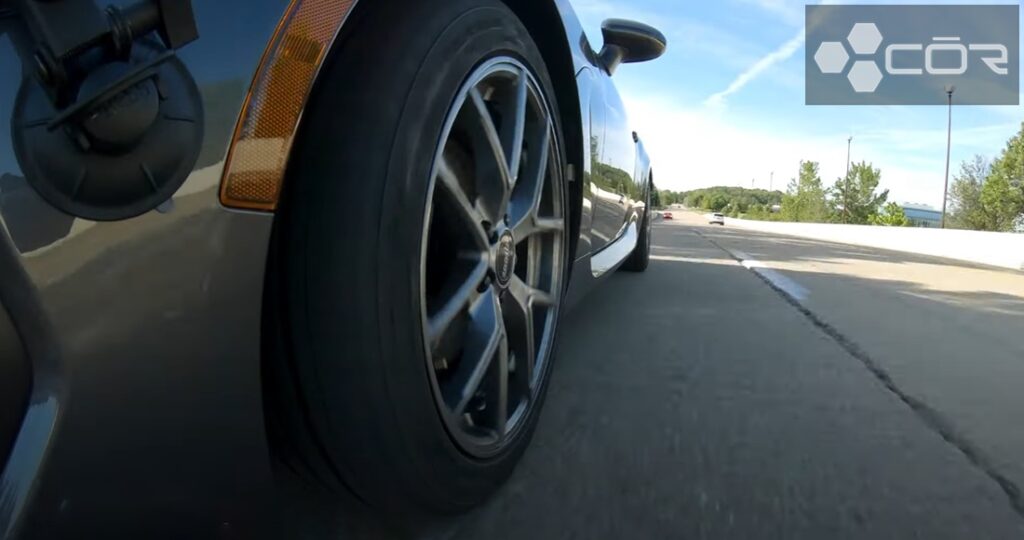 Small road imperfections were absorbed nicely. There was minimal reverberation inside the cabin when going over potholes and rough patches at speeds of 50-60 mph.
Our team also recorded responsive steering and glue-like traction on dry pavement and concrete. The tread compound and stiff internal structure allowed confident cornering and evasive maneuvers at speeds up to 80 mph without fishtailing.
We didn't have much to complain about on wet roads either. The tire efficiently channeled water away. It provided secure wet traction with no hydroplaning issues at highway speeds of 60-65 mph, though it still sent us a sense of floating at higher speed, say 70 mph onwards.
Perhaps the biggest grip we had was how it performed on snow and ice. There was a massive step down from earlier products on this list.
On roads with light 3-4 inch snow coverage, the Assurance ComfortDrive felt composed and balanced at speeds up to 50 mph. But as we pushed it faster through 6 inches of powder, we noticed some fishtailing around curves and slippery patches. The tread blocks seemed to struggle to find purchase in these conditions. The limitations became more apparent as we took it out in the aftermath of a heavy snowstorm.
Cruising down a straight road covered in 9 inches of fresh snow, we suddenly felt the tires spin and swerve multiple times. The car required a steady reduction in speed to 40 mph to maintain control. The siping helped initially but could not make up for the lack of aggressive winter tread as the snow piled up.
Stellar dry and wet performance
Impact-absorbing ride for comfort
Low noise levels on smooth roads
Built-in gauge for easy tracking of tread wear
Subpar deep snow performance
Increased noise on rough terrain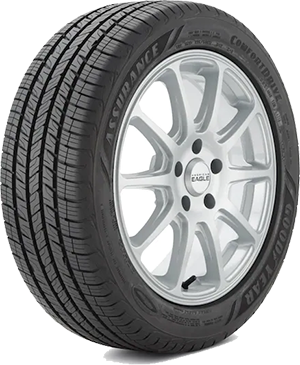 ---
6. Vredestein HiTrac All Season
Best Fuel Efficiency For SUV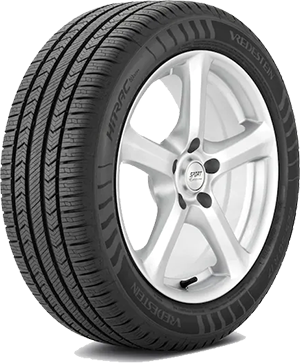 Tire Type
Grand Touring All-Season
Tire Size
16″ – 20″
Weight
15.0 LBS – 37.0 LBS
Load Range
SL – XL
Speed Rating
– H: up to 130 mph
– V: up to 149 mph
Warranty
70,000 miles
Ratings
8.7/10
When looking for a fuel-efficient all season tire that doesn't compromise on performance, the Vredestein HiTrac All Season tire stands out as a leading choice.
One of the most noteworthy features is the ability to reduce rolling resistance. It comes from the high-traction, all season compound that increases traction across varying weather conditions.
This compound offers flexibility and durability. This, in turn, allows the tire to maintain optimal contact with the road without exerting excessive friction.
Further enhancing this low rolling resistance is the tire's optimized tread block contour. This design ensures a uniform distribution of pressure across the tire's footprint. It helps minimize energy loss during transitions between the tread and the road.
On top of that, the pitch sequence aids in maintaining the tire's shape and stability while moving. It tends to lead to less deformation and, consequently, reduced energy consumption. Compared to Vredestein Quatrac 5, we had 2-3 more miles per gallon when tested on the same SUV. We could even get 52 MPG on city roads, which is an impressive gas mileage.
We took it out on uneven city streets littered with potholes and cracks at 30-40 mph. The HiTrac All Season cushioned the bumps well and kept our ride feeling refined. Even at highway speeds of 60 mph on the rutted country tarmac, it ironed out imperfections that would have jostled us in stiffer-riding tires.
The smooth ride did come with some moderate road noise, especially as speeds increased further. But it was not intrusive enough to take away from the overall comfort.
Quickly accelerating and braking on dry roads elicited responsive, grippy handling with no unsettling loss of traction. At 65-70 mph on winding roads, the optimized tread blocks and rigid internal structure allowed us to hold tight lines through sharp curves.
Through standing water puddles and heavier rainfall, the tread pattern channeled water away rapidly to resist hydroplaning. At no point during wet testing at speeds between 50-60 mph did we feel the tires begin to lose contact and slip.
Moving into light 7-8 inch snow, the 3D siping technology allowed the HiTrac to maintain decent traction for an all season tire, keeping us moving steadily at 40-50 mph.
But through 11+ inches of heavy snow, the tires began to spin and slip more frequently. Icy patches also upset the tire's composure, requiring slower speeds and cautious inputs to maintain control.
Superior dry performance
Fuel-efficient tread compound
Excellent hydroplaning resistance
Affordable
Comfortable ride quality
Worse treadwear than the rest of the pack
Some moderate road noise
---
7. Cooper Endeavor Plus
Best Budget All Season Tire For SUV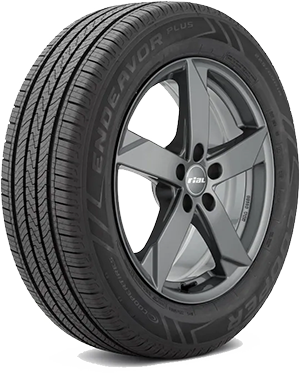 Tire Type
Crossover/SUV Touring All-Season
Tire Size
16″ – 22″
Weight
22.0 LBS – 43.0 LBS
Load Index
95 – 117
Load Range
SL – XL
Speed Rating
– H: up to 130 mph
– V: up to 149 mph
Warranty
65,000 miles
Ratings
8.6/10
Hooked on finding a tire that punches above its weight when it comes to performance and value? Meet the Cooper Endeavor Plus, our top budget choice.
Cooper brings a bevy of notable technologies to bear in the Endeavor Plus. This includes a symmetrical five-rib tread design that enhances tire-to-pavement contact, thereby boosting steering response and dry handling.
Alongside this, the tire incorporates an all season tread compound that allows for reliable traction across diverse weather conditions, even in light snow.
The internal construction of a two-ply polyester casing and two steel belts improves durability and handling, while the single nylon reinforcement ply adds high-speed stability.
The smooth and comfortable ride quality was immediately evident once we took the Endeavor Plus out on the road.
On well-paved highways at 65-70 mph, the contemporary tread pattern minimized noise levels to a faint hum. It let us relax in the peaceful cabin ambiance. Even on aged and cracked city streets, the Endeavor Plus absorbed imperfections nicely at speeds of 30-40 mph.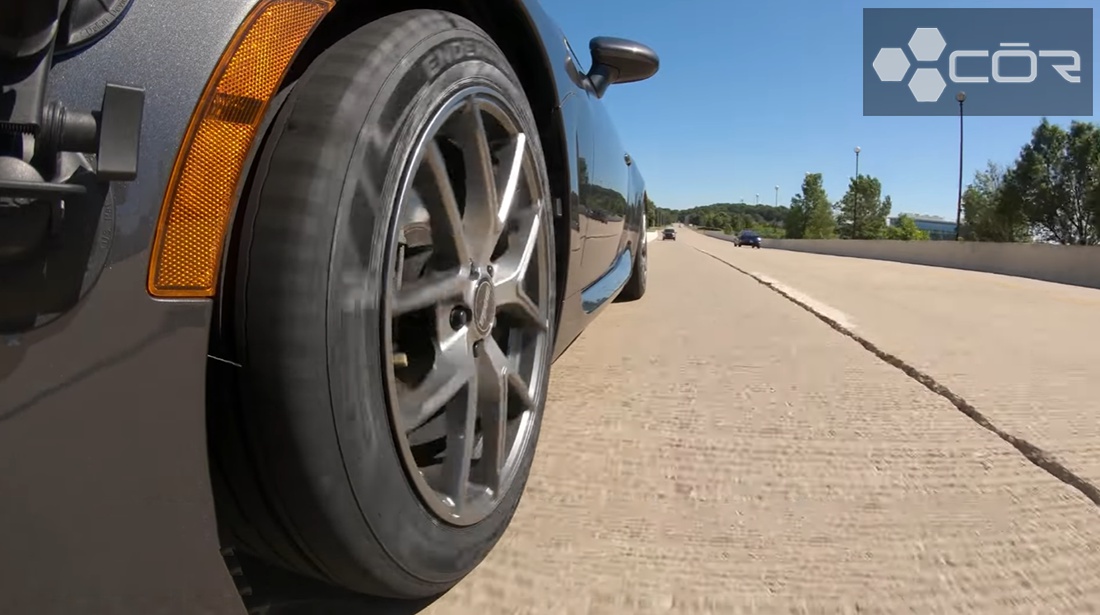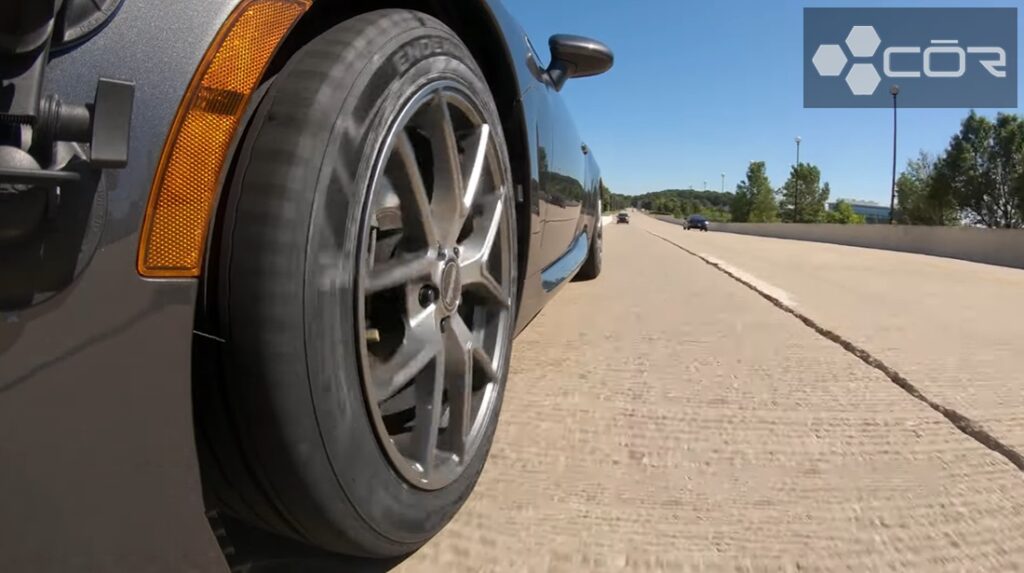 Venturing into coarse gravel roads, we did hear more road noise entering the cabin. This was especially noticeable when hitting potholes and bumps at 50-60 mph. But the tire still rounded off the impacts reasonably well without any teeth-jarring harshness.
After putting around 300 miles of mixed testing, the tread depth gauge barely moved. The durable compound gave us confidence that this tire could last an additional 50,000 miles or more under normal use.
The transition from steering wheel movement to vehicle direction change was seamless. It gave us a sense of confidence behind the wheel. Going through tight turns and quick chicanes at speeds up to 65 mph, it held lines confidently with only mild understeer when pushed to the limit.
Hitting deep-standing puddles and driving through blinding downpours at highway speeds, the tire maintained composure and control. However, during a 60-70 mph stopping test on a soaked surface, braking distances stretched slightly longer than expected.
Keep in mind that this tire is only average on snowy and icy roads. As snow depth increased to 5+ inches, the tires began to lose their stability. We felt brief moments of slippage and spin during acceleration and turning. Icy patches also witnessed traction loss even at lower speeds and required even more cautious inputs.
Excellent dry traction for a budget-friendly tire
Good performance in light snow conditions
Provides a smooth and quiet ride
Easy to control and stable in different weather conditions
Highly durable for the price
Noise on rough road surfaces
Bad ice traction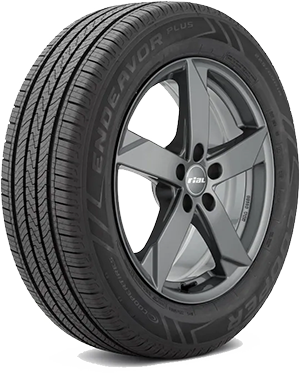 ---
8. Michelin Defender T+H
Best for Long-Lasting Durability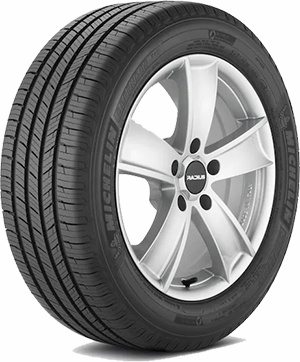 | | |
| --- | --- |
| Tire Type | Standard Touring All-Season |
| Tire Size | 14″ – 18″ |
| Weight | 17.26 LBS – 31.0 LBS |
| Load Index | 83 – 103 |
| Load Range | SL |
| Speed Rating | – H: up to 130 mph |
| Warranty | 80,000 miles |
| Ratings | 8.5/10 |
The Michelin Defender T+H, with its industry-leading warranty, stands out as the marathon runner of all season SUV tires.
The manufacturer leverages innovative technologies, such as the EverTread compound and MaxTouch construction to achieve this. These are designed specifically for optimal tread life and uniform wear.
Coupled with the IntelliSipe technology that ensures enhanced traction, you get a tire that not only lasts long but also performs admirably throughout its lifespan.
After hundreds of miles of mixed testing over several weeks, we observed remarkably minimal wear on the tires. The EverTread compound and rigid internal structure did live up to Michelin's 80,000-mile treadwear claim. Even with aggressive driving, these tires should easily last for years before needing replacement.
During that period, we also noticed the quiet, refined ride delivered by the Defender T+H. On smooth highways at 65-70 mph, the cabin was bathed in peaceful silence. There was only a faint wisp of wind and tread noise audible.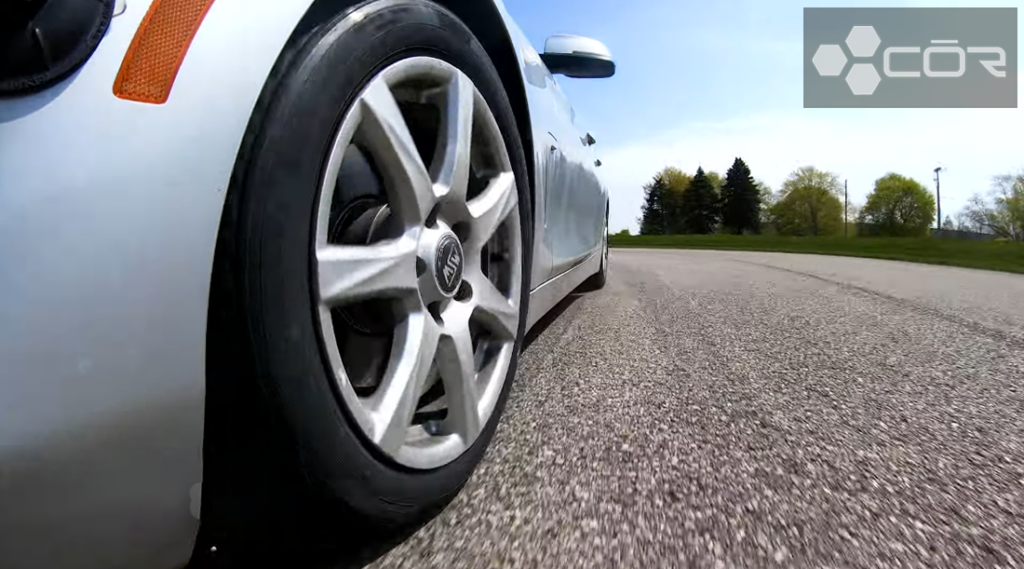 Even on cracked city streets and gravel backroads at lower speeds, the Defender isolated vibrations nicely to maintain comfort. However, hitting repetitive bumps and uneven surfaces did elicit some additional tread noise from the softer rubber compound.
The Defender T+H felt planted and secure on dry roads even at high speeds. Even stability remained strong during highway cruising up to 80 mph. But pushing the handling at those speeds through tight serpentine courses revealed some understeer compared to max-performance tires.
Through heavy rain and standing water, the Defender T+H maintained composure where lesser tires would hydroplane. The longitudinal grooves channeled water efficiently during a downpour at 65 mph. Hitting deep puddles at 50 mph elicited no unsettling loss of control.
Again, winter conditions are the biggest enemy of all season tires like the Defender T+H.
After a heavy snowstorm that dumped over 4 inches of thick, wet snow, the Defender T+H struggled for traction. Once moving, the tires lost grip intermittently when making turns at just 25-30 mph.
The limitations were even more apparent on icy surfaces after a freeze even at 30 mph. It went straightaways just fine but lost all composure when making the slightest turn. We had to keep speeds under 25 mph and steer gingerly to maintain any forward progress on icy patches.
Impressive tread life and warranty
Exceptional dry and wet grip
Reliable handling in various conditions
Low noise and smooth ride
Excellent hydroplaning resistance
May lose composure over repetitive impacts
Not ideal for performance-oriented vehicles
Limited performance in heavy winter conditions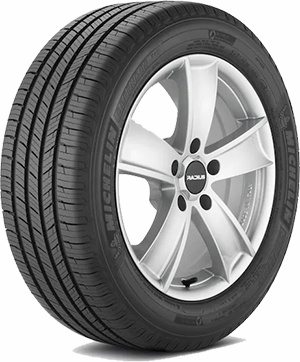 ---
9. Michelin CrossClimate SUV
Best Dry and Wet Performance For SUV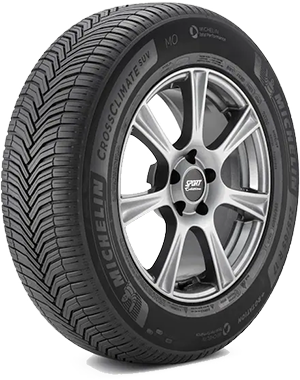 Tire Type
Crossover/SUV Touring All-Season
Tire Size
16″ – 20″
Weight
24.63 LBS – 34.83 LBS
Load Index
100 – 111
Load Range
SL – XL
Speed Rating
– H: up to 130 mph
– V: up to 149 mph
Warranty
40,000 – 50,000 miles
Ratings
8.5/10
Michelin designs the CrossClimate SUV to deliver a top-tier driving experience on dry and wet roads. It has bevel-edged blocks on the treads. This design aims at reducing braking distances in wet conditions while also lending a hand in maintaining grip and braking when snow sets in.
The use of the silica compound increases the tire's usability over a wide range of temperatures. The V-shaped tread design and 3D full-depth self-locking sipes give the tire a remarkable grip in the rain and on light snow.
And we even haven't mentioned the nearly solid transverse ribs. These boost handling stability and dry traction, while wide lateral grooves and open shoulders work together to fend off hydroplaning.
The sturdy internal construction of the CrossClimate SUV provided a smooth, comfortable ride during testing. However, the highly-directional tread did generate noticeable road noise, especially at highway speeds above 65 mph.
After hundreds of miles of mixed-condition driving, tread wear didn't show up yet but we did experience overheating quite often. Our best guess was an approximate 40,000-mile lifespan under normal use.
On the bright side, the CrossClimate SUV felt responsive and planted on paved roads. That was true even when we did an aggressive acceleration from 0 to 60 mph in just over 5 seconds. There was simply no wheel slippage or loss of control on the tarmac.
The tire also put on a stellar show on wet roads. After a heavy thunderstorm here in Florida, the standing water pooling on the roads exceeded 4 inches in some areas. But the CrossClimate maintained composure where lesser tires struggled.
Only in the winter months did the performance drop a bit. Driving on fresh powder after a 6-inch overnight snowfall, the CrossClimate SUV kept forward momentum steady through gradual curves and straightaways up to 35-40 mph. In 10+ inch depths, the rate of slippage and spin increased noticeably during acceleration and turning.
Superior dry and wet braking performance
Excellent handling across dry, wet, and snowy conditions
Low-rolling resistance for enhanced fuel economy
Snow braking performance could be improved
Short treadwear warranty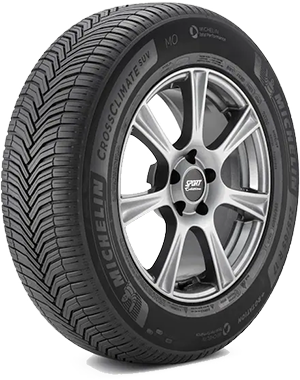 ---
10. Bridgestone Alenza AS Ultra
Best for Long-Distance Comfort SUV Tire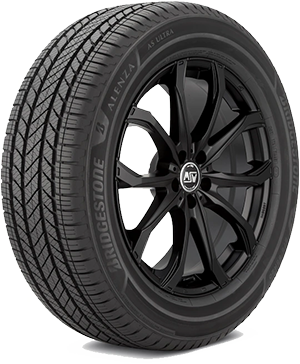 Tire Type
Crossover/SUV Touring All-Season
Tire Size
16″ – 22″
Weight
25.0 LBS – 42.0 LBS
Load Index
99 – 116
Load Range
SL – XL
Speed Rating
– H: up to 130 mph
– W: up to 168 mph
Warranty
80,000 miles
Ratings
8.4/10
This is what you need to embrace the long road ahead on a cross-state trip or so. This tire is infused with a high-silica compound and a symmetric tread pattern. It's designed to offer unmatched traction in various weather conditions.
But it's the Quiet Tracks at the tread base that steals the show. It can significantly reduce pattern noise and lift the overall comfort of your journey.
The tire is built for resilience, too, featuring a two-ply, polyester casing for balancing ride luxury and durability. Meanwhile, the twin steel belts are there for stability, and a single nylon reinforcement for high-speed capabilities.
The smooth and quiet ride of the Alenza AS Ultra immediately stood out during testing. On highways at 65-70 mph, the cabin was immersed in quiet comfort. Hitting larger bumps and uneven surfaces resulted in some impact harshness, but overall the Alenza isolated vibrations reasonably well.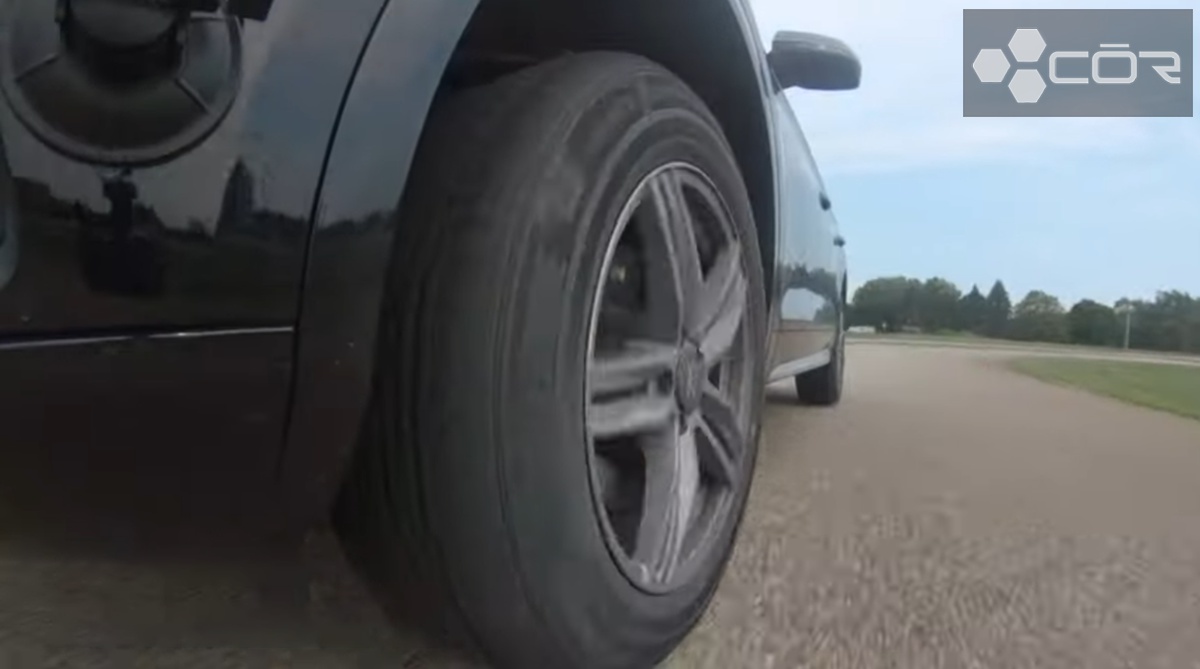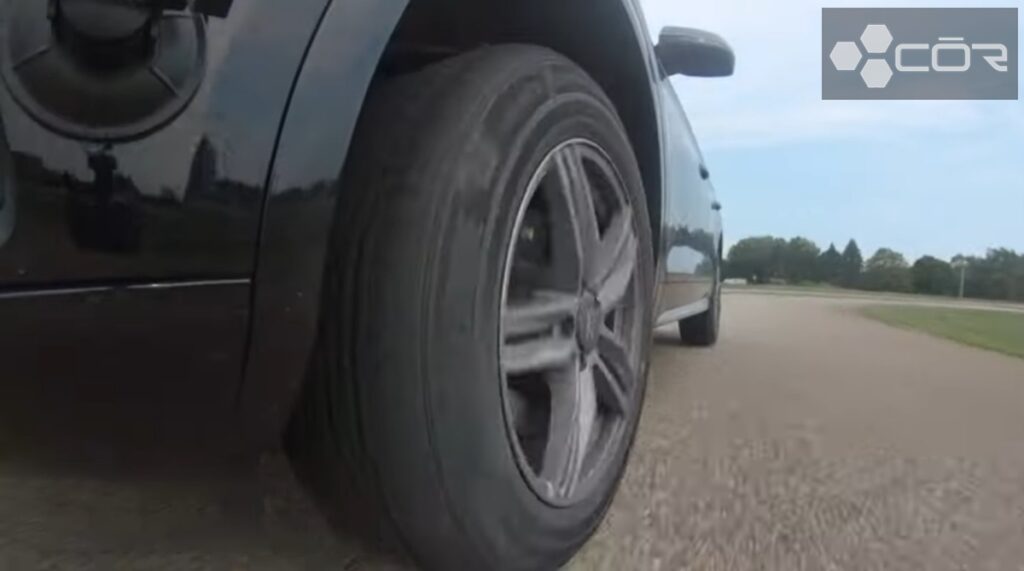 After repeated outings on various roads over several months, tread wear was acceptable. The depth measurements are barely reduced, even with aggressive driving.
As the sun blazed down on a clear summer's day, the Alenza AS Ultra responded with a striking balance between grace and grip on bone-dry asphalt. We felt the high-silica compound come alive. It tamed the most challenging tight corners with unexpected precision.
However, the tires took slightly longer distances to put the vehicle from 60 mph to a dead stop compared to max performance summer tires.
We experienced a test track submerged in 3 inches of standing water. While the wet traction did keep the vehicle composed through the deluge, its braking distances were much longer than the top performers.
It was under winter conditions that the Alenza AS Ultra demonstrated a knack for the slippery stuff. The tire tackled 3 inches of snow with ease as we still felt stable and composed. But as the snow deepened and on ice-coated stretches, the grip took a slight hit.
The tires often lost traction momentarily before regaining their footing. But at least there were no dramatic slides or alarming loss of control, even when we pushed a bit harder on the throttle.
Consistent performance over long distances
Excellent lateral grip on dry and wet roads
Smooth ride over various surfaces
Responsive steering
Good traction on wet roads
Best-in-class treadwear warranty
Slightly longer braking distances than its main rivals
Only average winter performance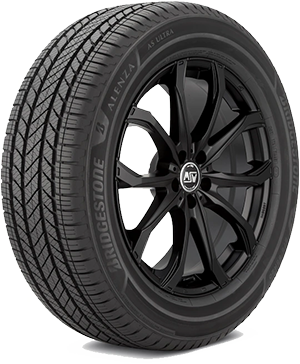 ---
How to Choose Best SUV Tires for All Seasons
Climate and Driving Conditions
Think hard about the conditions you typically drive in. Do you battle relentless winter snow and ice every year? Or is it mostly sunny skies and wet roads?
Be honest with yourself here because not all tires have consistent performance across varying climates.
If your region experiences mild winters and primarily dry or wet roads, many tires can meet your expectations. However, if you face harsher winter weather, only a few of them can withstand those challenging months.
Comfort and Noise Levels
This is particularly essential for SUV owners who often use their vehicles for family outings or long trips. Uncomfortable vibrations and loud tire noise can quickly turn a leisurely drive into an ordeal.
It might be worth investing in tires with noise-reducing technologies and a design focused on comfort. While these may come at a higher price, the tranquility and smoothness they bring to your driving experience can be invaluable.
Treadwear and Warranty
Pay close attention to treadwear ratings and the warranty offered by the manufacturer. They can be a good indicator of how long the tires will last under standard driving conditions, with higher numbers typically signifying a longer-lasting tire.
A generous warranty, particularly on premium all season tires, can cover you for up to 80,000 miles or more. Checking these elements can ensure you're getting the most bang for your buck.
Budget
The price range for all season tires can vary greatly depending on the brand, technology, and features they come with. It's essential to balance these elements with your budget.
Affordable doesn't always mean low quality, and there are excellent budget-friendly options on the market that offer good performance across the board. It's all about finding the right balance between quality and cost.
Conclusion
After our exhaustive 2023 COR Wheels tire tests, we are confident in our top picks among the best tires for SUVs in all seasons we've mentioned.
The Pirelli Scorpion WeatherActive reigns supreme as the uncontested champion for those who spare no expense. This tire dazzled us with its extraordinary performance across nearly all metrics, particularly in comfort and handling.
For those seeking a balanced mix of cost-effectiveness and performance, the Cooper Endeavor Plus carves out a notable niche.
This tire may not top every category like its Pirelli counterpart. But it nonetheless holds its own with robust across-the-board performance coupled with durability that belies its modest price.
Here is the summary of the 10 best all-season tires for SUVs in the 2023 COR Wheels Tire Test:
| Tire Brand & Model | | | | | | | |
| --- | --- | --- | --- | --- | --- | --- | --- |
| Pirelli Scorpion WeatherActive | 1st | 8.9 | 8.9 | 9 | 8.8 | 8.9 | 9.1 |
| Continental CrossContact LX25 | 2nd | 8.9 | 9.1 | 9 | 8.2 | 8.8 | 9 |
| Yokohama Geolandar CV G058 | 3rd | 8.8 | 8.9 | 8.9 | 8.2 | 8.6 | 9.1 |
| Cooper Discoverer EnduraMax | 4th | 8.7 | 8.9 | 8.7 | 8.4 | 8.4 | 8.9 |
| Goodyear Assurance ComfortDrive | 5th | 8.7 | 9 | 8.8 | 7.8 | 8.7 | 8.8 |
| Vredestein HiTrac All Season | 6th | 8.7 | 9.3 | 9.2 | 8.6 | 8.6 | 8.4 |
| Cooper Endeavor Plus | 7th | 8.6 | 9 | 8.7 | 7.7 | 8.5 | 8.7 |
| Michelin Defender T+H | 8th | 8.5 | 9 | 8.6 | 7.1 | 8.6 | 8.6 |
| Michelin CrossClimate SUV | 9th | 8.5 | 9.1 | 9 | 8.4 | 8.4 | 8.2 |
| Bridgestone Alenza AS Ultra | 10th | 8.4 | 9 | 8.9 | 7.8 | 8.3 | 8.4 |
---
President & Automotive Expert at COR Wheels
Robert Herrera has been with COR Wheels for 17 years and has a great passion for the automotive industry. During his time at COR Wheels, he has driven and test-driven a variety of vehicles.
---