Goodyear Eagle Sport, just as its name suggests, promises sporty performance across most on-road terrains with sturdy centered ribs, linked shoulder blocks, and deep sipes that remain capable even after significant treadwear. How these features work their power into real-life driving is what our review will discuss as follows.
In this article:
Goodyear Eagle Sport All-Season Specifications & Features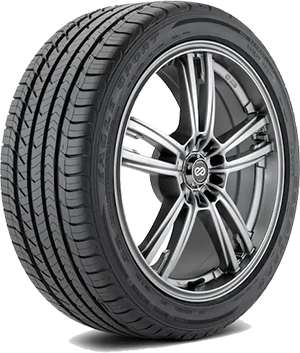 Tire Type
Grand Touring All-Season
Tire Size
16″ – 22″
Weight
19.0 LBS – 44.0 LBS
Load Index
88 – 117
Load Range
SL – XL
Speed Rating
– H: up to 130 mph
– W: up to 168 mph
Warranty
50,000 miles
Ratings
8/10
Goodyear Eagle Sport All-Season is developed for drivers of coupes, sedans, light trucks, and sports cars that require sporty handling for all-season conditions. It aims to offer consistent traction and footing across dry, wet, and light snow conditions through the inclusion of notable highlighted features: 
The innovative compounds, molded into asymmetric tread patterns with large surface contacts, offer consistent composure for all vehicle types.
Linked outboard blocks, supported by notched ribs and inboard shoulder blocks, enhance wear, handling, and steering response.
Circumferential tread grooves evacuate water to resist hydroplaning and foster excellent traction on wet roads.
Full-depth sipes preserve traction as the tire deteriorates over time.
Double steel belts and wrapped polyamide casings balance higher-speed capability and riding quality.
RaceWrap Construction Tech (used for NASCAR competitions) utilized 2-ply, angled sidewalls to boost handling stability and feedback.
Goodyear Eagle Sport All-Season Review & Performance Test Results
Our team tested the metrics of Goodyear Eagle Sport All-Season on on-road terrains by using its 215/60R16 tire size version on the 2018 Honda Accord car model during the 2023 COR Wheels Tire Test.
1. Dry Performance: 8.8/10
Dry Traction: 9/10
There was hardly anything to complain about as the Goodyear Eagle sprung onto the main roads. It bonded almost instantly with the road texture and settled all faint traction losses around the flanks with such aggressive confidence that we were encouraged to rev straight to 60 MPH just mere minutes into the ride. Each strike was delivered in clean, power cuts, aided by the optimized surface contact that remained unwavering despite our whiplashing directional changes.
Needless to say, abruptly overtaking vehicles or avoiding obstacles was totally within the tire's reach. And judging by the way our five-member team handled construction-site rocks and pebbles almost breezily (except for a few slippage issues after our intentional steering), you can totally carry a bit of cargo below 100 lbs onto rougher terrains without fear of muted sidewalls.
On highways, Eagle Sport was impressively stable; even the slight jostles due to changed surface angles (often seen in other Goodyear Tires) could hardly be spotted here, allowing us to remain consistent, almost unchanged wrist positions into the main lane. You are less likely to see significant drifting symptoms lurking around during extended curves and even less so on straight paths, as we could proceed with non-dramatic accelerations towards 85 MPH and even some adventurous leans around more favorable crooks.
The tire did struggle a little facing dry gravel roads at high speed ratings beyond 55 MPH – but given that there were no specialized features for such terrains, we could still let this downside off the hook.
Corner Stability: 8.7/10
Since Eager Sport had no difficulty handling sweeping highway curves, we were unsurprised by the tires' competence around tighter, lower-radius road corners. The notched center ribs and linked blocks did a terrific job stabilizing Eagle's center while minimizing unnecessary shuddering, which paves a clean, nice path from corner entries straight to the exit with little to no sidewall fluctuations.
The way the tire choked up abrupt graduations and even occasional over-compensation at liners also played a lot in our favor; you can be confident that no significant accident risks could occur here at regular driving rates.
More jostles occurred at higher speeds and during our intentional oversteer – but that was to be expected for most Goodyear tires. And after all, thanks to the stable momentum it regained afterward, no real danger will be at play for you anyway.
Steering Response: 8.8/10
Goodyear Eagle Sport delivered extremely punctual and quick steering responses. Sure, there was still some room for a little more refinement during correction skids or wide-degree turns (usually 90 to 180 degrees); but other than that, everything played exactly to our expectations.
Tire-road connections remained stable, each reaction was easy to predict, and drifting symptoms were pretty distant given even push-pull; there will be hardly any moment when you truly have to worry about unexpected feedback or, worse, extended delays.
These responses naturally grew fainter the faster we drove, but traveling alone or with light cargo can give you a significant boost to the steering quality
2. Wet Performance: 8.2/10
Wet Traction: 8.2/10
Eagle Sport coped very well with shallow puddles, though we still noticed its tendency to plummet slightly whenever we tried to upshift or engage in moderate brakings around corners. Full-packed passengers surprisingly did not affect the tire's confidence as much as we expected, presumably thanks to the durable angled sidewalls that kept slippage and tire drags at a minimum.
Unfortunately, Eagle Sport started to veer into slightly more dangerous territories in deep water and during rainstorms; none of the advertised shoulders and circumferential grooves retained half their designated contact points on rougher terrains.
While you can somewhat compensate for the ill-timing jostles by revving below 35 MPH, these trivial improvements are not enough to push Eagle Sport to the upper half of our list in terms of wet traction.
Hydroplaning Resistance: 8.1/10
The grooves could keep intrusive water in control for tamer rides (preferably below 40 MPH), but started to get less confident the longer we rode due to the lack of supporting sipes and water-evacuation features. In deep water, hydroplaning issues increased even worse, coupled with the constant slippage and sliding under the patch to give us one of the bumpiest rides we have ever experienced.
But again, there are fortunately no real accident risks you have to look out for. Constant push-pull and consistent grinding under heavy rain might get tiring after a while – but overall, is still enough to keep water under safe territories.
3. Winter/Snow Performance: 6.7/10
Light Snow Traction: 7.5/10
The sipes and shoulders seemed to work best on snowless terrains; once encountering light, powdery snow, their clear lack of sharpness and punctual contact became very obvious. Our Honda could still cope well if we reduced passengers and avoided twisty roads, but any slightest signal of sharp turns or spirited driving sent the car into constant jostles that sometimes took more than 10 seconds to fully recover.
Snow chains helped to a certain extent, but only on paved roads or straight-line endeavors; the tire's composure around corners and curves will remain quite a struggle, especially if you have little prior experience.
Deep Snow Traction: 6.5/10
Deep snow and Eagle Sport are clearly not best friends for your trips; our car could barely compose itself or provide any reliable clawing action through thick snowpacks beyond 5 inches. Consistent push-pull at 40 MPH was breezy on snowless terrains (and even on light snow) but fell extremely flat here, forcing us to keep slowing down until the Honda just slightly grazed past the 15-MPH benchmark.
Ice Traction: 6.2/10
Ice traction was downright disastrous. While our car still managed to move forward, it could not do so without constant, back-to-back protests that only worsened across the ride instead of subsiding.
Worse, around corners, you will have to brace yourself for extremely frequent understeering incidents that sometimes take minutes to refill themselves; the best bet is to travel no more than 5 miles on ice with this tire.
4. Ride Comfort: 8.2/10
Ride Quality: 8.3/10
Goodyear Eagle Sport All-Season satisfied our team with its confident and aggressive strikes across large road bumps on dry terrains, exerting enough cushioned force to smooth out the vibrations without overreacting. Still, as mentioned above, you should not expect the same competence during snowy winters or rainfalls.
Road Noise: 8/10
Noise control could definitely have been better but, in general, still checked most of our boxes. Low rumblings only emerged around corners and tended to die down if there was no speed change afterward; better yet, given little cargo and few passengers, you could actually tune them out using more consistent palm-to-palm control.
5. Treadwear and Durability: 8.3/10
Our team did not particularly like the way Eagle Sport shuddered and caved in during cold weather conditions. In compensation, its internal strength against overheating and sticky mud was excellent, coupled with a decent warranty (50,000 miles) to ensure you do not have to drop by the tire manufacturer's repair center for 3-4 years after purchase.
Eagle Sport All-Season Pros and Cons
Excellent dry traction and grip levels
Stable and confident cornering/steering in dry conditions
A fairly comfortable tire with tolerable jostles and noises
Decent winter traction on light snow at low driving rates
50,000-mile tread life limited warranty
Underwhelming traction in wet conditions/wet surfaces
Horrid on deep snow and ice
Eagle Sport All-Season Competitors & Alternatives
While not without flaws, Goodyear Eagle Sport All-Season still exhibited some dominant traits over competitors like Firestone Firehawk AS V2, Kumho Ecsta PA31, and Sumitomo HTR A/S P03:
Goodyear Eagle Sport composed itself pretty well on dry, well-paved roads, but its wet traction was admittedly a huge disappointment out of the bunch.
Firestone Firehawk delivered excellent dry traction – but just like Goodyear Eagle, it still needed some refinements during wet weather.
Kumho Ecsta led the group with wet traction but could have offered better impact-handling capabilities.
Sumitomo A/S P03 shined with excellent linear steering expected of a premium high-performance tire. Nevertheless, our team would appreciate slightly fewer tread noises.
Conclusion
The Eagle Sport did need some refinements in wet and wintertime conditions. But other than that, there was hardly anything to complain about regarding traction and steering in our Goodyear Eagle Sport All-Season tire review – and not to mention, the way it balanced riding comfort and treadwear rates also deserves some praise.
Hence, trust this all-season tire to be your best assistant across all summer terrains and occasional light snow surfaces (in favorable weather).
Goodyear Eagle Sport All-Season
PRICE
SOLD BY

Offers

In Stock

Offers

In Stock

Offers

In Stock

Offers

In Stock

Offers

In Stock
---
President & Automotive Expert at COR Wheels
Robert Herrera has been with COR Wheels for 17 years and has a great passion for the automotive industry. During his time at COR Wheels, he has driven and test-driven a variety of vehicles.
---