Trudging in winter proves challenging for most non-winter tires like AT (all-terrain) models. They are designed to provide decent, consistent performance all year round, meaning their snow qualities are not exceptional and easily fall lackluster under unfavorable conditions.
The best all-terrain tires for snow and ice below prove to be some rare exceptions on the market. Scroll to learn what highlights they offer.
In this article:
How Did We Test and Pick The Best All Terrain Tires for Snow
40 best-selling all-terrain tires in the current automobile industry (up to 2022) were selected for our annual 2023 COR Wheels Tire Test. Their evaluations are based on the six major criteria as follows:
Winter/snow performance: Our main focus, entailing traction ratings on light snow, deep snow, and ice traction
Dry traction
Wet traction
Riding comfort
Treadwear
Price
Once the performance tests concluded, our team members negotiated the final scores and compared them with verified customer feedback collected from the COR Wheels survey.
Top 10 Best All-Terrain Tires in Snow & Ice
---
1. Vredestein Pinza AT
Best for Light Snow and Ice Traction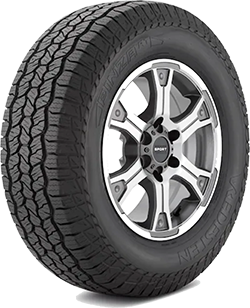 | | |
| --- | --- |
| Tire Type | On-Road All-Terrain |
| Tire Size | 15″ – 20″ |
| Load Range | C – SL |
| Speed Rating | S, H, T |
| Warranty | 70,000 |
| Ratings | 8.9/10 |
Vredestein Pinza AT seized first place with its excellent performance on light snow and ice. It introduced a four-groove, rugged pattern to retain more polished road manners, aided by aggressive, extra-biting edges in its multi-pitched shoulder elements.
At the same time, the high void ratio works with zigzag circumferential grooves and full-depth sipes to increase wet traction and water evacuation. They worked smoothly on light snow below 6 inches and plowed through harder packs with surprising confidence. Hydroplaning did happen around high-angled corners, but that was it; most issues were tamed and could be quickly remedied with consistent steering.
Accelerations on light snow were almost considered a given with this tire; what surprised us more was how these speed boosts continued undramatically even when our car moved to ice terrains. Sure, sputters and hiccups naturally happened more on ice, but they rarely put the members in actual danger. On smoother patches with less ice buildups, we could actually rev to 45 MPH and still retain most of the center grip.
Snow and ice aside, Vredestein Pinza AT was a delight on other terrains as well. The contact patch planted itself firmly on dry pavements and breezed through most speed thresholds with little issue; better yet, most of this sure-footed self-awareness carried on into loose terrains like sand and mud as well thanks to the strong, multi-pitched shoulders.
If there was one thing to complain about, it was the slight over-reactions at sweeping highway curves. Despite our very minimal inputs, the aggressive tread compounds caused our steering to strike sharper than intended.
Excellent light snow traction (even better than on dry)
Performances are beyond average to good on every off-road terrain
Good wet grip
Great treadwear and comfort
Decent ice traction
Occasional steering overreaction
---
2. Falken WildPeak A/T Trail
Best for Overall Snow/Winter Performance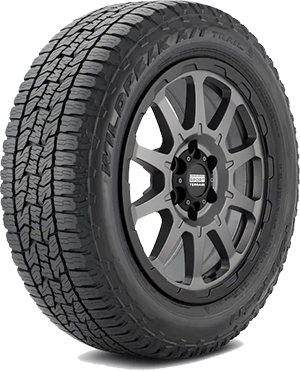 Tire Type
On-Road All-Terrain
Tire Size
16″ – 20″
Weight
26.0 LBS – 42.0 LBS
Load Index
95 – 111
Load Range
SL – XL
Speed Rating
– H: up to 130 mph
– V: up to 149 mph
Warranty
65,000
Ratings
8.8/10
Falken WildPeak A/T Trail delivered consistent snow traction that experienced very few abrupt changes. This package features silica compounds molded in symmetric patterns, aided by edges and notches on independent blocks for better longevity. Meanwhile, the sidewalls kept stick/rock punctures at bay with the rugged over-shoulder ribs.
But impressing us more than most was the three-dimension canyon sipes, interlocking to offer more ice and snow edges. There was a satisfying click between the contact patch and our road terrain the moment our car stepped onto snow, and a few experimental speed accelerations soon helped the tire settle onto the track.
Once familiarizing themselves with our driving and steering habits, the compounds stayed mostly unchanged even when we entered deeper snow of 8+ inches (except for minor stutters). And guaranteed the car was driven below 35 MPH, Falken WildPeak A/T even remained the same between snow and ice transitions, lifting our constant worry of unpredictable slippage and traction loss.
Sure, higher speeds beyond 40 MPH did send our car into constant jitters on ice. But considering that most drivers' priority in winter was rarely about speed, we could let that drawback slide.
As an on-road AT tire, Falken WildPeak did not disappoint us with its dry and wet performance, handling the slight delays in steering and cornering with enough grace that accidents were rarely a real threat. Better yet, the handlings on off-road terrains were amazing: the rugged over-shoulder ribs pounced confidently on dirt and rock surfaces and tackled sand and mud more or less the same way they did on on-road wet pavements.
On another note, tread noises could be improved; they were tolerable in daily driving but got annoying on off-road terrains and downright roaring when we entered mountain passes.
Transition smoothly from snow to ice and vice versa at speeds below 35 MPH
Great handling on light and deep snow alike
Good dry traction
Excellent off-road qualities
Slightly muted steering at corners
Road noises could be better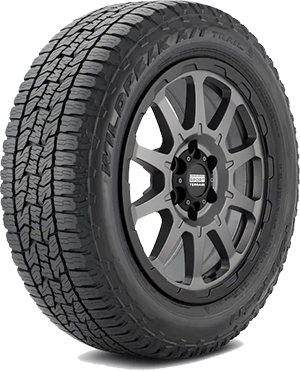 ---
3. Sumitomo Encounter AT
Best for Dirt and Mud Traction in Snow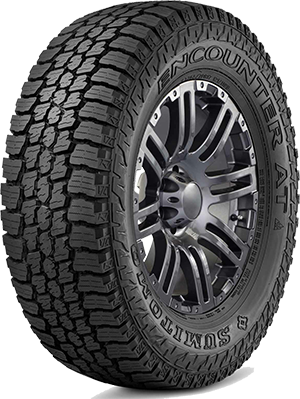 Tire Type
Off-Road All-Terrain
Tire Size
15″ – 20″
Weight
35.0 LBS – 84.0 LBS
Load Index
105 – 127
Load Range
C1 – XL
Speed Rating
– Q: up to 100 mph
– T: up to 118 mph
Warranty
60,000
Ratings

8.7

/10
On mud, dirt, and snow respectively, Sumitomo Encounter AT might not be the ultimate choice. But when all these elements were combined, this tire tackled them better than most competitors.
The tire utilizes rugged compounds. with open design features and stepped center edges for extra bites on wet and loose terrain, with connecting ribs employed in the shoulders to improve stability. Four circumferential grooves interlace with the sipes to evacuate water, while the zigzag shoulder designs work with independent blocks to grip the snow more tightly.
With this capable combination of traction and hydroplaning resistance, Sumitomo Encounter AT took less time to get used to muddy, dirty snow than other tires.
The tires only took some spins to crawl through the smud and snirt. And the car only fell slightly off-note for the first minutes before strengthening the contact points and breezing through the ride with relative ease.
But as we went further to deeper smud (about 5 inches), skidding appeared due to the sticky mud lingering on the tires. Light snow (below 8 inches) was amazingly smooth, and even deep snow traction did not feel that different during acceleration around corners.
When encountering slightly stickier mud puddles, the tire did show a few symptoms of contact fatigue, but nothing that a pair of snow chains could not fix. We also brought down the tire pressure to about 20 PSI to test the water, and found the tire to grip even better than it already did.
Sumitomo Encounter's performance on ice was unfortunately not as impressive as on snow, but still decent enough to keep serious slippage at bay. The tire also did well on dry and wet pavements, despite that hydroplaning issues could have been improved using lower wall angles.
Handling snow (with mud and dirt) well
Decent off-road traction
Great on on-road dry and wet pavements
Fairly smooth ride with acceptable road noises
Safe but underwhelming traction on ice
Hydroplaning still occurs
c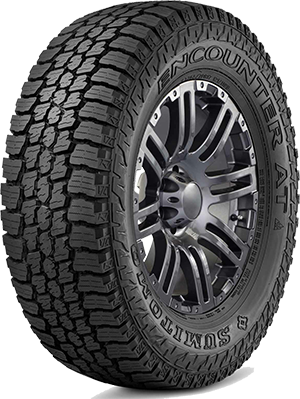 ---
4. Toyo Open Country A/T III
Best for Wet Traction in Snow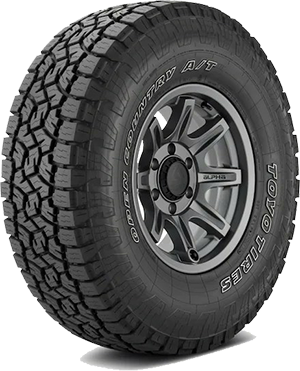 Tire Type
Off-Road All-Terrain
Tire Size
15″ – 22″
Weight
28.0 LBS – 76.0 LBS
Load Index
100 – 129
Load Range
C1 – XL
Speed Rating
– H: up to 130 mph
– T: up to 118 mph
Warranty
50,000 – 65,000
Ratings
8.7/10
When it comes to wet snow, Toyo Open Country A/T III is the best candidate out of the bunch.
It features specialized, chip-and-cut resistant compounds molded symmetrically to distribute void area more evenly and increase overall stability. At the same time, the multi-wave, three-dimension sipes lace with lateral grooves to bolster snow traction and reduce hydroplaning.
These sipes and grooves worked pretty great on wet on-road pavements and carried their neat self-cleaning abilities into snow terrains. The slightly drippy feel on the contact patch only lasted for a few initial minutes and gradually invited itself out the longer we rode.
Wet snow did get in but anchored weakly on the furthest part of the sidewalls and hence, barely caused any severe disruptions; we maintained quite an uneventful trip at 40 MPH and surged conveniently to 55 MPH with extra help from snow chains.
When encountering deeper patches of wet snow beyond 11 inches, the worst we experienced was slight stutters at tight crooks. Toyo Open Country recovered from slippage faster than expected thanks to even void area, taking less than 5 seconds to find its on-center feel before resuming like nothing had happened.
Traveling uphills or around wet mountain roads was similarly peaceful, and we did not count the typical hesitations around narrow curves as an actual drawback.
While not as grippy and responsive as on snow, the tire delivered a pretty tame performance on ice and still managed to give us extra traction when the steering wheel was properly pushed.
Its confidence in wet/dry and off-road terrains also checked most of our boxes, though the horrible tread noises on sand and mud should have been done away with deeper grooves.
Doing well on wet snow (light and deep alike)
Great dry and wet traction
Satisfying on off-road terrains
Pretty good treadwear
Lots of road noises
Ice performance was not as good as on snow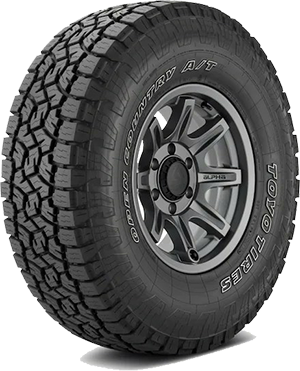 ---
5. Falken WildPeak A/T3W
Best for Off-Road Traction in Snow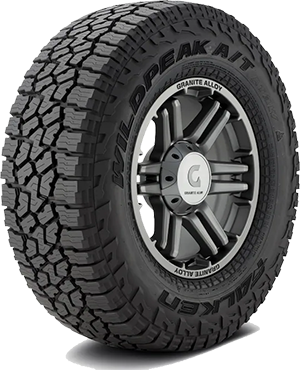 Tire Type
Off-Road All-Terrain
Tire Size
15″ – 22″
Weight
31.1 LBS – 84.0 LBS
Load Index
99 – 129
Load Range
C1 – XL
Speed Rating
– H: up to 130 mph
– T: up to 118 mph
Warranty
55,000
Ratings
8.6/10
Off-road, snowy trips are challenging even for winter tires, but Falken WildPeak A/T3W fought them really well.
It arrives with durable, chip-resistant compounds that receive extra support from stepped-down features and support ramps, offering more handling rigidity and fewer stone damages. The aggressive sidewalls keep sharp debris at bay, while 3D canyon sipes support higher-torque conditions to extend tread life and snow/wet grip.
We were pleased to find the heat-diffusion tech under the low sidewalls, which were supposed to remove heat but worked surprisingly well in cold temperature control, too. Falken WildPeak A/T3W was utterly unfazed in the face of chilly snow and off-road dirt, settling onto the track in less than 5 seconds and establishing instant, firm contact points on the rubber patch.
Accelerations beyond 55 MPH on snowy gravel roads did cause a few edge stutters due to less processing time against thicker dirt and snow packs. But other than that, things went smoothly for us. The tire ground through rugged patches breezily most of the time, seemingly delivering even more pronounced feedback when we pressed the steering wheel a bit firmer than required.
We could feel the tire cut through the powdery snow layer (about 4 inches), and right when it came into contact with the gravel, it threw small rocks away reminiscent of a dedicated off-road tire. Of course, the tires still lack the aggressiveness to climb on giant rocks, let alone snowy, rocky terrain.
Also, all these features lost most of their power when transitioning to ice, but that was a common issue with most AT tires in winter. Tread noises were tolerable at 30-40 MPH during straight-line driving, but needed significant improvements in any engagement of spirited driving.
In compensation, dry and wet traction was good (despite the sometimes muted cornering), and the tire knew how to palm over bumps without causing severe jostles.
Experiencing few troubles traveling off-road on snow
Quite satisfying riding comfort
Good dry and wet traction
Decent performance on off-road terrains
Annoying tread noises beyond 40 MPH
Occasional muted cornering
---
6. BFGoodrich All-Terrain T/A KO2
Best for Long-Lasting Tread Life in Snow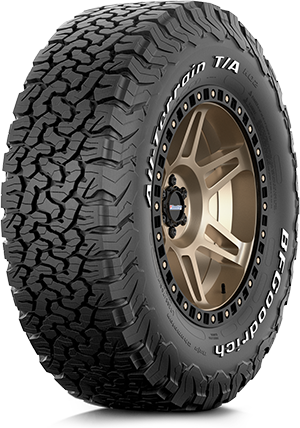 Tire Type
Off-Road All-Terrain
Tire Size
16″ – 20″
Weight
42.81 LBS – 70.72 LBS
Load Index
115 – 129
Load Range
C1 – E2
Speed Rating
– Q: up to 100 mph
– T: up to 118 mph
Warranty
50,000
Ratings
8.6/10
BFGoodrich All-Terrain T/A KO2 suffered from the least tread wear issues on snow among all AT tires we have tested.
On this tire, the cut-resistance compounds are molded with high-void patterns and interlocking blocks and sipes. Aided by the tough sidewalls (twice thicker than predecessors) and Serrated Shoulders (aid in clawing), the tire promises steering control and traction in deep snow or dirt. Sealing the deal is the single-strand bead, continuously wrapped for improved ride quality and uniformity.
All these features might feel a bit too soft on off-road terrain (hence BFGoodrich's slightly lower overall tread ratings than some competitors) but fit snow terrains perfectly. The rolls were not impressively strong but felt very reassuring for us, distributing concentrated pressure evenly to keep inconsistent wear patterns at bay.
Plus, thanks to the strong, tough sidewall coats, very little external damage could get deep enough inside to pave the way for cracks, hence the absence of any significant cuffs at the end of our test rides. Many American drivers have agreed in our survey that their tires still had about 20-25% tread left after crossing the 60,000-mile threshold.
Deeper snow of more than 10 inches dragged the tire back a little when we dived into low-radius corners, but that was it; the tread was not subjected to any abuse beyond its handling capability.
On another note, on-road wet traction was subpar than expected: BFGoodrich All-Terrain's confidence here was even behind its own off-road traction, allowing for a bit of hydroplaning during accelerations from 55 MPH onwards. We would also prefer a more cushioned feel when traveling through large road cracks.
Good treadwear on snow, decent on other terrains
Satisfying off-road traction
Excellent on-road dry traction
Less-than-stellar ice grip
Quite pricey
Underwhelming wet traction and hydroplaning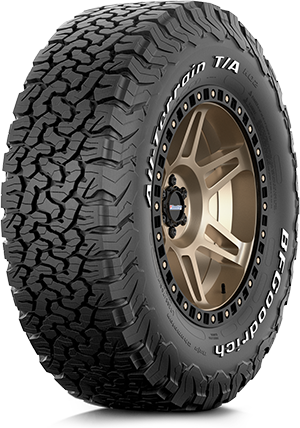 ---
7. General Grabber A/TX
Best Budget All Terrain Tire For Snow
Tire Type
Off-Road All-Terrain
Tire Size
14″ – 20″
Weight
28.0 LBS – 80.0 LBS
Load Index
95 – 127
Load Range
C1 – XL
Speed Rating
– Q: up to 100 mph
– T: up to 118 mph
Warranty
50,000 – 60,000
Ratings
8.6/10
General Grabber A/TX delivered higher-end qualities at a price much lower than the rest of our contenders.
Like other expensive tires, the compounds were also chip- and cut-resistant, molded acoustically with absorption layers underneath to swallow sounds and bumps. Meanwhile, the optimized, wide footprints distribute pressure evenly, and stone bumpers handle debris and rock drilling by expelling them out of the shoulder blocks.
There are also sidewall lugs (working on sidewall punctures) and interlocking designs of tread depths, multi-angled blocks, and traction notches. Together, they helped our tire find its footings very quickly after just 1/4 mile or so, and got over stutters around corners surprisingly fast despite our minimal steering inputs.
Snow did linger longer on the grooves as we entered deep zones (8 inches onwards) but rarely gave us the heavy-weighted drags often seen even in pricey tire models. We fluctuated between speed extremes in little drama, and even managed to sweep through tight corners at abrupt accelerations (0 to 40 MPH within three seconds) without major slippage.
Its ice traction, likewise, was on par or even better than some of the tires ranking above. Brakings were not phenomenal but sufficient, pulling to a generally safe, secure stop after 50 feet. Off-road handlings also left very little to complain given the upfront costs, treading on dirt more firmly than Falken WildPeak A/T3W (ranking at #5).
Unfortunately, the tire did not handle road cracks and texture inconsistency well. We were shaken to the edge of our seat every 3 to 4 miles. The lack of confidence in wet pavements did not sit well with our members, either.
Budget tire
Satisfying off-road qualities
Good dry performance with capable steering/cornering
Decent treadwear
Underwhelming ride quality, lots of bumps
Very bothersome road noises
---
8. Cooper Discoverer AT3 4S
Best for On-road Comfort in Snow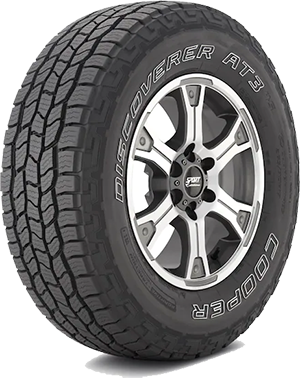 Tire Type
On-Road All-Terrain
Tire Size
15″ – 22″
Weight
29.0 LBS – 45.0 LBS
Load Index
99 – 117
Load Range
SL – XL
Speed Rating
– H: up to 130 mph
– T: up to 118 mph
Warranty
65,000 miles
Ratings
8.5/10
Cooper Discoverer AT3 4S's riding comfort on on-road snow is hard to beat.
This Discoverer tire utilized the Adaptive-Traction tech to combine silica-based compounds with a five-rib, open design, offering a better wet performance (snow included). The AquaVac channels work with lateral notches to evacuate water, while the micro-gauge sipes retain tread block security and add more traction on slippery surfaces.
But the most powerful snow aid is the Snow Groove tech, which uses saw-tooth edges for the outboard grooves to retain more snow stability. And it succeeded: our team members enjoyed the slick, polished manner Discoverer AT3 4S gathered itself on the snowy road, and encountered little to no acceleration issues even at tricky, low-radius curves.
The sidewalls might have faced more traction loss on off-road terrains but worked just fine during daily driving, embracing the road texture with the right balance of clicks and tire flex.
Revving to 55 MPH while navigating our way around merge lanes proved to be quite effortless as well. Cooper Discoverer AT3 4S decelerated on 5 inches of snow in the same composure as on 8 inches onwards, shaking itself out of the slight numb feedback (mostly due to cold temperature) to join the traffic uneventfully.
Little to no noise was detected when we cruised on snowy highways, though we assumed the snow more or less cushioned and lowered the sound. The tires gave off some growling noises on paved roads at 40+ MPH, though, but it seemed a no-brainer for all of us. Even when we pressed the gas pedal hard to 50+ MPH on snowy pavement, just some minor vibrations were at play, and slow-speed bouncing happened sometimes.
Its confidence felt a tad lacking on off-road terrains; but considering this is an on-road AT tire, the decent grip was already beyond our expectations. We were also pleased with the excellent dry traction and wet grip.
Great for on-road snow (both traction and comfort)
Excellent dry traction
Decent wet traction
Decent tread life
Not good for mud, sand, and gravel
Slippage on ice terrains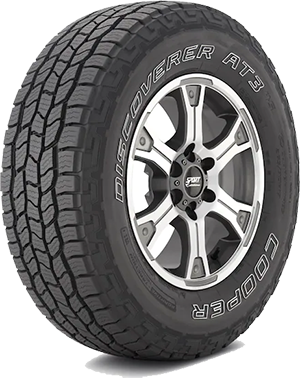 ---
9. Goodyear Wrangler DuraTrac
Best for Commercial Traction in Snow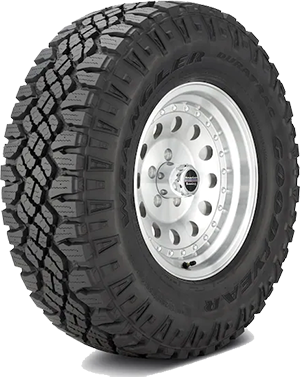 Tire Type
On-/Off-Road Commercial Traction
Tire Size
15″ – 22″
Weight
28.0 LBS – 76.0 LBS
Load Index
100 – 129
Load Range
C1 – XL
Speed Rating
– H: up to 130 mph
– T: up to 118 mph
Warranty
50,000 – 65,000 miles
Ratings
8.4/10
Commercial tires are usually a tad behind AT models, especially on snow, but Goodyear Wrangler DuraTrac is a delightful exception.
The Wrangler DuraTrac features rugged tread compounds to prevent tearing and chunking, especially during towing and heavy loading. The symmetric designs work with high center angles and large blocks to stabilize the tire's traction, while the zigzag sipes, TractiveGrooves, and stepped shoulders combine for more snow and mud's biting edges.
Our team particularly appreciates the rim locks and inbuilt rim protector, which prepared the Wrangler DuraTrac well against on-road and off-road abuse. The tire whisked off sticky, wet snow well and seemed undeterred by inconsistent, packed snow littered on rougher road patches, paving our car forward in a straight, non-dramatic line of 40 to 45 MPH.
We had little issue plowing away snow of 5 inches and below; and even when we exceeded that number as the weather grew more unfavorable, Wrangler DuraTrac still marched on with enough confidence, albeit a bit slower due to extra time spent on snow processing.
Snow-packed corners and off-camber bends rarely posed any actual traction loss (minus a brief delay at entries), and we managed to experiment with some wilder steering arcs using back-to-back accelerations/decelerations and hand-on-hand steering.
As this is a commercial traction tire, we loaded about 1,200 pounds of cargo on our pickup truck, and it navigated quite well on light snow (below 5 inches) at no more than 35 MPH. The tire refused to grip on deeper snow and kept swaying when we tried to haul a camper, so we recommend not towing anything on snow.
Ice traction was far from DuraTrac's highlights, but given the nature of commercial tires, the fact that it was more or less the same levels as some AT tires in this regard is already impressive. Its stable, reassuring footings on off-road terrains, especially dirt, also sat well with our team members.
However, the cornering and steering response in on-road dry pavements was downright lackluster compared to its own traction, and we did not like the intrusive, roaring road noises easily triggered by any slightest signal of boulder steering. All the cracklings and shakes when rolling over bumps should be improved, too.
Good traction on light and deep snow
Can withstand heavy load on light snow
Satisfying off-road quality, especially on dirt
Great dry traction
Underwhelming ride quality
Wet performance was decent but lacked confidence
So-so treadwear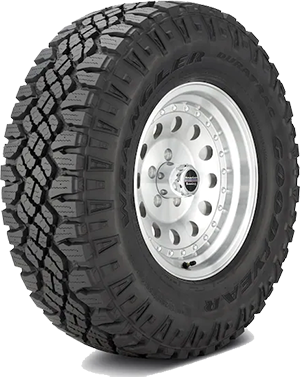 ---
10. Cooper Discoverer Rugged Trek
Best for Rugged Terrain Traction in Snow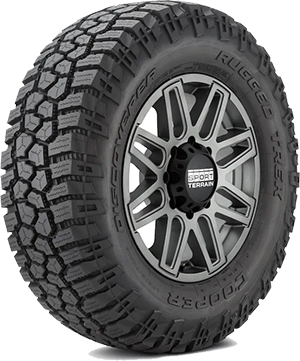 Tire Type
Rugged All-Terrain
Tire Size
16″ – 22″
Weight
41.0 LBS – 70.0 LBS
Load Index
111 – 126
Load Range
E1 – XL
Speed Rating
– Q: up to 100 mph
– T: up to 118 mph
Warranty
55000 – 60000 miles
Ratings
8.4/10
As the name suggests, Discoverer Rugged Trek is aimed with extra technology to deal with rugged patches, snow included. The symmetrically-molded compounds work with Stable Trac tech inside the inboard blocks to provide better control/stability, while the micro, omnidirectional gauge lends grip on rougher surfaces.
High-void, deep tread patterns reduce hydroplaning with the help of outer sipes, and Stone Blockades/Earth Diggers are blended into the shoulders and edges to keep dirt and stone drilling on rugged roads at bay.
The tire almost breezed over these terrains with only subtle turns of our steering wheel, especially when we kept speed drives civilized at 30 to 40 MPH: Cooper had more time dealing with the extra pressure at this mid-range rate. Accelerations to higher numbers led to a slight drag when navigating curves, but other than that, we could not observe any real issue with the grip capability.
Deep snow beyond 11 inches on rugged roads surprisingly did not give away as many fatigue symptoms as we suspected. The Earth Digger originally meant for dirt worked pretty well here, and with the help of snow chains, our car stayed on track most of the time.
Pass roads with lots of steep descents and ascents did send the car into more stutters than usual, but it recovered traction pretty quickly once we were past the critical danger zone. Its aggressive profile didn't sacrifice the road noise, as we only experienced some humming at low speed, and the wind seemed to swallow the noise when we revved up.
Likewise, the tire rolled very stably on off-road terrains and left little to be desired when it came to on-road dry and wet traction. However, considering this commercial tire class, one should not expect impressive treadwear life or consistent wear spots.
Confident in rugged snow
Superior traction on dry roads
Goot wet traction and off-road grip
Little road noise
Horrible on ice
Underwhelming tire life
Jitters on mountain passes at deep snow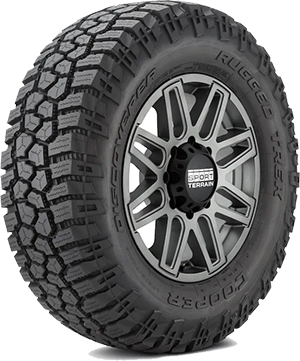 How to Choose The Best Winter All Terrain Tires
A few critical criteria to keep in mind during your winter all terrain tires purchase:
Tread design
Regardless of your preferences, the tread should be aggressive enough to provide more grip on ice and snow. Sipes would be welcomed, since they go with small rubber cuts that anchor road surfaces better.
Snow ratings
Certain AT tires have snow ratings (ex: 3PMSF symbols), meaning they could at least meet standard criteria in snow performance.
Temp ratings
Temperature metrics indicate to what extent the tire could go in colder weather. Tires that could perform in winter are often rated below 45 degrees F.
Traction compounds
Quality compounds in AT tires for snow should have a great balance between softness and stability to grip well while also handling unexpected mishaps with little issue. Refer to the list of materials involved and consult your manufacturers if needed.
Price
AT tires have quite a broad price range from $100 to more than $1000. Learn how to set your priority straight and set a good budget.
Assessing your driving habit is a good way to do so. For instance, cars that mostly go on-road would not likely need expensive, aggressive off-road AT tires.
Size Requirements
Ill-fitted tires could not work with your vehicles, obviously.
There is no need to worry about this issue if you drive your car straight to the tire shop for on-place replacements. However, for people buying tires online or for later DIY installments, ensure the tires fit the car's size metrics.
Conclusion
Vredestein Pinza AT and Falken WildPeak A/T Trail are the clear winners in our test.
Unlike competitors that showed inferior capability on ice, these two gave us enough stability and grip control to tread through even some slightly thicker ice buildups. The way they tackle other road conditions like off-road and on-road dry/wet pavements is also among the market's class leaders.
For money-saving drivers, however, General Grabber A/TX will be the ultimate choice. It does not dig terribly into your budget while still delivering decent (if not even better features than some expensive counterparts) performance in winter, off-road, and regular-driving conditions.
Here is the summary of the 10 Best All-Terrain Tires for Snow in the 2023 COR Wheels Tire Test:
| Tire Brand & Model | | | | | | | | | | | |
| --- | --- | --- | --- | --- | --- | --- | --- | --- | --- | --- | --- |
| Vredestein Pinza AT | 1st | 8.9 | 9.1 | 9 | 8.9 | 9.2 | 8.9 | 8.3 | 9 | 9 | 8.7 |
| Falken WildPeak A/T Trail | 2nd | 8.8 | 9 | 8.9 | 8.7 | 9.1 | 8.9 | 8.1 | 8.6 | 8.8 | 8.8 |
| Sumitomo Encounter AT | 3rd | 8.7 | 9 | 8.6 | 8.7 | 9 | 8.9 | 7.9 | 8.6 | 8.8 | 8.6 |
| Toyo Open Country A/T III | 4th | 8.7 | 9 | 8.7 | 8.6 | 8.9 | 8.7 | 8.1 | 8.4 | 8.6 | 8.7 |
| Falken WildPeak A/T3W | 5th | 8.6 | 8.8 | 8.7 | 8.5 | 8.9 | 8.7 | 8 | 8.5 | 8.5 | 8.6 |
| BFGoodrich All-Terrain T/A KO2 | 6th | 8.6 | 8.9 | 8.6 | 8.5 | 9 | 8.8 | 7.7 | 8.2 | 8.4 | 8.8 |
| General Grabber A/TX | 7th | 8.6 | 8.9 | 8.6 | 8.5 | 8.9 | 8.7 | 7.9 | 8.1 | 8.5 | 8.7 |
| Cooper Discoverer AT3 4S | 8th | 8.5 | 9.1 | 8.6 | 8.3 | 8.8 | 8.5 | 7.7 | 8.6 | 8.5 | 8.5 |
| Goodyear Wrangler DuraTrac | 9th | 8.4 | 8.4 | 8.3 | 8.5 | 8.9 | 8.9 | 7.7 | 7.6 | 8.1 | 8.7 |
| Cooper Discoverer Rugged Trek | 10th | 8.4 | 8.9 | 8.7 | 8 | 8.6 | 8.2 | 7.1 | 8.1 | 8.4 | 8.8 |
---
President & Automotive Expert at COR Wheels
Robert Herrera has been with COR Wheels for 17 years and has a great passion for the automotive industry. During his time at COR Wheels, he has driven and test-driven a variety of vehicles.
---