While expensive, premium tire models from reputed brands are usually a definitive guarantee of good performance, that is not always the case. A scour through the market still lands us on some of the best value tires with great traction and handling, which managed to surpass the rigorous evaluation criteria during our annual COR Wheels Tire Test.
Scroll through the article for more detailed breakdowns of their highlights.
In this article:
How Did We Test & Pick The Best Budget Tires?
As part of the annual 2023 COR Wheels Tire Test, 196 best-sellers are tested based on the six major criteria:
Winter/Snow Performance
Dry Performance
Wet Performance
Comfort
Treadwear
Price
Our eyes only set on models with a great price-quality ratio, not those of poor performance at a dirty cheap price. Verified feedback from our customer surveys was also involved during the scoring process. From there, the ten best contenders were singled out, which delivered great road manners without breaking the bank.
What Are The Best Cheap Tire Brands?
While cheap tire brands are abundant, only these six names pass most critics' tire quality assessments:
Sumimoto: Focusing on both commercial and passenger tires for cars and light trucks
Kumho: A wide range of tire types from friendly passenger vehicles to SUVs and 4WDs, specialist vehicles, heavy trucks, and buses
Laufen: Producing high-performance tires for buses, trucks, vans, cars, and SUVs
Falken: The renowned producer of light/medium truck and passenger car tires
General: With a rich century-long history, General offers 4×4 and SUV tires for daily adventures
Hankook: A brand recognized for extremely innovative tire technologies for SUVs, passenger cars, electric vehicles, buses, and even racing cars
Best Cheap All-Season Tires
1. General AltiMAX RT43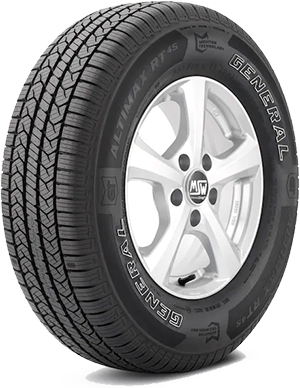 Tire Type
Grand Touring All-Season
Tire Size
14″ – 18″
Weight
15.0 LBS – 28.0 LBS
Load Index
84 – 103
Load Range
SL – XL
Speed Rating
– H: Up to 130 mph
– V: UP to 149 mph
Warranty
65,000 – 75,000 miles
Ratings
8.2/10
As one of the best grand touring tires from General, the AltiMAX RT43 models feature Twin Silica Compound with combinations of high-density and low-density layers, absorbing vibrations for more comfort. 
Its symmetric designs also introduce independent blocks and continuous center ribs (with suppression technology blended in) to control tread noise better. At the same time, the Sipe Design Tech and circumferential grooves increase extra biting edges, especially in slippery terrains.
The tire's confident grip on dry surfaces is obvious from the very first moments we settled on the asphalt roads. Minus the side-to-side initial shudders (that are actually quite common for grand touring tires), you will likely have no issue establishing contact points at 40 to 45 MPH and maintaining breezy footholds during gradual surges. Steering and cornering lacked some pronounced sharpness for aggressive driving but delivered more than enough composure during all our basic lane maneuvers.
Travels on slippery surfaces with littering wet leaves and mud also pose very little actual danger despite your driving skills. As a grand touring tire, AltiMAX RT43 naturally strips off some responsiveness and gives more way for a bit of hydroplaning, but you can be confident that none of them truly gets out of control. Even during very deep waterlogged patches, the tire still remained relatively poised with consistent steering and good preparation before carousels.
Regarding snow performance, we did not have high expectations – and indeed, AltiMAX RT43 was tolerable on light snow but already started to show clear symptoms of exhaustion whenever the S-curves or U-pins carried on longer than fifteen minutes.
Deep snow performances are even worse; except for leisurely striding below 30 MPH, it will be impossible for you to dive in road crooks or perform punctual skid corrections without the help of snow chains. Meanwhile, icy roads are barely rideable, judging by the excessive shakes around the flanks even when we marched on smoother textured roads; it would be better if you avoid them at all costs.
Great traction on dry surfaces
Decent wet performance
Pretty satisfying riding comfort
Can work on light, fresh snow
Unrideable on ice
Treadwear and road noise control could be better
---
2. Laufenn G FIT AS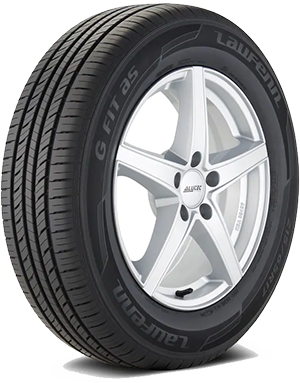 Tire Type
Grand Touring All-Season
Tire Size
14″ – 16″
Weight
17.0 LBS – 22.0 LBS
Load Index
88 – 98
Load Range
SL
Speed Rating
– H: Up to 130 mph
– T: UP to 118 mph
Warranty
60,000 miles
Ratings
8.2/10
Another touring tire worth mentioning, Laufenn G FIT AS molds its carbon tread compounds into symmetric patterns, working with the 5-pitch rib blocks and chamfered edges to aid riding comfort. The optimized tire profile distributes weight, while the tie bars and shoulder blocks connect with each other to even out treadwear.
At the same time, the circumferential grooves help evacuate water. There are also multiple sipes and notches combined for extra composure in wintertime.
As such, Laufenn G FIT AS performed with as much confidence on dry terrains as its rival General AltiMAX RT43, rarely getting fazed out by our abrupt accelerations or directional changes at unexpected corners. Furthermore, you will find its steering response to be even a notch better than the AltiMAX RT43; oversteering still sent the car to nervous stutters just like any touring tire, but the way Laufenn G recovered from it was surprisingly impressive.
Ride quality is also one of the tire's notable highlights, trampling over road cracks with enough subtlety that we only felt faint thuds from the cabin. Slightly rugged paths like cobblestones or gravel roads are also unlikely to give you a real headache. Even with one-hand steering, you can navigate around roadblocks or overtake other vehicles in relatively seamless strikes, only minus some harmless bumps on graded ascents.
When we entered a light snow road of about 4 inches, Laufenn G FIT AS delivered unexpectedly stable footings. The occasional drifting during accelerations could be easily controlled with snow chains; plus, our combined weight (six people, approximately 960 lbs) did not take a toll on Lauffen G's grooves as much as we thought. You can tow extra trailers and cargo when in need.
Deep snow and ice performances were just as delightful; while slippage happened more often, we could definitely tell they were still among the best ranks. Guaranteed no blind curves or glazed ice, you could actually use Lauffen G as a winter tire.
On another note, prepare yourself for disappointment regarding other metrics. Wet traction is lackluster (the fact that we held our ground on 4 inches of standing water even worse than on light snow is indicative), and loud tread noises are very frequent beyond 50 MPH.
Pretty good handling in dry conditions
Quite capable on light snow terrains
Decent on deep snow and ice
Disappointing wet performance (for a grand touring tire)
Unimpressive noise control and treadwear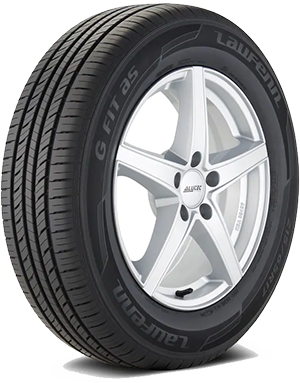 ---
3. Sumitomo HTR Enhance LX2
Tire Type
Grand Touring All-Season
Tire Size
15″ – 18″
Weight
18.0 LBS – 37.0 LBS
Load Index
82 – 104
Load Range
SL – XL
Speed Rating
– H: Up to 130 mph
– V: UP to 149 mph
Warranty
75,000 – 90,000 miles
Ratings
8.2/10
Despite the low price, HTR Enhance LX2 embraces all the all-season trademarks of Sumitomo with microparticulate, high-silica compounds molded asymmetrically to promote reliable yet flexible handling.
Optimized groove depths reduce concentrated pressure, while the extra silica content enhances more slippery rip (aided by anti-hydroplaning lateral notches and circumferential grooves). Sealing the deal are the extra tread sipes that deliver more biting edges for ice and snow, working with the zigzag 3D sipes to retain block rigidity.
No wonder Enhance LX2 was such a pleasant performer on dry roads. While its traction was a tad behind the other two grand touring tires, LX2 compensated for that slight oversight with much more reliable cornering and steering: you will not once feel your car shimmying out of line even at the wildest leans. Revving to 75 MPH is not common but totally doable on favorable, smooth asphalts with little traffic, which boosts your spirited souls to new heights without sacrificing safety.
Cushioned feels and noise controls were not exactly exceptional but definitely rank themselves on the upper half of our list. The annoying bumps and screeching mostly happened around the first 30 minutes or so and gradually whitened themselves out the longer we rode. Plus, if you travel alone (no cargo or a second passenger), noises will be kept at the barest minimum.
Except for very deep snow from 7 inches onward that stalled the car at tricky corners, HTR Enhance LX2 seemed to cope well in other wintertime terrains. Even ice traction was pretty great for a touring tire and landed easily in our Top 5; you should be able to travel on extended, straight ice roads just fine below 45 MPH.
In another vein, since HTR Enhance LX2 is still a budget tire, you might find the constant drifting at water beyond 5 inches rather hard to ignore. Hydroplaning already occurred in the beginning and got worse on inconsistent patches.
Great dry on-road traction
Surprisingly good on light snow and ice (for a touring tire)
Decent riding quality
Rather underwhelming wet traction
Short tread life
Sometimes unrideable on deep snow
---
4. Riken Raptor HR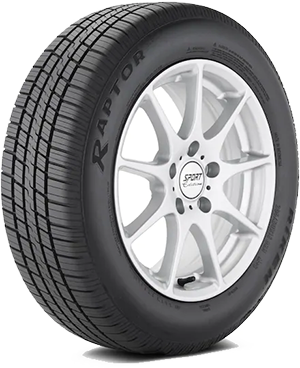 | | |
| --- | --- |
| Tire Type | Grand Touring All-Season |
| Tire Size | 14″ – 18″ |
| Weight | 15.0 LBS – 28.0 LBS |
| Load Range | SL |
| Speed Rating | – H: Up to 130 mph |
| Warranty | None |
| Ratings | 8.1/10 |
With symmetric all-season compounds and continuous center ribs, Riken Raptor HR simultaneously promotes good steering response and cornering. The various lateral notches and circumferential grooves resist hydroplaning, while each in-block sipe delivers more bites for year-round stability.
Despite these seemingly simple designs, Raptor HR has very excellent dry performances that easily surpass almost all other grand-touring tires on the list. Its grip on pavement grooves was established without a second reminder; after a few minimal inputs, the tire already composed itself well at 55 MPH and navigated around obstacles with graceful yet sturdy strikes.
You can rest assured with the capable steering, too, especially on highways: the continuous center ribs adapted themselves well to constant speed changes and recovered from traction loss very quickly. At doglegs or carousels, oversteer and understeer were almost non-existent – a huge competitive edge if you have to travel through tricky roads with multiple entries/exits often.
Like most rivals, Riken Raptor HR also does well with its riding quality. Bumps and coughs were not completely off the hook for us, but the way they protested weakly under the contact patch was predictable and soothing to a certain extent – rarely being intrusive enough to rob us of our comfort. And guaranteed you use the tire mostly for leisurely/casual riding, noise control is actually pretty decent; the sounds only became more obvious on mountain passes or construction-site roads and stayed tamed in the rest.
We did not have high expectations for wet and snow performance considering the tire's price; yet, Riken Raptor HR still disappointed us.
Slow wet travels only stayed uneventful on straight-line paths with zero corners, while wintertime traction bottomed the entire list with horrible internal control on almost every road section. Worse, driving on icy roads is especially dangerous regardless of your chosen driving rate, posing high risks of accidents.
Excellent dry performance
Good cushioned feel with acceptable squeaking noises
Decent travels on wet terrains (given no corners and accelerations)
Bottoming the list with horrible wintertime performance
Little wet flexibility dealing with tricky crooks and speed changes
---
Best Cheap SUV All Season Tires
5. Kumho Crugen HP71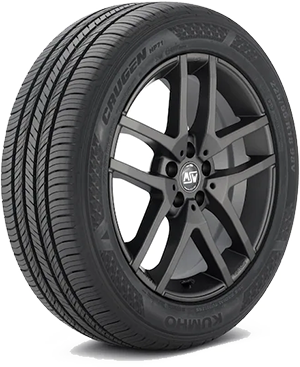 Tire Type
Crossover/SUV Touring All-Season
Tire Size
16″ – 22″
Weight
26.0 LBS – 44.0 LBS
Load Index
95 – 116
Load Range
SL – XL
Speed Rating
– H: Up to 130 mph
– W: UP to 168 mph
Warranty
60,000 – 65,000 miles
Ratings
8.0/10
Leading our SUV/Crossover tire competition is the affordable Kumho Crugen HP71, shaped into a symmetric, five-rib design blended in by the Variable Pitch Tech for easier rotations and comfortable rides. The rigid center combines with the strong shoulders to aid steering response and handling.
Wrapping up the package is the multiple shoulder/circumferential grooves and rib notches that whisk off water. The independent blocks and sipes create more edges in inclement weather.
Our team was generally satisfied with Crugen's impressive composure on regular driving roads, refilling traction loss and stutters very well within controlled frames to sidestep unexpected drifting at critical turns and lane merge entries.
Spirited members of our team had quite a blast with constant, back-to-back accelerations thanks to the aggressive blocks, but you will likely have the same delightful experience even as a cautious beginner. Crugen HP71 rarely over-reacts the same way most standard tires do at 40 to 45 MPH, handling road bumps with pretty great subtlety to ensure basic cushioned feels for you in most driving situations.
While snow performances were not as great as on dry surfaces, the great news is that they were very predictable. Slippages happened often for us on light snow and worsened on thick ice build-ups, but never got to the point of downright unrideable. You can use snow chains (preferably on four tires, but two fronts are fine in favorable weather) to choke out extra actions around corners or on extremely wet roads with mud and snow melt interlaced.
Unfortunately, like most cheap all-season tires, Kumho Crugen HP71 is not exactly the smoothest on wet terrains. Straight-line maneuvers (with slight veering when necessary) were acceptable, but any slightest signal of forceful steering will send your car straight fumbling. And considering how the tire protested loud and clear at beyond 55 MPH, you should not expect spectacular tread life with HP71, either.
Great dry traction and steering/cornering
Pretty decent wintertime traction (for an SUV tire)
Controlled composure on road cracks
Underwhelming wet traction and hydroplaning resistance
Treadwear rate is at the near-bottom
---
Best Budget Performance Tires
6. Falken Azenis FK510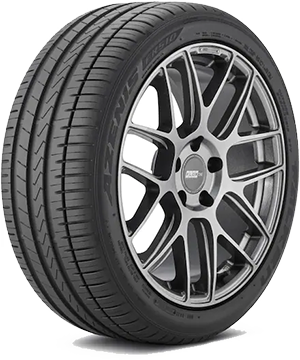 | | |
| --- | --- |
| Tire Type | Ultra High Performance Summer |
| Tire Size | 17″ – 22″ |
| Weight | 20.0 LBS – 31.0 LBS |
| Load Range | SL – XL |
| Speed Rating | Y |
| Warranty | None |
| Ratings | 8.2/10 |
This representative ultra-high-performance summer tire is optimized with semi-solid centers and wide shoulder blocks for greater dry traction and quick steering response. The four circumferential grooves promise non-stop traction, while the hybrid under-tread caps and 4D Nano Tech offer higher-speed stability and rigidity.
Our experiment with dry performance went on fairly smoothly. Sure, you can sense a slight lack of unwavering footholds near the borderline (as often seen in expensive tires). Still, this much traction is more than enough to get you through basic reversing, lane changes, or countersteering with great confidence.
And judging by how our oversteer accidents compensated for themselves quickly with enough steering consistency, you will likely have no trouble dealing with tighter corners like hairpins or off-camber bends, either.
The tire grew a little less sure-footed entering deep water zones of 5 inches or more, but the lateral notches and circumferential sipes still did quite a great job here. Our car occasionally got dragged down a little by the heavy water layers yet shrugged itself off within only 3-4 seconds, becoming more and more stable once the car finally caved itself onto the road textures.
We suggest a general driving speed of 40 to 45 MPH, but feel free to rev higher than that if you have already traveled through such roads numerous times before and can predict the roadblocks/sticky patches.
Azenis FK510 did not produce as many jostles as we expected when entering rougher landscapes – a great competitive edge if you are a fan of bumpless rides. Unfortunately, the loud noises at corners and U-turns take most comfort scores of this tire; you should also brace yourself for sudden, horrid screeching during cold weather or post-rain driving endeavors.
Stable on dry roads
Great wet traction and hydroplaning resistance in water below 5 inches
Pretty bumpless in casual driving
Horrid screeching
Not dealing well with cold temperatures
---
7. Sumitomo HTR A/S P03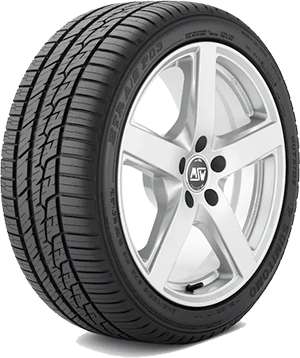 Tire Type
Ultra High Performance All-Season
Tire Size
15″ – 20″
Weight
18.0 LBS – 36.0 LBS
Load Index
83 – 108
Load Range
SL – XL
Speed Rating
– H: up to 130 mph
– W: up to 168 mph
Warranty
45,000 – 65,000 miles
Ratings
8/10
Sumitomo HTR A/S P03 incorporates silica-enhanced, asymmetric compounds to reduce deformation and improve stability. High-tension apex strengthens sidewall rigidity, while the fin design (within the intermediate ribs) whisks water and slush for better hydroplaning resistance.
At the same time, there are the Miura Ori sipes within outboard rips that maintain road contact on slippery surfaces, aided by cross-design sipes/grooves.
With such a streamlined design, HTR A/S P03 carries itself with excellent composure into regular driving. There was a great spread-out balance between steering, cornering, and traction that felt very comforting for us at high speeds (above 55 MPH) and even around blind curves.
Hence, with consistent strikes and on-time handbrake turns, you can even recover from understeers and hug the inner lines in breezy strikes toward all corner exits. Wild leans on highways barely pose much trouble, either.
Changing between road textures is also delightful thanks to HTR A/S P03's well-built silica layers, though we could not help but notice the significant reduction in on-center feel as we entered wet bridges. Fortunately, you can trust HTR A/S P03 to retain its aggressive footings here much better than most competitors in the tire industry, still trampling water down in decent intervals thanks to the fin design. With tamed maneuvers that do not cross extreme boundaries, the chances of accidents are low, even in mid-storms and heavy downfalls.
Still, we had to admit a very obvious lackluster feel regarding snow traction. It is much better than touring or all-season tires, but considering that this is an ultra high-performance tire, you might have expected much better wintertime grip.
All in all, slippage on snow and ice could still be controlled at below 35 MPH during straight-line endeavors in our test (even better if there were snow chains); but other than that, you have to tread with more caution.
Pretty stable on dry surfaces
Great balance between traction and steering
Generous treadwear warranty of 65,000 miles
Underwhelming in every other metrics (for an ultra high-performance tire)
---
Best Budget All Terrain Tires
8. Falken WildPeak A/T3W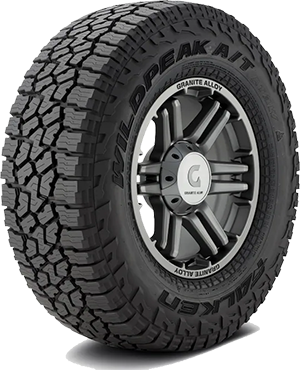 Tire Type
Off-Road All-Terrain
Tire Size
15″ – 22″
Weight
31.1 LBS – 84.0 LBS
Load Index
99 – 129
Load Range
C1 – XL
Speed Rating
– H: up to 130 mph
– T: up to 118 mph
Warranty
55,000
Ratings
8.6/10
Few cheap AT tires could surpass the classic Falken WildPeak A/T3W. Right from the design, this affordable tire already impresses with optimized compounds that can handle damage even on off-road terrains.
Step-down construction features and support ramps promote handling stability while keeping stone drilling at bay, and the aggressive upper sidewalls prevent sharp off-road debris and choke out extra off-camber traction. Last but not least, there are capable 3D sipes that support tread blocks in high-torque driving conditions.
Even when taking out the affordable price, Falken WildPeak A/T3W is still easily one of the best off-road AT tires overall with its amazing performance on off-road dirt. Loose dirt was whisked off easily thanks to the aggressive sidewalls, resulting in consistent but very faint drag that barely affected our ride even when we revved up to 60 MPH.
Even hard-packed dirt is unlikely to stall your car on its powerful track, bonding with the 3D sipes as breezily as any touring tire on typical dry roads. Minor stutters still occurred at sudden directional turns, but they were barely considered an issue in the grand scheme of things: feel free to choose any driving rate you like (though preferably below 65 MPH and stick to it until the end.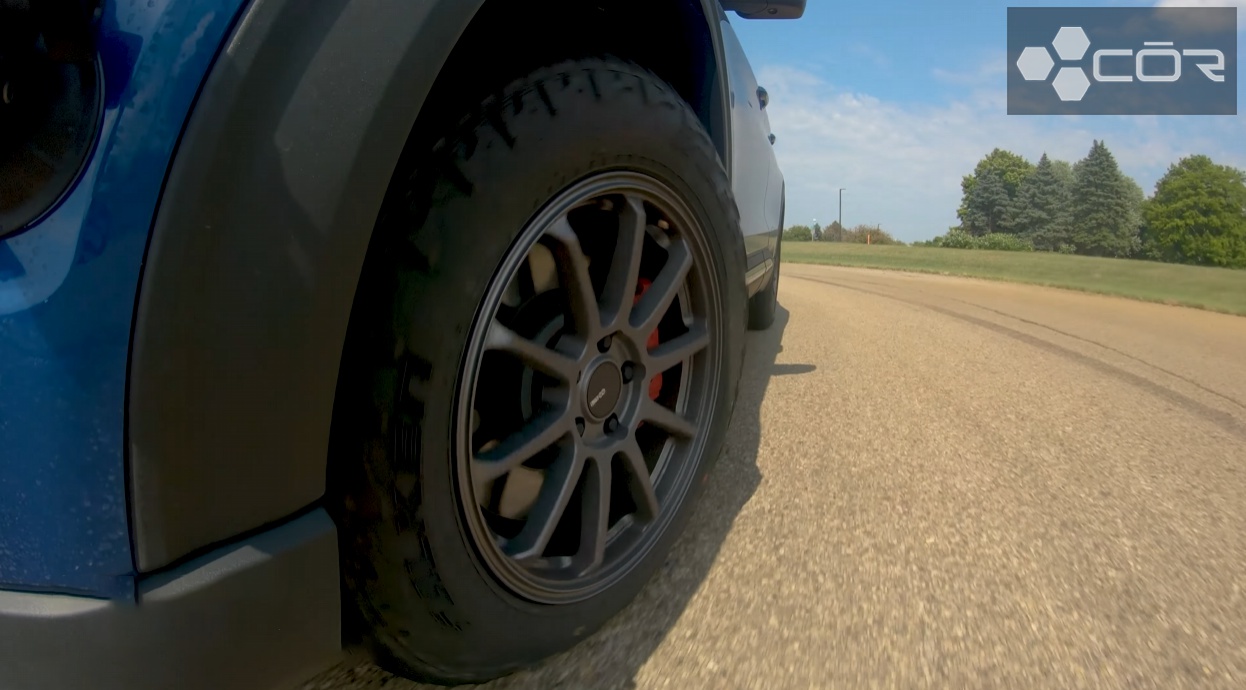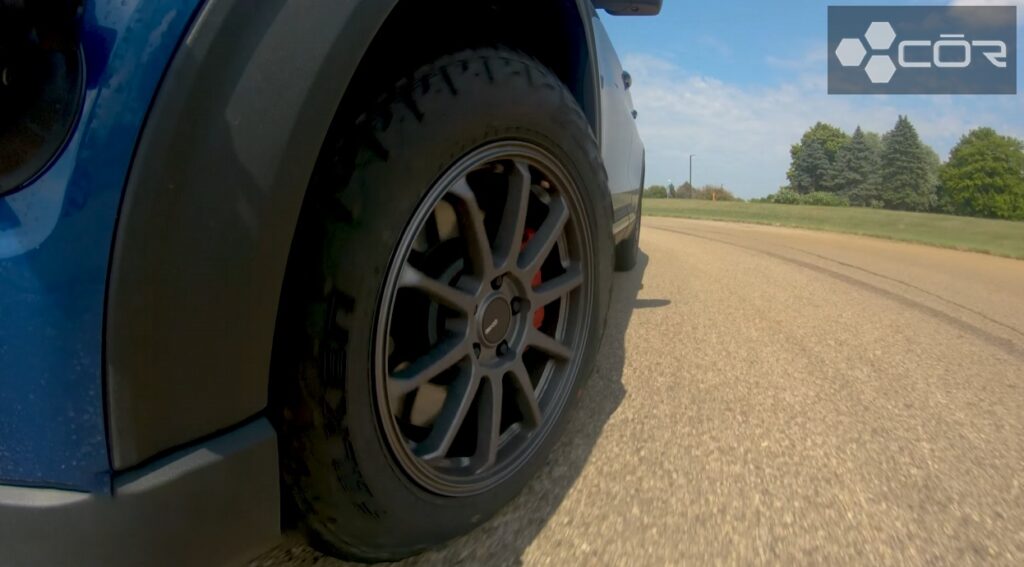 Softer terrains like sand and mud were not as compatible with WildPeak A/T3W as off-road dirt, but predictable and controlled steering maneuvers did not stay out of reach. We experimented with diverse steering techniques – even resorting to one-palm control around carousels – and did not really encounter any danger.
Burnouts under heavy loads are also the last thing you need to worry about, since our attempts to tow 1500-lb trailers through thick sand dunes were pretty uneventful (save for brief heavy stalls during U-turns).
Given that much boldness on off-road terrains, there is little doubt about WildPeak A/T3W's boundless certainty when returning to dry on-road tracks: traction loss was such a rare event for us that one could practically consider it non-existent.
Even snow performances surpass all expectations with the powerful plowing grooves, allowing you to use it as a snow tire for the rest of winter seasons, ice roads included.
Extremely capable on all on-road and off-road terrains (none below 8)
Good riding quality
No glaring feedback
Noise control could have been slightly better
---
9. Firestone Destination A/T2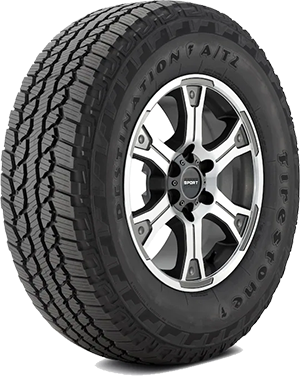 Tire Type
Off-Road All-Terrain
Tire Size
15″ – 20″
Weight
15.0 LBS – 35.0 LBS
Load Index
77 – 111
Load Range
SL – XL
Speed Rating
– H: up to 130 mph
– W: up to 1868 mph
Warranty
55,000 miles
Ratings
8.5/10
Firestone Destination A/T2 is formed symmetrically with ample void areas and solid ribs, offering constant road contact without sacrificing much riding comfort.
HydroGrip Tech with deep grooves enhances hydroplaning resistance and wet handling, while the aggressive shoulder and Stone Rejecters deal with off-road terrains. There are also extra tread notches and a heavily-siped tread pattern that earn the tire a 3PMSF symbol for wintertime conditions.
As an off-road AT tire, A/T2 did its job excellently on off-road dirt. Even when we traversed rutted trails with deep furrow, the tire felt planted and stable, taming themselves in surprisingly clean cuts thanks to the ample void areas. Even our leisurely shuffles did not affect the tire's powerful bites during accelerations, so you will likely experience the same breezy contact-patch feel when diving into more dynamic corners or outward leans.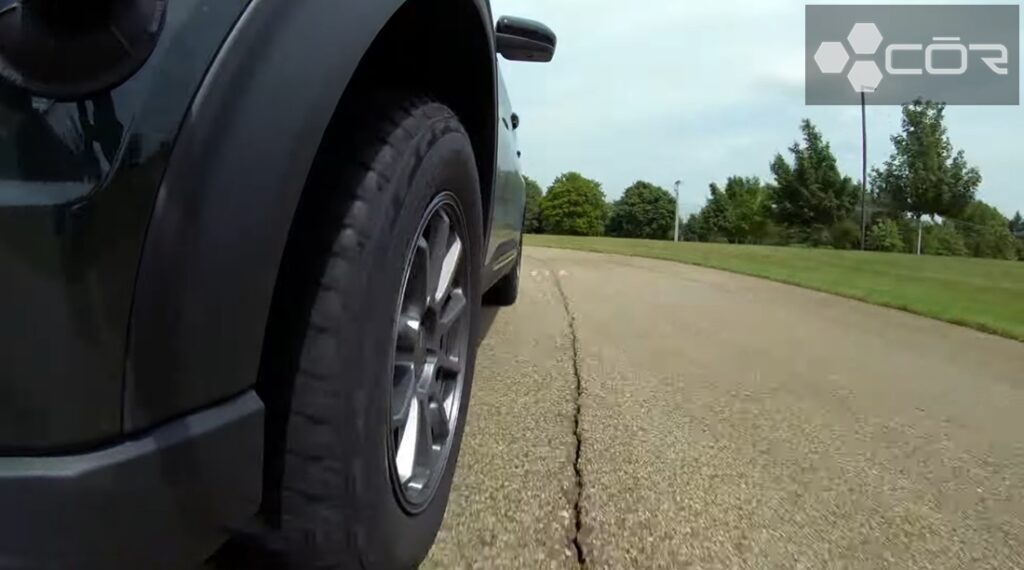 Just like its rival Falken WildPeak A/T3W, you will probably observe more frequent drifting on loose terrains, especially on wet mud or hot sandy sales with inconsistent depths. But again, aside from some follow-up annoyance and slight comfort reduction, no real danger is at play. If you are a seasoned everyday driver, pushing the car out of these heavy drags actually only takes seconds; plus, once the critical risky zone was over, we even managed to accelerate to 65 MPH in little to no drama.
Off-road quality aside, Firestone Destination A/T2 is a huge pleasure on on-road terrains. Contact points remained sharp and grippy, unfazed at any abrupt steering changes; and when facing deep stagnant water from 4 inches (especially on highways and bridges), A/T2 adapted itself quickly by flexing the aggressive shoulders to the fullest to keep rainwater under control. It's a true delight for your daily driving or non-challenging adventures.
Riding quality is actually very pleasant for an off-road tire, so no big complaints here – though some of our members did wish for less screeching in cold mud, snow, or water below 31 degrees F.
Great handling of off-road dirt
Excellent traction on dry surfaces
Confident in wet conditions
Satisfying snow manner (for an off-road AT tire)
Good riding quality
Screeching in cold weather
Performances on loose off-road terrains could still be better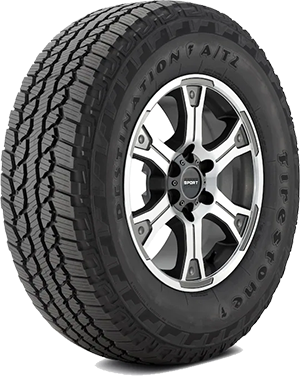 Best Cheap Winter Tires
---
10. General Altimax Arctic 12
| | |
| --- | --- |
| Tire Type | Winter/Snow |
| Tire Size | 14″ – 19″ |
| Weight | 17.0 LBS – 35.0 LBS |
| Load Index | 86 – 108 |
| Load Range | XL |
| Speed Rating | – T: up to 118 mph |
| Warranty | none |
| Ratings | 8.4/10 |
This winter-focused tire is strengthened with numerous features, one of which is the directional patterns with arrow-shaped ribs that promote on-center stability.
Optimized tread contours distribute pressure more evenly, while the lateral notches and angled grooves take care of hydroplaning issues. General also offers well-placed serrated sipes and angled blocks to provide more confident edges on slippery surfaces.
Indeed, Altimax Arctic 12 exceeded all our wildest expectations with its smooth, almost bumpless 55-MPH strikes on light snow below 5 inches; the tire handled cold, wet weather so well that traction loss was swallowed just as quickly as they came.
No extra chains or studs are required for you to accelerate near 75 MPH on highways, and even stickier snow with mud and rainwater interlaced can barely choke the tire out of track. Some of our much more expensive winter tire contenders could not reach the same aggressiveness during the test.
The winter-focus features will also likely translate well to your deep snow adventures: our grooves and sipes only fainted during the first few minutes and adapted themselves to the increased snow volume quickly. Tight-neck corners are a non-issue thanks to the well-built continuous ribs, and given slightly more advanced countersteering, you can actually handle blind curves without putting the car at accident risks.
Better yet, even on ice terrains (one of the sloppiest driving surfaces), Altimax Arctic 12 rarely lost composure. Hiccups happened from time to time on thicker ice build-ups, but they were predictable enough not to throw us off track.
Beginners might want to keep things below 40 MPH for safety reasons – but if you have beyond-average driving skills, just drive on these roads as you usually do on regular streets, aided by punctual decelerations at corners.
Snowless wet terrains also work pretty well with Altimax Arctic 12, as the tire's snow-oriented features can adapt to rainwater to a certain extent. However, you should not expect too much for dry traction; there was a frequent, rough gritty feel under the contact patch that did not sit well with us, and steering delays happened every 4-5 miles during long curves.
Excellent wintertime performance across all terrains
Adapting well to wet roads
Decent riding comfort
Feeling rough on dry roads
Occasional steering delays
---
How to Choose The Right Budget Tire Without Sacrificing Quality
Do research. Find the tire's review from our COR Wheels team or in trustable magazines and forums. Even a word or two from someone you know who already used the tire can help.
Assess your needs. Since you do not plan on spending a lot of money, be stricter with your prioritizations. For instance, an off-road AT tire is unnecessary (even if it is very cheap) if you barely venture off-road.
Consider purchasing used tires. Sometimes, used tires are a great money-saving method – provided that their condition is mostly intact. Ensure you have inspected the tire shop or mechanic's quality before spending money on any type of tire.
Shop around. The same tire model might have different pricing according to different policies and regions, so research several retailers/stores to confirm the best tire price.
Inspect the warranty. A tire at a slightly higher price range but generous warranty policies can actually save more money than you would think. Hence, do not just look into the upfront costs during your browsing.
Conclusion
Falken WildPeak A/T3W is our ultimate pick for its excellent, all-around performance for both light off-road and on-road terrains despite being one of the cheapest tires. But if you mostly travel on non-challenging roads and prefer casual approaches, a set of pretty high-quality tires like Falken Azenis FK510 should do without costing much
Here is the summary of the 10 Best budget tires in the 2023 COR Wheels Tire Test:
| Tire Brand & Model | | | | | | | |
| --- | --- | --- | --- | --- | --- | --- | --- |
| Falken WildPeak A/T3W | 1st | 8.6 | 8.8 | 8.7 | 8.5 | 8.5 | 8.5 |
| Firestone Destination A/T2 | 2nd | 8.5 | 8.9 | 8.6 | 8.1 | 8.6 | 8.4 |
| General AltiMAX RT43 | 3rd | 8.2 | 8.6 | 8.4 | 7.3 | 8.4 | 8.2 |
| Laufenn G FIT AS | 4th | 8.2 | 8.6 | 8 | 7.8 | 8.4 | 8.2 |
| Sumitomo HTR Enhance LX2 | 5th | 8.2 | 8.7 | 8.4 | 7.3 | 8.5 | 8.2 |
| Falken Azenis FK510 | 6th | 8.2 | 8.6 | 8.4 | N/A | 8.1 | 7.5 |
| Riken Raptor HR | 7th | 8.1 | 8.8 | 8.2 | 6.9 | 8.4 | 8.3 |
| Kumho Crugen HP71 | 8th | 8 | 8.7 | 8.2 | 7.4 | 8.2 | 7.6 |
| Sumitomo HTR A/S P03 | 9th | 8 | 8.7 | 8.3 | 7.3 | 8.1 | 7.8 |
| General Altimax Arctic 12 | 10th | 8.4 | 8.3 | 8.6 | 8.9 | 8 | 8.4 |
---
President & Automotive Expert at COR Wheels
Robert Herrera has been with COR Wheels for 17 years and has a great passion for the automotive industry. During his time at COR Wheels, he has driven and test-driven a variety of vehicles.
---