Goodyear Assurance MaxLife embraces its predecessors' highlight strengths while adding a few add-ons to the sidewall and groove designs for more balanced handling across diverse weather ranges. Positive customer feedback has been churning out since release, though the tire's exact position in the tire industry and compared to other competitors is a question that still needs addressing.
Our COR Wheels team has compiled a detailed review regarding MaxLife's competency and durability during real-life performances; scroll for more detail.
In this article:
Goodyear Assurance MaxLife Specifications & Features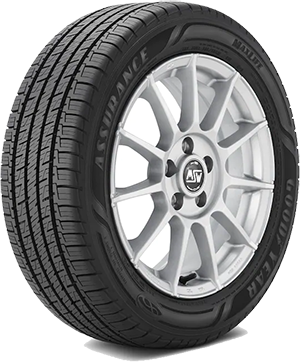 Tire Type
Standard Touring All-Season
Tire Size
15″ – 20″
Weight
23.0 LBS – 35.0 LBS
Load Index
87 – 110
Load Range
SL – XL
Speed Rating
– H: up to 130 mph
– V: up to 149 mph
Warranty
85,000 miles
Ratings
8.3/10
Assurance MaxLife has been specifically designed to assist coupes, crossovers, minivans, and sedans in preserving better all-season grip and tread life across all terrains, wintry conditions counted.
Its symmetric patterns feature continuous center ribs that deliver constant tire-road contact with stable on-center feels.
The intermediate rib introduces the Wear Gauge, a visual indicator that informs drivers of the tire's current tread depth. That way, you will have updated insights on MaxLife's condition at any desired timing – rather than only being notified when the tread depth already nears its limits.
Half-closed shoulders and intermediate notched ribs keep straight tracks during highway endeavors and provide more wet block edges. They also work with the circumferential grooves to whisk water off the tire and strengthen anti-hydroplaning qualities.
Multiple sipes enhance aggressive footholds in severe weather.
Goodyear Assurance MaxLife Review & Performance Test Result
We chose the 205/55R16 tire size as the representative version of Goodyear Assurance MaxLife during our 2023 COR Wheels Tire Test. It was used on the 2022 Toyota Prius Prime in June-July (Summer evaluations) and January (Winter).
1. Dry Performance: 8.9/10
Dry Traction: 9/10
MaxLife delivered quite a delight on dry pavements. Smooth asphalt with well-built grooves and texture density was an obvious given at our tamed 40-MPH starter, so we allowed the car to rev higher towards 55 MPH while diving through chip seals and rougher road sections. Toyota did not slip even then, with an almost unbreakable tire-road bond that only grew stronger once the tread patterns finally learned their flexes around our driving habits.
Highway endeavors felt slightly shaky during initial bites; but just as with regular streets, those stutters settled themselves quickly. You will find outward leanings at tightly-closed curves much safer than expected, thanks to the sturdy on-center and intermediate ribs that provided instant support to fall back on whenever unexpected traction losses around the flanks occurred.
Toyota adapted with great confidence when transitioning from highway exits to gravel roads, though we could not help but notice a slight muter feel whenever sharp engagements were involved at critical lane change entries. There was also a minor dragging feel due to the sticky dirt that, while not compromising the car's traction, could bother you during extended trips.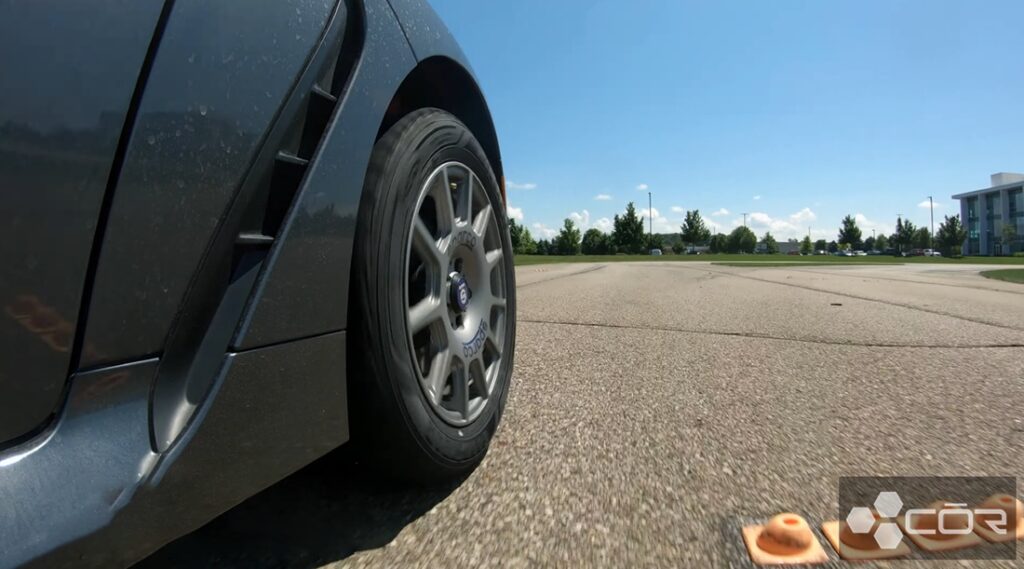 Corner Stability: 8.8/10
Assurance MaxLife was very assuring (just like its name) regarding tough cornering attempts. Our car admittedly threw itself into corners quite abruptly from time to time, yet the tire settled drifting wavers in quick succession with its sturdy on-center rib.
Using the throttles and brakes simultaneously mid-way boosted the tire's efficiency by several more notes, rev-matching with aggressive confidence that allowed our car to downshift to a very smooth entry and exit.
Tighter corners did not pose as much difficulty as we had thought, though the way MaxLife's contact patch hugged the liner was not always consistent. You should keep things civilized at 40 MPH and gradually surge to higher limits once the danger zone is over.
Steering Response: 8.8/10
We were pleased with MaxLife's responsive steering feedback during straight-line and cornering endeavors alike.
The half-closed shoulders and intermediate notched ribs did a great job gapping the communication hole to align responses and inputs in close proximity – hence our intimate vibing with MaxLife's contact points even at muted highway speeds. There was also a gradual yet punctual adaptation between directional changes that harmonized the car's successive momentums well without throwing beginners off track.
On another note, short-distance steep slopes tended to wear out MaxLife after extended driving. While the steering was not entirely stripped of its sharpness, it did feel quite distant in critical leanings or switches between hairpins; you should avoid too-dynamic handlings around these road crooks and stick with more predictable steering techniques.
2. Wet Performance: 8.3/10
Wet Traction: 8.3/10
Wet-road traction was alright but could have been better.
Shallow, drying puddles or deep-logged water alike was actually an equal non-issue when we drove below 50 MPH. This moderate driving rate gave MaxLife enough time to handle water layers under the contact patch and choke off heavy drags under the tire, keeping our car in great balance from the beginning into 4-5 miles of the ride.
However, once you pass the 50-MPH benchmark, even moderately damp surfaces will give your vehicle quite a hard time – which is a bit disappointing for a standard touring tire. In our case, shuffle steering combined with handbrake turns was enough to maintain most of the tire's composure during straight-line driving, though the stutters returned once more as we tackled carousels and doglegs.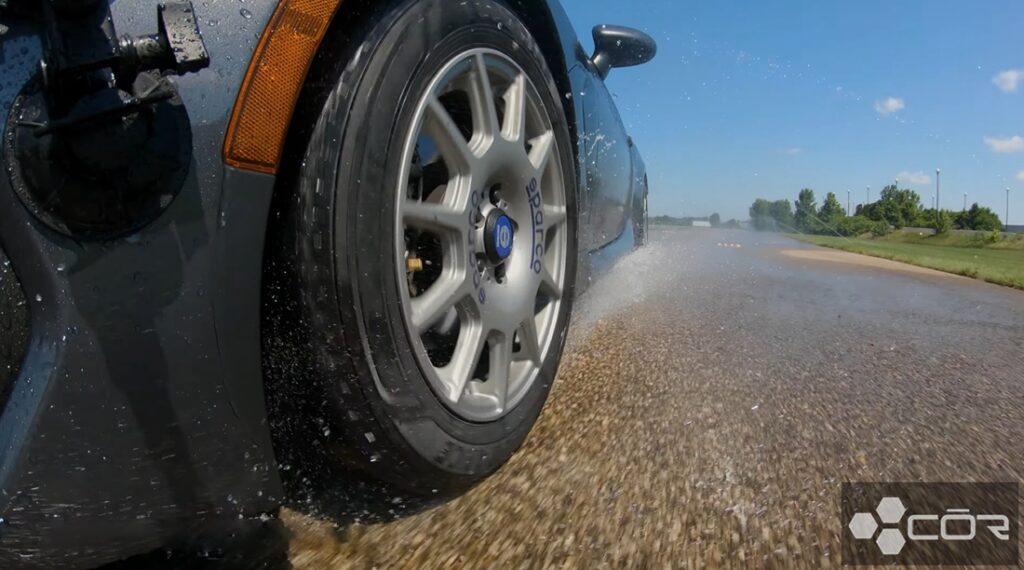 Hydroplaning Resistance: 8.3/10
Likewise, MaxLife maintained decent control of hydroplaning issues despite offering much room for more improvements. Straight paths, wide corners, and even occasional veerings around roadblocks felt stable thanks to the water-evacuating channels provided by the circumferential grooves, resulting in evenly-spreading rainwater that did not intrude much into our test rides.
But as mentioned above, strikes beyond 50 MPH seemed to be the limit for this anti-hydroplaning design; we could feel the tire dragging heavier along the way as the grooves could not redirect water in time with our inputs. Unannounced skids around slippery corners may also lead to your car hocking up more water than necessary.
3. Winter/Snow Performance: 7.3/10
Light Snow Traction: 8/10
Sure, MaxLife could not compete with truly dedicated snow tires, but its performance on light snow was still quite good despite the lack of winter-focused add-ons. The grooves and multiple sipes worked in close tandem in distributing and redirecting the increased snow layers around the sidewalls and borderlines, leaving just enough snow remainder to let our car march forwards without overworking themselves.
Highways or mountain passes might throw your car in back-to-back stutters from time to time. Fortunately, this issue can be solved to a certain extent with equipped snow chains (preferably on all four tires if you can afford that) and tamed drivings below 40 MH.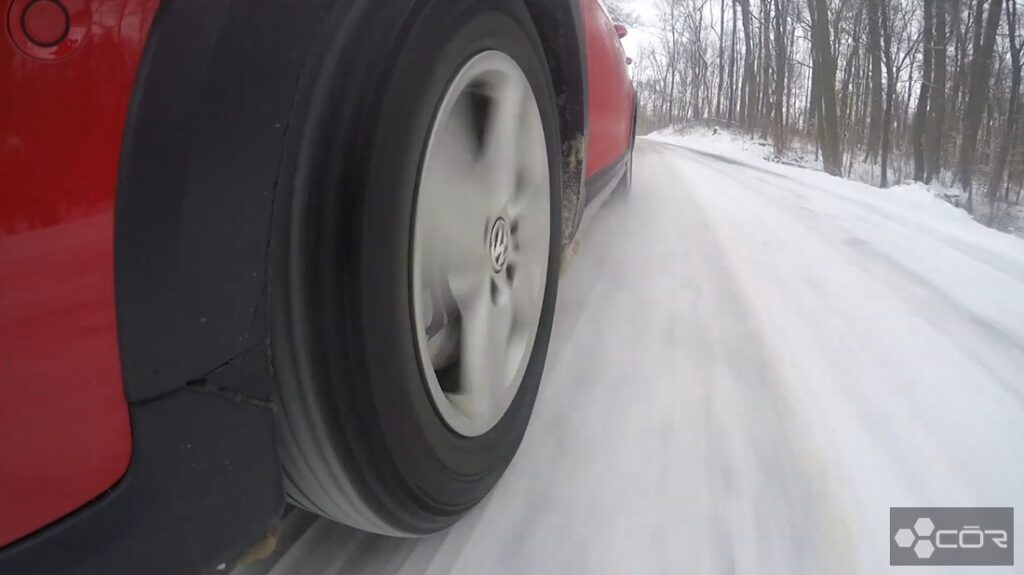 Deep Snow Traction: 7.1/10
Deep snow slightly beyond 5 inches was tolerable, but anything above that clearly indicated huge troubles for Assurance MaxLife – judging by how the tire struggled to keep consistent composure on well-paved snow roads with no significant blocks and very scarce traffic. Stutters happened every half mile and worsened at corner entries, taking more than ten seconds to recover from the rear tires breaking loose.
You can regain some footing when purchasing snow chains, but even their extra traction can only work in tame driving below 35 MPH, preferably not on highways. Otherwise, when facing long, sweeping highway curves and tightly-spaced apexes, even those chains will stall themselves after 1 hour or more.
Ice Traction: 6.9/10
While MaxLife managed to seal the Top 4, its unpredictable handling still gave us quite a bad hunch, especially during slightly more extensive veering on mountain passes or twisting roads. Understeering recovery could not happen smoothly without panic downshifts, and even low-key inputs below 30 MPH could not guarantee bumpless strikes once we returned from mountain passes to regular driving roads.
On a brighter note, since MaxLife was not entirely unrideable, you can still trust the tire to carry your car about 2 to 5 miles into the trip in favorable driving conditions. Remember to pull the car over after half an hour to give the treads more time to shake off the cold temperature and temporary stalls, though.
4. Comfort: 8.5/10
Ride Quality: 8.7/10
The sturdy sidewalls occasionally resulted in over-reactions over soft asphalt roads – hence the pronounced thuds during regular driving rates. But other than that, the rest of our ride was a breeze due to the well-cushioned patch, reducing clear road imperfections into faint shudders that were rather unnoticeable in the grand scheme of things.
You will also be pleased with how MaxLife held its ground against dangerous sharp objects like mirror shards, nails, or pebbles. Our strolls around construction sites were surprisingly quite uneventful, only giving off major shakes when we intentionally trampled over the stones several times.
Noise: 8.2/10
Rumblings or screechings were pretty tame in most daily driving situations, most of the time being swallowed by engine noises. Better yet, for people traveling on familiar roads (ex: routes from home to workplaces) and easily predicting roadblocks and tight crook entries to avoid, the noises will be eventually tuned out after a while and reduce themselves to mere white background sounds.
Yet, Assurance MaxLife still ranks on the bottom half of our list when it comes to noise control, mostly due to the lack of predictability as driving rates increase. Loud squeaking on wet surfaces and light snow terrains did not sit well with our members, either.
5. Treadwear and Durability: 8.2/10
Cold temperatures did not exactly work well with Assurance MaxLife, but the great news is that its burnout symptoms manifested themselves quite late – only on the ninth and tenth day of our test rides.
Coupled with the extremely class-leading warranty (85,000 miles) and the built-in Wear Gauge indicator that informs you of the tread's current depth, mindless driving within the first five to six years is totally within reach.
Goodyear Assurance MaxLife Pros & Cons
Excellent traction in dry conditions
Quite reliable cornering and steering
Comfortable ride
Very generous warranty (85,000-mile)
Decent in light snowy conditions.
Underwhelming traction in wet conditions
Noise control could have been better
Struggling on ice
Goodyear Assurance MaxLife Competitors & Alternatives
Compared to Continental TrueContact Tour and Michelin Defender2, Goodyear Assurance MaxLife ranks behind the other two in overall performances, but still held above its rivals with some highlighted competitive edges:
Goodyear Assurance MaxLife leads the competition with great riding comfort and road impact handling. However, for a standard touring tire, its wet traction was rather underwhelming.
Continental TrueContact Tour shined with excellent wet traction, though it was a trade-off for the rather choppy riding comfort.
Michelin Defender2 was the true champion thanks to the expert steering response and finely-tuned damping. But its winter performance (particularly on ice) still had room for some improvements.
Conclusion
According to this Goodyear Assurance MaxLife tire review, wet traction is surprisingly underwhelming, and deep snow/ice performance could have been better with the help of more winter-focused features.
Nevertheless, stable on-road handling and great riding comfort still managed to push Assurance MaxLife into the Top 4, making this all-season tire one of the best contenders for reliable road manners in summer/warm weather and occasional light snow.
Goodyear Assurance MaxLife
PRICE
SOLD BY

Offers

In Stock

Offers

In Stock

Offers

In Stock

Offers

In Stock

Offers

In Stock
---
President & Automotive Expert at COR Wheels
Robert Herrera has been with COR Wheels for 17 years and has a great passion for the automotive industry. During his time at COR Wheels, he has driven and test-driven a variety of vehicles.
---