Lauded as one of the best Subaru-distributed SUV series, the Forester promises optimal handling and decent to good traction across all terrains. However, their performance efficiencies may significantly vary based on your chosen tire types.
The following guidelines will delve further into tips for tire browsing and recommend some of the most promising all-terrain/all-season tires for Subaru Forester.
In this article:
A. How to Choose The Best Tire for Subaru Forester
1. Understanding The Subaru Forester
Subaru Forester is a versatile, compact SUV known for very spacious interiors (up to five passengers) and flexible seating designs to allow passengers and cargo of up to 900 lbs and tow up to 1500 lbs. Hence, you should look for strong, aggressive tires with a load index of at least 95 – unless the SUV is mostly used for casual, light rides.
Equipped with an AWD (all-wheel drive) system, the Subaru Forester is meant for stable, excellent traction across all driving conditions aside from dry summer, including snowy conditions, rain, and slippery roads. As such, a capable tire with well-placed tread blocks and good evacuation channels would be strongly recommended for your SUV. It would be even better when the road tires can balance traction performance with riding comfort, though the latter is not always compulsory if you can tolerate a few bumps here and there along the ride.
Generous ground clearances and skid plates are another notable highlight, allowing Subaru to handle light dirt trails, rugged terrains, or uneven landscapes – hence the need for all-rounder tires that work with both on- and off-road terrains.
Note, however, that extreme off-road conditions like deep pits or rock clawing are still out of reach, meaning you should sidestep off-road max traction tires during your browsing. High-performance tires are not exactly the best fit, either, given the Forester's lack of focused features to boost cornering agility and sporty handling. 
Furthermore, due to its size, the Subaru Forester tends to struggle when squeezing itself into compact spaces or navigating around urban areas. It would be best if you opt for flexible tires with sensitive steering feedback and rolling subtlety to deal with various downshifts and minimal mid-way changes.
2. Choose The Right Tire Type for Your Subaru Forester
With all the Forester's characteristics and your unique driving needs factored in, all-season, on-road all-terrain, and winter tires will suit most drivers.
All-Season Tires:
All-season tires are the prime choice if you mostly engage in casual daily road driving (with very light off-road ventures thrown in between on some rare occasions). However, note that these tires continue to break down into smaller categories based on your further niche preferences and driving habits:
Choose Standard touring tires if you do not have high-performance demands and mostly prioritize low road noises and a good level of comfort. They offer great on-road traction in summer and good to decent winter handling (depending on materials and pricing).
Grand touring tires are an excellent option when you want a higher blend of handling, riding comfort, and traction than standard tires. With these tires, you can cater to various on-road riding purposes, such as daily commuting, highway driving, and long touring distances.
As the name suggests, highway all-season tires promote smooth rolls with a great tread life and low road noise levels should you frequent highways and freeways. They are usually not as flexible on the snow, unless you opt for more expensive/premium models.
If you have moderate loading demands, a crossover/SUV touring tire should do the job well without sacrificing smooth rides and all-season traction. Its noise control and snow performances vary across different pricing ranges and models, however.
On-Road All-Terrain Tires:
All-terrain tires allow you to handle both on- and off-road surfaces, though how much and to what extent still depends on the tire materials, brands, and – most importantly – your preferences. Opt for on-road AT tires if daily driving is still your priority at the end of the day.
Winter Tires:
Winter performances are clearly the top priority of these tires, allowing you to ensure 100% safety in snowy months or harsh winter conditions. Some winter tires even include extra features for summer stability, though note that they usually demand higher charges.
B. How Did We Test and Pick The Best Tire for Subaru Forester
196 tires have been selected (based on sales and popularity) for our 2023 COR Wheels Tire Test. We had the 225/60R17 tire size version test-ridden on our Subaru Forester 2022 Base during January (for Winter evaluation) and June-July (Summer) across on-road and off-road terrains to omit lower-quality contenders.
The scores were then compared to customer feedback to address evaluation inconsistencies (if there are any). After several more discussions, our team agreed upon the 10 best performers below:
C. Best All-Season Tire For Subaru Forester
1. Michelin CrossClimate2
Best uses: highways, heavy towing, regular roads, all snow terrains, high-speed endeavors, moderate water depth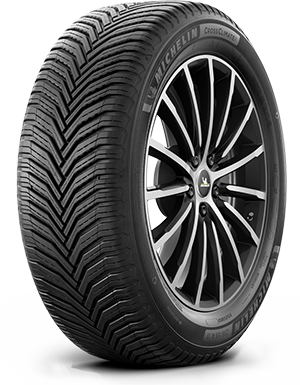 Tire Type
Grand Touring All-Season
Tire Size
16″ – 22″
Weight
20.99 LBS – 36.55 LBS
Load Index
91 – 114
Load Range
SL – XL
Speed Rating
– H: up to 130 mph
– V: up to 149 mph
Warranty
60,000 miles
Ratings
8.9/10