Michelin is one of the best tire producers for all-season drivers. While this reputed label has no shortage of diverse tire types to ponder between, our COR Wheels team has managed to distinguish 7 performers with significantly better performance efficiency than their peers.
Scroll for a more inclusive highlight of the best Michelin tires all-season.
In this article:
How Did We Test & Pick The Best All-Season Tires from Michelin
An extensive lineup of 15 all-season Michelin tires have competed against each other as part of our COR Wheels Tire Test, rated based on both overall scores from our critic teams and gathered American customer feedback. Six major criteria are involved, including:
Winter/Snow Performance
Dry Performance
Wet Performance
Comfort
Treadwear
Price
Finally, 7 performers with the highest scores were chosen for the compilation list.
Best Michelin Grand Touring All-Season Tires
1. Michelin CrossClimate2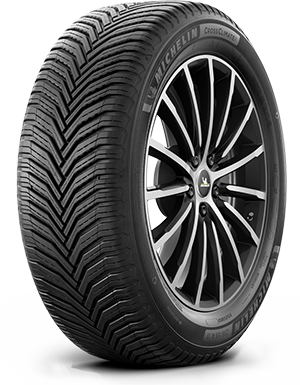 Tire Type
Grand Touring All-Season
Tire Size
16″ – 22″
Weight
20.99 LBS – 36.55 LBS
Load Index
91 – 114
Load Range
SL – XL
Speed Rating
– H: up to 130 mph
– V: up to 149 mph
Warranty
60,000 miles
Ratings
8.9/10
Michelin CrossClimate2 shines through the noises with featured Thermal Adaptive compounds – molded into V formations to combine winter, wet, and dry performance.
The PIANO Tuning employs advanced modeling to tune airborne noise through timing variation and augmented tread geometry; meanwhile, aligning aft forces and blocks in the tread's center portion promote longitudinal grip. V ramps increase tire-road contacts, and shoulder blocks, 3D Sipelocks, and steep angles boost handling and water evacuation abilities.
Hence, CrossClimate 2 leaves little room for complaints about dry-surface performance; the way the grooveless patterns gripped on the pavements turned out even better than theory, breezing our car uneventfully from 45 MPH straight to 60 in clean cuts. Differences between smooth asphalts and brick tarmac were present but not that pronounced in our driving tests – a good hunch of CrossClimate 2's consistent grips despite texture changes.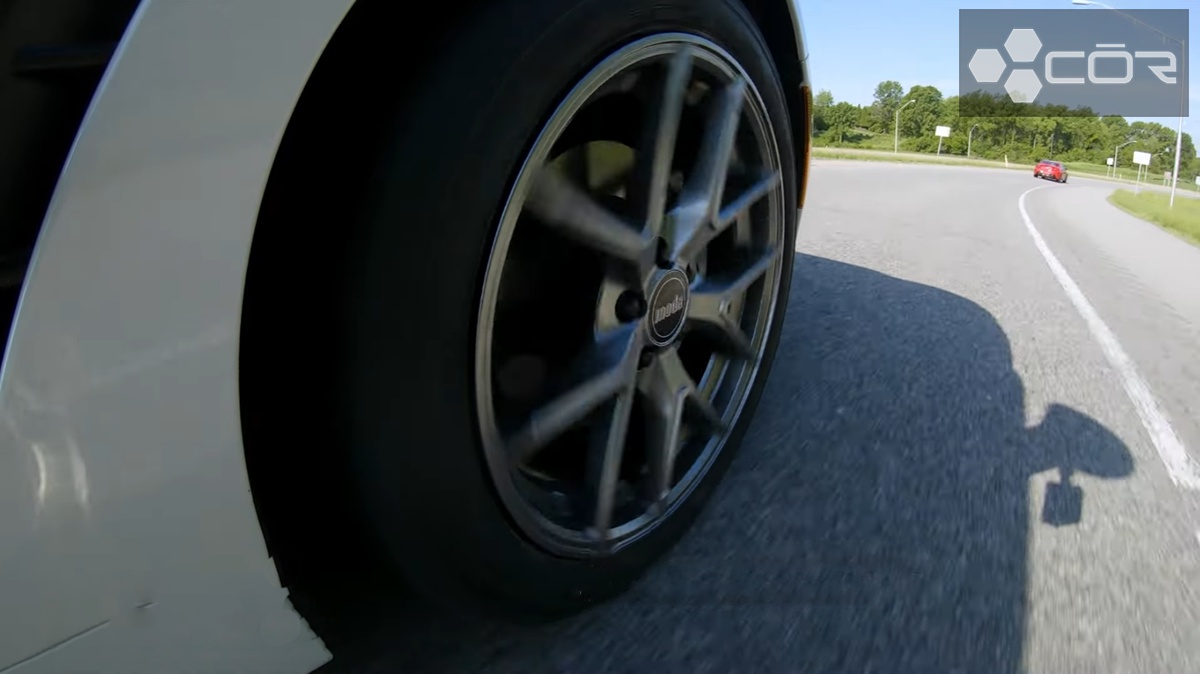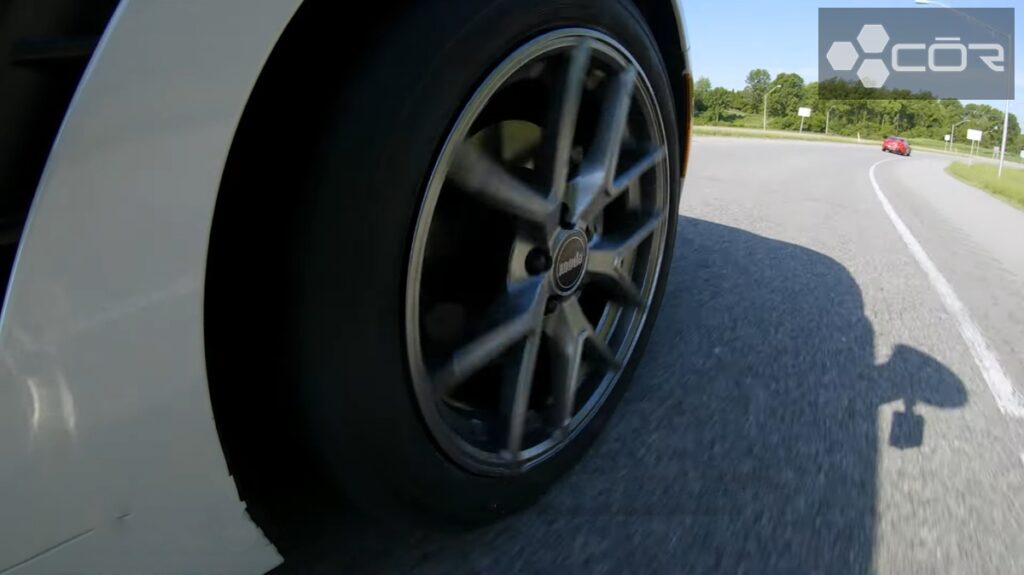 You will likely observe the exact same exceptional performances in wet conditions, judging by how our car remained increasingly stable diving into shallow waters of 4-5 inches. And in fact, guaranteed gradual and planned accelerations, even deep, stagnant water can not pose much of a challenge for you, either; we kept our on-center stability just fine when preparing for early apexes to tackle tighter crooks on trickier road patches.
Better yet, hydroplaning issues were few and far between (if existing at all), so you can feel confident traveling mid-storm or under heavy rainfalls.
Optimal performances on snow were a delight all through, plowing through light and snow alike with only very few skitters around the flanks (they would disappear after a few miles anyways). This is quite a competitive edge if you live in extreme climate regions with freezing snow; there is no need to bring snow chains with you on every trip.
Icy terrains admittedly gave us several unpredictable slippages – but they were fortunately pulled back under control with punctual countersteering. Hence, feel free to use CrossClimate 2 as a replacement for dedicated winter tires on ice terrains if the weather is generally favorable.
Riding quality and treadwear are expertly balanced: we experienced exceptional cushioned feel on large road bumps while suffering from no major burnout or overheating symptoms. But you might have to brace yourself for a bit of low squeaking when navigating from regular streets to angled surfaces/highways.
Excellent and equal confidence on both dry and wet terrains
Satisfying snow handling
Decent ice traction for an all-season tire
Great ride quality and treadwear balance
Road noise control weakens when transitioning to angled surfaces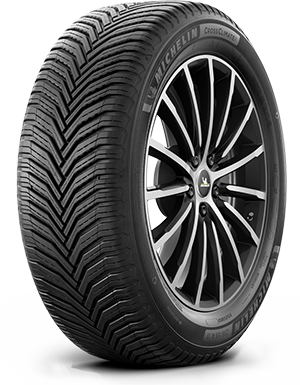 ---
2. Michelin Primacy Tour A/S
Tire Type
Grand Touring All-Season
Tire Size
17″ – 21″
Weight
21.61 LBS – 36.53 LBS
Load Index
91 – 111
Load Range
SL – XL
Speed Rating
– H: up to 130 mph
– W: up to 168 mph
Warranty
45,000 – 55,000 miles
Ratings
8.5/10
Another grand touring tire worth mentioning, Michelin Primacy Tour A/S features refined asymmetric tread designs to streamline riding quality and tread noises.
The wide shoulder blocks outboard help with lateral grip and dry traction, while sweeping grooves tackle water evacuation. Sealing the deal are the inboard rips and centered zigzag sipes, working with the inside shoulders to provide excellent traction on slippery surfaces.
As such, Primacy Tour A/S lays itself on dry roads much better than most other Michelin grand-touring tires, bonding instantly with the slightly rugged road patches that our car started at. Speed changes to and from extremes (25 MPh as the lowest and 75 as the highest) were impressively non-dramatic minus a few choked-out reactions at sudden turns, and the increase of small debris and pebbles as we drove past construction sites did not throw off the car as much as we expected.
That is why you should be able to navigate S-curves or even opposite skids with extreme confidence regardless of driving levels. Plus, on-time handbrake turns and good palm-to-palm control can even help you compensate for late brakings at critical moments.
You might experience a bit of slippage when entering wet surfaces due to the hydroplaning, but no worries: our test ride carried on well at regular driving rates (40 to 50 MPH) and only shook in occasional long intervals when increasing towards 55 MPH. Deep water or extremely slick wet bridges only became a real problem when our steering wheel went slack; otherwise, you can trust Primacy Tour A/S to handle them almost the same as on typical regular roads.
Riding comfort is excellent, if not even better than the Michelin CrossClimate 2; except for a few protests during too abrupt turns, it was hard to notice any significant tread noise under the contact patch. After half an hour or so, you can tune them out completely; better yet, premium aftermarket car wheels even make them cease to exist.
We do agree that treadwear rates seemed to sacrifice a little for that exceptional comfort, given how Tour A/S tended to cave into itself after extended rides beyond 2 hours.
And you should not hope for impressive snow road performances, either. While this road tire was mostly rideable for us, violent hiccups and coughs seemed to get provoked out of nowhere and became increasingly more pronounced when we moved to icy terrains.
Great dry performance with consistent cornering/steering
Satisfying on wet terrains
Comfortable ride; good noise control
Not really impressive in winter
Tread burnouts after extended rides
---
Best Michelin Standard Touring All-Season Tires
3. Michelin Defender 2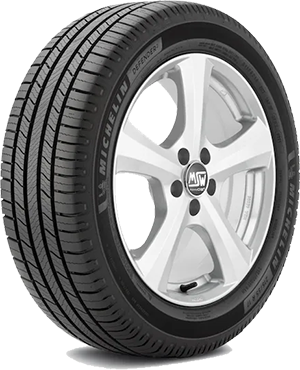 | | |
| --- | --- |
| Tire Type | Standard Touring All-Season |
| Tire Size | 16″ – 20″ |
| Weight | 21.0 LBS – 32.39 LBS |
| Load Index | 91 – 107 |
| Load Range | SL – XL |
| Speed Rating | – H: up to 130 mph |
| Warranty | 80,000 miles |
| Ratings | 8.8/10 |
As the champion touring tire from Michelin, the Defender 2 is molded into symmetric compounds to provide flexible rotations for better treadwear and tread noise management. Interconnected elements reduce airborne noise while increasing stable footprints, and the circumferential grooves channel water with generous pass-through volumes. Meanwhile, integrated longitudinal and lateral sipes provide more grip and biting edges for rainy seasons.
Hence, despite being a standard tire, Defender 2 will wow you with its sturdy, impressively stable footholds that cannot be deterred by any type of driving style. Our team has experimented with various steering techniques of all degrees, ranging from tame shuffles to dynamic push-pull at 75 MPH – yet Defender 2 rarely got out of line.
You can even manage surprise skids towards the opposite directions at the very last minute and still manage instant recovery. So if you prioritize both spirited driving and safety, Defender 2 is almost unbeatable.
Wet performances, on the other hand, are relatively the same as the grand-touring Primacy Tour A/S at #2. That means you will still notice a clear lack of sharpness and hydroplaning over more urgent driving situations or corners that require tire flex, but these stutters are under good management and do not pose an actual danger. When revving down below 25 MPH in heavy storms while not changing the steering position, we actually even pulled off smooth, straight lines with no drifting or water seeping in.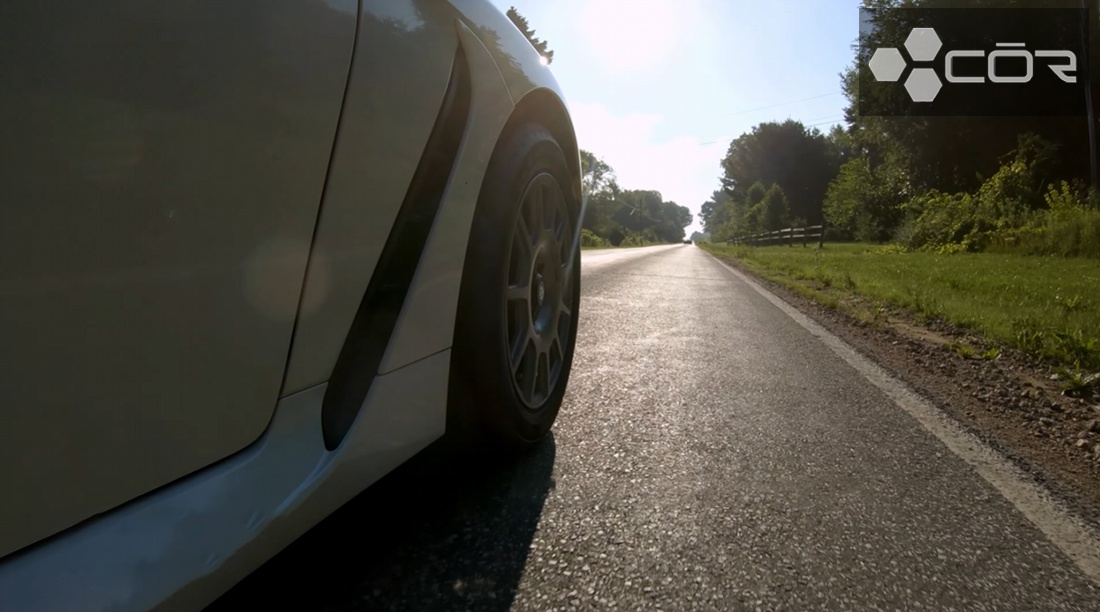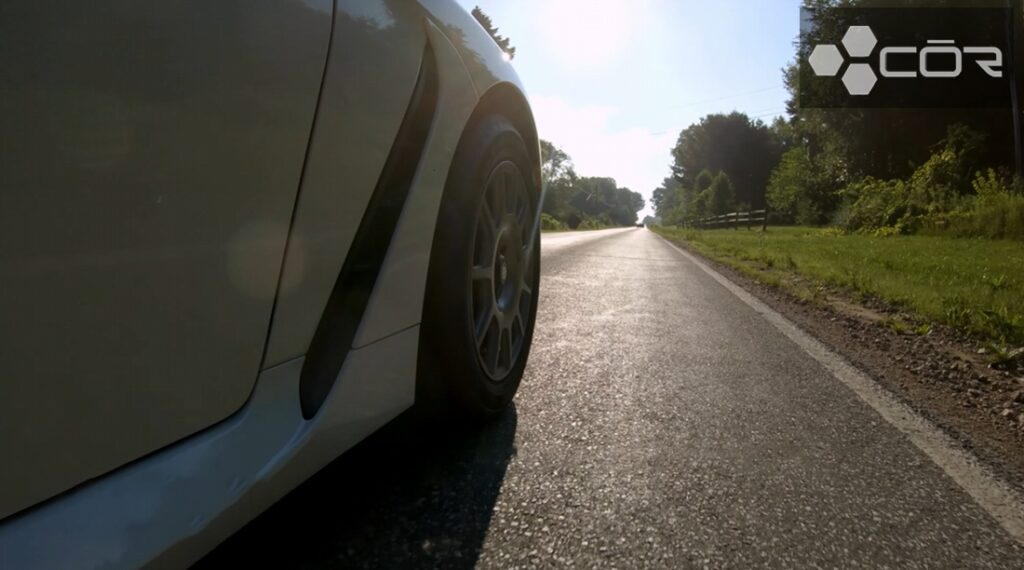 Defender 2 also enjoys excellent treadwear and riding quality at the same time; the only moments it truly let the road bumps sink in is when the car climbed up steep hills or rode through consecutive switchbacks. But on any terrain other than those, you can trust this all-weather tire to hold its ground excellently and withstand extreme abuse with amazing confidence rarely found in other tires ranking below on this list.
We have slightly mixed feelings about Defender's capability in winter though. You will likely experience little trouble on shallow snow (except for occasional stalls typical of most touring tires in cold weather), but as the snow volumes increase, Defender grows less and less confident, even requiring snow chains to dive into tight-neck carousels. Ice traction was even less impressive, muting itself out every time we tried to veer around roadblocks or accelerate.
Exceptional dry performance
Extraordinary cornering and steering in dry-road conditions
Great noise control with good cushioned feels
Long-lasting tread life
Pretty confident in light snow weather conditions
Ice performance could have been better
Hydroplaning in urgent situations on wet roads
---
4. Michelin Defender T+H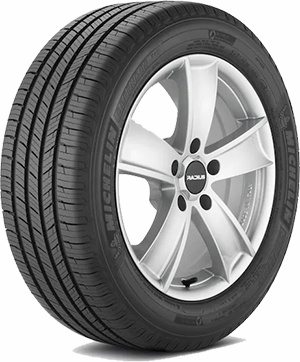 | | |
| --- | --- |
| Tire Type | Standard Touring All-Season |
| Tire Size | 14″ – 18″ |
| Weight | 17.26 LBS – 31.0 LBS |
| Load Index | 83 – 103 |
| Load Range | SL |
| Speed Rating | – H: up to 130 mph |
| Warranty | 80,000 miles |
| Ratings | 8.4/10 |
The Michelin Defender T+H utilizes the latest all-season compound technology in its asymmetric tread pattern for a better, smoother operation, aided by the ItelliSipe technology (zigzag sipes) to optimize road contact.
Extra silica content adds wet traction, while the circumferential and lateral notches whisk water off. The independent blocks put the finishing touches to the tire by creating more bites for slippery roads.
Minus the slightly wavering on-center rib at carousels or doglegs, T+H retains amazing confidence on dry on-road pavements.
We loved how the steering response always stayed very closely aligned with each input, compensating for brief traction loss instantly before we even recognized it. Speed changes are an obvious given, but you will find steering changes mid-strike or brakings to be quite a breeze, too: early apex to late apex, for instance, can be carried out as breezily as any basic straight-line endeavors.
Defender T+H also shines pretty brilliantly on wet roads. Sure, the simple groove designs may throw you off on certain occasions with brief but frequent skitters, but controlling them is easy even for beginners. We used shuffle steering on particularly more slippery terrains and returned to countersteering at corners, for instance – and the resulting traction was satisfying.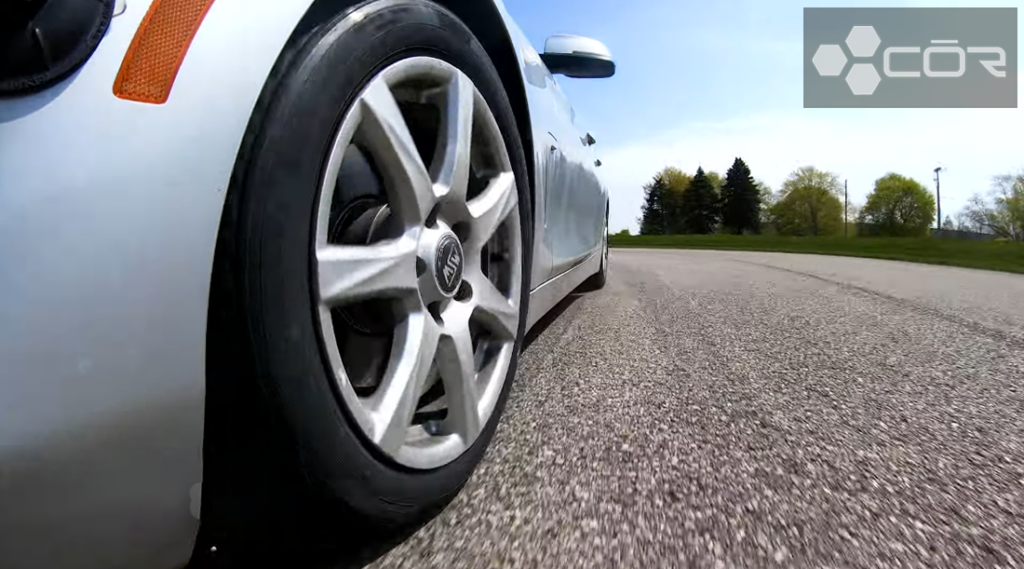 Hydroplaning is also the last thing you should worry about, as the worst we experienced was only some heavy drags under the tire that could be handled with swift accelerations.
Our team was also generally pleased with the riding quality. Jostles and pronounced vibrations were not completely off the hook but rarely stepped over the boundaries; and the noise level, while not exactly low-key, has a soothing monotonous tone to it that you can tune out easily after a few miles. Its treadwear rates also manage a safe position in the Top 3, struggling more often in cold temperatures but remaining composed and poised in spring and summer.
Unfortunately, Defender T+H is rather disappointing when winter comes. Light snow was tolerable; however, we noticed a significant difference between light and deep snow performances, with the latter suffering from unpredictable and very obvious coughs more often than not despite low-key inputs. Worse, ice traction bottoms the list – to the point that you cannot even ride the tire further than 5 miles.
Great dry on-road traction
Pretty confident on wet terrains
Satisfying treadwear; smooth ride
Monotonous tire noises that could be tuned out easily
So-so on light snow, underwhelming in deep snowy conditions
A bad tire, unrideable on ice roads
Bumps on steep hills or constant switchbacks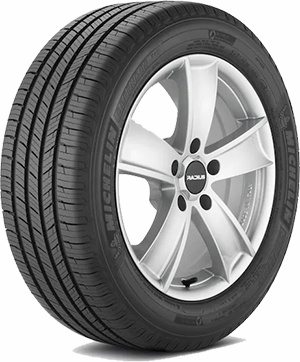 ---
Best Michelin Highway All-Season Tires
5. Michelin Defender LTX M/S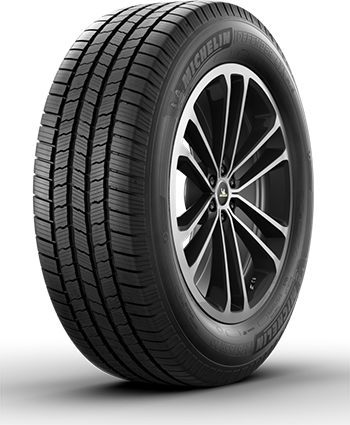 Tire Type
Highway All-Season
Tire Size
15″ – 22″
Weight
23.0 LBS – 60.19 LBS
Load Index
95 – 129
Load Range
C1 – XL
Speed Rating
– H: up to 130 mph
– T: up to 118 mph
Warranty
50,000 – 70,000 miles
Ratings
8.8/10
Few Michelin highway tires could surpass the Defender LTX M/S – what with its strong, advanced symmetric compounds that feature independent blocks and dense 3D sipes for the best dry handling.
Four circumferential channels, open slots, and lateral grooves evacuate water to promote better wet grip and braking performance. At the same time, the MaxTouch Construction distributes cornering, braking, and acceleration force evenly to strengthen durability.
You'll feel confident on most common road terrains, especially highways, with its reliable footings. Even your wildest leaning movements only resulted in longer skitters at best, and the tire will regain momentum quickly after that. Fluctuations between speed extremes were great on regular roads and even more sweeping on highways, allowing us to get relaxed with steering inputs without overworking our wrists.
On wet highways, the channels and lateral grooves worked in excellent tandem on shallow and deep water alike (only causing slight shudders for the latter), hence the non-dramatic adaptation when entering tight corners or skidding towards opposite directions.
And if you drive commercial vans under the rain, feel free to tow cargo or trailers slightly beyond 800 lbs. The combined weight of our six-member team did not push the car out of its track and even helped ground down the car a little on particularly slippery bridge sections.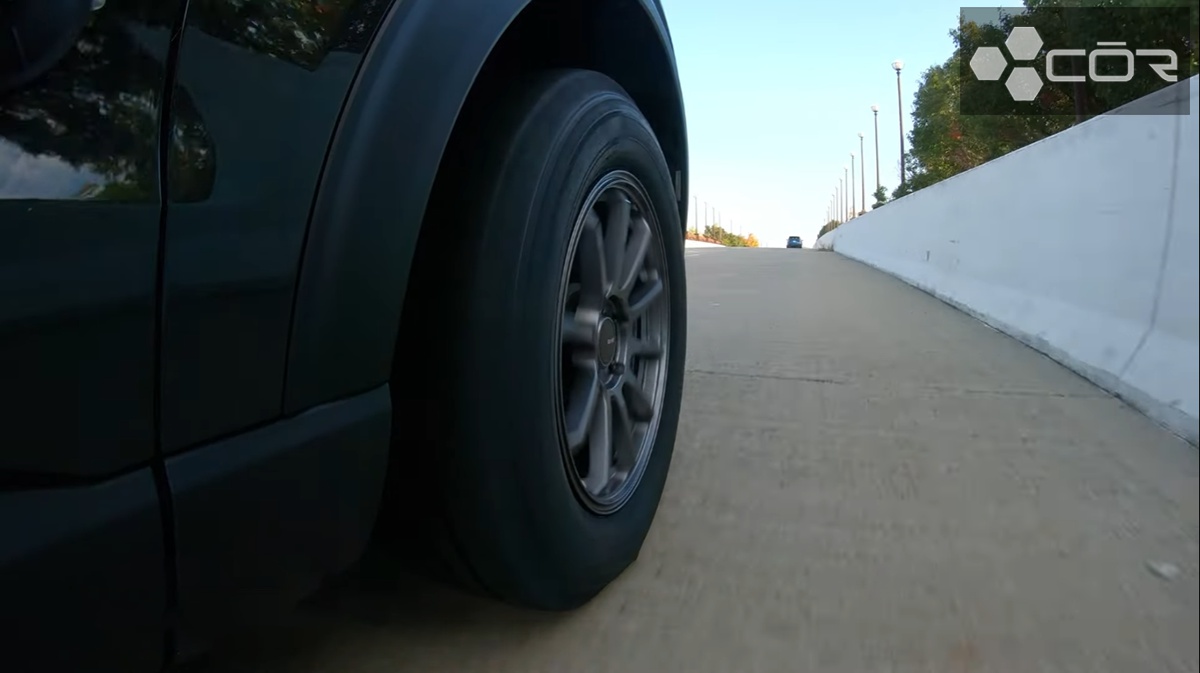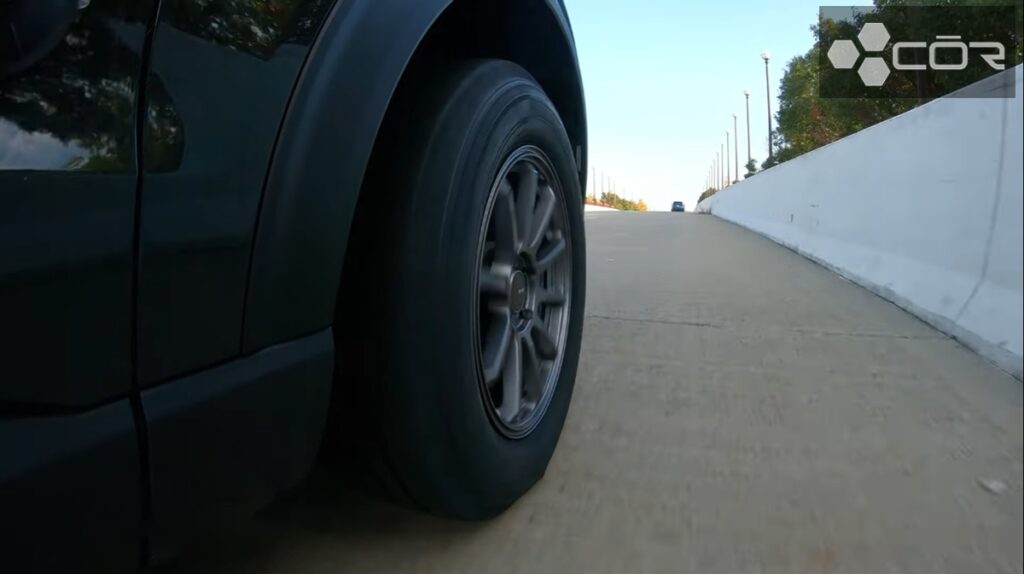 Even better, Defender LTX M/S prides itself as the tire with the best riding comfort out of the entire 7-contender list.
Notable bumps in our rides could only be observed on very rugged roads near construction sites, but it is unlikely you will travel on such paths on a daily basis. Meanwhile, in every other basic driving situation, LTX is remarkably quiet and cushioned, producing no sounds and vibrations even on your heavy skids or abrupt veering.
On another note, snow performances are not exactly disastrous but not that impressive, either. While we still controlled our car pretty well on light snow (with the extra help of snow chains on the two rear tires), snow beyond 7 inches started to throw the car into muted stalls more often than not.
And during icy conditions, it would be better if you reserve accelerations and intentional oversteers for emergencies only; if nothing else, choose a particular driving rate below 45 MPH and stick with it till the end.
Excellent and confident dry/wet traction
Smooth and quiet ride (the best on the list)
Good treadwear
Good handling on light snow
Deep snow and ice traction is not impressive
Notable bumps on rugged roads near construction sites.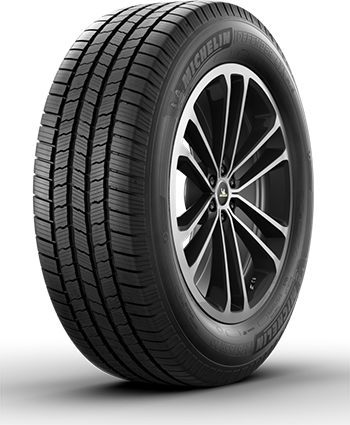 ---
6. Michelin Agilis CrossClimate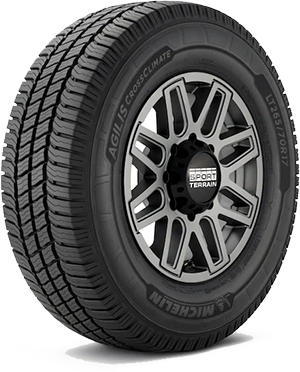 | | |
| --- | --- |
| Tire Type | Highway All-Season |
| Tire Size | 16″ – 20″ |
| Weight | 39.9 LBS – 57.69 LBS |
| Load Index | 115 – 126 |
| Load Range | E1 |
| Speed Rating | – R: up to 106 mph |
| Warranty | None |
| Ratings | 8.5/10 |
Agilis CrossClimate promises great handling and heat management with symmetric/directional patterns that both utilize the StabiliBlok Technology for longer and wider tread blocks.
SipeLock tech creates more traction on slippery surfaces, while the CurbGard Protectors resist damage. Wrapping up the package are the open slots and deep lateral channels, evacuating water to reduce aquaplaning.
Agilis CrossClimate is quite a star on dry highways, having little trouble diving straight to corners from straight-line paths (or returning from corners back to regular streets) thanks to the stable StabiliBlok tech. CrossClimate can totally work with different texture materials while dealing with constant speed extremes as if it were a breeze.
You might wish for a sharper, more pronounced foothold during blind curves with limited visibility, but no worries; push-and-pull techniques through early apex helped us well on those road sections.
This boundless confidence will be retained well for you during wet rides. Hydroplaning did happen on wet mud roads or stagnant water beyond 5 inches – but fortunately, the way CrossClimate caved a little before water intrusion was very predictable, giving us enough preparation time to adjust the steering wheel accordingly.
You may err on the safe side by staying below 45 MPH, though if desired, revving to 55 or even 60 MPH should be a non-issue if you are an average or advanced driver.
Judging by its impressive composure on powder snow, you can totally use Agilis CrossClimate as a snow tire on shallow blankets of below 5 inches; snow chains will add even more stability to it.
Deeper snow than that, though, sent us into constant (yet thankfully manageable) skitters around the flanks, and ice traction was no better – if not even more wavering. Consider avoiding corners and steep, angled surfaces at all costs in such conditions.
Excellent Dry traction, best for summer
Great wet performance
Pretty confident on light snow
Wintertime traction worsens in severe winter conditions and ice
Occasional hydroplaning on mud roads or deep stagnant water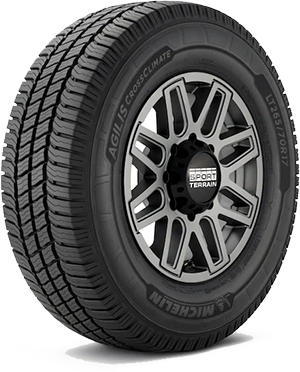 ---
Best Michelin All-Season Tire for Ultra High Performance
7. Michelin Pilot Sport All Season 4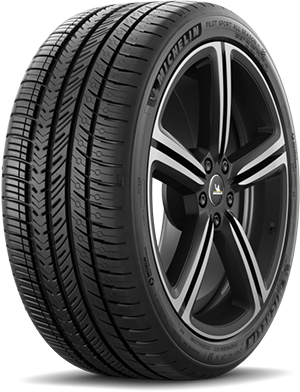 Tire Type
Ultra High Performance All-Season
Tire Size
16″ – 22″
Weight
19.29 LBS – 38.69 LBS
Load Index
84 – 114
Load Range
SL – XL
Speed Rating
– V: up to 149 mph
– Y: up to 186 mph
Warranty
30,000 – 45,000
Ratings
8.4/10
Michelin Pilot Sport All Season 4 features advanced, asymmetric compounds that utilize large outboard shoulders to deliver better lateral grip. The Dynamic Response Tech streamlines exerted forces during hard corners, while the rain grooves and wide channels evacuate water off the sidewalls and contact patch.
At the same time, there are 360-degree sipes and extra silica compound layers that create more biting edges on slippery terrains. The Helio Technology (sunflower oil derived) aims to bring more cold-weather flexibility.
Pilot Sport All Season 4 truly lives up to its reputation as an ultra high-performance tire, with distinct sharpness that can be felt clearly from the cabin.
Traction loss was never a looming threat thanks to the stable outboard shoulders, giving us ample margins to be much more flexible and experimental with our steering techniques. If you are a spirited soul, try out back-to-back alternations between shuffles and dynamic steering: the controlled chokes and oversteer will bring quite an edge to your adventure.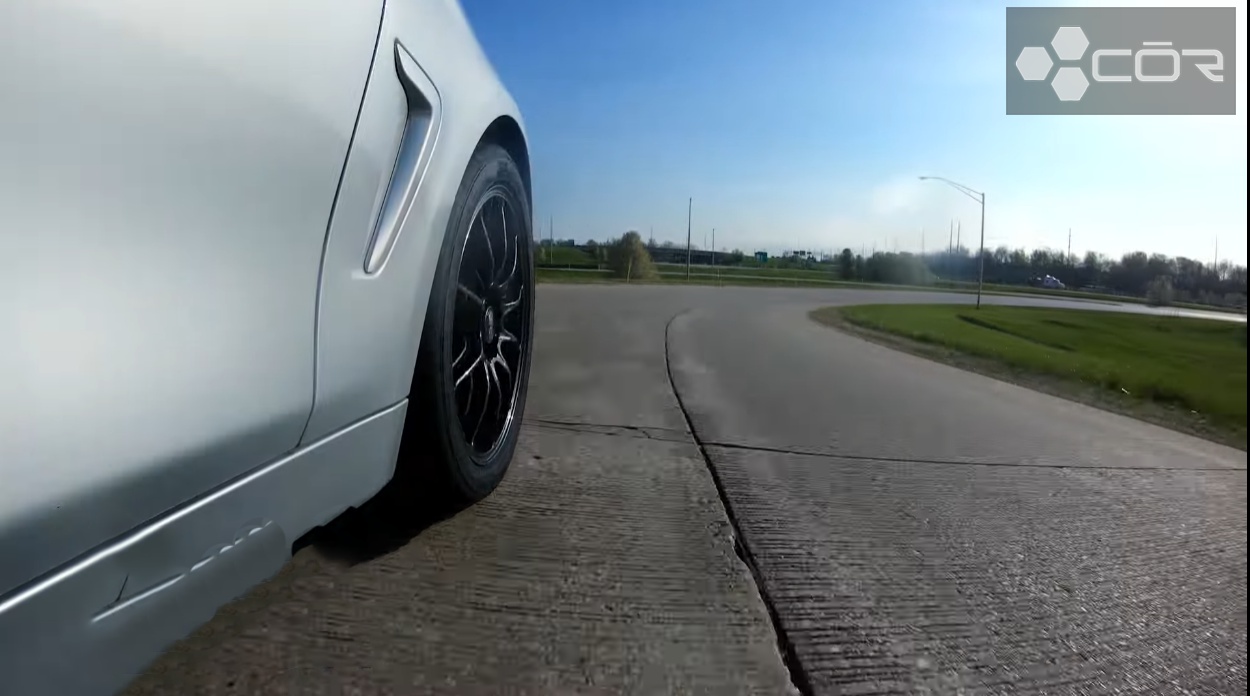 Dynamic Response Tech did a great job keeping cornering and steering under the line – and you will find their performance to retain when traveling in rainy seasons or on wet roads.
While hydroplaning was not completely off the hook, we rarely had real troubles because of it, taking over the roads in breezy strikes on straight-line paths and wide-radius corners. The same applies to wet traction: unless it is a real tight-neck crook with little preparation, you will never have to worry about prominent drifting.
Unfortunately, our team did not have exactly the best experience with Pilot Sport All Season 4 in winter. The tire already tittered horrendously on light snow (despite snow chains) and only went downhill from there. Hence, you should only use the tire in favorable, rather mid-winter temperatures – and, if possible, steer clear of icy roads.
Confident traction in wet and dry conditions
Responsive steering feedback
Low risk of aquaplaning
Decent riding comfort
Disappointing wintertime traction
So-so treadwear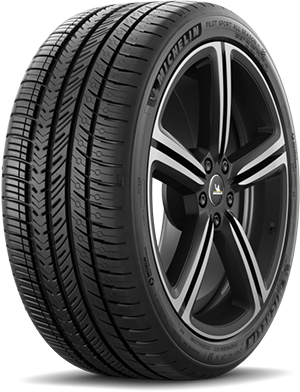 ---
How to Choose The Right Michelin All-Season Tire For Your Need
Always remember the golden four:
Climate: Choose a tire with extra focus on wintertime traction if you have to travel through snowy roads often. Cases in point are the Michelin CrossClimate2 or Michelin Defender LTX M/S.
Driving Style: Pick a tire with aggressive tread patterns if spirited and dynamic driving is your favorite. Otherwise, aim for something tamer with decent treadwear rates.
Vehicle Type: A few tire models are made for small cars, while others suit light trucks or SUVs. Hence, ensure the tire sizes are compatible with your type of vehicle.
Budget Tire: Assess the pricing and set your priorities straight to avoid overspending.
Conclusion
Seven touring, grand-touring, highway, and ultra high-performance tires have left a wide range of other Michelin performers by a long slide to land on our list for their unprecedented year-round traction.
For an all-rounded tire to accompany you daily during all year round (mild winter), Michelin CrossClimate2 should suffice. Highway drivers can entrust Michelin Defender LTX M/S to be their ally, but if you wish for more spirited driving, consider the Michelin Pilot Sport All Season 4.
Keep both our review and buying tips in mind to guarantee the perfect choice for your driving habits.
Here is the summary of the 7 Best Michelin All-Season Tires in the 2023 COR Wheels Tire Test:
| Tire Brand & Model | | | | | | | |
| --- | --- | --- | --- | --- | --- | --- | --- |
| Michelin CrossClimate2 | 1st | 8.9 | 9.2 | 9.2 | 8.6 | 8.7 | 8.9 |
| Michelin Defender LTX M/S | 2nd | 8.8 | 9.2 | 9 | 8.2 | 9 | 8.9 |
| Michelin Defender2 | 3rd | 8.8 | 9.3 | 8.8 | 8 | 8.8 | 9 |
| Michelin Primacy Tour A/S | 4th | 8.5 | 9 | 8.8 | 7.5 | 8.8 | 8.5 |
| Michelin Agilis CrossClimate | 5th | 8.5 | 9.1 | 8.9 | 8.1 | 8.6 | 8.5 |
| Michelin Defender T+H | 6th | 8.4 | 9 | 8.6 | 7.1 | 8.6 | 8.6 |
| Michelin Pilot Sport All Season 4 | 7th | 8.4 | 9.1 | 8.9 | 7.2 | 8.6 | 8.3 |
---
President & Automotive Expert at COR Wheels
Robert Herrera has been with COR Wheels for 17 years and has a great passion for the automotive industry. During his time at COR Wheels, he has driven and test-driven a variety of vehicles.
---