Goodyear tires have long been associated with high quality, and, of course, high price tags. But mid-range tires like Reliant All-Season still take several top spots in the brand's best-seller lists thanks to surprisingly positive feedback from casual drivers. We have also included this grand-touring tire in our 2023 performance test for a more inclusive review.
In this article:
Goodyear Reliant All-Season Specifications & Features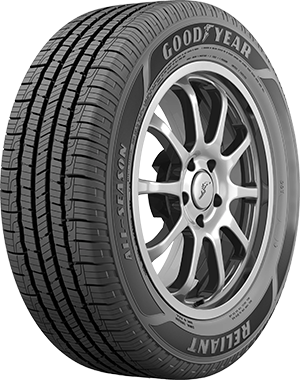 Tire Type
Grand Touring All-Season
Tire Size
15″ – 20″
Weight
21.61 LBS – 36.53 LBS
Speed Rating
– H: up to 130 mph
– V: up to 149 mph
Warranty
65,000 miles
Ratings
7.6/10
With Reliant All-Season, Goodyear promises exceptional all-season aggression and confident wet grip, manifested through the following highlights:
Aquatred grooves and specialized rubber compounds (asymmetrically molded) optimize the tire's treadwear rates and anti-hydroplaning qualities.
Waved sipes within the tread design to create more bites on snow while reducing braking distances. 
Goodyear Reliant All-Season Review & Performance Test Result
As part of the 2023 COR Wheels Tire Test, our team installed the 225/65R17 tire size version of Goodyear Reliant All-Season on the 2016 Ford Escape car model. We verified its performance for ten days in June-July (Summer evaluations) and January (Winter).
1. Dry Performance: 7.5/10
Dry Traction: 7.6/10
We could notice a clear lack of confidence compared to its powerful Goodyear Assurance siblings. Reliant took five seconds longer to settle in the road pavements and another minute to get rid of the drifting echoes around the flanks completely.
Furthermore, it seemed 30 to 35 MPH was the tire's best operation range, evident in the strong, well-established contact points that remained unfazed during our attempts through slightly zigzag turns. From 40 MPH, stutters and panics grew more prominent and got twice worse once we passed the 55-MPH benchmark.
With that many unpredictable reactions on regular paved roads, we were not surprised by the tire's significant traction reduction on cobblestones.
The simple-designed, almost flimsy circumferential grooves and sipes had to wrestle themselves to grip onto the road textures, only becoming slightly less hesitant when we constantly alternated between downshifts and tame decelerations. Roadblocks could be handled decently with moderate brakings – but any situation that required instant hard braking engagements sent our car straight plummeting.
Needless to say, the Goodyear Reliant definitely needed more refinement on highways. While smooth asphalts of scarce traffic were somewhat tolerable due to the well-controlled over-reactions, the way Reliant choked over itself before lane merge entries took away a lot of scores. You will also have to exert extreme caution over extended curves, where Reliant kept suffering from major slippage and clearly muted-out footprints.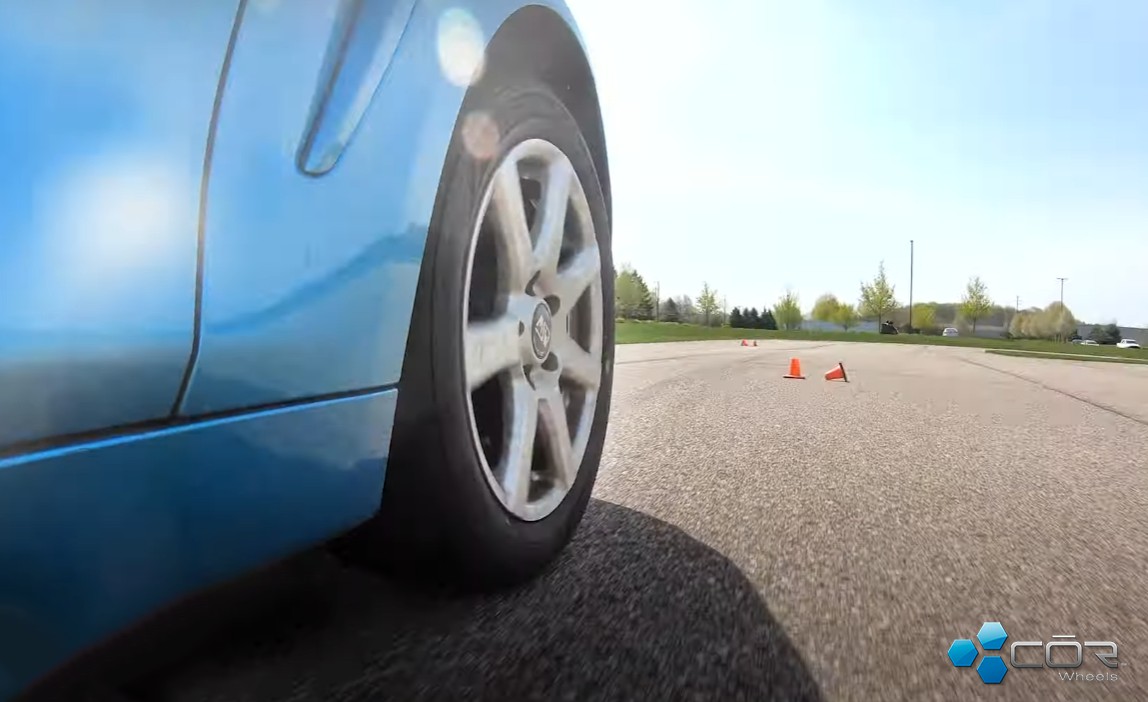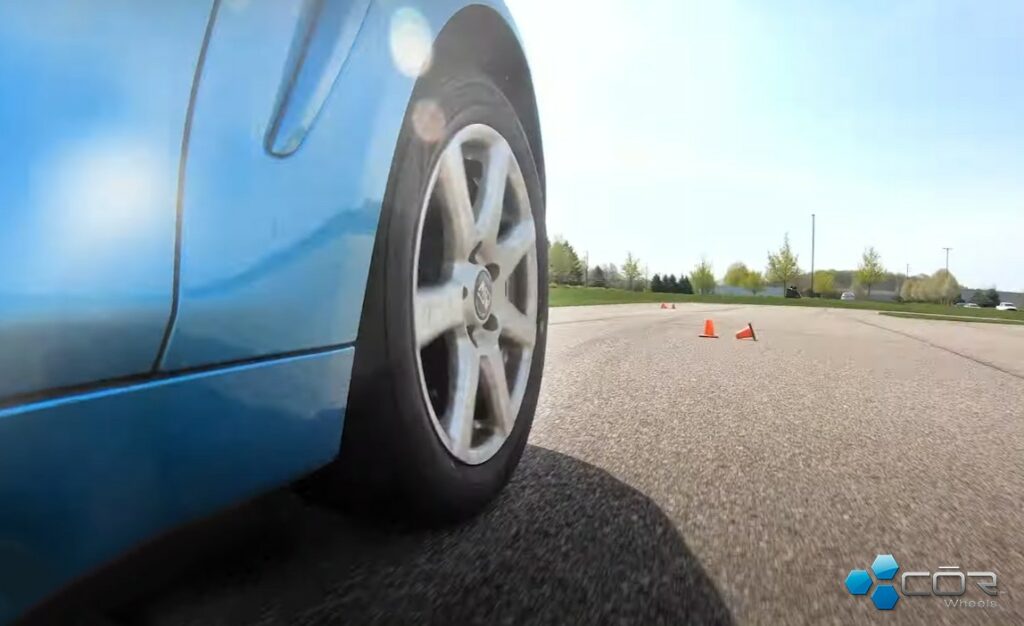 Corner Stability: 7.4/10
Compared to higher-quality touring tires, the rib wavers became extremely obvious. The tire only reached its peak behavior when we accessed the corners from wide, generous approach angles below 35 MPH and grew unreliable in almost every other case. Intentional oversteer is somewhat doable if you have experience – but even then, the unstable borderline shudders may still throw your car into collisions at just one moment of carelessness.
On a slightly brighter note, we could not spot much difference in the tire's composure on regular straight-line roads versus around corners. This turned out to be an unexpected advantage – since we did not have to spend time familiarizing ourselves with the tire's reaction patterns all over again.
Steering Response: 7.4/10
The steering was frankly disappointing. We could only gauge some mediocre/decently aligned feedback from the tire in casual, low-key ridings below 25 MPH – and even then, extended delays still occurred in unpredictable intervals around corners.
Meanwhile, at any number beyond 30 MPH (or the slightest signal of abrupt changes), Reliant faltered immediately, struggling to implement on-time feedback to our inputs and failing to adapt right away to mid-way veering.
Still, since daily well-paved roads rarely had significant texture varieties or inconsistent depths, our steering response did pick up after a while. So if you rarely engage in highway rides or do not travel that often to rough terrains/mountain passes, Reliant will still do its job somewhat thanks to the well-supported linked outboard shoulders.
2. Wet Performance: 7.5/10
Wet Traction: 7.4/10
Contrary to initial expectations, we were actually quite impressed with Reliant's composure here.
Sure, this wet performance could by no means compete with Goodyear Assurance or any other premium grand-touring tires. But it was not that much different from Reliant's previous dry-performance tests, if not even exhibiting better traction control on large bumps given good push-pull techniques. As a result, the dry-wet transition was carried out very smoothly, keeping panics and startling hiccups mostly at bay.
You still have to brace yourself for violent slippage in deep water beyond 4 inches, however. The deep grooves and sipes already failed to deliver stable footings on completely dry roads, so their weak contact points and disastrous absence of internal integrity under heavy rainy conditions were totally unsurprising. And you should keep the loaded cargo below 100 lbs on wet roads.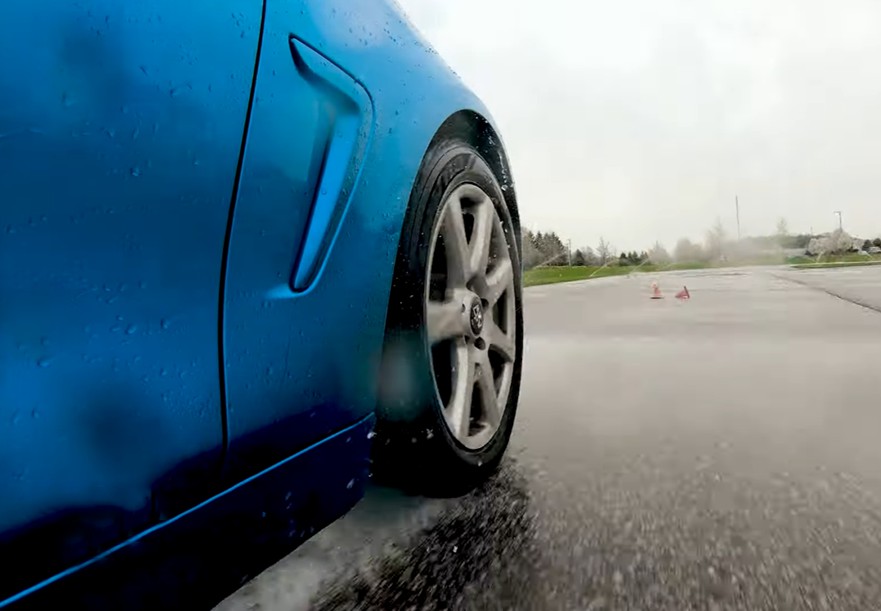 Hydroplaning Resistance: 7.6/10
Even in shallow puddles, Reliant constantly tripped over water and regained its composure with painstaking difficulties. The tire's staggering rolls also did little to help with the water redistribution, resulting in heavy and disproportionate layers underneath the contact patch that only slowed the tire's steering feedback and movements. Our attempts to improve the issue through palm-to-palm control and short-interval gear shifts also fell flat.
Thus, deep travels into stagnant water – even with low road driving rates – was impossible. We only managed a slightly better footing when the water was almost completely drained off the road, leaving behind slippery surfaces that tittered safely between dry and wet. 
3. Snow/Winter Performance: 7.7/10
Light Snow Traction: 7.9/10
Light snow performances were surprisingly stable for a touring tire. In fact, Reliant controlled itself much better here than on dry/wet on-road terrains, presumably due to the unexpected clawing actions provided by the inboard and outboard shoulders. Save for highways and rugged patches, we managed smooth, breezy strikes through straight roads and corners alike at 40 to 55 MPH. 
Better yet, when you equip it with snow chains, Reliant can almost be compared to a mid-range snow tire. The tire-road connections became twice tighter than usual, punching sharp onto the roads to gum our car in decisive cuts from entries to exits. Of course, more improvements were still needed for steep slopes and tight hairpins – but given that this is not a winter-focused tire, we could hardly complain.
Deep Snow Traction: 7.6/10
Likewise, our team felt pleased with Reliant's predictable behavior on deep snow, which was frankly much better than numerous touring tires ranking above it. Heavy drags under the path were well managed, and the muted-out grooves and sipes recovered from temporary stalls pretty fast.
Given that our tire seemed to work best at 20 to 30 MPH (40 MPH with snow chains), you should be able to handle basic road corners with moderate steering forces and minimal downshifts. In warmer temps, using it as a winter tire is totally possible.
Ice Traction: 7.7/10
Most tires performed worse on ice than snow, but not Reliant; its optimized contact patch had surprisingly good reactions against thick ice buildups. The Aquatred grooves seemed to shine better on slick paths rather than powdery snow, gripping more tightly on the roads. Jostles and stutters could not be completely kept at bay but very easy to foresee – even for a beginner – and seemed to grow less prominent over time. 
Except for sharp turns, correction skids, and tight corners, there were hardly any road bumps and cracks that could throw our car off track. Hence, given that your traveling roads are tame (no complex twisties or zigzag switchbacks), you can totally use Reliant in all harsh winter months.
4. Comfort: 7.3/10
Ride Quality: 7.5/10
Goodyear Reliant did not have much subtlety over road impacts, so bumpy, vibrating rides were only to be expected. But in compensation, the tire did not have much reaction over texture transitions, meaning you will not experience any drastic lags moving from dry to wet roads, snowed to snowless patches, or vice versa.
Road Noise Levels: 7.1/10
Compared to the fairly quiet Goodyear Assurance, the Reliant model was clearly the inferior of the two with the constant, loud squeaking tread noises on regular roads. They got twice deafening at corners, highway speeds, and snow plowing; rare instances of quietness only occur if you rev down to as low as 15 MPH.
5. Treadwear Rating and Durability: 7.8/10
Minus minor scratches at the top, Reliant did not experience any dramatic shredding or internal caving, which was quite a feat given the lack of tread-enhanced designs. The tire also handled cold snow much better than most touring tires of the same pricing range, which translates to pretty decent usage (at least two or three winters) in the long run.
Goodyear Reliant All-Season Pros & Cons
Consistent traction levels across all terrains
Surprisingly good grip levels in ice and snowy conditions
Pretty reliable tread life 
Great treadwear warranty (65k miles)
Quite affordable
Dry- and wet-condition performances could be better
No quiet rides
Underwhelming water evacuation 
Conclusion
Despite being a touring tire, Reliant tires mostly receive acclaim for their snow and ice confidence; dry and wet traction is not a complete disaster but still has room for refinements. To sum up this Goodyear Reliant All-Season tire review, you can use this all-season tire for casual summer driving on well-paved roads, drying slippery surfaces, and snow/ice terrains in moderate to warm temperatures.