Sedans and smaller cars could cope with shorter treadwear life due to the relatively low driving risks. But heavy SUVs and trucks are another different story altogether; the rough terrains and their higher load demands must be supported with tire options way more durable than what we often see on the market.
Testing more than 30 truck tires in only 10 days posed numerous challenges, but our COR Wheels team has managed to single out the 10 best all season tires for trucks. Each has its respective strengths and drawbacks. Scroll through our review for details!
In this article:
How Did We Test & Pick The Best All Season Tires for Trucks
Our team has scoured the American market to select the 30 best-selling all season truck tires for our 2023 COR Wheels Tire Test. They were then subjected to driving challenges on multiple terrain changes around NW 33rd street in Florida, carrying on for 10 days in summer (June – July) combined with our winter test (January).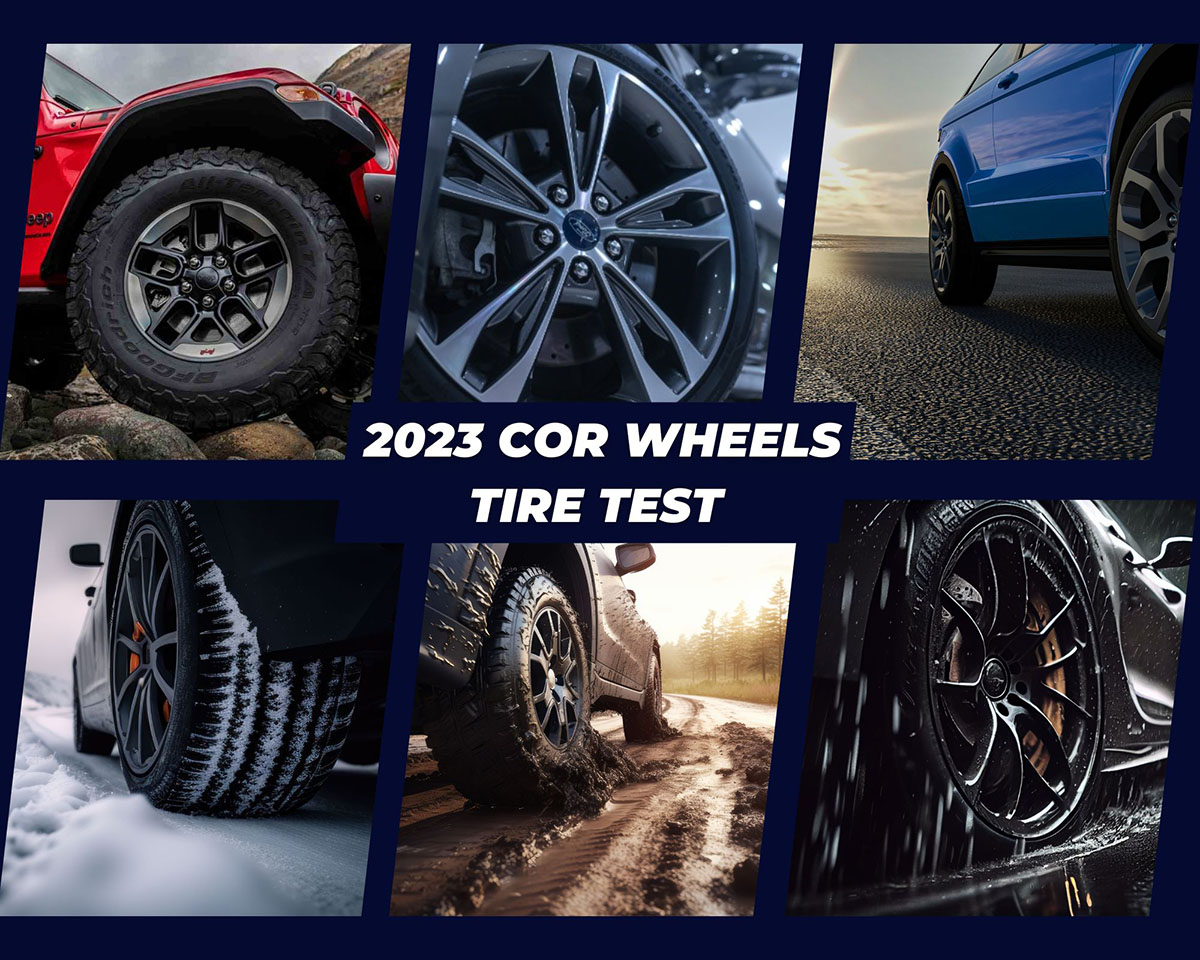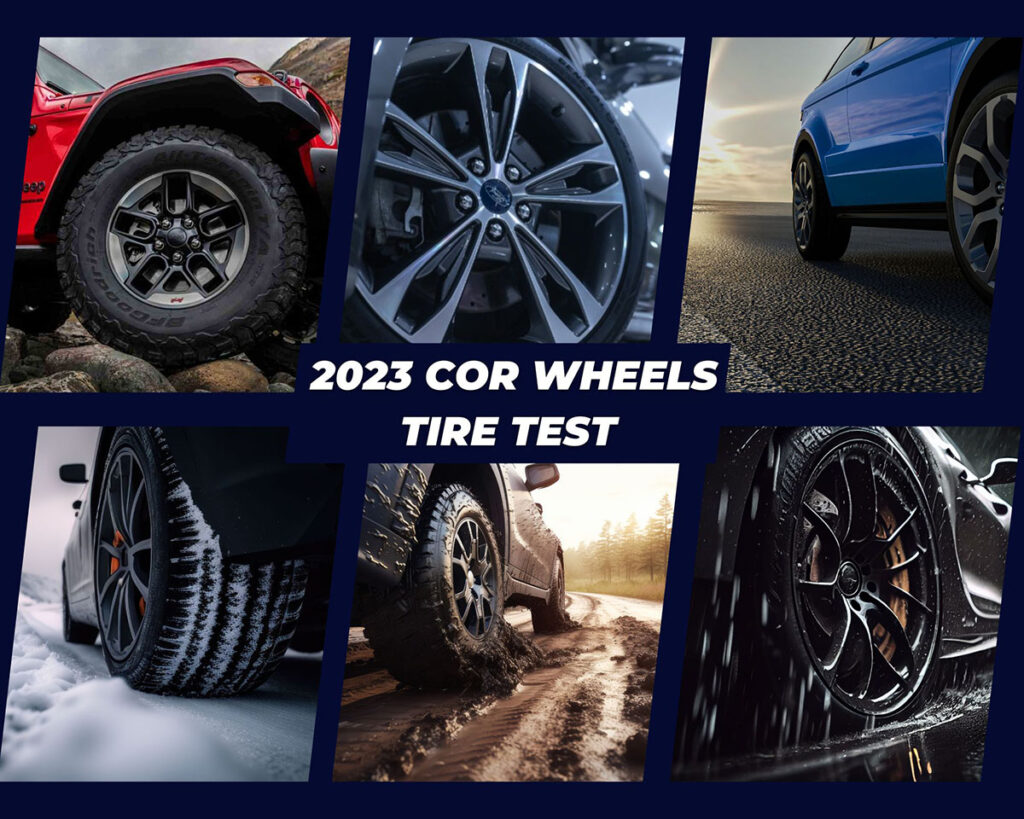 The team members assessed and discussed how each test result turned out based on the tire's tread wear (our main criterion), comfort, wet, dry, and winter/snow traction, as well as the price. Throughout the test tracks, we also paid close attention to fuel economy, rolling resistance, sharp turn degrees, and other relevant factors to deliver a more inclusive overview and the best buying advice.
Once settling on the tire's overall score, our COR Wheels team compared those metrics with surveyed customer reviews (American drivers) nationwide. Both our professional opinions and drivers' verified feedback were weighted in, guaranteeing a more accurate reflection of the tire's real-life delivery in our final reports.
Top 10 Best All Season Truck Tires In 2023
---
1. Continental CrossContact LX25
Best Overall Performance For Truck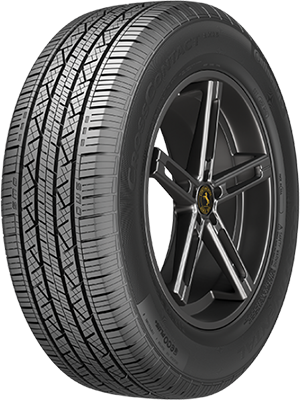 Tire Type
Crossover/SUV Touring All-Season
Tire Size
16″ – 22″
Weight
24.0 LBS – 43.0 LBS
Load Index
95 – 114
Load Range
SL – XL
Speed Rating
– H: up to 130 mph
– V: up to 149 mph
Warranty
65,000 – 70,000
Ratings
8.9/10
Continental CrossContact LX25 shines through the noise as one of the best all season light truck tire.
Its EcoPlus+ compounds are molded into symmetric tread patterns, aided by the extra absorption layer underneath for smoother, more comfortable rides. Their even-spaced blocks reduce braking distances in wetter driving, while the open, circumferential grooves take over the water flow to control hydroplaning issues.
Our team was also pleased with how the diagonal and lateral sipes interlaced to offer more biting edges – which manifested themselves in the sharp, confident teeth that gripped tight onto our paved roads.
And they did a good job spreading out the concentrated pressure to minimize rubber abuse, allowing our truck to plunge into varied test terrains with little lifespan loss. After 10 days, we could hardly see any tread shreds, except for very minor scuffs from sharp, off-road rocks.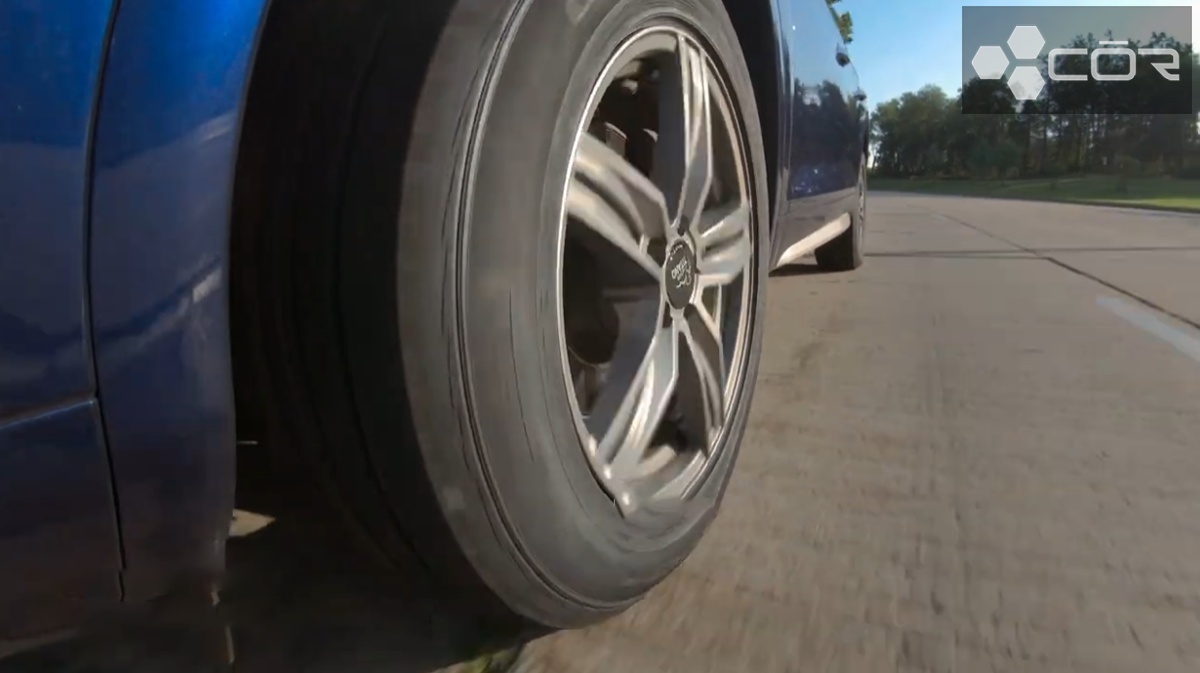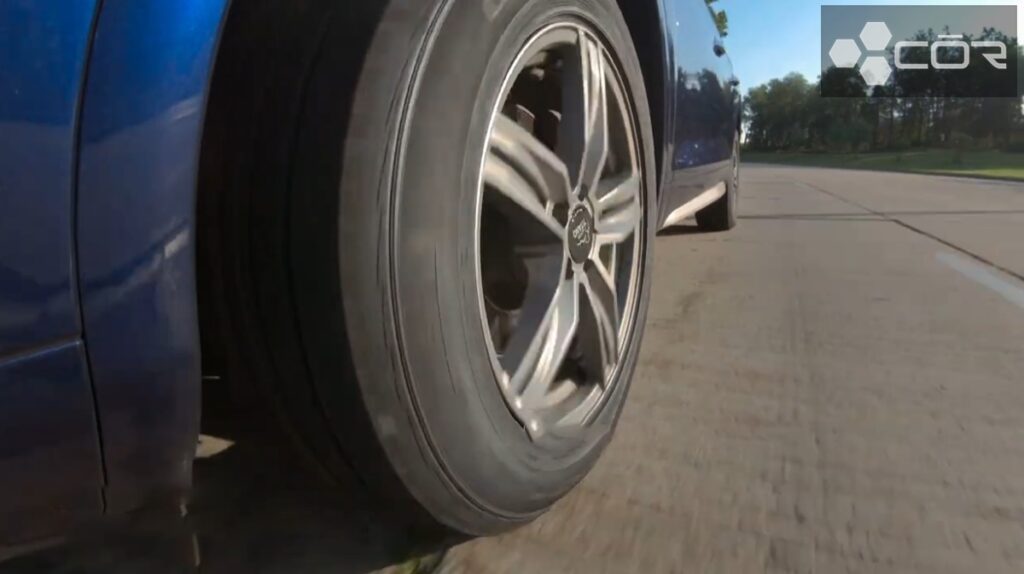 Aided by this sturdy, durable tread compound, Continental CrossContact LX25 left little room for complaint in terms of traction. We started slow at 25 MPH to give the truck some warm-up time, and these interlocking sipes and teeth planted themselves very assuredly on the grooves.
Steering across wider curves also took little effort thanks to the communicative, temp-flexible EcoPlus that coped well with the generated heat under the rubber; delays showed up occasionally when our team narrowed our arcs 1 hour or 2 into the test ride, but far from being a compromise.
At the starting line, our truck was already packed with 2,000 pounds of cargo or so – and we added more to this number after every 3-4 hours. Fortunately, Continental CrossContact LX25 remained consistently reliable on dry/wet terrains and even showcased good confidence on 6-12 inches of snow; minus some harmless stutters, we rarely had to turn to snow chains for additional support.
Still, its ice and deeper snow performance was not impressive. And in particularly abrupt cornering exits, the truck did suffer from forward jostles that could have thrown us (and our cargo) off balance if we had not paid attention. Acceleration from 25 to 50-60 MPH was swift and drama-free, but deceleration felt admittedly hefty as the cargo load increased its weight over time.
Great, consistent traction on dry, wet, and even snow roads (under 12 inches)
Great tread life
Excellent ride quality, little noise
Sturdy biting teeth that gave riders confidence
Occasional jostles at corner exits
Deceleration is a bit heavy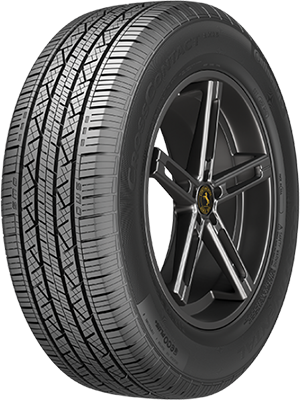 ---
2. Michelin Defender LTX M/S
Best for Long-Lasting Tread Life On All Terrains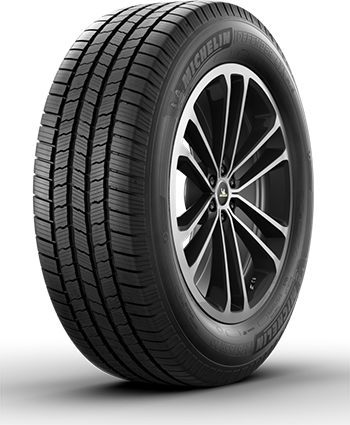 Tire Type
Highway All-Season
Tire Size
15″ – 22″
Weight
23.0 LBS – 60.19 LBS
Load Index
95 – 129
Load Range
C1 – XL
Speed Rating
– H: up to 130 mph
– T: up to 118 mph
Warranty
50,000 – 70,000 miles
Ratings
8.9/10
Treadwear is Michelin Defender's strongest asset compared to others – and given the thoughtful design, nobody in our team was surprised.
This Defender model introduced the advanced Evertread compound to the table, which promises tough handlings under tougher conditions and hence, extends the tread's lifespan. It is further molded into symmetric tread designs with 3-D, high-density active sipes to stabilize the tread blocks during inclement weather.
The four circumferential channels talk things further with their inclusive shoulder slots and lateral grooves, enhancing the tread's strength in stopping performance and wet traction alike.
And we love how the MaxTouch profile increased Defender's contact patch through even acceleration force distribution, resulting in much longer wear intervals. The robust, rugged feel was constantly present as we changed lanes and terrains; from dry pavements to down-right waterlogged roads, our vehicle marched on powerfully yet surely with only very minor bumps on large cracks.
Frequent cornerings at gradual acceleration to 75 MPH did not seem to faze the truck, and by the time we pulled to an eventual stop at the end of the 10-day ride, treadwear was barely even there. Many drivers in our latest COR Wheels survey shared that the tire only exhibited some signs of wearing down after 11,000 miles under heavy loads every day.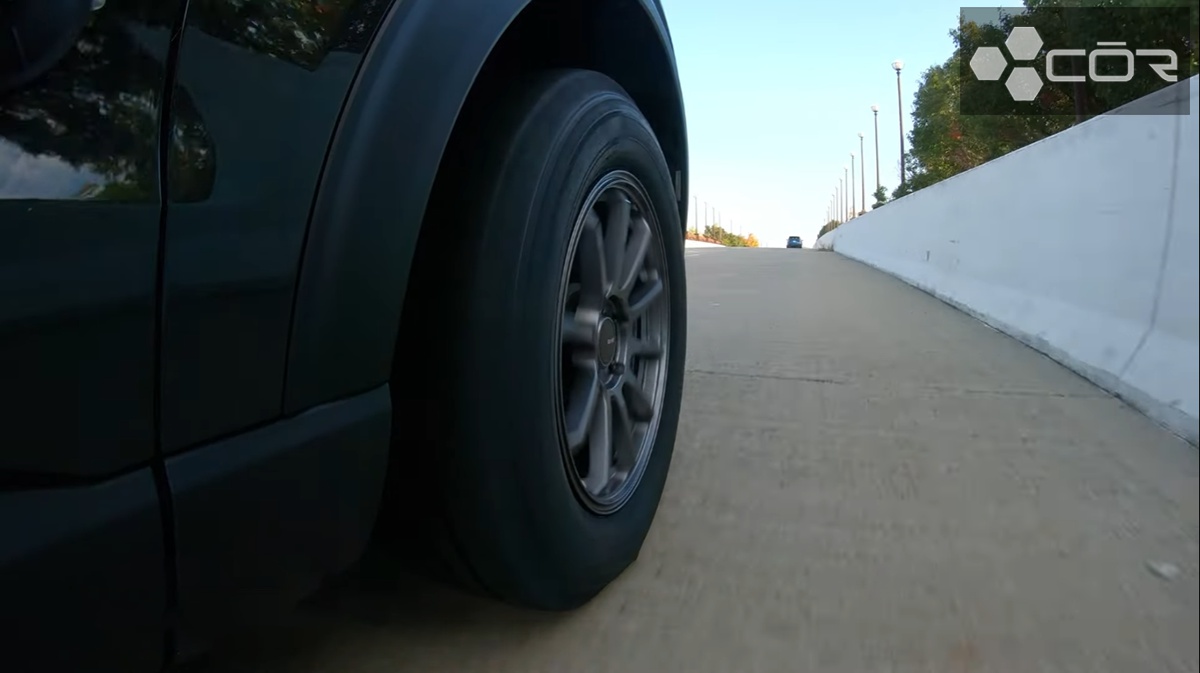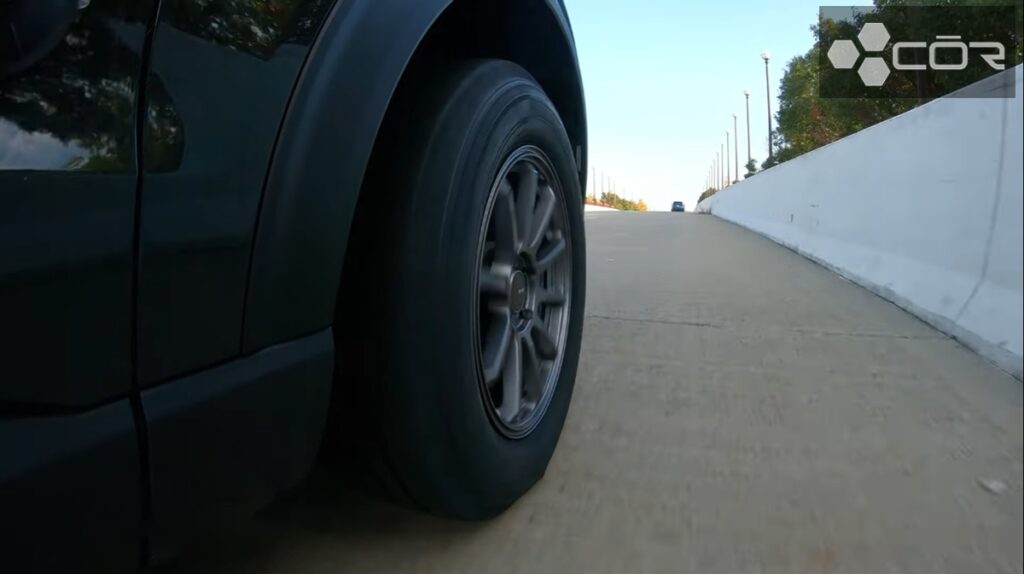 Traction and steering response did not disappoint our anticipating team members, either. Michelin Defender performed on par with the Continental CrossContact (and even surpassed the latter slightly in dry traction) with its secure and strong foothold.
Corner entry and exits at more than 75 MPH were equally smooth, and it was hard not to be impressed by the truck's sweeping, decisive cuts whenever we had to go through a series of back-to-back sharp turns on particularly long road stretches.
The counterforces did become much more pronounced on ice roads at heavier cargo loads, by the way. Under favorable weather, we could still move forwards soundly between constant acceleration, deceleration, and braking; however, entering the deep zones meant cargo had to be unloaded to ensure no weighted delays for us.
Great treadwear with 70,000-mile warranty (for T- & H-speed rated models)
Impressive performance on dry and wet roads
Good anchor on snow
Confident cornering at acceleration
Struggling a bit on the ice
Weighted delays with heavier cargo loads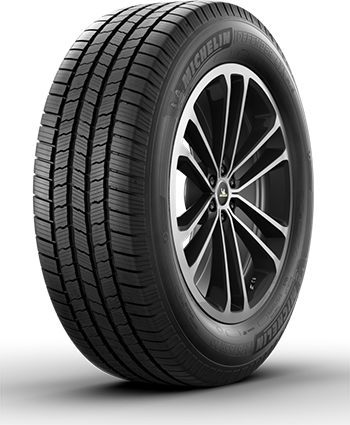 ---
3. Pirelli P7 AS Plus 3
Best Fuel Efficiency For Truck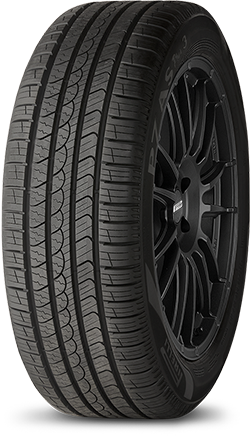 Tire Type
Grand Touring All-Season
Tire Size
17″ – 20″
Weight
19.0 LBS – 30.0 LBS
Load Index
91 – 104
Load Range
SL – XL
Speed Rating
– H: up to 130 mph
– V: up to 149 mph
Warranty
70,000
Ratings
8.8/10
Pirelli P7 AS Plus 3 took all breaths away with its mind-blowing fuel efficiency on any terrain. The outboard shoulder blocks offer ample, generous anchoring space for dry corner grips and steering responses, while its circumferential grooves lend good support in aquaplaning resistance. Optimized footprints and full-depth vices added onto the tread allowed the truck more stability in wintry conditions.
But what impressed us more than any is the balanced sips and grooves distribution, along with the central-zig-zag sipes to deliver extra biting edges.
As a result, void space was not an issue with Pirelli AS Plus 3, and the rolling resistance we could observe throughout the test ride was significantly lower than any truck tire we had tested. We needed much less steering effort to move the truck forward, which basically meant reduced fuel consumption.
And thanks to the good airflow management and almost non-problematic drag coefficients, things were always kept civilized at around 35 MPG or so even on rugged terrains – quite a massive feat for heavy trucks.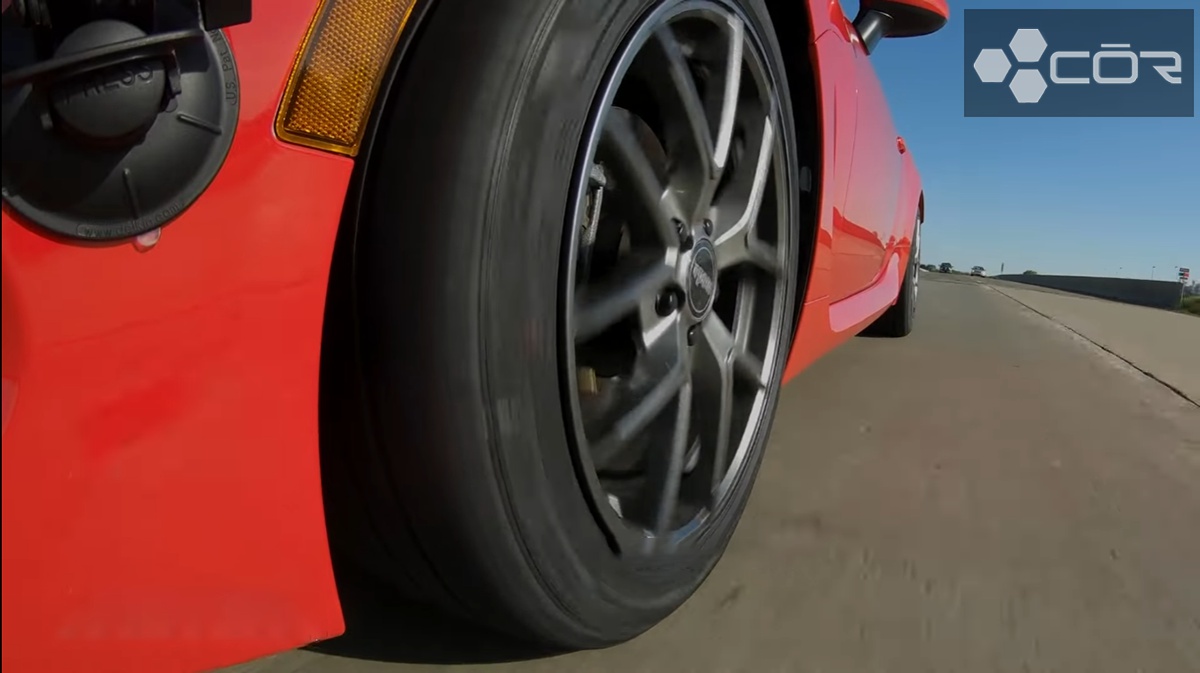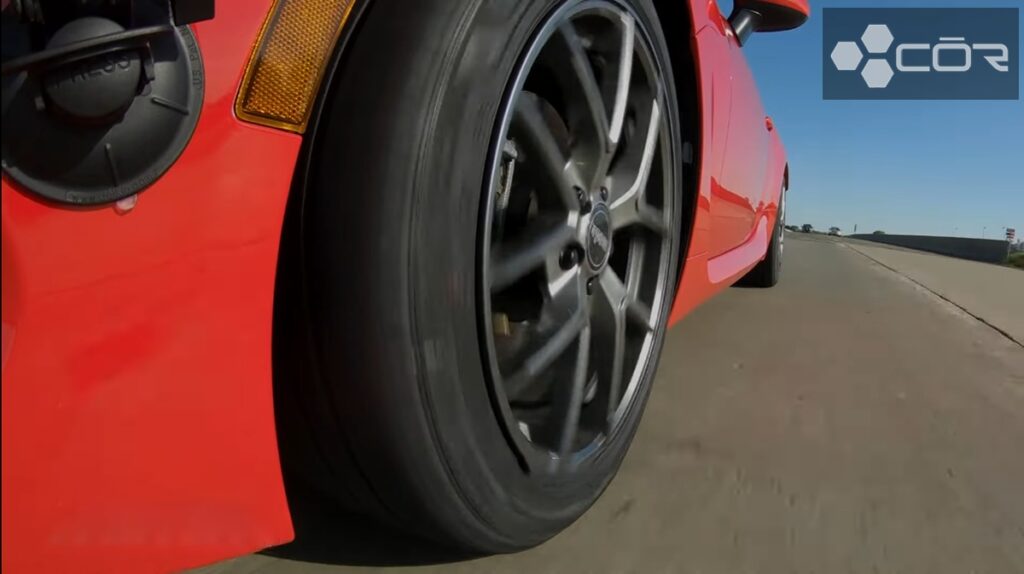 Like the other top contender tires, Pirelli AS Plus 3 did not give us much hard time on dry and wet roads. Our cautious starter at around 30 MPH to prep the tire for longer rides turned out to be unnecessary, as its traction carried on with a great sense of certainty even at our sudden, head-whipping acceleration to 80 MPH mid-way.
The truck merged from dry lamps to busy freeways with ease, only lagging for a harmless 1-2 seconds when going down from its high-speed rates.
Cargo loads heavier than 5,000 pounds seemingly did not subject our rides to any immediate convenience compromise, either – given that the weight additions were slow and steady. For instance, dividing 3000 extra pounds into two 1500-pound inputs at gapped stops kept our truck's performance unchanged as we resumed the test.
Meanwhile, adding 3000 pounds at once put the tire and the truck in secondary lags during the first mile – though thankfully, these stutters were eventually smoothed out by the groove's confident road bites. And with these towing tasks, we only noticed a 0.5 to 1 MPG drop in its gas mileage.
Great gas mileage (around 35 MPG)
Great traction consistency on dry and wet roads
Decent footprints on snow and ice
Unfazed by extra cargo weights (given gradual/steady inputs)
Occasional stutters and lags that felt heavy
Steering arcs could have been improved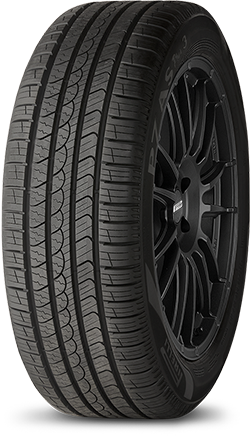 ---
4. Continental TerrainContact H/T
Best for Off-road Performance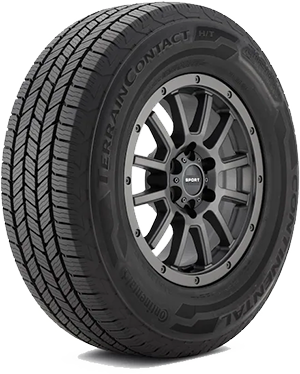 Tire Type
Crossover/SUV Touring All-Season
Tire Size
16″ – 22″
Weight
29.0 LBS – 57.0 LBS
Load Index
99 – 126
Load Range
E1 – XL
Speed Rating
– H: up to 130 mph
– T: up to 118 mph
Warranty
60,000 – 70,000
Ratings
8.8/10
Another Continental representative, the TerrainContact H/T, takes the crown in off-road performances. The tire utilizes the classic +Silane additives for more cut/chip resistance, longevity, and enhanced off-road traction, aided by the purposeful symmetric tread compounds.
There is still more: the interlocking lateral notches and circumferential grooves evacuate water, sand, and loose mud/snow fast from the tire's footprints, and its full-depth featured vices offered more biting edges and gripping teeth under wet, snow, dirt, or mud conditions.
For one, the grooves and vices delivered great combined power to tackle and redirect dirt invasion. A few goodhearted rolls could fling these substances off the tread tires in less than 4-5 seconds, allowing us to march slowly but very reassuringly through the more uneven texture at an average of 30-35 MPH.
When the dirt density became more favorable, our team even engaged in occasional accelerations and did not experience much of a throwback.
Tackling sand was a bit trickier due to the extremely small particles, but TerrainContact performed within our expectations. There was a slight lean towards the edge, but thankfully did not leave much of a worrying impact due to the quick rebound of just 1-2 seconds afterward.
And once again, our team could trust the grooves for its polished evacuation work; thin layers of sand lingered but not enough to keep us from stable, planted treading. Overall, the travel was not without minor delays and jostles, but pleasant nonetheless.
Rocky terrains have been known to pose numerous driving challenges – even for very specialized off-road tires. So we did not expect much for TerrainContact H/T at first – but it turned out the tire's delivery was still more than decent.
Cautious, slow driving below 25 MPH would naturally strike the most balance between confidence and safety on these sharp surfaces; but guaranteed consistent wrist position, our team managed a few abrupt revs to 30-35 MPH just fine.
Stiffer patches gave us slightly more headaches, but nothing that could not be handled: punctual alternations between deceleration and precise braking pushed our car forwards quickly.
Our tires showed more struggle on muddy sections than on the other terrains due to the stickier, wetter soil and water mixture. Fortunately, the +Silane additives might be weaker here but still provide enough coatings to smooth the contact patches out. We managed to finish our test ride on time with on-and-off hiccups and jerks – but again, none went out of line.
On another note, TerrainContact H/T struggled more on ice – which, once again, was far from a surprise for us due to the ice's slippery nature. Treadwear was great but seemed to suffer a bit more than usual under extreme temperatures, so it would be best to limit your trips through ice terrains when winter is around.
Performed stably on off-road terrains
Great traction on dry and wet roads
Swift steering movements
Decent on snow
Jostles after mid-bump accelerations
Treadwear wears down faster at extreme temperatures (though still good in general)
Could have used more stable cornering on wet roads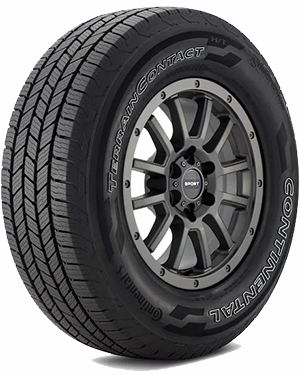 ---
5. Firestone Destination LE3
Best All Season Truck Tire For Value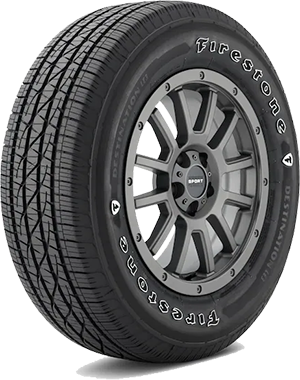 Tire Type
Highway All-Season
Tire Size
15″ – 22″
Weight
22.0 LBS – 41.0 LBS
Load Index
95 – 116
Load Range
SL – XL
Speed Rating
– H: up to 130 mph
– V: up to 149 mph
Warranty
70000
Ratings
8.6/10
Firestone Destination LE3 offers the best values, with features and technologies way higher than any tire of the same price range.
The tire arrives with advanced rubber compounds (symmetrically molded) to give more room for road handling and smooth out road bumps. Full-depth grooves are also involved for more consistent traction – even after tread wear already goes deep – and the optimized shoulder slots channel promises easier water evacuations than its other peers.
Its 3D sipes of diverse shapes and depths sealed the deal for all our team members, as the sturdy and powerful grip holds allow our truck to progress with much less rolling resistance and effort than expected.
Swift and clean cuts aside, the treadwear clearly benefits from it: there was a minor cuff at the furthest edge of the tread surface after our 10-day test, but it looked dim enough not to be considered as treadwear/ shredding. Many drivers' feedback in our survey stated that there was still much tread left when their tire reached the 55,000-mile point.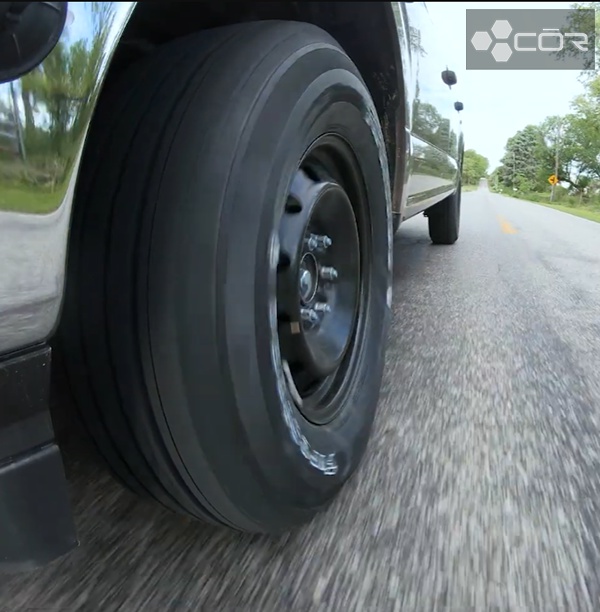 And for a tire of its price, the dry and wet traction was also very excellent; Destination LE3 exuded as much confidence and assurance with its dry traction as Pirelli P7 AS Plus 3 (ranked at #3) and did not lag far behind Pirelli in wet grip, either.
We could even allow ourselves to get less uptight with our steering at tricky, narrower road twists thanks to LE3's unwavering anchors, and whippy speed changes from 30 MPH to as high as 75 MPH or vice versa felt at home and generally uneventful.
Our team wished all these stable performances could have carried on into winter terrains; but overall, Destination LE3 did not stray much from expectations.
Even without snow chains, it found its way around packed snow and inconsistent road textures pretty fast – given our firm marches at below 50 MPH – and only let out real signals of struggle when our cargo loads began to exceed 5,000 lbs.
Road noises were audible at bumps but far from annoying, which can be considered one of the tire's highlighted redeeming qualities.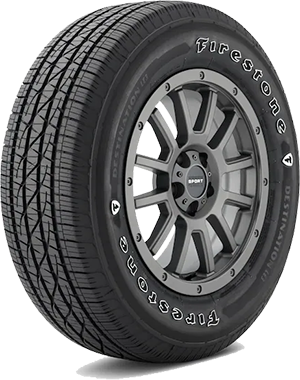 Best value for its price
Consistent traction in dry and wet weather; snow performances are within expectations
Good ride quality and little noise
Need more caution when the cargo exceeds 5,000 pounds
Hydroplaning still occurred at aggressive turns (though not often)
---
6. Kumho Crugen HT51
Best All Season Truck Tire for Budget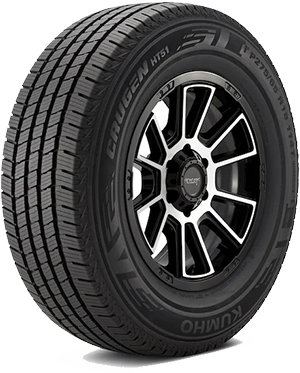 Tire Type
Highway All-Season
Tire Size
15″ – 22″
Weight
27.0 LBS – 57.0 LBS
Load Index
98 – 125
Load Range
C1 – XL
Speed Rating
– H: Up to 130 mph
– T: UP to 118 mph
Warranty
45,000 – 75,000
Ratings
8.6/10
At a starting price of a mere $130, this budget tire delivered satisfying, within-expectation performances without sacrificing much treadwear and traction quality.
For starters, Kumho Crugen HT51 is molded asymmetrically using optimized block layouts for better durability. Its five-rib designs also feature stiff centers to improve straight-line foothold on dry pavements – while the zigzag, circumferential grooves deliver vortex effects to channel/redirect water flow more easily.
Most impressively, the light-snow tractions were significantly enhanced due to the 3D full-depth sipes, enough to gain this tire a 3PMSF symbol starting in 2017 (not many tires at this price range receive such an honor).
Sure, a lot of stability was still missing compared to higher-end models, especially on ice – but considering the upfront cost, the fact that Kumho could cope decently with snow was already incredible.
The connections between our tire compounds and the snow packs were very pronounced and clearly present, announced clearly through the assuring "thud" sounds whenever the grooves planted themselves onto the slightly rougher patches.
Maneuvering around tighter hairpins did not present as many stumbles as we had thought at a relatively high rate of 40 MPH, and hiccups at wider highway curves were only very few and far between.
Meanwhile, steering responses did not feel as dynamic as on dry roads but were generally favorable and accurate, lifting us off the constant worry of violent skidding/slippage.
With this long-lasting impression on terrains as challenging as snow, there is no doubt about Kumho's performance on regular, favorable-conditioned roads.
To put things in perspective, its treadwear was only a tad behind the Firestone Destination LE3 (concluding our top 5), with very minor scratches at the top by the end of a particularly extensive test ride at rugged uphill ascents at 3,500 lbs of cargo. The gripping capability boasted itself just as confidently – thanks to the intertwined sipes and block layouts that only faltered a bit at larger bumps and still carried on with ease in others.
Corner stabilities were generally unchanged at any rate below 50 MPH, and one could hardly consider the seconds-long delay at hairpin bends as drawbacks; given the price, that was already more than anyone could hope for.
At 30 MPH or backward, the road noises could be heard pretty clearly, albeit not enough to throw ride comfort under the bus. Fortunately, the higher we accelerated, the fewer these noises became, overshadowed by the five-rib patterns as they buffed out to satisfy our increasing speed demands.
Budget tires
Great on dry and wet roads; surprisingly decent on snow
Few skidding accidents
Good treadwear for its price
Road noises are constant
Corner stabilities could still use some improvements
---
7. Goodyear Wrangler Workhorse HT
Best All Season Truck Tire for Heavy-Duty Use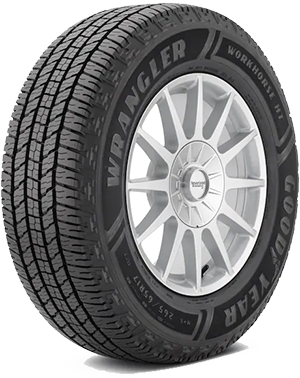 Tire Type
Highway All-Season
Tire Size
16″ – 22″
Weight
37.0 LBS – 42.98 LBS
Load Index
113 – 121
Load Range
C8 – XL
Speed Rating
– H: Up to 130 mph
– T: UP to 118 mph
Warranty
60,000
Ratings
8.6/10
Goodyear Wrangler Workhorse HT is clearly meant for heavy-duty usage – what with its sturdy polyester, 2-ply casings under the wide steel belts of high tensile. The durable compounds feature extra interlocking blocks to give truck drivers more confidence handling dry roads, while an aggressive, strong closed shoulder is included for better stiffness.
We also think highly of the circumferential grooves and ample shoulder slots; their generous space made water evacuation never easier. At the same time, extra biting edges were slotted between the lugs and tread blocks to bring our wet experience to new heights.
Our team members experienced little difficulties loading the truck at more than 5,000 lbs just 30 minutes into the ride; its polyester casings did a remarkably great job retaining the tire's integrity under strenuous pressure, with only few-and-far-between delays that were insignificant compared to the overall time length of the trip.
Treadwear suffered a bit as we entered rockier terrains, but was still in favorable lights: by the time we concluded the test, its tread condition was more or less the same as Firestone Destination – meaning only some minor scuffs here and there and nothing more.
Its wet performance and ride comfort were just as amazing, barely experiencing any drags or slippage when the loaded cargo exceeded the 6,000-lbs benchmark. Hydroplaning resistance did leave some room for improvements at tight corners and hairpin bends, but we could still cope with the issue by lowering the acceleration rate to 50-55 MPH.
Unfortunately, what brought the tire down to the #7 spot was its winter performance; the tire coped with decent competence on lighter or even deep snow, but entered a horrid traction decrease when stepping on ice.
5,000 pounds of loaded weight seemed more than comfortable on other terrains but tittered on dangerous lines here, forcing our team to bring it down to less than 4,000 pounds. And even then, skidding risks were not completely out of the picture.
Hence, tread more carefully with Goodyear Wrangler Workhorse HT if you must engage in heavy-duty tasks often on ice terrains or under extreme winter temperatures. In other conditions, the tire's delivery is more than satisfactory.
Handling very heavy cargo with little struggle
Great performance on dry roads
Good treadwear and ride comfort, little noise
Hydroplaning issues occur at hairpin bends
Horrible traction on ice
Minor delays with added cargo weight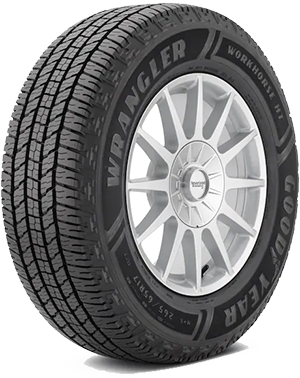 ---
8. Bridgestone Alenza AS Ultra
Best All Season Truck Tire for Long-Distance Comfort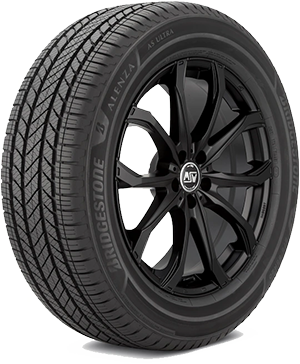 Tire Type
Crossover/SUV Touring All-Season
Tire Size
16″ – 22″
Weight
25.0 LBS – 42.0 LBS
Load Index
99 – 116
Load Range
SL – XL
Speed Rating
– H: up to 130 mph
– W: up to 168 mph
Warranty
80,000
Ratings
8.5/10
Bridgestone Alenza AS Ultra might not be the best tire for heavy-duty loadings, but its riding comfort over long distances is undisputed.
The tire arrives with high-silica, symmetrically-molded compounds that work great in noise swallowing during inclement weather; at the same time, they also give more margins for rotation flexibility. Its circumferential grooves deliver stable water channels to reduce hydroplaning risks, aided by the extra Snow Vices imprinted on tread blocks to provide extra biting edges in wintry conditions.
We also like how the generous sipes grip well onto slippery surfaces without exhibiting many fatigue symptoms. As such, Alenza AS Ultra proved its trustability for longer rides; minor lags and stutters showed up frequently around the first 30 minutes or so but almost disappeared into the treads during the rest of our 5-hour experiments on the same day.
The ample rotation flex minimized tread pressure to keep the tire in shape, so we could only single out some light scratches/tread wear on the surface top after our COR Wheels test had been over.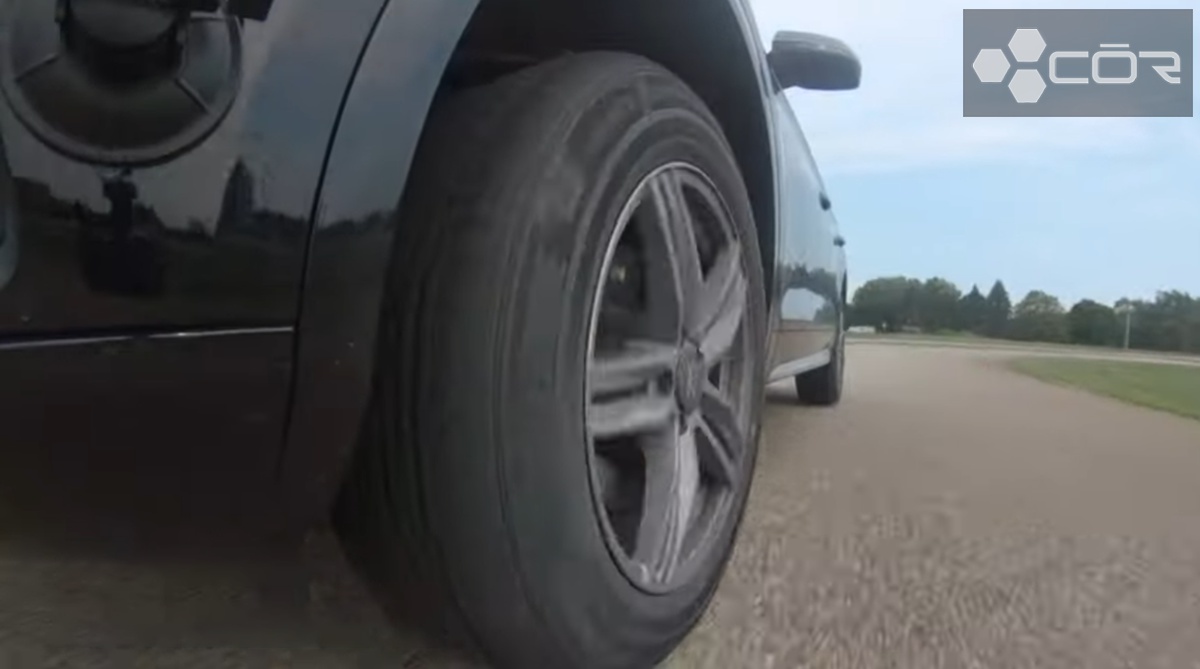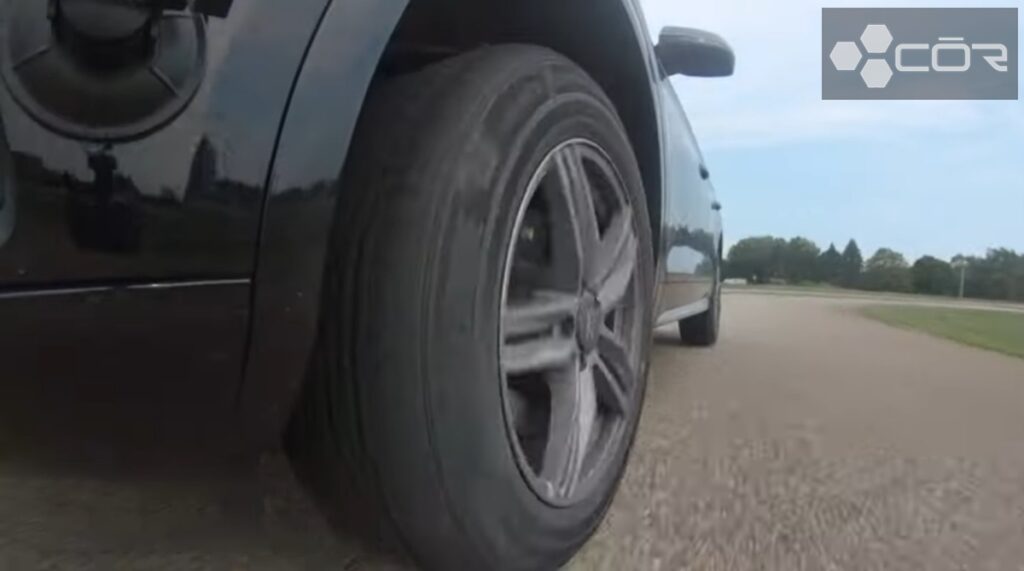 The same went with dry and wet traction, which only hiccuped for the brief first part of our ride and carried on issue-free during the rest. Vibrations were here and there but far from a looming presence, even on abrupt lane changes from wet to dry terrains or vice versa; they swallowed most potential road noises under the tread in a rare polished manner for a truck tire.
Our noise-sensitive members carried out the test longer than 100 miles at a time and reported no significant issues with loud, droning sounds like with some other substandard models.
Bridgestone's high-silica compounds also coped well with temperature changes. Exuding heat increased in volumes on the road the longer we neared ourselves towards noon time; yet, overheating issues barely occurred (if at all), with no signals of squirmy, soft sidewall feels that might have compromised the steering sensitivity.
This great temperature flexibility clearly benefited rolling resistance. Our car surged forward with just-right steering forces, and we never felt the need to add more grinding than necessary. Due to the much less fuel spent on each steering endeavor, our team only needed to visit the gas station after the third day of the test ride (we had driven about 500 miles by then).
Winter traction left some room for improvement, especially concerning ice-condition stability – but at least its performance was decent and by no means as horrible as Goodyear Wrangler. Given cargo of less than 3,000 lbs and warmer temperatures, you can totally pass off Alenza AS Ultra as a temporary winter tire.
Long-ride comfort
Good dry/wet performance
Decent on snow and ice
Adaptive compounds during dry-wet transitions
Lots of road noises
Bumpy feel during the first part of the ride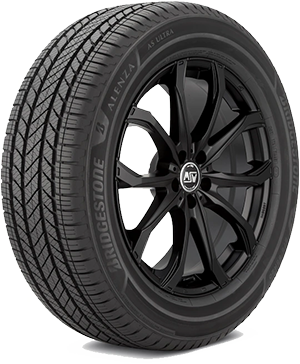 ---
9. Bridgestone Dueler H/L Alenza Plus
Best for Long-lasting Tread Life On Dry/Wet Roads
| | |
| --- | --- |
| Tire Type | Crossover/SUV Touring All-Season |
| Tire Size | 15″ – 22″ |
| Load Range | SL – XL |
| Speed Rating | H, V, T, W |
| Warranty | 80,000 miles |
| Ratings | 8.4/10 |
Frankly, Bridgestone Dueler H/L Alenza Plus wears faster than the Michelin Defender at #2.
But what makes it a great candidate for tread life strength is none other than the inclusive combination of sipes, lateral notches, circumferential grooves, and continuous center ribs, whose multi-complex shapes, angles, and depths distribute force evenly than any other we have seen.
As a result, chances of the wear pooling on one spot were rare, and we managed to go through the 10-day test with barely any serious tread shred other than a few low-degree dents – better than a lot of tires with higher treadwear ratings.
Its dry performance was also quite satisfying, though the occasional stumbling steering stability at off-camber turns might not sit right with some of our steering members.
We went through speed rises with little problem and could even enjoy an entire hour of no stuttering at a cargo weight of about 3,500 lbs. Tire-road contacts were constant, communicative, and stable, palming over cracks and bumps with good-hearted shakes that neither felt overwhelming nor disruptive.
However, like the Goodyear Wrangler, Bridgestone Dueler H/L Alenza Plus also suffered on ice traction. Its light snow/deep snow stability was not as bad for us as on ice but also far from being the best, ranking last on the list due to the frequent skids and significantly reduced traction at rugged patches.
The road noises got to the point of borderline annoying whenever we implied wider steering arcs, so it would be better to look elsewhere if you are noise-sensitive.
Tread wear is evenly distributed to last longer than its ratings
Great dry performance
Wet performance is decent but not impressive
Struggling on ice and snow
Lots of road noises
---
10. General AltiMAX RT45
Best for Fuel Efficiency On Dry/Wet Roads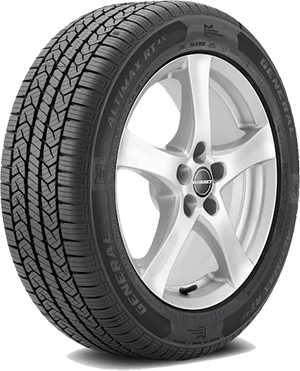 Tire Type
Grand Touring All-Season
Tire Size
14″ – 20″
Weight
14.341 LBS – 30.204 LBS
Load Index
82 – 107
Load Range
SL – XL
Speed Rating
– H: up to 130 mph
– V: up to 149 mph
Warranty
65,000 – 75,000
Ratings
8.3/10
Like its Pirelli P7 AS Plus 3 rival at #3, General AltiMAX RT45 also received positive feedback regarding its optimized fuel consumption, especially in wet and dry conditions.
There were no zig-zag sipes this time, but even rolling distribution was achieved in other ways: General RT45 combined circumferential grooves with interlocking treads to deliver better grip at less force, while extra footprint is optimized thanks to the shoulder slots and lateral voids.
Hence, the light, feathery feel under the rubber as our truck rolled forward took none of us by surprise. Steering response took very minimal time responding to our impromptu inputs, and we rarely had to deepen our wrist angles to strengthen the tire-road contact; a slightly more comfortable wheel position did not seem to hurt its consistent speed maintenance.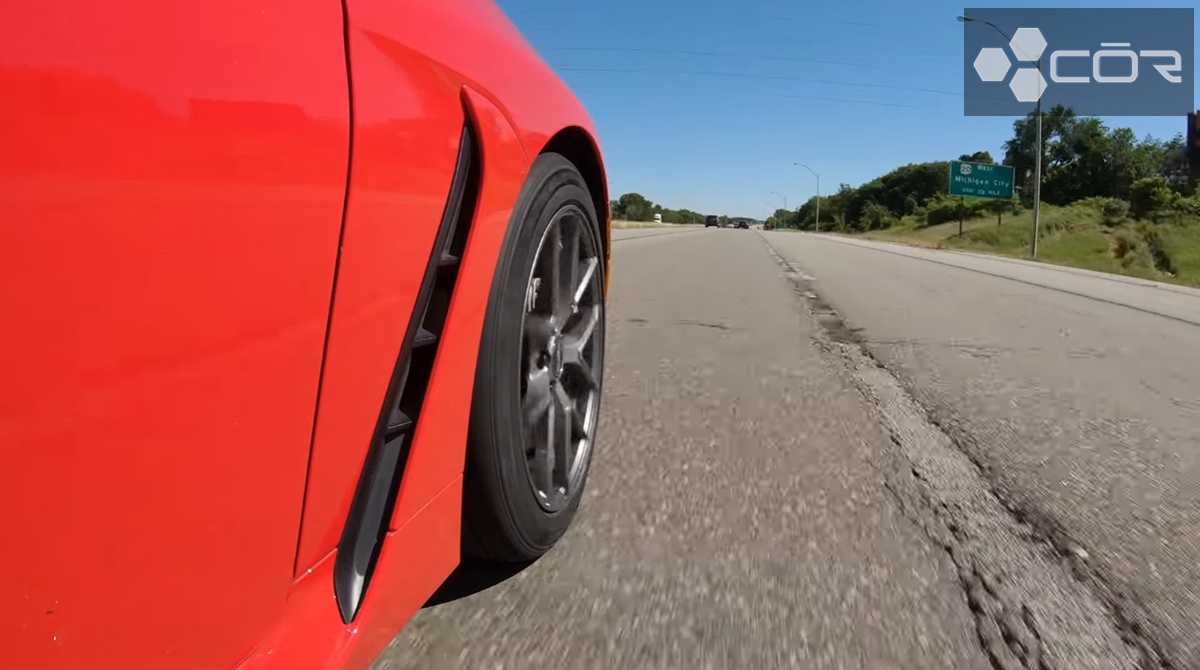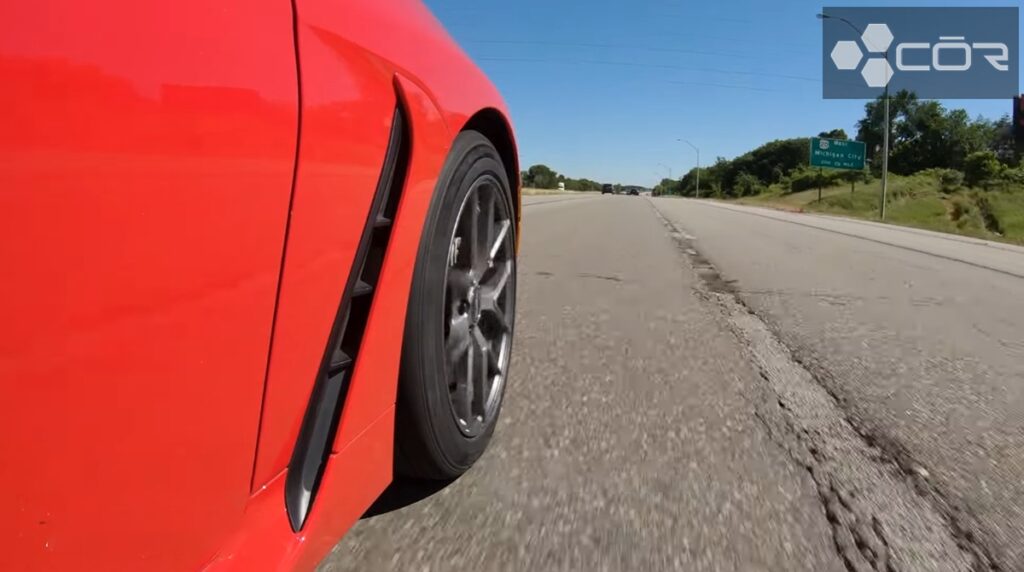 We only had to stop by the gas station after four days of packed driving – clear evidence of the General's impressive fuel mileage. And many drivers agreed that the tires helped increase 1-3 MPG compared to their previous tire sets.
However, it was the corner stability and hydroplaning resistance that pushed AltiMAX RT45 to the bottom of our list. To clarify, both were good and met our standards, but they lacked the snappy sensitivity and roaring dynamics any truck driver would need on much rougher terrains.
After loading 2,000 pounds of cargo, we started going down with wobbly turns when navigating decreasing-radius curves – as the tires take 4-5 seconds longer than usual to rebound. These issues were acceptable on dry pavements but translated unfavorably in wetter weather, allowing more water to seep through the grooves during response delays.
Treadwear also suffered as a result, seemingly experiencing more frequent fatigue at abrupt dry-wet changes.
Great fuel mileage
Overall great ride comfort
Relaxing steering
Cheap price
Hydroplaning issues are still present
Occasional noises
So-so treadwear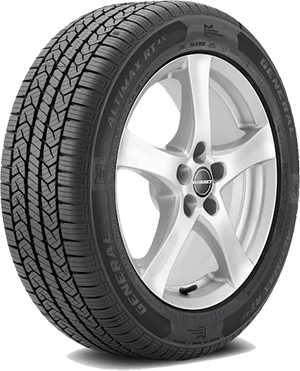 ---
Things to Note When Choosing Good All Season Tires for Trucks
Always remember the golden five:
Tread Designs: Whether you like asymmetric or directional patterns, always look for truck tires with deep channels and grooves to disperse snow/water
Tread Compounds: A quality truck tire must perform at least decently in dry and wet conditions – the most basic driving terrains. Snow or off-road is optional but welcome.
Load ratings: The truck will struggle if its weight does not match the tire's load ratings. Research carefully and consult the manufacturer if needed.
Speed ratings: These numbers should be equal (or even higher) to your truck's top speed.
Price: Set budgets and confirm your priority to avoid overspending. For instance, why spend on tires with long-distance comfort when you only travel below 15 miles at a time?
Conclusion
Continental CrossContact LX25's ultimate victory as the best all-season truck tire is unquestionable. The tire enjoys amazing treadwear and excellent dry/wet traction; even its winter performance ticked all our basic criteria boxes.
Using CrossContact for both light trucks and SUVs is fine – but remember to ensure its load and speed ratings are within the vehicle's handling capacity. Cases of compatible truck models include Dodge Durango, GMC Terrain, Chevrolet Equinox, and Honda Odyssey.
Here is the summary of the 10 Best all-season truck tires in the 2023 COR Wheels Tire Test:
| Tire Brand & Model | | | | | | | |
| --- | --- | --- | --- | --- | --- | --- | --- |
| Continental CrossContact LX25 | 1st | 8.9 | 9.1 | 9 | 8.2 | 8.8 | 9 |
| Michelin Defender LTX M/S | 2nd | 8.9 | 9.2 | 9 | 8.2 | 9 | 8.9 |
| Pirelli P7 AS Plus 3 | 3rd | 8.8 | 9.1 | 8.9 | 8.1 | 8.9 | 8.9 |
| Continental TerrainContact H/T | 4th | 8.8 | 9.1 | 9 | 8 | 8.9 | 8.8 |
| Firestone Destination LE3 | 5th | 8.6 | 9 | 8.7 | 7.9 | 8.8 | 8.6 |
| Kumho Crugen HT51 | 6th | 8.6 | 8.9 | 8.7 | 8.1 | 8.6 | 8.5 |
| Goodyear Wrangler Workhorse HT | 7th | 8.6 | 9.1 | 8.6 | 7.6 | 9 | 8.6 |
| Bridgestone Alenza AS Ultra | 8th | 8.5 | 9 | 8.9 | 7.8 | 8.3 | 8.4 |
| Bridgestone Dueler H/L Alenza Plus | 9th | 8.4 | 8.9 | 8.6 | 7.3 | 8.4 | 8.5 |
| General AltiMAX RT45 | 10th | 8.3 | 8.8 | 8.5 | 7.7 | 8.4 | 8.3 |
---
President & Automotive Expert at COR Wheels
Robert Herrera has been with COR Wheels for 17 years and has a great passion for the automotive industry. During his time at COR Wheels, he has driven and test-driven a variety of vehicles.
---