Midsize SUVs like the Toyota 4Runner have dominated the automobile market for years, known for extreme versatility that helps them easily switch between daily driving and off-road modes. None of these features can shift through when compromised by low-quality tires, however – hence our team's rigorous testing to determine the best 4runner tires to date.
Scroll for further insights and overviews for each tire.
In this article:
A. How to Choose The Best Tire for Toyota 4Runner
1. Understanding The Toyota 4Runner
Toyota 4Runner is a midsize SUV designed to cater to various driving purposes and terrains, even offering diverse drive systems (AWD/all-wheel drive, RWD/rear-wheel drive, or 4WD/four-wheel drive, depending on models).
Is your model an AWD? Then, its design can handle all-season terrains and light off-road surfaces. You should aim for strong yet flexible tires that balance grip maintenance with good riding comfort – preferably with wide, stable grooves to work well on both dry and wet roads.
4WD models, on the other hand, are excellent for extreme off-road endeavors or very thick snow. Aggressive tire options with rugged sidewalls, well-blended shoulders, and extra off-road features (e.g., stone ejectors, earth diggers, snow bites, etc.) will be the best choices for you.
RWD balances performance and handling characteristics to quench your thirst for spirited rides, especially on highways. Aim for smooth rotation-focused tires that remain unwavering through long highway curves and extended switchbacks without sacrificing durability and overall impact cushion.
And like most midsize SUVs, the Toyota 4Runner is also up for heavy loading (1,495 to 1,700 lbs of payloads and about 5,000 lbs of towing capacity). Set your eyes on tires with a load index of 93 onwards.
2. Choosing The Right Tire Type for Your Toyota 4Runner
a. All-Season Tires
Do you want optimal traction all year round and across diverse on-road terrains, ranging from dry pavements to snow-covered surfaces? Then, all-season tires are the best choices for you, a great balance between good grip and overall riding comfort.
Choose highway all-season models if you want to reach maximum traction and smooth cushion feels on highways. Premium models are usually puncture-resistant and very long-lasting, but feel free to negotiate between your top priorities and budgets for the most suitable deals.
Crossover/SUV touring tires are the best choice if you have light/moderate loading demands. They deliver great road grips and handle snow/wet surfaces decently, though some lower-range models might not deal well with abrupt accelerations. 
b. All-Terrain Tires
Do you have driving demands on both on- and off-road surfaces? All-terrain tires will handle that job for you – but to what extent depends on your preferences and driving habits:
Choose on-road AT tires if you mostly travel on regular roads and only pan over to light off-road paths from time to time.
Off-road AT tires are the best when you prioritize off-road performance but do not want to compromise general on-road comfort during the process.
Off-road max traction tires will bring your off-road travel to the highest level with unprecedented stability and footing. They are usually not as sharp when rolling on on-road paths, but you can always aim for premium/pricier models to tackle that issue.
Rugged AT tires balance on- and off-road traction well (but are not exactly exceptional at either) – a good choice if you do not have high demands on both terrain types. They are also much more affordable than the other three.
c. Dedicated Winter Tires
As the name suggests clearly, these tires bond well with snow and ice at varying depths. These features do not usually translate to non-winter conditions, though you can always seek premium/high-quality tires from reputed brands (obviously at a much higher cost than the average) to address that issue.
B. How Did We Pick and Test 4runner Tire Recommendations
196 best-selling tires were selected for the first round of our COR Wheels Tire Test.
Once all the low-quality contenders were deleted, we continued to test the 265/70R17 tire size version of the remaining tires on our Toyota 4Runner 2022 SR5. Customer feedback was also cross-referenced during the scoring process to conclude the 10 highest-ranking performers overall.
C. Best All-Season Tires for 4Runner
1. Michelin Defender LTX M/S
Best uses: highways, paved and rough roads, deep water, heavy towing, moderate snow depth, sweeping corners, dirt and gravel roads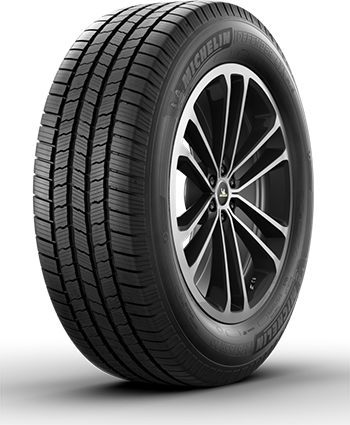 Tire Type
Highway All-Season
Tire Size
15″ – 22″
Weight
23.0 LBS – 60.19 LBS
Load Index
95 – 129
Load Range
C1 – XL
Speed Rating
– H: up to 130 mph
– T: up to 118 mph
Warranty
50,000 – 70,000 miles
Ratings
8.8/10