Winter tires have been produced in bulks for years, but only a select few have qualified in wintry traction, road handlings, and aggressive bites in extreme temperatures, according to our annual COR Wheel tire tests. This review will discuss the 10 best snow tires and their respective highlights.
In this article:
How Did We Test & Pick Winter Tires
In the 2023 COR Wheels Tire Test, 25 most popular winter tires have been singled out to testify based on the six main evaluation aspects:
Winter/snow performance (our main focus), including traction on light/deep snow and ice
Dry traction
Wet traction
Comfort
Treadwear
Price
Our team then combined their overall score (in actual performance) with customer ratings gathered in the annual survey to yield a list of the 10 best tires.
Top 10 Best Winter/Snow Tires In 2023
1. Bridgestone Blizzak DM-V2
Best Winter Tire for Trucks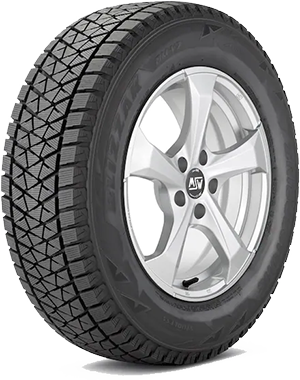 Tire Type
Off-Road All-Terrain
Tire Size
15″ – 22″
Weight
23.0 LBS – 45.0 LBS
Load Index
95 – 117
Load Range
SL – XL
Speed Rating
– R: up to 106 mph
– T: up to 118 mph
Warranty
None
Ratings
8.9/10
Bridgestone Blizzak DM-V2 is one of the best truck tires for its capability on rugged terrains and great handling of heavier loads in winter.
The tire uses the classic yet adaptive NanoPro Multicell rubber with multiple microscopic bites and hydrophilic coatings that embrace waterlog surfaces. They wick off water while remaining flexible and stable in freezing conditions. At the same time, the aggressive directional edges feature wide circumferential/lateral grooves for better hydroplaning resistance, coupled with the zigzag 3D sipes to increase traction on biting snow.
These features reflected well on our snow performance; the grooves and sipes gummed themselves instantly on light snow below 6 inches and had no issue breezing through the roads at 45 MPH.
Its NanoPro Multicell compounds also bonded very well on the pavements to deliver both traction and extra loading stability, hence our uneventful trailing of trailers beyond 2000 lbs. With snow chains included, you can raise the bar to 3000 or even 4000 lbs.
DM-V2's deep snow traction was also a delight. With snow above 7 inches, you will see the 3D sipes stutter a bit when redirecting water and snow particles. But the levels of hesitation are so low-key, so it's hard for you to notice them in the grand scheme of things.
At 40 to 50 MPH, we maintained relatively the same footholds as on light snow and, again, managed to choke out more corner grip thanks to the snow chains.
Towing or loading cargo should not pose much difficulty for you on deep snow, though we recommend keeping the truck's speed rates consistent during most of the ride to keep unwanted shakes at bay.
Thick ice build-ups were admittedly pronounced at higher speeds; however, once we decelerated our car back to below 55 MPH, the rest of the ride was composed and non-dramatic. Given enough preparation and consistent handbrakes, your attempts at tight corners will be a non-issue.
For a truck winter tire, Blizzak DM-V2 serve you well on on-road surfaces, keeping most jittery feels and edge drifting under control. Its riding comfort and noise control were also class leaders – although DM-V2 seemed to sacrifice treadwear during the process.
Symptoms of fatigue were very obvious at sharp turns or particularly thick gravel; thus, you should watch out for shredding around the first 15,000 to 20,000 miles.
Aggressive tire truck on light and deep snow
Good handling on ice
Capable of heavy truck towing between 2000 and 4000 lbs
Great on-road performance (for a winter tire)
Satisfying riding comfort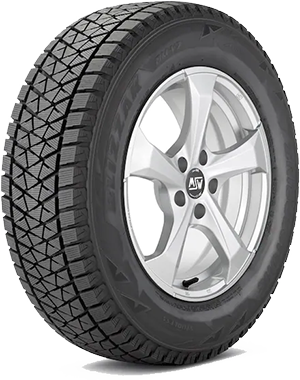 ---
2. Michelin X-Ice Snow SUV
Best Winter Tire For SUV/Crossovers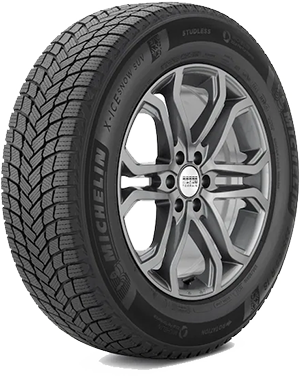 Tire Type
Winter/Snow
Tire Size
16″ – 22″
Weight
27.93 LBS – 41.27 LBS
Load Index
100 - 116
Load Range
SL – XL
Speed Rating
– T: up to 118 mph
– H: up to 130 mph
Warranty
40,000 miles
Ratings
8.9/10
Michelin X-Ice Snow SUV is a snow tire for SUVs that has very few rivals (if any at all). Its 2.0 Flex-Ice compounds generate micro-roughness for maximum inclusion and grip on ice and snow, aided by extra silica content to ensure flexibility under severe climates.
The continuous, directional V-shape patterns offer more groove widths than predecessors, improving slush performance, hydroplaning resistance, and traction on loose terrains. At the same time, the notched sipes work with varying thickness sipes to add extra biting edges and tread stability for the contact patch's footholds on clear roads and packed snow.
Michelin X-Ice Snow SUV's composure on light snow was an obvious given; not as aggressive as truck tires, of course, but you can expect it to be stronger than standard car tires to accommodate the dragged nature of SUV driving.
We started our ride with cargos of 2500 lbs and already experienced smooth, seamless rides under very little traction loss, so you should have no problems adding more to that number on the way at every 25 to 30-minute stop. Accelerations were not really an SUV driver's priority, but still, X-Ice Snow handled abrupt speed surges toward 65 MPH with surprising confidence.
There was not much traction difference between light and deep snow zones, either, so your car would likely suffer from no panic reactions typical of most tiers when changing lanes/textures. Navigating S-curves or doglegs on snow-covered banks beyond 8 inches will be also a breeze for you, rarely muting out or giving hesitant responses despite your inconsistent inputs.
The hiccups got more obvious when we moved from snow to icy roads, but that was to be expected for a slippery, slick road surface of these kinds. Put aside the occasional drifting, and you will find the Michelin X-Ice Snow SUV to hold its ground well: traveling at regular driving speed is just fine with little problem tackling tight-necked crooks, except for trickier patches like glazed or black ice.
Not much room was left for complaints in terms of on-road traction and comfort. The Michelin X-Ice Snow SUV even exceeded the Bridgestone champion above, cushioning road impacts so subtly that you might barely register their presence at all. And while treadwear was not exactly exceptional, it was still pretty decent; you will not have to worry about it for at least the first year of usage.
A strong SUV tire for snow and ice
Excellent dry and wet on-road traction
Exceptional comfort that ranks the highest
Still tripping a little over black/glazed ice
Warranty is not that impressive (40,000 miles)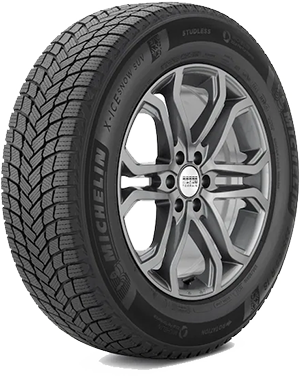 ---
3. Bridgestone Blizzak WS90
Best for Deep Snow Traction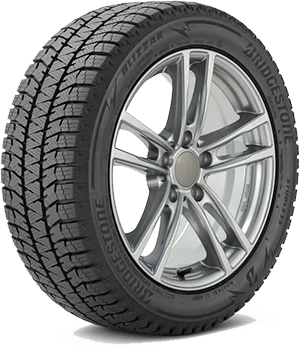 Tire Type
Winter/Snow
Tire Size
14″ – 19″
Weight
17.0 LBS – 32.0 LBS
Load Index
82-104
Load Range
SL – XL
Speed Rating
– T: up to 118 mph
– H: up to 130 mph
Warranty
None
Ratings
8.8/10
Deep snow proves to be the easiest terrain to tackle with Bridgestone Blizzak WS90. The tire features enhanced block stiffness that fosters better steering responses and wear life, while the EdgePerformance Package brings interlocking sipes and deep features to stabilize the tire's road handling.
And with 15% more edges and greater contact footprints than its predecessor, Blizzak WS90 reduces ice traction loss and braking distances simultaneously. Sealing the deal are the ultimate Multi-Cell bites, removing thin water layers to minimize hydroplaning problems.
Blizzak WS90 settled right away at our start at deep 8-inch snow zones, refilling grip loss around the flanks through instant, responsive rubbers to march the car straight into the main roads without significant issues.
Slippery issues on hard-packed snow happened with other tires but not WS90, allowing adventurous weaving almost the same as on dry highways (though tamer around curves, obviously). Even sloppy snow-covered hills proved to connect well with the WS90's Multi-Cell bites, so you can let your steering wheel relax a little once the surface angles are reduced.
With that boundless sure-footed feel on deep-snow roads, there was little doubt about WS90's performance once we were out of the danger zones to enter light, soft powdery snow. The grooves have much lighter workloads to handle here and hence, so you can zoom off straight to 70 MPH in seconds. You can stay civilized below 65 MPH just in case, but trust us that the risks of control loss and drifting are very low regardless.
Ice performances are generally on par with the Michelin X-Ice ranking at #2; minus unplanned cornerings or black ice around ice curves, real safety compromises rarely happened.
Regarding on-road terrains, Blizzak WS90 was surprisingly more confident on wet than dry surfaces: the extra sipes and Multi-Cell bites did a great job reducing hydroplaning but seemed to result in more muted feedback once the water was drained. Nothing too serious, of course, but you should exercise more caution when maneuvering roadblocks on arid pavements.
Road noise control is also another aspect that needs significant improvement, downright roaring when hitting large bumps.
Excellent tire for deep snow
Great light-snow traction; satisfying ice grip
Confident on wet on-road surfaces
Mediocre treadwear and road noise control
Dry traction is sometimes muted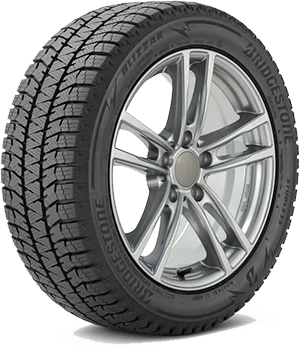 ---
4. Vredestein WinTrac Pro
Best for Overall Winter Performance
| | |
| --- | --- |
| Tire Type | Performance Winter/Snow |
| Tire Size | 14″ – 20″ |
| Weight | 18.0 LBS – 38.0 LBS |
| Load Range | SL – XL |
| Speed Rating | H, V, Y |
| Warranty | None |
| Ratings | 8.8/10 |
Vredestein WinTrac Pro crowns our list as the best all-rounder; none of its winter metrics (and even non-winter ones) rank below 8.4.
The tire's directional patterns comprise silica- and resin-enhanced compounds that increase braking performance and handling on icy, snow-covered, and wet roads. Its broad shoulders maximize higher-speed cornerings, while the footprint shapes provide quicker steering response and water-evacuation capabilities. Both horizontal and high-angle sipes combine to enhance longitudinal traction and snowy handling.
WinTrac Pro's performance on light snow was punctual and very predictable. Its straight-line maneuverings carried on in seamless anchoring feels that did not become disrupted despite the inconsistent snow depth – and only started to give off very slight hiccups when bent or leaned outwards during swift curving.
Accelerations will pose no problems for you; even your decelerating and braking attempts will occur in little drama. We slowed down from 60 MPH to 35 MPH in only seconds to skitter around unexpected intruding vehicles, managing very swift and clean strikes hard to find in even higher-end SUV models. You can totally last with WinTrac Pro through the entire snow season while experiencing different types of driving.
Deep snow performance lacked some sharp edges but was powerful nonetheless. Snow layers did linger under the tread but got dispersed anyways after a few rolls, and rarely felt skittish enough to actually damper the ride's quality. Though this tire is not stud-able, we see no reason you cannot march forwards to rugged hills and mountain passes when equipped with snow chains; WinTrac Pro's sturdy sidewalls curved well into road textures here and gave off minor shakes that did not vent out of line.
The WinTrac Pro coped with regular ice-covered sidewalks well – almost the same way as how it performed on typical snowless wet surfaces at water below 4 inches. That means hydroplaning might attack you but stay well-controlled and non-dangerous; if desired, you can still surge forwards to higher rates (58 to 60 MPH), though we suggest not doing so around narrow bends.
As an all-rounder, WinTrac Pro is the first tire on the list that does not have to trade treadwear for riding comfort or vice versa. Both were on the same level, allowing you to go through fluctuating temperatures well while immune from pronounced road bumps and jostles. Judging by how it remained intact in our test, you will likely gauge at least 40,000 miles of seamless driving.
All-rounder performance on snow
Great balance between comfort and treadwear
Confident on on-road paths
Traction loss during accelerations around icy corners
---
5. Michelin X-Ice Snow
Best for Light Snow Traction
Tire Type
Winter/Snow
Tire Size
14″ – 20″
Weight
16.0 LBS – 41.0 LBS
Load Index
86-116
Load Range
SL – XL
Speed Rating
– T: up to 118 mph
– H: up to 130 mph
Warranty
40,000 miles
Ratings
8.7/10
Drivers mostly engaging in light snow terrains would find Michelin X-Ice Snow to be a just-right candidate for the occasion.
Its 2.0 Flex-Ice compounds, just like the SUV version discussed above, also generate micro-roughness for extra ice/snow grip. The silica content ensures severe-climate flexibility, while the strengthened groove widths in the tire's directional, V-shape patterns increase slush performance, loose-snow traction, and hydroplaning resistance. Notched and variable-density sipes intertwin to provide biting edges and composure on clear roads and packed snow.
There was not much to discuss regarding its lights-now stability since it was very uneventful; you will be surprised by how X-Ice Snow ground itself onto the terrains despite whiplashing speed changes and even very (intentionally) late brakings.
Bonding on snow highways was even breezier than we expected, revving straight to 70 MPH with very confident grips; you do not have to worry about constant muted steering response like with other competitors.
While X-Ice Snow was chosen for its light-snow performances, the tire's footholds on deep snow still stood out well actually. The groove width increases allowed snow redirection to occur naturally and much more subtly than most same-sector rivals, paving the contact patch through aggressive claws to handle both speed lows and highs in uneventful strikes.
Purchase snow chains if you want to ensure maximum traction all the time, but mark our words that X-Ice Snow will still do well without them.
Ice traction ranked itself among the upper half of the list, with stutters and coughs under great management and rarely roaring out of control. You can expect to come to a complete stop from 12 MPH within 42 feet on icy roads. But we did admittedly feel slightly disappointed about its dry grip: the on-center ribs kept wavering despite low-key inputs, especially when tackling corners.
Confident in light snow
Handling deep snow and ice pretty well
Great riding comfort/treadwear balance
Satisfying wet grip
Lackluster dry on-road performance
Shaking on-center ribs
---
6. Cooper Evolution Winter
Best for Budget-Friendly Winter Tire
Tire Type
Winter/Snow
Tire Size
15″ – 20″
Weight
17.0 LBS – 39.0 LBS
Load Index
84 – 114
Load Range
SL – XL
Speed Rating
– T: up to 118 mph
– H: up to 130 mph
Warranty
none
Ratings
8.7/10
Cooper Evolution Winter delivers basic wintertime qualities without eating much into your budget. This winter-focus tread compound is formulated into a directional and stud-able pattern that aids braking and acceleration in severe weather.
The rigid yet wide tread blocks comprise the center ribs to deliver better steering response and dry-road footholds, while the outboard shoulders handle lateral grip. Running along the tread are the circumferential grooves and multi-angle, high-density sipes, which work with the already deep initial tread depths to offer extra bites in icy, snowy, and wet conditions.
Despite being a budget tire, Cooper did not disappoint us with its strong and reliable light snow footings. With even better stability than the Vredestein Wintrac Pro (ranking at #4) and Michelin X-Ice Snow (#5), the tire adapted to different speed inputs well and took little time to fill out traction drifting on particularly inconsistent texture patches.
Each of our encounters with soft powdery snow and hard-packed snow (sometimes even an unpredictable combination of both) remained mostly breezy throughout; hence, you can ensure mindless driving regardless of ambient temperatures and road build.
Wet heavy snow of beyond 8 inches did start to send us into hiccups more often than not (though not dangerous). Thankfully, with the help of snow chains, the on-center ribs stopped wavering after 5 to 6 miles. If you equip the tire with optional suds, revving to 65 MPH on straight-line driving is within your reach. For more convenience, you might switch to studless forms at lower-speed driving (35 MPH) and apply studs again when engaged in more spirited rides.
Hydroplaning issues occurred at relatively the same frequencies as on deep snow (though admittedly at shorter intervals than we would have liked), but you could control this via extra snow chains and studs. At tighter icy turns of lower speeds (40 MPH downwards), you can even gain extra grip by crossing your hands on the steering wheel to grind down its fixed position.
Most cheap winter tires often show very underwhelming handling in on-road conditions, but that was not the case with Cooper Evaluation. Sure, its cornering could have been more stabilized (especially at waterlogged crooks), but the tire still stayed on track most of the time and gave off very predictable shakes around the flanks.
Nevertheless, Cooper Evaluation did need some improvements in road noise control; tread sounds were provoked at random timing and got startlingly loud every 4-5 miles.
A budget tire
Very capable on snow and ice (even more or less on par with expensive tires)
Satisfying on-road confidence
Great treadwear
Random, loud noises
Jostles around corners increase during accelerations
---
7. Continental VikingContact 7
Best for Long Tread Life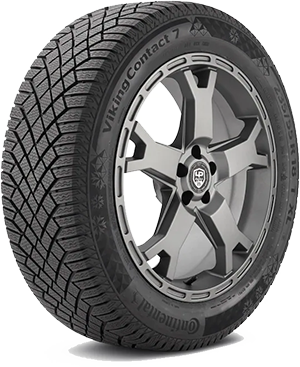 Tire Type
Winter/Snow
Tire Size
15″ – 22″
Weight
13.0 LBS – 41.0 LBS
Load Index
72 – 117
Load Range
SL - XL
Speed Rating
– H: up to 118 mph
– T: up to 118 mph
Warranty
none
Ratings
8.6/10
For drivers prioritizing tread wear life, Viking Contact 7 definitely ranks among the upper half of our studless/studdable performance winter tires.
Its Nordic compounds use canola oil for better adaptation and flexibility in icy and snow conditions, while the active silica provides extra braking and wet confidence. Direct tread paths with groove networks evacuate slush and water, aided by generous void ratios that ensure the rubber-road connection is always intact. Interlocked bridges, linkages, and 3D sipes with varying thicknesses deliver additional bites.
With this rather sturdy and well-thought design, Viking Contact 7 enjoys a very great tread life compared to other tires with the same initial tread depth (10-11/32"). Debris and thick water had little chance to cling due to the strong, open water-evacuating channels, and the blended oil did a great job of strengthening tire flex without sacrificing internal construction.
Over huge road damage, Viking also had little trouble showing its stable, cushioned "Viking" power and hence, would likely last you 35,000 to 40,000 miles without significant shredding.
And judging by the stable, well-placed groove networks, you will not have to worry much about the tire's light snow traction; VikingContact 7 only showed significant falters at highway speeds (usually beyond 75 MPH) or around patches of combined powdered snow and glazed ice; other than that, the rest of our ride was a series of non-dramatic, foreseeable strikes.
Despite our crowded team (5 members), the on-center feel was still very pronounced, so apart from passengers, you can load extra cargo of 200 to 300 lbs without much problem.
The grooves had much heavier workloads to handle on deeper snow beyond 8 inches (resulting in slightly muted feedback) but still kept our car within the lines.
Unfortunately, it was on ice terrains that we had to experience brief but much more frequent slippages. You might find its icy grip even worse than on on-road summer pavements (despite being a winter tire). You should err on the safe side by keeping speed rates between 30 and 35 MPH.
Great tread life compared to other tires of the same tread depths
Satisfying handling of snow
Decent on-road traction
Very underwhelming on ice (for a winter tire)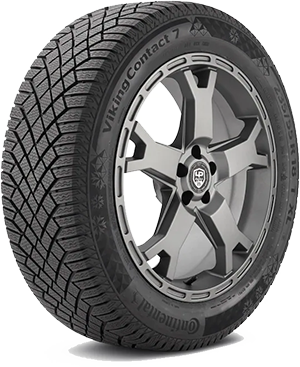 ---
8. General Altimax Arctic 12
Best for Cold Weather Traction
| | |
| --- | --- |
| Tire Type | Winter/Snow |
| Tire Size | 14″ – 19″ |
| Weight | 17.0 LBS – 35.0 LBS |
| Load Index | 86 – 108 |
| Load Range | XL |
| Speed Rating | – T: up to 118 mph |
| Warranty | none |
| Ratings | 8.4/10 |
General Altimax Arctic 12 is the best tire out of the bunch if you desire consistent driving and handling in cold weather (both with and without snow).
The tire features winter-focused, highly-directional tread compounds, supported by the rigid, arrow-shaped rib for a more stable on-center foothold. Its optimized contour enhances even pressure distribution, while the lateral notches and angled grooves evacuate slush and water. Extra wintry bites are also strengthened thanks to the well-placed serrated sipes and angled blocks.
Arctic 12's performance in snowy cold weather was generally satisfying; the tire whisked off soft, shallow snow in seconds thanks to the interlocking sipes/grooves and grew even more stable with snow chains, breezing through 45-75 MPH accelerations and decelerations in little issues.
Its deep snow traction was even better than the Michelin X-Ice Snow (#5) and VikingContact 7 (#7), rarely sending the car into serious drifting minus on trickier mountain passes; you can easily fix those issues with premium studs. Arctic 12 also fell into the middle ranks with its ice handling, whose grip was only one or two notes behind typical performances on regular wet surfaces. Guaranteed good cornering preparation and non-abrupt speed surges, you will unlikely encounter any accidents.
Cold, snowless weather or heavy, freezing downpours will not challenge your drive with Arctic 12, either. As mentioned, the angled grooves did a spectacular job dispersing water underneath the contact patch, so your car might exhibit boundless confidence through deep, waterlogged patches beyond 8 inches.
Hydroplaning was few and far between on more slippery terrains (ex: wet bridges or railroad crossings) and almost non-existent when we returned to regular sidewalks. You do not have to worry about the grooves caving under themselves or stalling once temperatures drop.
Unfortunately, Arctic 12 did not retain the same performance on dry, scorching road surfaces. Symptoms of overheating fatigue could be felt rather clearly after the fifth day of our test. Thus, you should prepare for some shaking after a while (say, several thousands of miles) since the tire could no longer handle road bumps as subtly. Road noise controls were also horrid, worsening as we neared highway speed limits.
Stable in cold weather (with and without snow)
Decent on ice
Little hydroplaning in deep water
Burnt out from overheating in summer
Bad road noise
---
9. Pirelli Scorpion Winter
Best for Handling in Wet Conditions
Tire Type
Winter / Snow
Tire Size
16″ – 22″
Weight
24.0 LBS – 66.0 LBS
Load Index
99 – 116
Load Range
SL – XL
Speed Rating
– H: up to 130 mph
– W: up to 168 mph
Warranty
none
Ratings
8.5/10
Pirelli Scorpion Winter is a winter tire with the best wet on-road traction in our list, landing on a straight 9 out of 10.
Scorpion Winter features polymer blend compounds with extra silica content, whose combined power enhances winter handling and grip. The directionally-molded compound is aided by stable shoulders, modular center geometry, and rounded profile for better dry stability. Circumferential grooves and booster rides also offer more slush bites and evacuate water off the contact patch.
Though all the above features are tailored for snow driving, they shine unexpectedly and brilliantly on typical wet surfaces. Our car clawed through the deep, flooded road sections in cold weather (45 degrees F) easily to bond with the pavement grooves underneath, surging straight to 65 MPH in seconds with basic steering inputs – nothing extra.
Under freezing winter rains, Scorpion Winter also showed no panic reactions against chilly water and ambient temperatures, flexing the rubber on time to fill out traction loss even at corners.
Your ride might experience understeer, but it will recover quickly, and under favorable conditions, you can even manage intentional lift-off oversteer without any dangerous drifting at all. Your wet-surface driving experience with Scorpion Winter will be all breezy and effortless, regardless of your car make and driving skills.
Of course, as with any high-quality snow tire, Pirelli Scorpion Winter won't disappoint you on snow terrains, either. Dry, light snow of below 6 inches was an obvious non-issue, but even wet, slush snow post-rain did not bring in as many hiccups as we expected. Without snow chains, you can still rev up to highway speeds just fine and encounter no muted feedback around tight, close-spaced S-curves.
Nevertheless, we did notice a significant traction grip (though still good enough) on deep snow compared to light snow. That is quite a letdown, especially considering that most competitors ranking above did not show much difference between light- and deep-snow traction.
Ice grip was also so-so, getting more skittery as we accelerated. To put things in perspective, its stability was even worse than on summer on-road surfaces; hence, you should be more careful with unannounced cornerings or whiplashing steering.
Excellent wet traction
Confident on dry surfaces
Great handling of light snow
Good riding comfort
Significant traction drop in deep snow (compared to light snow)
Underwhelming ice performance (for a winter tire)
---
10. Goodyear WinterCommand Ultra
Best for Quiet Ride
Tire Type
Winter / Snow
Tire Size
15″ – 18″
Weight
22 LBS – 28 LBS
Load Index
115 – 129
Load Range
SL – XL
Speed Rating
– T: up to 118 mph
– H: up to 130 mph
Warranty
none
Ratings
8.5/10
Studless/studdable performance winter tires are generally very noisy, but you can trust Goodyear WinterCommand Ultra to make a good exception.
WinterCommand Ultra utilizes directional Cryo Adaptive compounds that offer flexibility in ice and snow that can absorb the noise, aided by the ActiveGrip Technology that strengthens slush control under challenging conditions. The Adaptive SipeGrip and Block Cuts improve handlings, while the dynamic grooves work well with the V-shaped patterns to evacuate water.
It was hard to detect any significant noise during most parts of our ride. While the bumps and jostles sometimes were pronounced due to the rugged nature of the road terrains, they were cushioned well enough that all we could hear was the faint thuds near the borderlines, even at speeds beyond 55 MPH.
You will see low rumblings on wetter surfaces (4 inches of water and above) could easily be tuned-out after the first few miles, and even the combination of hard and slush snow will not result in as much slurping sound as you think. This competitive edge will be extremely practical if you are a fan of quiet rides or sensitive to road noises.
The tire's grip on light snow terrains was a delight with its smooth, clean cuts throughout. But like the Pirelli Scorpion Winter above, you might experience a notable traction decrease (thankfully not dangerous) when transitioning from shallow snow to deeper snow/ice zones.
On-road performances were generally satisfactory, not showing much response delays on scorching asphalts. However, given the rather mediocre treadwear, you should still brace yourself for the first shredding signals after 35,000 miles.
Generally quiet
Good light snow traction
Satisfying on-road confidence
Deep snow/ice traction could have been better
Mediocre treadwear
---
How To Choose Best Tires for Snow For Your Driving Needs
Consider the following factors:
Climate
Heavy snowfalls should be handled with aggressive tire sets. Milder winter, on the other hand, could do with a tamer tire design.
Your driving habit
Highway drivings or occasional off-road ventures require a capable tire to retain composure at higher speeds. Meanwhile, city driving is less demanding.
Tread design and studs
Though each driver has their own preferences, we suggest choosing tires with deep water-evacuating channels and grooves to tackle stubborn snow.
Also, studdable/studded tires are generally much higher-performing than studless ones. Still, studs are banned in certain regions, so double-check their regulations first.
Reviews from other customers
Check the tire's ratings from our COR Wheels Tire Test chart, or read other customer feedback from popular automobile forums to gauge its real-life performance.
Conclusion
Bridgestone Blizzak DM-V2 is the best fit for large trucks, while Michelin X-Ice Snow SUV would pair well with SUVs or crossovers thanks to its great balance of stability and tire flex.
And for smaller cars or sedans, Bridgestone Blizzak WS90 would not disappoint. You may also consider other best winter tires on the list if certain performance qualities need to be prioritized over others.
Here is the summary of the 10 best snow tires in the 2023 COR Wheels Tire Test:
| Tire Brand & Model | | | | | | | | | | |
| --- | --- | --- | --- | --- | --- | --- | --- | --- | --- | --- |
| Bridgestone Blizzak DM-V2 | 1st | 8.9 | 8.6 | 8.9 | 9.1 | 9.4 | 9.2 | 8.8 | 8.6 | 8.1 |
| Michelin X-Ice Snow SUV | 2nd | 8.9 | 8.9 | 9 | 9 | 9.3 | 9.1 | 8.7 | 9.1 | 8.3 |
| Bridgestone Blizzak WS90 | 3rd | 8.8 | 8.6 | 8.9 | 9.1 | 9.4 | 9.1 | 8.7 | 8.3 | 8.3 |
| Vredestein Wintrac Pro | 4th | 8.8 | 8.8 | 8.9 | 8.8 | 9.1 | 8.9 | 8.4 | 8.7 | 8.6 |
| Michelin X-Ice Snow | 5th | 8.7 | 8.4 | 8.6 | 8.8 | 9.1 | 8.8 | 8.6 | 8.6 | 8.6 |
| Cooper Evolution Winter | 6th | 8.7 | 8.5 | 8.7 | 8.9 | 9.2 | 9 | 8.5 | 8 | 8.6 |
| Continental VikingContact 7 | 7th | 8.6 | 8.4 | 8.5 | 8.6 | 8.9 | 8.6 | 8.2 | 8.7 | 8.4 |
| General Altimax Arctic 12 | 8th | 8.6 | 8.3 | 8.6 | 8.9 | 9.2 | 8.9 | 8.5 | 8 | 8.4 |
| Pirelli Scorpion Winter | 9th | 8.6 | 8.8 | 9 | 8.6 | 9.1 | 8.5 | 8.2 | 8.7 | 8.1 |
| Goodyear WinterCommand Ultra | 10th | 8.5 | 8.6 | 8.6 | 8.6 | 9 | 8.4 | 8.4 | 8.3 | 8.1 |
---
President & Automotive Expert at COR Wheels
Robert Herrera has been with COR Wheels for 17 years and has a great passion for the automotive industry. During his time at COR Wheels, he has driven and test-driven a variety of vehicles.
---