All-season tires suggest consistent and powerful performances for all-year round. However, from what is observed on the market, such a case is far from common.
Most all-weather tires operate relatively smoothly on dry pavements – and sometimes, even wet tractions – but show clear symptoms of struggling upon snow blankets. As a result, many people must resort to buying extra sets of winter tires when the cold weather is at the door.
But now, according to the most recent COR Wheels Tire Test results, we are glad to inform you that exceptions do still exist within the all-season sector.
There is a major difference between all-season tires with a 3PMSF rating (short for 3-peak mountain snowflake) and those without it: 3PMSF tires are proven to be more compatible with wintry conditions and even play as a safe winter tire replacement when driving conditions allow it.
Keep scrolling to learn more about our team's top choices for good all-season tires for snow.
In this article:
The Difference Between All-Season Tires vs. All-Weather In Snowy Conditions
A typical all-season tire is armed with busy patterns, interweaving itself with numerous sipes and tread blocks. But their rubber blend becomes stiffer at lower temperatures, sacrificing some winter traction.
All-weather counterparts boast more blocks and smaller sipes. At the same time, the grooves look slightly deeper and larger, and the rubber compounds are more flexible than all-season tires during winter months.
Hence, all-weather tires bite into packed snows and dissipate them more easily than standard all-season, aided by a more capable longitudinal traction when it comes to corner handles.
How Did We Pick The 10 Best All Season Tires for Snow
With countless models on the market, our team has picked the 105 most popular all-season tires undergoing intense evaluation. And through our 2023 COR Wheels Tire Test, the 10 best contenders have come out on top. Collective experience feedback from American drivers is also factored in to deliver a more inclusive, real-life-reflective conclusion.
The tires are intensively assessed based on six major criteria:
Winter/snow performance
Dry performance
Wet performance
Comfort
Treadwear
Price
Winter/snow performance is the decisive factor in assessing the tire's wintry compatibility. It is decided based on three smaller sub-categories, namely:
Light Snow Traction score
Deep Snow Traction score
Ice Traction score
Of course, the remaining five evaluation aspects – particularly pricing ranges – also receive critical attention. After all, it is much wiser to spend money on mid-end tires that deliver the same performance as their pricier counterparts.
The 10 Best All-Season Tires for Snow In 2023
---
1. Bridgestone WeatherPeak
Best For Overall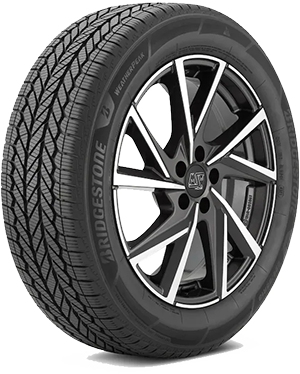 Tire Type
Grand Touring All-Season
Tire Size
15″ – 20″
Weight
16.0 LBS – 35.0 LBS
Load Index
82 – 111
Load Range
SL – XL
Speed Rating
– H: Up to 130 mph
– V: UP to 149 mph
Warranty
70,000 miles
Ratings
8.9/10
Bridgestone WeatherPeak takes the crown as the best all-season tire for snow conditions, as it delivers beyond-average to even excellent performance in all snow densities.
The tire sets itself apart from other all-season siblings with the rounded, 3D full-depth sipes. These small grooves and cuts extend both vertically and horizontally across their entire tread depth and hence, add quite a lot of biting edges to the rubber compounds.
We could observe further support in the snow vices and extra groove channels. The latter are strategically distributed to evacuate snow, slush, and water from all major contact areas, while the snow vices instill additional edges on the tread block to increase its grippy force on more challenging terrains.
With all these premium supports, our test ride promised good signals right from the start.
WeatherPeak was a delight for us on light snow roads, as the grooves encouraged higher-speed water flow and allowed residue liquid to slip off the sidewalls faster than we expected. Hence, none of us suffered from on-and-off contact between the tire and the road, breezing through 5" to 6" of snow blankets as easily as how any middle-range winter tire of the same pricing range does.
At times, a few snow packs did make the tire traction falter – but they regained composure before any of us even realized there was a traction loss in the first place.
To test the tire's limits, we ventured into slightly more challenging zones (9 to 10 inches of deep snow). For an all-season tire, the number of struggles we observed was surprisingly low; the worst thing they could do to us was jiggle us around for one second or two at rougher road patches.
And once armed with sturdy snow chains, even those harmless jostles would eventually vanish. We did not really mind the cackling chain noises – and found their performances almost on par with WeatherPeak's light-snow traction.
On icy roads, WeatherPeak revealed more weaknesses, but not to the point of ruining its overall winter ratings. We kept our driving style civilized – nothing aggressive or extravagant – and found the tire balanced and consistent. Given no snowstorm or rain, even a slight acceleration did not harm any of us.
Wintry conditions aside, WeatherPeak does not disappoint in dry and wet conditions, either – with planted, confident steering that helps us adapt quickly to new angles and directions.
Since the tire already felt smooth even on thick snow, we could easily imagine how grippy and stable it was now on regular roads (when snow and water no longer infiltrated the grooves). Every endeavor felt feathery and almost effortless!
Hence, for those wanting to find an all-year-round tire to save budgets, WeatherPeak is a perfect choice; there is no need to purchase summer tires and then winter tires to cope with different seasons.
Balanced, great performance in most winter conditions
Great dry traction, good wet performance
Can handle cracked or broken road patches
Occasional noises
Rebounds at harder corners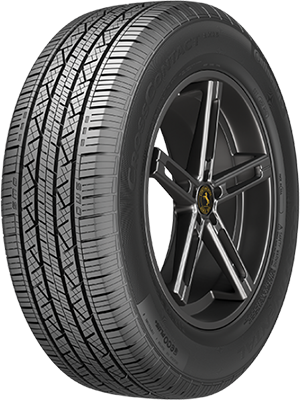 ---
2. Michelin CrossClimate2
Best For Overall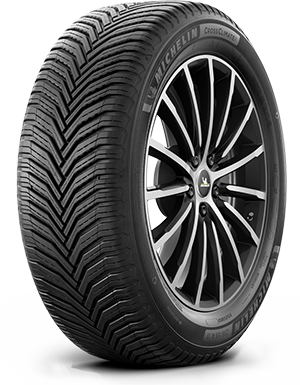 Tire Type
Grand Touring All-Season
Tire Size
16″ – 22″
Weight
20.99 LBS – 36.55 LBS
Load Index
91 – 114
Load Range
SL – XL
Speed Rating
– H: up to 130 mph
– V: up to 149 mph
Warranty
60,000
Ratings
8.9/10
Running a close second is the famous CrossClimate 2 model from Michelin. Though CrossClimate2 is behind Bridgestone WeatherPeak on light-snow performance, it turns the table when it comes to deep snow and ice traction.
Michelin CrossClimate 2 introduces the V-shaped tread design. As the grooves are directed towards the same center, they act like great escape channels for snow and water alike, disrupting intense snow density while also optimizing better grip through flexible tread angles.
At the same time, there is the 3D Sipelock system, in which small slits are interlocked to stabilize the blocks more than in traditional designs. As a result, drivers can experience less unwanted movement and flex during braking, acceleration, and cornering.
No wonder our travels on deep snow are the most pleasant by far. The Sipelock system ensures higher snow demands could not pose much of a challenge to our car, whisking them off through the small slits and grooves to reconnect us with our driving terrain anytime we felt like we might lose contact with it (and it is not like that happened very often).
Its firmer tire walls might seem like a bit of an over-do on light snow – but they worked great on our deep-snow roads. Hence, we plowed through the snow with less drag, even when the tires were presented with 10 to 11 inches deep of fresh, cold, compact snow. But our car could not cut through snow any thicker than that.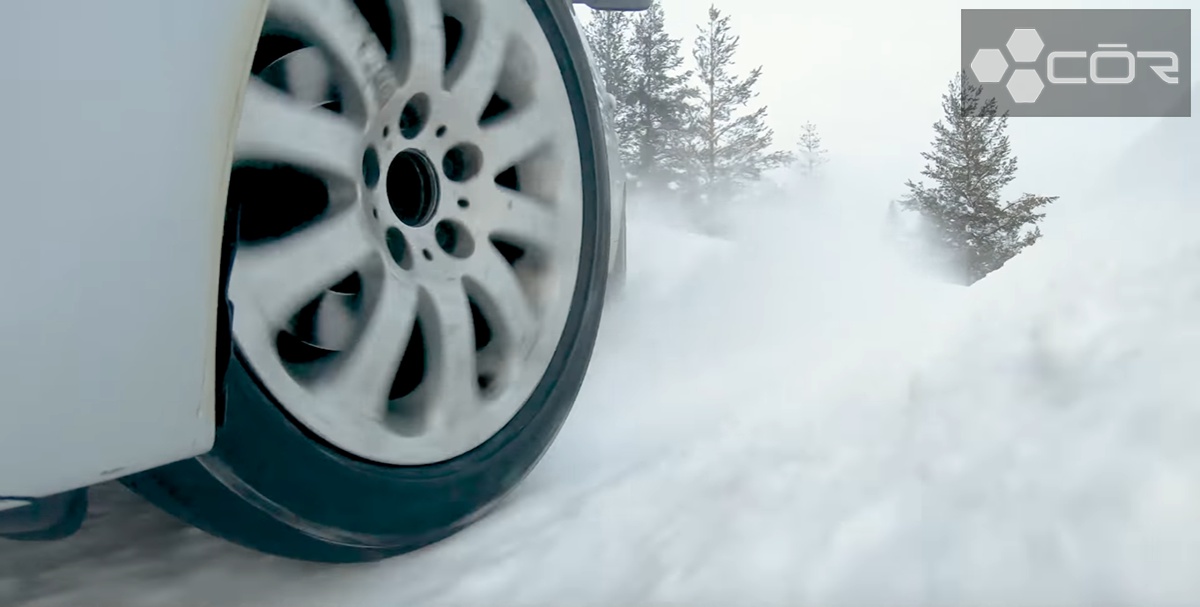 We experienced just as much pleasure on ice terrains thanks to the powerful interlocked 3D sipes. The ice itself is already very slippery, so it was natural for us to experience occasional slippage – enough to startle us back to our focus, but not enough that accidents might be around the corner.
Most of the time, we leaned into the more cautious side to avoid accidents, but you can totally experience more with your driving style on icy roads if the winter weather is mild.
And during our summer test, Michelin did not disappoint any of us, either. Its dry and wet performance is the best out of the bunch, as each tread block is supported by the V-ramps to deliver more stopping power and ground contact.
Our rides through 33rd Street, save for minor, harmless vibrations, felt almost uneventful. Any large road irregularities were palmed over immediately, and the highly communicative steering response struck through all of our new inputs accurately as if computerized. That's said, the tire buzzed a lot on highways even when we only reached 45 MPH.
Excellent footings in dry, wet, and snow conditions alike
Few vibrations
Smooth, comfortable ride
More noises on highways
Might be a bit aggressive for drivers that prefer soft feels.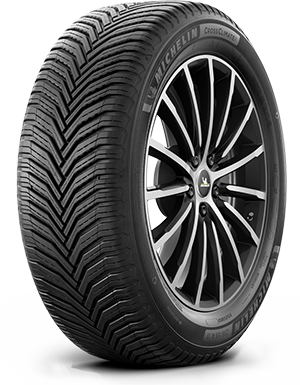 ---
3. BFGoodrich Advantage Control
Best for Ice Traction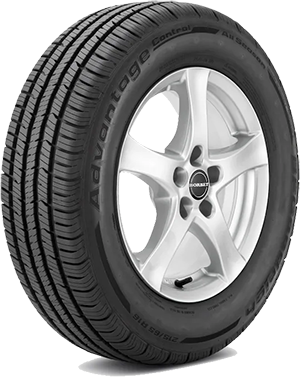 Tire Type
Grand Touring All-Season
Tire Size
14″ – 20″
Weight
17.04 LBS – 33.91 LBS
Load Index
84 – 103
Load Range
SL – XL
Speed Rating
– H: up to 130 mph
– W: up to 168 mph
Warranty
65,000 – 75,000
Ratings
8.7/10
To clarify, there are still some expected struggles with Advantage Control on ice terrains. But they do not go far to the point of being downright dangerous and still deliver more than other all-season models, hence its landing on the third position.
BFGoodrich arms this model with intermediate ribs and semi-solid centers to give the center sections more stability and reinforcements, improving corner stability and steering. We also spot the wide, open shoulder blocks that keep the tire in shape for better integrity and traction grip – while increasing contact area simultaneously.
And it is hard to ignore the curvilinear AquaFlume grooved network, spreading deep into the tread pattern like a channel net to disperse water and snow in a blink. Drivers are in control most of the time as a result.
All these features translated quite well into our trip on ice roads. There were inevitable delays due to the slippery nature of ice terrains, but our tires managed to bite onto the streets nonetheless, pushing the car forward.
Furthermore, around corners with more favorable ice density, we felt comfortable and safe enough to experiment with a little impromptu acceleration midway; the result did not disappoint, either.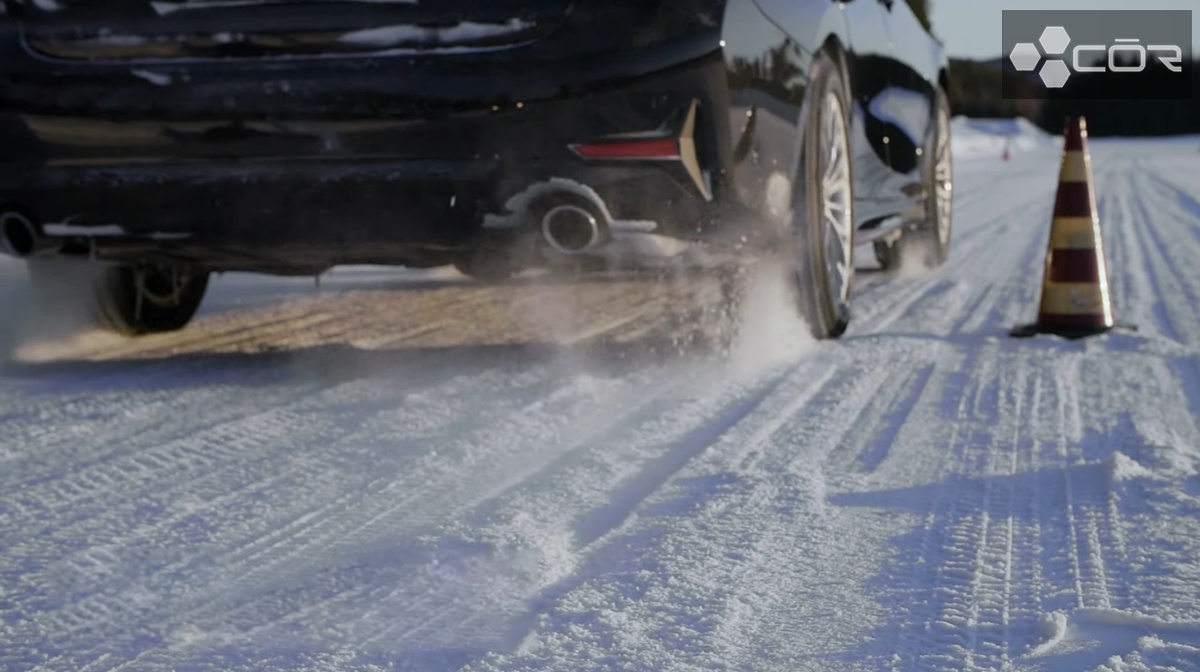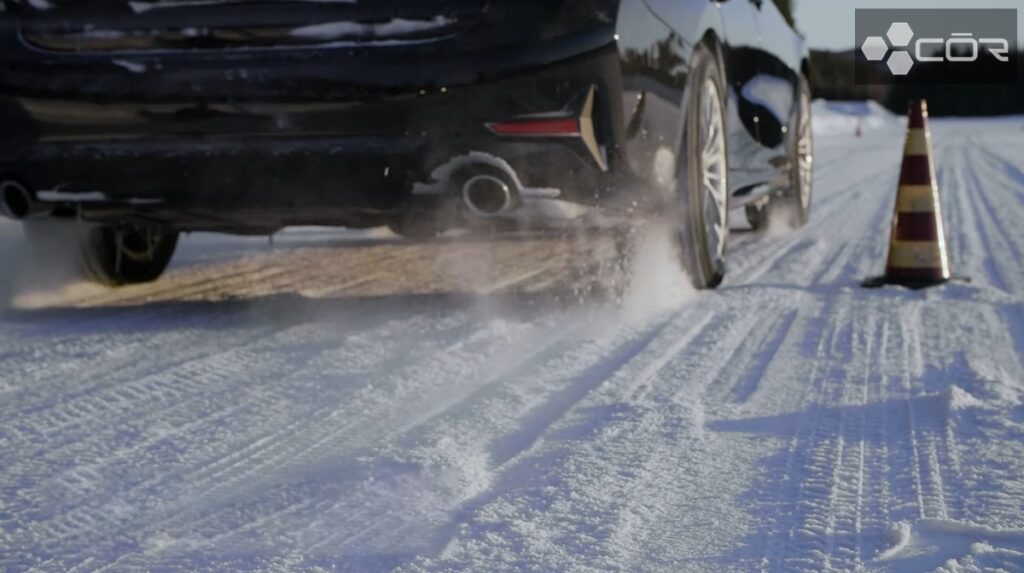 The harmonious flow between flex and stability was quite impressive, allowing us to get onto the more adventurous side without tipping into the dangerous slippage territory often seen on icy roads.
And in all honesty, that is more than what our team could hope for in an all-season tire; even winter tires struggle around thick ice from time to time, after all.
Since Advantage Control performs well on ice (the most dangerous terrain in winter), it is clear that we did not have to worry about danger once the tires were back on regular snow roads.
Higher snow volume does make them struggle, but for a good reason; they ensure the snow and debris were properly expelled before we moved forward.
Its steering response, while not as precise as in dry or wet conditions, still answered us promptly, and we could navigate through trickier intersections and corners under expected timing. All in all, the performance is linear, controlled, and rarely goes out of line.
Like most all-season tires on the list, every team member was satisfied with its handling on other roads (dry and wet), though we do think there is still room for possible improvements for the wet hydroplaning resistance. Ride quality is also smooth, even on rugged terrains, but expect some low road noises on the way.
In our verdict, BFGoodrich Advantage Control is clearly tailored for anyone seeking good ice traction, bumpless drives, and overall good treadwear. Great dry performance must be present in any good all-season tire, so that is a given.
Good ice traction (though there are still struggles)
Good performance on snow
Smooth, bumpless ride
Needs a bit more improvements on wet hydroplaning resistance
Road noises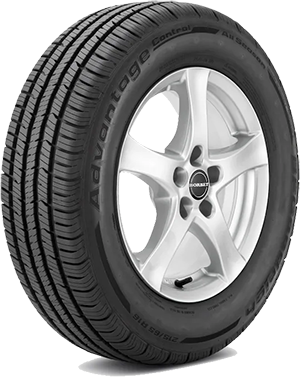 ---
4. Cooper Discoverer EnduraMax
Best Durability All season Tire For Snow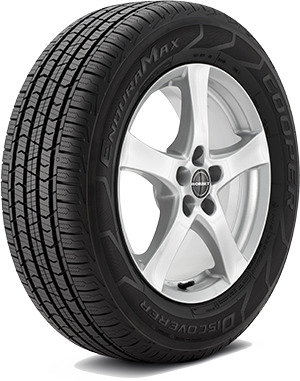 Tire Type
Crossover/SUV Touring All-Season
Tire Size
16″ – 20″
Weight
22.0 LBS – 34.0 LBS
Load Index
94 – 107
Load Range
SL – XL
Speed Rating
– H: up to 130 mph
– V: up to 149 mph
Warranty
60000
Ratings
8.7/10
Cooper Discoverer EnduraMax might not deliver the best snow performance on the list. However, none of the above-mentioned candidates could beat it in terms of durability.
A closer look into the sidewall materials reveal the brand's DurableTread technology. The name says it all: it uses rugged, stiffer materials for tear and wear resistance, offering strong tire protection against external damage.
The tire lifespan naturally extends as a result – regardless of which terrain your car is subjected to. And one could not just ignore those extra-strong Armor Belts, whose construction adds layers of buffs to the already sturdy tire model.
Hence, tread wear, cracks, or damage is never something we had to deal with in our ride, even when the car did struggle to shrug off the thick snow or skid on the wet ice.
Not to mention, this extra sturdiness lent us a competitive edge when encountering a particularly tough ice surface or imbalanced snow piles; we strode through them without any extra effort, save for occasional revs when there seemed to be something else stuck under the snow (tree branches or debris, for instance).
These stiff compounds were not always doing us a favor when the snow was extra thick to the point of getting cars stuck – and that is where snow chains could be of help. With the added friction from the chains, we were back from stuck patches to regular roads in no time.
How about non-winter driving conditions? Cooper Discoverer EnduraMax delivers well enough to compete with other tires on our list, except for one huge drawback. Tire durability seems to be the trade-off for ride comfort, as we were constantly subjected to rebounds and slight jostles at acceleration.
Consider buying a Cooper if you are a non-aggressive, budget-saving driver that wishes for a long-term tire solution and does not mind road bumps here and there.
Durable, sturdy tires
Great on light snow and decent in other wintry conditions
Good tread wear rates
The rides might get a bit bumpy
Oversteering tendency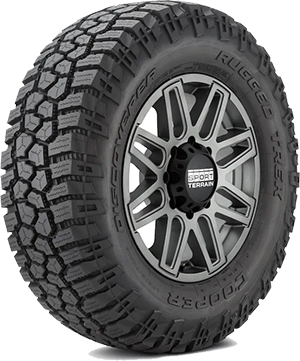 ---
5. Firestone WeatherGrip
Best for Light Snow Traction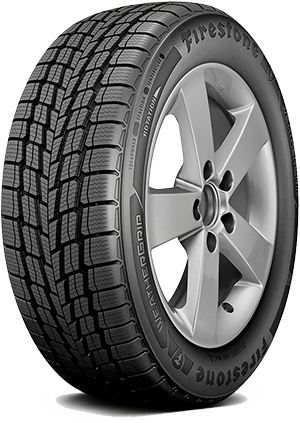 Tire Type
Grand Touring All-Season
Tire Size
15″ – 19″
Weight
17.0 LBS – 35.0 LBS
Load Index
82 – 106
Load Range
SL – XL
Speed Rating
H: Up To 130 Mph
V: Up To 149 Mph
Warranty
65,000 miles
Ratings
8.3/10
Firestone WeatherGrip leaves other competitors by a long mile in terms of light-snow performance focus.
The model includes open shoulder blocks and 3D sipes (similar to BFGoodrich, Bridgestone, and several other tires). But what makes it different is the snow vices and Snow Traction clawing technology, which is installed right on the shoulder block and center.
Due to this added stability, the center positions enjoy more biting edges to cope with a decent amount of snow packs. Except for more time spent on hydroplaning resistance, our attempt to try out the tire on light snow was quite similar to how it went with dry roads.
The traction claws act both like a snow-digging device and an anchor point for the car, removing infiltrated water and snow while propelling our car forward simultaneously.
And aided by the car's already powerful sensors (we always use the latest model for the same-year test ride), snow struggles were barely noticeable at all. We navigate through different snowy corners while playing around with varying rates of speed to test its limits, and none of these endeavors led to any significant falter.
Even when the snow density increased, our team members still had an overall good experience with the traction claws, minus a few delays in steering response.
Its ice traction is a bit inferior to BFGoodrich but still ticks all our basic criteria boxes; we had to grip the steering wheel tight and kept the speed unchanged throughout most of the ride to avoid possible response disruption, but other than that, things are good.
Using the tire in spring-autumn seasons is a non-issue, although we were (very) taken aback by the significant decrease in ride comfort and noise muting. Some of us initially labeled these drawbacks as a trade-off for better tread wear rates, but turns out Firestone WeatherGrip was not even that great in the tread wear area, either.
To conclude, Firestone WeatherGrip works great as a substitute winter tire (for drivers living in milder weather climates). Those who do not mind noises, ride bumps, and extra budgets spent on more frequent tread upgrades would find WeatherGrip a good bargain, too.
Good performance on light snow; decent on deep snow and ice
Good dry and wet traction
More improvements are needed for noise muting and ride comfort
Fast tread wear rate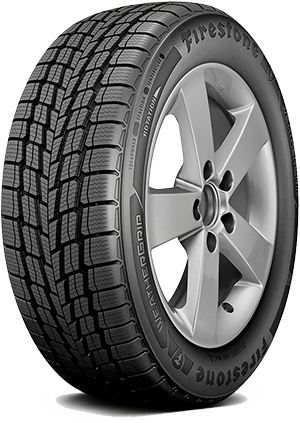 ---
6. Michelin Defender LTX M/S
Best for Highway Driving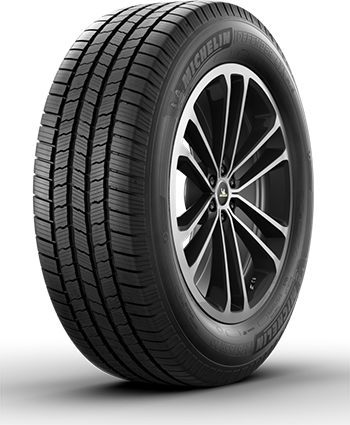 Tire Type
Highway All-Season
Tire Size
15″ – 22″
Weight
23.0 LBS – 60.19 LBS
Load Index
95 – 129
Load Range
C1 – XL
Speed Rating
– H: up to 130 mph
– T: up to 118 mph
Warranty
50,000 – 70,000 miles
Ratings
8.8/10
Few all-season tires can compete with Michelin Defender LTX M/S on highways – which must have a lot to do with its new MaxTouch Construction technology, installed into the tread grooves to reduce harshness, vibration, and noise.
Specifically, MaxTouch distributes even pressure across our tire's tread surface. As a result, none of us could feel the extra concentrated pressure point under the tire – while also experiencing a delightful surge in steering responsiveness.
With no bumps and jostles, our car managed to keep a consistent rate over light and even deeper snow (though the latter suffers more from hydroplaning issues), which was one of the most critical elements in highway driving.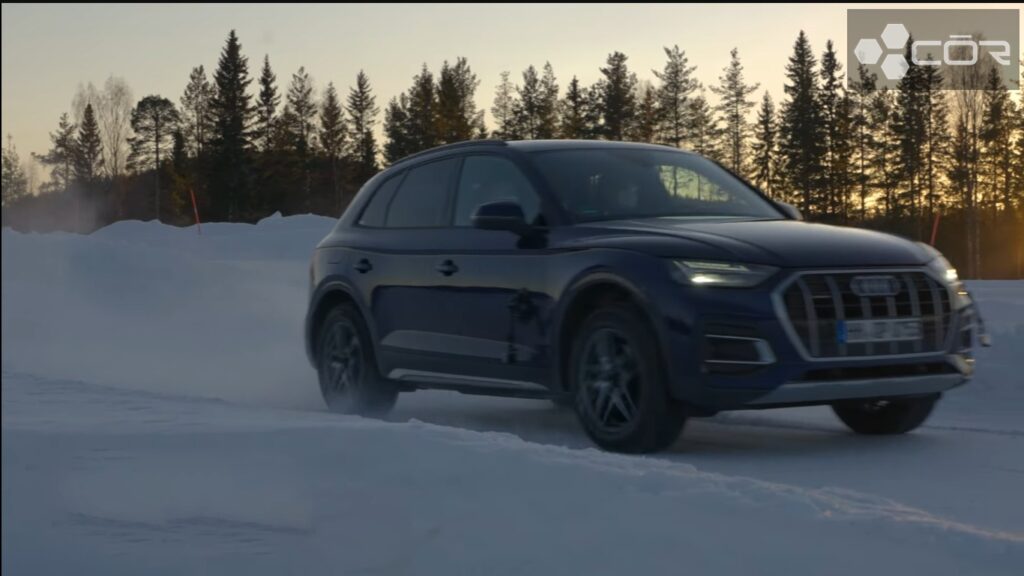 There seemed to be quite a boost in steering response, too, as Michelin Defender took almost no time at all to adapt to our unplanned highway lane changes.
We decided to let our car join with other regular vehicles on the highway streets, and the way Michelin Defender winded through slow-moving bikes and merged lanes was impressively smooth and quiet. Some of us did wish the tires could retain the same velvety feel on icy terrains – but considering it is an all-season tire, we think we could cope with a little bit of safe slippage.
And the good news is that ice traction is among the very few qualities that need improvements; Michelin Defender delivered consistently for us in almost every other aspect (comfort ride, tread wear, dry and wet traction), making it the best candidate for year-round highway drivers who do not have to travel through thick ice often.
The price is admittedly much higher than the rest of the list since we are talking about a Michelin, which explains why we rank it lower. However, given these all-round performances, we could say the charge is justified.
Great for land changes and cornering maneuvers on highways
Consistently excellent traction in dry, wet, and snow traction (except on ice)
Comfortable, smooth ride, little noise
Durable and great tread wear rate
Slippage on ice terrains might still occur
Very expensive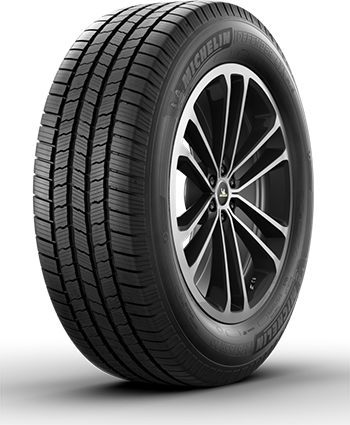 ---
7. Yokohama Geolandar CV G058
Best Crossover/SUV All season for Snow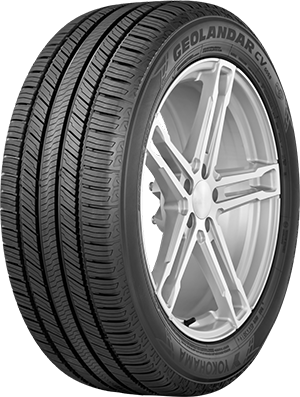 Tire Type
Crossover/SUV Touring All-Season
Tire Size
16″ – 20″
Weight
23.0 LBS – 36.0 LBS
Load Index
96 – 110
Load Range
SL – XL
Speed Rating
– H: up to 130 mph
– V: up to 149 mph
Warranty
65,000
Ratings
8.7/10
SUVs need different, more capable traction than cars to handle more loads – and Yokohama Geolandar CV G058 naturally fits in the role of the best all-season SUV tire for snow.
This model incorporates lots of extra features that might seem "too much" for regular cars but work perfectly for an SUV. One instance is the combination of both 3D and 2D siping to create the best, most powerful biting edge in winter traction.
The outer grooves are carefully serrated, aided by the chamfered, rounded rib profiles. This notable upgrade from square-flat designs allows a more even pressure distribution, great for heavy-load SUVs on long-hour trips.
And we have not yet talked about the special polymer and micro-silica blend that keeps the tire adhesive under even cold temperatures. Thanks to these large, buffed walls, our SUV plunged head-in into off-road snowy terrains like they had been best friends since forever.
The smooth run startled even some of our most experienced members, since we did expect more vibrations and jostles when entering the deeper snow zone.
To put things in perspective, we decided to take a few steps further with the SUV's cargo, loading about 1500 pounds of items/passengers and going straight to the ice slash snow-packed areas. They could still cope well but answered our inputs quite slowly with some occasional slippage.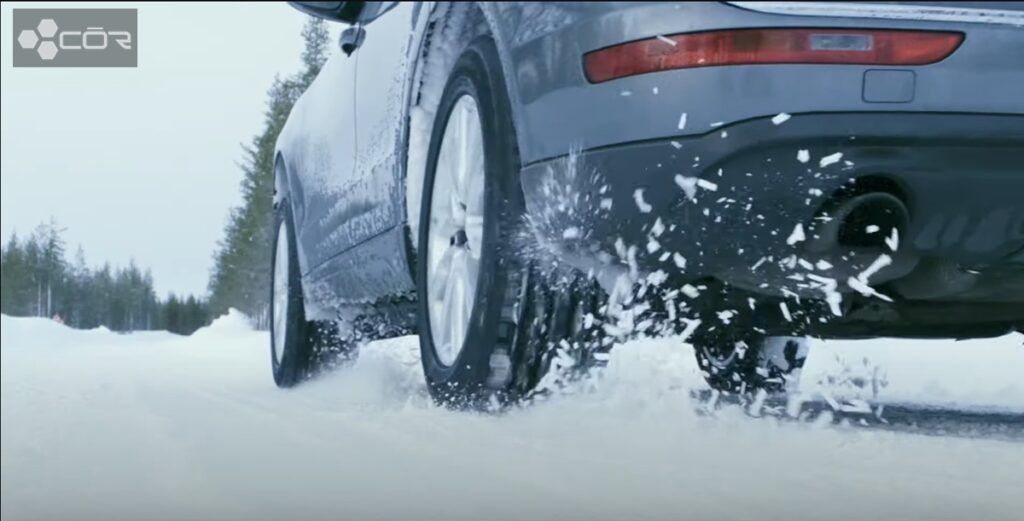 Yokohama had slightly less consistent dry traction than our top contenders, and some of our team members were not happy with the loud rumbling noises when navigating around tight corners.
But overall, it is a quality tire and a great bargain for most crossover/SUV drivers. Regular drivers can still use Yokohama, but be careful with your driving to avoid oversteering.
Good footholds in the snow
Compatible with large SUVs and crossovers sizes
Great wet and dry traction
Corner stabilities are a bit off sometimes (not common)
Loud road noises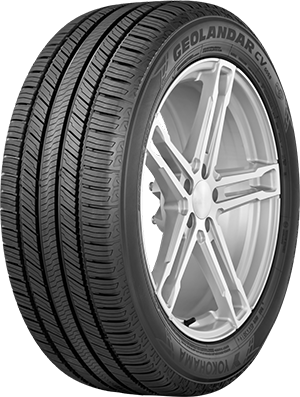 ---
8. Goodyear Assurance WeatherReady
Best All Season Tire for Wet and Snow Performance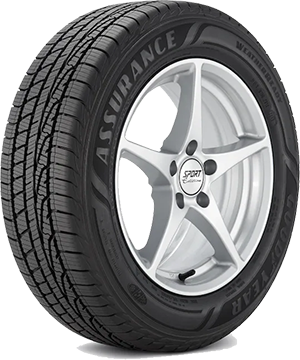 Tire Type
Grand Touring All-Season
Tire Size
15″ – 20″
Weight
20.0 LBS – 40.0 LBS
Load Index
87 – 111
Load Range
SL – XL
Speed Rating
– H: Up to 130 mph
– V: UP to 149 mph
Warranty
60,000
Ratings
8.6/10
At the end of the day, drivers of all-season tires still prioritize wet over winter traction. Goodyear Assurance WeatherReady is the rational choice if you have high demands for both.
All the new, extra technologies introduced in Goodyear WeatherReady are clearly meant for wet/snow performance. For starters, the tires are designed in an asymmetrical pattern (instead of the usual directional pattern), with meticulously inlaid grooves; they create wider, more open channels for water evacuations on wet surfaces.
There is also a notable transformation in the Evolve Traction grooves, as they grow from deeper to wider according to the tire's current wear, adding to the hydrophilic driving quality.
To seal the deal, the rubber compound is infused with soybean oil to generate more traction and pliability. Hence, the travel on wet surfaces and light snow alike was equally pleasant for our team members. Snow and water dripped off much faster than average due to the coated soy, smoothing out the tire's contact patch areas.
We had lots of fun with the sudden acceleration/deceleration just to see how the tires would handle it – and at one point, there were very sharp left steering endeavors applied, mostly to avoid obstacles and tree branches.
The WeatherReady tackled them all with basic grip and stability, and the occasional nudges and rams as we implemented sudden turns were kept low enough not to bother us.
Still, we admitted having higher hopes for its deep-snow and ice performance, and frankly, WeatherReady still underperformed to some extent in those areas.
Our car jerked forward quite strongly when bumping deeper snowpacks, and the slippage tendencies were hard to ignore on extra thick ice terrains. They were still competent enough to pass our tests, but improvements are still required where they are due.
On another note, we do not have much to complain about the tire's dry performance, although the deafening road noises and cornering bounces sometimes throw us off. All in all, WeatherReady will better suit people living in mildly humid/snowy weather all year round, with some money to spend.
Good performance on wet and light snow
Good dry traction
Dealing well with sharp steering turns
Noisy
The treadwear could be better
Occasional cornering bounces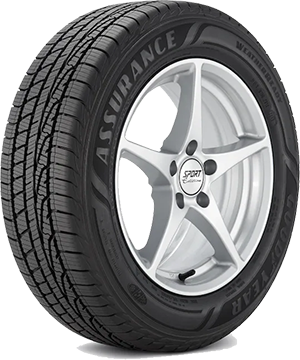 ---
9. General AltiMAX 365 AW
Best for Budget
Tire Type
Grand Touring All-Season
Tire Size
15″ – 20″
Weight
16.0 LBS – 31.0 LBS
Load Index
82 – 109
Load Range
SL – XL
Speed Rating
– H: Up to 130 mph
– V: UP to 149 mph
Warranty
60,000
Ratings
8.5/10
For people with less than $120 to spend on all-season tires for harsh winter, few models are better than the General AltiMAX 365 AW. And "cheaper" does not necessarily go with "poor quality" in this case, as General still delivers more bites and forces than any other tire of the same pricing range.
General AltiMAX covers fewer sipes than other siblings to straighter-line handlings. While this lack of siping might not be everyone's cup of tea, the brand compensates for it with the extra lateral grooves to deliver more grip in snowy and rainy weather. There are visual indicators to help drivers keep track of the tire's wear rate, too.
From our test results, General AltiMAX's performance is more or less the same as Yokohama ranking right above it at #7, although the surefooted feels were sometimes lacking.
The frequent thrusts when encountering packed snow were rightfully made up by the pretty accurate steering response, and we had no trouble accelerating or even decelerating to get the car out of a particularly troubling bump.
Stopping distances were generally favorable, but we wished they could have been improved on icy roads; General AltiMax skidded for a few more meters and stopped just as abruptly, taking some of our new members by surprise.
Dry and wet traction was good, but we did think the brand could do something to fix the continuous steering noises. And the treadwear was not impressive, either, showing signs of wear after a mere 800 miles and ranking last on our list.
Still, if you do not mind sacrificing treadwear for a more affordable upfront cost, this tire model is where to look for.
Cheap
Decent winter performance
Good dry/wet traction
Accurate steering response
Noisy
Fast treadwear
Could improve the braking distances
---
10. Kumho Crugen HT51
Best Budget All Season Tire For Snow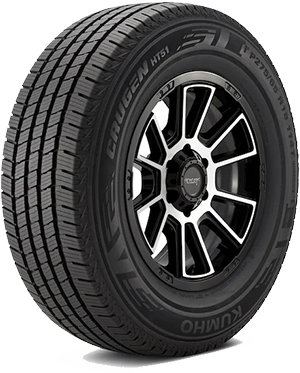 Tire Type
Highway All-Season
Tire Size
15″ – 22″
Weight
27.0 LBS – 57.0 LBS
Load Index
98 – 125
Load Range
C1 – XL
Speed Rating
– H: Up to 130 mph
– T: UP to 118 mph
Warranty
45,000 – 75,000
Ratings
8.5/10
Another budget option on the list, Kumho Crugen HT51 offers symmetric designs with geometric block layouts, which divide the treads into even blocks/ segments to reduce concentrated pressure and maximize their lifespan.
The stiff center blocks take over to deliver straight-line performances, while the wide, open circumferential grooves act like a vortex that siphons water off the contact patch, reducing hydroplaning.
Our team also appreciated the zig-zag, 3D siping, which we frankly did not expect for a cheap all-season tire. The biting edges they deliver gave us more consistent and effortless scours through lighter snow (even better than the more expensive Yokohama at #7) and whisked residue snow/water in milliseconds after our driving inputs.
A bit of shake vibrated from the road straight to our steering wheel when the snow went 4-5 inches deeper than usual, but Kumho could still shrug them off after harmless, seconds-long delays.
Kumho's deep-snow/ice performance ranked last on the list, but of course, we were not surprised. The initial grippy bites lost their impact as the snow volume and slippering increased, causing us one turmoil or two when the tires had to corner at a higher speed.
In compensation, its dry and wet-road traction are surprisingly good, even on par with the Cooper Discoverer EnduraMax. We did want the brand to use better materials for tread compounds, but at least their ratings do not rank last on the list – an impressive feat for a cheap tire.
Consider Kumho Crugen HT51 if you have limited budgets but still wish for beyond-average performances on wet/dry conditions and light snow terrains.
Cheap
Great dry and wet traction
Good performance on light snow
Clear struggles on ice and deep snow
Fast treadwear rates
Some noises on smooth asphalts
How To Choose The Right All-Season Tire for Snow & Ice
Metrics and ratings aside, consider the following criteria to ensure the best all-season/best all-weather tires for snow:
Climate: All-season tires can easily replace winter tires if there is only occasional snow. But for heavy snowfalls, be more cautious; scour our review carefully to see whether the tire's performance in snow is consistent and safe.
Vehicle Type: Cars can work with regular all-season tires. But trucks, crossovers, and SUVs are a different story, requiring aggressive tread that can tackle heavy loads.
Driving Habits: If you do not often travel into the snow. The higher your snow-driving frequency, the better performance your all-season tires need.
Budgets: Like any tire type, all-season tires have a broad pricing range. Consider the above criteria carefully to avoid overspending.
Conclusion
These 10 tires have outperformed the remaining 95 options in our 2023 COR wheels tire tests to rank themselves as the best tires for all weather conditions and seasons.
Bridgestone WeatherPeak is more powerful than any competitor on deep and light snow, considered by all our team members as the best and ultimate pick.
But if you wish for a more all-rounded performance, Michelin Crossclimate2 wins the round. Its snow performance does not lag much behind Bridgestone, while still delivering much better dry/wet traction and tread life.
Here is the summary of the 2023 COR Wheels Tire Test for the 10 best all season tire for snow:
| Tire Brand & Model | | | | | | | |
| --- | --- | --- | --- | --- | --- | --- | --- |
| Bridgestone WeatherPeak | 1st | 8.9 | 8.9 | 9 | 9.1 | 8.7 | 8.7 |
| Michelin CrossClimate2 | 2nd | 8.9 | 8.6 | 9.2 | 9.2 | 8.7 | 8.9 |
| BFGoodrich Advantage Control | 3rd | 8.7 | 8.5 | 9.1 | 8.7 | 8.6 | 8.7 |
| Cooper Discoverer EnduraMax | 4th | 8.7 | 8.4 | 8.9 | 8.7 | 8.4 | 8.9 |
| Firestone WeatherGrip | 5th | 8.3 | 8.3 | 8.8 | 8.7 | 8.2 | 7.7 |
| Michelin Defender LTX M/S | 8th | 8.8 | 8.2 | 9.2 | 9 | 9 | 8.9 |
| Yokohama Geolandar CV G058 | 6th | 8.7 | 8.2 | 8.9 | 8.9 | 8.6 | 9.1 |
| Goodyear Assurance WeatherReady | 7th | 8.6 | 8.2 | 9 | 8.9 | 8.4 | 8.5 |
| General AltiMAX 365 AW | 9th | 8.5 | 8.1 | 8.8 | 8.7 | 8.5 | 8.4 |
| Kumho Crugen HT51 | 10th | 8.5 | 8.1 | 8.9 | 8.7 | 8.6 | 8.5 |
---
President & Automotive Expert at COR Wheels
Robert Herrera has been with COR Wheels for 17 years and has a great passion for the automotive industry. During his time at COR Wheels, he has driven and test-driven a variety of vehicles.
---