As an upgrade of the original Cross Climate+ model, Michelin CrossClimate2 quickly climbed on the popularity chart with its highly-acclaimed all-season performance. The tire is rumored to be one of the best of its sectors and deliver impressive results on dry, wet, and snow terrains alike; is that true, though?
Our annual Winter and Summer tests have introduced numerous driving challenges for CrossClimate 2, and it's time we learned how things turned out with our review!
In this review:
Michelin CrossClimate2 Specifications & Features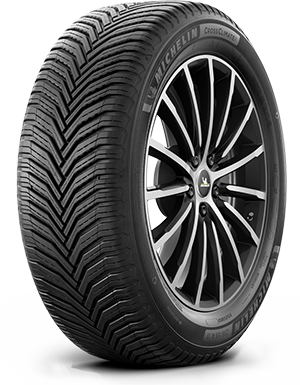 Tire Type
Grand Touring All-Season
Tire Size
16″ – 22″
Weight
20.99 LBS – 36.55 LBS
Load Index
91 – 114
Load Range
SL – XL
Speed Rating
– H: up to 130 mph
– V: up to 149 mph
Warranty
60,000 miles
Ratings
8.9/10
CrossClimate2 arrives with the all-season adaptive thermal tread compounds, which are molded V-shaped into directional tread designs to better evacuate water in wet conditions and increase traction.
Aside from these rubber compounds, the model also utilizes PIANO Noise Reducing Tunes, which augments timing variations and tread geometry to upgrade the patterns and tune out almost all airborne noises.
Like other models, Michelin also pays close attention to the tire's longitudinal grip, promoted through the tread's center portion and blocks aligning with aft and fore forces. As such, the tire manufacturer promises better, uninterrupted block contacts during deceleration or acceleration attempts.
Regarding dry braking traction, the brand entrusts its performance to the V-ramp chamfer, adapted into the block's trailing and leading edge to boost ground contact and shorten braking distances. Meanwhile, the outboard is where the tread depth is laterally in line with shoulder blocks, whose combined power increases control and cornering forces.
Another highlight feature is the 3D Sipelock integrated deep into the treads to support block rigidity (and, in turn, confident handlings) while supporting traction in extreme weather. The steeper angles channel water off the contact patches without needing any circumferential groove.
These grooveless patterns aim to kill two birds with one stone, evening out loading forces while delivering more wintertime biting edges.
Speaking of snow performance, the adaptive thermal tread compounds once again prove to be Michelin's major focus, which is meant to keep tire flexes at low temperatures. Whether it works or not is something we will find out later – but at least, it is qualified enough to receive the 3PMSF (3-peak mountain snowflakes) symbol.
And similar to other grand touring tires, Cross Climate 2 enjoys polyester casings (two-ply) supporting two different steel belts. With extra polyamide reinforcement, their higher-speed stability is not out of reach.
Michelin CrossClimate2 Review & Performance Test Result
All results below are taken from our 2023 COR Wheels Tire Test, using the 225/40R18 tire size on Ford Mustang 2022.
1. Dry Performance: 9.2/10
Dry Traction: 9.3/10
The fact that this Michelin CrossClimate2 tire uses directional V-formation designs (instead of asymmetrical options) already foreshadows its differences from other tires in all the most positive ways.
Specifically, as all the grooves are geared toward the center, the tire's contact felt more even and consistent, allowing us to maintain a deep connection with our driving terrains.
Each extra biting edge sinks deep into the pavement as if it belongs there, propelling our smooth acceleration from a standstill pose to more than 160 MPH; the rolling was certain and predictable enough to ease out even the new members of our test team.
And the 3D Sipe Locks are another highlighted Michelin trademark, interlocking the blocks for better tread rigidity. Throughout our long test, we rarely felt any block distortion or movement; the longitudinal traction seemed to have its moment even at unplanned acceleration and conformed closely to how the road surfaces curve and twist.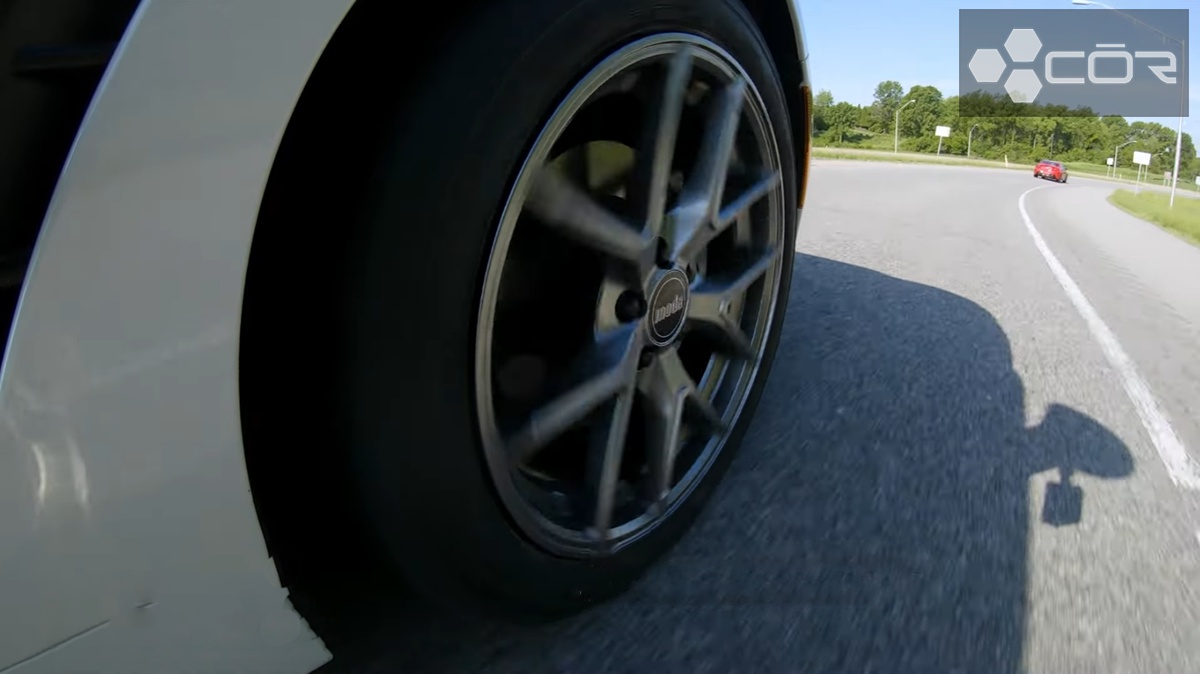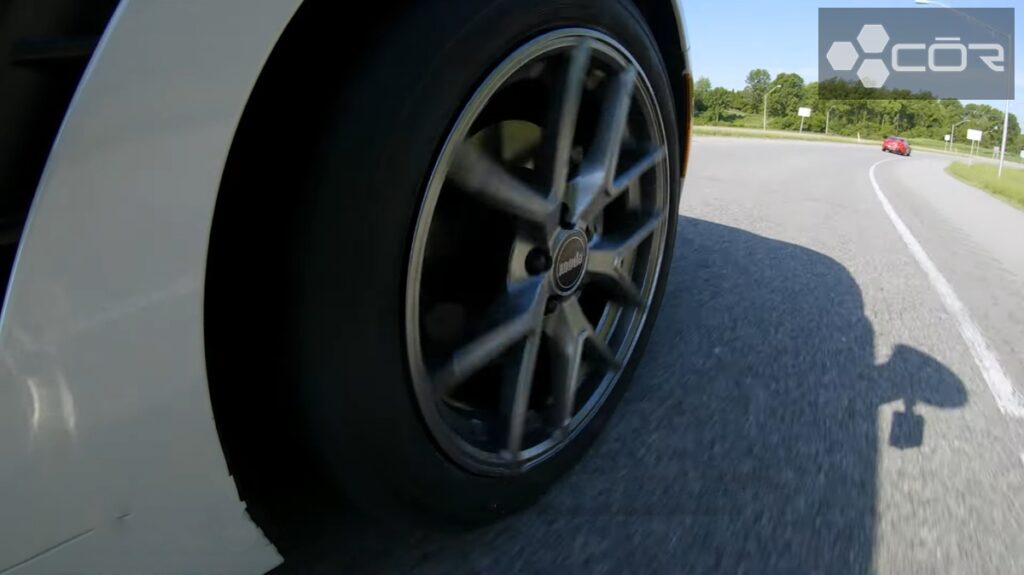 A few struggles over larger road imperfections can be noted, but any other tire would react the same under these circumstances. So overall, it was a pleasant experience for us.
We must admit that there was a drop in gas mileage (about 3 MPG) as a tradeoff for such greater traction, though.
Corner Stability: 9.1/10
The original Cross Climate+ never disappoints with corner stability, and this tradition clearly continues with its CrossClimate 2 upgrades. With the combined strength of shoulder blocks and lateral treads, its cornering forces were a delight for all of us.
And aided by the already powerful Mustang engine, navigating through tougher corners was a breeze. We spotted no twitchy feels or fishtailing through at least 3/4 of the test, and the tires remained linear all out.
To put things into perspective, we chose the trickiest intersection shortcut and made a quick turn; the tire and suspension responded immediately like they expected our moves all along, producing no skort or skeets.
If there is one minor issue to complain about, it is the tire's slightly less planted footholds during aggressive maneuvers. However, they are not significant enough to make the overall score drop below 9.
Steering Response: 9.1/10
Michelin CrossClimate2 does a pretty good job of balancing tire flex and stiffness, which paves the way for better and more instant steering feedback.
And with the steel belts that frame the tire shape at precise angles, chances of deformation are rare.
Most of our steering inputs were smoothly translated into power delivery, cutting through or even changing directions in a matter of (one) second. Thanks to this adeptness, we did not have to keep our eyes on the road all the time to sidestep accidents – and had more time to pool our attention and focus elsewhere.
Although the well-built Mustang's steering wheels might have a role in the success, it is still safe to say Michelin takes the bigger part of the credit. Had it not been for the very slight vibrations upon larger road irregularities, it would have earned an even more impressive overall score.
2. Wet Performance: 9.2/10
Wet Traction: 9.3/10
Michelin delivers lateral grips stronger than any other grand touring tires we have tested.
The grooves and sipes that work well with dry traction continue to max out their strengths on waterlogged roads, further powered on by the strong hydroplaning resistance discussed above. Little water or mud got in the way between the sidewall and road contacts, pushing our capable Mustang through deep water easily.
And we hardly have complaints about its braking; even when we engaged the emergency braking to avoid sudden holes, extra-deep puddles, or other oncoming vehicles, the situation didn't get out of control to the point that ABS had to be activated.
Cornering is overall pleasant, though some of our team members got annoyed with the occasional slips and squeaks at higher speed.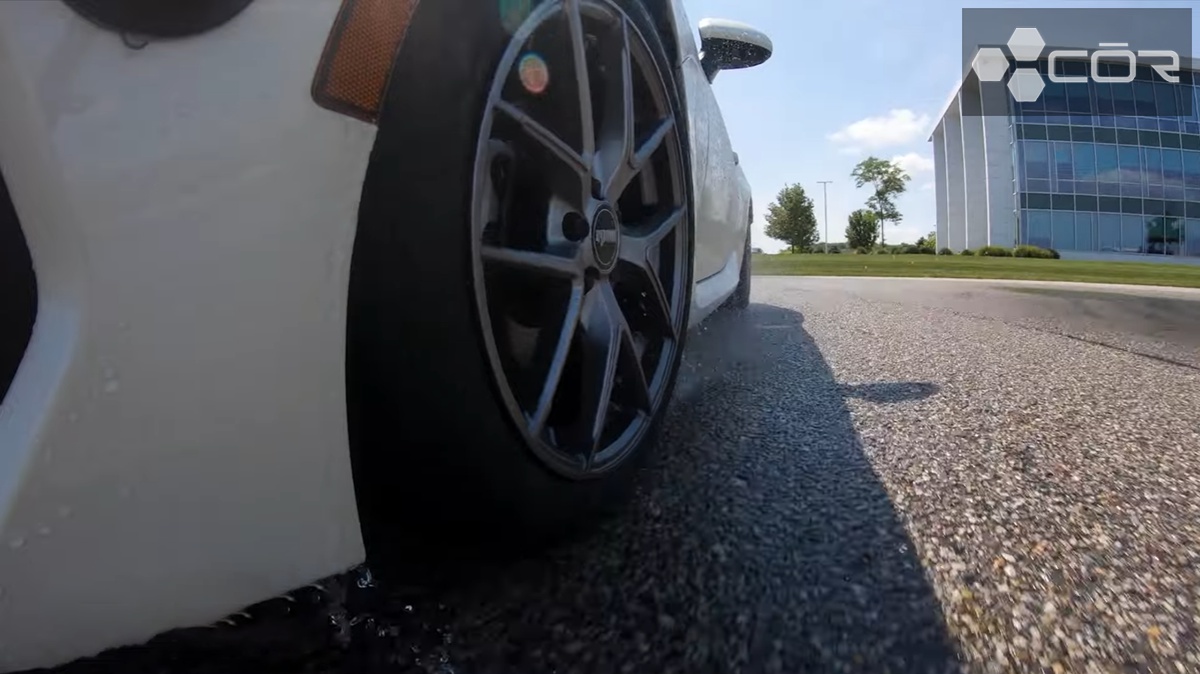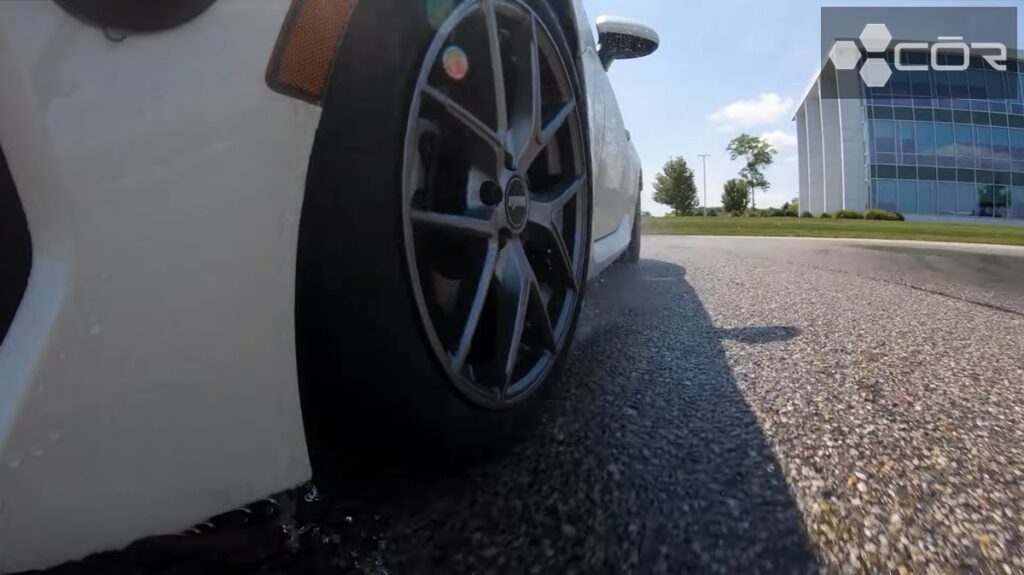 Hydroplaning Resistance: 9.2/10
The circumferential grooves work like a charm with Michelin CrossClimate 2, with diverse, large sipes slotted in the tread blocks to help with water dissipation.
And we cannot skim over the thermal compound, which (as the name suggests) can work in various temperatures and weather conditions. Therefore, hydroplaning is hardly a problem for us: the compounds work together with the well-placed grooves to channel water off the tread while also biting tight on the road surfaces.
As July 2023 came with lots of heavy rain, we had the chance to test how the grooves performed under vicious downpours. They lived up to the expectation: the thin slits and thick sipes acted like big mouths spitting out water and mud the moment they entered, breezing us through several inches of water with only some minor struggles.
3. Winter/Snow Performance: 8.6/10
Light Snow Traction: 9/10
Light-snow performances are almost on pair with the wet and dry traction – which is quite a remarkable feat for a normal all-season tire.
Aside from the grooves and biting edges, we believe the thermal, temperature-flexible compound has something to do with this great performance – since the tire can sustain all its original dry functions even at lower temperatures.
On 4-5 inches of powdery snow, our Mustang gripped the road with no residue of water and snow on the tires, plunging forward with just as much steering input as we put into it. When the game was up to 8 inches, the tire showed a bit of drag, but we still completed the test with enough acceleration.
We were admittedly afraid of getting stuck at rougher road patches, but fortunately, that did not occur. CrossClimate 2 just balanced the contact patch with its consistent, even-spaced tread patterns and continued forward like nothing got in its way in the first place.
Of course, the tire did feel lackluster at stronger steering maneuvers compared to a real snow tire. But since CrossClimate 2 is never meant to compete with winter models, we do not consider it a severe drawback.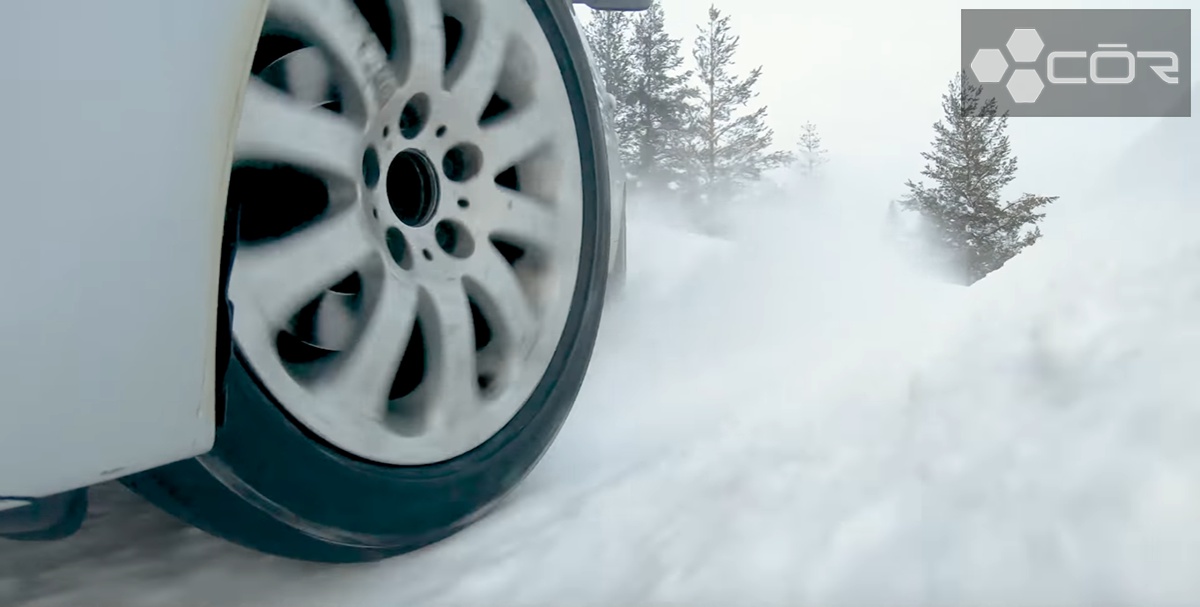 Deep Snow Traction: 8.6/10
Like any of its all-season siblings, CrossClimate 2 encountered difficulties plowing through deeper snow – although it still handled the situation better than most tires of the same sector. After taking a little longer than usual to shrug off the intruding snow, our Mustang carried on as usual with a few harmless vibrations here and there.
Last winter, when 33rd Street was covered with 10-11 inches of snow, it became challenging to move, though we still managed to get out of that hellhole, but it took quite a lot of time. So our team members all agreed that this might be the tire's limit in snow.
Ice Traction: 8.3/10
Stumbles are inevitable, considering that even some mid-end winter tires struggle in icy road conditions. But for a Michelin all-weather tire, this is quite impressive.
The thick ice on NW 33rd Street did not last long (only for 3 days, before melting in packed snow), so we had few chances to test them for longer.
Still, what we experienced did not disappoint us: after the first few minor skidding, our car quickly regained its composure, treading surely and confidently under our (cautious) driving. More aggressive maneuvers clearly posed a lot of danger, so we avoided them altogether.
4. Comfort: 8.7/10
Ride Quality: 9/10
The only tire models that CrossClimate2 loses to in this regard are Pirelli tires (among those we have tested); otherwise, it is the most impressive.
At first, we thought its firm rubber might bring in lots of discomfort, but that was a hasty assumption. Turns out the taut qualities palmed out most surface imperfections we encountered on the way, limiting cabin vibrations and resulting in a more composed, comfortable ride.
Road Noise: 8.5/10
As mentioned, the PIANO Noise Reducing Tunes whites out airborne noises through their augmented geometry elements. Our rides mostly remained quiet… until the car entered rougher tarmac.
The tread growls punched sharply through engine/wind noise, bothering some of the more noise-sensitive members of our team. And when we entered a curve at 45 MPH, the buzzing sound seemed to be at its peak.
To clarify: it does not happen often. Still, we could not give it a score above 9 for that precise reason.
5. Treadwear and Durability: 8.9/10
After about 500 miles, we did not see any signal of abnormal wear. This – and the brand's confident 60,000-mile warranty – give us a positive foresight into the tire's durability and lifespan.
Still, it does seem like the tread life goes down faster under more challenging driving conditions (say, extra-thick snowy roads).
Michelin CrossClimate2 Pros and Cons
Firm footholds in wet and dry conditions
Good performance on snow roads
Few vibrations
Higher tire noise levels on rough tarmac
Not suited to drivers preferring softer feels
Michelin CrossClimate2 Competitors & Alternatives
Vredestein Quatrac Pro and Bridgestone WeatherPeak are all considered competitive tires, but they are several miles behind Michelin CrossClimate 2 when it comes to dry-road traction.
The latter impresses with satisfying loaded feedback and corner stabilities, while the other two experience difficulties of varying degrees in aligning inputs and responses.
However, drivers preferring softer rides would work better with Vredestein Quatrac Pro than Michelin. As discussed above, Michelin leans more into the tauter side, while Vredestein smooths out both first and last hits to manifest a more sophisticated, cushioned feel.
Conclusion
Our test rides and Michelin CrossClimate 2 review further cement its position as one of the most exceptional tires on the market. Struggles are still expected where they are due, but overall, it is hard to find any severe negatives about its dry, wet, and even wintertime performance.
Provided your neighborhood is only covered in snow below 11" deep, Michelin CrossClimate 2 can even replace a dedicated winter tire – which justifies its $148 to $420 price range. Be more cautious with ice terrains, though, especially if you are a bold, aggressive-style driver.
Michelin CrossClimate2
PRICE
SOLD BY

Offers

In Stock

Offers

In Stock

Offers

In Stock

Offers

In Stock

Offers

In Stock
---
President & Automotive Expert at COR Wheels
Robert Herrera has been with COR Wheels for 17 years and has a great passion for the automotive industry. During his time at COR Wheels, he has driven and test-driven a variety of vehicles.
---