Squeaking, loud tread rumbling is the last thing drivers want for extended travels. But looking for the quietest tires that are still well-functional is not always an easy feat, since most standard models tend to sacrifice tread wear and other performance qualities for noise control, or vice versa.
The following review, based on the 2023 COR Wheels Tire Test results, recommends you the 12 best tires for a quiet ride on the market. Scroll for more discussion.
In this article:
How Did We Test & Pick The Quietest Tires
As part of the annual 2023 COR Wheels Tire Test, 160 best-selling all-season, SUV, performance, and all-terrain tires have been put to intensive testing on different terrains. Their evaluations are based on the eight main criteria:
Noise (our main focus)
Snow/winter performance
Dry traction
Wet traction
Comfort
Treadwear
Off-road traction
Price
Once pitching their overall scores with customer reviews (sorted out from the COR Wheels annual survey), the 12 best performers were eventually singled out.
Best Quiet Touring All-Season Tires
---
1. Michelin Defender2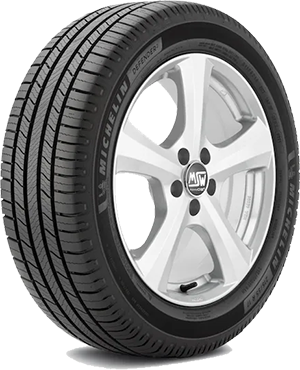 | | |
| --- | --- |
| Tire Type | Standard Touring All-Season |
| Tire Size | 16″ – 20″ |
| Weight | 21.0 LBS – 32.39 LBS |
| Load Index | 91 – 107 |
| Load Range | SL – XL |
| Speed Rating | – H: up to 130 mph |
| Warranty | 80,000 miles |
| Ratings | 8.8/10 |
Michelin Defender2 takes the crown as one of the best quiet all-season tires, utilizing a symmetric compound that allows flexible rotations to block noises and irregular wear.
The interconnected elements further reduce airborne noise and strengthen the footprint for more dynamic, predictable handling. At the same time, the circumferential grooves offer multiple pass-through volumes to channel water, while the longitudinal sipes deliver extra bites on slippery surfaces to boost your car's confidence in wintry, inclement weather.
These features translated well in our test rides. Low rumblings could be heard as we accelerated near highway speed extremes (80 MPH); but keep things civilized below 60 MPH, and Michelin Defender 2 rarely utters a sound.
Even spirited driving at tight-crook corners was relatively quiet thanks to the sturdy yet cushioned sidewalls, so you can allow your car to lean a bit adventurously outwards without squeaky, skittish noises often seen in other tires during low-angled cornering attempts.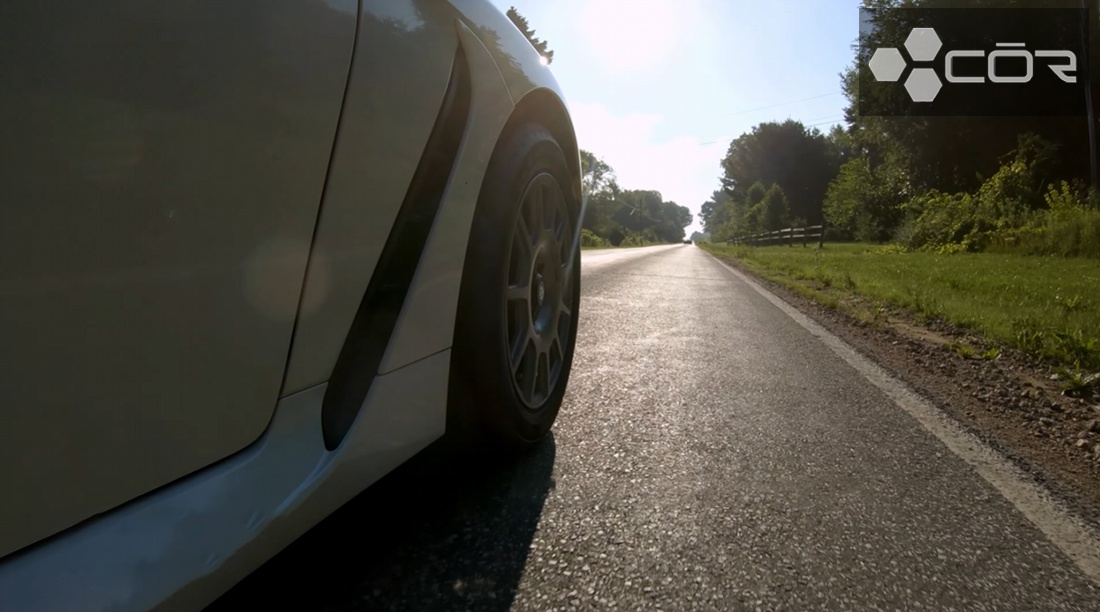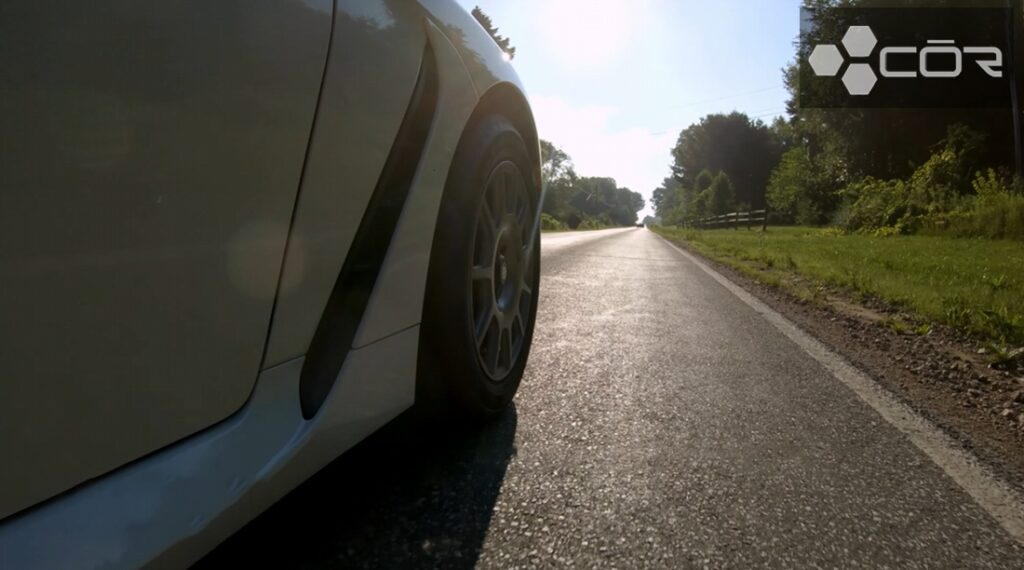 Better yet, Defender2 does not have to sacrifice its tread life for optimized riding comfort. The treads coped well with texture changes and did not falter under extreme, intensive driving frequencies; hence, you can be confident in at least 70,000 miles of mindless driving.
On-road dry pavements were where Michelin Defender 2 shined best with its confident, punctual steering response, and even the interference of waterlogged patches beyond 7 inches only resulted in minor hydroplaning during sharp turns. Its overall winter composure also led the touring tire competition, keeping you composed and stable on slippery, wet snow and ice at regular driving rates of 40-55 MPH.
There is no glaring drawback with Michelin Defender 2, though we do wish the contact patch grips slightly faster when tackling highway S-curves.
The quietest grand touring all-season tire
Excellent traction in dry conditions
Very confident on wet surfaces
Good traction on snow; decent on ice
Great treadwear
Comfortable ride
Slightly muted feedback around highway S-curves.
---
2. Pirelli P7 AS Plus 3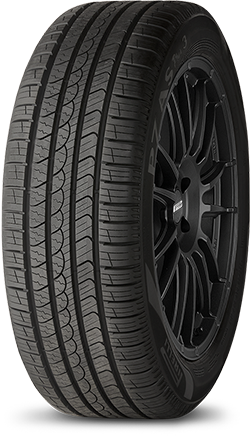 Tire Type
Grand Touring All-Season
Tire Size
17″ – 20″
Weight
19.0 LBS – 30.0 LBS
Load Index
91 – 104
Load Range
SL – XL
Speed Rating
– H: up to 130 mph
– V: up to 149 mph
Warranty
70,000
Ratings
8.7/10
Pirelli P7 AS Plus 3 is another quietest all season tire, introducing innovative asymmetric compounds with functionalized polymer to offer grip while swallowing tread noises. The large outboard shoulders improve steering feedback, while the balanced sipe/groove distribution limits void area to retain maximum road-tire contact.
Sealing the deal are the zig-zag center sipes (offering more slippery biting edges) and the circumferential grooves (for less hydroplaning).
Pirelli P7 AS Plus 3 was noiseless in our straight-line test and dived into wide-radius corners with the same quiet, polite manners. Road bumps were palmed out well (hence even less skittish feel under the tread), growing fainter and fainter as the car finally caved itself along the pavement grooves.
Drivers of rougher terrains like cobblestones and brick pavers will likely experience relative quietness; tire whining might frequently occur during the first few moments of your acceleration entries but will soon settle into low-key, murmuring sounds. Keep the speed changes gradual and consistent, and you can even manage to tune the noises out completely after 4 to 5 miles.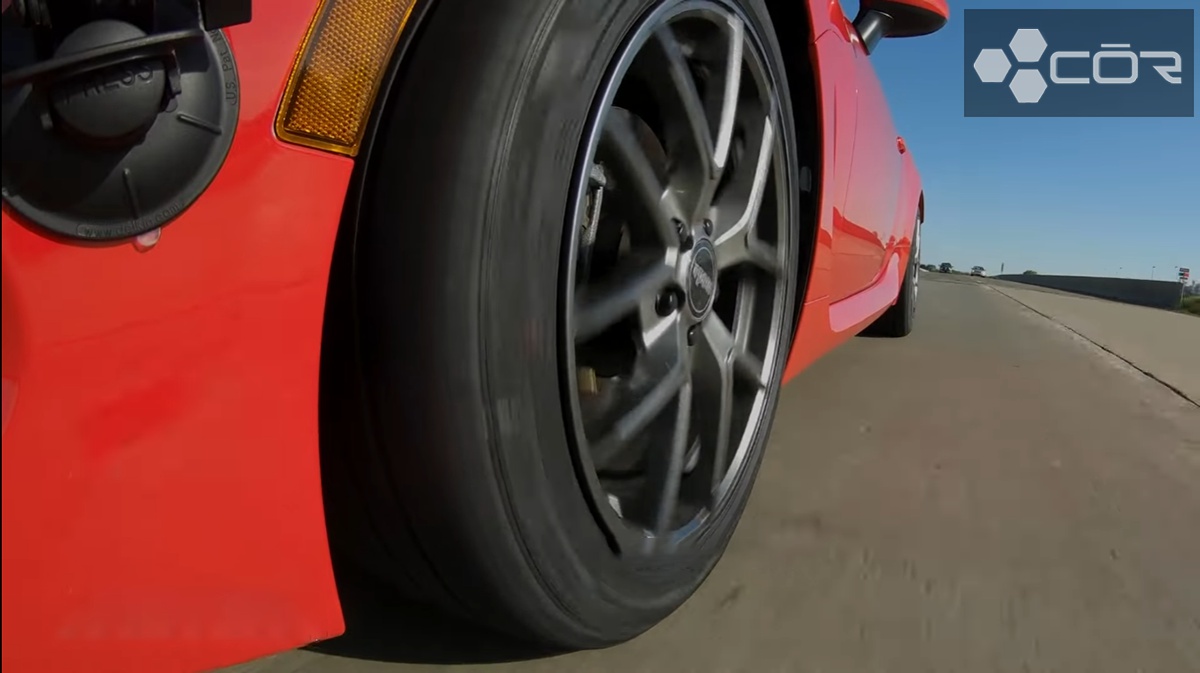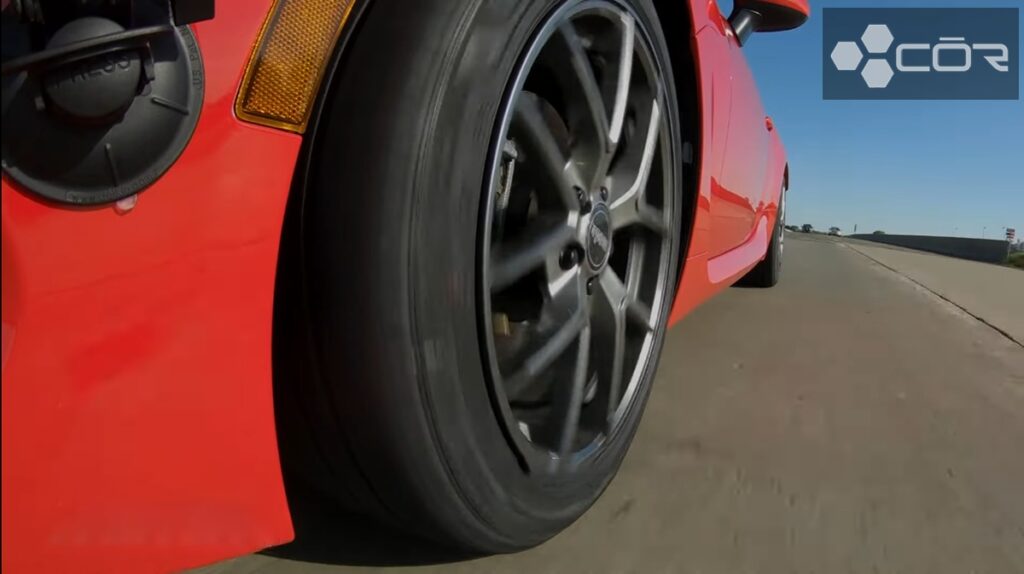 Noise control aside, Pirelli P7 is also a delight on dry paths, bouncing through road dents and cracks with boundless high-speed confidence (40-60 MPH). Its performance on wet roads carried even more smoothly than the class leader Michelin Defender2, and controlled vicious rainwater well thanks to the capable sipes and straight grooves.
The tire's cornering ability did need some refinements at double apexes or doglegs. But other than that, it is still within good control in most situations.
Very quiet
Good treadwear
Confident on dry and wet pavements
Decent snow handlings
Great riding comfort
A bit underwhelming on ice
Needing a bit more refinements at double apexes or dogleg corners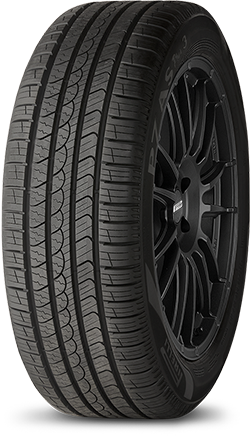 ---
3. Bridgestone Turanza Quietrack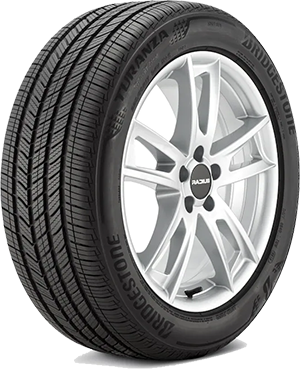 Tire Type
Grand Touring All-Season
Tire Size
15″ – 20″
Weight
20.0 LBS – 33.0 LBS
Load Index
87 – 104
Load Range
SL – XL
Speed Rating
– H: Up to 130 mph
– V: UP to 149 mph
Warranty
80,000 miles
Ratings
8.5/10
Bridgestone Turanza Quietrack bottoms out our list of the quietest grand touring AS tires, equipped with asymmetric compounds, optimized pitch sequences, and soft tracks to keep airborne noise within control. The rounded contact patches reduce vibration while cutting through water, and combine with the shoulder slots and circumferential grooves to reduce hydroplaning.
Wrapping up the package is the EdgePerformance Technology that creates more snow edges, while the deep treads are evenly spaced to maintain consistent rolls once the tire starts wearing.
As its name suggests, QuietTrack kept rumbling and whining noises under the radar as our car started high at 45 MPH, pushing them down quickly when they began to shimmy out of line. The volumes gradually increased when we neared 60 MPH but surprisingly panned out between 61 and 65 MPH, remaining composed and controlled until the last destination.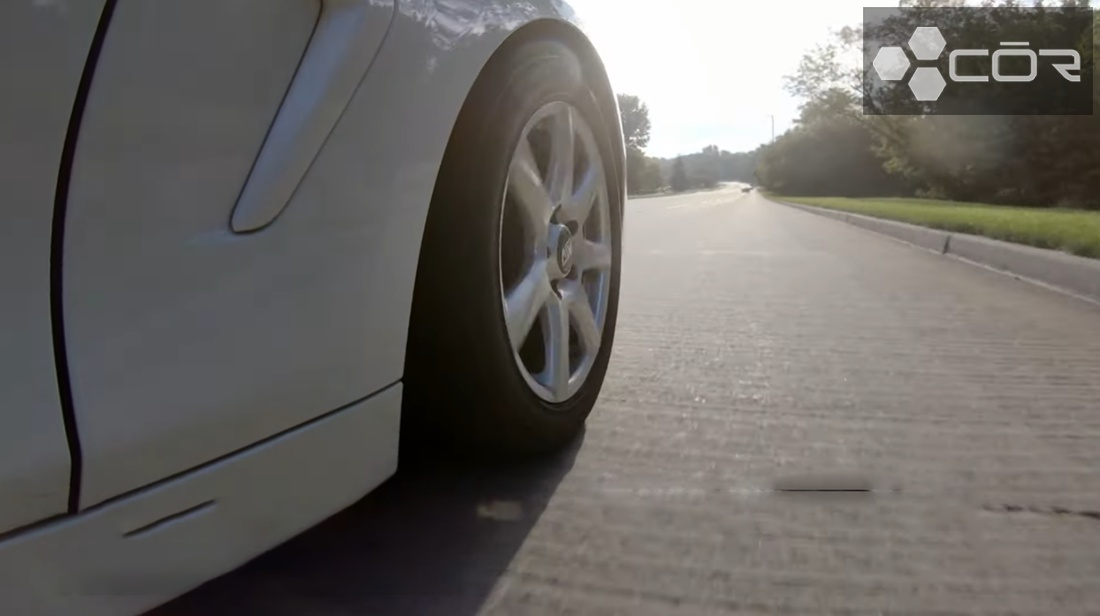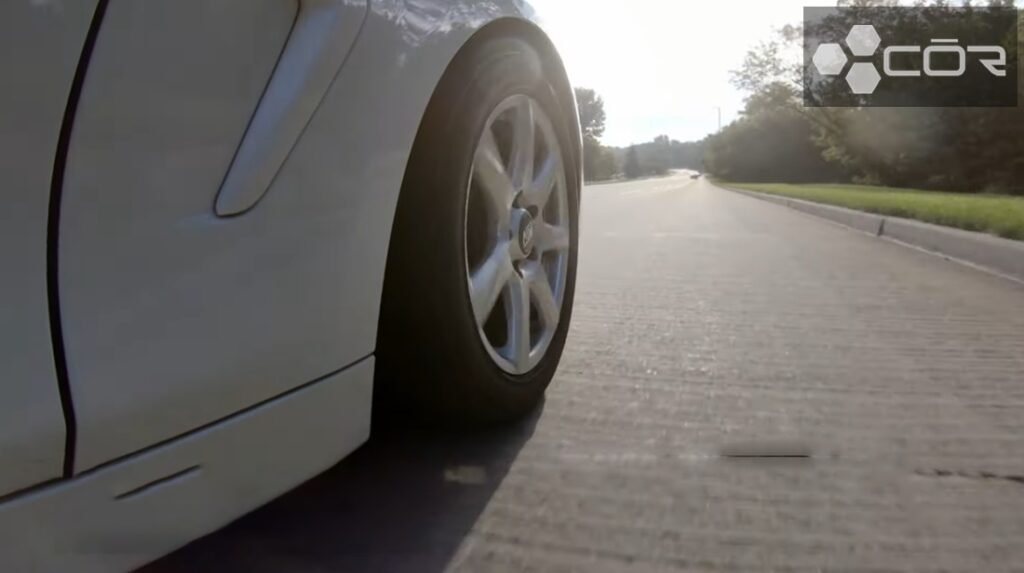 Most vehicles tend to squeak when riding over expansion/bridge joints, but that was not a likely scenario with our QuietTrack performances. You can even accelerate slightly above regular driving rates while towing trailers of 2000 to 2500 lbs, and still experience very little tread noise spiraling beyond boundaries.
Turanza Quietrack is more or less on par with the other two grand touring season tires on our list in terms of dry and wet traction. Its tire-road connection was favorably secure, rarely stumbling upon sudden turns or unexpected roadblocks. Thus, going between speed extremes (30-70 MPH) without sacrificing tire grip should be breezy regardless of your car model and driving levels.
Unfortunately, we cannot say the same about its snow performance, which was just barely decent at 30-35 MPH and started spiraling at any number beyond this range. Symptoms of tread fatigue were also pretty obvious after the fourth day of our test, so you should expect the first tread scuffs after 30,000 to 32,000 miles.
Fairly quiet; noises are in control
Very confident on dry
Great wet traction
So-so snow traction; underwhelming on ice
Less-than-stellar treadwear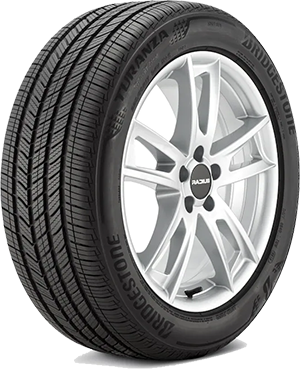 Best Quiet Tires for SUV
---
4. Pirelli Scorpion WeatherActive
Tire Type
Crossover/SUV Touring All-Season
Tire Size
18″ – 22″
Weight
28.087 LBS – 39.677 LBS
Load Index
100 – 114
Load Range
SL – XL
Speed Rating
– H: up to 130 mph
– Y: up to 186 mph
Warranty
60,000 miles
Ratings
8.9/10
Pirelli Scorpion WeatherActive is the quietest tire for SUVs out of the competition, enjoying innovative resin/polymer compound in directional V formations to deliver quiet comfort in wet, dry, and wintertime conditions.
Long, narrow footprints work with three-rib block designs to provide stability and lateral traction, while the trumpet-shaped and central zigzag grooves combine for hydroplaning resistance and more confident wet handling. Ample shoulder notches also aid the block sipes, creating extra bites for better, 3PMSF-certified snow traction.
Hence, there is not much noise to worry about during most daily-driving situations. Our SUV traveled noiselessly on paved grooves and caved even better with rugged patches thanks to the aggressive three-rib blocks, reducing the tire slapping sounds to low whispers underneath the contact patch. Your car should be able to do the same at regular 40 to 55 MPH – and even at higher rates, the volume increase was surprisingly subtle compared to competitors.
Deep, waterlogged road sections are also a non-issue. We expected rolling noises typical of most SUV tires when dispersing water beyond 8 inches, but they did not come – save for harmless side-to-side shakes. Given unwavering handbrake turns with consistent hand position, you can trample on carousels or tight bends just fine without squeaky, jittery humming around the flanks.
Dry and road grip is a given for strong SUV tires like these, and snow performance does not disappoint. After a few lackluster initial bites, the Pirelli Scorpion settled quickly and carried us on light snow with almost the same confidence as on typical wet surfaces.
If desired, you can equip the tires with snow chains to plunge deep into snow beyond 8 inches or even icy roads; minus a few skittish hesitations when facing constant switchbacks, WeatherActive's combined power from the interlocking sipes redirect snow packs and ice buildups in little to no drama.
With every metric rated above 8.6, Pirelli Scorpion WeatherActive has no significant drawbacks regardless of your driving style. Still, we do think the steering response could have been upgraded to deliver stronger alignment with our steering inputs when navigating through texture changes (rugged to smoother surfaces or vice versa).
Quiet and enjoyable ride
Excellent, all-around traction on dry, wet, and winter terrains
Great treadwear
Could have dealt better with texture changes
---
5. Continental CrossContact LX25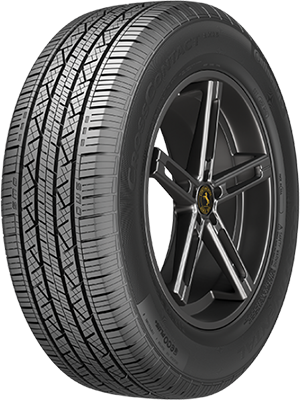 Tire Type
Crossover/SUV Touring All-Season
Tire Size
16″ – 22″
Weight
24.0 LBS – 43.0 LBS
Load Index
95 – 114
Load Range
SL – XL
Speed Rating
– H: up to 130 mph
– V: up to 149 mph
Warranty
65,000 – 70,000
Ratings
8.8/10
Continental CrossContact LX25 introduces EcoPlus+ compounds molded symmetrically, aided by extra absorption layers underneath the tread for quiet, smooth rides and great steering responses.
The circumferential ribs further minimize tread noise, while the wide grooves evacuate water off the footprints to prevent hydroplaning. Diagonal and lateral sipes provide more bites on slippery surfaces, and the Traction Grooves claw through snow terrains with its teeth to gum the tires better onto the road.
Our car had quite a blast with LX25's noise control. The absorption layers did a great job mashing the tire squeaks with their extended rubber, ensuring we breezed through speeds below 50 MPH in only minor, predictable hums. You can engage in most basic steering situations like reversing, lane changes, parking, or even veering left and right on crushed-stone pavements peacefully – pretty ideal for fans of tame, uneventful riding.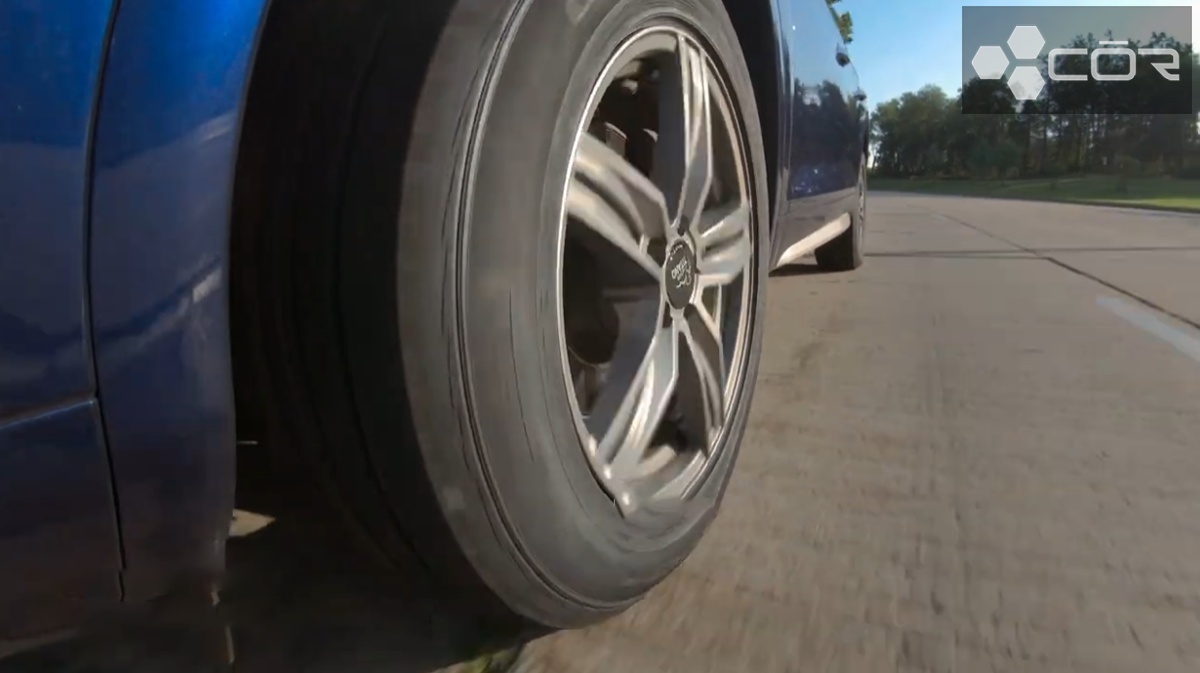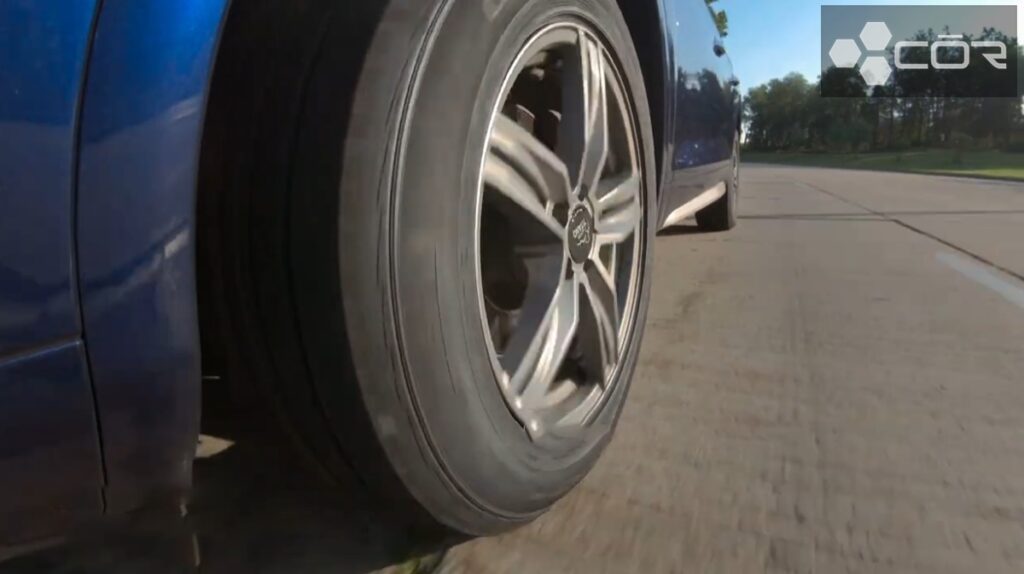 These noises are also very well-controlled on wet pavements. Except for slurping sounds that mostly came from stagnant water, CrossContact LX25 retained smooth, velvety quietness most of the time, undisrupted during unplanned veering or at neck-tight crooks. You should find it a breeze to keep things civilized in regular driving rates – even surging to 65 MPH with ease when the water is drained below 6 inches.
On another note, this tire leaves little to complain about regarding treadwear and riding comfort. Judging by the way it cushioned road bumps well and rarely seemed fazed or panicked when rolling through larger cracks, we could gauge roughly 50,000 to 55,000 miles of very minimal tread reduction for your car.
Furthermore, you can use Continental CrossContact LX25 as a passed-off winter tire on lighter snow; our grooves only took 3-4 seconds wriggling themselves out of stuck patches, pushing the car forward with sufficient self-composure.
Unfortunately, its efficiency on deep snow beyond 5 inches was just barely decent. Worse, stutters started inviting themselves into the rides much more often once the car entered deep icy zones.
Generally quiet
Excellent confidence on dry and wet surfaces
Handling light snow well (below 5 inches deep)
Great riding comfort and treadwear
Mediocre traction on deep snow and ice
Steering is not always progressive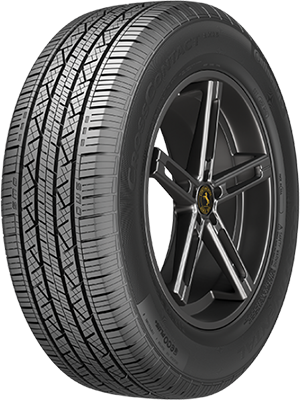 ---
6. Yokohama Geolandar X-CV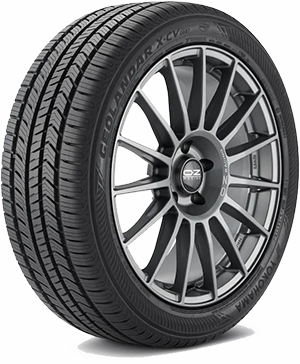 Tire Type
Crossover/SUV Touring All-Season
Tire Size
18″ – 22″
Weight
28.0 LBS – 40.0 LBS
Load Index
100 – 116
Load Range
SL – XL
Speed Rating
– H: up to 130 mph
– W: up to 168 mph
Warranty
50,000 miles
Ratings
8.7/10
Another notable performer in road noise management is the Geolandar X-CV model from Yokohama, whose 5-pitch block variations tackle airborne noise to deliver quieter riding comfort.
Its Silica Polymer compounds disperse micro silica evenly across the rubber for better wet and snow confidence (aided by 3D and 2D sipes); at the same time, the two intermediate ribs and outboard shoulders pool more focus on dry grip. Meanwhile, the four circumferential grooves reduce hydroplaning and strengthen wet braking.
Yokohama Geolandar X-CV still choked out skidding noises during sudden turns or tight S-curves, but they were the only pronounced sounds we could hear during our non-dramatic 55 MPH travels. Daily traveling with vans/SUVs is unlikely to require higher speeds than 55, so you should experience the same lulled, peaceful road handlings even on cobblestone paths or brick pavers.
Like the other two SUV tires on this list, Geolandar X-CV was also fairly quiet when moving to slippery pavements.
The grooves managed intrusive water with little difficulty and strengthened the buffed rubber anytime it felt like the contact patch went slack – hence the sturdy footholds and very few slippage noises. Heavy, dragging thuds due to lodged water are also very unlikely, allowing you to get slightly wilder/more adventurous around wide-radius corners without compromising the consistent tire-road connections.
Treadwear is also the last thing you should worry about – though we do wish the tire handles overheated asphalt (beyond 95 degrees F) with better assurance. Snow and ice performances were decent enough compared to the competitors but far from Geolandar's best assets.
Not producing much noise
Confident on dry surfaces
Satisfactory during wet conditions
Comfortable; good tread noises
Struggling a bit on ice
Caving a little on hot asphalt
---
Best Quietest Highway All-Season Tires
7. Michelin Defender LTX M/S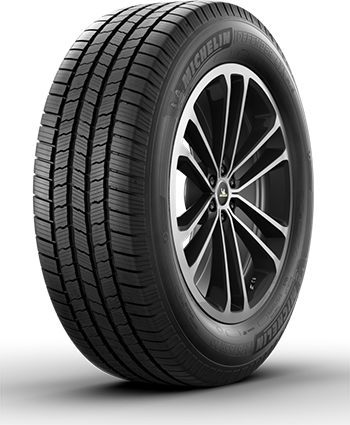 Tire Type
Highway All-Season
Tire Size
15″ – 22″
Weight
23.0 LBS – 60.19 LBS
Load Index
95 – 129
Load Range
C1 – XL
Speed Rating
– H: up to 130 mph
– T: up to 118 mph
Warranty
50,000 – 70,000 miles
Ratings
8.9/10
Michelin Defender LTX M/S is a powerful highway all-season tire that does not trade off tread noises.
It features Evertread compounds, symmetrically molded with stable blocks and high-density active sipes to deliver maximum comfort and traction in harsh weather conditions. The open slots, lateral grooves, and circumferential channels evacuate water, while the durable MaxTouch contact patch promotes longer wear with even distribution of cornering, braking, and acceleration forces.
Its cushioned feel was pronounced in the first few bits and got stronger as our SUV navigated to the highways. Despite our quite strong start at 50 MPH, tread noises already fell neatly under control during straight-line driving and only let out weak hummings at unplanned surges to 70 MPH. Wide crooks and bends were a non-issue as well; hence, if you are a fan of spirited but quiet and predictable cornerings, LTX M/S will do the job.
Stagnant deep water (beyond 7 inches) and wet leaves on highways did not pose many disruptions to LTX's quiet operation, either. When your SUV starts venturing to light off-road surfaces, the worst noise mishap you could experience should be only some pronounced skittish jitters on particularly sharp rocks or very thick gravel dirt.
Hence, guaranteed the terrains do not veer too much into dangerous/challenging territories, you can be confident in LTX's quiet, slick operations most of the time.
Noises aside, the tire's traction stability rarely lost its footing in most terrains we had tried. On-road grip clearly left little to complain about, but LTX also gripped well in moderate rugged dirt, rock, and mud – and even seemed to get along well with light snow below 5 inches. You should find it a breeze to experiment with diverse steering moves (even one-hand steering) and lean angles while still being kept within safe lines.
Be cautious on deep snow and ice, though; LTX's sidewalls are not the best build for these terrains and did cause frequent slippage around the outer borders. Off-road sticky mud also proved to exceed the groove's evacuation capabilities; it would be best if you marched through them at 30-35 MPH with punctual accelerations/brakings.
Quiet ride
Very confident on dry on-road surfaces
Satisfying wet traction
Decent off-road qualities for a highway tire
Comfortable
Good treadwear
Underwhelming deep snow and ice grip
Struggling on mud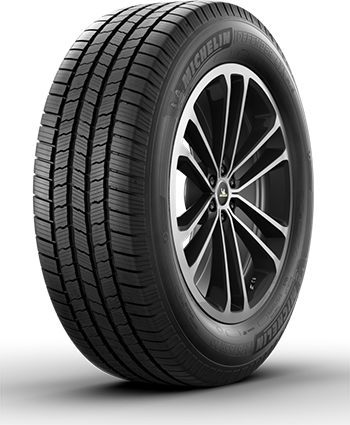 ---
8. Continental TerrainContact H/T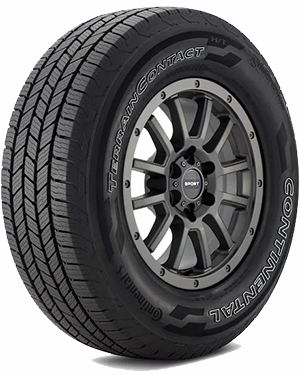 Tire Type
Highway All-Season
Tire Size
16″ – 22″
Weight
29.0 LBS – 57.0 LBS
Load Index
99 – 126
Load Range
E1 – XL
Speed Rating
– H: up to 130 mph
– T: up to 118 mph
Warranty
60,000 – 70,000 miles
Ratings
8.8/10
Continental TerrainContact H/T impresses with the extra +Silane that enhances longevity, traction, and chip resistance. Its stable, large shoulder blocks deliver better handling confidence and comfort, aided by the noise blockers and computer-optimized shifting that reduce most airborne sounds.
The lateral notches and circumferential grooves reduce hydroplaning; at the same time, deep, interlocking sipes combine to stabilize this comfortable tire on slippery surfaces under extra loads.
With so much thought put into airborne noise reduction, TerrainContact H/T surprised none of our team members with its calm, generally undisturbed operation. Tire sounds rarely went beyond slapping noise levels often found in highway tires on smooth asphalts, only murmuring low under the contact patch before getting completely swallowed once the car got more comfortable.
Accelerations (both gradual and whiplashing) did not choke out extra noises as we expected; hence, you will likely have plenty of room to get wilder and more spirit-free on highways at 80 MPH (or even higher). Trailers or cargos of 3000 to 3500 lbs do not disturb the quiet rolls at all – and given leisurely driving styles, you can load an extra 500-560 lbs at every 30-minute stop.
As a high-quality highway tire, Continental TerrainContact H/T is a clear no-brainer in most daily-driving conditions, wet or dry alike. We even managed to tackle off-camber bends at 40 MPH in 7 inches of deep water; hence, even if you are a beginner, TerrainContact H/T is unlikely to bring in true safety compromise.
Its confidence on ice and snowy roads was not as stellar as on dry roads but not lagging behind competitors; in favorable, warm weather, you should be able to use TerrainContact as temporary snow tires with extra help from optional studs and snow chains.
On another note, compared to Michelin Defender2, TerrainContact H/T performed so-so on off-road paths and fell notably lackluster on loose terrains. As such, for off-road driving, you should only use the tire on very light gravel trails with no thick buildups or stacked particles.
Great comfort and noise control
Excellent dry traction and steering response
Few hydroplaning risks
Decent snow handlings
Mediocre off-road capabilities, especially on loose terrains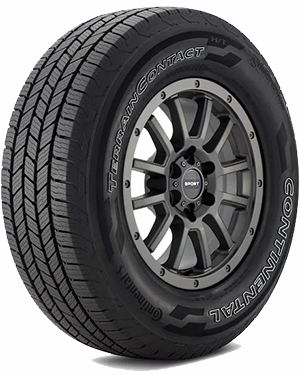 ---
Best Quietest High-Performance Tires
9. Bridgestone Potenza RE980AS+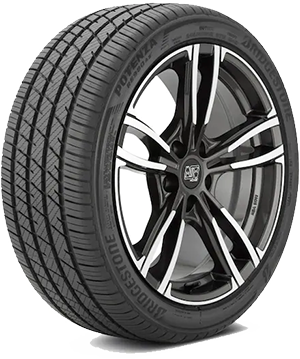 | | |
| --- | --- |
| Tire Type | Ultra High Performance All-Season |
| Tire Size | 16″ – 20″ |
| Weight | 23.0 LBS – 36.0 LBS |
| Load Index | 84 – 106 |
| Load Range | SL – XL |
| Speed Rating | – W: up to 168 mph |
| Warranty | 50,000 |
| Ratings | 8.6/10 |
Bridgestone Potenza RE980AS+ molds its compound into asymmetric patterns to balance wet and dry stability with noiseless comfort. Each lateral slot features a chamfered edge to aid dry braking and road-rubber contact, while the full-depth, 3D sipes and open shoulders intertwin to strengthen tread life and evacuate water.
Most high-performance tires often squeal under aggressive driving due to the strong sidewalls, but RE980AS+ delighted us with its low frequencies of tire humming. They mostly occurred during speed or directional change entries (ex: from 45 to 60 MPH straight) and quietened as the tire finally settled into these new changes.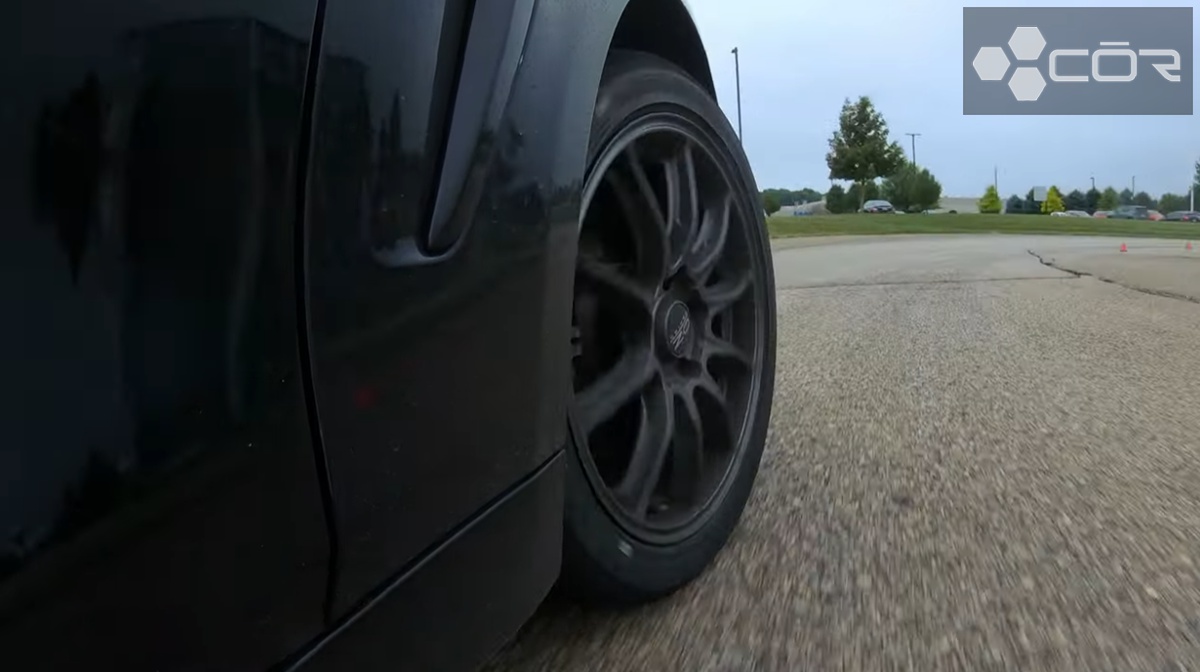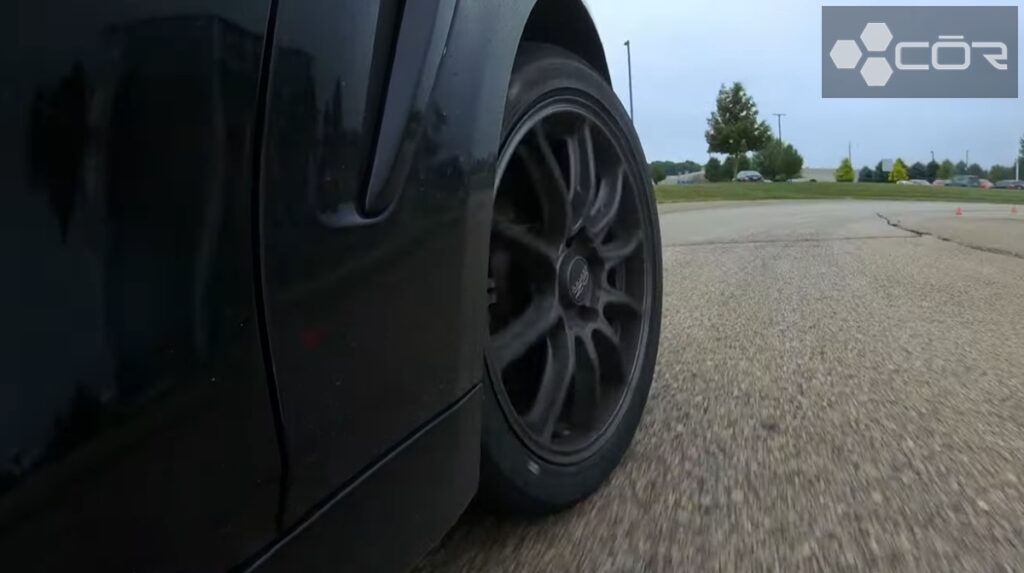 Doglegs, carousels, and low-angled crooks – the most common places for tread noises – also breezed us through uneventfully despite very low-key inputs, so you would likely have no trouble keeping tire squeals under control during extreme cornering attempts.
You can also enjoy great steering response and grip ability on on-road pavements with Potenza RE980AS+ (though, given that this is a high-performance tire, the fact that its feedback felt more muted than some standard touring tires above is still a bit of a letdown).
Snow performances were not bad but bottoming our list; worse, on icy roads, the constant hiccups and coughs at speeds as low as 20 MPH made RE980AS+ almost unrideable at times.
Noises in great control; great riding comfort
Satisfying dry and wet grip
Good treadwear
Steering response on dry surfaces could have been sharper
Underwhelming on heavy snow; very bad on ice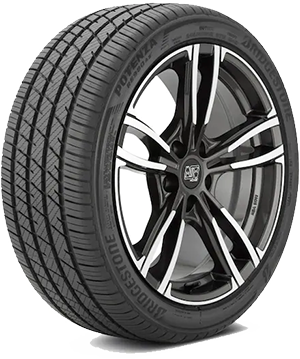 ---
10. Vredestein HyperTrac All Season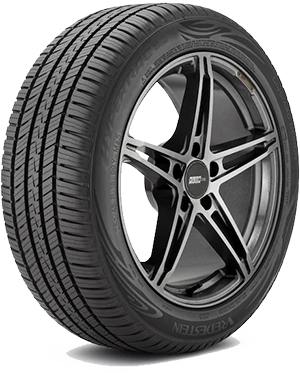 Tire Type
Ultra High Performance All-Season
Tire Size
16″ – 20″
Load Range
SL – XL
Speed Rating
– W: up to 168 mph
– Y: up to 186 mph
Warranty
50,000
Ratings
8.6/10
Vredestein Hypertrac All Season's year-round asymmetric design and wide outboard elements ensure quiet, agile handling and quick steering response. Its optimized grooves and high void ratio evacuate water, aided by tuned polymer blends for more wet confidence. Biting edges and zigzag sipes are also incorporated into the tire, further boosting snow/wet traction.
Like most competitors we have breezed through in this list, HyperTrac was not 100% noiseless but knew how to keep the sounds in check. The noises only crept around the corners and hardly got to the center, dying down once our driving speeds stopped fluctuating and settled onto the roads.
We encountered very few troubles applying strong yet quiet steering forces at abrupt maneuverings (mostly to avoid other vehicles or road obstacles) and could even get near 65-66 MPH without unpredictable protesting.
Hence, handling critical traffic situations on short notice in daily situations should not pose much of a challenge for you. You will likely have it easy on waterlogged roads, too: both the noise and the traction here were a great reflection of our previous dry performance, only slightly fainter due to the slippery nature of rainwater.
Provided controlled hand-braking and steering wheel position, there is no reason you cannot achieve high speeds in wet weather – even around tight corners.
Vredestein Hypertrac was not exactly the brightest tire in wintry condition – though still much better than its direct rival Bridgestone Potenza. On ice terrains, HyperTrac stuttered more often than not but was thankfully rideable, allowing you to strike safely within 20-25 MPH.
Not annoying tread noise even with aggressive driving
Quick steering response
Great traction in dry and wet conditions
Best Quietest All-Terrain Tires
---
11. Vredestein Pinza AT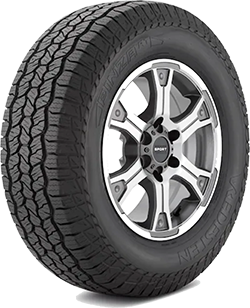 | | |
| --- | --- |
| Tire Type | On-Road All-Terrain |
| Tire Size | 15″ – 20″ |
| Load Range | C – SL |
| Speed Rating | S, H, T |
| Warranty | 70,000 |
| Ratings | 8.9/10 |
Vredestein Pinza AT utilizes computer-aided groove tread patterns to retain the most comfortable road manners. Multi-pitched biting edges from the shoulders work with a high void ratio to grip better on loose surfaces. At the same time, the zigzag and deep circumferential grooves increase wet stability and reduce hydroplaning.
Pinza AT balanced strong delivery and quiet comfort very well. The tread caved itself snugly against the pavement grooves and filled out traction loss to crush off the intruding noises; hence, even when tire sounds did occur at low-angled leans, they were very easy to predict.
You should find it a no-brainer to rev up to 65 MPH on dry-road pavements noiselessly, while still sustaining excellent stability thanks to the interlocking zigzag and circumferential grooves.
Occasional, light off-road venturing is a non-issue, too, breezing you quietly through regular driving rates with only occasional shakes. Our car coped extremely well with soft dirt and small pebbles, even remaining stable on inconsistent textures (rocks and dry/wet dirt combined). Mud terrains, on the other hand, did result in more tread slaps and slippage than we would have liked – but nothing that punctual braking could not control.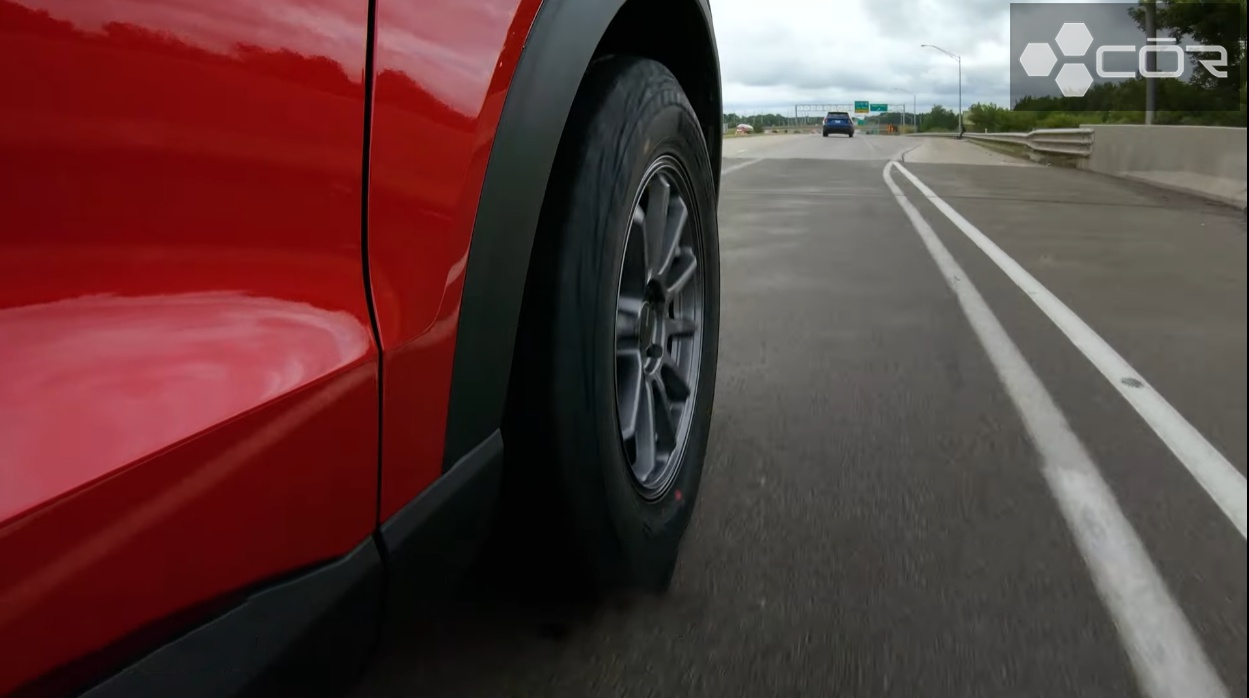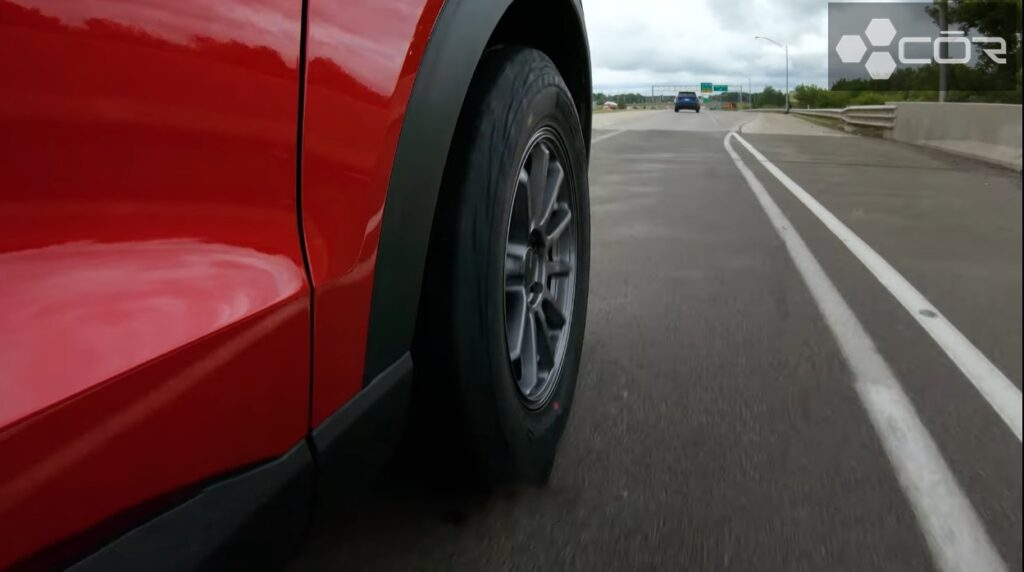 Vredestein Pinza AT also takes the crown as the most excellent performance tire in snowy conditions, clawing through hard packs in almost the same confidence as on dry paved roads. You will feel how planted the tire is on thick ice build-ups; guaranteed little panic speed changes, you can maintain uniform straight-line driving (and even tight corner entries) in little drama.
Pinza should have handled doglegs and double apexes with more subtlety – but other than that, the tire does not have any significant drawbacks. You can trust it to deliver sharp, punctual feedback in almost any weather and season.
Very quiet (one of the best on the list)
All-round performance and traction on any terrain
Satisfying off-road qualities, handling snow excellently
Great ride comfort
Occasional over-reactions at doglegs and double apexes
---
12. Continental TerrainContact A/T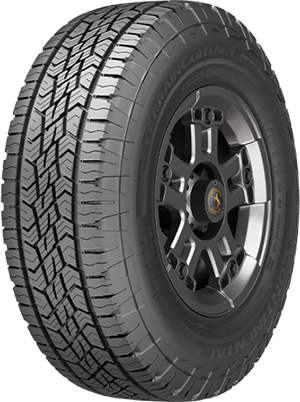 | | |
| --- | --- |
| Tire Type | On-Road All-Terrain |
| Tire Size | 17″ – 22″ |
| Load Range | XL – SL |
| Speed Rating | H: Up To 130 Mph |
| Warranty | 60,000 |
| Ratings | 8.6/10 |
Continental TerrainContact A/T is equipped with +Silane compounds and open patterns to improve off-road traction; at the same time, closed shoulders and stable blocks resist wear and provide longer tread life. Extra +Silane additives extend quiet confidence on dry and wet surfaces, stabilized by edge-block grooves and deep sipes for all-year road handlings.
It was a calm, undisturbed ride on TerrainContact A/T. The contact patch gripped well on the road without the need for extra grinding force or steering inputs and hence, resulted in very few squeaking tread noises.
Heavy thudding sounds grew more pronounced on thick off-road dirt and rock, but that was to be expected for an on-road AT tire. Given non-spirited driving and no sudden roadblocks, keeping the road noises within control should be a breeze for you.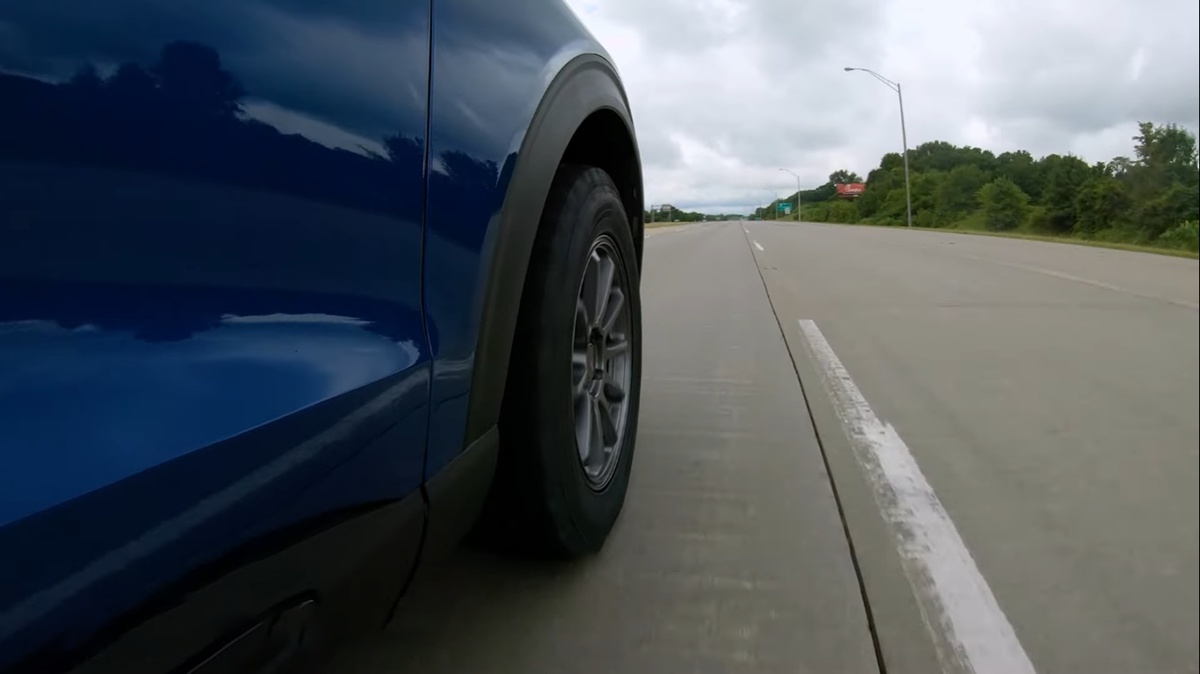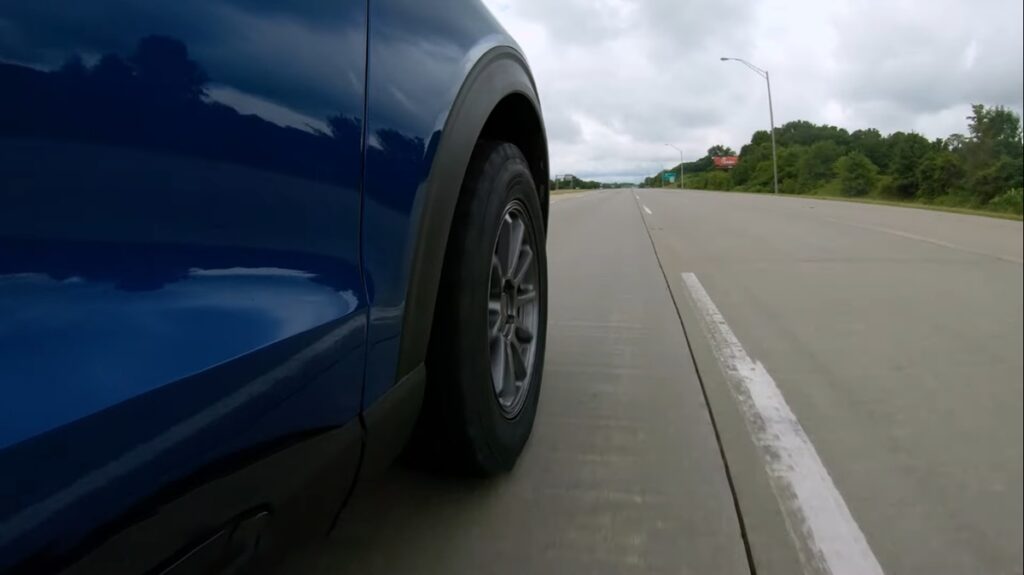 TerrainContact A/T also leaves little for you to worry about in terms of traction. On-road pavements were obviously its strongest points, but beaten dirt, sand, and mud also delivered a generally pleasant experience. Going back and forth between 40 and 55 MPH is breezy enough even if you are a beginner, as the tire's aggressive sidewalls adapted well to unannounced directional changes and quick lane merges.
The tire admittedly started to slip more often on soft mud terrains, however, and its snow performance was far from the best in the bunch. Our rides could not tread beyond 40 MPH on ice without frequent stops every 30 minutes, so it would be best if you only traveled here when absolutely necessary and with cargo below 2000 lbs.
Tread life is decent for an off-road tire, but seemed to be rather vulnerable against overheating.
Pretty quiet; good driving comfort
Confident on-road performance
Satisfying off-road handlings on dirt, sand, and rock
d
Underwhelming on packed snow
Mediocre treadwear
Tripping on mud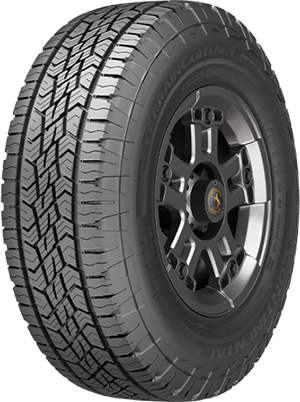 ---
What Factors Affect Tire Noise?
Tire Tread
The types of tread patterns dictate how your tire noises are controlled. For instance:
Highway tires are generally very quiet thanks to circumferential grooves and little space between tread blocks, which help dampen noises.
All-terrain tires have open shoulders and very large voice space; they increase traction but sacrifice quietness in the process.
Off-road tires offer excellent stability with extremely aggressive shoulders and huge tread blocks. Needless to say, their noise control bottoms the list.
Tire Type
Regardless of your chosen tire model and brand, certain tire types are always noisier than others.
For example, touring tires always rank first in noiseless rides, followed by performance tires, SUV highway models, and studless winter tires. Meanwhile, off-road/mud-terrain tires will always be lauded as the loudest tires across all terrains.
Other Factors
Road surfaces: Rough roads are generally noisier than smooth ones
Vehicle speeds: Tires traveling at high speeds cause ambient air to move faster, creating more turbulence and tread noises than low-speed endeavors.
Tire wear: Check out the tire's initial tread depth and wear rate; the more worn down the tires are, the noisier they become due to the extra road-tire friction.
Conclusion
Our tire noise rating chart has highlighted 12 excellent choices of highway, touring, on-road AT, performance, and SUV tires, which deliver quiet comfort while still retaining enough traction on the road.
Weigh the pros and cons carefully, and keep in mind the design nature of certain tire types and tread patterns to settle on the best decision.
Here is the summary of the 10 best quiet tires in the 2023 COR Wheels Tire Test:
| Tire Brand & Model | | | | | | | | | |
| --- | --- | --- | --- | --- | --- | --- | --- | --- | --- |
| Michelin Defender2 | 1st | 8.8 | 9.3 | 8.8 | 8 | 8.8 | 8.9 | 8.8 | 9 |
| Pirelli P7 AS Plus 3 | 2nd | 8.7 | 9.1 | 8.9 | 8.1 | 8.9 | 9.1 | 8.7 | 8.9 |
| Bridgestone Turanza QuietTrack | 3rd | 8.5 | 9 | 8.7 | 7.4 | 8.8 | 8.8 | 8.7 | 7.9 |
| Pirelli Scorpion WeatherActive | 4th | 8.9 | 8.9 | 9 | 8.8 | 8.9 | 8.9 | 9 | 9.1 |
| Continental CrossContact LX25 | 5th | 8.8 | 9.1 | 9 | 8.2 | 8.8 | 9 | 8.7 | 9 |
| Yokohama Geolandar X-CV | 6th | 8.7 | 9 | 8.9 | 8 | 8.8 | 9 | 8.7 | 8.9 |
| Michelin Defender LTX M/S | 7th | 8.9 | 9.2 | 9 | 8.2 | 9 | 9.1 | 8.9 | 8.9 |
| Continental TerrainContact H/T | 8th | 8.8 | 9.1 | 9 | 8 | 8.9 | 8.8 | 8.9 | 8.8 |
| Bridgestone Potenza RE980AS+ | 9th | 8.6 | 9.1 | 8.9 | 7.3 | 8.8 | 8.8 | 8.6 | 8.7 |
| Vredestein Hypertrac All Season | 10th | 8.6 | 8.9 | 8.8 | 7.6 | 8.8 | 8.8 | 8.7 | 8.5 |
| Vredestein Pinza AT | 11th | 8.9 | 9.1 | 9 | 8.9 | 9 | 9 | 8.8 | 9 |
| Continental TerrainContact A/T | 12th | 8.6 | 9 | 8.8 | 7.6 | 8.7 | 8.6 | 8.7 | 8.5 |
---
President & Automotive Expert at COR Wheels
Robert Herrera has been with COR Wheels for 17 years and has a great passion for the automotive industry. During his time at COR Wheels, he has driven and test-driven a variety of vehicles.
---