P7 AS Plus 3 was not the only Pirelli all-season tire we tested, but its performance ranked the highest. The brand uses high-quality, innovative combinations of full depths and wider shoulder blocks to optimize the model's footprint on different traction performances with better traction than its predecessors.
Our critical review will delve further into its grip performance, hydroplaning resistance, ride quality, and more.
In this review:
Pirelli P7 AS Plus 3 Specifications & Advanced Features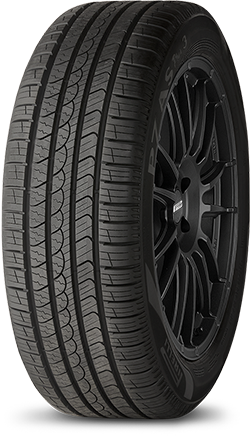 Tire Type
Grand Touring All-Season
Tire Size
17″ – 20″
Weight
19.0 LBS – 30.0 LBS
Load Index
91 – 104
Load Range
SL – XL
Speed Rating
– H: up to 130 mph
– V: up to 149 mph
Warranty
70,000 miles
Ratings
8.8/10
AS Plus 3 introduces more innovative compound features than its siblings, utilizing functionalized polymer in asymmetrical pattern molds to deliver condition-focus grip.
At the same time, the outboard, robust shoulder block designs are meant to improve dry cornering and steering response, backed by balanced tire sipe and groove distribution to reduce voice space in favor of more road contact.
There is also an intricate combination of central zig-zag and full-depth sipes, together creating extra biting edges in slippery and wet conditions. Meanwhile, the tire's open circumferential grooves take care of the Plus 3's hydroplaning resistance.
Regarding wintry performances, P7 AS Plus 3 enjoys optimized footprints with full-depth add-ons that both generate consistent traction and improve treadwear characteristics. Inside its internal structure is the familiar single-ply polyesters, engineered to deliver controlled/comfortable ride and durability.
Two robust belts made of steel with a slice of polyimide reinforcement are added to support the casing and tire tread pattern, which promises high-rate handling and stability.
Pirelli P7 AS Plus 3 Review & Performance Test Result
Our team tested the 225/45R17 tire size version of the Pirelli P7 AS Plus 3 on the 2016 Honda Civic.
All Pirelli P7's test rides were within the frame of our 10-day 2023 COR Wheels Tire Test, minus the winter evaluations that took place this January.
1. Dry Performance: 9.1/10
Dry Traction: 9.2/10
Except for the powerful and grippy Michelin CrossClimate2, AS Plus 3 was a tough component to beat on dry roads.
The best way to increase decent traction is to raise the number of rubber compounds contacting the ground, and that is exactly what Pirelli did with its huge shoulder block. Our constant communication with the tires and dry pavements was dynamic, and we loved how the grip expansion upon certain cracked road paths could be felt clearly even from inside our cabin.
The Plus 3's rubber locked on the roads securely and surely, carrying us forward with a sense of confidence – as if it were the ones in control in the first place. We rarely felt jostled by any unforeseen slamming; it was almost like a point-and-do mechanism, in which the tires just simply injected input where we asked them to with little drama and complication.
The only major drawback truly worth mentioning is the tire felt super hot to the touch after we cruised at high speeds (70-75 MPH) for about 30 minutes (on a scorching day). The softer and thinner construction is to blame.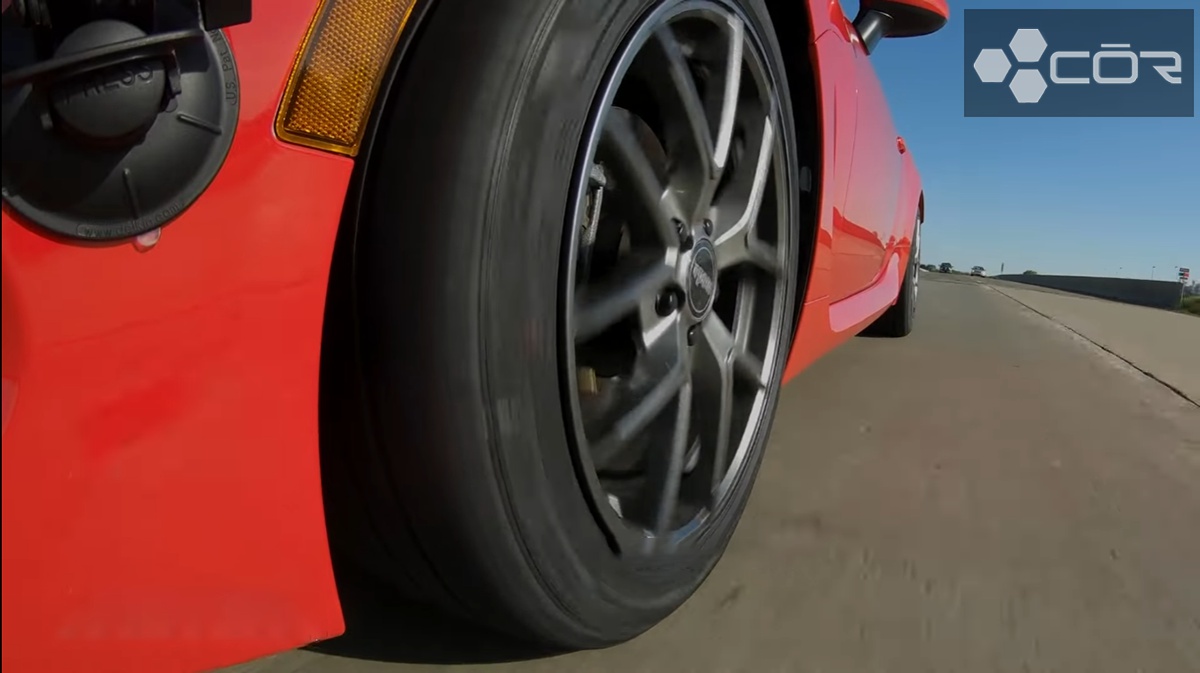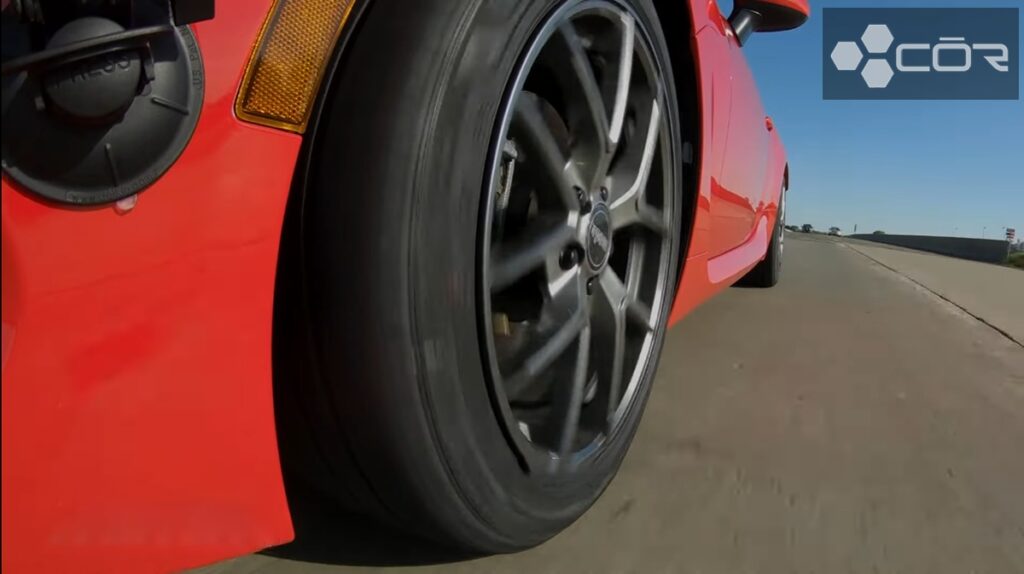 Corner Stability: 9.1/10
Before the ride, we were afraid the slightly soft center traction would deliver tons of corner shakes and vibrations. But the center felt loose during our straight-line driving but as stable as a rock at corners. Again, the power of blocky shoulder blocks clearly worked in this case, and we rode ourselves into tighter corners with barely any fatigue or mushy sensations.
Some of our members decided to lean as far as possible to test its furthest limits, and to our delight, it handled these angles well with a surefooted, confident thud. Jostles were there but not significant.
On another note, at certain off-road corners, there were some unexpected roll factors we did not encounter with other same-scored tires like BFGoodrich Advantage Control or even its Pirelli Cinturato siblings – a bit scary for fresh beginners.
Steering Response: 9.1/10
Again, this model is the top-tier tire in steering response among other test contenders in the American market. There were admittedly a bit of numb feelings in the center positions, but once we were past that point, the rest was fun.
The Pirelli P7 AS Plus 3 bore enough sensitivity and responsiveness to answer our inputs while still giving room for some harmless kicks that tittered our car to the more adventurous side (in all the positive ways).
At every 15-minute milestone, we made a very wide, sharp U-turn to gauge its reactions, and the results were delightful: the tire tackled wide steering arcs with classy alignments and adeptness, keeping us from clashing into other-lane traffic.
It would be better if there was a more dynamic reaction to handle more spirited driving, though.
2. Wet Performance: 8.9/10
Wet Traction: 8.9/10
Compared to its own dry performance, P7 AS Plus 3's wet traction was less handsome but still impressive. The zig-zag 3D sipes gave us more biting edges than we could hope for, and we did not feel the immediate change when slowly moving our car from dry lands to wetter patches.
And unlike other tires we tested, this Pirelli P7 AS Plus 3 did not take long to recover itself from sudden stuttering in extremely waterlogged road conditions. The delays were still there, but brief and far from startling, resuming our speed after only 1-2 seconds.
We rounded corners and intersections with little response issues – and at a particularly unexpected deceleration from 50 to 25 MPH to avoid holes, P7 AS Plus 3 did not show us any sign of rotation spins or rubber skidding.
Still, under heavier downpours or flooded sections, our car felt heavy and experienced minor dragging, not dangerously significant but enough to reduce its overall ratings.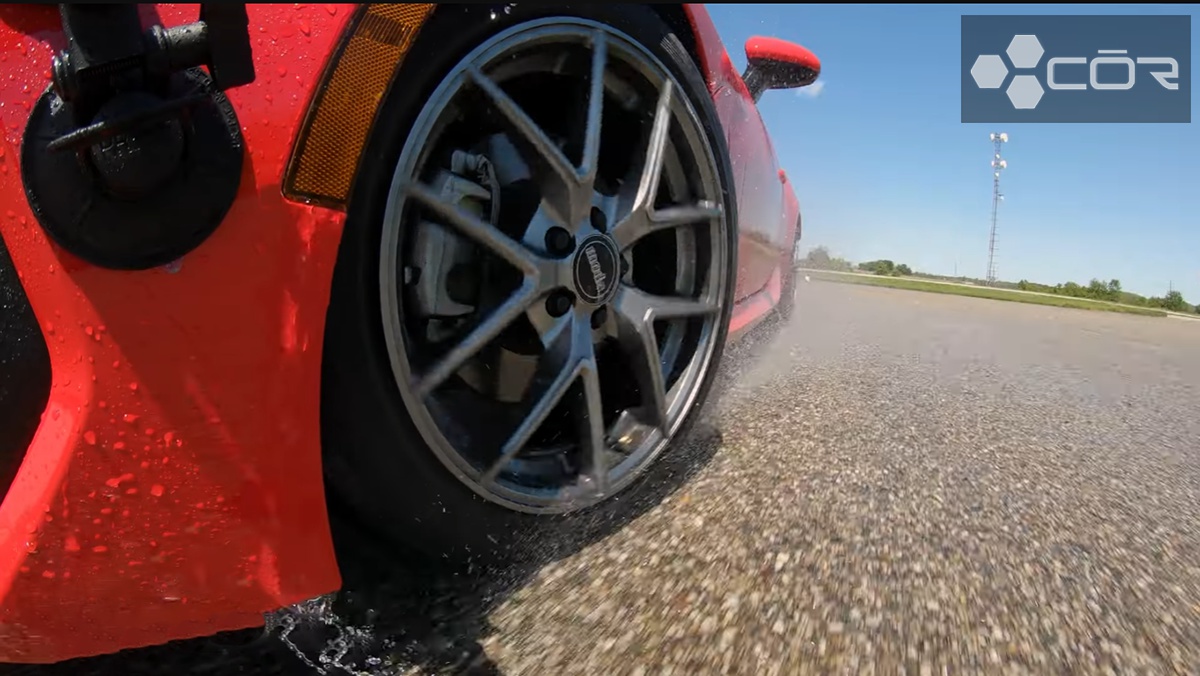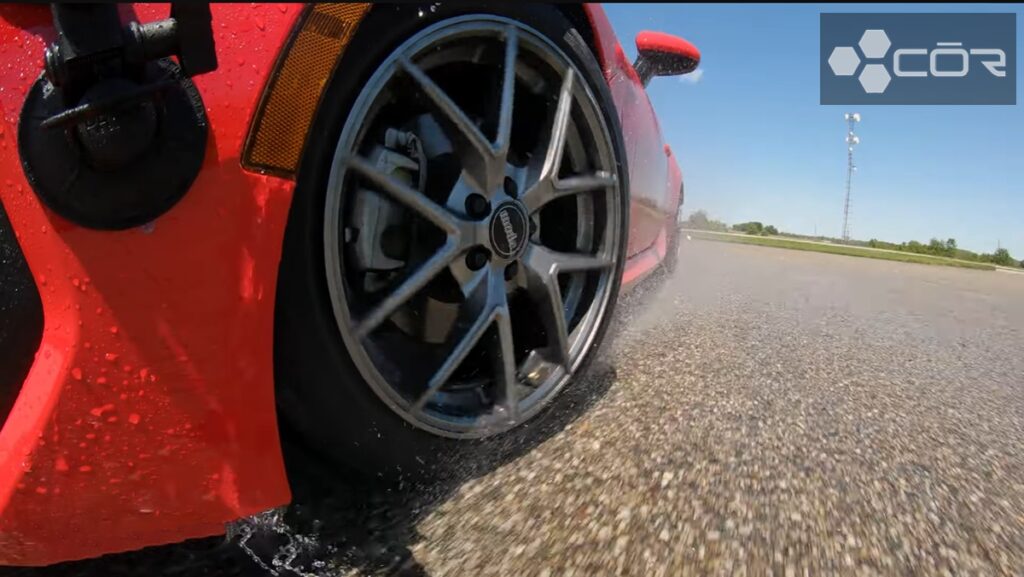 Hydroplaning Resistance: 8.9/10
The tire's grooves – staying solid and planted on their spots during dry weather – began to get up to work at the slightest water signal on our road. When going through standing water on the freeway at 50 to 75 MPH, large amounts of water were churned out almost immediately through the thick channel nets, resuming our tire-road contact in less than 2-3 seconds.
Short, brief hiccups occurred as the standing water got too deep in, but nothing our steering wheel could not handle. A bit of grinding down, and our Honda Civic was instantly back on track with only very thin water layers lingering on the rubber.
Still, after 70-80 miles or so, we felt the soft center ribs tend to bend a little upon deep puddles and mud. The overall feel was still enough to help us finish our ride in record time; nevertheless, this slight consistency reduction is an unfortunate damper to an otherwise excellent hydroplaning-driving tire, bringing its score to 8.9.
3. Winter/Snow Performance: 8.1/10
Light Snow Traction: 8.5/10
Pirelli's great wet performance did not continue into light-snow traction as we hoped; compared to other alternatives in the tire market, it was so-so in the middle spectrum.
The single-ply casing lent decent support for us during the first part of our test ride. Its deep sipes delivered enough bites to cope with 3-4" snow, although they seemed vulnerable to sudden grip loss whenever we deepened our wrists or veered left/right unannounced to avoid obstacles.
And it seemed some parts of the polymer compounds were still finding some strength in them to get used to the cold temperature; we could feel occasional shudders or even jerks upon freezing puddle waters and mud.
Deep Snow Traction: 8.1/10
Even on light snow, AS Plus 3 literally had to strain the rubbers to move itself forward; we could only imagine how worse it would be when encountering thicker, higher-volume snow.
To clarify, our tires could still plow through snows of 8 inches if the snowy surfaces were consistent and remained unchanged for long miles.
But there was nothing like "consistent deep snow" during our winter test; heavy packs littered among lighter ones, and wet/dry patches were intertwining to form the bumpiest snowy roads we have ever seen.
Our Honda Civic sputtered and lagged constantly to move from one place to another, taking so much effort to roll over the snow that by the time we reached a gas station to buy more fuel, the mileage had dropped 1 to 2 gallons per mile compared to the average.
Ice Traction: 7.7/10
Unsurprisingly, Plus 3 is a bad tire for ice usage and ranks behind a lot of all-season tires, even those from middle-end brands. We had no choice but to rely purely on the tire's rubber strength at an extremely low speed (20 to 35 MPH).
Thanks to our overly-cautious driving, things were in control most of the time; the tires had enough bites left to cling onto the road, and skidding accidents were quickly recovered the moment our steering wheels issued new commands.
It took a long time for us to travel across the entire icy passage to reach our destination, but at least accidents did not occur.
4. Comfort: 8.9/10
Ride Quality: 9.1/10
Smooth ride is one of the Pirelli P7 As Plus 3's strongest assets. It tackled wet and warm conditions with gracious and swift movements, gilding smoothly and almost floaty over more noticeable bumps/cracks.
After long hours of driving, the stock tire compounds experienced natural fatigue and did deliver slightly muted responses for us. But in its defense, most other tires would react the same under these situations.
Noise: 8.7/10
These smooth tires offer quieter rides than most, although there was still room for improvement. They tended to pop over and slap on expansion joints and cracks; no vibrations occurred, but the sounds rang very clearly in our ears.
Other than these situations, the rest was good. Low rumbling noises eventually got lost in the wind as we revved up to higher speeds than 60 MPH – and even when they occasionally returned, none of us really noticed.
5. Treadwear and Durability: 8.9/10
The Pirelli P7 AS Plus 3, with even groove/sipe distribution, lifts off a lot of concentrated pressure, resulting in more even and slower wear.
We did not see much of a change in the tread depth after two full days of test-riding. And the fact that Pirelli is willing to back this model with a 70,000-mile limited treadwear warranty is also very assuring.
Pirelli P7 AS Plus 3 Pros and Cons
Excellent dry traction, tread block wear, and confident comfort (the top of our test)
Fairly quiet ride; low noises that do not feel disruptive
Quick steering response
One of the longest-lasting tires (based on our test) with extra mileage
Generous manufacturer tread life warranty (70,000-mile warranty)
Less-than-stellar in most winter conditions, even with snow chains
Soft, blocky center ribs that occasionally bend
P7 AS Plus 3 Competitors & Alternative
Pirelli P7 AS Plus 3 is a competitive, efficiency-oriented tire, directly competing with Bridgestone DriveGuard Plus, and Goodyear Assurance ComfortDrive.
The Pirelli P7 still earned the most points in terms of luxurious ride quality. It was a welcomed hybrid of composure and flexibility, cushioning most impact sizes with ease while still controlling the car's vertical motion.
Goodyear ComfortDrive won our wet grip tests thanks to the very pointed and responsive front ends; it felt as if they could actually handle the entire steering system instead of only a small traction portion. However, road noises could have been improved.
Bridgestone DriveGuard Plus has the most weighty and solid steering feel that outperforms others on tracks; rear rotation is a breeze, which keeps understeering issues at bay. Still, the brand should do something about the tire's strong tendency of tail hanging.
Conclusion
At a starting tire price of $154, P7 AS Plus 3 is a great all-round tire for dry-condition performance, cushioned ride comfort experience, and limited manufacturer tread life. Even its wet traction is among the top 3, leaving other competitors in the dust by a long margin.
From our Pirelli P7 AS Plus 3 tire reviews, what dragged down its overall load range is the snow and ice traction issues – which, to be frank, is not everyone's priority for an all-season tire. So our advice is to use dedicated winter tires for enhanced winter performance and the Plus 3 in all other remaining seasons.
Pirelli P7 AS Plus 3
PRICE
SOLD BY

Offers

In Stock

Offers

In Stock

Offers

In Stock

Offers

In Stock

Offers

In Stock

Offers

In Stock
---
President & Automotive Expert at COR Wheels
Robert Herrera has been with COR Wheels for 17 years and has a great passion for the automotive industry. During his time at COR Wheels, he has driven and test-driven a variety of vehicles.
---