All-Terrain T/A KO2 is considered one of the representative off-road AT tires from BFGoodrich, with interlocking sipes, stable tread center, and snow performance good enough to be marked with the 3PMSF symbol.
Our COR Wheels team has tested the tire intensively in both winter and summer to confirm its actual, real-life performance limits. The review below will discuss its traction, comfort, treadwear, and more.
In this article:
BFGoodrich All-Terrain T/A KO2 Specifications & Features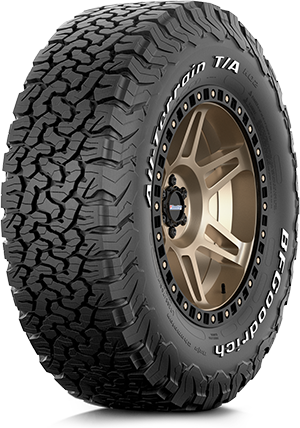 Tire Type
Off-Road All-Terrain
Tire Size
16″ – 20″
Weight
42.81 LBS – 70.72 LBS
Load Index
115 – 129
Load Range
C1 – E2
Speed Rating
– Q: up to 100 mph
– T: up to 118 mph
Warranty
50,000 miles
Ratings
8.6/10
KO2 stands for Key benefits On/Off-road. True to its name, the tire delivers extra features and technology to satisfy on-road and off-road sport utility vehicles, pickup trucks, and Jeeps.
Tear- & cut-resistant compounds molded into high-void, aggressive tread patterns for 2x tread life on gravel road and improved on- and off-road traction
Interlocking 3-D sipes and tread blocks combine with ejection features for loose objects (ex: sand) to improve noise control and handling
Tougher rubbers on the sidewall's upper shoulder (Sidewall Armor), twice thicker than previous BFGoodrich models for more stability
Serrated Shoulder Designs with clawing actions to tackle deep sand, dirt, and rock
Twin steel belts with nylon reinforcement and 3-ply polyester cords (except for Load Ranges C with 2 plies), giving cars more durability and strength
Strand beads, continuously wrapped to elevate the tire's strength to the required level of comfort and uniformity
BFGoodrich All-Terrain T/A KO2 Review & Performance Test Results
The results below were derived from how the All-Terrain T/A KO2 tire (265/70R17 tire size version) performed on the 2022 Chevrolet Silverado in our 2023 COR Wheels Tire Test.
1. Dry Performance: 8.9/10
Dry Traction: 9.2/10
All-Terrain T/A KO2 was among the top ranks in dry traction, experiencing no fatigue or even minor stutters as our Chevy rolled from the dry ramps into the main NW 33rd Street. The connection between the road and our contact patch sparked instant confidence with how sure-footed it felt, allowing us to give our ride a bolder start at 45 MPH.
Straight-line drivings at 45 MPH were indeed uneventful; tire grip was firm and predictable, and directional changes did not pose much of a danger for imbalance to occur. As a result, we gradually revved up the Chevy across 50 and 60 MPH while diving further into tighter curves and consecutive switchbacks.
The same stability remained, except for 3-4 seconds of hesitation at banked curves where the road surface grew more angled. While they were not truly alarming, the gap between these nervous jostles and the previous confident handling did feel and look obvious.
For a tire that catered to off-road terrains, we did expect the feedback to be more aggressive and much sharper than standard on-road AT tires. Yet, our maneuverings on highways at 65 MPH still felt too soft – which was not safety-compromising but took away most of the fun.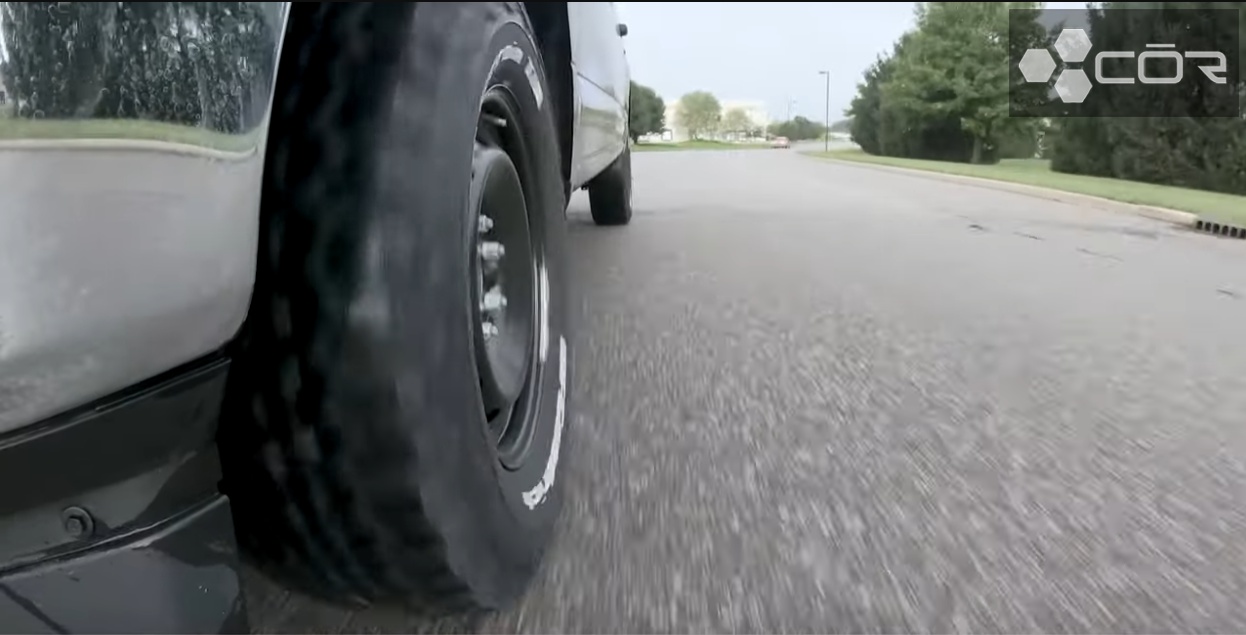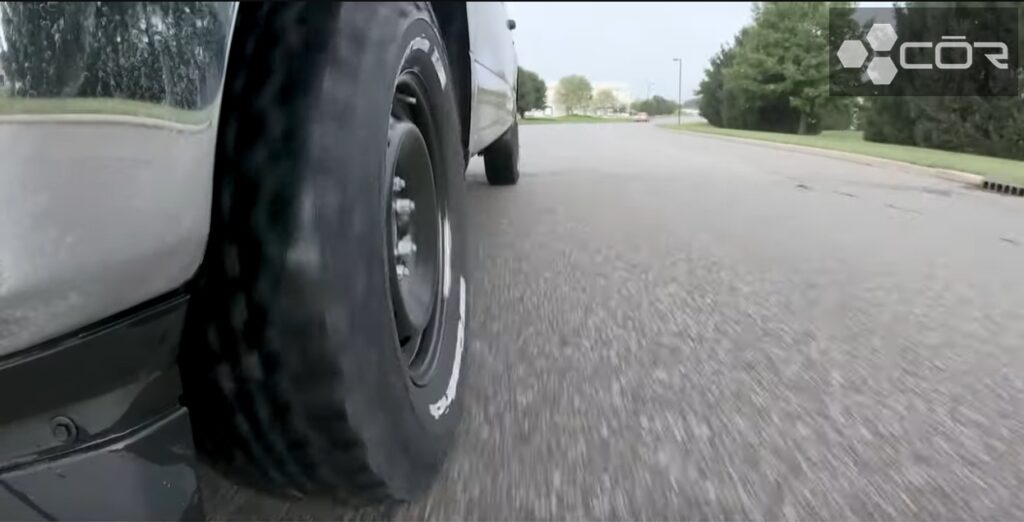 Corner Stability: 8.8/10
Nothing unpredictable or wild happened during our cornering attempts.
The stranded beads and thicker upper sidewalls combine to manifest ample footholds and center gravity, which tolerated narrow corner entry and abrupt steering wheel turns with both grace and self-awareness. Slippage was only prominent at unplanned, high-speed twists (beyond 55 MPH) but stayed delightfully composed for the rest of our trip.
When we entered a roughly 30-degree off-camber U-turn at 55 MPH, the Silverado veered towards the outer edge of the road mid-corner. That startled us a bit, and we had to slow down to 35 MPH before exiting the hairpin.
Steering Response: 8.9/10
Steering was good and behaved within our expectations. The tire and steering wheel communication stayed aligned and prompt at low speeds (30 MPH). As we neared our 75 MPH limits, we did have to rotate the wheel more to make a greater angle and initiate a turn, but the delays were negligible.
On another note, too-long rides (3+ hours) did make the construction wear out a little. We could feel the steering started to get lackluster at esses with alternating close-spaced curves, and struggled longer than usual to adapt to the whiplashing speed changes/ back-to-back turns.
2. Wet Performance: 8.6/10
Hydroplaning Resistance: 8.6/10
T/A KO2's aquaplaning resistance was good but definitely could have been better.
It seemed to shine best on stagnant water of below 6 inches, as the strong, interlocking sipes and blocks did not take much time to handle or redirect water flow off the tread area. We carried on with almost the same foothold as on dry roads, except for slightly longer delays at turns to refill the brief traction loss.
Things started to get more ominous at 7+ inches of water. Leisurely approaches below 40 MPH did not work here as well as before, allowing more water to seep between the sluggish paces; we had to increase our Chevy to at least 45-50 MPH to fling off the water through consistent acceleration forces.
And mid-downpours or storms (where water volumes kept adding up instead of remaining the same) proved to be quite a challenge for KO2, too. Our team had to alternate often between speed increases and decreases – with some countersteering thrown in between – to keep the ride civilized.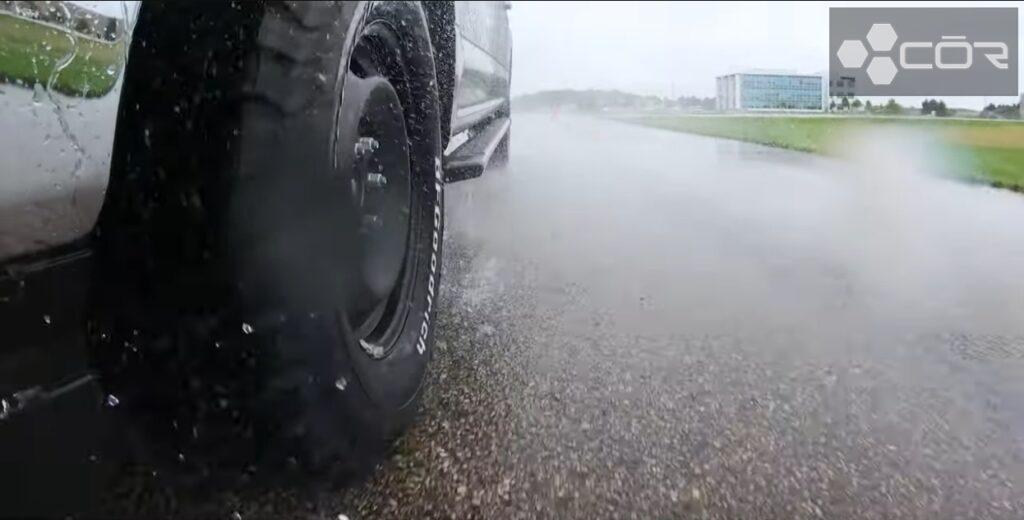 Wet Traction: 8.5/10
T/A KO2 gripped pretty well on wet terrains, guaranteed predictable, straight paths with little twist or narrow turns. The fact that hydroplaning was kept under control in water below 6 inches also helped, as the tire had to deal more with cracks and pavement bumps (the same with dry terrains) rather than with water.
However, slippage started getting into our traction control at 7 inches of standing water and onwards. Intruding water was just a part of the picture; it seemed the compound did not get along with ambient temp changes as well as we had hoped considering the intricate tread designs. Brief stalls occurred every 4-5 miles when the rain got colder, forcing us to lose a bit of traction on purpose just for the grip to pick up again.
3. Off Road Performance: 8.8/10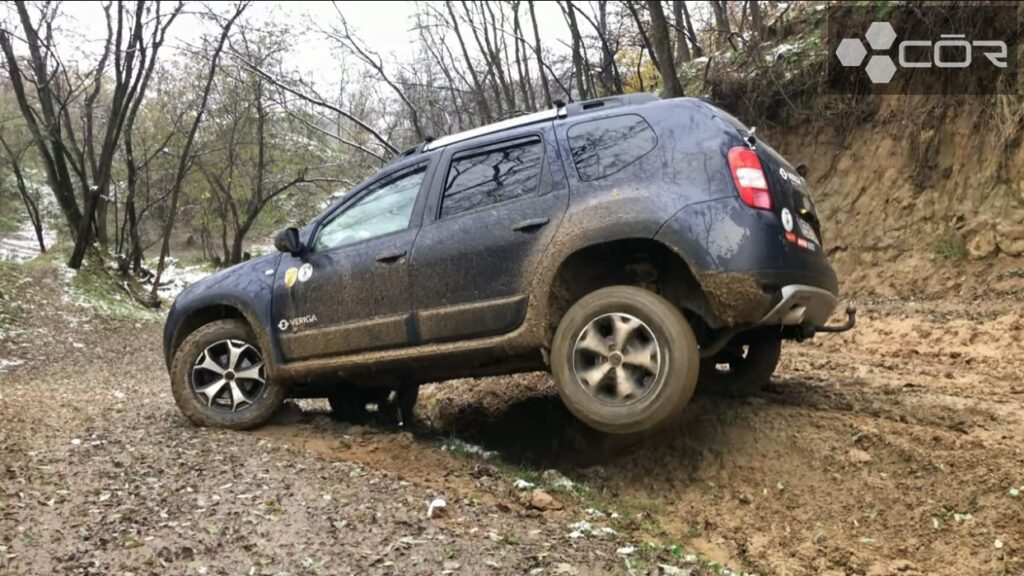 Dirt Traction: 9.1/10
T/A KO2 handled dirt traction well – even better than how it coped with on-road wet surfaces. The clawing shoulder designs finally got to work and played in our favor, plowing through dirt in sweeping, clean cuts that felt very assuring.
We started out at 30 MPH in a "just-in-case" attitude but soon revved to 40 and 50 MPH, maintaining good communication with the rugged terrains even at turns or curves. Our team member even tried to park the Chevy on an approximately 45-degree inclined dirt road littered with weeds, and the four tires held on the ground quite well.
Still, compared to competitors, T/A KO2 suffered from a significant lack of grip flexibility, reacting poorly with hesitation and hiccups when the road textures were not predictable. Hence, despite being good enough to fight through off-road dirt, its score actually ranked last on our off-road AT tire list.
Rock Traction: 8.9/10
BFGoodrich ranked last on the list in rock traction, but was still decent enough for a safe, worry-free passage. The shakes on empty rock gaps or between abrupt texture differences felt very jittery and squirmy – but thankfully kept within control.
At a regular driving range of 40-55 MPH with consistent push-and-pull, our car got through just fine; the increasing bumpy feels at the edge were more like a stubborn bother than an actual threat that could dampen our road safety.
Wet, rocky traction with sharp pebbles was a different story; the challenges increased ten folds and gave the grooves much more work to handle. Our car could plunge straight into the danger zone if we over-accelerated or implemented the wrong input, so the best bet for us was to keep it low at 30-35 MPH.
Sand Traction: 8.8/10
We did have high hopes for the high-void ratio and ejection features – which were literally tailor-made for loose surfaces like sand.
But All-Terrain T/A KO2 disappointed us with the constant ongoing struggles even on straight-line drivings. BFGoodrich seemed to underestimate the power of sand flow, injecting too-soft sand-ejection vices that were thrown off the moment our terrains increased in density. We had to tread even more cautiously than on rock terrains with slow but firm marching at 25-30 MPH.
Thinner sand played better in our favor, allowing smoother, more effortless drivings and even unplanned accelerations to 40 MPH. However, in Florida, such ideal off-road sandy terrains were rare.
Mud Traction: 8.5/10
Mud traction of T/A KO2 grazed the barest hint of decent – far from stellar. The extra soil-water combination was a hit-and-miss here, as our car only stayed bumpless in favorable conditions at 25-30 MPH or so.
Thicker patches sent the tires straight into a series of jitters, worsening at turns and downright shaking after rain or storm. The instant sharpness after steering inputs was there, but not pronounced enough to spark aggressive confidence.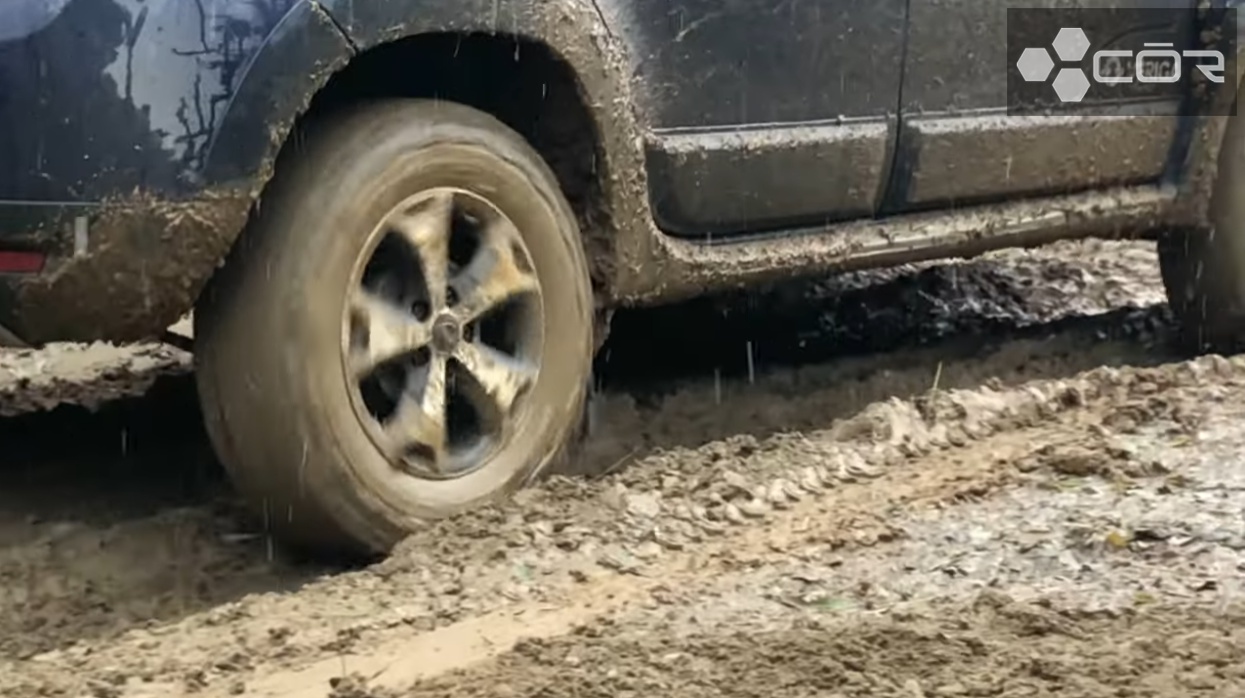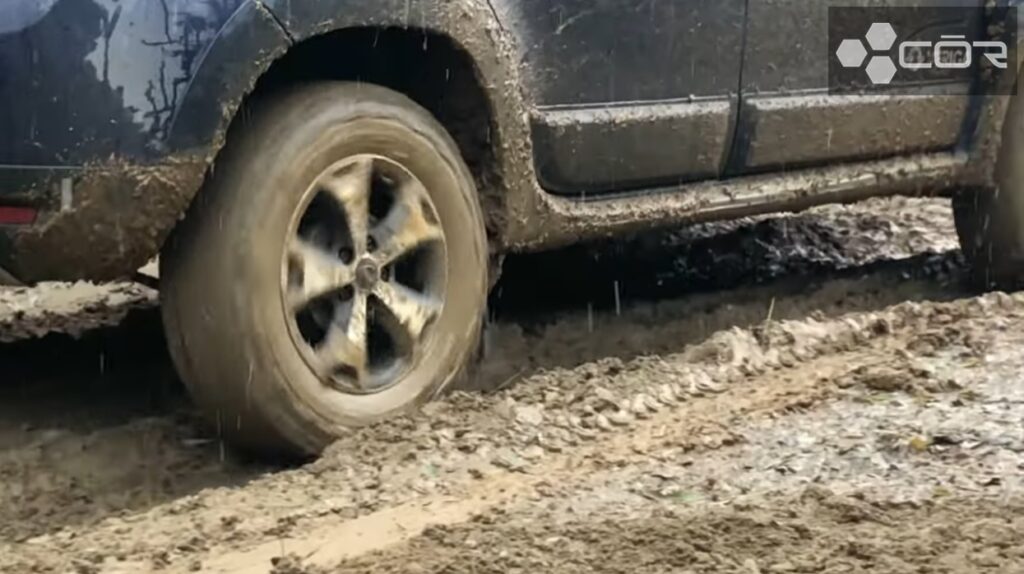 4. Winter/Snow Performance: 8.5/10
Light Snow Traction: 9/10
All-Terrain T/A KO2 performed surprisingly even better on light snow than on on-road wet surfaces. Its clawing shoulders once again became our lifesaver in handling snow packs, paving out the terrains for our Chevy to roll through with as little drama as possible.
Slightly wetter snow did trip the contact patch a little, but not enough to keep us from uneventful acceleration from 45 to 70 MPH. T/A KO2 also handled corners and snowy curves better than our expectations, only letting out the slightest signals of traction loss on the edge.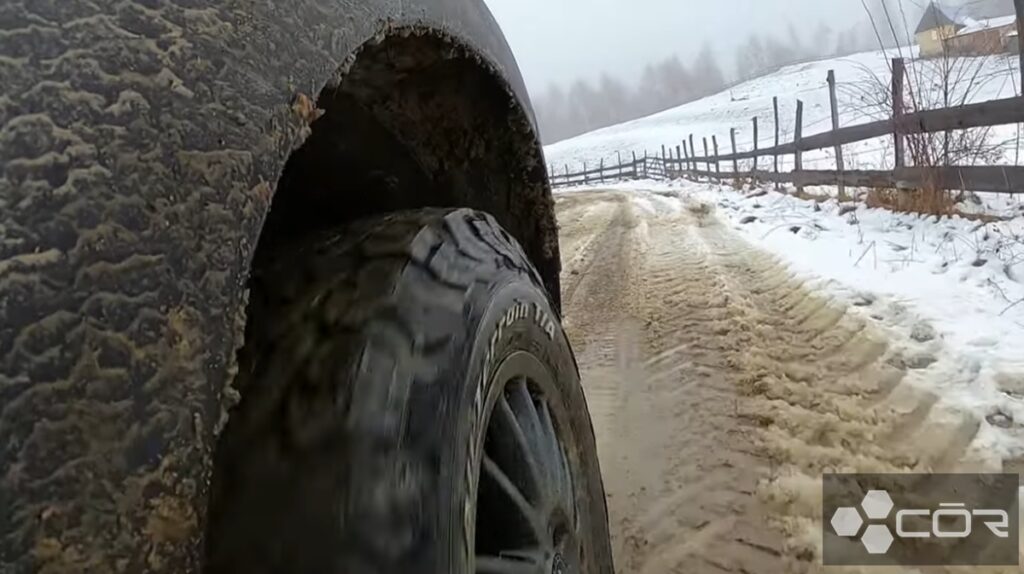 Deep Snow Traction: 8.8/10
The tire showed more vulnerability treading through snow denser than 7 inches – but kept enough composure to stay on top of the competition.
Accelerations turned out to be smoother than even on light snow – we revved up through 40, 50, and 60 MPH thresholds with straightforward steering and no push and pull.
It was the decelerations that challenged us a little; our grooves dealt well with snow invasion when carried forward but stumbling a little going backward. Hence, the speed decrease must be carried out slowly but surely, sidestepping abrupt stumbles at all costs.
Ice Traction: 7.7/10
Although BFGoodrich kept itself among the better competitors in our test, the ice grip admittedly felt flat. Slippages were not too dangerous but started veering out of control the more we accelerated. The lack of temperature flexibility in some sidewall rubber blocks caused frequent, skittish stalls that slowed down our test ride by 5-10 minutes.
35-40 MPH travel did not keep the jostles completely off the bay, but at least the trip felt more peaceful after that. And unless we could not help it, our team avoided corners and sharp curves as much as we could. Releasing some air pressure to 36 PSI also helped a bit, but as the temp kept dropping, we could almost count every frost heave the tires had gone through.
5. Comfort: 8.2/10
Ride Quality: 8.4/10
Overall, the tires were pretty comfortable. Bumps and vibrations still occurred but, as discussed, did not really go beyond control unless on ice or thick mud terrains. Some aggressive edges should have been toned down as we neared 60-75 MPH to deliver better subtleties over road imperfections, though.
Noise: 8/10
All-Terrain T/A KO2 was the noisiest off-road AT tire we have tested this year.
The sounds were not that bad when traveling on well-paved roads, swallowed pretty nicely under the rubber. However, abrupt speed changes, narrow turns, or any situation that require steering flexibility all sparked noises.
Unless we drove in a straight line on regular streets at below 40 MPH, the risks of squealing shoulder tread always hovered.
6. Treadwear and Durability: 8.4/10
Compared to the comfort sacrifices we had to endure, the treadwear was only decent – not satisfying enough.
The compounds were not best friends with temperature changes (as mentioned several times), resulting in freezes in winter and constant overheating issues in summer around noon. None of these abuses truly left a clear impact on our treads, but we could see how they deteriorated if we traveled more.
BFGoodrich T/A KO2 Pros and Cons
Excellent, enhanced traction on-road dry pavements
Great performance in light snow and deep snow conditions
Satisfying wet grip
Handling off-road dirt well
Traction on mud, rock, and sand is quite low for an off-road AT tire
Struggling with ice slippage
Lots of road noises
BFGoodrich T/A KO2 Competitors & Alternatives
BFGoodrich AT T/A KO2 is considered direct rivals of Yokohama Geolandar A/T G015, Hankook Dynapro AT2, and Firestone Destination A/T2.
BFGoodrich T/A KO2 was very competitive on light snow with an incredible steering response. However, some of the stiffer sidewall parts delivered less flexibility at more aggressive corners.
Firestone A/T2 Destination delivered solid traction on most dry terrains thanks to the good on-center feel. Unfortunately, other metrics were so-so in the middle spectrum.
Hankook Dynapro offered a weighted, intuitive steering that felt stable and reliable acceleration (2nd only to BFGoodrich). Nevertheless, its wet grip needed a huge increase.
Yokohama felt pleasant on the roads and delivered superior wet traction (top 4 among on-road AT tires regarding this). Still, we would love some more plush on asphalts or highways.
Conclusion
From this BFGoodrich All-Terrain TA KO2 tire review, its overall performance score definitely ranked among the top positions of our off-road AT test, only landing behind Toyo Open Country A/T III and Sumitomo Encounter AT.
But in fact, its off-road qualities (the most important qualities of all) were far from the best, performing decently but worse than even some of the tires ranking right under it.
So it might seem strange to say this, but this off-road tire only shined best on snow and on-road dry/wet terrains. You could still use BFGoodrich TA KO2 for average off-road driving – but do not expect aggressive or sharp responses there.
BFGoodrich All-Terrain T/A KO2
PRICE
SOLD BY

Offers

In Stock

Offers

In Stock

Offers

In Stock

Offers

In Stock

Offers

In Stock
---
President & Automotive Expert at COR Wheels
Robert Herrera has been with COR Wheels for 17 years and has a great passion for the automotive industry. During his time at COR Wheels, he has driven and test-driven a variety of vehicles.
---