BFGoodrich g-Force COMP-2 A/S PLUS seems to embrace all there is to expect in all ultra high performance all-season tires: good handling, sensitive response, and sturdy sidewalls to plow through snow and water. To what extent these qualities carry on to real-life travels is something our COR Wheels test has intensively explored.
Scroll through our tire review for a more detailed report of the performance findings.
In this article:
BFGoodrich g-Force COMP-2 A/S PLUS Specifications & Features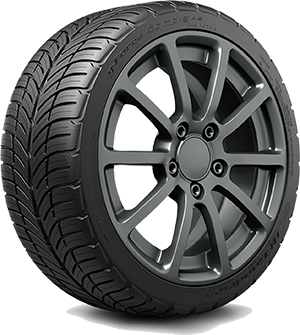 Tire Type
Ultra High Performance All-Season
Tire Size
16″ – 20″
Weight
19.4 LBS – 38.23 LBS
Load Index
87 – 106
Load Range
SL – XL
Speed Rating
– W: up to 168 mph
– Y: up to 186 mph
Warranty
45,000 miles
Ratings
8./10
G-Force A/S Comp-2 retains the previously successful tread patterns from its highly-acclaimed siblings, with slightly more updates to increase snow and wet traction levels without sacrificing much dry tread life.
Specifically, the wraparound tread threads and square-off shoulder are intertwined to inspire more confidence in dry handling. At the same time, angled longitudinal and lateral angled grooves supported the more aggressive directional V-shaped patterns, aiming to increase wintertime performance and satisfying stability.
And included in the package is the ETEC system (short for Equal Tension Containments) with nylon spirally wrapped above two steel belts for a more optimized contact patch. Extra technologies involved are:
G-Control sidewall inserts, blending handling with ride comfort
Dynamic suspension systems, strengthening control without compromising smooth riding
UltraGrip technology to deliver more biting edges on soaking surfaces.
BFGoodrich g-Force COMP-2 A/S PLUS Review & Performance Test Result
All results below are derived from our performance tests using the 235/45ZR18 tire size on the 2022 Toyota Camry. They are a part of the annual 2023 COR Wheels tire test, divided in two sections of June-July and January.
1. Dry Performance: 9/10
Dry Traction: 9.1/10
G-Force COMP-2 did not leave much room for negative feedback in dry traction.
Its square shoulders and flexible yet firm tread threads handled the car's overall composure beyond our expectations, walking a fine traction line even on the slightly rougher road patches.
35 MPH seemed to be a good starting pace for the Toyota Camry, as the grooves found their footings almost immediately without 5-10 seconds of slight lagging like what we have seen on other tires.
And once the steering wheel had sprung into action and curved itself into our inputs, G-Force COMP-2 delivered full force with its death road grips, not showing signals of serious wavering even as the car started to cross the 40, 50, and 60-MPH thresholds.
On smooth asphalt or highways, we found the traction to engage much better at high speeds than at low. The acceleration force bonded well with our driving terrain to manifest an intimate, constant communication that our previously more leisurely approaches could not achieve.
Diving deep into tight hairpins was as easy as anything other endeavors on straight-line roads, and we even managed to sprinkle in a little bit of brief yet abrupt deceleration midways without noticing obvious stutters or off-angle leanings.
(To clarify, it was not like low speed was near bad; in regular, non-demanding street driving, anything between 25 MPH and 35 MPH could suffice).
Bumps and road irregularities were a constant presence on the road, but G-Force COMP-2 tackled them just fine. Around larger dents, it did suffer from a bit of shake (after all, their sidewalls are still a tad behind full-on summer tires), but not enough to dampen our overall pleasant experience.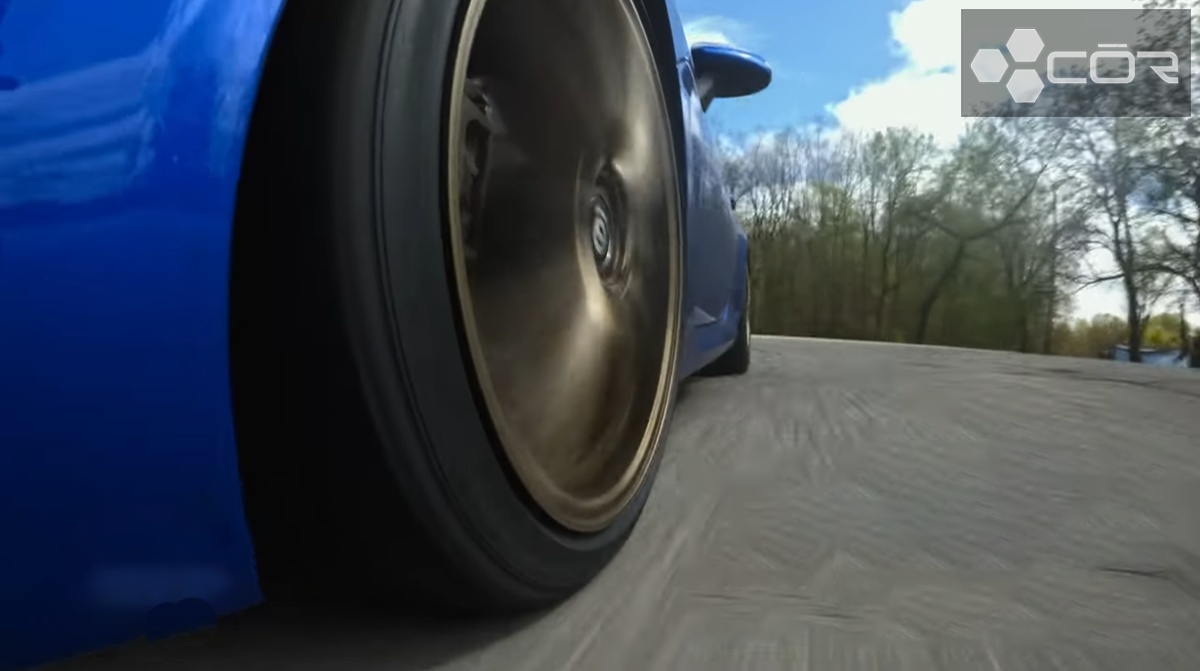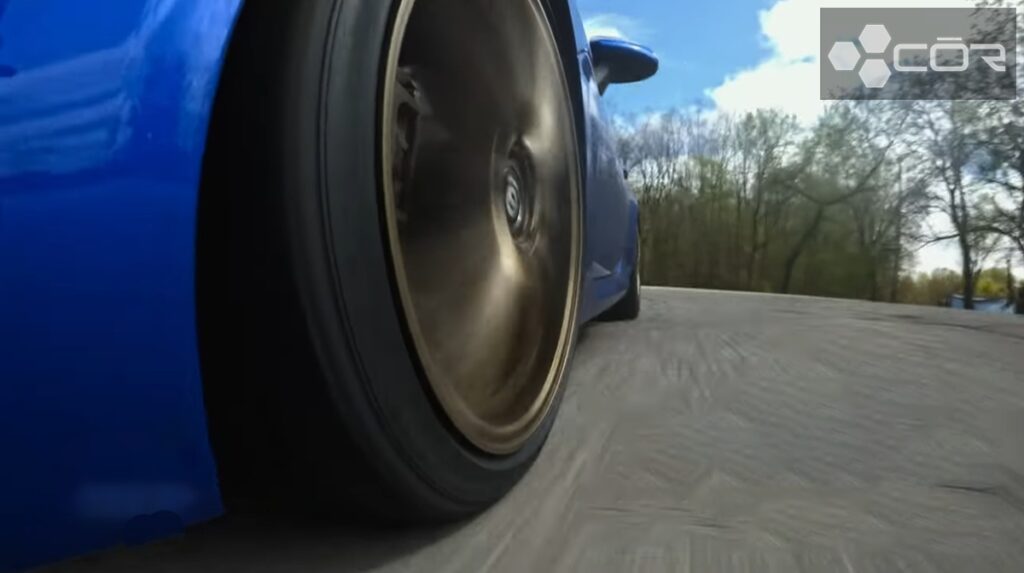 Corner Stability: 9/10
The tire's cornering grip level is delightfully among the top ranks in its class. Its lateral/longitudinal grooves provide both depth and security for the center's anchor, resulting in clean-cut, decisive cornering sweeps that never once titter on the edge of skittering.
We could even maneuver around tighter hairpins and sudden bends at more narrow-necked roads with little difficulty, and even mid-corner speed increase rarely put our car in a panic faze; it bolted through entries and exits with class and an admiring sense of self-certainty.
Still, tire squealing could sometimes be observed when our wrist bends felt a bit sharp, and our eclipses were not always on great horsepower – hence our decision to take away a few points on this one.
Steering Response: 9/10
Steering responses were up to the standard – but given the tire's Dynamic Suspension technologies weaving into the slits, it was unsurprising.
G-Force AS Plus knew how to balance precision and snappiness; it carried out each driving input with enough sure-footedness that promised little danger, while still giving room for wider turning arcs to allow us occasional off-path tilts from time to time.
Lane changes required precise steering calculation, and G-Force Comp-2 did not disappoint there – except for very minor delays when we came down from the high to decelerate and wiggle our Toyota into the flowing traffic.
They were low-key enough not to stall other cars or cause accidents, by the way, but we still felt thrown off during our first few rides.
2. Wet Performance: 8.6/10
Wet Traction: 8.7/10
Our Toyota performed great – better than most tires on wet roads. But frankly, given the intricate, interlocking longitudinal and lateral grooves (not to mention the UltraGrip technology), we did expect a bit more.
To clarify, G-Force composed itself remarkably well when treading through 5 inches of water (sometimes even grazing the 6-inch mark). Traction losses were barely noticeable, and mid-way revs from 45 MPH to 60 MPH or so felt uneventful and consistent.
Our connections with the road remained pronounced most of the time and only slackened when encountering other obstacles below the water surface (tree branches or debris, for instance).
However, from 7-8 inches of water onwards, the car's struggles became a bit harder to watch. Not dangerous, of course, but no longer the same effortless rolls we had observed just moments before. It was much safer to choose a mid-rate (say, 40 MPH) and keep our car unchanged at that rate until we were back to dry lanes.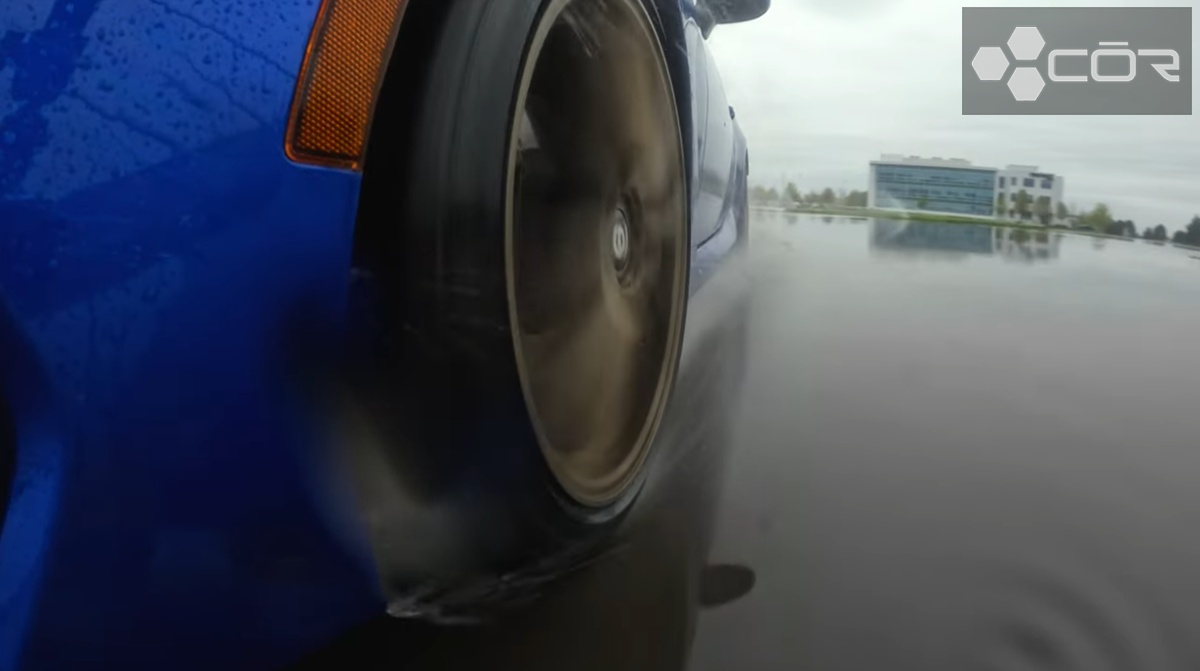 Hydroplaning Resistance: 8.6/10
In this regard, G-Force COMP-2 was not exceptional but still generally good.
The open water channel manifested from the intricate groove nets did a good job: rain and fluids were instantly redirected off the tread the moment they entered, and the thin remaining layers of water below the rubber were not intrusive enough to break off our connection with the road.
However, at 7 inches of water onwards, the groove angles seemed insufficient against the increased water demands. Some of them were lifted even higher than they already had been when we leaned outward to navigate curves, causing a bit of intruding water and debris to seep inside.
3. Winter/Snow Performance: 6.6/10
Light Snow Traction: 7.4/10
BFGoodrich G-Force COMP-2 delivered decent traction on snow, though not exceptional compared to our initial exception. Its V-shaped tread patterns could handle decent amounts of snow (about 4 inches of density, sometimes grazing at 5 inches), but not without some nervous jitters at the edge.
A bit of speed increase (40 to 42-43 MPH) could lunge the car forward a bit faster – but in exchange, some residue snow remained stuck in the grooves and turned our car back to square one in the next turn.
Thankfully, premium snow chains could help solve the issues. We only used them for the front tires, yet traction had already improved; stutters still lurked around but felt much fainter at this point.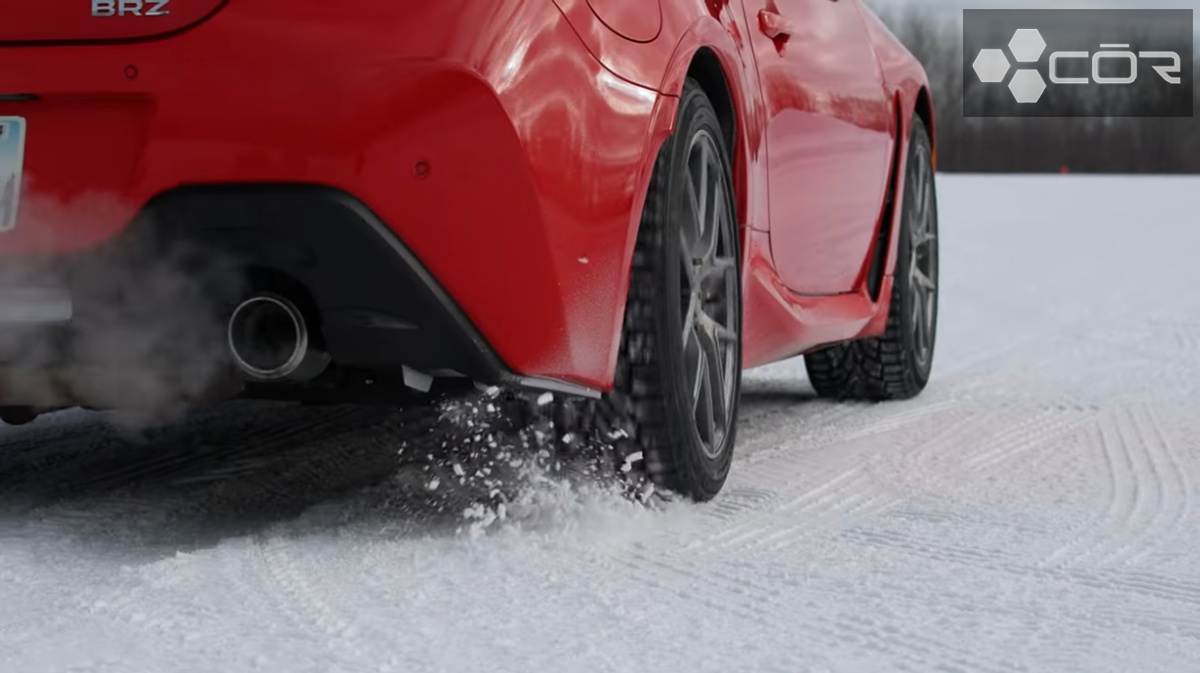 Deep Snow Traction: 6.6/10
Anything beyond 7 inches of deep snow, and traction weaknesses started to become more obvious. Even with the help of snow chains (this time on all four tires), the stumbles and spittings could not be ignored as easily as on light snow. We started our test ride at 30 MPH but eventually had to return to 26-27 MPH to ensure fewer skidding rolls.
At corners or tighter bends, steering responses seemed to lose some of their dry sharpness. Our team members (4 people/ car) had to assign monitoring tasks to each other to ensure the steering did not wander off track the moment we were not looking; it was hard to imagine what it would be like driving alone in such conditions.
Ice Traction: 5.9/10
G-Force COMP-2 was downright horrible on ice terrains; its performance did not rank last but took a long way to wander to the "good" area.
Drifting happened just minutes after we got behind our steering wheel. The off-balance was brief enough to give us time to find our way with the suspension but instilled a sense of instability that felt very ominous on slippery terrains like these.
We went up to 30 MPH for one mile or two but quickly returned down to 25 when the car leaned too forward at the corner entry, and kept ourselves there until the ride was over. No accidents occurred, but all our members were on edge the entire time.
4. Comfort: 8.1/10
Ride Quality: 8.3/10
Ride comfort was great in favorable weather, but it became more predictable at S-curves, tighter turns, or any situation where our steering felt sharper and more abrupt than usual.
The center lost its straightness far faster than what we would have liked when traversing patchworks, and BFGoodrich G-Force seemed not to cope well with texture changes (from dry to wet, ice to thin snow, or vice versa).
Noise: 7.8/10
Noises were definitely one of G-Force's biggest problems. Some of our members thought they were too loud, and others reported they were low enough not to be disruptive – but regardless, all agreed they did appear very frequently.
Speed changes (acceleration/deceleration) seemed to trigger them more often than other issues. There were no fixed patterns to these problems, either; the noises could stoop below a whisper at one point or roar loudly at the next. Using aftermarket tuned mufflers did help a lot with noise control, by the way.
5. Treadwear and Durability: 7.9/10
Truck tires often sacrifice comfort for treadwear or vice versa, but that does not seem to be the case with BFGoodrich g-Force COMP-2. The tire was so-so/underwhelming in both criteria.
Overheating might be less obvious in the first four days or so but became much more pronounced as we entered our fifth; at one point when the July summer peaked at 90 degrees F, there were even sizzling noises under the tire that caused a few thread chunks to get a bit chopped.
Though our test only lasted for a few days, we did not think these problems would translate well over longer rides.
G-Force COMP-2 A/S PLUS Pros & Cons
Great performance and tire footprint on dry roads
The decent wet grip on wet roads and light snow (albeit with a bit of struggling)
Clear struggles on deep snow and ice, the last on our list
Lots of frequent road noises (even at minimum road contact)
So-so treadwear
G-Force COMP-2 A/S PLUS Competitors & Alternatives
When competing against each other, BFGoodrich g-Force COMP-2 AS PLUS, Toyo Extensa HP II, Yokohama ADVAN Sport A/S+, and Falken Azenis FK460 A/S show both strengths and weaknesses.
BFGoodrich has great dry traction and sporty steering that none of our members could dispute. Corner stabilities also held well under favorable temperatures; however, tread noise and wear must be improved.
Falken Azenis delivered more biting edges during on-road drivings, with a type of athletic feel that aggressive drivers would appreciate. It tended to oversteer on wet tracks, though.
Toyo Extensa held itself well on dirt/cracked pavements, and even abrupt roadblocks could not throw its composure under bad lights. But like BFGoodrich, the screeching tread noises should have been properly fixed.
Yokohama filled the void Toyo and BFGoodrich left behind, producing very little noise throughout its soft, cushioned ride. Still, its dry grip is just decent, nothing spectacular.
Conclusion
The g-Force COMP-2 A/S tires were a star on dry roads and delivered decent grip in wet conditions. Unfortunately, its light got dimmer the more we entered the danger zone (particularly ice and snow), and ride comfort was far from the best.
At $132 – $278, this ultra-high-performance tire can still be considered a good bargain for tight-budget drivers in summers and monsoons. But through our BFGoodrich g-Force COMP-2 A/S PLUS tire review, it is not the best model of its kind.
BFGoodrich g-Force COMP-2 A/S Plus
PRICE
SOLD BY

Offers

In Stock

Offers

In Stock

Offers

In Stock

Offers

In Stock

Offers

In Stock
---
President & Automotive Expert at COR Wheels
Robert Herrera has been with COR Wheels for 17 years and has a great passion for the automotive industry. During his time at COR Wheels, he has driven and test-driven a variety of vehicles.
---