As a more affordable brand, Cooper Tire never stops innovating. It keeps redefining expectations for the middle and lower-end market segments. It launched the Endeavor Plus in 2021, and this product has quickly caused a sensation for this exact reason.
As an all-season touring tire, it is aimed squarely at motorists who demand balanced performance across a wide array of driving conditions – whether that's cruising along sun-kissed highways or going through rain-soaked city streets.
But does it genuinely live up to these lofty promises? There's only one way to know: by looking closely into its performance under real-world conditions in our tire review. Let's find out.
In this article:
Cooper Endeavor Plus Specifications & Features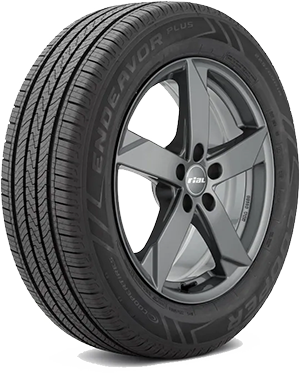 Tire Type
Crossover/SUV Touring All-Season
Tire Size
16″ – 22″
Weight
22.0 LBS – 43.0 LBS
Load Index
95 – 117
Load Range
SL – XL
Speed Rating
– H: up to 130 mph
– V: up to 149 mph
Warranty
65,000 miles
Ratings
8.5/10
Cooper has made a dedicated attempt to enhance the tire's grip on wet surfaces.
Taking a wider view, the Endeavor Plus incorporates features targeting year-round flexibility. The advanced all-season compound and five-rib tread pattern seem optimized for dry conditions. Their goal is responsive handling and steering.
For slippery surfaces, the plentiful sipes and lateral notches suggest an aim of generating tire-to-road grip in rain, snow, and ice. The addition of the silica-based tread compound aligns with this wet performance goal as well. We already know that silica can enable better grip on damp roads.
Meanwhile, the tread pattern uses deep shoulder grooves and four sizable water channels. Their goal is likely efficient water evacuation. By striving to expel water rapidly, the tire may potentially enhance wet traction and resist hydroplaning.
Cooper has added a 2-ply polyester shell, a notable choice aiming to boost durability. This reinforced construction can promote high-speed capability and even wear across the tread.
The Endeavor Plus also comes with a modern tread pattern designed to reduce road noise and provide a smooth ride. The construction techniques employed here can further distribute the load evenly across the tire. It should be able to curb vibrations and disturbances over varied surfaces.
While these features are certainly promising, the real test lies in how they perform in the real world. The Endeavor Plus looks well-equipped on paper, but we are eager to see how these features translate into actual performance.
Cooper Endeavor Plus Review & Performance Test Results
For the sake of consistency, we conducted the 2023 COR Wheels Tire Test on a 2022 Honda CR-V fitted with 235/60R18 tires. It is a common size for this vehicle and many similar crossovers. In total, we accumulated over 500 miles of testing across dry, wet, and winter conditions:
Dry Performance: 9/10
Dry Traction: 9.1/10
On both city streets and highway traffic, the precise steering and crisp handling of the tires became apparent, even at higher speeds.
During our drive on a bustling highway, we were able to cruise comfortably at speeds up to 65 mph and even push it to 75 mph without any loss in performance.
The grip also held firm when we tested acceleration and braking in our powerful Honda CR-V. A sudden need to brake from a speed of 50 mph due to unexpected traffic was handled with ease. The stopping distance was noticeably shorter compared to our experience with other popular tire models, just a tad behind the Kumho Crugen HP71.
However, slight vibration became noticeable at high speeds. This indicated the tire was at its limit. It wasn't drastic, but certainly enough for us to experience a slight feeling of instability or shaking at speeds exceeding 80 mph.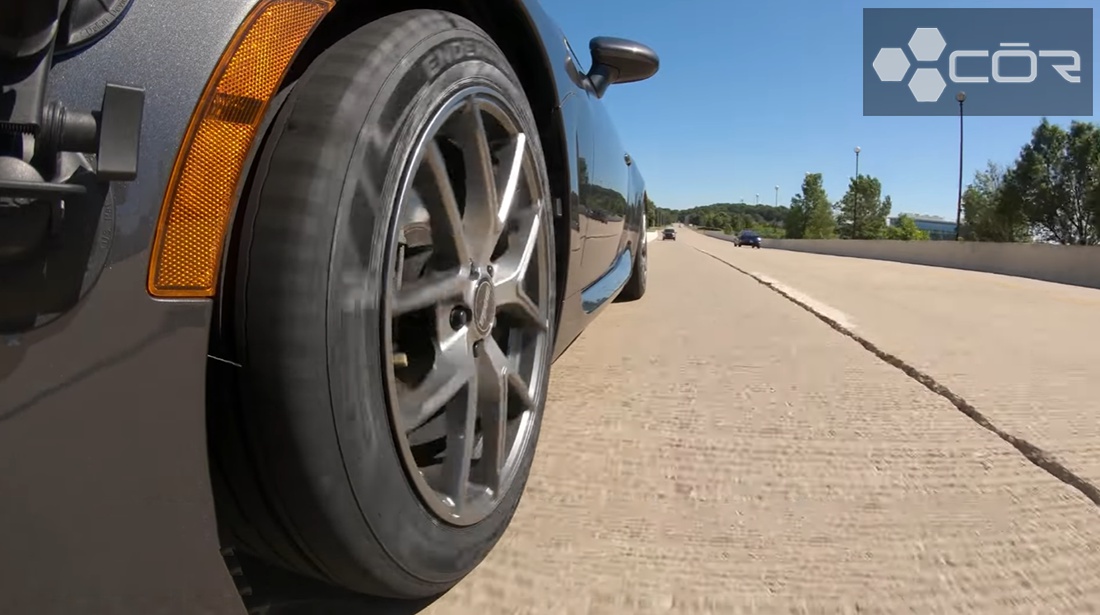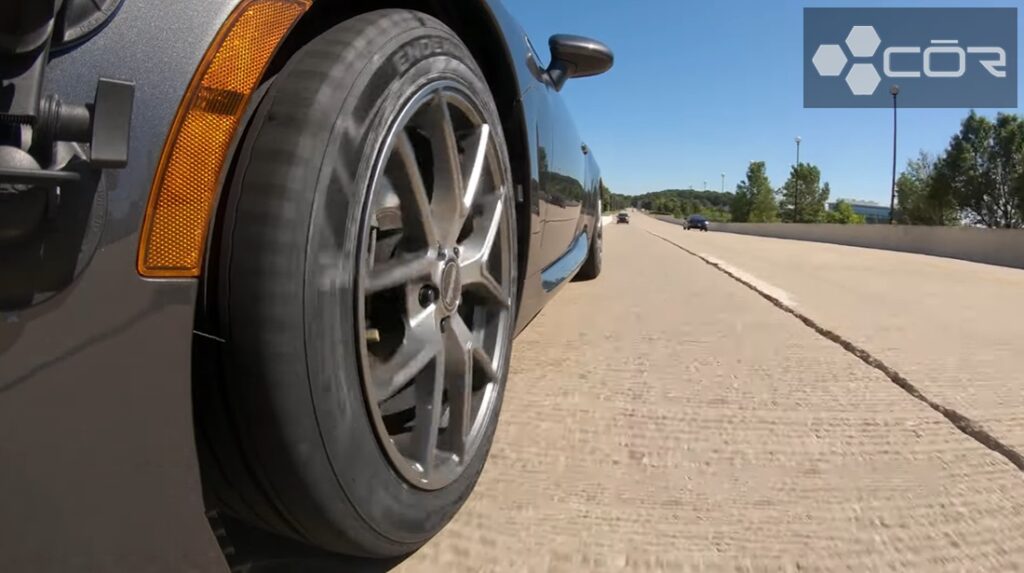 Corner Stability: 8.9/10
The Endeavor Plus maintained reliable traction lap after lap through sweeping highway corners taken aggressively at 65-70 mph without loss of grip or stability.
The tire felt planted and secure through these rapid changes in direction. Even though tighter 50 mph turns, it provided a composed and controlled feel.
There was minimal deviation evident when cornering hard on dry pavement, demonstrating the tire's strong mechanical grip.
However, when pushed to the absolute limit during extreme handling maneuvers, the stability decreased slightly as the tire continued to roll onto the shoulder blocks.
This was most apparent during a high-speed maneuver on a winding road, where the tires seemed to lose some of their composure.
Steering Response: 9/10
The ComfortDrive's steering provided satisfyingly quick reflexes and responsive turn-in for a touring all-season tire. Even when making slight adjustments at speed, steering inputs all translated into predictable vehicle behavior.
While testing on a narrow country road at 45 mph, we encountered an unexpected sharp turn obscured by foliage. The tires responded immediately to our rapid steering and took a set into the turn as the CR-V leaned over sharply.
Only when driven at 100% performance limits did the steering start to feel slightly light and less confident.
When trail braking aggressively into a sharp 50 mph sweeper, the front end initially responded crisply. When the CR-V was turning sharply, and the tires were nearly losing their grip on the road, the steering started to feel easier to turn and less controlled.
Wet Performance: 8.7/10
Wet Traction: 8.7/10
Accelerating from a stoplight in a moderate downpour, the tire transfers power responsively with minimal wheel slip. It helped make our car feel planted and secure.
Through winding back roads in the rain at speeds of 50-55 mph, the wet grip also allowed taking corners with confidence and control.
However, when pushed hard into aggressive 60+ mph cornering in extremely heavy rainfall, the tire lost some composure and began to slide more. Braking distances from those speeds were also much longer than top wet performers like the Pirelli Scorpion WeatherActive.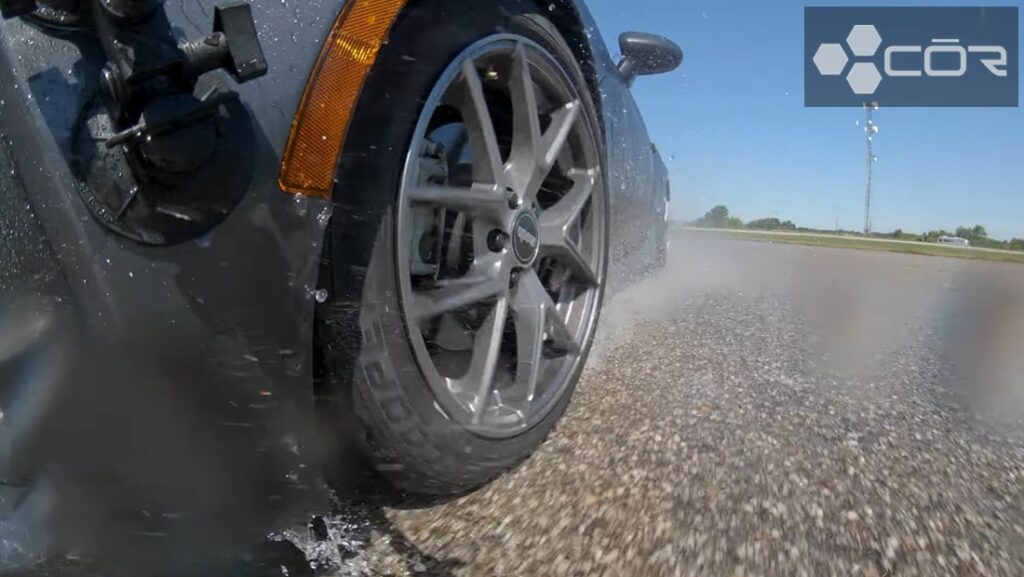 Hydroplaning Resistance: 8.7/10
The deep shoulder grooves helped the Endeavor Plus swiftly channel away water. They provided excellent hydroplaning resistance in most conditions. The tread design also allowed driving through 4-6 inch deep standing water patches and puddles at moderate speeds without issue.
Severely flooded road sections with more than 5 inches of water at higher speeds above 55 mph did result in brief 1-2 second losses of traction. Still, the Endeavor Plus provided reassuring capability in heavy rain and pooled water during everyday driving scenarios.
Winter and Snow Performance: 7.7/10
Light Snow Traction: 8.2/10
The Endeavor Plus delivers admirable light snow traction, aided by its flexible tread compound and abundant siping. Through winding snow-covered roads, the tire enabled safe driving up to reasonable speeds (around 40-50 mph).
It was able to accelerate from a stop in 2-3 inches of fresh snow with good composure and control. Light snow traction exceeded all-season rivals like the Bridgestone Dueler H/L Alenza Plus or Kumho Crugen HP71.
The braking distances were much shorter than similar tires like the Uniroyal Laredo Cross Country Tour. But at the end of the day, it fell short of what premium products could offer as we entered deeper snow blankets or more than 4 inches.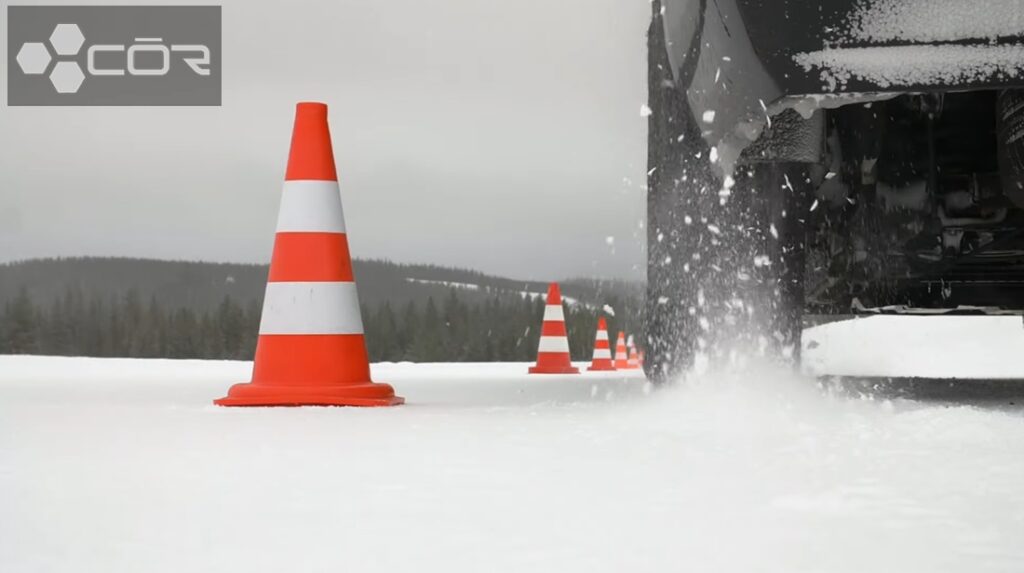 Deep Snow Traction: 7.7/10
Through around 4 inches of snow, the tire allowed us to make steady forward progress and avoid getting stuck, especially keeping the momentum up.
But deeper snow massively reduced traction, and accelerating from a stop becomes more challenging. On a country road with over 6 inches of fresh heavy powder building up, the tire struggled to maintain a firm grip and control.
Ice Traction: 7.3/10
On icy patches, the Endeavor Plus managed to hold only acceptable levels of grip at low speeds (15 mph or so). It resisted skidding and maintained an acceptable grip up to a point when braking.
However, slick melted ice and hard-packed snow greatly reduce bite. We had to be extra careful and modulate throttle and braking input to prevent slippage, and it took us 62+ feet to come to a complete stop from 25 MPH.
Comfort: 8.5/10
Ride Quality: 8.7/10
The Endeavor Plus provided a compliant, cushioned ride by absorbing small bumps and impacts effectively.
Cruising on the highway at 40-50 mph, the tire isolated most vibrations and irregularities for smooth cruising. Even on rougher cracked concrete roads, it filtered out harshness reasonably well.
However, some larger impacts from potholes or expansion joints did transmit more vibration and harshness into the cabin. But overall, the refined ride quality enabled comfortable driving during everyday conditions for an all-season touring model.
Noise: 8.3/10
At low speeds of around 10 mph, the Endeavor Plus emitted a mild tread growl. But this faded to a quiet faint hum as speed rose.
At highway cruising, noise levels were quite low. It was only a subtle background drone drowned out by wind and road noise. Our conversations remained easy without tire roar dominating the cabin.
However, some coarser pavement did elevate noise levels slightly, though still better than many competitors.
Treadwear and Durability: 8.7/10
The Endeavor Plus exhibited gradual, even treadwear. Our test revealed some steady wear with ample remaining depth. These initial observations showed that there was no reason it couldn't be on pace to meet or exceed Cooper's 65,000-mile treadwear warranty.
Through our diverse driving conditions, it withstood normal bumps and abrasions without damage. Only highly abrasive dirt roads taken aggressively led to some minor scratches. No road hazards encountered during real-world testing managed to take the tires out of service.
Cooper Endeavor Plus Pros and Cons
Competitive pricing
Excellent tractions on dry and wet roads
Impressive handling across various conditions
Strong braking performance
Good performance on light snow
A smooth, quiet, and comfortable ride
Good stability and easy control
Effective resistance against hydroplaning
Notable tread growl on rough roads
Average deep snow and ice traction
Steering response is not as quick or sporty as some competitors
Cooper Endeavor Plus Competitors & Alternatives
In the competitive market of all-season touring tires, the Cooper Endeavor Plus faces notable competition, particularly from the Kumho Crugen HP71. They are relatively new in the market and come at similar price points, appealing to a similar customer base.
On the test track, the Kumho Crugen HP71 stood out due to its responsive steering.
This quality made the vehicle feel more agile and responsive. It also performed well in abrupt stopping scenarios, boasting the shorter 50-0 mph stopping distance among the two.
However, the Crugen HP71's sporty and responsive steering comes at the expense of noise isolation. In this department, the HP71 was less effective than its competitor.
Meanwhile, the Cooper tire excelled in providing a smoother and quieter ride. It performed well in absorbing bumps with a comfortable journey for the passengers.
The Endeavor Plus stood out, particularly in light snow and wet conditions, providing excellent traction and control. In these conditions, it outperformed the Kumho Crugen HP71 across all measured criteria.
The Endeavor Plus also offered more precise steering compared to the Crugen HP71, giving drivers a greater sense of control.
Conclusion
This Cooper Endeavor Plus tire review proves it is a well-rounded all-season tire that excels at blending traction, comfort, and value. The wet performance and light snow grip lead the class, while the compliant ride and low noise match touring tire expectations.
For drivers wanting capable performance across varying conditions without paying a premium, the Endeavor Plus hits the mark. It provides noticeable improvements over older designs with modern tech, like silica enhancements.
However, drivers seeking a sporty experience and quick steering might find this tire a poor fit. Also, the Endeavor Plus isn't your best bet for tackling deep snow or ice.
In those situations, dedicated winter tires or pricier all-season models could be better options.
Cooper Endeavor Plus
PRICE
SOLD BY

Offers

In Stock

Offers

In Stock

Offers

In Stock

Offers

In Stock

Offers

In Stock

Offers

In Stock
---
President & Automotive Expert at COR Wheels
Robert Herrera has been with COR Wheels for 17 years and has a great passion for the automotive industry. During his time at COR Wheels, he has driven and test-driven a variety of vehicles.
---