Looks like BFGoodrich Mud-Terrain T/A KM3 has it all: it originates from one of the largest global automobile tire brands to date, optimized with strong sidewalls and tread blocks to deliver powerful, unhesitating traction in challenging off-road terrains.
Customers seem to have a generally good impression of the tire, too. Still, our review will summarize and assess how much of that feedback rings true in real driving conditions.
In this article:
BFGoodrich KM3 Specifications & Features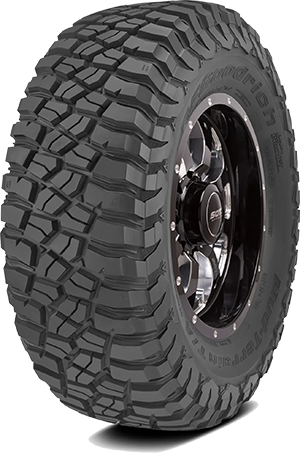 | | |
| --- | --- |
| Tire Type | Off-Road Max Traction |
| Tire Size | 15″ – 22″ |
| Weight | 41.05 LBS – 86.95 LBS |
| Load Index | 100 – 129 |
| Load Range | C1 – E2 |
| Speed Rating | – Q: up to 100 mph |
| Warranty | None |
| Ratings | 8.3/10 |
BFGoodrich TA KM3, often called mud tires, aims to help SUV, truck, and Jeep drivers conquer off-road terrains with acceptable riding comfort and road noises:
Krawl-Tek compounds, symmetrically molded, enhance traction on slick surfaces and rocks.
Large blocks provide better foundations on loose terrains, with extra multi-directional biting edges to handle different approach angles.
Traction Armor Sculpture Sidewall keeps the sidewall from splitting and snagging hazards.
Notched shoulders work with mud and dirt traction, while the lateral notches and wide grooves reduce hydroplaning risks.
Stone bumpers slotted inside the grooves expel small pebbles and stones.
Mudphobic shoulder bars help KM3 self-clean in soft soil and mud.
Thick, extended rubber prevents bruises, punctures, and splits.
Robust 3-ply casings, steel belts, and nylon cap reinforcements stabilize the treads.
BFGoodrich Mud-Terrain T/A KM3 Review & Performance Test Result
The following reports recounted our experience with the BFGoodrich Mud-Terrain T/A KM3 tire (265/70R17 size version) when navigating on- and off-road terrains on the 2022 Ford F150. This is a part of the 2023 COR Wheels Tire Test.
1. Dry Performance: 8.8/10
Dry Traction: 9/10
The KM3 did not leave much room for complaint with its striking and aggressive confidence. Our contact patch bonded immediately with the pavement grooves and gave good-hearted shakes at the start of our 45MPH ride, settling eventually as the Ford navigated to the main road. Roadblocks were not always predictable, yet the tire retained its almost unbreakable grip as we veered a bit more outward than intended, rarely losing composure.
Roads near construction sites with thick debris and dirt were not much of a challenge for KM3, either; the rubber ground through them just as breezily and grew surprisingly bolder during our whiplashing speed surges to 70 MPH. Decelerations felt slightly stuttering at narrower entries due to the debris sticking itself at unwanted angles – but not much of an issue to worry about.
On another note, we did think KM3 might not be the best equipped when it came to highway power sliding. Our intentional attempts to oversteer ended up backfiring, causing KM3 to skid a few feet longer on sweeping curves before regaining traction.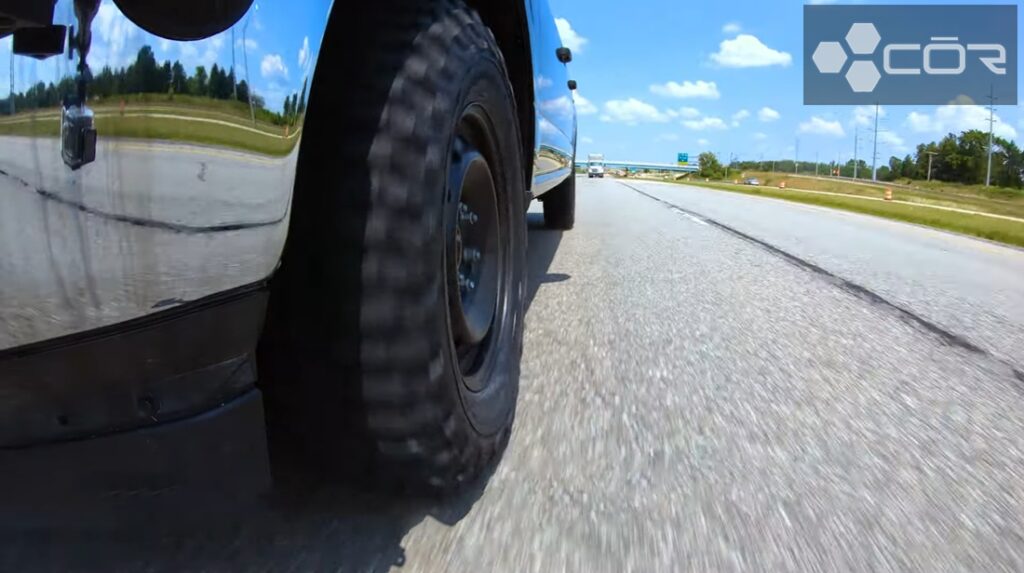 Corner Stability: 8.6/10
KM3 delivered a pretty good on-center feel that did not seem over-stiff like some competitors. As such, the Ford could float into tight-neck openings in a much more comfortable position, allowing our team to relax a little bit with our hand positions on the steering wheel – even at high speeds beyond 50 MPH.
But as mentioned above, KM3 did not deal well with intentional oversteers on highways – let alone accidental ones around abrupt corners. Though the latter did not happen very often, we still had to smooth out the steering inputs with consistent pushing.
Steering Response: 8.7/10
KM3 was responsive and punctual on most of our straight-line and cornering endeavors discussed above. Occasions of muted feedback or lackluster reactions rarely struck – and even if they did during unannounced turns or in much colder weather, those delays were mostly predictable.
Hence, we had no issue alternating between gentle and sharp roundabouts throughout most of the ride: the steering response adapted well to each new change and fell into place the moment Ford F150 finally passed by critical danger points (ex: acceleration beginnings, corner exits, etc.).
On another note, there should have been more improvements with its flexibility at far-reaching leans. For an off-road, aggressive tire, it was much tamer and more hesitant than expected.
2. Wet Performance: 8.2/10
Wet Traction: 8.2/10
The Krawl-Tek compounds ended up performing half of what it was advertised with. While the tire's confidence was still evident during light drizzle or water below 4 inches, signals of faint edge stutters already started to show up whenever our steering wheel went slack at 45+ MPH or uphill.
That gave us a hunch about how things would turn out in heavier downpours or deeper water of 5 inches onwards, and we were right. The violent slurping on straight paths and even clearer hesitations at waterlogged corners became very hard to ignore – though thankfully not dangerous. Even with tamer traction loss on better-built road sections, KM3 took 4-5 seconds longer than on dry roads to recover.
Hydroplaning Resistance: 8.3/10
KM3 had decent evacuation in shallow water. Hydroplaning was not completely off the hook but well-controlled thanks to the lateral notches – and hence, did not really deter our tires from the track. The thin water layer coating under the patch was not strong enough to disconnect our communication with the road, allowing for a relatively uneventful stride at 40-55 MPH.
Things worsened once we entered the deep zone, though. The sipes and notches could handle the extra workload pretty well in the first part of our ride but loosened their edges after 20-25 minutes. Water and soft mud intruded at road curves more often than not, causing an ominous heavy-dragging feel that tagged along for the rest of the ride.
3. Off Road Performance: 9.3/10
Dirt Traction: 9.4/10
KM3 made its way to the top with its very grippy and confident dirt traction, which got its footholds right from the moment our Ford started rumbling at 35 MPH.
The aggressive lateral notches worked even better on thick dirt than on on-road, dry pavements with very quick and on-point traction refills, ensuring no grip loss could last for more than two seconds. We encountered very little issue on our straight-line driving and enjoyed just the same breezy accelerations – revving straight up to 70 MPH in only 4-5 seconds.
Its center ribs turned out stronger than how they looked, too, coping with abrupt, unannounced turns with impressive composure; stutters only lurked around after 4-5 miles and even then, they felt very distant. Even our (purposeful) late brakings pulled off uneventfully through most cornering entries in little to no drama.
On a small note, KM3 seemed to recover faster from understeers than oversteers; the tire was steady enough to keep accidents at bay here, but still lagged slightly off-note to the rest of its very bold dirt handling.
Mud Traction: 9.5/10
Few off-road tires performed better on mud than on dirt, but KM3 was an exception with its very powerful and capable lateral notches (hence the name). The wide grooves underperformed on on-road wet but caved well onto the road textures, plowing through stubborn, muddy puddles with decisive and clean cuts even at a sluggish 30 MPH pace. Some wheel spins were enough for the tire to clean itself.
Needless to say, speed changes went through little trouble; our traction points remained surprisingly unchanged as we surged up and only started to falter a bit when crossing past the 70MPH threshold.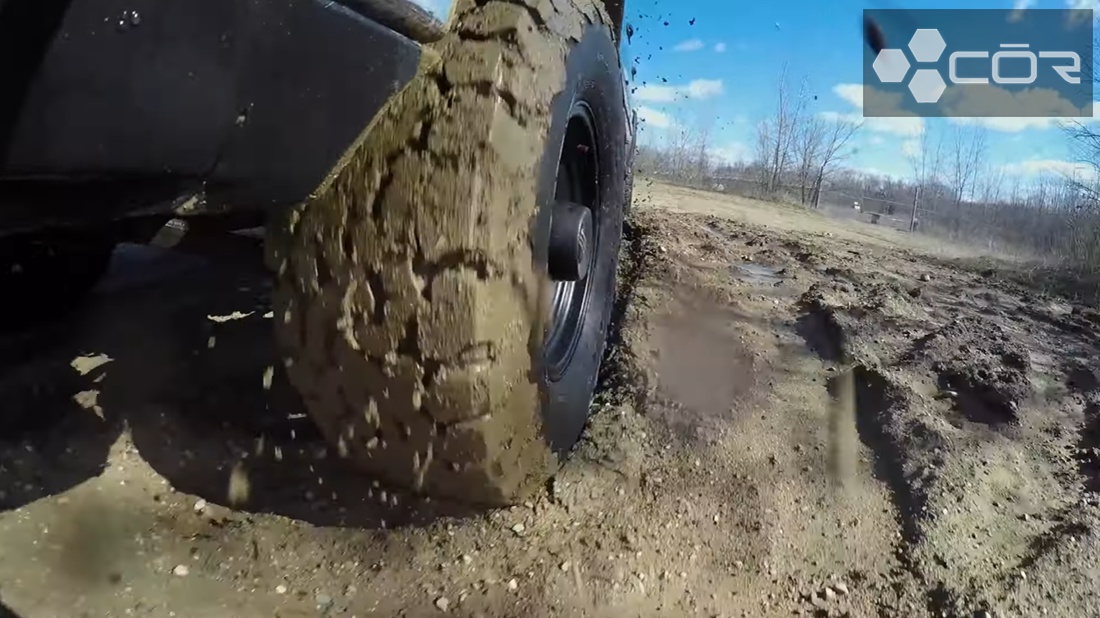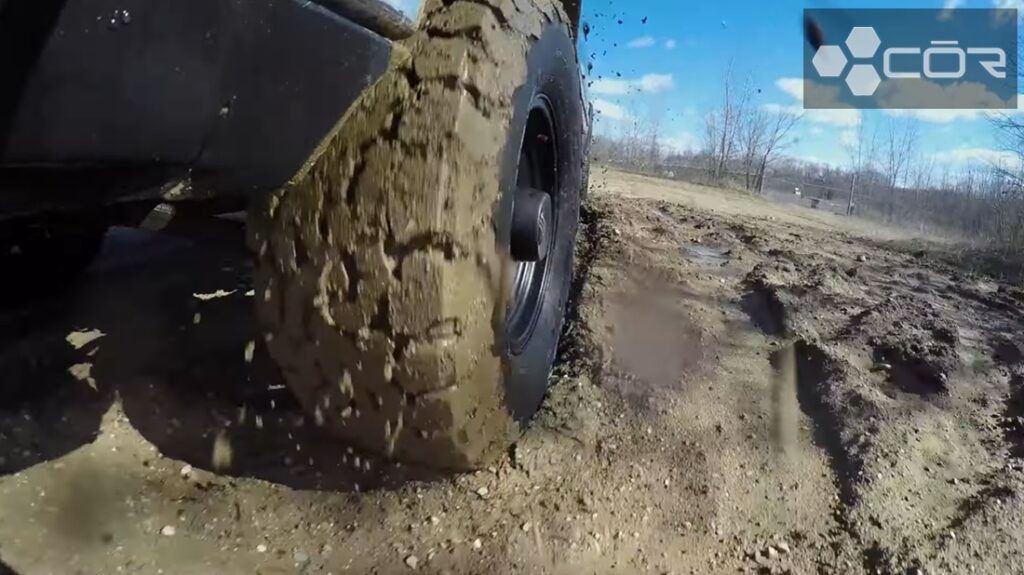 Rock Traction: 9.3/10
KT3 owed most of its impressive rock traction to the Krawl-Tek compounds, whose aggressive builds and symmetrically-arranged tread blocks molded very well onto these vicious, rugged terrains.
We did admittedly experience a bit of slippage at the start of the ride, when KM3 struggled to adjust to new riding surfaces (our team had previously traveled on pure mud and dirt only).
Fortunately, the adaptation took very little time; KM3 already showed its power raking through the small and large rocks at 45 MPH, and retained the same road handling manner at higher speed thresholds with little problems. Hiccups and jostles were rare – barely there, even.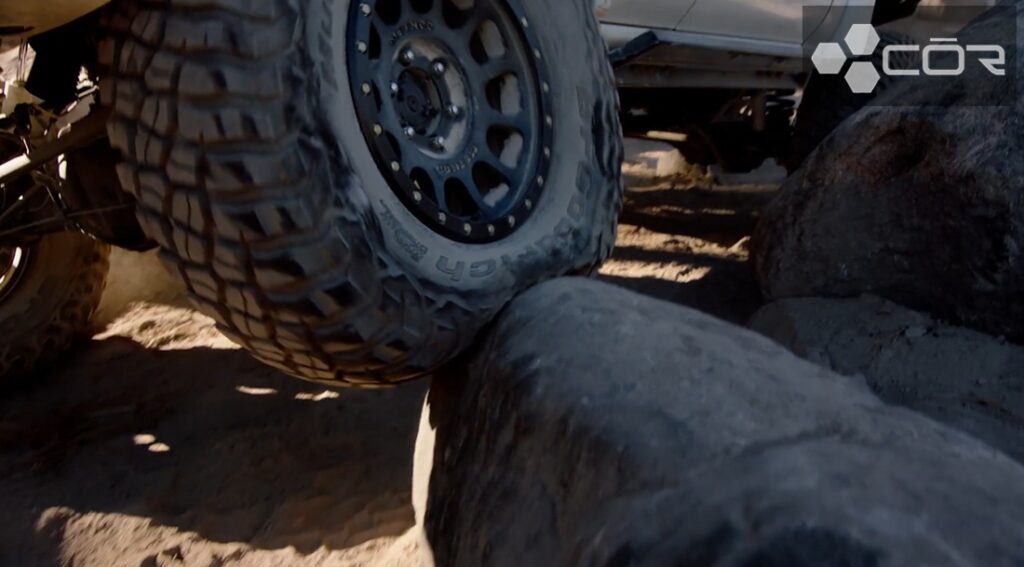 Sand Traction: 8.9/10
The tire handled soft sand very well; our car waltzed through them as if on air. KM3's stone ejectors, which were supposed to work with pebbles and stones, exuded unexpected evacuation strength on sand flow and whisked the stickiest particles off the sidewalls in less than 3 seconds. At particularly dry sand patches, Ford could even rev to 65 MPH at corners despite our late brakings.
However, rugged sand did pose some issues. The contact patch was enveloped in a type of gritty, rough texture that felt very intruding during speed changes, albeit nothing serious.
4. Winter/Snow Performance: 7.7/10
Light Snow Traction: 8.2/10
KM3 benefited from the well-built independent tread blocks, which gripped well onto soft, light snow without causing much stutter under the anchoring contact patch. The extra biting edges also helped with KM3's pretty good self-cleaning capabilities, allowing our Ford to tread forward at consistent 50MPH without any help from snow chains.
Still, KM3 did not feel that self-aware when traveling onto canyon roads and mountain passes. Slippage at turns was brief, but more frequent than we would have liked considering the tire's very aggressive compounds.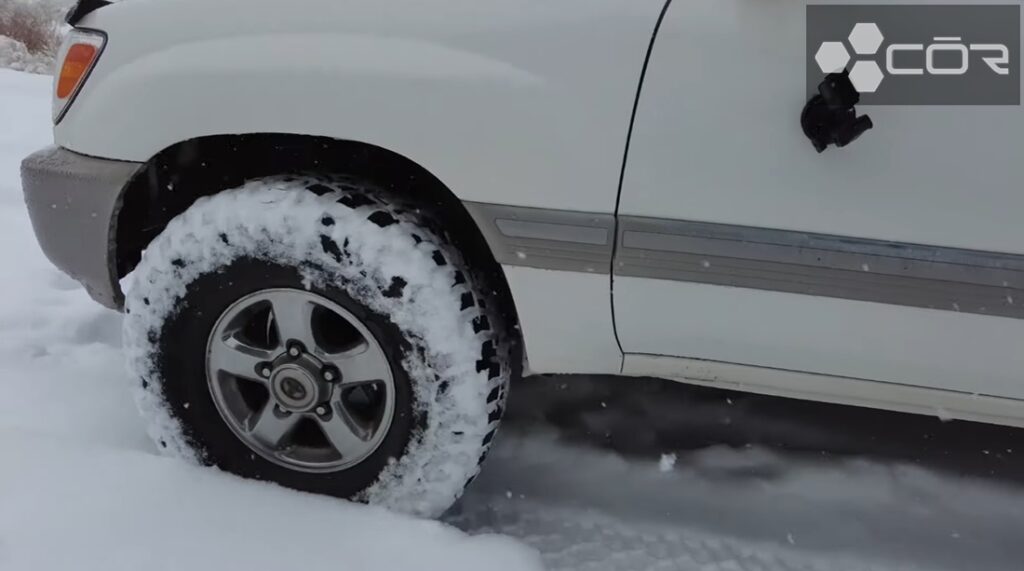 Deep Snow Traction: 8.4/10
Cold, chilling snow temperature still seeped deep into the grooves despite the compounds' durable layers. As such, KM3 experienced more freezes and stalls than on our light-snow endeavors – even giving off lousy shakes when entering corners – and ranked next to last on our off-road max traction tire test.
In compensation, KM3's consistency persisted well when kept below 35 MPH in more favorable weather. When supported by snow chains, it could navigate through most tight-angled twists with no significant traction loss, responding in fair accuracy to our inputs.
Ice Traction: 6.4/10
BFGoodrich KM3 fell at its lowest point on ice terrains, already struggling to hold its ground at a mere 20 MPH. The aggressive side walls that worked well on dry roads backfired on wet, thick ice, leading to slippage and severe wandering every 1 to 2 miles.
Cornering twisty roads or accelerating on short notice was obviously out of the question; we had to trade off all the fun and wild edges to prioritize stability.
5. Comfort: 7.8/10
Ride Quality: 8.2/10
Riding comfort was decent on dry terrains. Sure, bumps and jostles might be handled too aggressively for our liking, especially on highways – but considering it is an off-road tire, this drawback was tolerable. And once the tire finally familiarized itself with our steering tendency at regular driving rates, its hiccups became much easier to predict.
Noise: 7.4/10
Road noises were terrible even for off-road tire standards; the rumblings already started at 35 MPH and worsened as we neared 65 MPH. By the time our Ford boiled down the highways at 85 MPH, the horrid squeaking was so loud it took over almost every other noise on the street.
6. Treadwear and Durability: 8.2/10
The tire had more or less the same tread wear rate as every other competitor we tested.
By our fifth testing day, signals of burnout could be felt clearly in the grooves and extended rubbers, notably on hot dirt and sand. However, given its 18/32" tread depth and 6 years of warranty, the threat was not really looming.
BFGoodrich KM3 Pros and Cons
Excellent off-road traction on any terrain
Good on-road dry traction
Acceptable riding comfort
Good on light snow, decent on deep snow
Decent tread life
Not confident on wet surfaces
Horrible on ice terrains
Very noisy
BFGoodrich KM3 Competitors and Alternative
When competing with Cooper Discoverer STT PRO, Firestone Destination M/T2, and General Grabber X3, BFGoodrich Mud-Terrain T/A KM3 revealed both competitive strength and room for upgrades:
BFGoodrich Mud-Terrain T/A KM3 had great impact controls compared to other contenders in the group. However, road noise control on highways needs a big increase.
Cooper STT Pro had a very solid on-road wet grip for an off-road tire. However, its snow performance fell lackluster.
Firestone MT2 led the group in winter traction (deep snow and ice counted). But like BFGoodrich, MT2 did not do well in noise control.
General Grabber had a composed, surprisingly polite manner on dry and wet on-road pavements. Still, its steering should have been tightened up more at narrow corners.
Conclusion
According to our BFGoodrich Mud-Terrain TA KM3 tire review and test, it definitely ranks among the best off-road tires on the market; its striking confidence and planted power delivery on dirt, mud, and even rugged sand is tough to beat.
Traction on other terrains is also from decent to good, more than enough for regular driving all year round and in all seasons. The only exception is harsh icy roads, where KM3 is almost unrideable and needs to be swapped with dedicated winter tires.
BFGoodrich Mud-Terrain T/A KM3
PRICE
SOLD BY

Offers

In Stock

Offers

In Stock

Offers

In Stock

Offers

In Stock

Offers

In Stock

Offers

In Stock
---
President & Automotive Expert at COR Wheels
Robert Herrera has been with COR Wheels for 17 years and has a great passion for the automotive industry. During his time at COR Wheels, he has driven and test-driven a variety of vehicles.
---