BFGoodrich Advantage T/A Sport LT impresses devoted fans at first glance with diverse add-ons that promise maximum comfort for SUV/crossover drivers: active 3D sipes, full-depth treads, circumferential grooves, and more. This review will discuss how many of these features delivered their advertised power into actual street driving.
In this article:
BFGoodrich Advantage T/A Sport LT Specifications & Features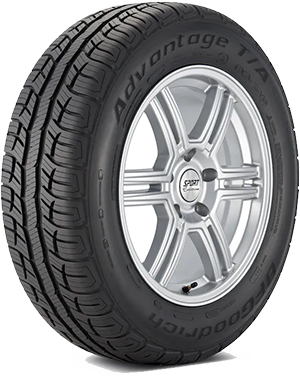 Tire Type
On-Road All-Terrain
Tire Size
15″ – 22″
Weight
27.91 LBS – 40.7 LBS
Load Index
99 – 116
Load Range
SL – XL
Speed Rating
– H: up to 130 mph
– T: up to 149 mph
Warranty
60,000 – 65,000 miles
Ratings
8.4/10
BFGoodrich Advantage T/A Sport LT promises assistance to drivers of crossover vehicles, SUVs, and light trucks seeking responsiveness and handling in daily commutes, as well as better confidence during inclement weather.
Some highlighted design features:
The all-season, advanced compound (molded into symmetric tread patterns) allows easier cross rotations that keep irregular wear at bay.
Continuous center ribs manifest constant connections with your driving terrains, coupled with the Next Gen ETEC System (Equal Tension Containments) and its optimal footprint to boost higher-speed stability and aggressive handling.
Full-depth treads offer mindless traction delivery during extended trips.
Circumferential grooves channel rainwater to boost the tire's anti-hydroplaning qualities.
The active 3D sipe technology provides extra biting edges that gum the tire tight on light snow and wet surfaces.
2-poly polyester casings and g-Wedge stabilizers control cornering distortions.
Double steel belts reinforced by spiral nylon balance stability, durability, and riding quality.
BFGoodrich Advantage T/A Sport LT Review & Performance Test Result
We installed the 235/60R18 tire size version of Advantage T/A Sport on the 2022 Honda CR-V, test-riding the SUV for ten days in June-July and another period around January as part of the 2023 COR Wheels Tire Test.
1. Dry Performance: 8.9/10
Dry Traction: 9.1/10
The tire landed on the definite Top 3 with its dry grip: stable, unwavering, and adapting surprisingly fast. It took Advantage T/A Sport less than five seconds to trample the brief stutters around the flanks to truly embrace the road patterns, breezing our SUV towards 55 MPH in confident strikes.
With fully–packed five passengers and 900 lbs of towed trailers at the start, our car exhibited very little hesitancy on grooved pavements and almost non-existent shakes on smooth, well-built asphalts. Accelerations towards highway limits while adding about 100 extra lbs after every 25 minutes were just as delightful thanks to the consistent cross rotations.
While occasional fazed-out grip could be spotted during long, exhaustive curves, alternations between gradual decelerations and upshifts did a great job compensating for that minor oversight; if desired, you can even attempt adventurous leans mid-way without putting the car at skidding risks.
No significant issues were spotted throughout our road texture transitions, though you might notice slight groove falters in extreme cold (snowless) even when the tires stay properly inflated.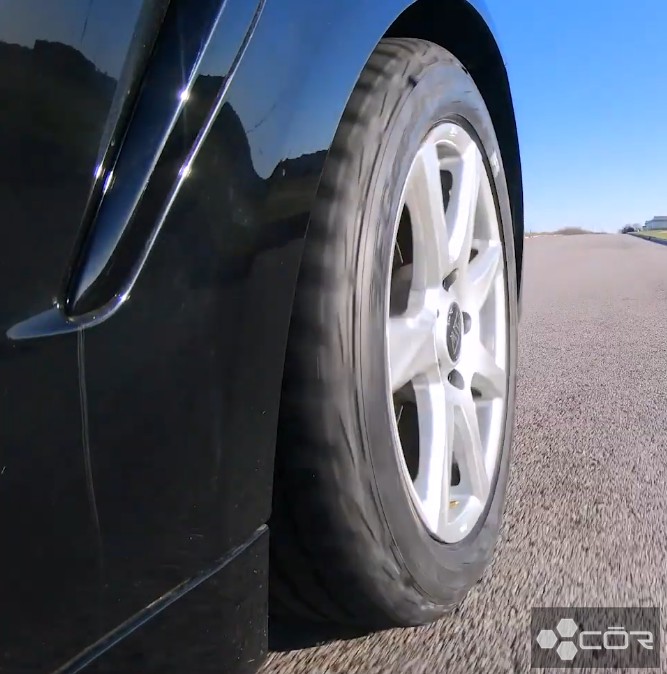 Corner Stability: 8.8/10
The ETEC system and continuous center ribs paired well with our car's centrifugal forces, leaving more than enough margin to correct themselves during abrupt corner entries or accidental understeer.
Lower speeds of 30 to 40 MPH would be preferable for better stable footholds – but you can totally rev beyond those numbers if experienced. Swift navigation from straight-line to corners or vice versa was generally suave and sleek, leaving almost no room for pronounced hesitance when we engaged in alternating shuffles and push-pull to extend the tire's momentum.
Advantage T/A Sport was not without drawbacks, however; we found hard braking at carousels to lurk more than expected around canyon roads.
Steering Response: 8.9/10
Your ride can hardly go wrong with Advantage T/A's refined steering feedback. Tire-road connections were consistently maintained due to the continuous ribs and optimized footprints, hence the impressive sensitivity to even the smallest changes in our inputs.
Mid-way changes from early to late apex, for instance, settled into the new patterns quickly, and later attempts at roundabout negotiations were just as a breeze as regular straight-line maneuvers.
Still, compared to champions like Continental CrossContact LX25, the steering did lack a bit of punctuality when our towing capability exceeded 1200 lbs.
2. Wet Performance: 8.5/10
Wet Traction: 8.4/10
Its delivery on wet surfaces grazed the upper half of our list: confidence loss was obvious compared to dry tests, but not enough to become a real intrusion to our driving efficiency.
Thus, basic driving situations like corners, vehicle overtakes, or lane merges could still be handled with just as much certainty as usual given non-spirited ridings below 45 MPH, and burnout symptoms only exhibited themselves during hours-long travel under heavy rainfalls.
Highway speeds, unfortunately, seemed to stay out of the tire's designated scope. One might argue that accelerations are not prioritized in SUV driving, but even regular steering at 50-55 MPH resulted in frequent skitters that are difficult to tune out if you are a fresh beginner.
Hydroplaning Resistance: 8.6/10
Here is where Advantage T/A Sport regained a few lost scores: hydroplaning was rarely a real issue during straight-line and wide-radius cornering attempts. As long as our speed rates experienced no sudden changes (ex: 40 to 70 MPH in four seconds), deep or shallow water did not really matter, since the grooves had more than enough time to distribute/space out water layers and leave sufficient margins for the car to navigate around.
On another note, heavier loads beyond 800 lbs might slow down your groove's whisking speeds a little bit. Coupled with the pronounced drags under the patch, you might have to suffer from higher volumes of water seeping in than expected.
3. Winter/Snow Performance: 7.9/10
Light Snow Traction: 8.4/10
Light snow traction was surprisingly capable – almost no difference from how the tire held its ground on regular slippery pavements. The 3D sipes clearly had a role in this stellar performance, channeling the snow through subtle but decisive directions that spared little room for stutters or hesitancies.
And when aided by premium snow chains on all four, Advantage T/A Sport was almost comparable to a middle-range winter tire. So you can use it on slush or fresh powdered snow with frequent slick spots.
Deep Snow Traction: 7.9/10
Snow over 5 inches made our car fumble dramatically – though this clear drawback was somehow redeemed by the repetitive-patterned stutters that could be predicted and prevented beforehand if you have had a handful of experience.
Snow chains also did quite a great job choking out extra traction around non-challenging corners, only faltering when our extra towing loads exceeded 900 lbs.
Ice Traction: 7.3/10
The slippages understandably occurred in much shorter intervals here than on light and deep snow terrains. Fortunately, Advantage T/A Sport still managed to retain a bit of dry confidence thanks to the g-Wedge stabilizers; the worst we experienced during cornering was only some brief side-to-side plummets that posed no actual danger.
Dynamic road manners or cleaner-cut turns were clearly impossible – but other than that, controlled shuffles at 30 MPH or below can actually still carry your car well into the trip without much drama.
4. Comfort: 8.2/10
Ride Quality: 8.5/10
Riding quality was exceptional on smooth, dry roads but kind of lacked its edges on every other terrain (wet and snow surfaces). Roughly-built pavements like cobblestones or chip-seal roads might also take the tire longer than expected to get used to, so it would be best to keep major vibrations at bay by limiting the frequencies of unannounced speed/directional changes to the minimum.
Noise: 7.9/10
The screechings were actually not half-bad if our driving rates stayed relatively unchanged or only fluctuated around a certain benchmark throughout short-traveling distances. (ex: 40 to 42 MPH for 5 miles).
Unfortunately, the longer the ride, the louder the road noises will get, tenfold worse if you do not keep your towed trailers below 700 lbs.
5. Treadwear and Durability: 8.4/10
We did not particularly like the visible shudders upon extreme temperature changes; the way it got more burnt out along with greater cargo/trailer weight increases was also not exactly pleasant.
But in compensation, its layered compounds held their stance quite well against nails, shards, or smaller debris, ensuring at least six years of convenient driving for your car. The 65,000-mile treadwear warranty also helps.
6. Pros and Cons
Excellent dry performance with amazing traction
Surprisingly good on light snowy roads; rideable in deep snow and ice
Quite comfortable rides
Noise control could be better
Disappointing performances on wet roads/ in wet conditions
Competitors and Alternatives
When pitched against each other, BFGoodrich Advantage T/A Sport LT and Continental CrossContact LX25 exhibited both strengths and weaknesses:
BFGoodrich Advantage delivered great traction and braking distances on light snow surfaces. However, as mentioned, its wet confidence was rather disappointing.
Continental CrossContact LX25 outperformed BFGoodrich Advantage T/A Sport in refined riding comfort and noise control, but we would love to see a more punctual steering response.
Conclusion
The Advantage TA Sport LT could have included more tread design improvements to cater to tread noise control and wet performance (especially wet traction).
Fortunately, the incredible dry performance and impressive light snow composure showed in our BFGoodrich Advantage TA Sport LT tire reviews send it among the top ranks – a great choice for SUVs and crossovers traveling in warm, dry weather conditions and occasional snow.
BFGoodrich Advantage TA Sport LT
PRICE
SOLD BY

Offers

In Stock

Offers

In Stock

Offers

In Stock

Offers

In Stock

Offers

In Stock
---
President & Automotive Expert at COR Wheels
Robert Herrera has been with COR Wheels for 17 years and has a great passion for the automotive industry. During his time at COR Wheels, he has driven and test-driven a variety of vehicles.
---